If you're a gamer, you can appreciate how important it is to have a good choice. When you're sitting for hours on end, it's easy to get sore, numb, or just plain uncomfortable. This isn't just unpleasant; it can also be bad for your performance. For this reason, it makes sense to invest in a quality gaming chair. At the same time, finding a good chair isn't always easy. It's tough to tell at a glance how durable one is, particularly if you're buying online. Along the same lines, most gaming chairs are cosmetically similar. You have a bucket seat-style design, arms, and usually pads at the lumbar and neck.
That said, there are important differences between gaming chairs. Some are more adjustable than others, while others are more durable. Similarly, you want a chair that provides the kind of support that's right for your body. Ideally, you'll be sitting in your new chair for years to come. So it makes sense that you'd want to be careful about making the right choice.
Today, we're going to review the KLIM Esports Gaming Chair. KLIM is an established manufacturer of gaming accessories, such as gaming laptop cooling fans. Considering the fact that they already have a following, it makes sense for them to offer a gaming chair.
But just because a chair comes from an established manufacturer is not a 100 percent guarantee of quality. There are plenty of clunkers on the market. To find out for sure, we had to take a closer look at all aspects of the design. For a chair, this primarily means looking at the various comfort and ergonomic features. However, we'll also discuss durability and cosmetics as we go along. By the time we're done, we'll know everything we need to know to render our final verdict. Let's get started, and see how the KLIM chair compares to the competition!
What Makes a Good Gaming Chair?
So, what makes one gaming chair more worth owning than another? There are a few features that are important for any ergonomic chair. That said, we've decided to focus on gaming considerations in particular. Here are some things you should consider before you buy a new gaming chair.
Good Lumbar and Arm Support
First and foremost, you want a chair that's going to provide support where you need it. The longer you sit in the same position, the higher your risk of repetitive strain injury (RSI). Your back and your wrists are under a particularly large amount of stress while gaming, as is your neck. A good gaming chair is going to provide extra support in all of these places. To begin with, look for a lumbar cushion. Some chairs make do with an extreme arched design, but a lumbar cushion is generally going to be preferable. Along the same lines, there should be added support around your neck. Finally, make sure your chair has armrests. There's no reason to hold your arms up in the air when your chair can do the job for you.
How Does it Adjust?
Just as important as good support is the ability to adjust your chair. Human beings come in all shapes and sizes. As a result, there's no one chair design that's going to be ideal for everybody. Instead, a good gaming chair should have plenty of adjustment options.
To begin with, the height should be adjustable. This is, bar none, the number one thing you want to be able to change. That said, it's almost as important to have adjustable lumbar support. Different people's spines curve differently, so a lumber cushion that moves up and down is a plus. The same goes for your neck cushion, if you have one. For armrests, the most important movement is up and down. However, some armrests can move front to back, side to side, or even be tilted. This gives you plenty of options for configuring them for comfort. It means you can use the chair comfortably whether your arms are long or short. Reclining is a less essential feature, since presumably you're sitting up while you play. Still, being able to lay back never hurt anybody.
Fabric vs Leather
Another thing to consider is how breathable your chair is. As you sit in your chair for hours on end, it's liable to get sweaty. On leather, sweat can soak through your clothes and generally make you miserable. A more breathable chair will allow better ventilation and help to wick away moisture. In general, you'll stay cooler when gaming under hot conditions. That said, leather tends to be more durable than fabric. It's also easier to clean in the event of a spill, since you can simply wipe it clean.
How Does it Look?
Obviously, aesthetics shouldn't be your first criterion for a gaming chair. At the same time, though, there are plenty of gaming chairs out there. You certainly have enough choices that there's no need to choose an ugly chair! Not only that, but you're presumably planning on keeping your chair for a few years. Take the time to find one you don't mind looking at every day.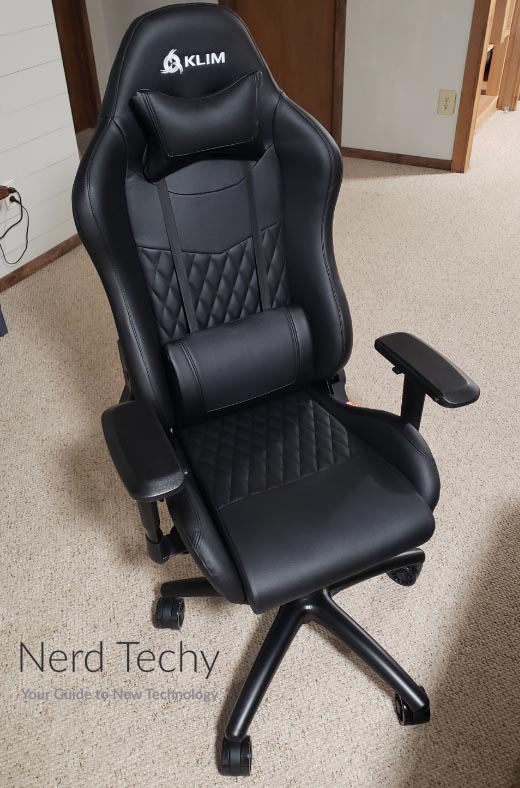 Design & Construction
The KLIM Esports Gaming Chair is built like a racing bucket seat, with a recessed bottom and wrap-around sides. This is a common gaming chair design, and for good reason. It gives you enough flexibility to change positions, lean from side to side, and generally keep yourself comfortable. The PU leather shell is easy to clean, and it's reasonably durable. And while it's not very breathable, it's available in four color options. These include plain black, as well as black with blue, pink, or white highlights. The version with white highlights looks particularly sharp, but all of them are easy on the eyes.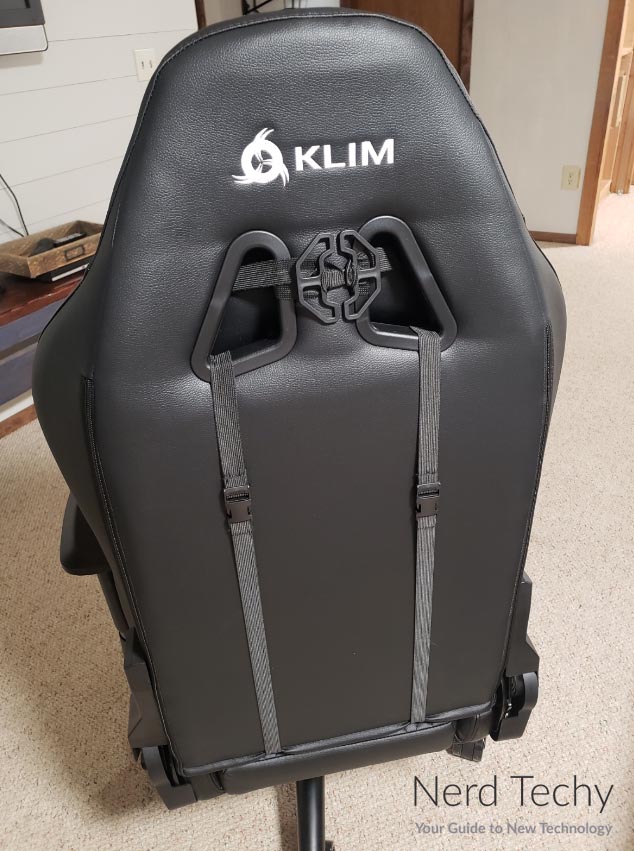 If you prefer a more breathable chair, though, you'll be better off looking elsewhere. In that case, the Brazen Pride could be a good choice. It's made of very breathable fabric, and has a wide, curved design along with Bluetooth speakers. That said, there aren't any adjustment options. It's either comfortable for you or it's not.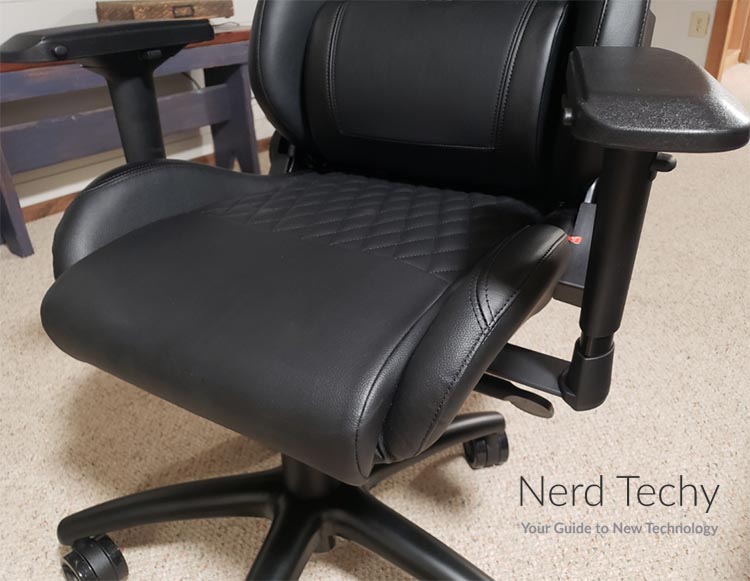 The weight capacity of the KLIM chair is 330 pounds, enough to support most individuals. Even if you buy your clothes at Big and Tall, you won't have any issues with size or weight. Along similar lines, you'll get plenty of support. Both the lumbar and neck cushions are well designed – supportive without being excessively thick. Not only that, but the supports are metal instead of plastic. This gave us plenty of reassurance that the chair won't give out easily.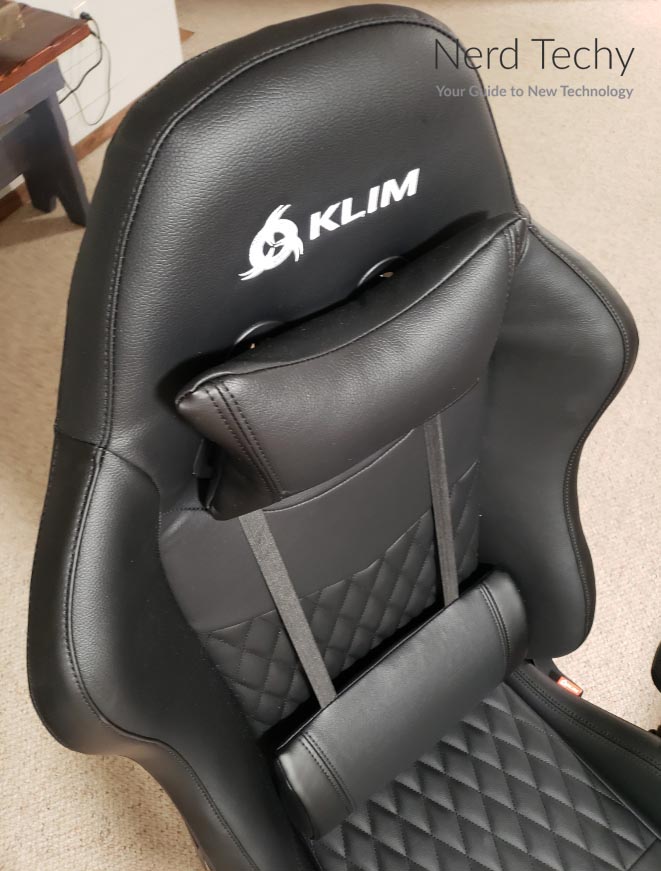 Besides being durable and comfortable, this chair is also easy to assemble. Many gaming chairs come in 100 pieces, with poorly-written instructions. On the other hand, this one comes with the brackets and armrests pre-attached. You attach the back to the seat, insert the support, and bang the wheels into the bottom. The whole process only takes about 10 minutes, and the instructions are easy to follow. Our one quibble was the fact that the wheels fit very snugly. This is no doubt because of the durable, metal-in-metal socket. They're certainly not going anywhere! But it does take some elbow grease to get them into place.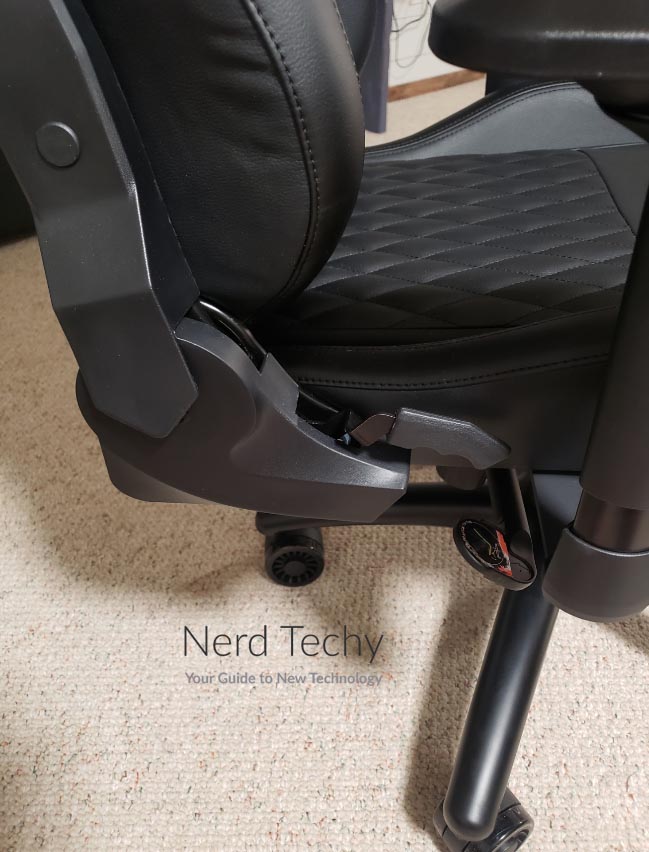 All of this is covered by KLIM's five-year manufacturer's warranty. This covers any defects in material or workmanship. We were particularly impressed by this, since most chairs come with a short, one or two-year warranty.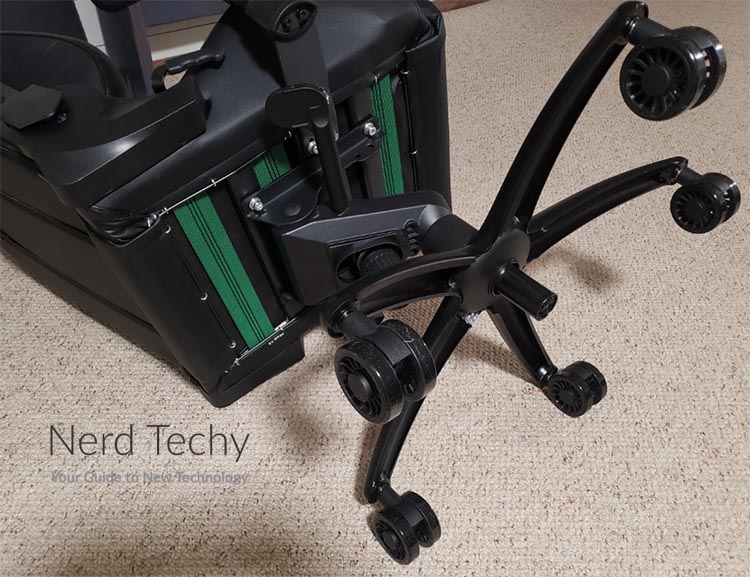 Ergonomic Features
When it comes to ergonomics, the most important thing is getting your chair to the right height. The KLIM Esports Gaming Chair can be adjusted for people between 5 feet and 6 feet, 6 inches. As a result, it's suitable for the vast majority of adults. You won't find many chairs with this level of adjustment. Furthermore, the back can be reclined by up to 160 degrees. That's nearly horizontal, and it's certainly flat enough to take a nap in. To be fair, you're not going to want to tilt back that far while you're gaming. But if you're trying to relax between sessions, you won't have to move to another piece of furniture.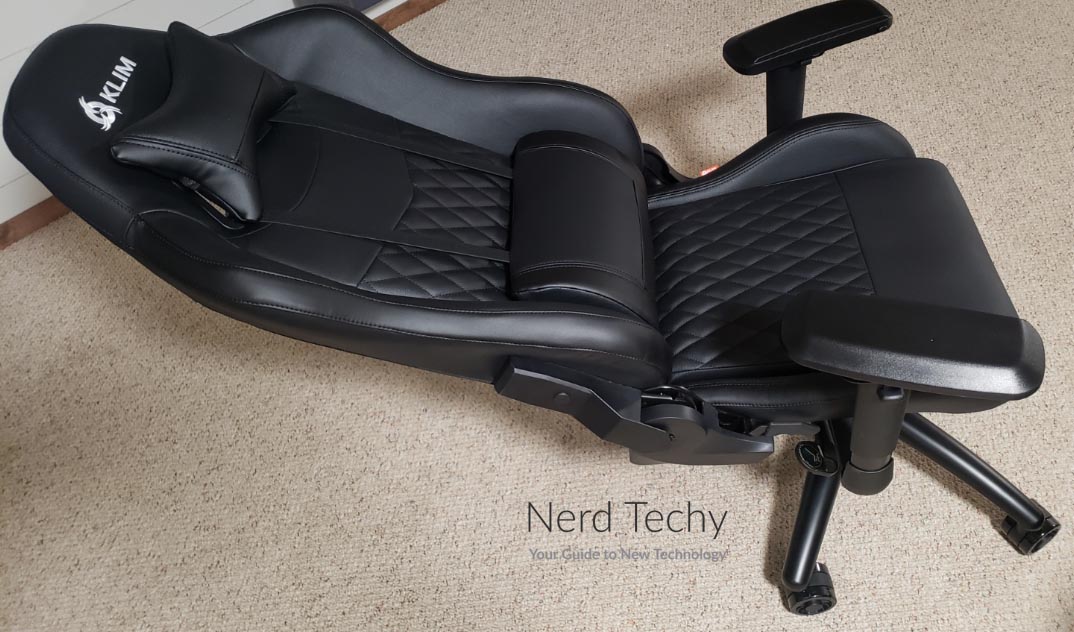 The armrests are also fully adjustable, although a bit hard and uncomfortable. In addition to the vertical axis, they can also be adjusted from front to back and from side to side. This allows for a wider variety of seating positions for a wider variety of body types. It also allows you to sit closer to your desk or further away. In addition to all that, the armrests can also be angled in or out. You don't get much more customized than that.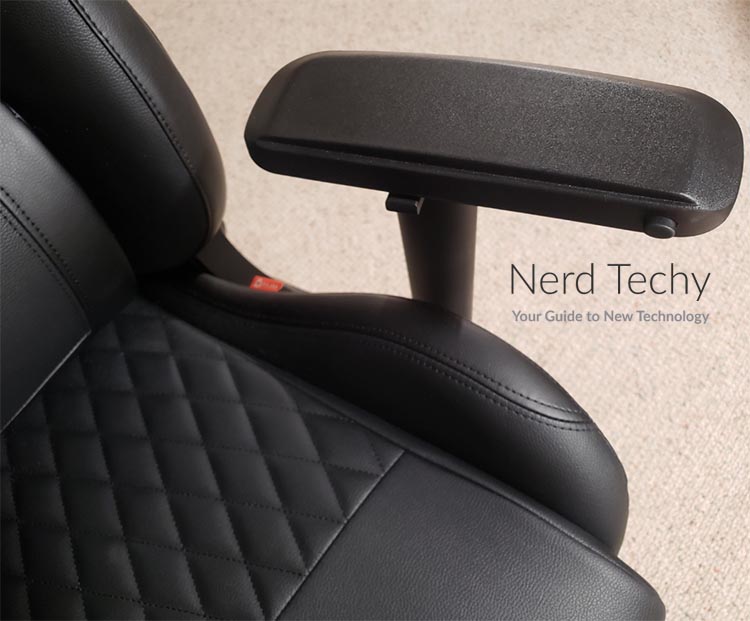 As for the lumbar and the neck cushions, both are mounted on a pair of vertical straps. These straps run the full length of the chair back, allowing for infinite adjustment. Both cushions can be moved up or down independently, so it's easy to get the ideal spacing. Additionally, they can be removed altogether for cleaning, or just for a better fit. Remember, good ergonomics isn't about what's right for everybody else. It's about what's right for your body and your gaming rig.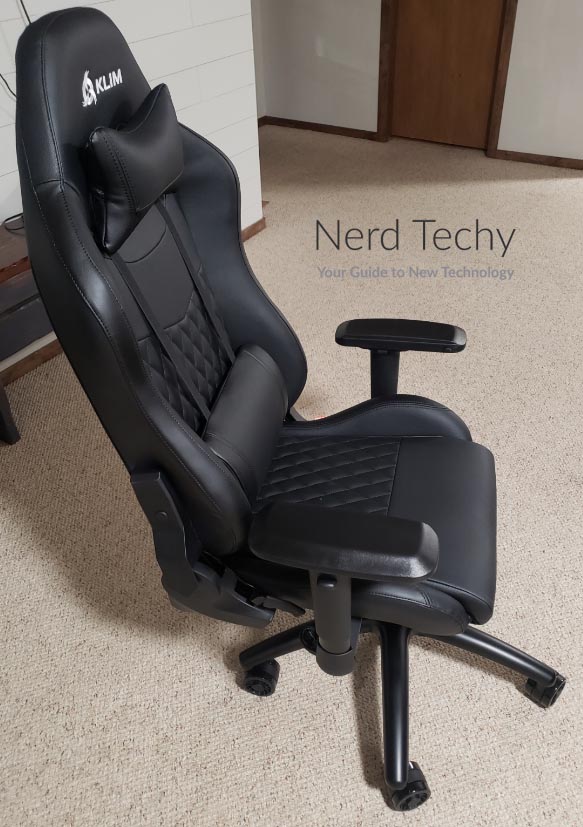 Final Verdict
So, is the KLIM Esports Gaming Chair worth your hard-earned cash? Or should you find another pilot's seat for your next session? To put it briefly, we had very few complaints. The tight-fitting wheels are annoying, but it's an issue you'll have to deal with exactly once. As for the leather shell, you either love it or you hate it.
The rest is indisputably excellent. For one thing, the ergonomics are fantastic. The key to good ergonomics is adjustability, and KLIM definitely understands that. You get a wide range of height, lumbar, and armrest adjustments to customize the fit for almost any body type. You also get a sturdy build that isn't going to fail you easily. With its 330-pound weight limit and all-metal frame, the KLIM chair is built to last. If you want a leather gaming chair, it's one of the best on the market.