Without sitting in it, picking a chair can be tough. Because you don't know exactly what to expect. Not with the quality of its construction, nor how it's going to feel to lean back in. And if you're picking a chair that's supposed to do more than provide a space for seating, it can be tough to know how its extra features stack-up in practical use. But fortunately, there are many aspects of picking a chair that require little more than a throughout evaluation. At least, when you know precisely what you're looking for.
BraZen Pride 2.1 Bluetooth Surround Sound Gaming Chair
It's strange to think about the compatibility of a chair, but since they've baked electronics into its design, the BraZen Pride does indeed have some compatibility concerns you should be aware of. Though not very many of them because it actually has a pretty wide range of support available. In fact, the Pride 2.1 is compatible with essentially any device that can give you an audio output, including virtually all game consoles, televisions, and PCs.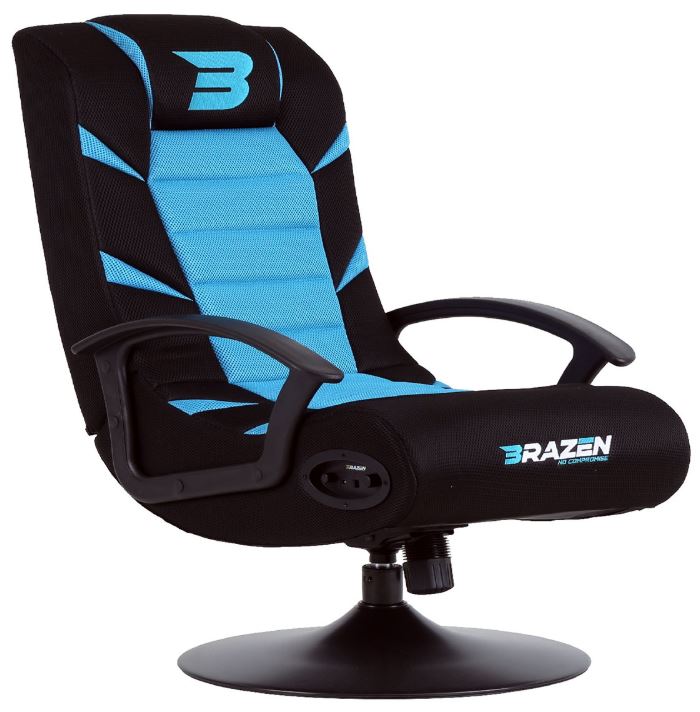 How about the size of the chair? One thing to get out of the way is that you'll want to note this chair is made for kids six and up. Though smaller adults would also be pretty well suited as well, it does become a little small if you're more than a couple of inches taller than 5ft. The kid-friendly design is actually something that exists across the entire design.
For instance, Pride uses a large, round base that actually looks a bit like the sort of base you'd find attached to a PC monitor or television. It's a design that's great for helping keep a more stable position. As a result, even if the chair did happen to tip-over while someone was sitting in it, the odds of injury would be pretty slim. So it's probably fair to say this is a kid-friendly design, even though BraZen doesn't seem to press that point in their own advertising.
Physical Construction
As mentioned earlier, the BraZen Pride 2.1 Surround Sound Gaming Chair is mounted atop a metallic pedestal base. If you're leaning all the way back in a chair, then your center of gravity will be very different than when you're sitting all the way forward. In either case, you'd like the chair to be able to accommodate your movement. And Pride's base helps provide stability even as you shift your weight forward or backwards, which is pretty handy.
Another thing to point out is the adjustable tension lock on the bottom, which can help to alter the rocking motion of the chair while you're using it. If you want to keep things rock steady, then you just have to lock down the base with the tension lock system. The size of the bottom stretches 19.5" in diameter, so it's nearly as large as the seating area of the chair itself.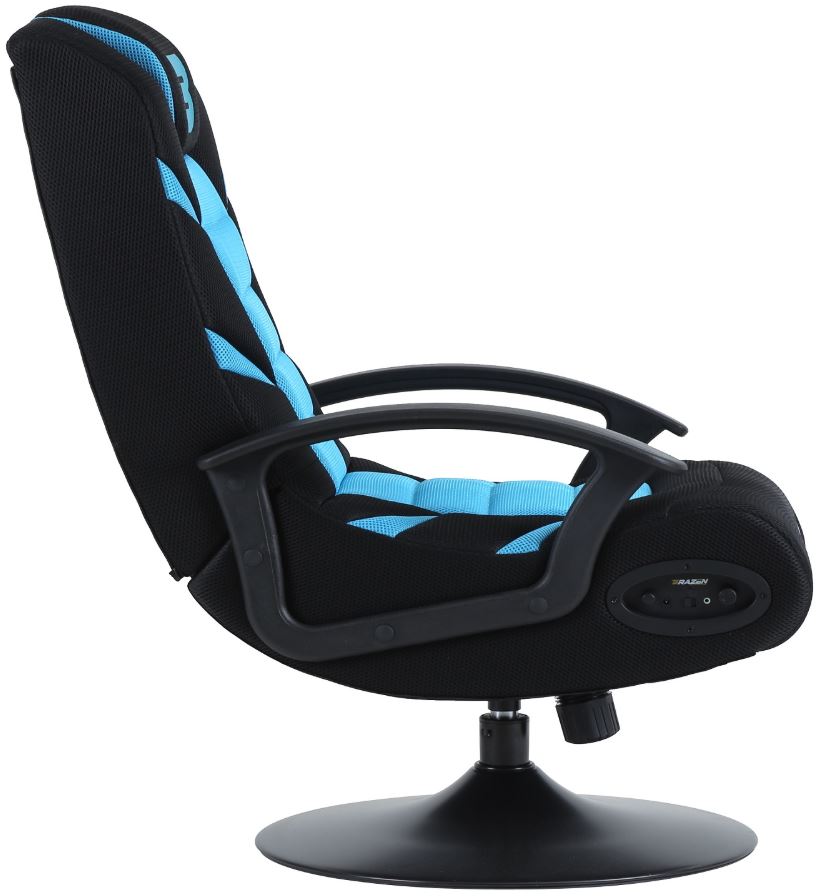 The rest of the BraZen Pride 2.1 Bluetooth Sound Gaming Chair measures roughly 37 x 21.6 x 28.3" when fully extended. That's actually not far off the ground, which is one of the things that helps distinguish this chair as being made for children or smaller adults. But that's when the chair is fully extended, how about when it's packed away?
Well, since the center of the chair can be folded down and inwards towards the base, you can drop the initially tall 37" height down towards 25". And since the chair only weighs around 33lbs, it's quite easy to pick up and store away. Much of that weight is actually down towards the bottom, on the metallic base of the chair. The cushions are rather lightweight when taken independently.
Built into the side of the chair, near your right knee, you'll find a control panel to manage the audio settings. That includes a power on/off switch, a volume knob, and an independent bass knob. There's also a power input socket and an analogue audio input socket, and their placement couldn't be more convenient than it already is.
How does it feel to sit in? Well, they've done a lot of good things in the interests of comfort. For instance, the fabric is quite breathable, and it's been firmly upholstered over some very responsive memory-foam. The fabric is good at dissipating heat, but the foam is not. This style of chair will always be a little warm for long-term sitting sessions in rooms without air conditioning.
That's why many of the best office chairs, if designed for dissipating heat, don't use this kind of thick padding. Instead they tend to use thin layers of mesh fabrics. But admittedly, for long-term sitting, in a cooled room, padding tends to be more comfortable.
Aesthetic Appeal
A lot of the time, gaming equipment ends up looking a bit gaudy. It gets covered in LEDs, or slathered in flaming-stripes. But the BraZen Pride plays things a little cooler – it has more of a classy and professional look about it. Though it's not quite a racing seat, it's quite similar to one in appearance and color pattern. The resulting aesthetic is cool and modern without taking things over the top.
Aesthetically, Pride is available in seven different colors. That includes blue, white, gray, purple, red, yellow, and green. Everybody has their own color preferences, though the color highlights are still dominated by a black outline, so picking between them shouldn't be too difficult.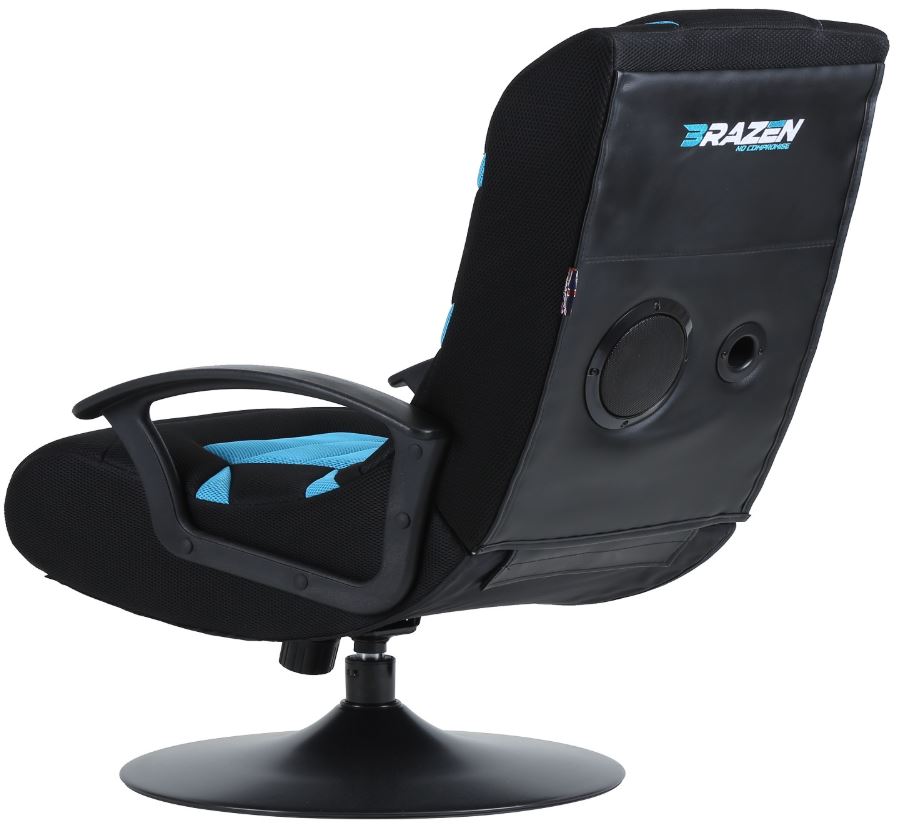 Sound Management
To manage the audio, you can use both Bluetooth and hardwired connectivity. The hardwired connections, as previously mentioned, are available in the console on the bottom right side of the chair. Of course, it's often necessary, or preferable, to connect the chair to your console through your television indirectly.
For that, you'll need to take advantage of the Bluetooth connection. Which is pretty much as simple as connecting with any other Bluetooth device, so if you've ever used Bluetooth before, then you know what to expect with regards to the difficulty of getting your stuff to connect.
One thing to keep in mind about the BraZen Pride Gaming Chair is the chair doesn't enjoy an analogue audio output. As such, a digital-audio output adapter may be required. It just so happens that BraZen has a Digital Analogue Converter kit available to adapt the Pride, if you need one.
Other Connectivity Options
Connecting your chair with a gaming console is usually simplest by going through your TV or monitor – the one that you're already using the console on. You don't actually need to make any adjustments to the cables you're already using, which is pretty cool. But you will need to determine if your TV has an analogue audio output or digital audio output.
The analogue audio output is typically some kind of headphone jack, but it might also be those red and white AV cables that have become less common in recent years. Since this chair includes a selection of 3.5mm audio cables, you basically just need to connect the chair to those audio outputs, as if the chair itself were a speaker. If your TV has a digital audio output port, like a S/PDIF port, you can use that as well.
For a variety of technical reasons, it's not actually possible to connect the Bluetooth to the Xbox One or PS4. Sometimes the lag-time inherent to Bluetooth makes it a sub-par connection for gaming because response times can be a little laggy. It's barely perceptible, but it's something you can feel, which makes Bluetooth connection less desirable for certain types of gaming.
Audio Output
Inside the chair you'll find a pair of speakers and a subwoofer. Since they've gone through the trouble of including subwoofer, the sound output is actually pretty well rounded. Notably, there aren't any tweeters on board, but going that far would probably only start raising the price of this chair disproportionately. In any case, having a 2.1 sound system is a great start, but how does the experience of using the chair really stack up to alternatives?
BraZen often describes the Pride as offering surround sound, but that's a bit misleading. The sound certainly is being directed around various areas of a room, and in occurs in a way that surrounds you with sound. But this technically isn't the same thing as traditional surround sound, due to the placement of the speakers. If you're not worried about raising the volume up a little bit, then it can be pretty fun to play in something like the Pride.
But if you were looking to watch a movie and rely entirely on the built-in speakers, you might find the sound projection coming from your sides and behind you feel may feel a little unusual. That makes Pride a better option for people who are playing games than watching movies, and it makes Pride a better option for people who aren't necessarily totally reliant on Pride's audio output for their entertainment.
Other Considerations
In addition to the chair itself, BraZen's Pride Gaming Chair includes audio cables to help connect the chair with various gaming consoles or stereo equipment. It also includes some screws to help keep the chair in place, if necessary.
It would probably be an exaggeration to say this chair needs to be constructed when you receive it, but you will need to attach the base to the bottom pad. That can typically be done in only two or three minutes.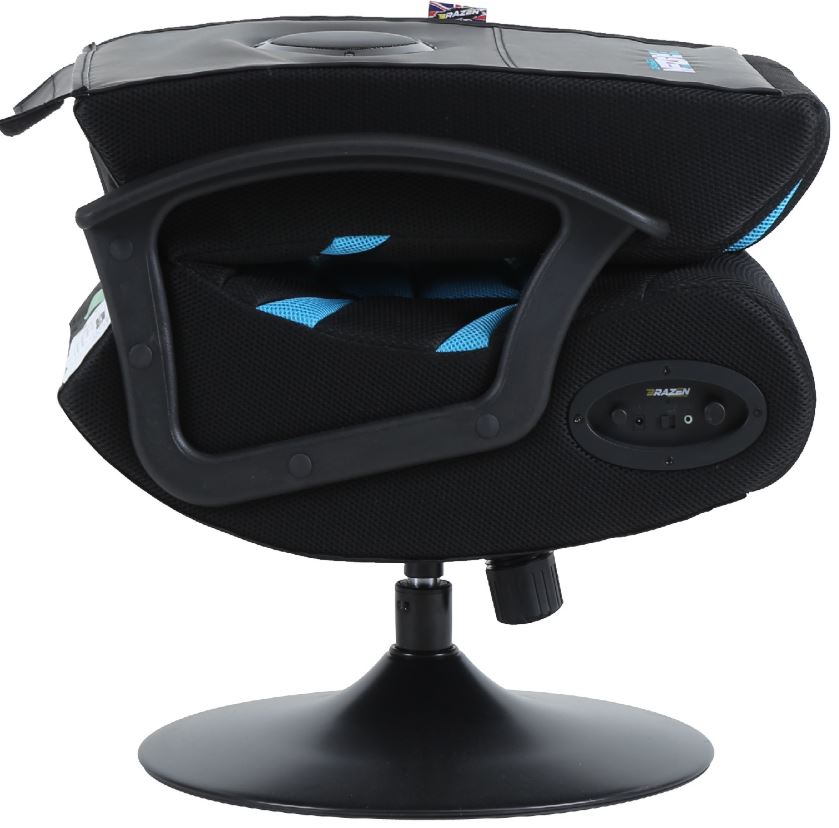 Who Should Choose BraZen Pride Surround Sound Gaming Chair?
People tend to like unique things. If you can say one thing about this chair, it's certainly unique. Sure, you could get your speakers separately, and you could use separate speakers alongside this chair. And it might be a good idea to have alternative audio sources to work alongside Pride. But combining audio into your seat and adding a couple extra speakers will really deliver a different kind of experience playing games. As a gift to a young person, it's certainly more cool than a couple of speakers.
In terms of comfort, the BraZen Pride is excellent for gaming in most respects. The heat dissipation is fairly good because of the fabric they've used, but ultimately this thing is going to feel warm after you've been sitting in it for a couple of hours. That makes the Pride a little less optimal for playing in a room without air conditioning during the summer, but otherwise comfort ought to be fine.
Finally, even though this chair does much more than ordinary chair, it's actually got a price that compares favorably with any typical inexpensive office chair. It seems that the costs of the audio equipment almost don't factor into the price of Pride. As long as the person who's supposed to sit in this chair isn't over 6ft tall, Pride should be worth giving a shot.