Choosing consumer grade printers tends to be a straightforward process. Choosing enterprise equipment is another matter entirely. Because businesses are concerned with different features than the average home user. For instance, while wireless connection problems are more than a minor inconvenience for a home user, they can be a far more severe problem for a business during business hours.
And when you're expecting to churn out hundreds if not thousands of pages on a regular basis, then you really need a printer made to match that level of throughput. Not only will you need greater raw throughput, you'll need higher levels of reliability to match. And as more and more features are added to a printer, it only tends to become more difficult to use, which can make accessibility more of a concern.
HP Laserjet Enterprise M507x
The Laserjet Enterprise M507x is actually a pretty exciting little machine. Though calling this thing little might seem like an exaggeration, it's actually got a rather stout stature compared to many similarly capable enterprise printers. On the other hand, some people might actually think it's still too large considering this is only a printer.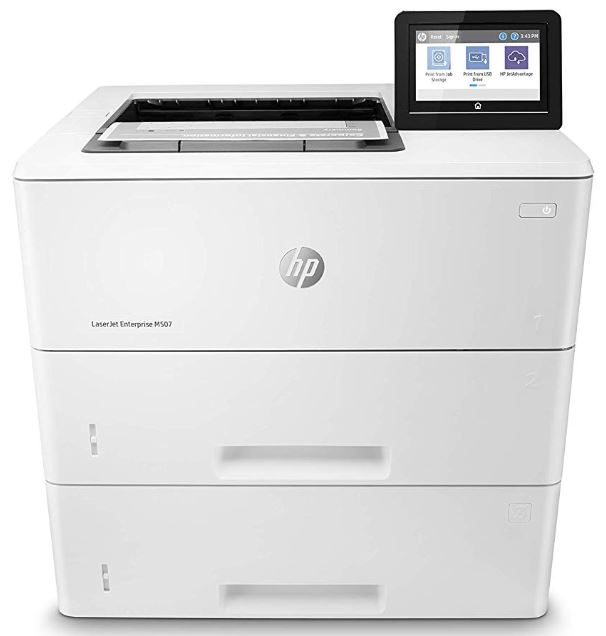 The M507x is not capable of printing, scanning, and copying, like an all-in-one style machine. Rather it's devastatingly focused on providing high quality monochrome prints with a higher throughput capacity. That means higher print speeds, quicker wake-up times, and so forth. As such, inside you'll find basically everything you would from any business-grade printer.
That includes the ability to speed through duplex printing. But you'll also find a number of more modern features that businesses have come to rely on, especially when it comes to security features. The M507x features some of the printer industry's best data protection, to help prevent your machines from being accessed from outside the network.
Business Prioritization
Because the M507x were designed with great emphasis on bringing down business costs. That's achieved not only through more efficient use of toner, but through more efficient use of power. And even though the sleeping mode is effective at saving power, it doesn't get in the way of staying busy at work. Where many printers can take as long as 30 seconds to wake-up after they've been in a sleep mode, the M507x is capable of churning out a fresh page about ten seconds after it wakes up.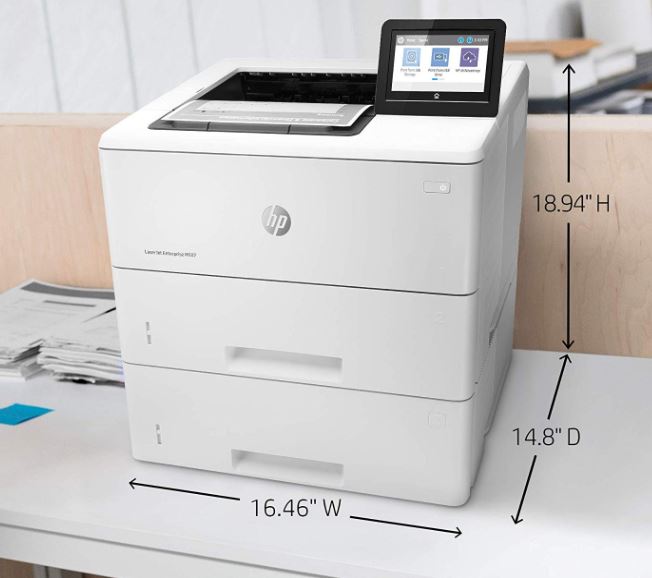 In a lot of ways, this machine feels like using a more basic at-home printer. For instance, there are a number of features that have become quite common among consumer grade equipment over the past few years. You can print content from a USB drive, or make wireless connections using an app. And it's worth noting that the USB port is positioned on the top side of the machine, instead of crammed somewhere on the backside where it's impossible to access. This easy access makes it far more convenient and frankly better designed than a lot of the M507x's recent predecessors.
Build & Layout
The M507x isn't going to get lost in a room. It measures around 19.9 x 16.4 x 14.8 inches, and weighs the better part of 50 lbs. That weight only increases as you start stacking paper inside. After you've loaded a couple of reams, this machine can easily approach 100 lbs in total weight. You wouldn't want to place it on a flimsy rack or shelf to be certain.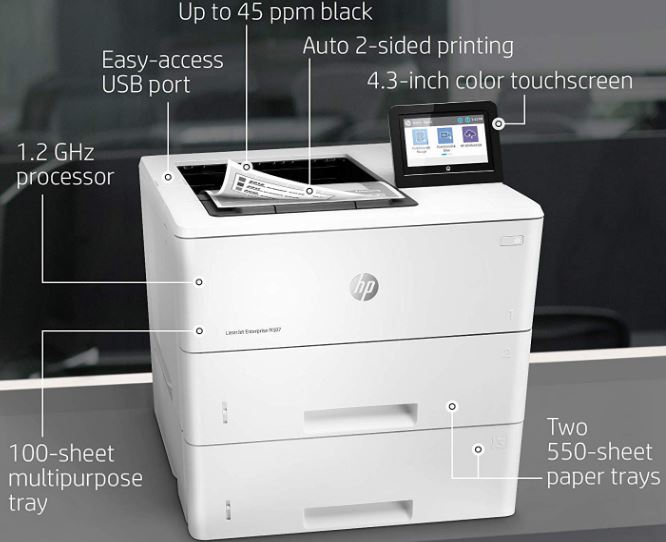 Part of the reason why the M507x is still somewhat large is because it's required to carry quite a few pages inside. Here you'll find the topside of the printer can be loaded up with a 100 sheet multipurpose tray. Additionally, there are pair of two 550 sheet paper trays. Those trays are positioned closer to the bottom to help evenly distribute the weight and center of gravity of the machine.
For navigation, the topside of the machine uses a 4.3" color touchscreen. This touchscreen is actually pretty close to twice the size of the smaller touchscreens you'll see on similar equipment. It's bright, and the colors give a nice contrast to help highlight all the essential categories onboard. Additionally, the interface is partially customizable.
If your business ends up using one feature far more than the rest, access to those features can be made accessible on the home screen of the interface. It's a small addition, but these kinds of little details can make devices like the M507x feel a lot smoother in application. Especially for people who end up doing the same kind of print jobs, over and over. And if you start looking at the electronics powering the M507x, things continue to look pretty rosy.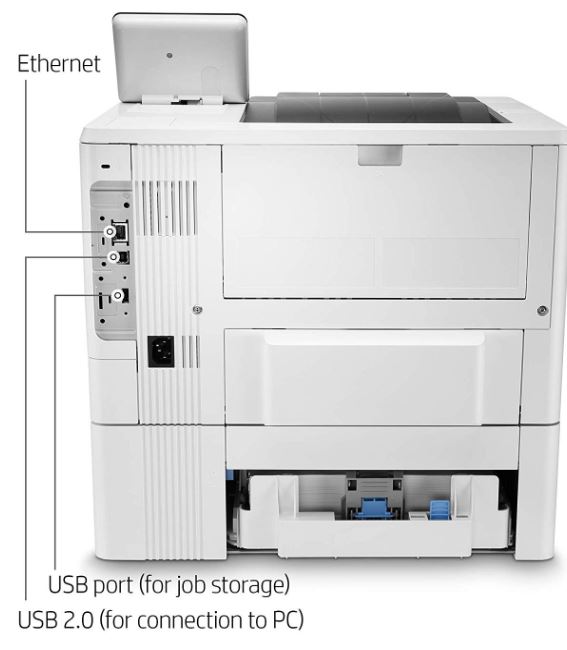 Connectivity & Processing
Internally, you'll find a 1.2Gz processor that's intended to help keep things moving along as more and more print orders flow into the machine. Most of the time, that processor will be gross overkill for a machine like this. But if you do happen to be hammering away at it with mobile access and simultaneously printing 100 pages, that's when you'll be able to appreciate having a little bit more power on your side. Because multi-user usage really can take a toll on a machine, especially if print jobs are more complex than simple text.
Because this is an enterprise grade printer, it's complete with redundant Internet connectivity. You can use both wired and wireless connections across the dual band Wi-Fi or Ethernet port. Additionally, for people who are involved in managing or overseeing more than one or two printer devices, you can get fleet management tools to help keep your machines operational under all circumstances.
As you can probably tell by now, the M507 is partially defined by its ease of use features, but also by its faster print speeds and mobile print options. For people who are trying to work while they stay mobile, those features can make a big difference productivity. It lets you get more control over operations with a thorough and robust management operation system intended to serve medium to larger businesses.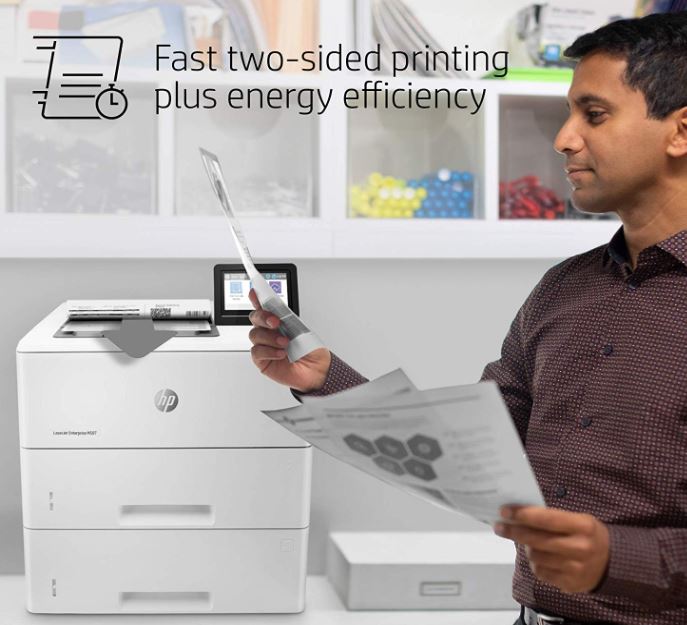 Print Capacity
Duplex printing has become fairly standard over the past few years, so it shouldn't be a surprise to hear that automatic duplex printing is available up. In addition to that, you'll find that print speeds run out towards 45 ppm. Which means over the course of five minutes it's possible to finish as many as 225 pages.
Of course, most people probably aren't going to be shooting out 225 pages in a row on a regular basis. Nevertheless, how much throughput can you expect this machine to handle? Well, that actually partially depends on the particulars of your print jobs. But HP estimates that anywhere between 2,000 and 7,500 pages per month is what the M507x is supposed to deliver on. If you're grossly exceeding that 7,500 mark, then you'll need to try a different series of machine, or double up with two.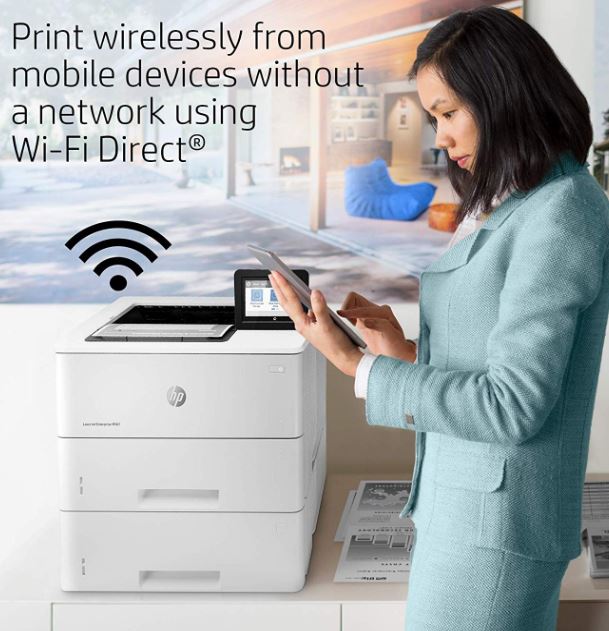 Since you're looking at such high raw throughout, there are also optional high yield cartridges that can be used for people who do boatloads of print jobs. The bigger cartridges are most cost effective, and they require you to spend less time inside the machine swapping toner cartridges.
And the M507x is supposed to be far more efficient than its predecessors precisely because it takes advantage of HP's Intelligence-type toner cartridges.
More specifically, you'll find the high-yield cartridges can provide monochrome prints for as many as 10,000 pages. So if you are someone who's constantly hitting those 4,000 page per month marks, you're not going to end up swapping out the toner every other weekend.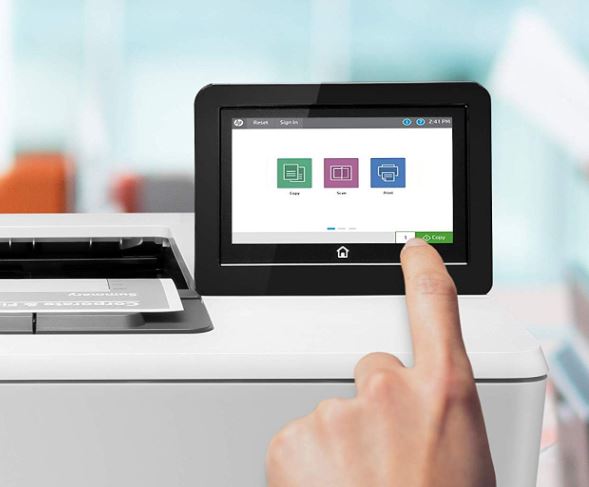 Other Considerations
Of course, the M507x doesn't have every feature that in-home printers can offer. Some of those features still make Enterprise equipment like this have an unsightly cost. For instance, the M507x does not have an automatic document feeder, nor does it support NFC touch-to-print technologies.
The lack of a document feeder isn't something that's very important for equipment like this, in most circumstances. The throughput of the machine implies that you aren't going to make use of a document printer all that often. Those kinds of feeders tend to be more suitable for a small office where the printer is being used by between one and five people, not larger business settings or commercial settings.
The M507x includes a power cord, installation guide, and a black toner cartridge. It doesn't include a USB cable. It also includes HP's standard business warranty of three years. Unlike some other similar printers, it doesn't include any extra ink or access to ink programs. Though HP does run a reasonably good ink delivery service, if you're someone who ends up churning through more than your own share of monochrome inks. As much as anything, getting ink in volume can really cut down on the costs of printing.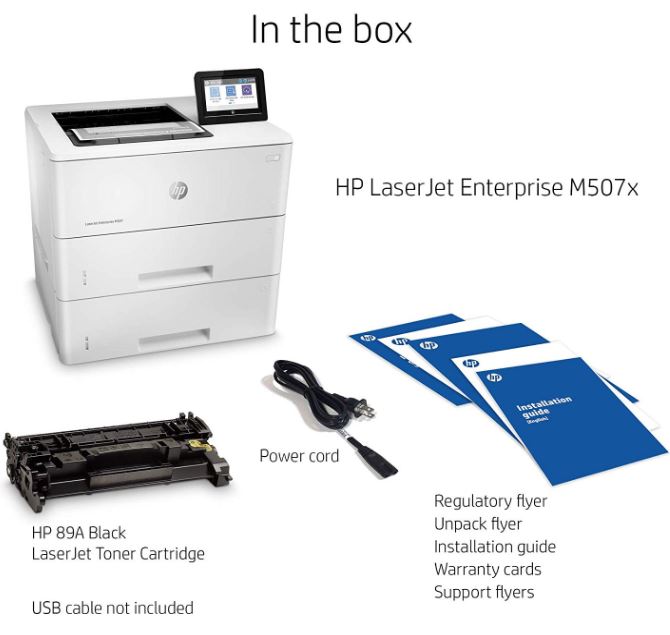 Who Should Choose the HP LaserJet Enterprise M507x?
The HP LaserJet M507x was clearly designed by someone who knows what kind of features that business owners actually need for a higher throughput machine like this. It isn't bloated with a bunch of superfluous features that wouldn't end up helping you. It's much more of a slim and to the point design, with a clear emphasis on maintaining lower costs.
With that said, this machine isn't going to scan documents for you. It's not going to copy or fax for you. And it's not going to reproduce color prints. What you're looking at here is a printer that's aimed rather specifically at doing one thing, and doing that thing exceptionally well. And even though the price is approachable for enterprise equipment, this machine still delivers the kind of general reliability that HP seems to always deliver with their print equipment.
Provided you're looking first and foremost for reliability and throughput, the M507x is certainly going to check a lot of boxes for you. The instant-on technology keeps you working, and the high-yield toner keeps you from having to baby sit the machine. Which really makes the M507x a good choice for someone who can make good use of those kinds of advantages.