When it comes to protecting your car, your key is your first line of defense. Yes, you can use a dash cam, or even a car alarm to help protect your vehicle. But those are just additional prophylactic methods, like keeping a fire extinguisher in your kitchen. At the end of the day, your best bet is simply not to start a fire in the first place. Or, in this analogy, to ensure that no-one has access to your car key.
In days past, this was easier said than done. For example, consider the common valet theft method. In this scam, a valet driver would make an impression of your car key while parking it. Then, days or weeks later, your car would disappear from your driveway overnight. To prevent this, car manufacturers have started embedding electronic chips in their keys. These chips are difficult to replicate, and require specialized equipment. The plus side of this is that no valet parker is able to copy them. The downside is that you can't just run down to Home Depot and have your key copied. Instead, you have to go to a dealership, which can cost hundreds of dollars. Just to get a new key.
For that price, you can get your hands on a car key programmer, and do the job yourself. This isn't just a good idea for drivers. It's also a great idea for mechanics and local shops. You can make good money by offering a dealership-style service at a fraction of the price. But to do this, you first need to buy a car key programmer.
Today, we're going to look at three different options. We'll look at the XTOOL X100 PAD Key Programmer. This is a bit pricier than the other options, but offers added features similar to an OBD II scanner. Next, we'll look at the XtremeAmazing CK-100. The CK-100 is a more basic unit, better suited to drivers than to shops. Finally, we'll examine the XTOOL X100 Pro2, a mid-priced option that can copy almost any automotive key. Let's take a deeper dive, and see what each of these options has to offer!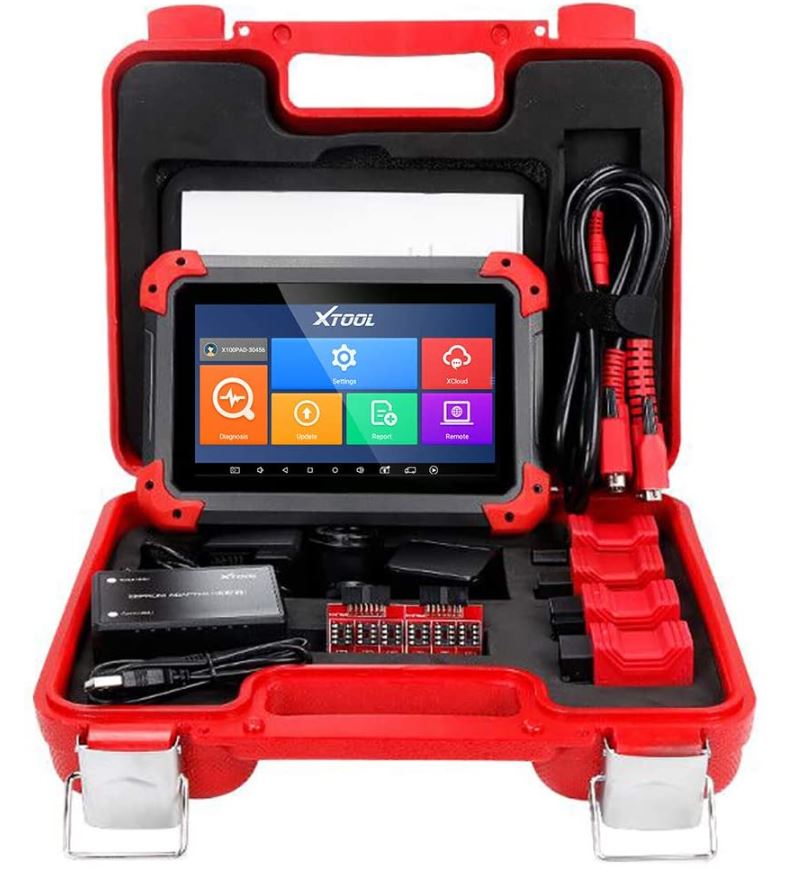 XTOOL X100 PAD Key Programmer
Our first option, the XTOOL X100 PAD Key Programmer is the most full-featured of the lot. It has a price tag commensurate with this functionality, but it's well worth the investment for professionals. Let's start with the basics. This is a complete kit, which comes with all the attachments you could ask for. In addition to a standard OBD II plug, it also has Honda-3, Kia Hyundai-10, and Kia-20 connectors. This allows you to work on just about any vehicle on the road, with the exception of certain trucks. The mileage function, which we'll talk about later, also doesn't work on certain Japanese vehicles. These includes Toyota, Honda, and Nissan.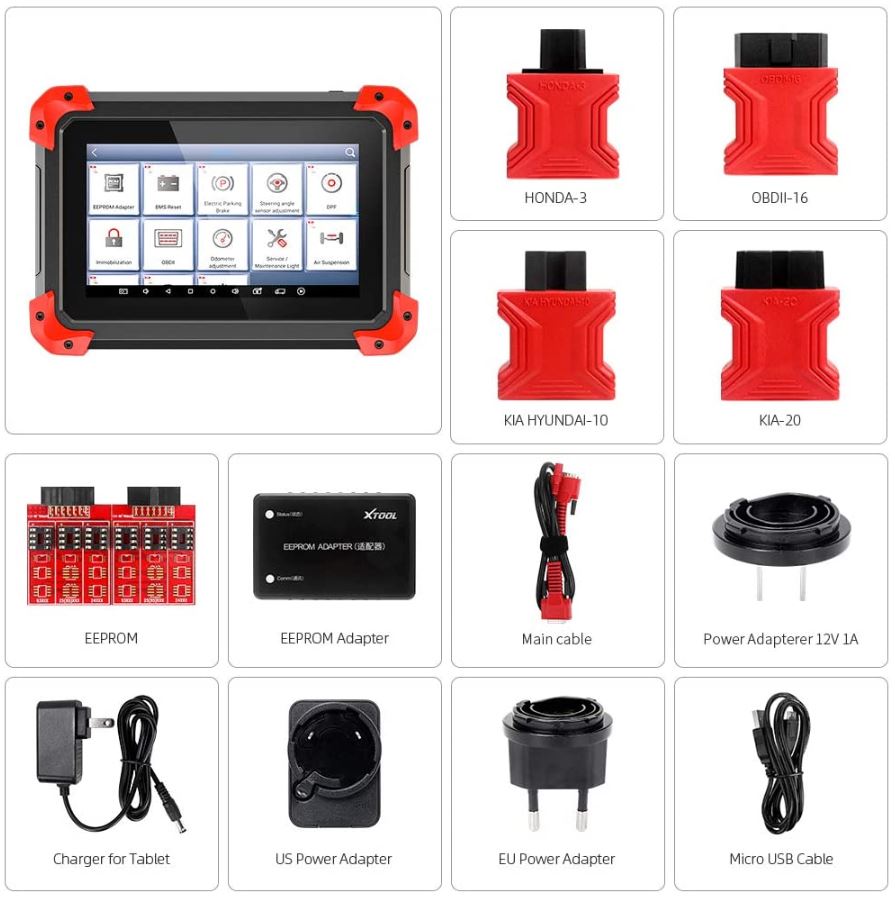 In addition to the unit itself, you also get an EEPROM card and adapter, and US and EU power adapters. There's also an AC charger for the unit, as well as a Micro USB cable for connecting to your PC. There's even a convenient padded carrying case to protect all of your equipment. The total size is 14.3 inches wide, 10.9 inches deep, and 4.1 inches thick. The weight is 5.67 pounds, which makes it light enough for easy transport and on-site work.
The X100 PAD itself is well-engineered, with an industrial-grade case that can stand up to bumps and drops. It has large bumpers on the corners, which are thicker than the case itself. This ensures that if you drop it, the screen will not hit the ground. In addition to key programming, it also provides additional features we'll talk about in a second. It has an intuitive touchscreen interface, which makes it easy to operate even with greasy hands. And when grease inevitably gets on the screen, it's easy to keep clean. The screen also uses IPS technology, which means the viewing angle is very wide. If you're working in a car's foot well, you won't have to worry about any visibility issues.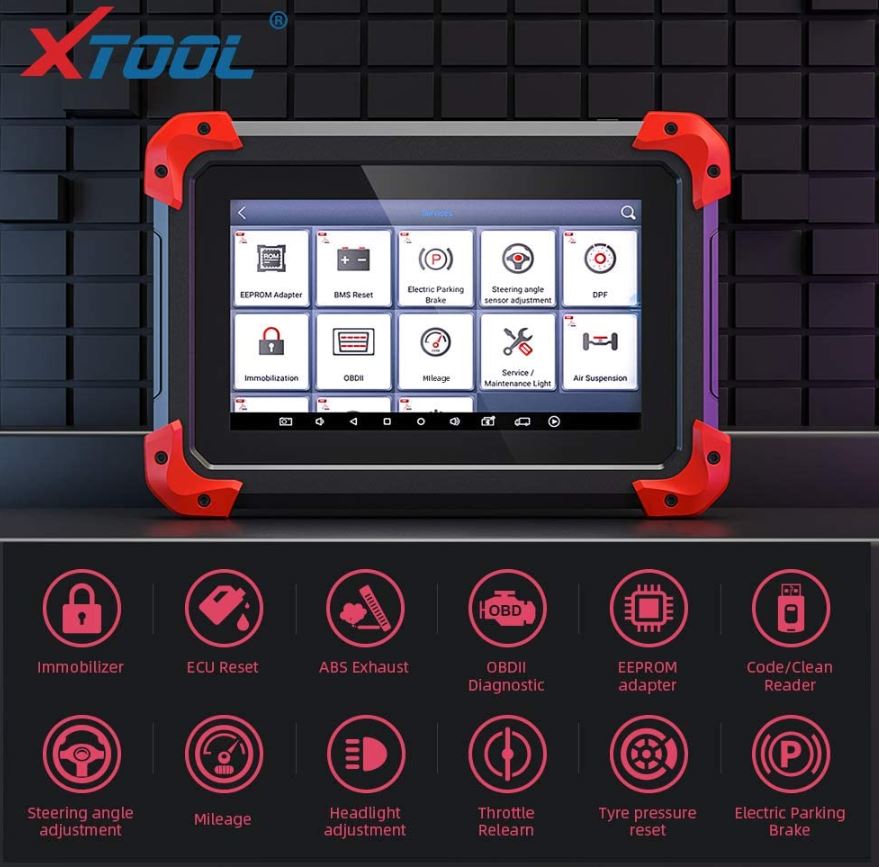 The internal 4,000mAh battery is powerful enough to last through a full day's work. This makes it well suited for professionals, who can't afford to stop work while a battery charges. It comes with a dealer code (XT0240) for easy activation, so all features are available out of the box. And if you have any trouble, XTOOL offers 24/7 customer support to help sort things out. In addition, XTOOL offers a 2-year software upgrade along with the package. This will help you stay up to date with the latest new vehicles.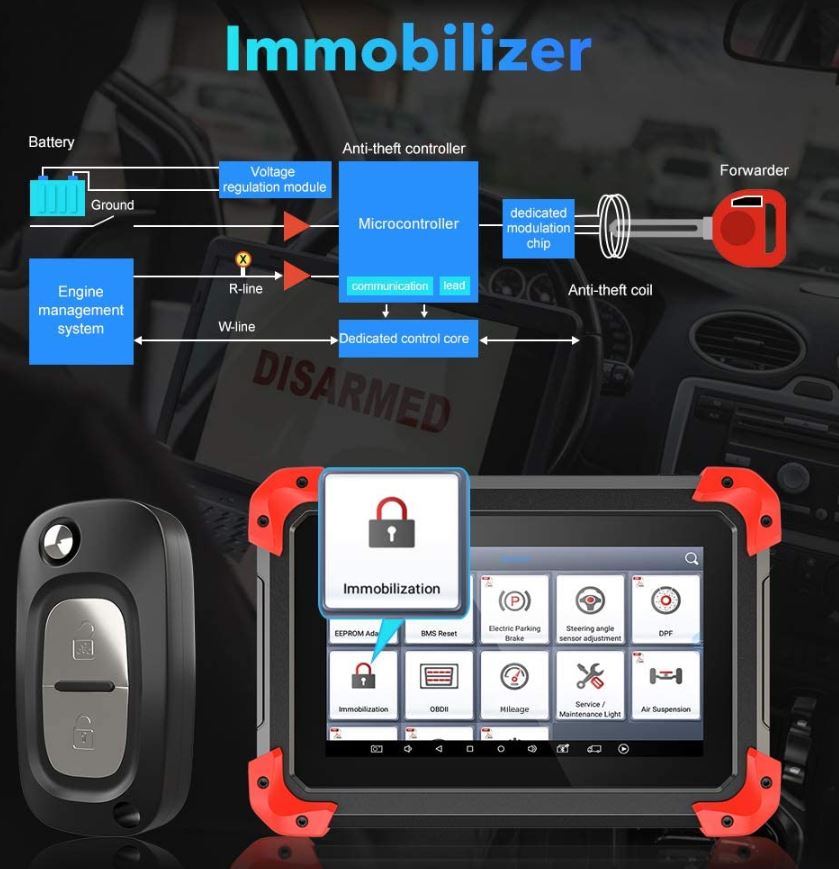 Extra Features
As we mentioned, the XTOOL X100 PAD Key Programmer has a variety of extra features. In essence, it's not just a key programmer, it's a fully functional OBD II tool. In addition to rekeying, you can also use it to perform several other jobs. You can adjust mileage, reset the oil service light and tire pressure warning lights, and reset the battery. You can also reset the EPB, throttle, and timing belt service light. You can calibrate the steering angle, and even perform OBD II code diagnostics. As we mentioned, not all of these features will work on Japanese cars.
If you're working on a BMW, you get a slew of additional bonus features. You can reset warnings for engine oil, spark plugs, front and rear brake pads, air conditioner, brake liquid, and coolant. These features are available for the vast majority of BMW vehicles.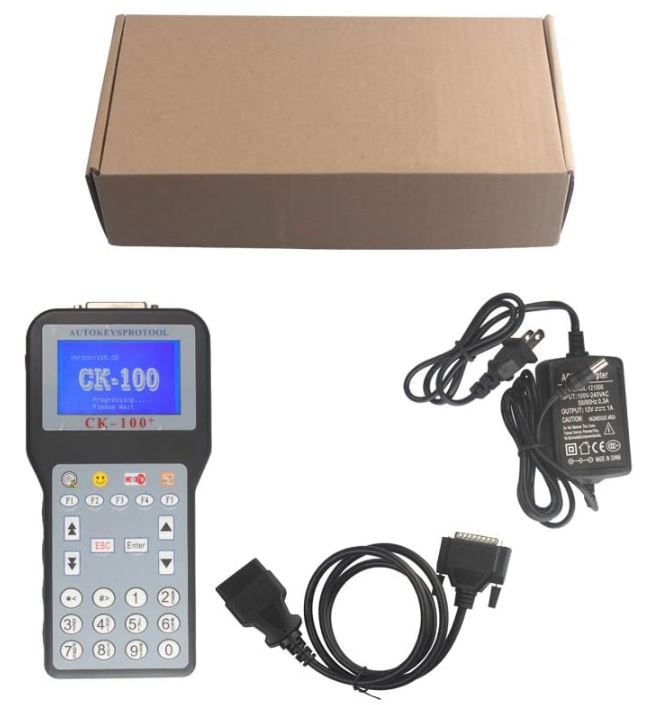 XtremeAmazing CK-100
The XtremeAmazing CK-100 will be a better value for most homeowners than the XTOOL X100 PAD. It costs significantly less, about the same as a single typical automotive key from a dealership. As a result, once you've programmed two keys, you'll already be saving money. That said, it connects only via OBD II. This will be fine for most vehicles, but Kia, Hyundai, and Honda owners won't be able to use it. Everyone else will be just fine, though.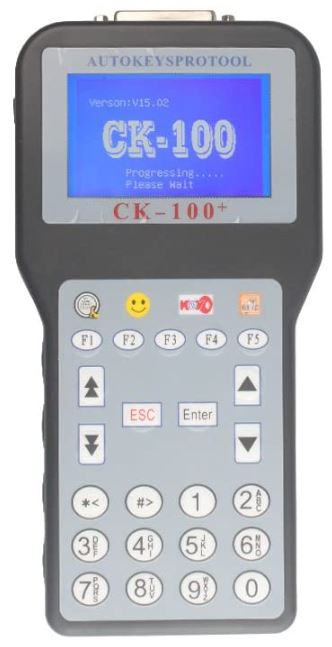 Instead of a carrying case, the CK-100 comes in a simple cardboard box. In addition to the programmer itself, you get an OBD II tether cable and a battery charger. This means you're ready to go, right out of the box. The total weight is 2.2 pounds, so it's easy to hold in one hand while you're using it.
This is an updated version of the older SBB Key Programmer, one of the most popular programmers on the market. It supports multiple languages, including English, Spanish, Italian, Dutch, French, Turkish, and Portuguese. Unfortunately, the instruction manual is only in Chinese, which can make it hard to figure out. Chinese characters will sometimes randomly appear on the screen for no reason, regardless of your language settings. This is a significant oversight, and it disappointed us.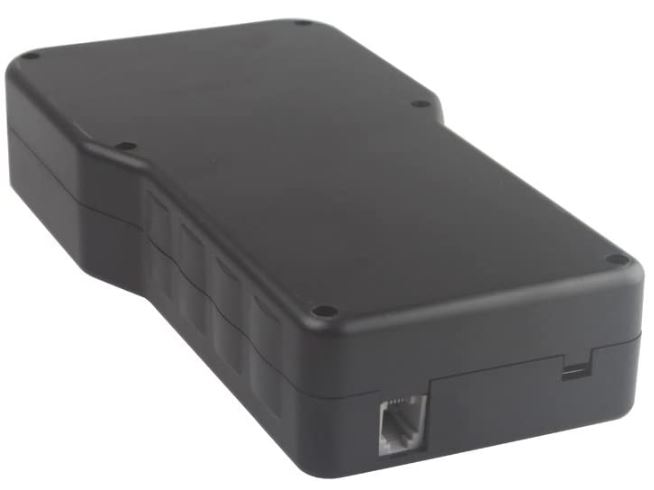 We can't tell you how to perform every possible function. But we can at least tell you how to copy your key. First, connect the CK-100 to your vehicle's OBD II port. Next, turn it on, and select your vehicle's make and model through the CK-100's prompts. Put a working key into the ignition, turn the car on, and then remove the key. Now, insert your new, blank key into the ignition, but leave the ignition off for the time being. The programming sequence will take from 45 to 60 seconds, and you'll see a prompt when it's been completed. Once the copying sequence is complete, turn the new key to ensure that it works. Congratulations! You just saved a small fortune on dealership fees.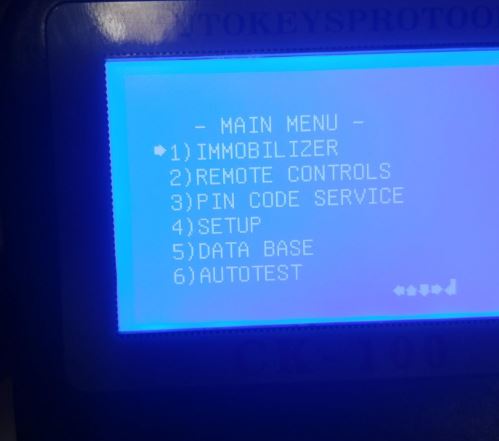 Extra Features
As you might expect from a budget-priced key programmer, the CK-100 doesn't offer many extra features. Still, it does a few things beyond simple key copying. First, it can read a key code from the immobilizer's memory. This allows you to create new keys even if you've lost your original. You can also use the CK-100 to deactivate old keys. This is a useful feature if your original key has been stolen and you need to create a brand-new replacement. You can even use the CK-100 to program new remote controls for locking and unlocking your vehicle. Operation is generally easy, since the menu is pretty intuitive. But if you run into any random Chinese characters, you'll need to search the web for additional assistance.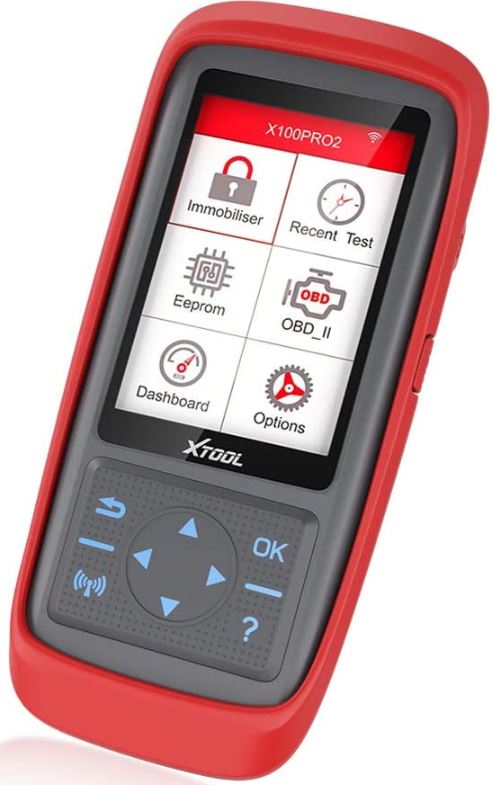 XTOOL X100 Pro2
The XTOOL X100 Pro2 strikes a solid balance between the X100 PAD and the CK-100. It has a medium price point, which makes it a better choice for those on a limited budget. However, it offers significantly more functionality than the CK-100. This is a handheld unit, with an intuitive touchscreen interface. There's also a rubbery control pad with buttons that are easy to press. It has a sturdy outer case, so it can handle the abuse you'd expect from shop work. At 4.07 pounds, it's fairly heavy for the size, but the durability is well worth it. It's also easy to clean.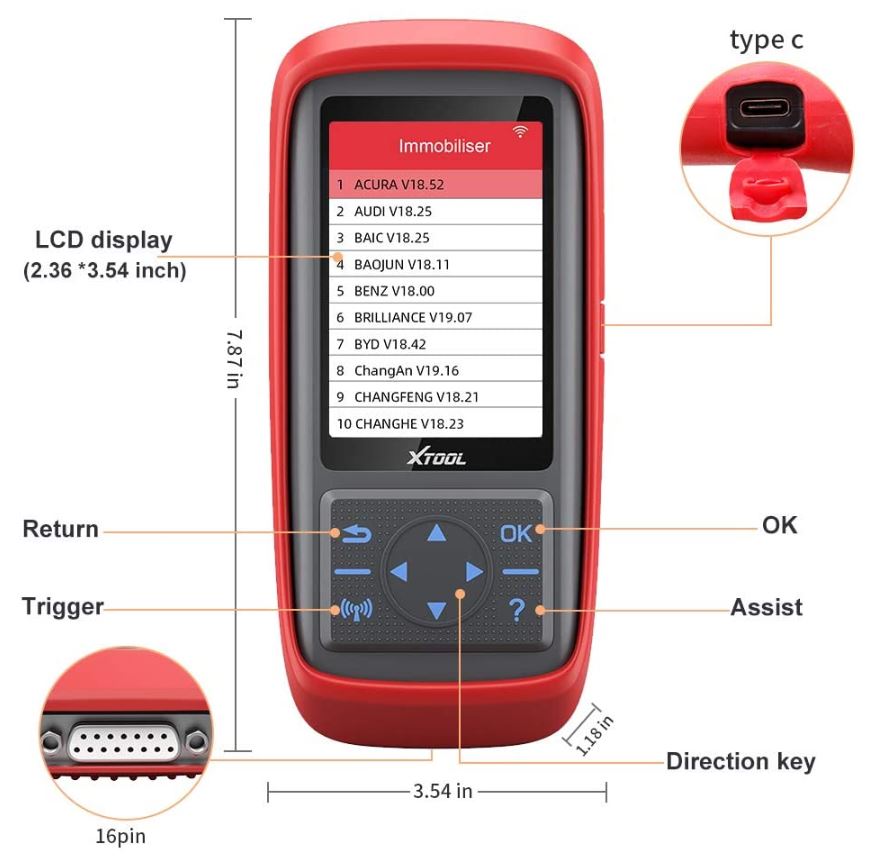 The X100 Pro2 connects to your vehicle with a standard OBD II connector. It also includes a variety of other connectors for different vehicles. These include adaptors for Hyundai/KIA-10, Honda-3, and KIA-20. Also included in the kit are an EEPROM chip and EEPROM adapter and US and EU power adapters. You even get a standard 12-volt adapter for plugging into the vehicle's power port. There's an AC cable for charging the X100 Pro2, as well as a Micro USB cable for connecting to your PC. An owner's manual and a plastic carrying case round out the kit. The box is nothing special, but it gets the job done.
The X100 Pro2 supports 8 different languages: English, Spanish, French, German, Portuguese, Italian, Polish, and Russian. In total, it can be used on 35 different makes of automobile. These include all the major manufacturers, such as Ford, GM, Chrysler, and Toyota. They also include less common manufacturers such as Land Rover, Fiat, and Peugeot. For Volkswagen, it can make up to a 3rd key, but it won't produce a 4th or 5th key.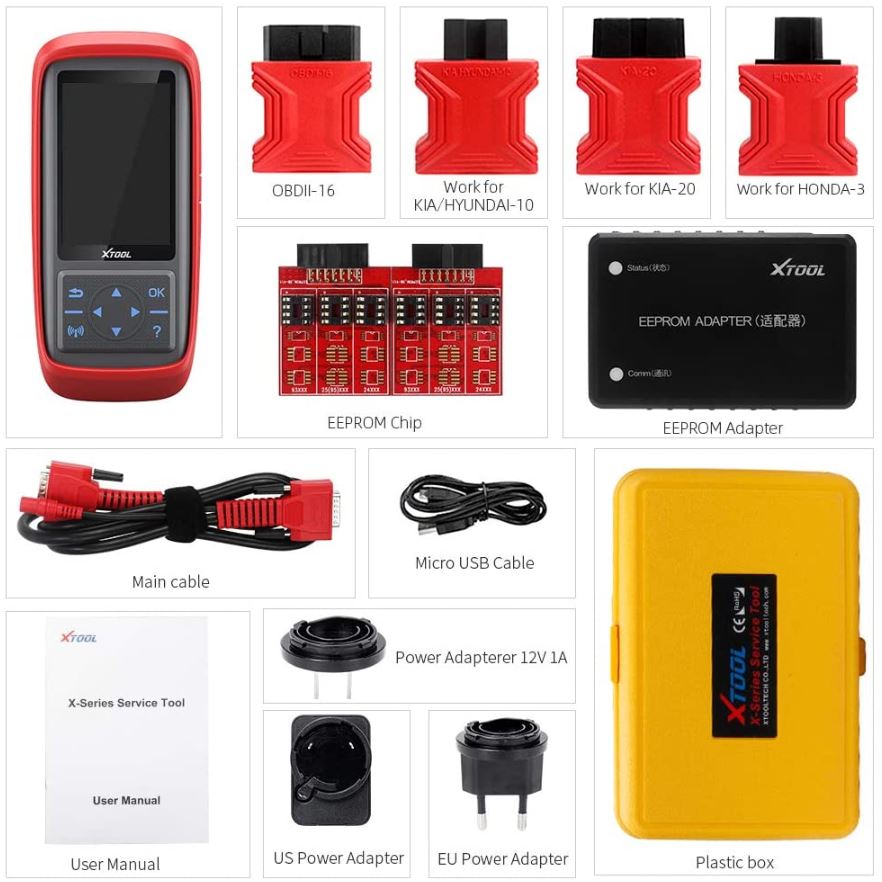 With the Micro USB cable, you'll be able to upgrade your software via a web-based download. You'll have to turn off your antivirus software to do this. As a result, it's smart to close your browser and other web-based apps while the download is completing. This feature is available for life. You'll need your device's serial number and password, which you can find in the "About" section of the menu. You'll also need a dealer code, which is "XT0240". All of this comes with a 1-year warranty, so you're covered if there are any issues out of the box.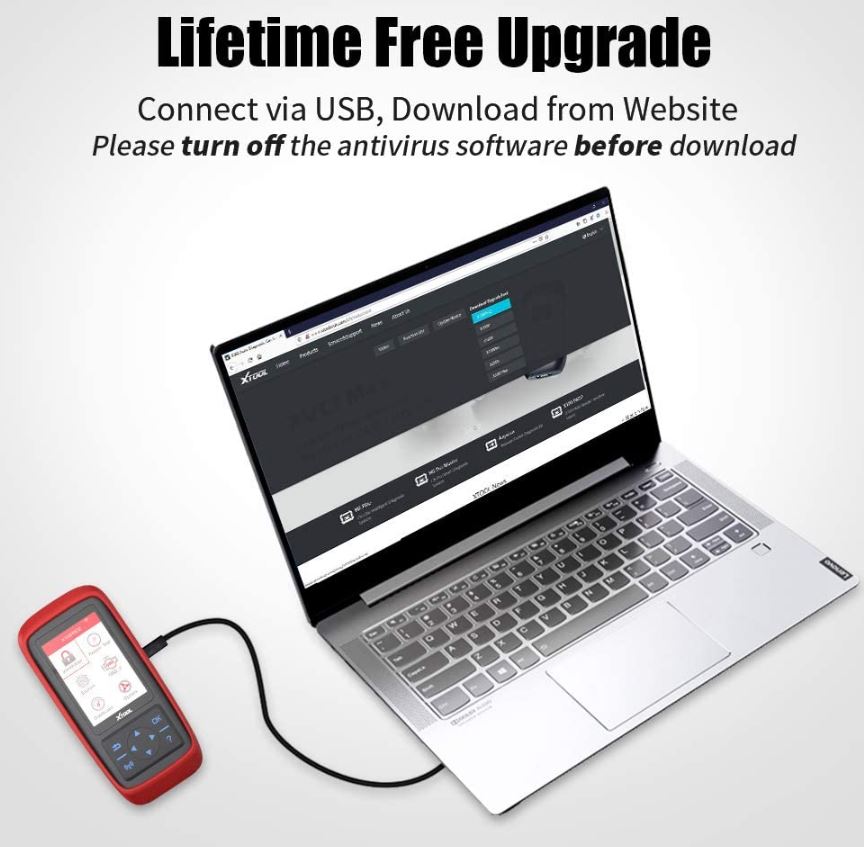 Extra Features
The X100 Pro2 has all the same bonus features as the CK-100, along with a few extras. It can reprogram the immobilizer and the ECU, which is functionality you'll typically only find on an OBD II scanner. It's even capable of reprogramming the VIN number, as well as the EEPROM. These added features might not make a difference to average drivers, but they're a game changer for mechanics.
Final Verdict
As is often the case, the best car key programmer will be different depending on your needs. For professional mechanics, the choice is easy. The XTOOL X100 PAD Key Programmer has just about every feature you could ask for. Not only does it program keys, it does most of the things you'd expect from a full-featured OBD II tool. Keep in mind, though, that it's more expensive than the other options. If you just want to program a new key for your personal vehicle, you can get away with spending less.
At the other end of the spectrum, the XtremeAmazing CK-100 does the bare minimum. It copies keys, and performs a few other basic functions. It's usually easy to use, but the lack of English instructions and random Chinese menu options can cause problems. On the other hand, it's affordable enough that anyone can buy one. If you're looking for a basic key programmer for home use, it will get the job done.
The XTOOL X100 Pro2 is a nice balance between the two. It's not as functional as the XTOOL X100 PAD Key Programmer, but it's not as expensive, either. Conversely, it costs more than the XtremeAmazing CK-100, but it works better. If you want an intuitive device at a reasonable price, the X100 Pro2 is a solid choice.