These days, we rely on our phones more than ever, even when we're driving. Now, we're not endorsing texting and driving or anything like that. Safety should come first, at all times! That said, there are plenty of legitimate reasons to use your phone while driving. Many people use their phones for playing music, or as a GPS, just to name a couple of common uses. If you don't want to arrive at your destination with a dead battery, you need a car charger.
Car chargers are as old as cell phones. As a matter of fact, the first cellular phones were ordinary phones hardwired into a car with a cellular antenna. Now, all that technology fits inside your smartphone. The only thing required from your car is a little bit of juice. But not all car chargers perform equally well. Some have more and different ports, or provide extra wattage. In some cases, you'll find additional bonus features. For instance, we've reviewed the Technaxx TX-100 in the past. It has a built-in dome sensor that sounds an alarm when activated. It's essentially a cheap substitute for a car alarm, and it's pretty cool!
Note: At no extra cost to you, we may earn a commission for purchases using our links. Learn more.
We're about to review another Technaxx offering: the TX-159. This is a three-port charger that can charge three devices simultaneously. It also doubles as a disco party light for all your social gatherings. But how well does it perform? And what else is it capable of? We've put the Technaxx TX-159 Portable Disco light USB Car Charger through its paces. Now, we'll give you a thorough overview of everything it does. We'll start with the physical design, and discuss the performance of the charging ports. Then, we'll finish up with the fun part: the disco light function. Once we've gone over everything, we'll be ready to render our verdict.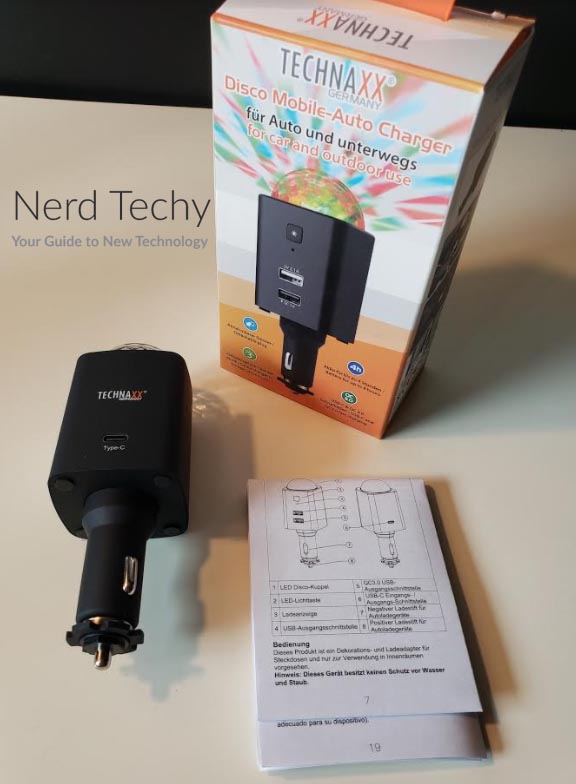 What, Exactly, is the TX-159?
The Technaxx TX-159 is a modular car charger that also works as a disco party light. Confused? We were, too. It's an unusual gimmick, but it's whimsical enough that it got our attention. The charger itself comes in pieces. The top, main portion is a rectangle measuring 1.85 inches square, and 3.14 inches tall. The height includes the hemispherical disco light on the top. You'll also find the USB ports for charging your phone. The main portion attaches to a cigarette plug, which extends the length to 5.39 inches.
That's a bit long for portability, but you're supposed to leave the plug in your car. It clicks easily in and out of the main housing, so it can be left in your car's cigarette charger. That said, when you do need to move the plug, the whole unit weighs only 3.13 ounces. That's significantly lighter in the hand than we would have expected.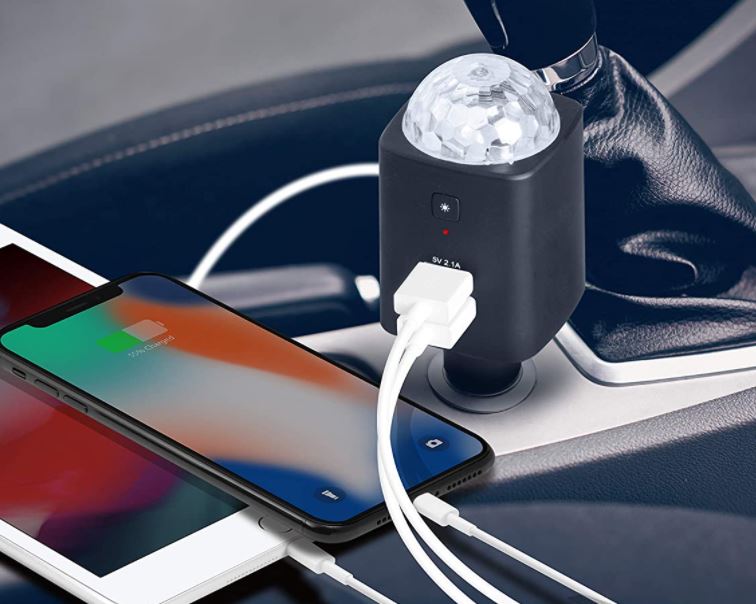 The housing is constructed from black ABS plastic, with a no-nonsense satin finish. This finish provides a good balance between washability and shine. It's easy to dust off, but it won't easily collect fingerprints. The USB ports are split between the front and the back. On the front, you'll see a pair of ordinary USB Type-A ports. The top, standard port has a bright white tab that makes it easy to orient your plug. The lower, Quick Charge port, has an ordinary black tab. On the rear of the housing, you'll find the USB Type-C port. This port is the easiest to connect of all, because USB Type-C is already reversible.
The design is safe to use and safe to carry. The corners and edges are rounded, which means they won't jab you in the leg while they're in your pocket. There are also four rubber bumpers on the bottom to protect the inside of your car. When the housing is detached for use as a disco light, the bumpers become even more important. They protect wood and other soft surfaces from getting scratched. Not only that, but they keep the light from sliding off a smooth surface and hitting the floor. The connection for the plug is also recessed, so it can't be easily damaged while unplugged.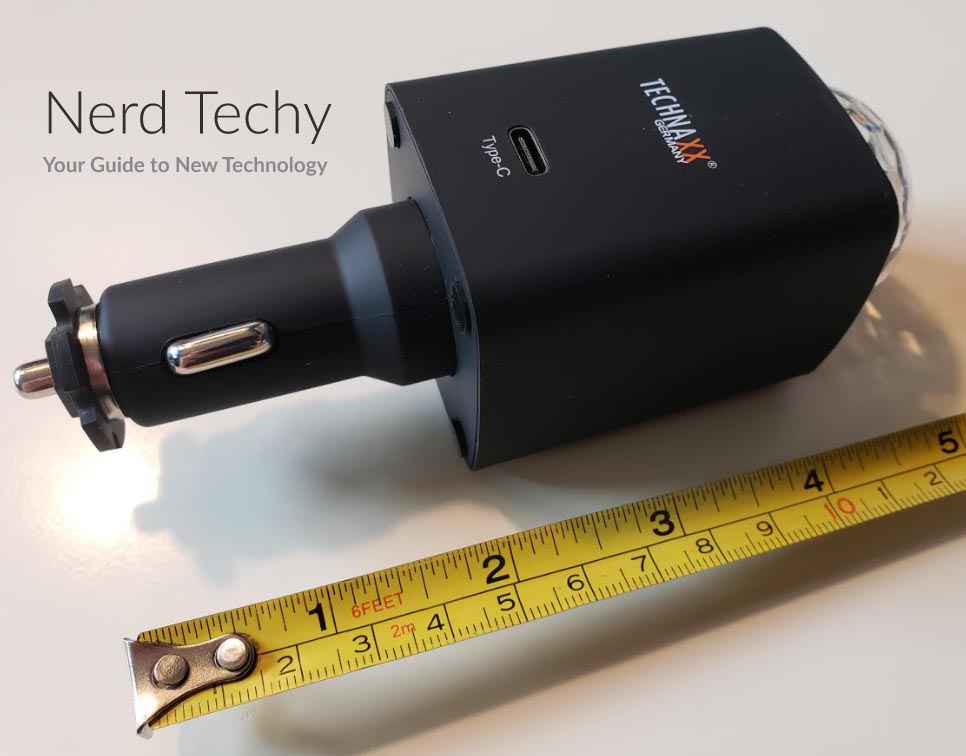 To activate the disco light function, you simply press the button on the front of the charger. When you want to turn the light off, just press the button again. The light can be used both when it's plugged in and when it's not. We're not sure why you'd actually want a distracting disco light strobing while you're driving. But if you're driving a party limo or something like that, the TX-159 could be a viable option. Otherwise, you're better off using it outside the car.
Battery and Charging Performance
Let's be honest. The disco light function is fun and all, but charging performance is more important. If your disco light goes kaput, you'll be slightly disappointed at a party. If your phone charger fails, you can end up broken down on the roadside with no way to call AAA. Thankfully, we don't have any concerns about the TX-159's reliability. Technaxx is an experienced manufacturer, and they know what they're doing. So, how do the charging ports work?
There are three different charging ports, and they all work a bit differently. The top USB Type-A port supplies five volts at 2.1 amps, or 10.5 watts of power. You'll get the same amount of juice from the Type-C port, which makes it essentially a standard charger. The lower USB Type-A port utilizes Quick Charge 3.0 (QC 3.0 technology). This means it's meant to provide extra power for faster charging on compatible phones. The QC charger can provide three different levels of power. The first, five volts at 2.5 amps, provides 12.5 watts of power. The next two levels provide different voltages and amperages, but both provide 18 watts.
You aren't getting the fastest possible QC charging. But you're getting the fastest charging possible on Apples Lightning cable which might as well be the same thing. You can charge a newer iPhone to 80 percent in under 40 minutes. You can also charge faster-charging Android phones. That said, there are so many Android phones out there that it's impossible to be compatible with all of them. If nothing else, though, you can still use the ordinary USB Type-A or Type-C plug.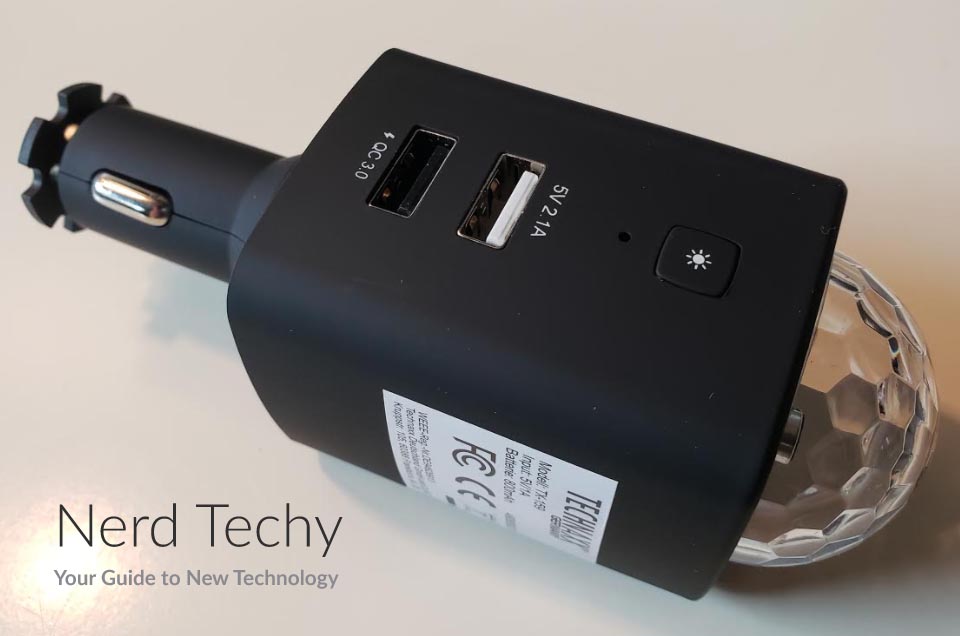 The TX-159 has an internal rechargeable battery with a capacity of 800mAh. This isn't really enough for use as a power bank. It's barely enough for a quarter of a charge on most smartphones. At best, you're looking at an emergency backup. That said, the battery isn't really designed to be used that way. It's simply meant to power the disco light function. For that purpose, it works fairly well. You'll get roughly four hours of performance. Because the light cycles based on the tempo of your music, this can vary slightly. But if you bank on four hours of use, you'll be pretty close.
The power input can come from two sources: either your car's 12-volt DC outlet, or a USB Type-C charger. The car's DC voltage will supply more than enough electricity to power all three ports simultaneously. If you want to charge three phones at once, or plug in your tablet while driving, you can. You can also plug the TX-159 into a USB charger. The Type-C port on the back is reversible, and will accept a charge as well as deliver one. That said, the maximum rate of power delivery is only 10.5 watts. This means it's not suitable for pass-through charging. That said, 10.5 watts is enough to keep the disco light going indefinitely. You can set it down, plug it into a wall outlet, and it will run all night.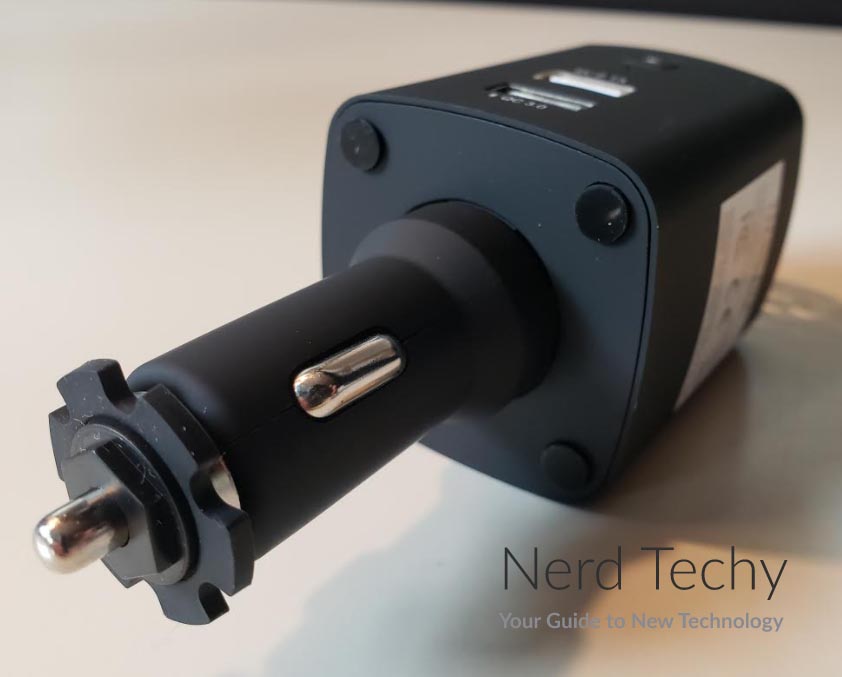 One thing the TX-159 won't do is wireless charging. However, there are plenty of car chargers that will also power your phone wirelessly. If that's what you need, check out the Fiora Ultimate Wireless Car Charger. It cradles your phone in a padded clamp, and delivers 15 watts of wireless power.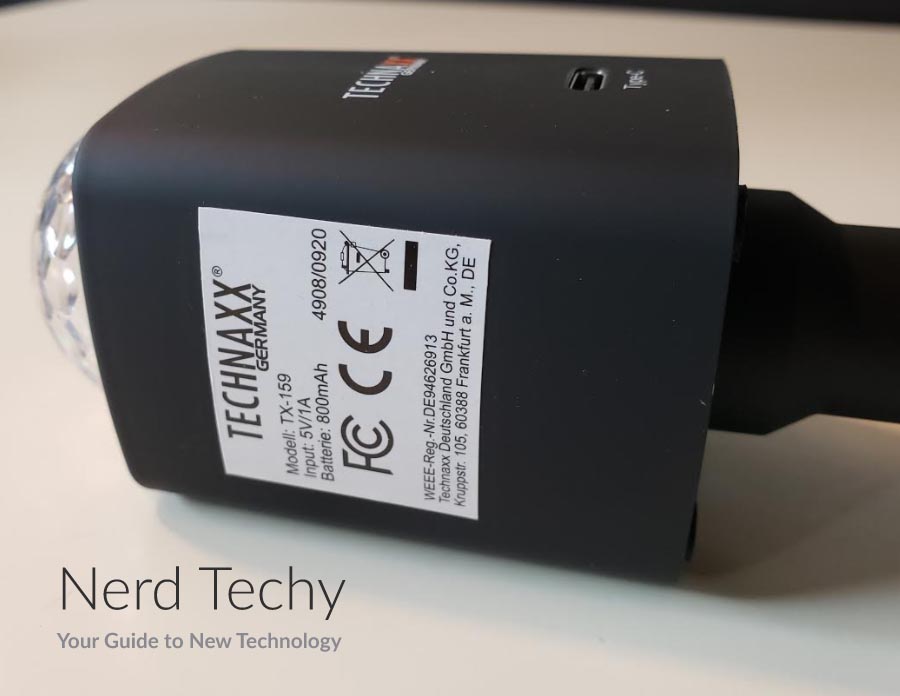 Disco Light Function
The built-in disco light cycles between three colors: red, green, and blue. Each color is provided by its own individual one-watt LED diode. As you can imagine, this amount of power doesn't exactly provide a ton of brightness. If you're in your car in daytime, you'll barely know it's on. The same goes in a brightly-lit room. That said, disco balls are typically used for parties or dancing. Presumably, the light will be at least somewhat lowered when you're using the bulb. In addition to sitting on a table, it could also be hung upside-down for an even more authentic feel.
The color and intensity of the light will change in time with the music. It will automatically keep time with both slower and faster-tempo music. However, it's not limited to only music. It will actually respond to any loud noise. This makes it a great distraction for kids — as long as you don't mind them yelling into it.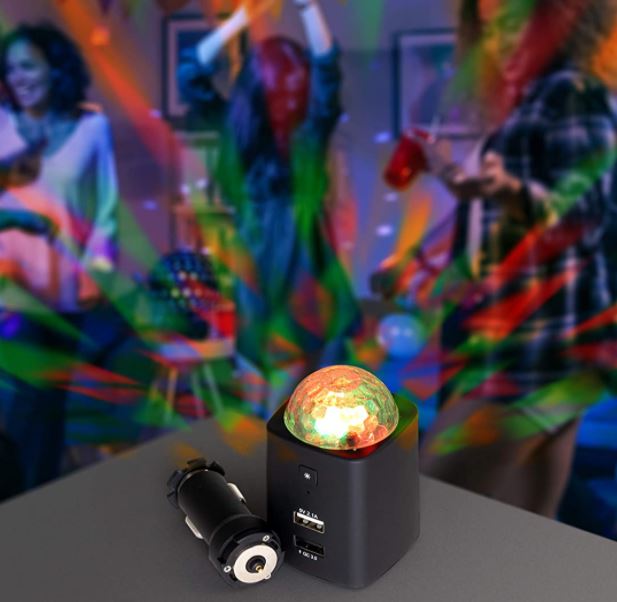 Final Verdict
As you can see, the Technaxx TX-159 Portable Disco Light USB Car Charger is a unique animal. It's not just a charger; it's also a disco light! Of course, the light is a bit gimmicky, but there's nothing wrong with that. It's fun and creative, and that's good enough!
The charging aspect itself works very well. We would have liked to see a beefier QC port, but it's otherwise very comprehensive. Similarly, we can't help but think that a bigger battery would have allowed for viable power bank use. That would have been worth a few extra ounces of weight. On the other hand, you can charge three phones at once. You can also detach the 12-volt plug and leave it in your car, so it's very portable. Finally, the light is also well-designed, and responds to music as you'd expect. It's a great companion for any party.
Note: At no extra cost to you, we may earn a commission for purchases using our links. Learn more.