These days, you can't be too careful about automotive security. And car thieves are savvy about circumventing regular alarms. They'll either target cars without an alarm system, or they use a hacked keyless entry system to make your car think they're authorized to open the door. Either way, the end result is the same: you leave your house to go to work, and you find that your valuables are missing from the vehicle.
The Technaxx T-100 is designed to defeat these kinds of measures. It plugs into your cigarette lighter outlet, and it looks like a USB charger. This doesn't make it impossible to defeat, but it does give you a leg up on the bad guys. Now, let's see what it has to offer!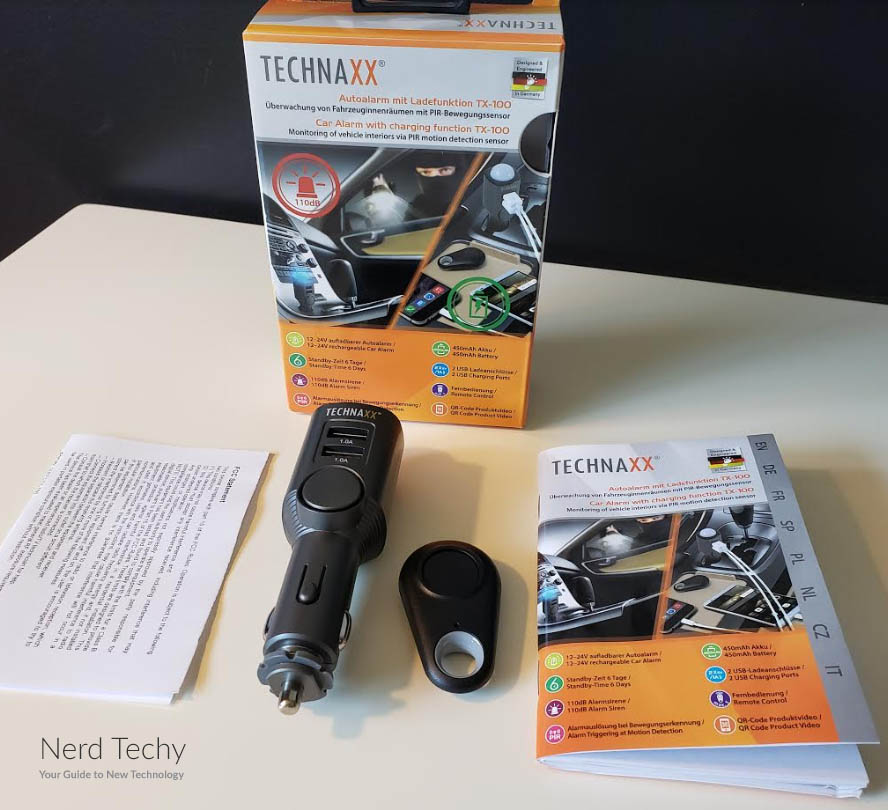 Design and Setup
At first glance, the Technaxx T-100 Car Alarm looks like a standard two-port USB charger. However, it features a built-in passive infrared motion sensor, which sets off a piercing 110dB siren when it picks up any activity. It features a built-in battery that charges whenever your vehicle is running. A key fob-style remote control is included, which allows you to turn the alarm on and off from outside of the car. The kit comes in a compact box, with instructions that are written in English and German. This is no accident – Technaxx is a German company, so you can rely on the quality of the engineering.
The body of the unit is constructed from ABS plastic, which is lightweight and durable, tipping the scales at just over 1 ½ ounces. This is less than half the weight of a McDonald's hamburger, so it's easy to carry in your pocket. The top features a pair of USB charging ports, but there's a large, shiny infrared sensor at the very end. In addition, there are narrow slots towards the base that house the siren. At the very end, you'll find a metal tip, which is standard on any device that plugs into a 12v car outlet.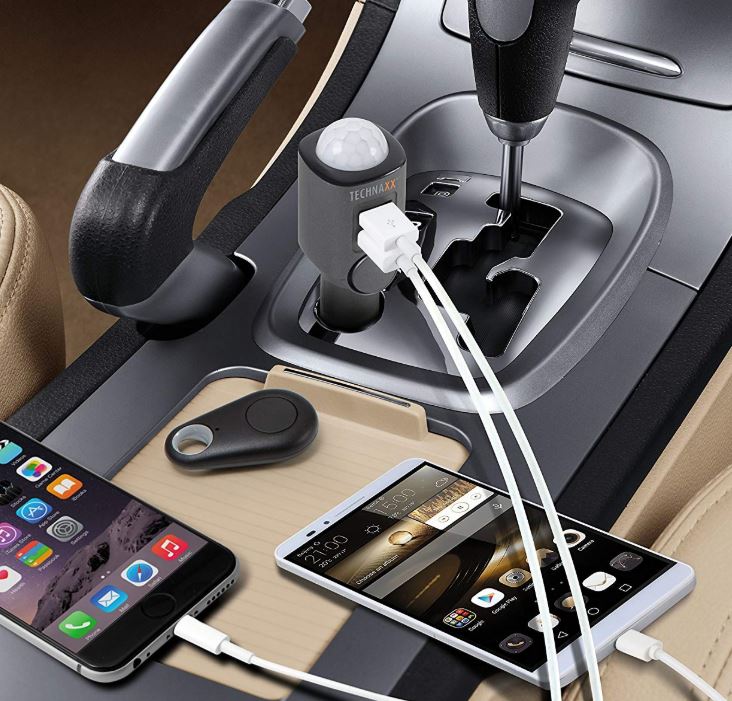 The key fob looks similar to your typical car remote. It's compact and slim, and features a single button that's used to turn the TX-100 on and off. It comes with a CR2032 battery pre-installed, which means you won't have to worry about changing a battery for a while. There's also an indicator light that illuminates when you press the button. If the light doesn't light up, it's time to change your battery.
Technaxx recommends charging the TX-100 completely before you turn it on. This was probably our biggest complaint, but it's a minor issue. It takes only 3 to 4 hours to fully charge, but it will only charge while you're driving. Alternatively, you could use a 12-volt cigarette lighter wall adapter, but that kind of adapter isn't terribly useful for that many other purposes, so it's not necessarily the best investment. And if you have a long commute, you can easily charge this device in 2 or 3 days, even shorter if you do a lot of other driving. Once fully charged, the battery is good for 6 days of use, which means you'll need to drive at least 4 hours a week to keep it topped off.
The IR sensor will light up red while the battery is charging. Once the battery is charged, the light will turn off. From that point, you'll need to pair the remote. Since this can only be done within the first five seconds of the TX-100 being plugged in, you'll need to unplug the unit and plug it back in. Press and hold the remote button until the unit makes four beeps and the IR sensor blinks blue. At that point, your remote is paired. Best of all, if you're installing TX-100s in multiple vehicles, you can pair all of them with the same remote, so you won't have to carry more than one key fob.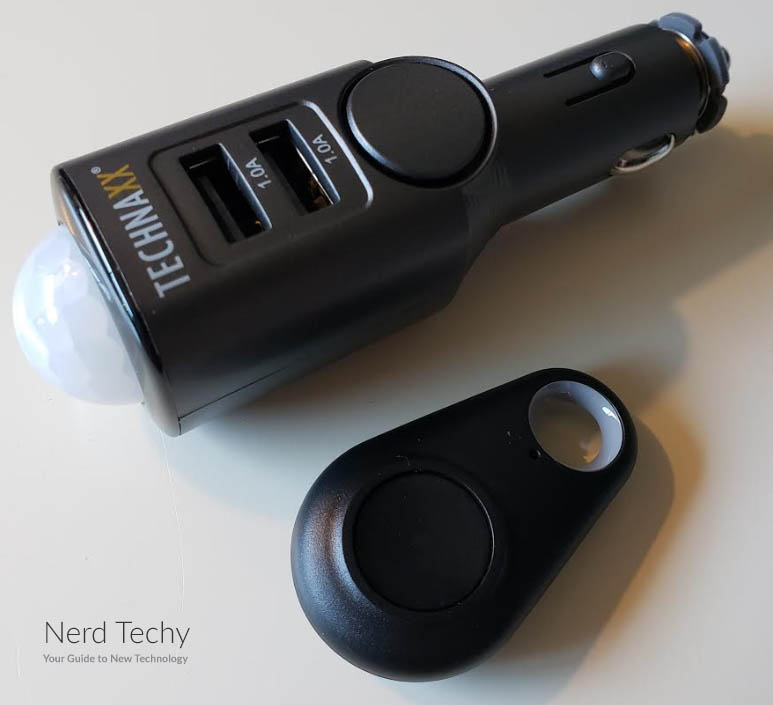 Everyday Use
Once you've set up your TX-100, everyday use is simple and seamless. When you get out of your car, simply press the button on the key fob to activate the alarm. Keep in mind that the range on the remote is 8 meters (26 feet), so if you've forgotten to turn your alarm on you won't be able to do it from inside your house or across a parking lot. One thing that you'll have to remember is to deactivate the TX-100 before you get in the car. If you're in the habit of leaving for work with a foggy morning brain, be prepared to startle yourself a few times before you get used to the new routine. Both when activating and deactivating, the TX-100 provides a confirmation beep, so you'll know that it's working.
The USB ports on the top are good for a slow charge, but they won't be compatible with the rapid charge option on newer devices. They only push 5 volts at 1 amp, which is the lowest power draw available on USB. This is underwhelming, but it's more than enough to keep your cell phone fully charged while you're on the road.
Of course, your home deserves every bit as much security as your vehicle. If you're looking for an effective, affordable security system that doesn't require an expensive installation, read our review of the Veho Cave. The door sensors, window sensors, and motion sensors can be connected either over WiFi, or through Ethernet for a more secure connection. Even better, Veho sells additional sensors, so you can scale the system up to work on any sized house.
Passive IR Sensor
The TX-100's motion sensor uses passive infrared, which means that there's no source of illumination. This is a good thing, since there won't be any LED to tip off a thief to the presence of an active device. Even an infrared light that's completely invisible to the naked eye will light up your car like a Christmas tree if a thief has a cell phone with night vision. And yes, thieves do check for these things. Instead, the sensor relies on ambient light. This is more than enough in an urban or suburban environment, and usually in rural areas. If you're far from civilization and it's a moonless night, you may have some trouble, but then again if you live way out in the country you're probably not too worried about car thieves.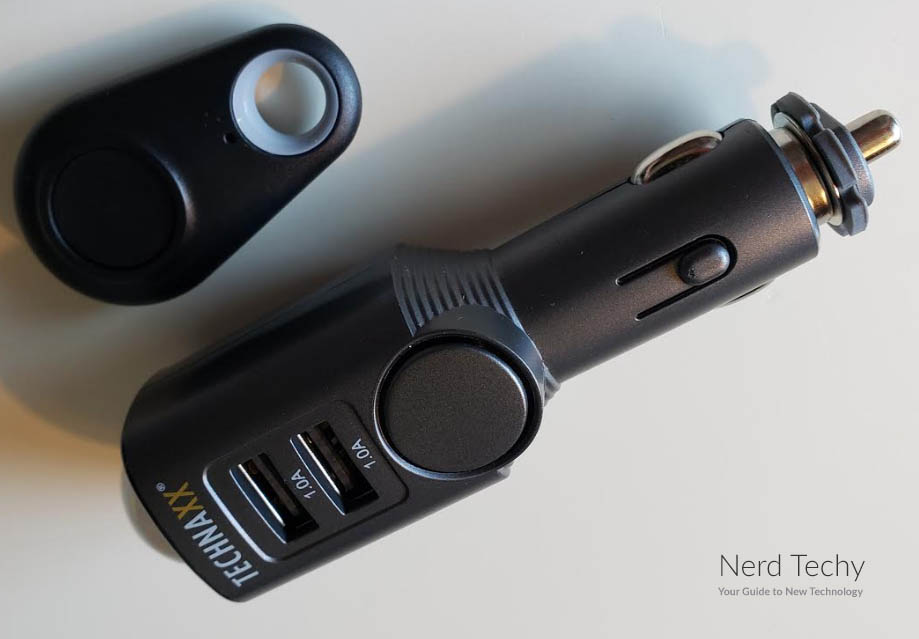 The motion sensor has an angle of 120 degrees, which is perfectly suited to the interior of a car. It's wide enough to cover most of the passenger compartment, but not wide enough to pick up anything outside the windows. This is essential if you park in a parking lot or on the side of the street, since people will inevitably be walking by outside your windows.
One thing to keep in mind is the location and angle of your car's power outlet. If it's pointed horizontally and sits up relatively high, you'll get good coverage over the whole inside of the vehicle. But if it's oriented vertically, someone will have to lean across the center console to set off the alarm. And if it sits very low down, the center console may obscure part of the back seat, so consider your power outlet's position and angle before making a purchase.
That said, even the best alarm isn't going to do you much good if the thief decides to snatch your belongings anyway. If you want the police to actually catch the burglar, you'll need evidence, and the Thinkware X700 Dash Cam is perfect for that purpose. It has a special, 2 FPS time lapse mode that's great for overnight monitoring. And if the thief is foolish enough to steal it, the geo-location feature will help you retrieve it.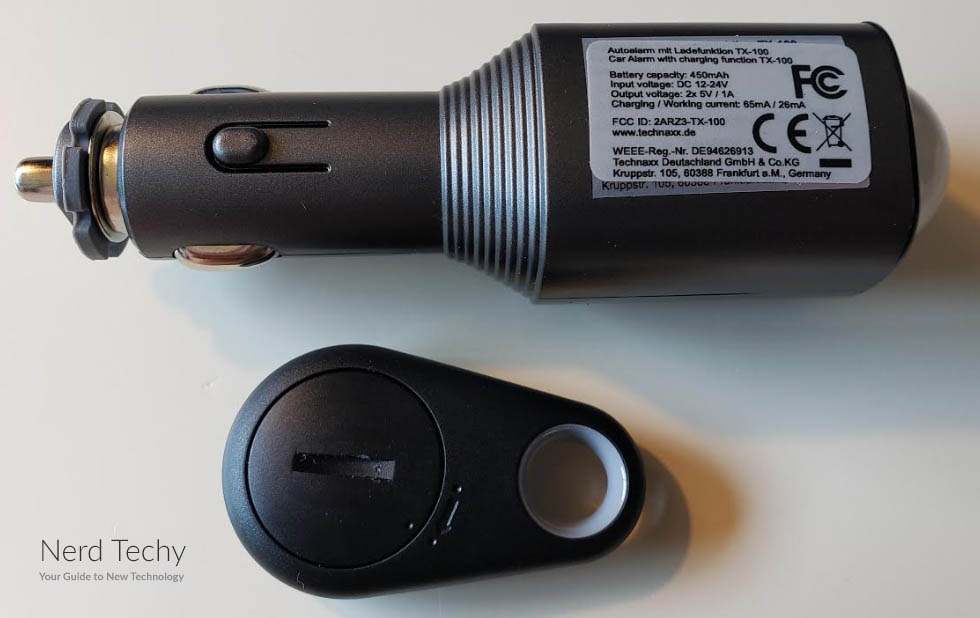 110dB alarm
The 110 decibel alarm on the TX-100 sounds loud, and it is. It's about the same decibel level as the average car horn. That said, it's not as loud as the average car alarm, which typically clocks in at around 125 decibels. That's halfway between a rock concert and a large jet engine. And while a car alarm is loud enough to hear even over loud background noise, the TX-100 may blend in to loud background noise. That said, the main purpose of this device is to serve as a second line of defense, and to startle thieves and make them run away. For this purpose, it's more than sufficient.
There are plenty of other devices on the market that serve a similar purpose, but are meant to be carried on your person instead of left in your car. In our review of the best personal emergency safety panic alarms, we looked at three of the most popular models. First, we reviewed the Vigilant 130dB Personal Jogger / Student Emergency Alarm. This powerful device is extremely loud. Next, we talked about the BASU eAlarm+, which is almost as loud, and can be activated by a tug on the lanyard. Finally, we reviewed the Sabre Personal Self-Defense Safety Alarm. At 110dB, it's a little quieter, but it's also small enough to carry on your keychain.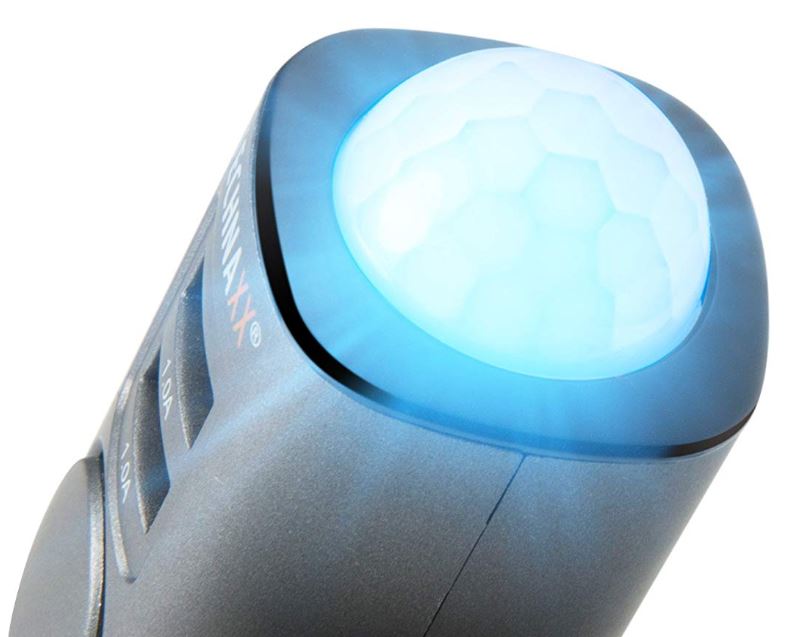 Technical Specifications
As we get to the end of our review, here's a quick recap of the TX-100's specs and features. If you're a skimmer, not a reader, this is the part you'll want to read.
110dB alarm
Motion-activated with a 120° detection area
2-minute maximum alarm time
8 meter (26-foot) remote control range
Built-in rechargeable battery (TX-100), included CR2032 battery (remote control)
3-4 hour charge time
6-day battery standby
Charges on 12-24-volt DC power (car outlet)
Two 5V/1A USB ports
TX-100 dimensions: 4.52" long x 1.25" wide x 1.25" high
Remote control dimensions: 2" long x 1.22" wide x 0.4" high
TX-100 weight: 44 grams (1.55 ounces)
Remote control weight: 10 grams (0.35 ounces)
Includes a remote control and owner's manual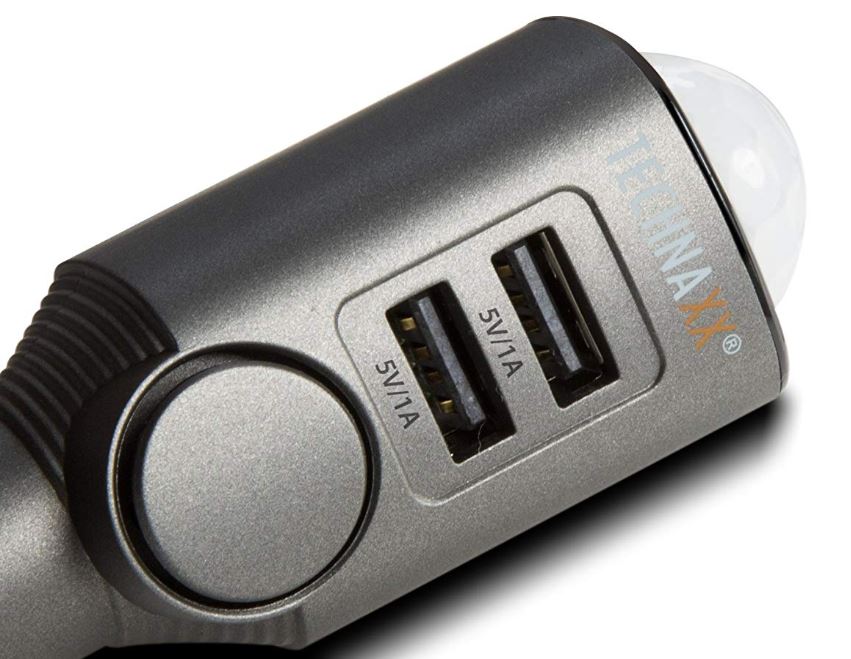 Final Verdict
So, how does the Technaxx TX-100 stack up? It's a good choice for what it does, which is to scare car thieves and make them run away before they're able to grab anything. It's not as loud as a standard car alarm, but it doesn't need to be. It just needs to be loud and startling enough to make the thief give up. At the end of the day, it's a solid choice as a second line of defense.