Quick Analysis
Pros
Very easy to control.
Can be used separately or together.
Connect quickly and effortlessly with each other and devices.
Good sound quality/phone call quality.
Has noise-canceling tech.
Cons
Can't turn off the noise canceling.
A little pricier than some similar buds on the market.
Everyone needs a pair of great wireless earbuds these days! There's nothing better than being able to listen to your favorite tunes without having to deal with the hassle and cumbersome frustration of a cord, particularly when true wireless earbuds are so advanced and can perform just as well (if not better) than their wired counterparts.
The trouble only crops up when you actually try to choose some true wireless earbuds. Because such buds are easy to find, there's a total glut of options to choose from. Determining which wireless earbuds are actually worth your time and money can be an exercise in frustration, particularly if you don't know what factors to look for.
That's why we broke down the Tranya T10 Wireless Earbuds. We wanted to find out whether these new earphones are actually worth all the hubbub. After all, people talk about how they have excellent sound chips, and hands to touch controls and a plethora of other features that supposedly make them better than their direct competitors. But all these features sound fairly average – is there anything about the T10s that stand out?
We aim to see for ourselves. In this guide, you'll find a breakdown of all the major aspects, benefits, and drawbacks of the Tranya T10s that we discovered. Let's get into it.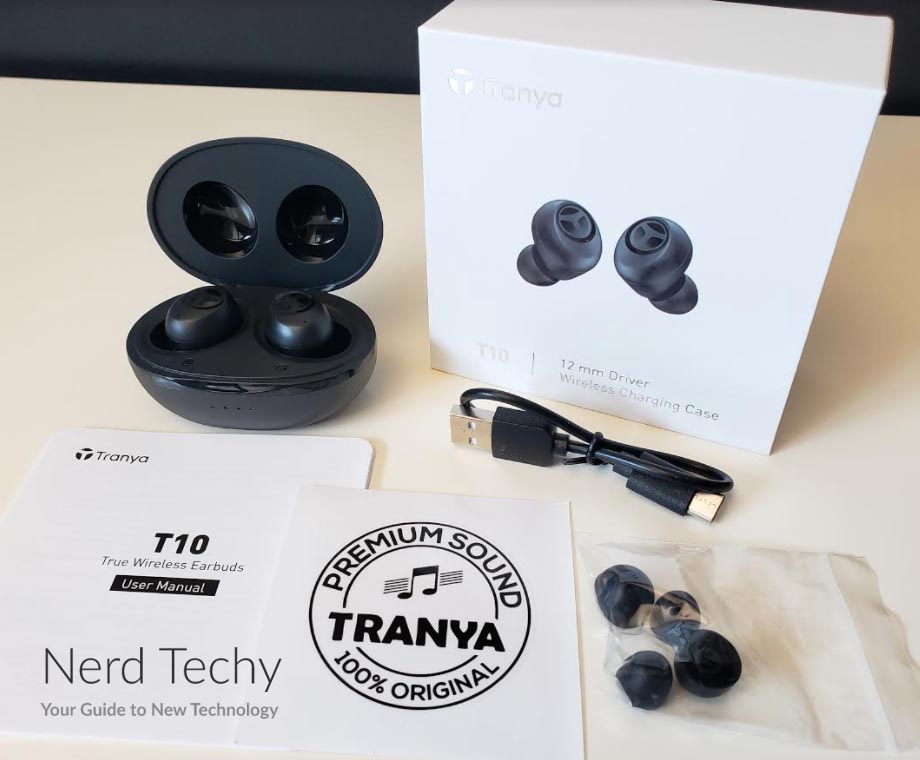 Design and Controls
To begin, the Tranya T10s feature a modern and minimalist design – both of the buds are fairly small and are easy to hold without being so small that they'll easily be lost. Furthermore, the earbuds are shaped such that their outer shell will be easy to touch with your fingertips: a crucial point when you consider how these are controlled.
These buds don't rely on voice commands or clunky cables to perform all of their available functions. Instead, different finger motions will allow you to control the buds. This type of control is becoming more and more functional, but the Tranya T10s make it particularly easy and the buds aren't so sensitive that you'll accidentally change the track you are listening to from a minor touch. Alongside being able to adjust the volume to your liking, change the track you are listening to, or answer and end a phone call, you'll also be able to engage the synchronized or mono earbud modes depending on your needs.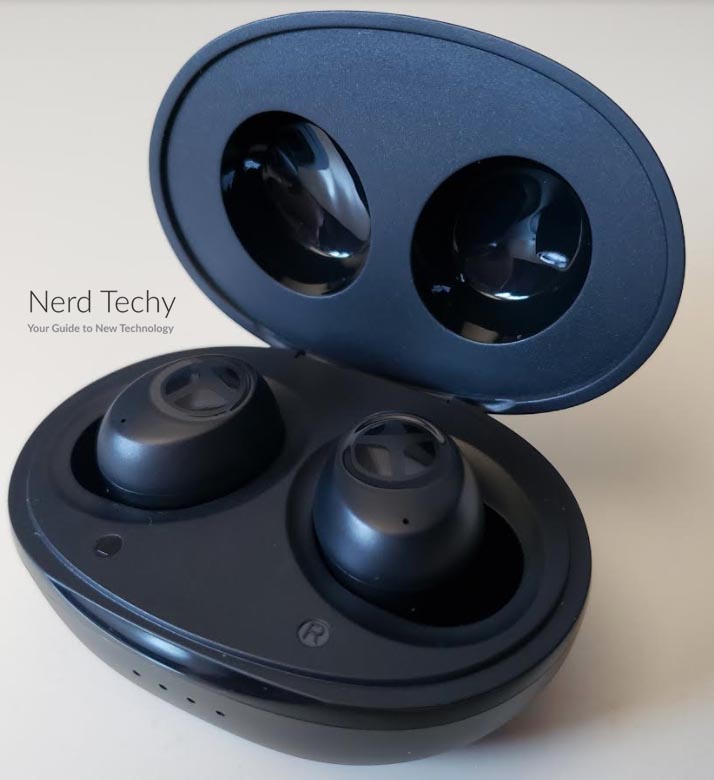 Basically, these earbuds can work either as a paired set or one at a time. Having one earbud out will allow you to better listen to your ambient environment or carry on a conversation with someone simultaneously to listening to your favorite music. The buds automatically connect to your device when you power them on, so you don't need to constantly re-pair them with your phone. Both of these aspects together make the Tranya T10s incredibly easy to use and easy to enjoy, particularly for those on the go.
The buds are also designed for the perfect fit regardless of the shape of your inner ear. These buds come with three sizes of comfortable silicone ear tips that will gradually expand and fill your inner ear so there isn't a lot of wiggle room. At the same time, the softness of the silicone will ensure that your ears don't become sore over long listening sessions.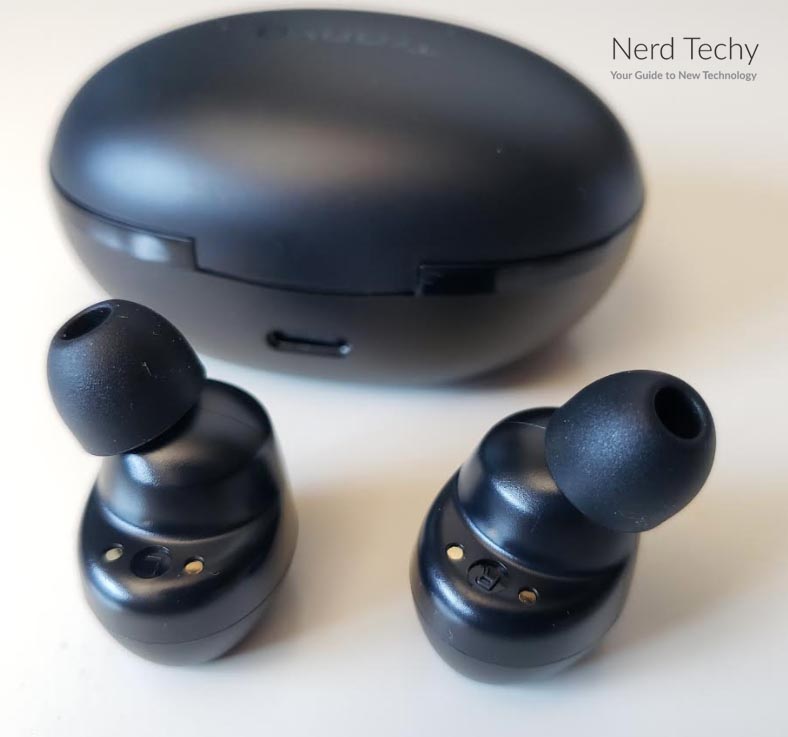 The Tranya T10s are also rated IPX7 water and dustproof. This makes them perfect complementary earbuds for exercise fanatics or those who like to run outdoors. You'll be able to use these in inclement weather and not have to worry about sweat, rain, or dust interfering with their functionality. All in all, the buds' design gets high marks.
Sound Quality
But wireless earphones are really only worthwhile if they can provide good sound: that's their primary function, after all. Here the Tranya T10s do excellently once again. Many true wireless earphones have difficulty producing high-quality bass sounds, but not these. In fact, sound across the entire spectrum is projected clearly and consistently in most cases. Mids are similarly high quality, with only high sounds getting just a tad tinny here and there (but only with certain tracks). Overall, the Tranya T10's sound quality is great.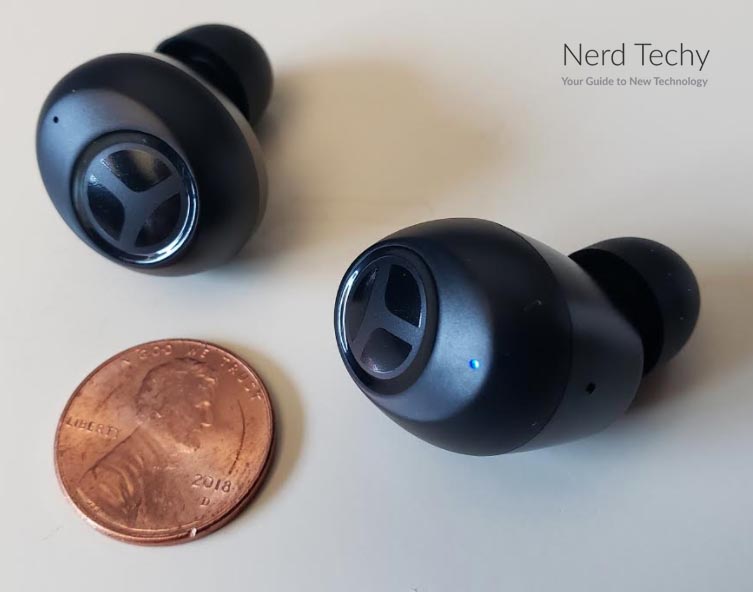 The earbuds are powered by 12 mm graphene drivers, which help the buds to stay small and lightweight while still producing high-quality sound over the long-term. The buds' construction also helps them to provide crystal-clear phone calls.
Bolstering the buds' phone call functionality is cVc 8.0 noise cancellation built into the embedded microphones. This automatically reduces the background noise from your ambient environment and will make your voice a lot clearer for the person you are speaking to, and vice versa. Thus, phone calls are fairly crisp and you should be able to hold down a conversation even in a bustling environment. You aren't able to turn off the noise cancellation, unfortunately, so consider using only one earbud if you have to pay attention to your environment while listening on the go.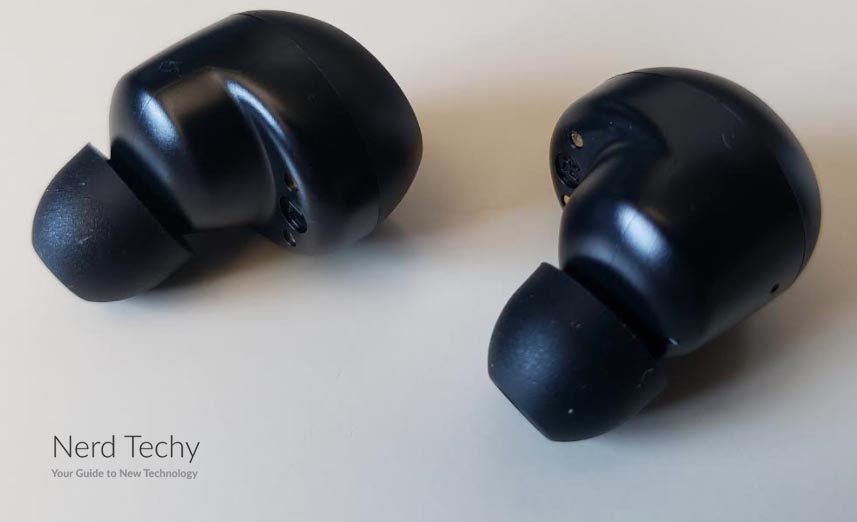 Connectivity
As with the majority of true wireless earbuds these days, the Tranya T10s connect to different devices and each other using Bluetooth 5.0 technology. This Bluetooth connection is quite stable and, as mentioned, occurs automatically as soon as you turn the buds on (which you do by withdrawing them from the charging case – no extra steps required).
The buds technically have a connection range of up to 33 feet. This assumes no barriers between you and the paired device. If you were to leave your phone in another room and try to keep listening, however, you might see a moderate drop in range. This is common for most true wireless earbuds, though, and it's less of an outright flaw and more of a necessity of the technology. Having a general working range of over 10 m is pretty good, in our eyes.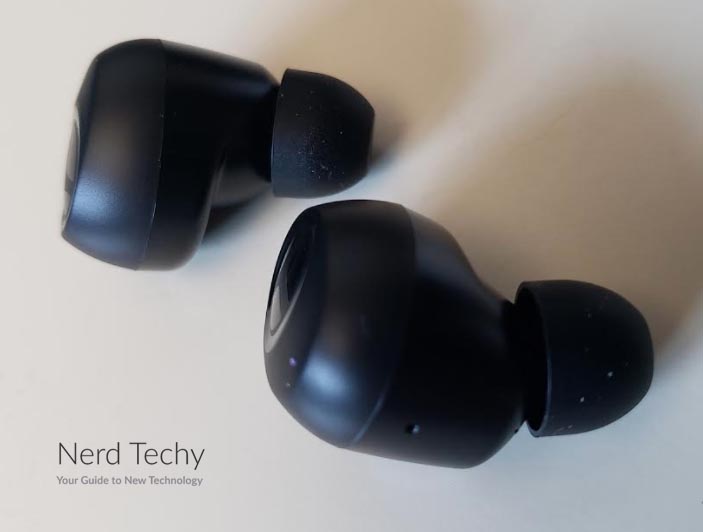 The Tranya T10s have great connectivity when it comes to listening to music – you shouldn't experience any delays when keying in a song and waiting for it to play. That's because the buds are powered by AAC audio coding technology. Qualcomm aptX chips work to increase the user's listening experience across the board.
Battery Life
The last big thing to look into is the recharging and playback capabilities of the buds and their associated case. The Tranya T10s come with an ovular case that's perfect for fitting into a travel bag or even a purse, as it's quite small overall. There are twin slots perfectly sized for the earbuds inside the charging case – slot these in and charge them for 10 minutes and you'll have enough juice inside the buds to play music for a full hour. The case itself is perfectly sized for travel. It's small enough that it'll even fit inside some larger pockets, but more practically it's ideal for fitting into any case or bag you can imagine.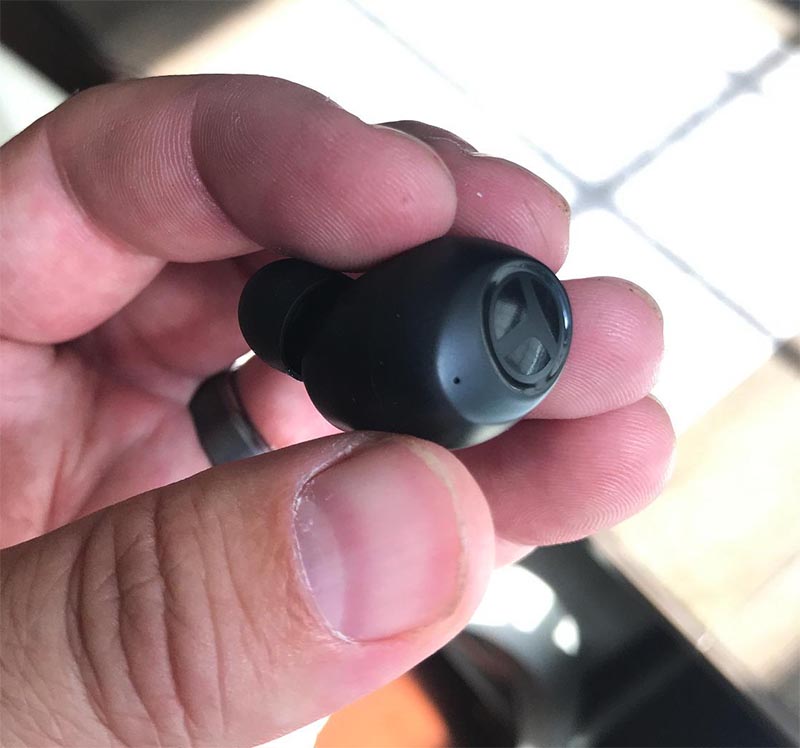 When it comes to recharging the case, you have two options: a standard USB-C charging cable, which can restore the case from no power to full power in a couple of hours, or wireless charging. This allows for even greater recharging flexibility, though it will take between four and five hours to recharge the case from zero to full if you rely on this method. Still, this is to be expected since recharging without a cable necessarily takes longer.
What does a full battery get you? All told, you'll have up to eight hours of playtime when both earbuds are fully charged, plus an additional 32 hours of battery life stored within the charging case. This adds up to 40 hours overall of playtime split between the two devices if both are fully charged. Even better, the case can hold onto all that power for up to 120 hours, so don't feel like you need to drain the batteries all that frequently.
This is a pretty good battery life/charge time ratio, even compared to other true wireless earbuds. There are some buds that offer slightly better power capacities in their cases, but not many. One last thing: the Tranya T10s' charging case comes with four indicator lights on the bottom that tell you, at a glance, how much battery is stored within the case. Thus, you shouldn't need to worry about being caught off guard with an empty case.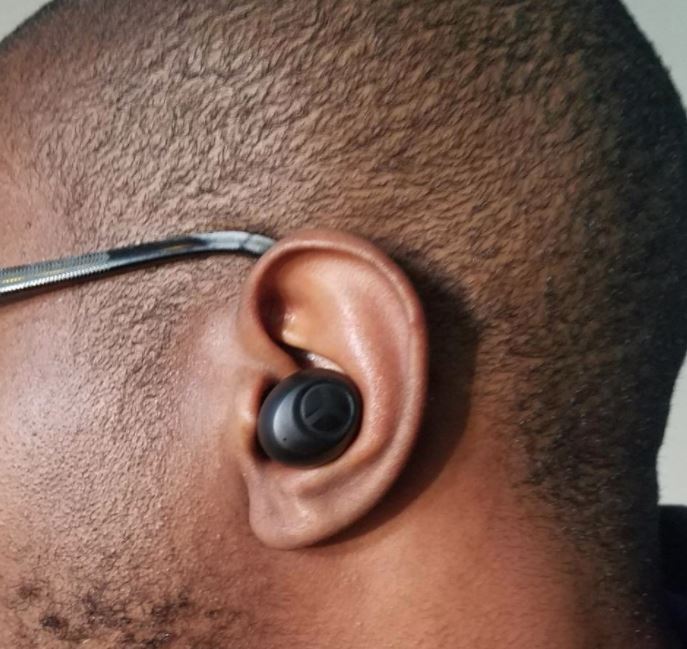 Final Verdict
Ultimately, the Tranya T10s are solid true wireless earbuds that continue many of the modern and innovative trends we're seeing across the market so far. They provide good battery life and a variety of charging methods – they also managed to avoid the common pitfall of needing to be charged for up to an hour before they can be used. That they can be charged for 10 minutes and still serve you for a solid hour makes them a good choice for those who frequently forget to recharge their wireless devices. It's also nice that you can recharge them traditionally with a cable or with the wireless recharging function.
Furthermore, they offer quality sound across the entire spectrum and provide crystal-clear phone calls for both the speaker and the receiver next to the chips, drivers, and high-quality microphones embedded in each bud's chassis. The noise cancellation tech is also fairly common but can't be deactivated. This minor downside is negated somewhat by the ability to listen to each bud independently, which some cheaper buds don't allow.
The buds are durable, comfortable, and are easy control thanks to their touch-surface functionality. All this is to say that the Tranya T10s are excellent, if unoriginal, wireless earbuds that should serve most listeners well without giving them much issue. Their asking price is a bit high when you can find similar earbuds for cheaper on the market, but not by much. We think they're a better choice than many knock-off brands, however, since they're more likely to be durable and last for a longer time than those cheaper devices.
Meet Derek, "TechGuru," a 34-year-old technology enthusiast with a deep passion for tech innovations. With extensive experience, he specializes in gaming hardware and software, and has expertise in gadgets, custom PCs, and audio.
Besides writing about tech and reviewing new products, Derek enjoys traveling, hiking, and photography. Committed to keeping up with the latest industry trends, he aims to guide readers in making informed tech decisions.