Everyone wants to listen to their favorite tunes on the go, but it's tough to find good earbuds without clunky cables that get in the way. While you can go wireless, there are so many true wireless earbuds that it's almost impossible to find a pair that is perfect for your needs – they all seem to be relatively similar in terms of playtime, sound quality, durability, and more.
You also have to consider that price might play a huge role in the earbuds that are right for you. It does you no good to grab multi-hundred-dollar earbuds if you'll only use them once in a while. But at the same time, you don't want to go too cheaply, as you'll end up buying buds that don't last for very long. Such cheap earbuds often only work for a month or two before sputtering out completely.
There are, however, wireless earbuds that combine budget and quality in equal measure. The YOCHOS A66 Wireless Earbuds are one such buy, and they straddle the line between affordability and premium playback performance quite well in our eyes.
What's more, is that they have many of the same advanced features and gimmicks that make big brand earbuds dominate the marketing sphere of this industry. Thus, not many people have even considered these earbuds or seen (or rather, heard) all that they can do. That's why we decided to break down these earbuds in detail.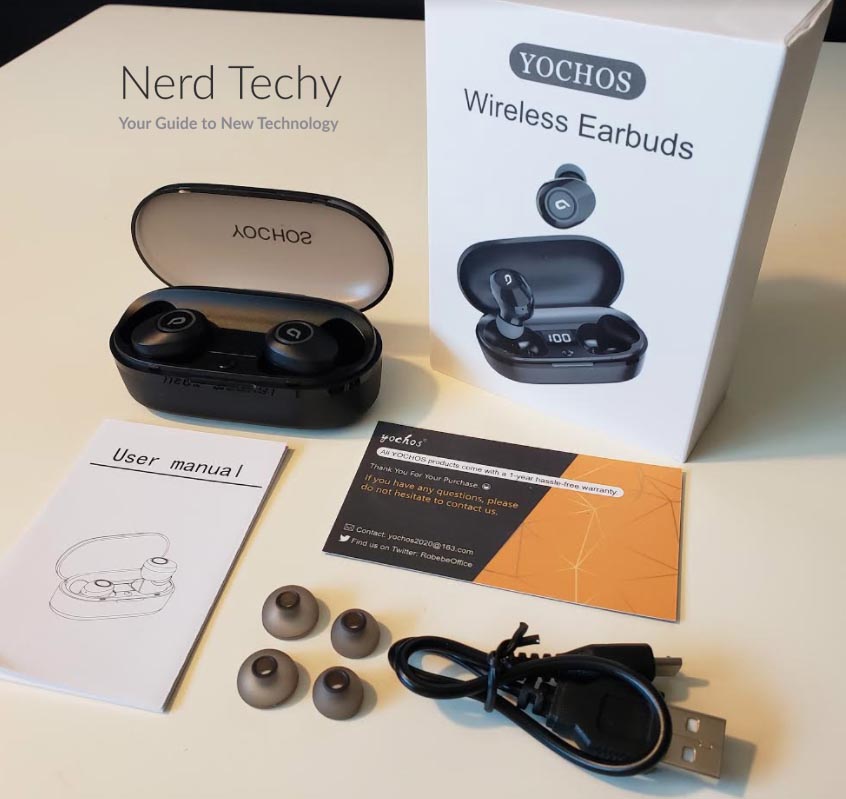 Design
The earbuds are designed with a minimalist aesthetic and a matching recharging case so that the entire set looks neat and modern. The buds themselves are ergonomic and designed for supreme user comfort. This is standard across the industry, as most wireless buds are made to conform to the ear shape of the user, but it's still nice to see here.
In addition to the standard buds, buyers will also enjoy an additional two pairs of earmuffs. These come with the package by default and allow you to choose the position and size of bud that's right for your unique inner ear shape.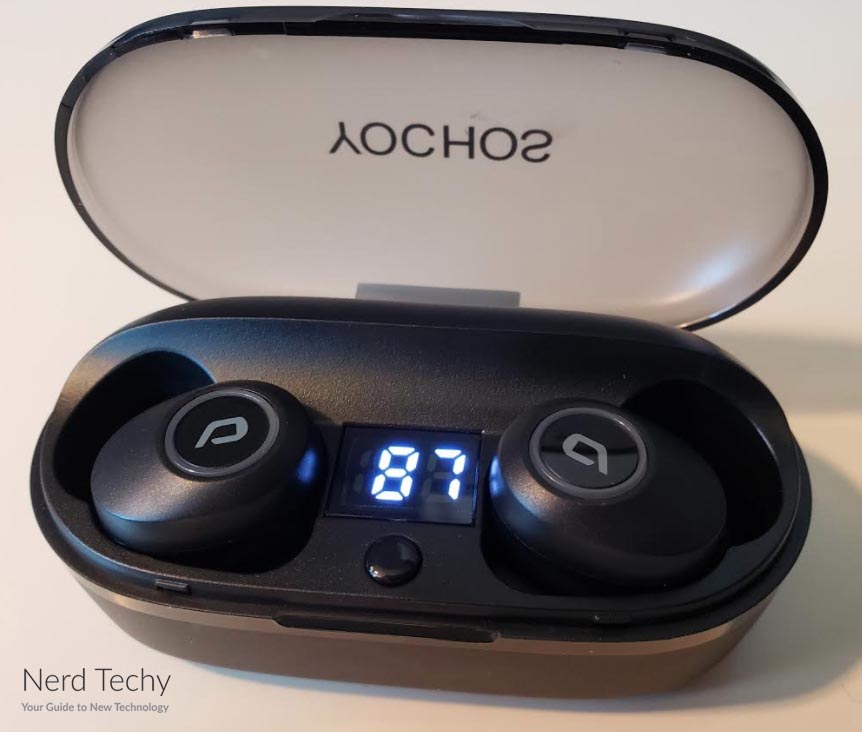 The earbuds are fairly easy to manipulate, and controls are split between either bud, so learning how to switch songs or adjust the volume is intuitive once you perform every action a few times. For instance, you can reject a phone call through the wireless earbuds by shortly pressing the left or right earphone for one second. You can alternatively skip to the next song by double-clicking the right earphone with the tip of your finger.
This does mean that some functions become unavailable if you only want to listen with a single earbud in at a time, such as when doing a task that requires a little ambient sound awareness. Still, the buds are designed well overall and are fairly lightweight to boot. This includes the carrying case – the entire set can easily be slipped into a pocket or placed in a bag for travel-friendly mobility.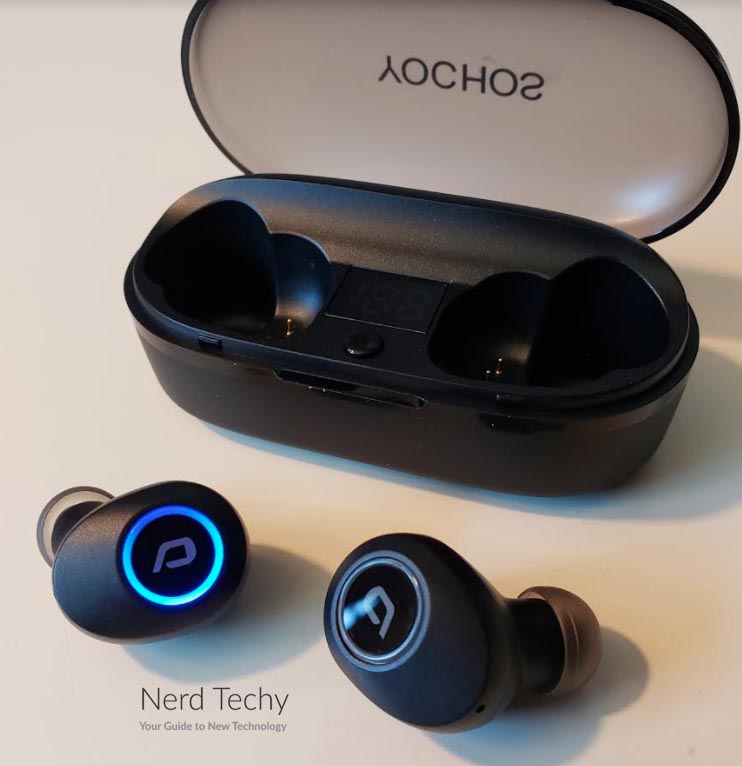 The buds fit snugly into the case when you set them inside. This prevents them from rattling around when they're charging and when you're traveling with the case, and it increases their lifespan since the delicate electronics within won't be unduly jostled by movement. We also like that that the headphones are IPX6 water-resistant, so feel free to use these in inclement weather or when exercising and sweating up a storm. They're a great set of exercise earbuds through and through.
Sound Quality/Phone Calls
But a pair of wireless earbuds' quality is really dictated by how good the sound. The YOCHOS A66 are bolstered by a set of advanced Airoha 1536U chips – in a nutshell, this ensures smooth and dynamic sound across the entire spectrum and allows for functional Bluetooth connectivity. What's more important is that you can switch between stereo and mono modes with these are buds with a single button press.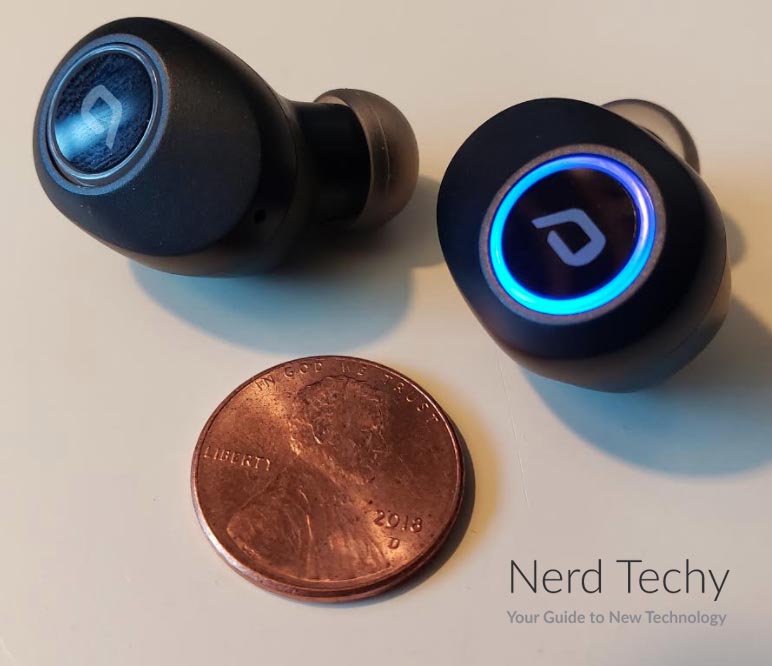 While the buds sound great playing back music, they're also good for receiving or making phone calls. You can wirelessly connect these buds to practically any type of mobile device, then answer or place calls using preprogrammed commands on either bud's back surface. The microphone embedded into each earphone (yes, there's a microphone in both) should transmit your voice clearly to your other caller, so there won't be a lot of miscommunications through any long-distance conversation you have with these devices.
Even more important is the built-in noise cancellation. Indeed, CVC 8.0 noise-canceling tech can seal out ambient noise when you put both buds into your ears. This is a pretty common feature for many wireless audio devices these days, but it's a very nice feature when you consider the budget-friendly price you can purchase these buds for. The noise-canceling isn't as in-depth as something like a pair of full Bose earphones, of course. But it's still great for focusing on your stereo sound in a noisy environment.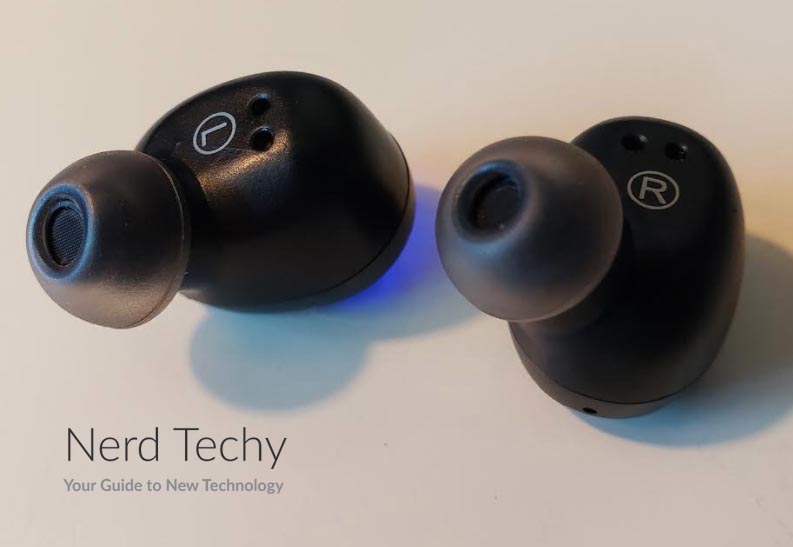 However, there isn't an easy way to turn off the noise-canceling functionality with a tap of your finger. This means you'll need to pay attention to your environment and maybe forgo listening to the earbuds if you need to maintain some awareness of your surroundings. For instance, it might be a bit too good when you're traveling during your commute and have to listen to train schedule announcements or the like.
Connectivity
Any pair of wireless earbuds isn't worth very much if they can't easily connect to mobile devices or each other. The A66 buds don't have an issue here – they have the latest Bluetooth V5.0 chipset included, so you'll enjoy up to two times faster transmission speed. What this translates to in a practical sense is rapid-fire communication between the buds and your mobile device or cell phone, which is particularly nice when taking or placing a phone call. In other words, you won't have to suffer a long lag when accepting a phone call from a friend.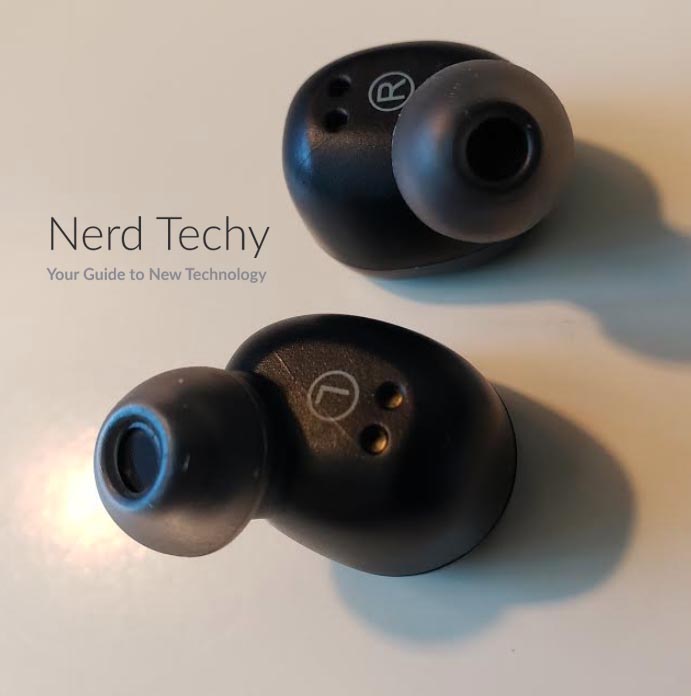 Furthermore, the Bluetooth connection is so strong that you'll be able to enjoy a stable connection even when using the buds 10 m away from their paired device. This is particularly good if you want to have a mobile phone conversation or listen to music with your phone out of your pocket. Just place it on a nearby table up to 10 m away and you'll still be able to enjoy whatever you want to transmit from the mobile device.
Pairing the buds together is quick and easy. As soon as you remove them from the charging case, the earphones will automatically connect to one another and turn on: you don't even have to push the power button to engage their receiving mode. As soon as you place one of the buds into your ears, you'll hear "power on, connected," to let you know everything is running smoothly. The earbuds even flash blue to let you know that they have power – if they don't flash, they're out of battery.
However, do note that the buds do run into some difficulties if you try to maintain a connection through several barriers. For instance, the aforementioned 10 m limit only really applies if there's nothing between you and the transmitting device. If you go into another room, your actual transmission distance is limited to a few meters or so.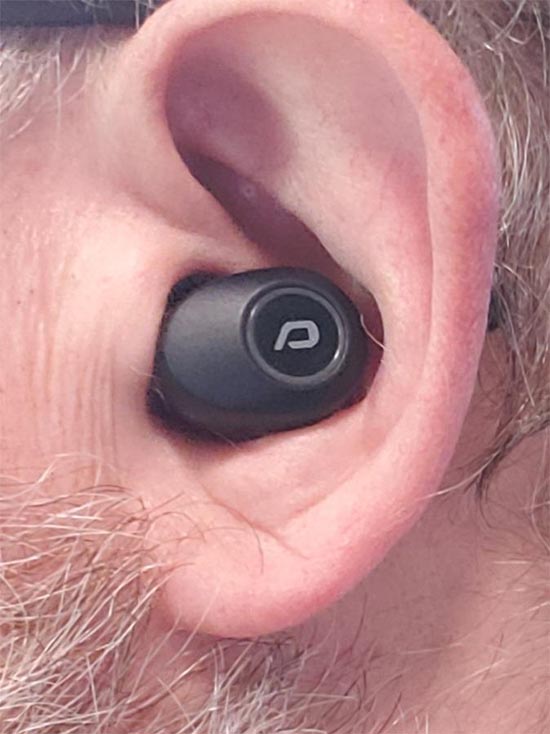 Battery Life
One last big thing to look at is the overall battery life of the buds. It's important to distinguish between the battery power of the earbuds themselves and the contained battery life in the case. For these buds, you get up to five hours of Hi-Fi sound so long as the earbuds are at full power. Compared to many other wireless earbuds on the market, this is around middle-of-the-road: there are plenty of buds that can offer up to eight hours or so on a single charge, but many more that can only go up to four hours or so.
So it's a good balance overall, especially when you consider the asking price. Furthermore, the A66 buds come with a charging case that can hold up to an additional 30 hours of playtime in its own battery. Essentially, the wireless charging case plugs into a power outlet through a USB plug. As it builds energy, it stores that power in a powerful 800mAH battery. Then, whenever you put your earbuds into the ports, they'll automatically draw power from this battery if the case isn't currently plugged in.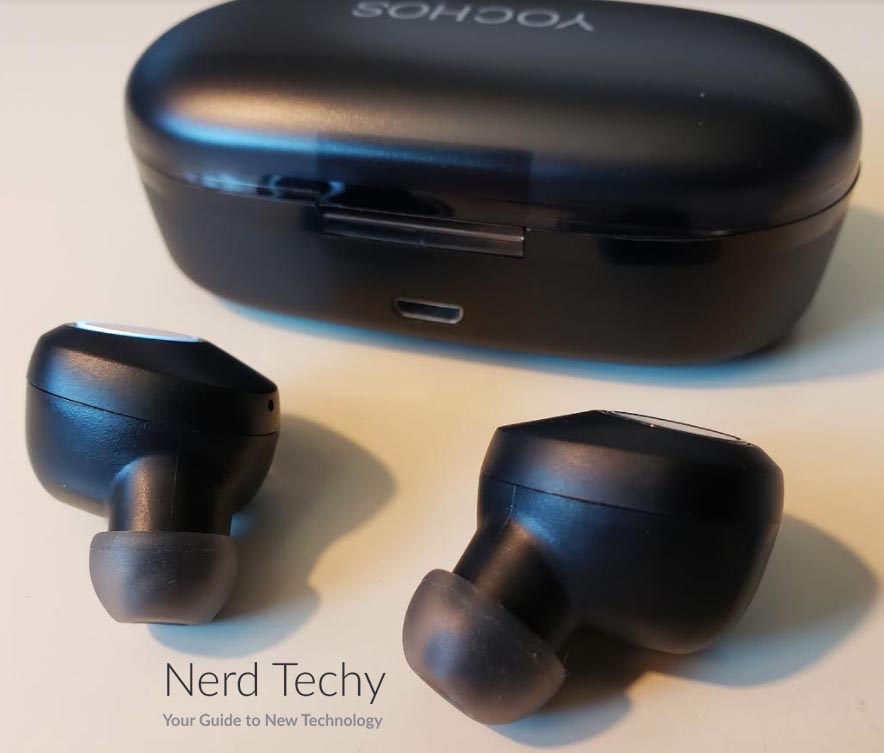 This allows you to keep your wireless earbuds charged up and ready to go even on long trips. In many cases, a single full charge for the charging case will be enough to get you through an entire family vacation. We also like that the case comes with an LCD display – this quickly and easily tell you how much life is left in the case's cells, so you're never caught off guard with a depleted battery.
Final Verdict
In summary, the YOCHOS A66 Earbuds are pretty solid mobile listening devices when you consider their myriad features and advanced benefits. There are plenty of aspects of the earbuds that you usually only find with more expensive devices: for instance, the instantaneous Bluetooth connectivity and (generally) long connection range make these buds quite competitive, especially compared to more expensive counterparts.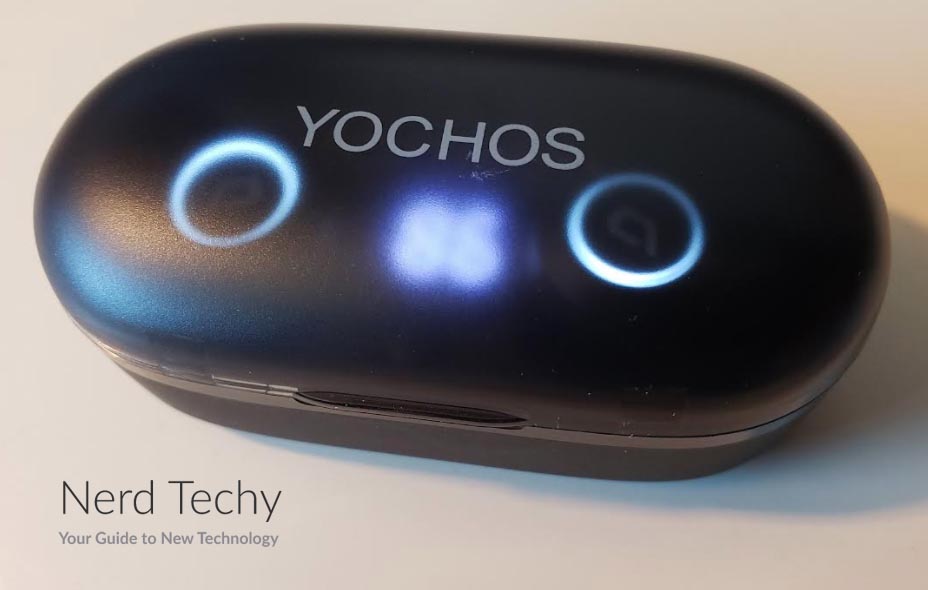 We think the music and phone call playback quality is also fairly robust, without serious deficiencies in any area of the sound spectrum (i.e., highs, mids, and bass all sound good). The buds have good battery life themselves and, when you consider the charging case, there's no reason to expect you'll ever run out of power when you want to listen to your favorite songs or have a phone call with the earphones. Plus, the earbuds are fairly durable and are waterproof, so using them outside or while on a jog is a great idea.
There are a few downsides: namely, the fact that the transmission distance declines sharply as soon as there's a barrier between the buds and the transmitting device. Furthermore, the inability to turn off the noise-cancelation is a significant flaw the means you should be careful when listening to these buds if awareness of your environment is important.
Overall, though, the buds are a great purchase for most and manage to balance quality and price better than most other wireless earphones on the market.