When you're out camping or working in your garage, you might not be near a power outlet. The fact is that, while power outlets surround us in our day-to-day lives, sometimes certain devices or powered machines can't reach those crucial plugs. In times like these, it's easy to wish for a portable power supply you could bring anywhere you need. For instance, maybe you want to power a vacuum cleaner to give the interior of your car a good suction rundown.
On the other hand, camping is a lot easier with many of our favorite powered appliances. Consider how great it would be to listen to the radio while camping, or keep a small cooler running while out fishing or having a cookout at your campsite. All of these activities require portable power since you won't be able to run a cable long enough to reach a conventional power outlet.
Enter portable power stations, like the AC200. These devices have been around for a long time, but the prototypical power station is little more than a mobile battery pack that can provide a momentary boost for small devices and appliances, like handheld radios or cell phones. They're not the best if you need reliable power for larger machines, nor do they last for very long on average.
The Maxoak Bluetti EB150 Portable Power Station is different. It uses long-lasting lithium-ion batteries to provide juice to any number of appliances you bring with you away from your home or office. Furthermore, it doesn't rely on cheap, disposable batteries for power: instead, it can be recharged passively by plugging it into a wall outlet before you head outdoors or recharge via sunlight. It's no surprise that this model is so versatile when Maxoak has been making excellent power stations for some time now. Let's break down every aspect of this mobile generator to see if it's worth your while.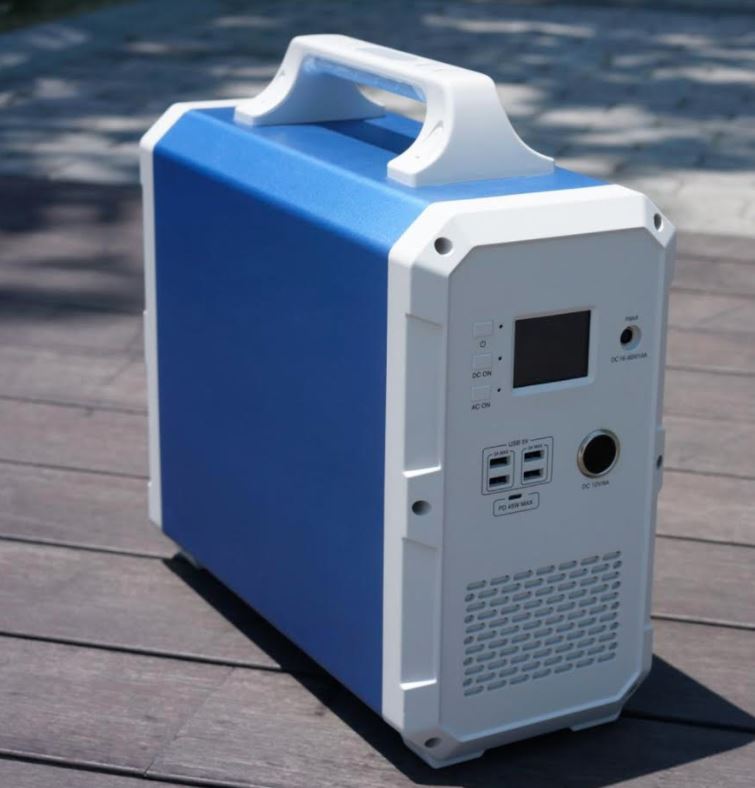 Design
The EB150 is well-designed from beginning to end. On the outside, it boasts a durable casing that protects the batteries within from the elements and from minor damage, such as being jostled around while moving or being placed in the back of a truck. The casing even comes with vents to allow heat to escape from the batteries as they either recharge or provide power to the appliances and devices you decide to power.
Use code "bluetti1500" for $130 off when you order the EB150 from Amazon.com
The casing also comes with an LCD display. This will allow you to quickly determine the remaining power and battery status, so you can estimate how much juice is remaining and prioritize the devices you plug into the station. The display is even backlit so you can read crucial information in bright sunlight just as well as you can in near darkness. Controlling power flow is fairly simple with a single switch located on the front of the power station. Additional controls for turning the power station on or switching to or from AC or DC power are included, as well.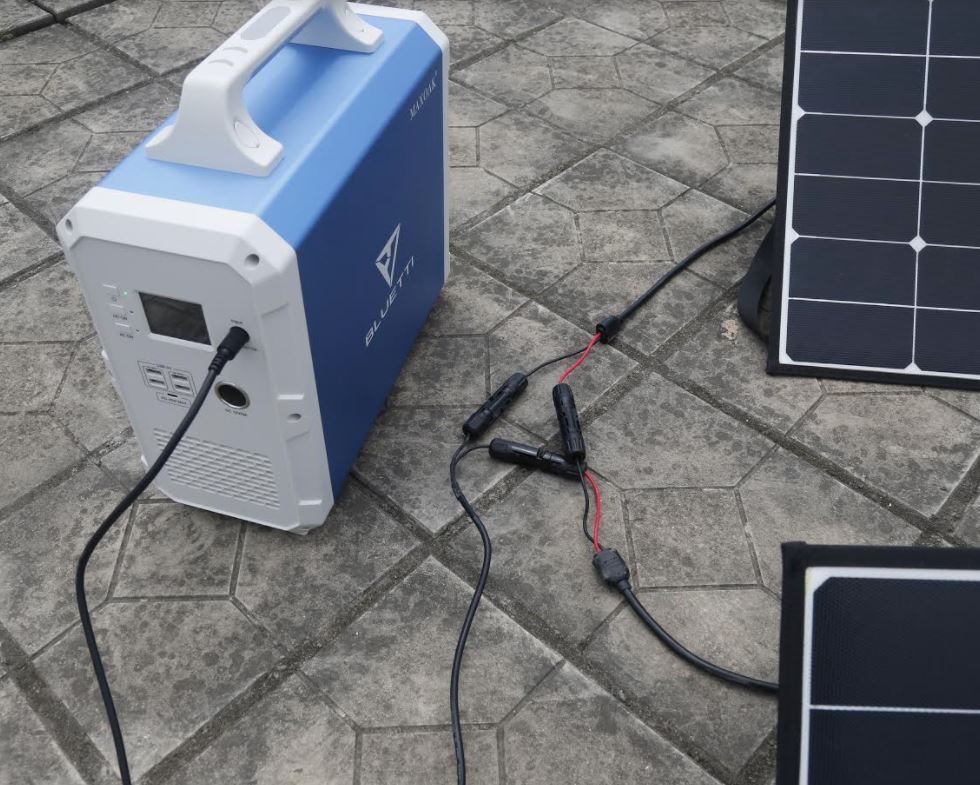 The case comes with a handle built into the top, allowing for easy transportation. What's more is that the power station only weighs 37.9 pounds: that's less than most actual generators on the market. While it's a little heavier than lower-capacity battery packs, it's ultimately a worthwhile trade-off to be able to power larger machines on your camping trip or in the event your home loses power.
An additional battery management system protects the batteries and your devices from overvoltage, plus acts as a temperature control to prevent meltdowns. An automatic shut off feature that kicks in after the EB150 is fully charged rounds out the safety features and adds even more value to this portable battery station.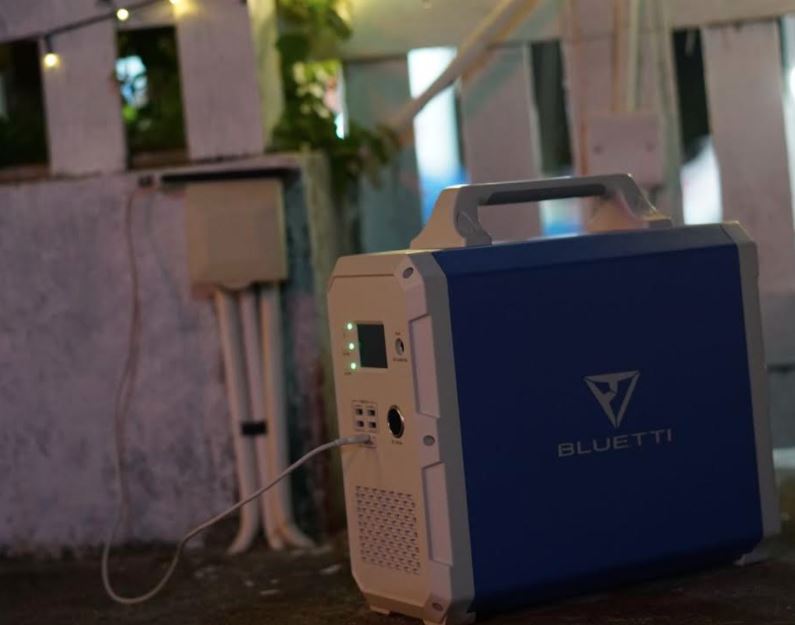 Power Capacity
What really determines whether the generator is worth your time is its output and power storage capacity. The EB150 can store up to 1500 watt-hours in its lithium battery pack. In a practical sense, this means you could, for instance, power a 500 W device for up to three hours if the EB150 was charged to full.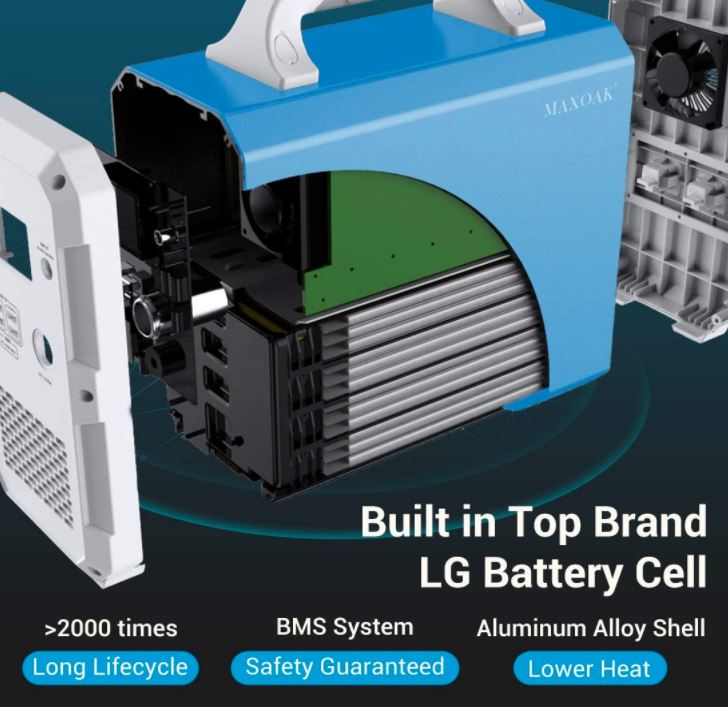 As you can imagine, this will allow you to power a variety of appliances and devices even when you're away from standard wall outlets. The high watt-hour capacity means that you'll also be able to use this power station to boost high-power devices: even those that require up to 1000 W! Example devices include car vacuum cleaners, laptops, cell phones, tablets, fans, outdoor lights, cameras, small refrigerators, and even TVs and radios depending on their power draw requirements. It can power an example mini-refrigerator for up to 32 hours, a 32-inch LCD TV for up to 15 hours, even standard LED lantern lights for over 120 hours without running out of juice.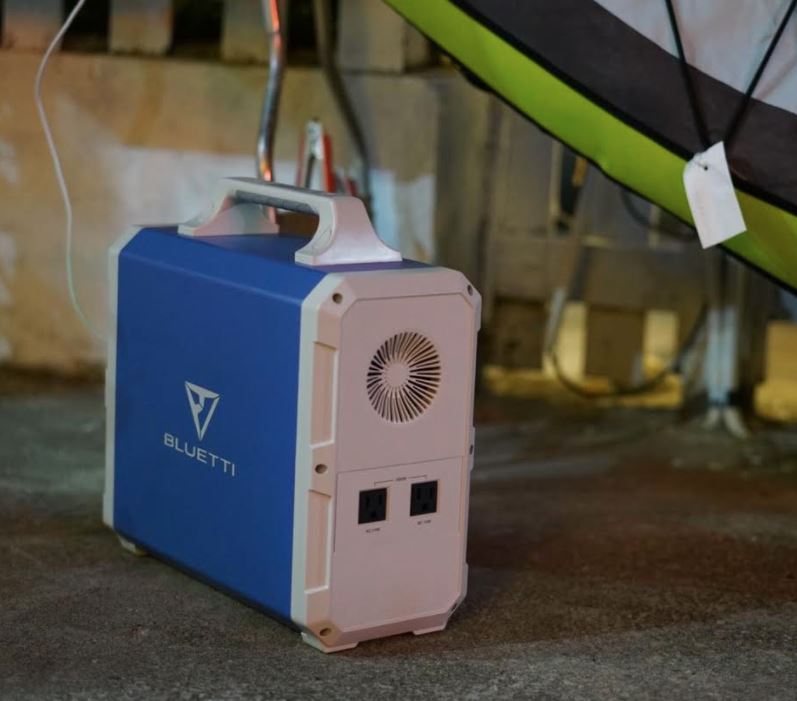 Another big potential benefit to this power station is that you'll be able to use it to provide emergency energy for RV systems or sailboat systems in the event of a power outage. Imagine being stuck on the open water while your radio is dead – plug it into this power station and you'll make contact with the coast in no time. The same is true even for home use. If a power outage that affects your whole city, you can use this power station to make sure the food in your fridge doesn't spoil.
Because the batteries inside are lithium-ion varieties, they'll maintain their maximum capacity for a long time to come, even with repeated draining and recharging over years.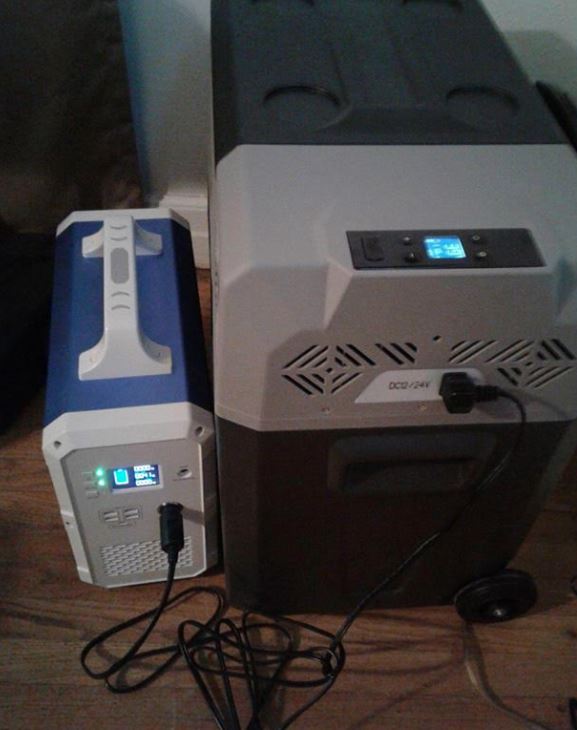 Connectivity
The EB150 comes with a number of connection ports to allow you to recharge or power multiple devices and appliances at once. In total, it comes with four 5V USB-A ports, plus an additional 45W USB-C port. This is a nice touch since many modern devices have USB-C cables and will benefit from fast recharging as a result. The EB150 also comes with a car plug port that allows for constant 12 V DC flow: an ideal match for many smaller devices or survival gear, like portable radios.
Another pair of AC outlets are included on the front of the case as well. These are ideal for many of the larger devices mentioned above. The only real downside is that there aren't enough ports for more than two big devices at once. This being said, the EB150's maximum output is 1000 W, so you're a bit limited in that respect anyway. You'd likely be better off purchasing a dedicated generator for powering multiple large machines at once over the long-term.
Use code "bluetti1500" for $130 off when you order the EB150 from Amazon.com
Recharging Options
As mentioned earlier, the EB150 comes with two ways to recharge the device: either plug it into a wall or use a solar panel and draw energy straight from the sun. The former charging method is fairly standard, as the power station requires 42V/160 W sockets and can recharge within 10 hours from empty. You get the cable required for recharging with your purchase.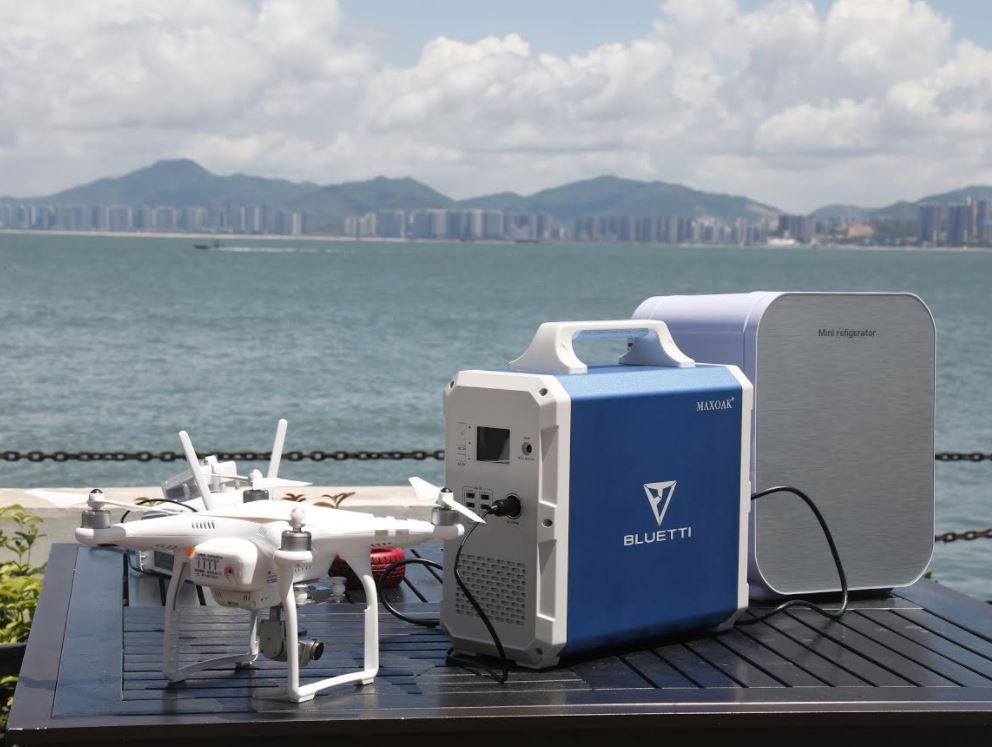 You also get a solar power cable, which leads us to the next charging method. If you have one or more open-circuit voltage solar panels, you'll be able to draw power straight from the sun to recharge the EB150. The power station does have several specific requirements for this process, however: the total open circuit voltage for the panels can't be more than 60 V, and you have to use a solar panel that doesn't include a charge controller. This is because the EB150 already has one of these built into its chassis.
The downside, of course, is that the purchase doesn't come with a solar panel by default. Still, it's a nice way to keep yourself recharged while on the road or while camping if you already have one or more solar panels compatible with this device. The actual recharge time will vary from panel to panel, but most folks find that the EB150 recharges within 3-5 hours if plugged into a suitable solar panel.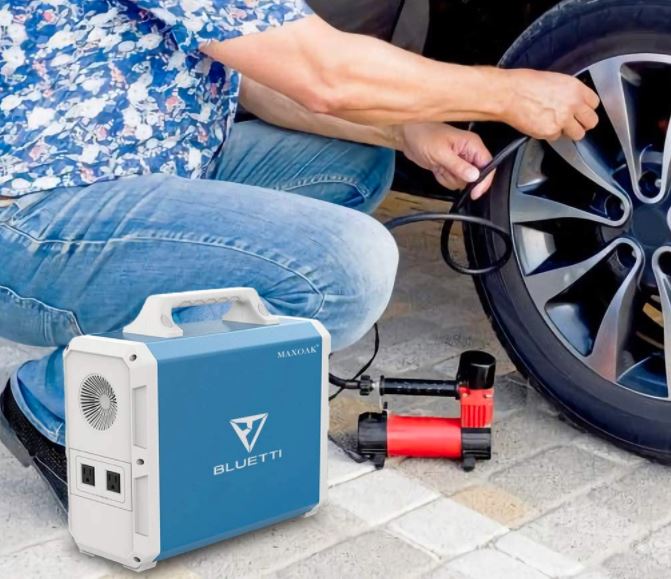 Final Verdict
All in all, the Maxoak Bluetti EB150 is a solid portable power station that provides energy when you need it most. While it's designed for outdoor or camping activities, it'll be useful for any situation when you can't recharge your devices or larger appliances with standard wall outlets and need power fast. The plethora of ports on the front means you'll even be able to recharge multiple electronic devices at once.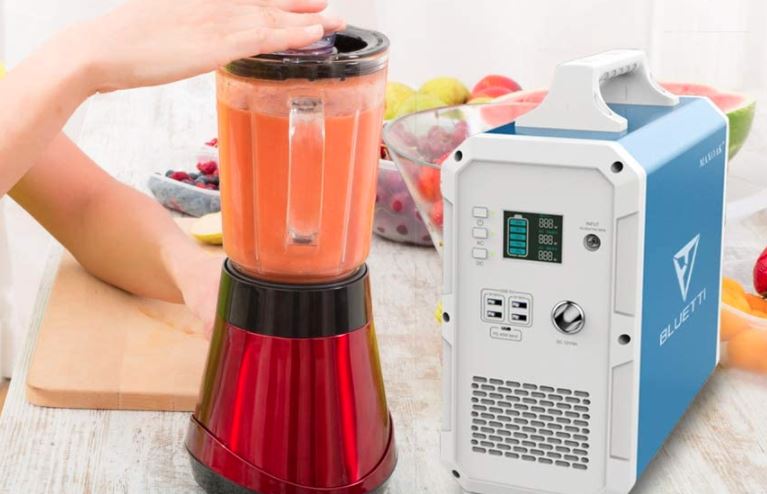 The deep power capacity of 1500 watt-hours is also far and away better than what many other portable stations can provide. Because it's so robust, you can keep mini-fridges, TVs, radios, and much more running, even without a dedicated generator, for quite some time. The additional carrying handle and LCD screen make it easy to move and use anywhere you like.
That it can also be recharged using solar panels is another big bonus. While it's an element that only truly be appreciated by those who already have solar panels on hand, it's a touch that makes it even more worthwhile for survival or camping situations. Plus, it's environmentally friendly: something that gas-burning generators can't match.
It's is quite expensive, however, especially when you don't consider the cost of solar panels that are compatible with its plugs. But if you can afford it and believe you'll use it, the EB150 is a quality purchase you might just be glad you made in the end.