If you're in the market for new wireless earbuds, we have good news; there are more options than ever before. With the invention of True Wireless Stereo (TWS) a few years ago, the wireless earbud market exploded. This is understandable when you realize that before TWS, wireless earbud quality was terrible. It didn't matter if you had the best-quality drivers from a brand name manufacturer. The wireless technology just didn't allow for good quality. Your audio was going to be hollow and tinny, and it was going to be in mono. It shouldn't be surprising, then, that before TWS, wireless earbuds were only for podcasts and hands-free calling. For anything more demanding you needed a wired connection.
Once the iPhone 7 went wireless, the entire market followed course. Suddenly, wireless earbuds were everywhere, giving consumers plenty of choices. Of course, this explosion of technology is not without its drawbacks. With so many products on the market, it's tough to sort out the good from the bad. There are so many options to choose from, it can become overwhelming! One way to simplify things is to limit yourself to manufacturers with a proven track record.
Note: At no extra cost to you, we may earn a commission for purchases using our links. Learn more.
TaoTronics has produced literally dozens of high-quality wireless earbuds. They're also connectivity experts, producing WiFi mesh routers in addition to other offerings. But just because they have a lot of experience doesn't guarantee that their earbuds are good. To make sure, we're about to take a close look at the TaoTronics SoundLiberty 95 True Wireless Earbuds. We'll start with the design and the physical construction, and move on from there. Along the way, we'll look at the battery life, the connection quality, and, of course, the audio experience. After we've considered all those factors, we'll be well-positioned to render a final verdict. Let's get going!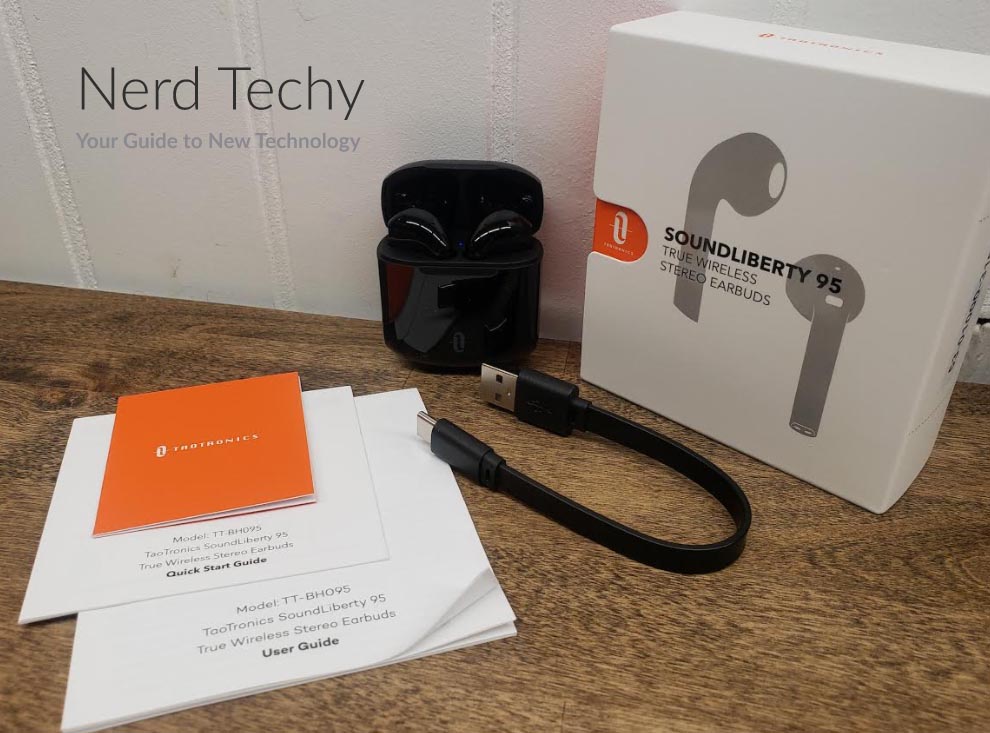 Overall Design
The TaoTronics SoundLiberty 95 True Wireless Earbuds take a cue from Apple AirPods in their design. Much like the original wireless earbuds, they're designed to hang freely from your ears. There are no silicone tips here. Just an ABS plastic pod that fits loosely in your outer ear. This can be a huge benefit for some people. For instance, if your ear canals are very sensitive, you'll love the loose fit. On the other hand, this design isn't as secure as an ear tip design. Without silicone tips, there's nothing holding the buds tight in your ears. You're relying on a loose fit and the power of prayer.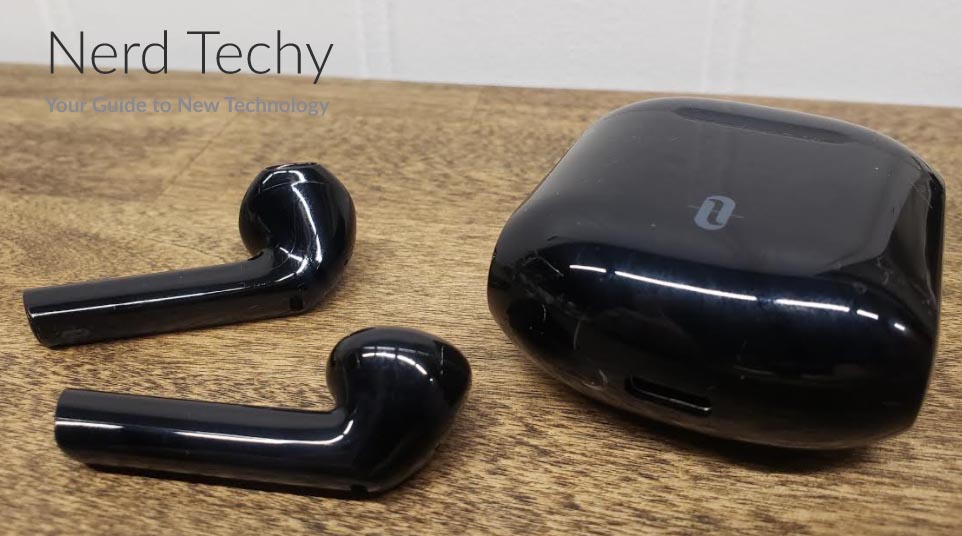 The downside of this fit is obvious. Not only can the buds come free easily, but noise isolation is minimal. There's no tight seal, so outside noise will bleed through freely. On the other hand, you also get the benefit of situational awareness. In other words, there's nothing inherently "good" or "bad" about this type of design. It all depends on what you need.
The earbud shells are constructed entirely from ABS plastic, with batteries located in studs that hang down from your ears. The backs of the buds function as soft touch controls for easy operation. With a simple tap or brush, the controls are easy to operate. You don't have to press hard into your ear canals to operate them. Controls range from a tap to a double-tap to a press-and-hold. With this combination of controls, you can answer and end calls, skip tracks, and adjust your volume. You can even activate your phone's voice assistant. With a single tap and a voice command, you can control any of your smart home devices.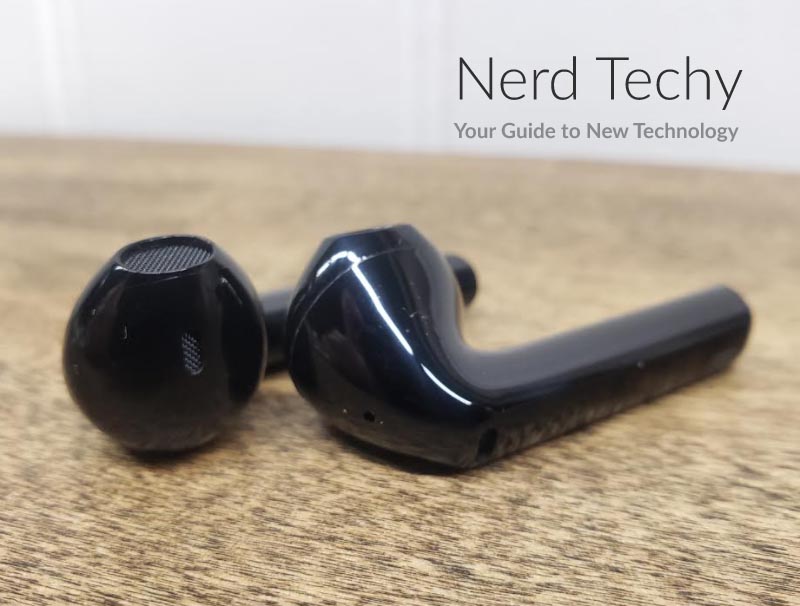 The SoundLiberty 95 True Wireless Earbuds carry a rating of "splashproof" from the manufacturer. There is no official IP rating at this time. TaoTronics is an established manufacturer, and we're willing to take them at their word. These earbuds are indeed splash-proof. That said, we can't actually make a qualitative judgement without an IP rating. Can you take them in the shower? What about swimming? We don't know. Until and unless TaoTronics obtains an official rating, it's best to be cautious. Even so, you can get through a sweaty workout without destroying the earbuds.
As with most wireless earbuds, the SoundLiberty 95 buds come with a charging case. This is an AirPod-style case, meaning it's shaped like a Tic-Tac container and it loads from the top. The overall size is 4.1 inches high, 3.1 inches wide, and just over an inch thick. The total weight is just under four ounces. As a result, the complete package is easy to carry anywhere. You can slip it into your pocket, purse, or laptop bag with equal ease. The case snaps open from the top, and is easy to load and unload. The buds drop in and slide out easily, so you've got plenty of security.
The charging case is powered by a USB Type-C cable, which plugs into the back of the case. The cable is included with the kit, so you've got everything you need to get started.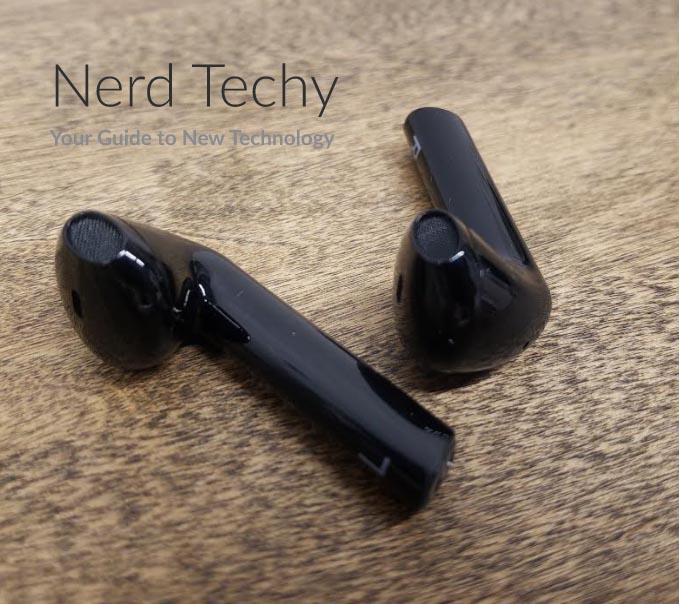 Battery & Connectivity
So, the SoundLiberty 95 earbuds are well-designed. But even the best design isn't worth much if you lack battery life. So how well do these earbuds perform in terms of longevity? For the most part, quite well!
To begin with, the earbuds themselves provide up to seven hours of playtime on a single charge. Let's be clear. This is a manufacturer's rating, based on playback at medium volume. If you need more volume, your battery life will be correspondingly shorter. But even if you're pumping out sound at full blast, you can expect a full five hours of playtime. This is enough for most people to get through a day or two without need for recharging. You can listen during your morning workout and during both commutes without any issues.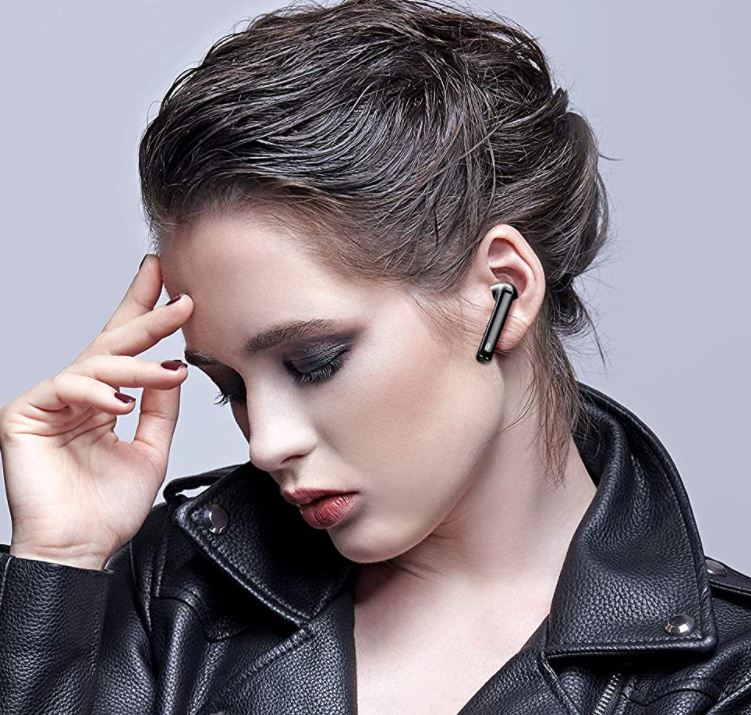 In addition, the charging case supplies three additional full charges for your earbuds. That means up to 28 hours of total playtime without plugging in. Even at maximum volume, you're looking at at least 20 hours of playtime. Not bad at all. Not only that, but the case charges via USB Type-C. You can power it up in about an hour, so plug-in time is minimal.
The SoundLiberty 95 earbuds connect to your phone or MP3 player via the Bluetooth 5.0 protocol. This is an updated version of the older Bluetooth 4.2 protocol, and has several advantages. To begin with, latency is reduced to a minimum. You can watch movies or videos without the audio being out of sync with the video. Not only that, but the maximum bitrate is increased. If you want to listen to HD audio, you'll be well-equipped. Finally, the Bluetooth 5.0 connection is more stable than Bluetooth 4.2. This means fewer dropped calls, and no skipping audio tracks.
Not only that, but the SoundLiberty 95 earbuds feature instant pairing. Once they've been paired with your phone, they'll automatically reconnect when the case is opened. Of course, if you've got multiple devices, this might be problematic. In that case, simply press and hold the reset button on the back of the charging case. This will clear the pairing list, so you can create a new connection manually.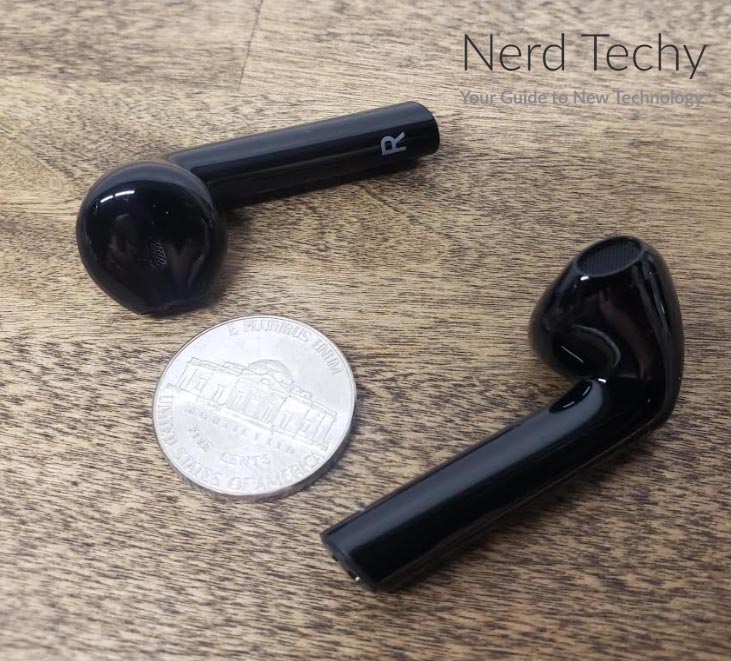 About the only feature the SoundLiberty 95 buds don't offer is mono pairing. This isn't ideal for listening to music, but provides better situational awareness during phone calls. If this feature is important to you, check out our review of the TaoTronics SoundLiberty 92 earbuds. They support both mono and stereo mode, but the audio quality is not as good as the SoundLiberty 95's.
Sound Quality
The SoundLiberty 95 True Wireless Earbuds have large, 13mm drivers. These are about twice as large as ordinary earbud drivers, and provide plenty of punch. Combined with small bass tubes inside the earbuds, they offer excellent bass performance. That said, this doesn't compromise quality across the spectrum. Middle and high frequencies are also crisp and clear. This is unusual for earbuds, which tend to suffer in part of the sound spectrum, usually the bass.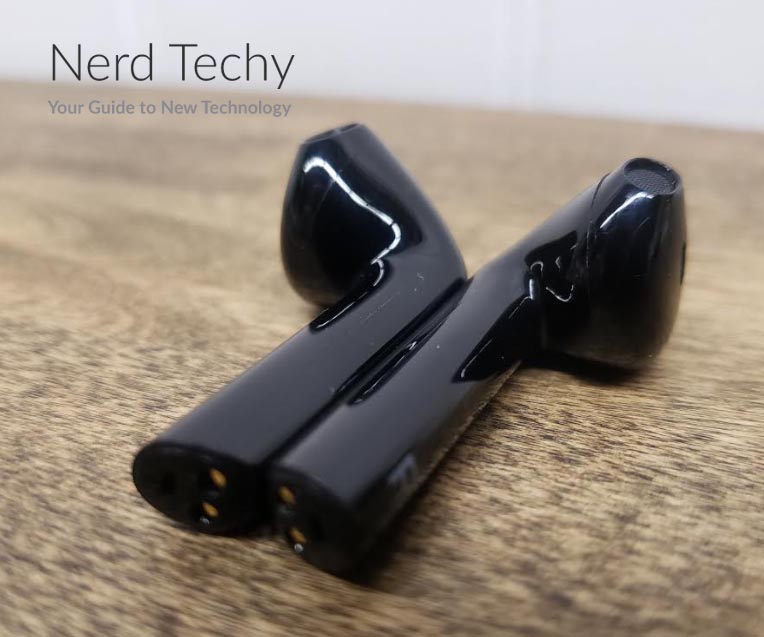 This full-spectrum performance doesn't detract from the overall sound quality. The aptX coding and composite diaphragm provide plenty of clarity across the spectrum. Not only that, but the soundstage is nice and wide. Vocals are front and center, and every other instrument has its place in the mix. Obviously, this depends on the quality of the mix itself. But if you're listening to a professionally-produced song, you'll get professional quality.
The only real downside of the SoundLiberty 95's audio quality is the lack of noise cancellation. To be sure, this can be a good thing. There are many situations where you want to maintain spatial awareness! That said, you might want a pair of buds that tune out the world so you can take a nap. In that case, consider the TaoTronics SoundLiberty 94 earbuds. The audio isn't as rich as the SoundLiberty 95's. But background noise is virtually nonexistent if you're trying to nap on an airplane.
In addition to all this, the SoundLiberty 95 earbuds feature CVC 8.0 noise isolation. Dual mics on each earbuds help isolate the sound of your voice and block out background noise. This makes it easier for the person on the other end of the call to hear and understand you. Of course, how well you hear the other person is going to depend on their own mic quality.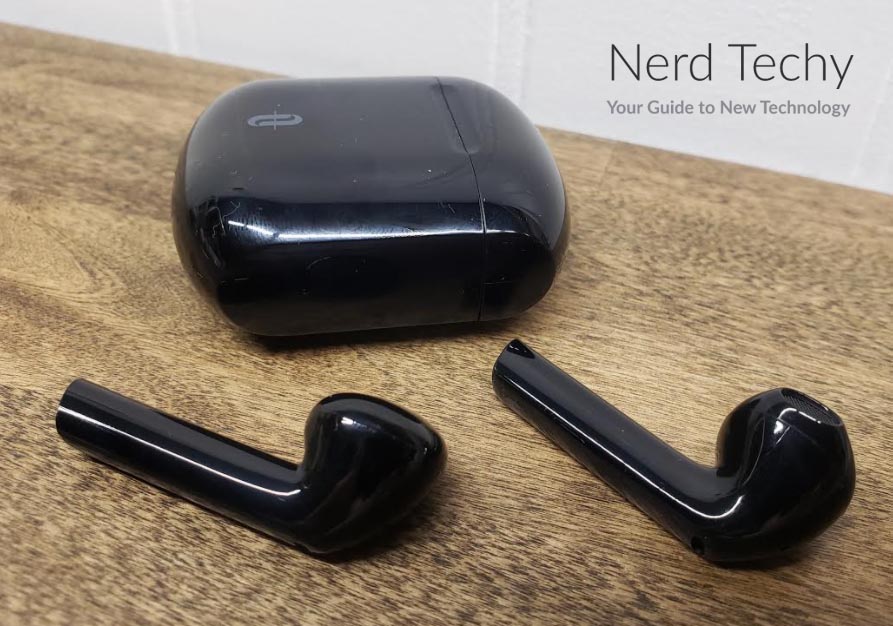 Final Verdict
The TaoTronics SoundLiberty 95 True Wireless Earbuds are a great choice for audiophiles. With their full-spectrum audio response, you won't have any issues hearing your favorite tunes. Not only that, but they do a great job during phone calls. Clarity is excellent, and you won't have to tweak a bunch of settings. To be sure, there are some issues. The loose fit, for instance, can be problematic for some users, albeit helpful for some others. On the other hand, everything else is top-tier. From the battery quality to the quality of construction, you're looking at a great pair of earbuds.
Please consider sharing:
Note: At no extra cost to you, we may earn a commission for purchases using our links. Learn more.