So, you're in the market for a new printer, but you're not sure what to buy. That's understandable. There are so many options available that it can be tough for even an expert to decide. That said, there are a few broad categories of printers: office printers, home printers, and photo printers. Again, these categories are very broad, and don't offer much nuance. But if you can at least narrow down what you're trying to achieve, it becomes easier to choose.
Today, we're going to review the Canon TR7020 Call-In-One Wireless Printer. This is a compact printer that's primarily designed for printing photos. This isn't to say that it's incapable of printing ordinary documents. It can. It's just better-suited for photo printing than it is for other purposes. So if you're looking for a photo printer, keep reading!
Note: At no extra cost to you, we may earn a commission for purchases using our links. Learn more.
Canon is primarily known for their cameras, including their newer digital cameras. However, they're all-around experts at color and photography, and they've been in business for eons. Because of this history of expertise, we were excited to get our hands on the Canon TR7020. But just because a company has a reliable history doesn't mean every product is going to be pure gold. Sometimes, even the experts make mistakes. That's why we put the TR7020 through its paces. We looked at everything from the physical construction to the print speed to the setup. Now, we're going to tell you everything we learned. After that, we'll have covered everything we need to know to render a final verdict. Let's get started!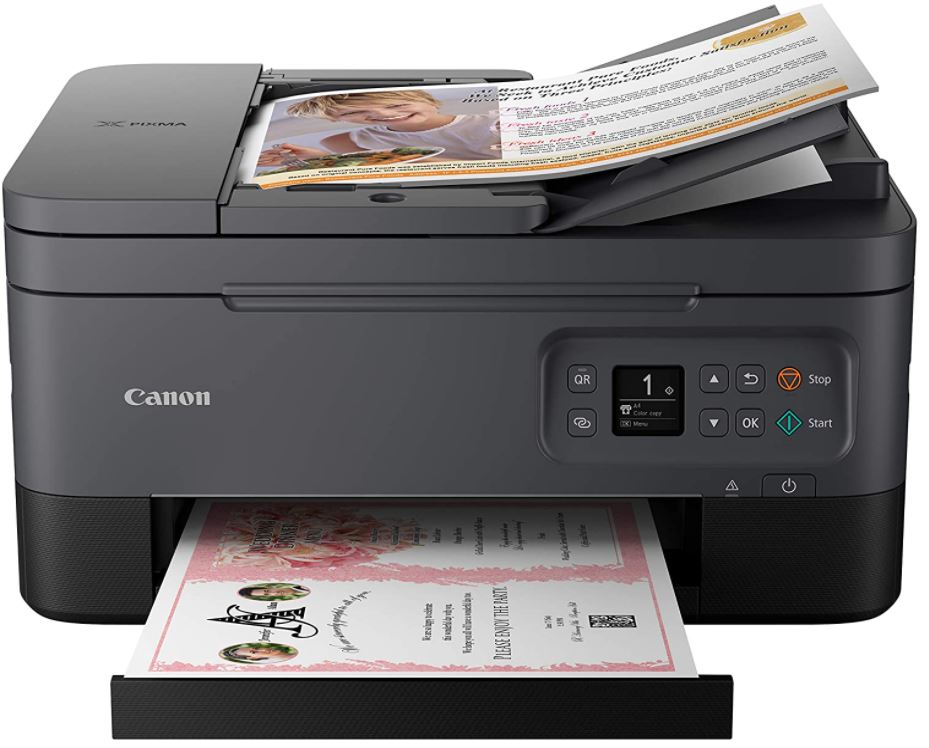 Overall Design
The Canon TR7020 is a mid-sized printer that's ideally-built for home use. It measures 15.9 inches wide, 14.4 inches deep, and only 8.2 inches thick. This means it has a small enough footprint for most home desks. You don't need a dedicated table or a bunch of extra space to position it. The housing is available in two colors: black and white. Both variants have a matte finish, so they won't attract fingerprints. They're also easy to dust off, so keeping your printer clean won't turn into a day-long project. A quick swipe with a damp cloth is all it requires.
As with many home printers, there's a top feeder for inserting documents for scanning and copying. This auto document feeder (ADF) can hold up to 35 sheets, giving the printer plenty of capacity. Admittedly, the TR7020 isn't primarily a copier, but it's nice to know you have the capacity. The internal paper hopper holds up to 100 sheets, which is a bit small. Most printers hold at least 200, and as many as 500 pages. If you're printing off a very long document, you'll need to refill the hopper frequently. Then again, that's not what the TR7020 is designed for to begin with. And for smaller runs, you can use a secondary paper tray on the back of the unit.
If you do need larger capacity, you might want a printer that's designed for office work. Consider the Canon Pixma G7020. This is a capable photo printer, but it also has a large enough capacity for printing long documents. The ink is even refillable, making it environmentally friendly. Just be aware that all this capacity comes with a larger footprint.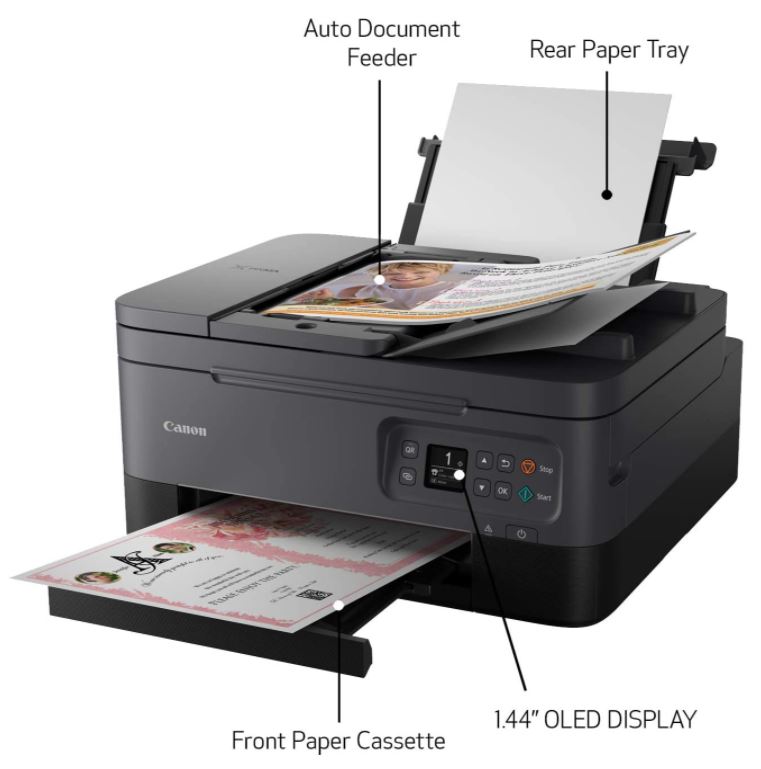 The TR 7020's output tray is located on the bottom, and is collapsible. This makes it easy to close up and keep neat and tidy when it's not in use. As with the paper hopper, though, the output tray capacity is limited. If you're printing more than a few dozen pages, you're going to need to babysit it.
Higher up on the front of the printer, you'll find a simple control panel. The panel allows you to navigate a menu and perform all the printer's functions. It's augmented by a small, 1.44-inch OLED screen that keeps track of page count and other factors. You can perform more advanced, easier controls via the smartphone app, which we'll talk about later.
Along with the printer itself, you get a power supply cable for getting things powered up. The default printer does not include ink; you'll have to buy that on your own. Alternatively, for a few extra dollars, you can get the TR7020 with black ink, or with a full set of colors. Regardless of which package you choose, the TR7020 is covered by a 12-month manufacturer's warranty. If there are any failures during this time period, you'll receive a free replacement. In addition, Canon provides 12 months of technical support from their US-based help line.
Connectivity and Setup
Of course, plugging your printer into the electrical outlet is only the first step. To actually use it, you're going to have to connect it to a PC, smartphone, or other device. There are a few different ways of doing this. To begin with, you can use a simple USB connection. A USB Type-A to Type-B cable is included in the package for this purpose. This is just fine for connecting to a desktop PC, but what if you want to print from other devices? In that case, the TR7020 can be connected to your wireless network. It connects via the 2.4GHz band, which offers longer range than the faster 5GHz band. Still, it's more than fast enough for printing purposes.
A WiFi connection allows you to print photos or documents from anywhere in the world. However, it also connects your printer to the internet. If you're concerned about security, you might want to avoid this. In that case, you can simply use the Bluetooth 4.0 connection. You'll have to be in the room with your printer, but the connection is totally offline, making it more secure.
When printing from a PC or Apple laptop, printing is simple. Just set up the TR7020 as you would any other printer. On smartphones or tablets, you can download the Canon Print App. This app is designed mostly for photos, but can be used to print any kind of material if you want to. The TR7020 also supports Apple AirPrint for iOS devices, and Mopria Print Service for commercial applications.
In addition to all this, you can also download the Easy-PhotoPrint Editor App for editing before printing. Admittedly, you can do this with any number of programs, such as Adobe Photoshop. On the other hand, the Easy-PhotoPrint Editor is free, as is the Canon Creative Park App. From there, you can generate calendars, posters, and other projects that make your photos practical.
One additional function of the Canon Print App is that it integrates with your social media apps. You can share a photo on Facebook, then instantly print it. The app supports 5 x 5-inch or 3.5 x 3.5-inch prints without any modification. You literally click the photo, select the size, and print it. And if your printer is online, you can do this from anywhere in the world.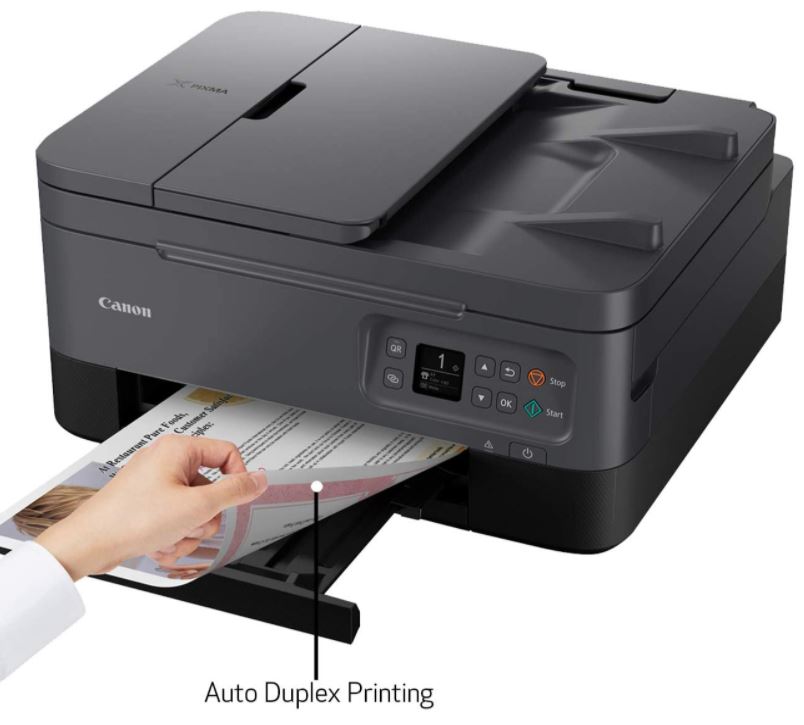 Printing Performance
The Canon TR7020 can accommodate a wide variety of paper sizes. In all, it can handle anything from 3.5 x 3.5-inch wallet prints, all the way up to 8.5 x 14-inch legal paper. In and of itself, this is an impressive amount of versatility. But in addition to that, the TR7020 supports borderless printing on all paper sizes. This is ideal for photos, since you don't want a white border around every print.
As with any printer, the TR7020's exact print speed depends on what you're doing. For full-quality photo printing, you can expect about a page per minute, or 43 seconds for a 4 x 6 photo. For more basic color printing, the TR7020 is capable of 6.8 pages per minute. For black and white documents, this speed rises to 13 pages per minute. As you can see, the TR7020 is a bit slow for an office printer. If all you're doing is running off documents, you'll want a different printer. That said, it performs admirably for a photo printer. And it's fast enough at document printing that it will still get the job done. If you only need to print a few pages now and then, you won't even notice the slow speed.
When you do need to print documents, the TR7020 is ready for the task. It supports duplex printing (two-sided printing), so you don't need to waste paper on longer documents. For photos, it supports print resolutions of up to 4,800 x 1,200 DPI. This is very sharp, much better than most printers. It's not quite as sharp as some dedicated photo printers and other high-end units. But considering what you're paying for the TR7020, you're getting excellent quality.
Of course, no printer is perfect. If you still need a photo printer, but the TR7020 isn't up your alley, there are plenty of options. Check out our review of the Canon Pixma Series of photo printers. There are several options here, each with its own individual benefits.
In addition to its printing functions, the Canon TR 7020 can also scan and copy existing documents. Again, this isn't its primary purpose. There are better copiers and scanners out there. But for limited, home use, both the copier and scanner are more than effective enough.
Final Verdict
As you can see, the Canon TR7020 All-In-One Wireless Printer is an effective home photo printer. With a maximum resolution of 1,400 x 1,200 DPI, your photos will be crystal clear. And with borderless printing, you get the same quality prints you'd expect from a professional photographer.
To be fair, the TR7020 isn't perfect. It's a bit slow, and the paper hopper is small, so it's not well-suited for heavy-duty document printing. That said, it's not designed for that purpose. It's made for printing photos, and it does an excellent job. To get the most out of the TR7020, you're going to want the Canon Print App. This will unlock social media printing and other popular features. But even if you prefer an offline experience, you're still looking at a very good photo printer.
Please consider sharing:
Note: At no extra cost to you, we may earn a commission for purchases using our links. Learn more.