There are more printers on the market these days than you can shake a stick at. Whether you're looking for a small home printer or a beefy office printer, there are plenty to choose from. But not all printers are created equal. You certainly can't rely on some fly-by-night manufacturer. Particularly when it comes to office printers, there's only a handful of reliable manufacturers on the market.
Other than HP, Canon is one of the few that are truly reliable. They have a long history not just in the printing world, but dating back to film cameras. And today, we're going to look at one of their newest offerings, the PIXMA G7020. We'll take a deep dive into its features, so you can decide whether or not it fits the bill. Let's get started!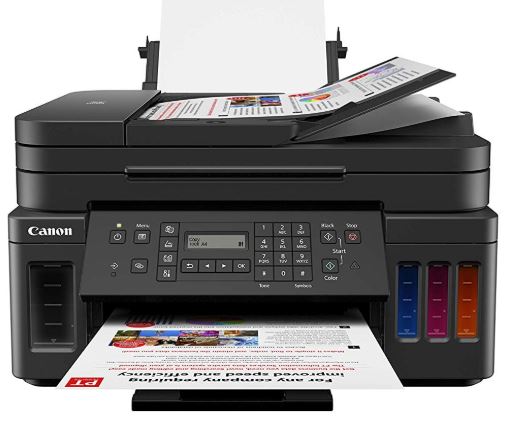 Big, Bold Design
The G7020 is a full-featured office printer that prints, scans, copies, and faxes. Whether you're working from home or supplying an office, it will do everything your business needs. It's fairly beefy, measuring 15.9 inches in width, 14.6 inches in depth, and 9.3 inches in height. It weighs 29 pounds, which is surprisingly heavy. That's because it packs a lot of power and features into the package.
The shell is constructed from a glossy black PVC plastic, which can take a beating if need be. On the top, you'll find an automatic document feeder (ADF), that faces towards the left. This feeder will allow you to scan, copy, and fax multi-page documents. As they're finished, the pages will dispense into a small tray under the ADF for easy retrieval. But that obviously only works if the pages are separate. If the pages are bound or stapled together, you can use the scanner to read them one at a time. The scanner lid is about an inch thick, and opens easily from the front.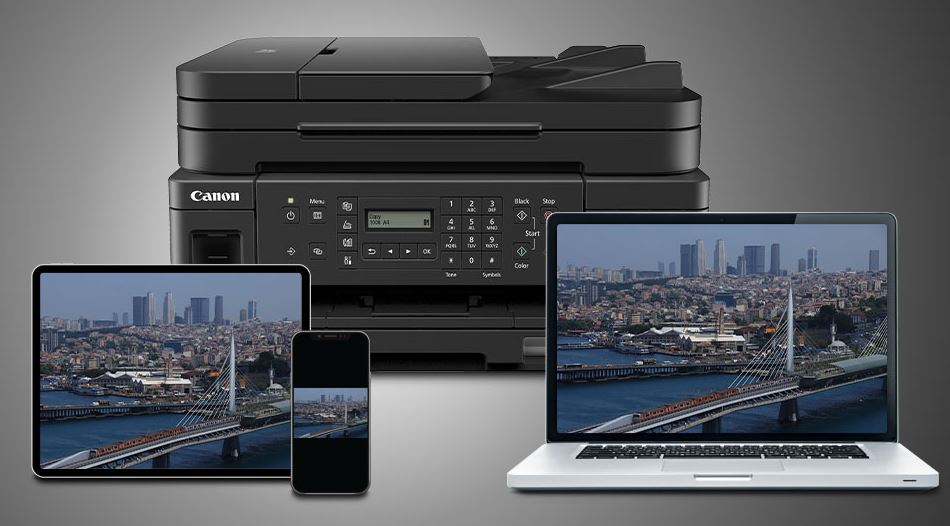 On the back of the machine, there's a hopper for your office paper, which has a relatively small capacity. By positioning the hopper in this open configuration, the G7020 allows you to add pages as you're printing. If you prefer a standard, drawer-style hopper, the primary hopper is also impressive. It has a 350-page capacity, more than enough to handle large jobs. There's a small window on the edge of the hopper, which lets you see how much paper is remaining. Never again will you run out of pages by surprise in the middle of a job.
The large color ink wells are located to the right of the hopper. Because they're wells, and not standard cartridges, they incorporate windows on the front. Much like the window on the hopper, these windows allow you to see how much ink remains in each well. If you hate getting surprised by an empty ink cartridge, you'll appreciate this feature. The black ink well is located to the left, with a similar window for easy visibility.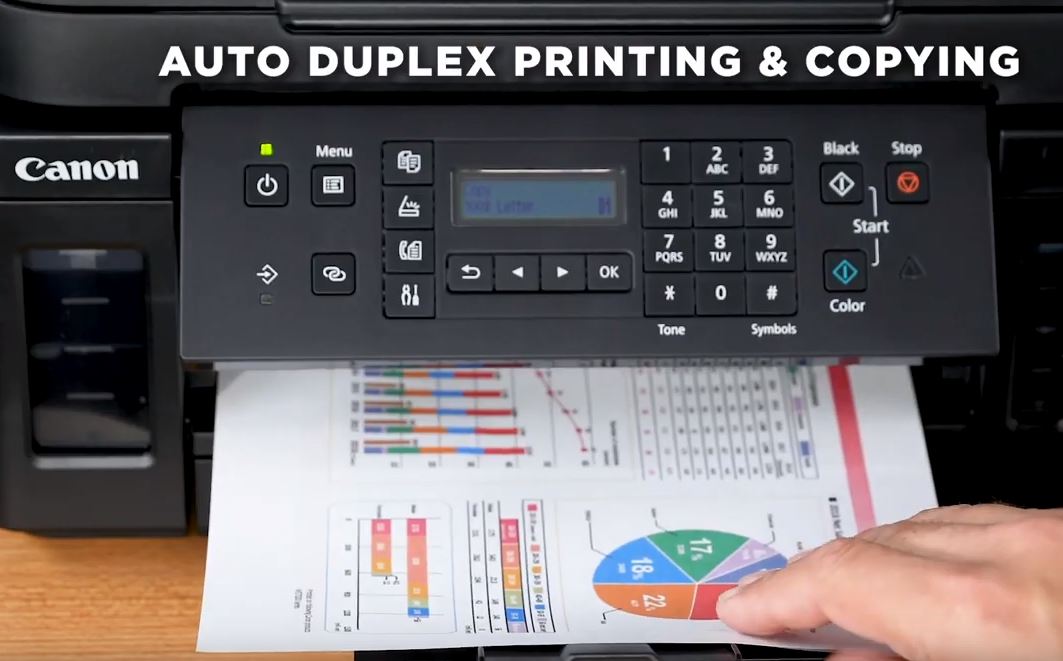 Smack in the center of the machine, you'll find the control panel, which sits at an angle for ergonomics. It has intuitive controls, complete with separate buttons for color and black and white copies. There's a standard numerical keypad, as well as a stop button that can immediately end the job in progress. Along the left hand side, you'll find menu controls, along with the scan, copy, fax, and print buttons. Finally, there's a button for quick, easy WiFi pairing.
If you want an even larger hopper for the biggest possible jobs, there are plenty of options available. For one of the most reliable options, take a look at the HP OfficeJet Pro 8020. It's a high-volume printer, but it doesn't offer the refillable ink wells that the G7020 offers.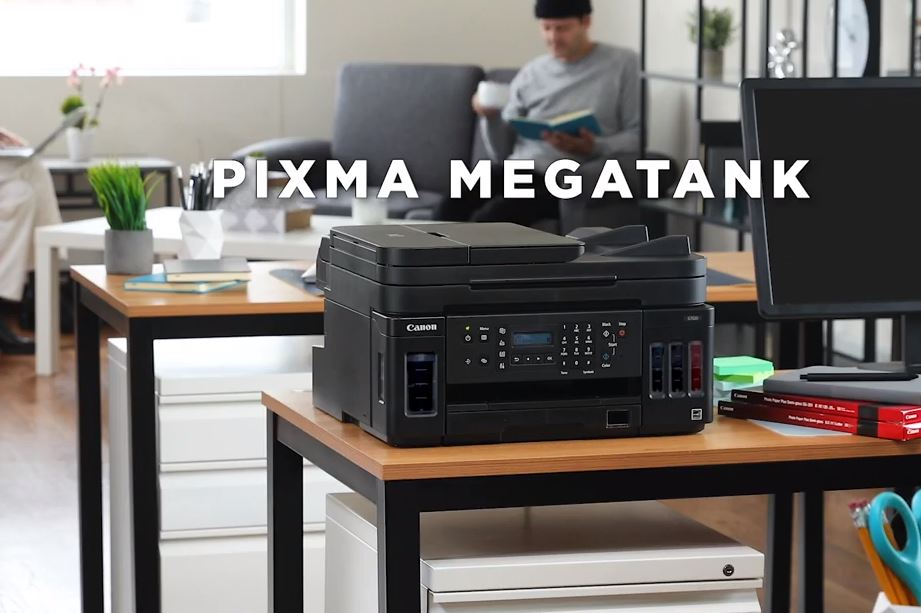 Refillable Ink
One common frustration with printers is the usage of ink cartridges. These have been standard since the first dot matrix printers. They have the advantage of clicking into place, and dispensing ink at a known rate. But they don't offer easy visibility. However, starting in the mid-90s, manufacturers started adding software to allow you to view the ink level. This is a useful feature, but it still requires you to navigate through menus. In other words, your ink level still wasn't visible at a glance. And when you ran out of ink, you still had to replace costly cartridges.
In the 2000s, manufacturers started using refillable ink cartridges. These solved the problem of cartridge replacement, but not the visibility problem. In addition, the refill process was usually messy. So refillable cartridges could save you a few dollars, but few people actually used them.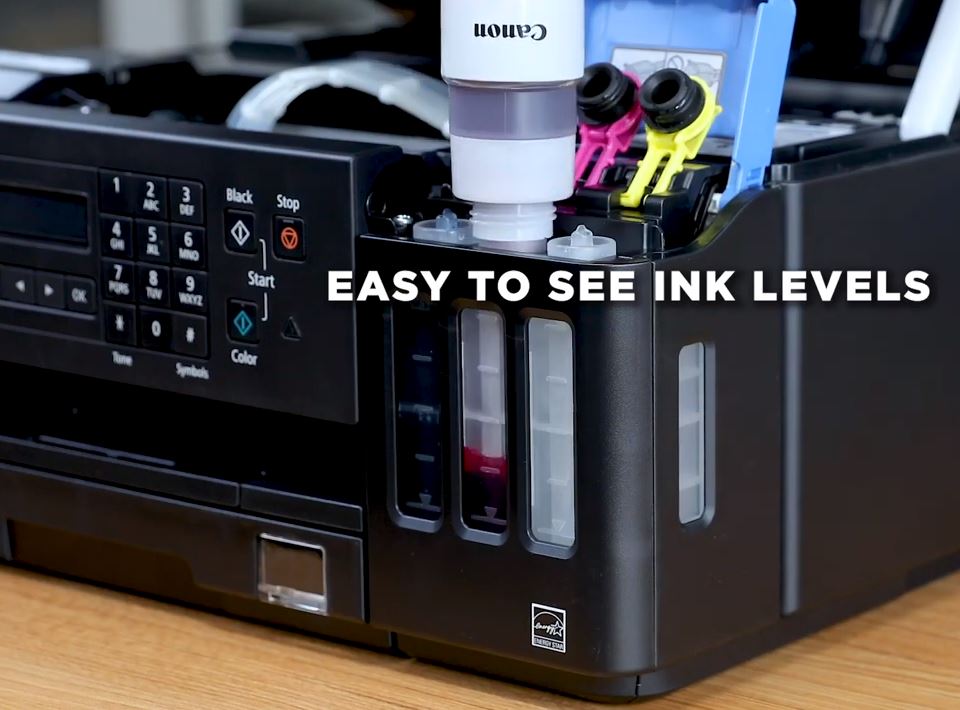 Canon's PIXMA G7020 has solved this problem by using refillable ink wells. Because the wells were designed from the get-go to be refilled, the process is clean and easy. They open from the top, with lids that click into place for secure closure. They're easy to open when you need to, and you can even refill them in the middle of a job. Between this and the dual hoppers, you'll have the ability to print large jobs with minimal interruption.
That said, you shouldn't need to worry about running out of ink. The black ink well will hold enough ink for up to 6,000 pages, depending on density. In addition, the CYK color ink wells can last for up to 7,700 pages. Now, this is just an approximation. It depends on what you're printing, the color density, and other variables. But regardless of what you're doing, you're still talking about some serious capacity. The black ink is pigment-based, while the CYK colors are dye-based, which is industry standard. So you won't experience any loss in quality when compared to traditional ink cartridges.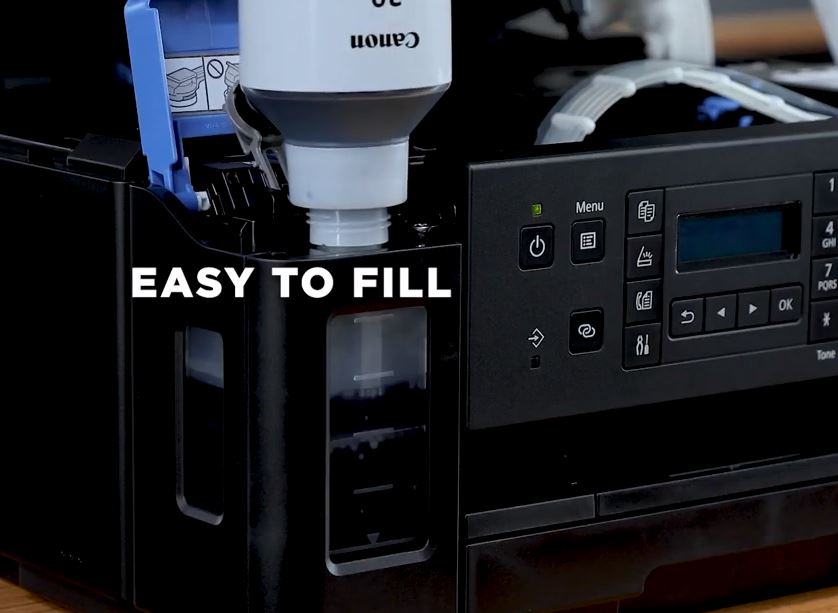 You'll save a lot of money compared to cartridges, and not just because the ink is refillable. Along with the printer, you'll receive a full set of CYK ink, as well as three black bottles. As a result, you'll be able to print thousands of pages before you even have to invest in any refills.
Speaking of color quality, the G7020 isn't just an office printer. It's also a very capable photo printer. It can handle photo paper from 3.5 x 3.5 inches up to 8 ½ x 11-inch paper. It manages borderless printing, so you won't have to spend extra money on a secondary photo printer.
But what if a photo printer is exactly what you need? In that case, consider the HP DeskJet 3639. It's more compact than the G7020, and it's designed specifically for photos. That said, it can still manage document printing just fine for smaller jobs.
WiFi Connectivity
Although the G7020 can connect via Ethernet, it's also a capable WiFi printer. Indeed, the WiFi features are some of the best in the business. It comes with the Canon PRINT Inkjet/SELPHY app, which allows you to perform setup and operations from your smartphone. The app also allows for remote management of your printer queue. If a document gets frozen while it's spooling, you won't have to find a PC to clear out the queue.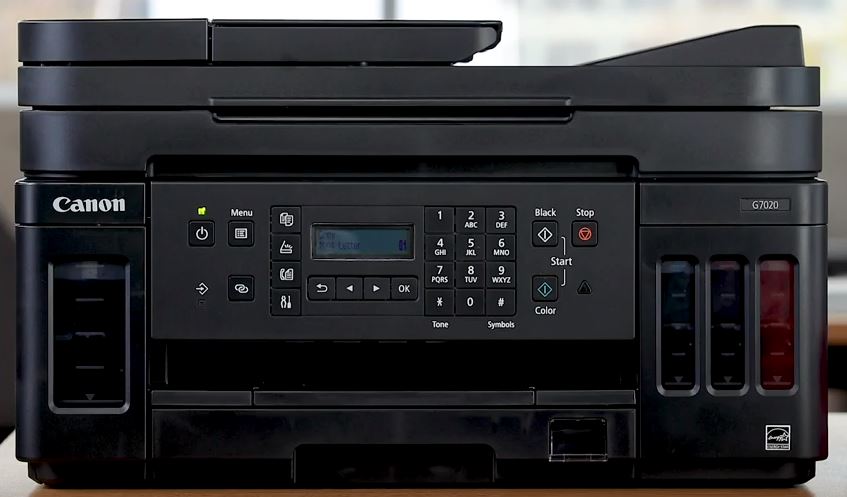 The app also offers several other useful features. Through the app, you can print photos and documents from social media sites. These include Instagram, Facebook, Twitter, Flickr, and Photobucket, among others. You can also print from shared document sites, such as Dropbox, Evernote, Google Drive, and Microsoft OneDrive.
If you prefer to use your own print services, the G7020 supports several of them. You can print from Apple AirPrint and Google Cloud Print. This will allow you to print directly from Gmail and Google Docs, without the need for an outside app. You can do this from your mobile device, your PC, your Apple device, and even a Linux machine or Chromebook. All in all, that gives you plenty of options for any home or business.
Final Verdict
The Canon PIXMA G7020 is one of the most innovative printers on the market. We were especially impressed with the refillable ink wells. A lot of printers can use refillable cartridges, but few are designed with refilling in mind from the get-go. Leaving aside how easy this is, it will also save you money. And the cartridge-free design saves on waste, which is a big win for the environment as well as your wallet.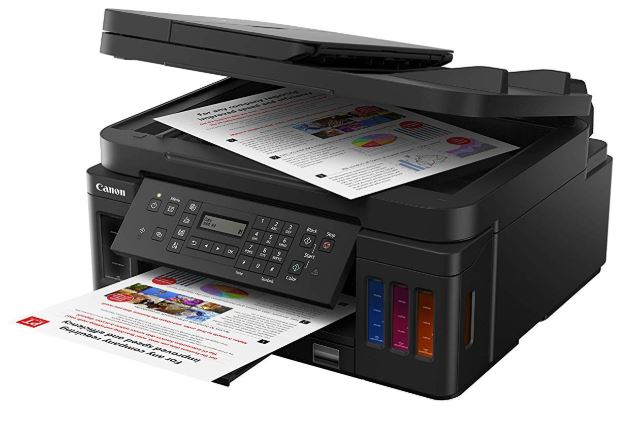 But the G7020 has a lot more to offer than just an innovative ink system. It also features a generously-sized hopper for larger print jobs. The viewing window is a nice touch, allowing you to keep tabs on your paper without pulling the drawer open. And the matching viewing windows on the ink wells ensure that you'll never run out of ink.
Other than that, the G7020 also offers all the standard features you'd expect from an office printer. Scanning, faxing, and copying are all easy, complete with a quick-feeding ADF. Furthermore, we were big fans of all the G7020's app and online features. It can print from just about any online service, which makes it capable of handling just about anyone's needs.