If you're concerned about your home's air quality, you're not alone. Dust, pollen, and mold can call cause problems for people with allergies and asthma. Excessive levels can even cause trouble for people with healthy respiratory systems. Throw in chemicals like formaldehyde outgassing from upholstery, or secondhand smoke, and you've got a recipe for sickness. These chemicals can even cause cancer down the road.
Thankfully, HEPA filters are more readily available than ever. These filters remove a variety of contaminants from your air, so you and your family can breathe easily. Today, we'll be reviewing one of the newer filters on the market, the Okaysou AirMic4S H13 Medical Grade Ultra-Duo. It's a mid-sized filter designed for mid-sized rooms, and it offers several neat extra features. But how well does it actually perform? We decided to find out, and pass that knowledge on to you.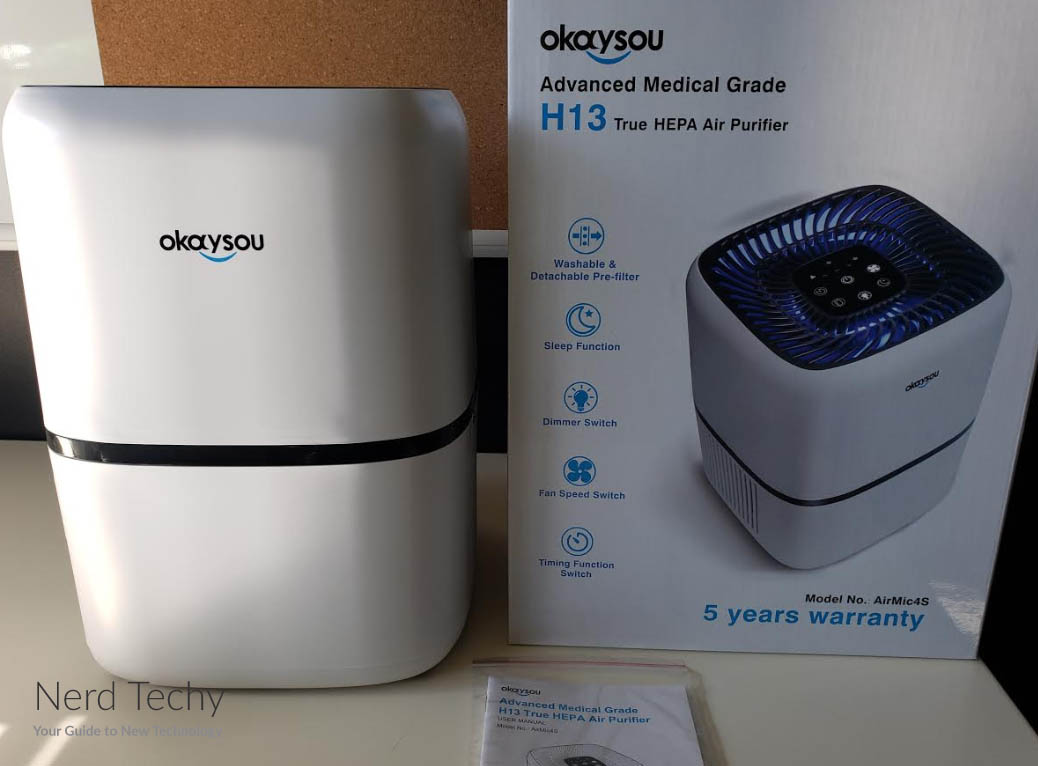 Design & Construction
The Okaysou AirMic4S H13 is relatively beefy, at 14.7 inches high and 7 inches on each side. It weighs 7.95 pounds, or about half again as much as a standard clay brick. But that weight delivers an awful lot of performance. To begin with, there's a pure copper motor. It's quieter and more efficient than a standard brushed or brushless motor. This motor drives a 12-vane fan, which sits near the top and sucks air up through the unit. Because the motor sits on top of the fan, the air that flows over it has already been filtered. This keeps the motor both clean and cool.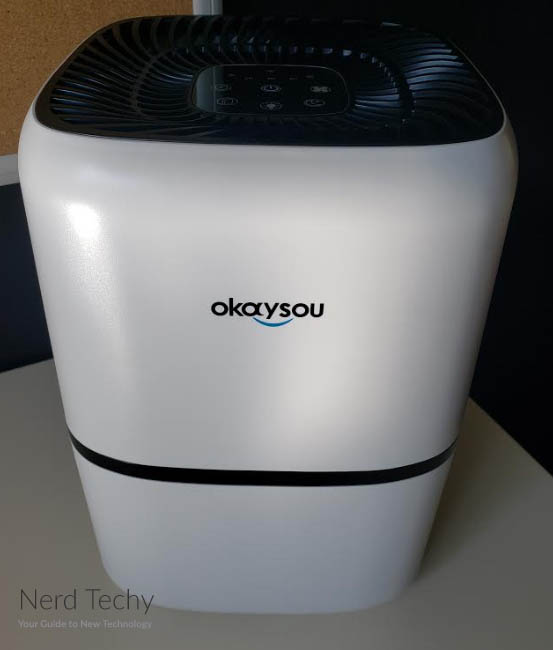 The outside of the AirMic4S is constructed from white ABS plastic, with an attractive black band around the middle. This band is where the two halves of the unit come apart, which allows for easy changing of the filter. The intake vents consist of two rows of vertical slits, which are located on both sides of the unit. These intakes are designed to keep large particles like animal hair from getting sucked into the filter and clogging it.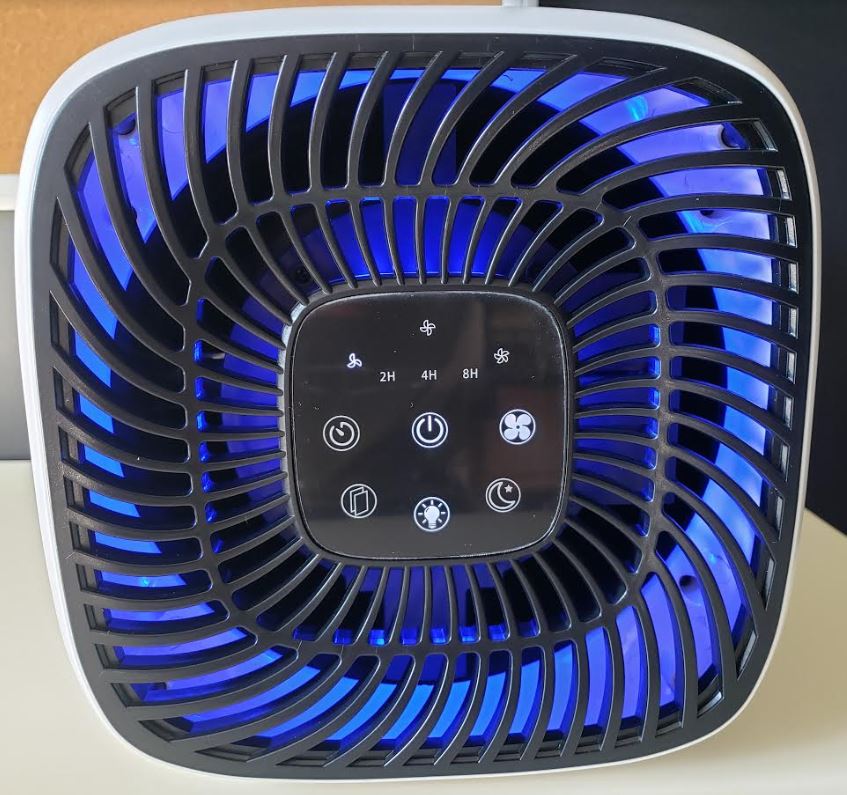 On top of the AirMic4S, there's a black outflow vent that radiates from a central control panel. A blue backlight illuminates the inside of the unit, and is quite attractive. The control panel itself has six soft-touch LED buttons, along with six LED indicator lights. The buttons control the power, the timer, the fan speed, and sleep mode, which we'll talk about in a minute. There's also a button to operate the backlight, as well as a filter button. The filter button lights up when the filter needs changing. Pressing it will tell the AirMic that the filter has been changed, and reset the filter timer. The six LED lights indicate the status of the fan, as well as what timer setting, if any, you've activated. The AirMic4S comes with a 5-year manufacturer's warranty, which is one of the best in the business.
If you're looking for a more compact filter, the Levoit LV-H132 is a great choice. It's smaller than the AirMic, but it will only treat 100 square feet of space.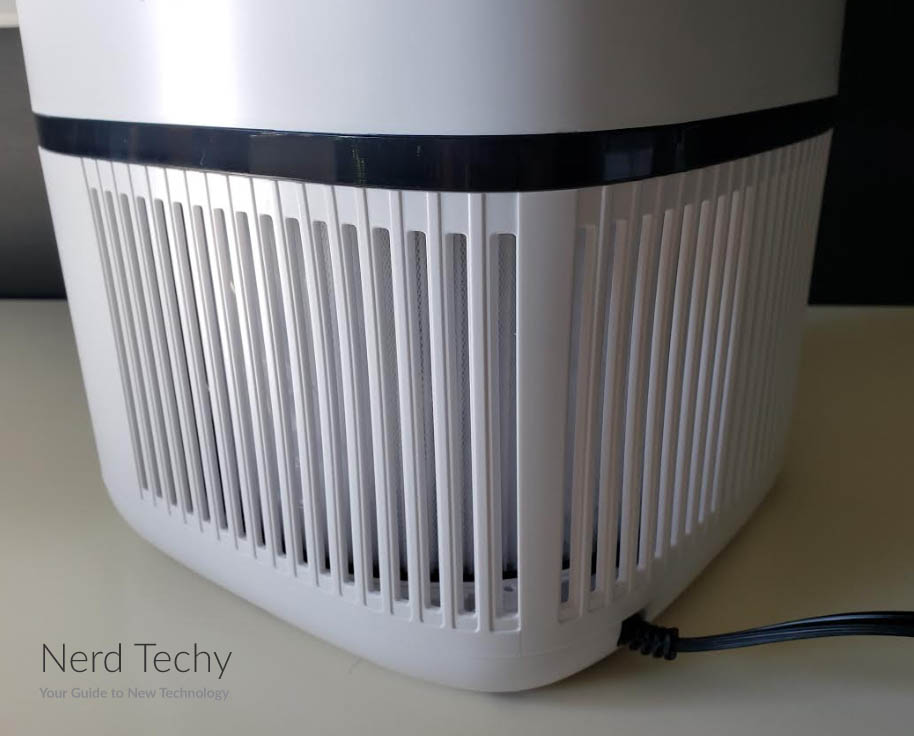 Filter Quality
The filter itself sits inside the bottom half of the AirMic4S. It sits within a double sponge sealing strip, which surrounds the top and bottom edges of the filter. This keeps air from leaking around the sides of the filter, ensuring that it all runs through the filter. As a result, you'll get far more efficiency than you will from many other HEPA air purifiers.
The outer pre-filter is hand washable, so, at least in theory, it should never need to be replaced. If it collects a lot of pet dander or dust, simply run it under cool water to clean it. Make sure to let it dry thoroughly, though. Otherwise, you can end up with moisture getting sucked into the inner HEPA filter. This can cause the inner filter to degrade faster than it otherwise would.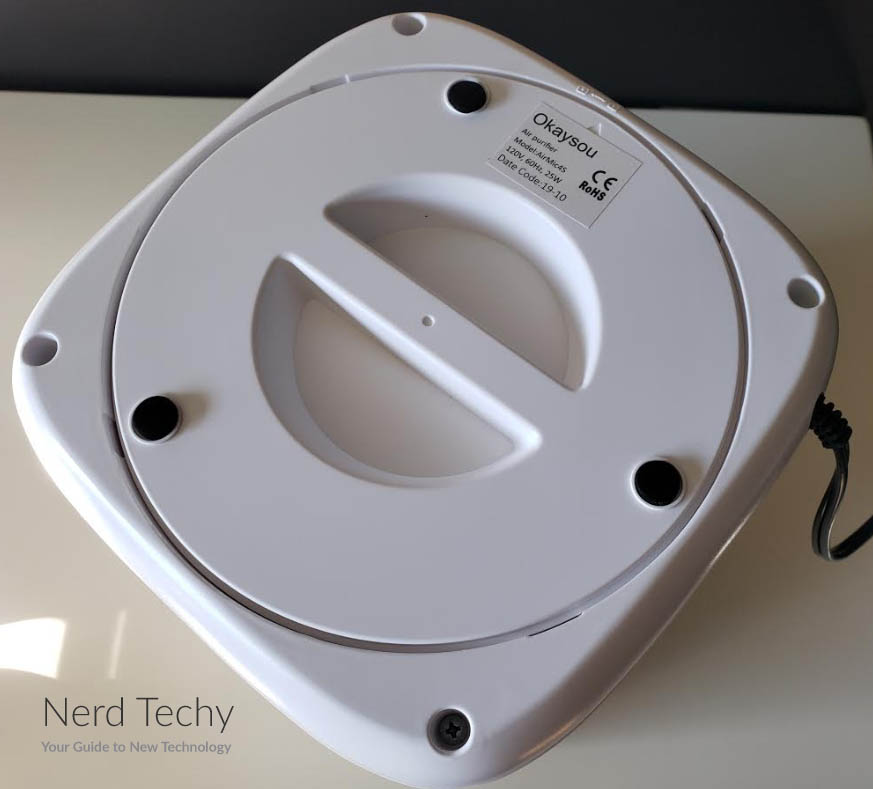 Inside of the pre-filter is where the real magic happens. The inner filter is actually a 2-part construction. The outer portion is a standard, accordion-style HEPA filter, which will be familiar if you've used an air purifier before. This portion of the filter removes fine particulates. The inner portion is an activated carbon filter, which removes chemical contaminants.
One thing the AirMicS4 doesn't do is produce any ozone. This is a good thing, because ozone can cause damage to your lungs. But it also cleans the air, even the air that's not running through the filter. One solution is to use a filter that produces anions. Anions are similar to ozone in that they cause particles to drop out of the air. But they don't injure your lungs. If this piques your interest, consider the PARTU BS-08. It's a powerful little filter that also produces anions.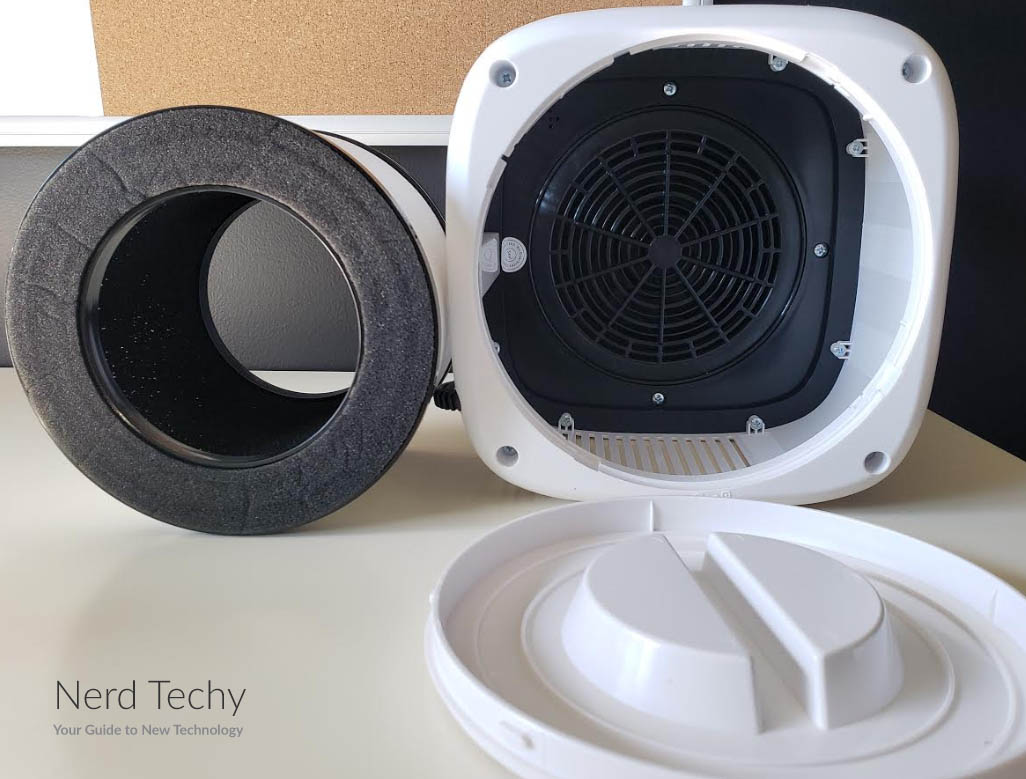 Ease of Use
When it comes to everyday operation, the AirMic4S H13 is very easy to use. To begin with, the fan offers three different speeds. Obviously, the higher speeds will tend to be more effective, because they will cycle air more quickly. However, they can also be louder, which isn't ideal if you're running the AirMic while you sleep. As a matter off fact, there's a sleep mode that's designed for just that scenario. Just press the button with the crescent moon, and the motor will go into sleep mode. With this setting, it produces only 24 decibels of sound. Forget about whisper quiet. 24 decibels is barely louder than breathing.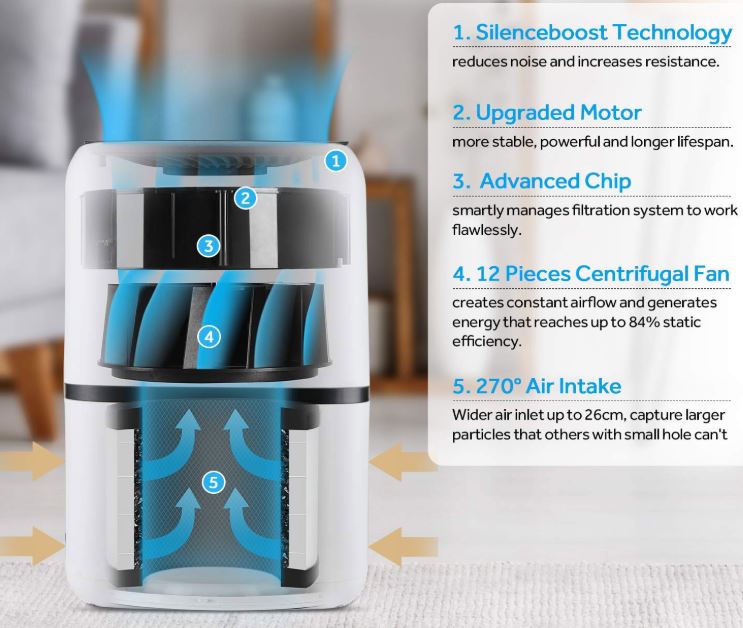 For night use, there's also a night light mode. By pressing the light button, you can cycle between three different modes. The light can be bright, or you can dim it for use as a night light. Pressing the button again will cause the light to turn off altogether. So whether or not you want a night light, you've got options. Shutting off the light will also save energy, which is a great choice for eco-conscious consumers. There's also a timer, which can be set to 2, 4, or 8 hours using the timer button. When the timer shuts off, the AirMic4S will automatically shut off. This is another excellent way to save energy.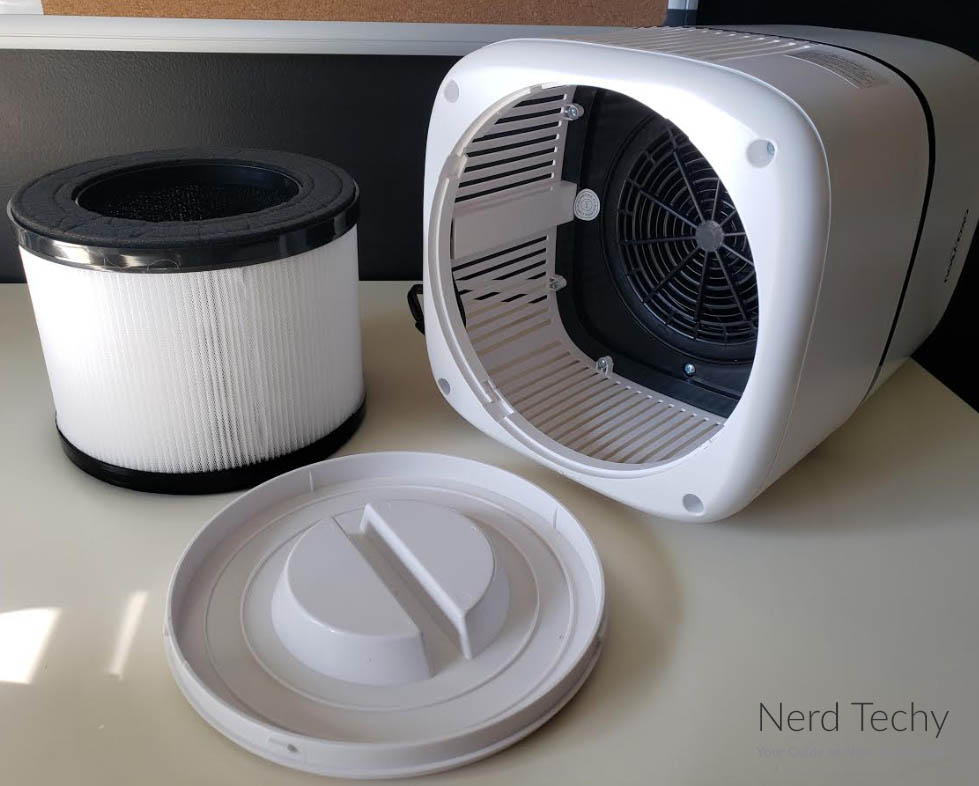 What Does the AirMic4S Remove?
The AirMic4S is rated to treat up to 288 square feet of space, assuming standard 8-foot ceilings. In a room of this size, it will circulate the air about twice per hour. This depends on good placement. Make sure your AirMic is positioned near the middle of the room, without any obstructions blocking the intake vents. Okaysou recommends using the AirMic4S in a room that's 240 square feet or smaller. In this size room, it will cycle the air about three times an hour. For the best performance, they recommend 144 square feet, or a 12-foot by 12-foot room. That's about the size of an average bedroom, and allows for 4 ½ circulations per hour.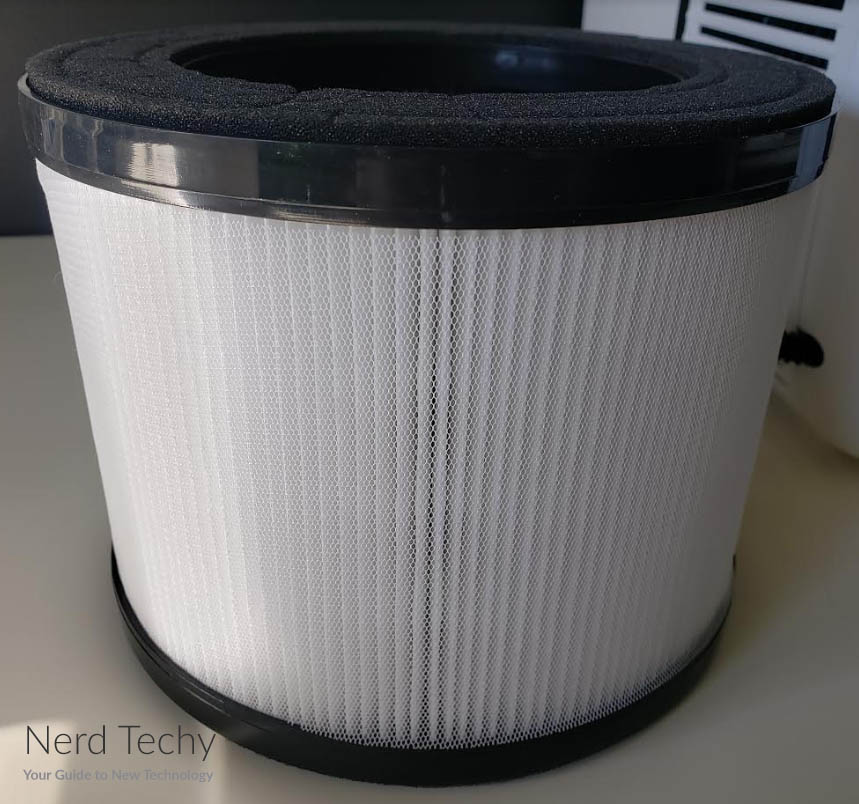 The three-stage filter provides excellent filtration. We've already talked about the washable pre-filter, which removes larger particles like pet hair and dander. The accordion HEPA filter removes particles as small as 0.1 micron in diameter. This accounts for 99.97 percent of particulates, which is about standard for a HEPA filter. These particles include dust, pollen, mold spores, and even the vast majority of airborne bacteria. If you suffer from allergies, you'll breathe freer than ever before.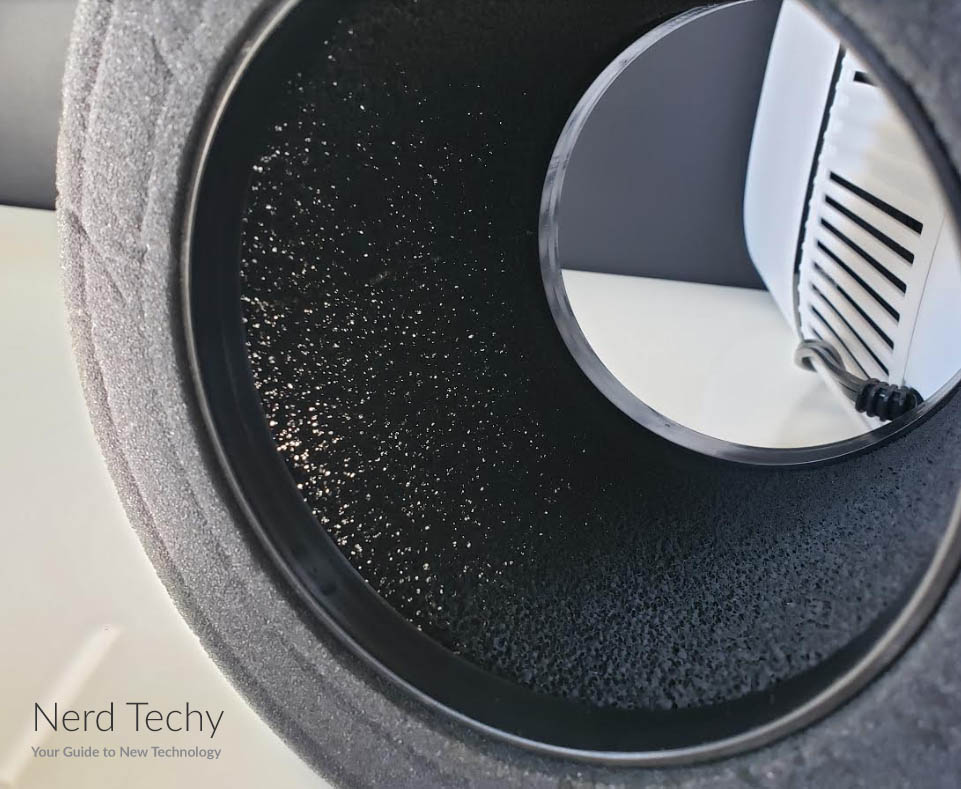 The inner activated charcoal filter is designed to remove chemical contaminants. Harmful gasses like formaldehyde and ammonia can come from upholstery and wood finishes, even after several years. The charcoal layer will absorb them, leaving your air free of poison. It will also absorb odors from cooking and pets, and even cigarette smoke. This can be important even if nobody in the household smokes. Third-hand smoke can leech out of wall paint even after several decades. The charcoal filter eliminates this risk.
There aren't many filters on the market that are more powerful than the AirMic4S. But if you want to remove even more particulates, the Elechomes EPI081 is the way to go. It removes a whopping 99.99 percent of airborne particles, which is the best we've seen.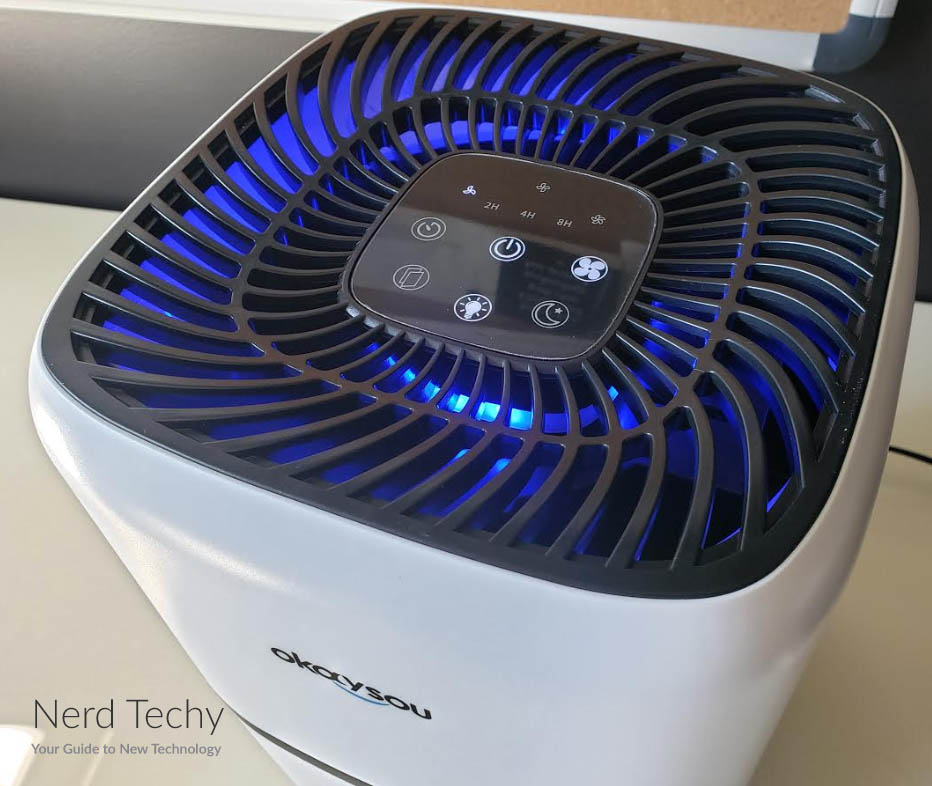 Final Verdict
So, how does the Okaysou AirMic4S H13 compare to the competition? It stacks up very well, and it comes at a reasonable price. The appearance is attractive, especially the inner blue LED. Whether you want a night light or just a decorative touch, it's a nice extra feature. But we wouldn't recommend an air purifier based on cosmetics alone.
In terms of performance, the AirMic4S is right in line with most HEPA filters on the market. Removing 99.97 percent of particles, it eliminates virtually all sources of indoor allergies and asthma. And the inner charcoal filter ensures that chemicals won't cause any irritation to you or your family. The AirMic is also a great choice if you're concerned about the environment. You can save power by running the fan on a timer, so it will shut off once your room is clean. You can save even more power by leaving the LED light off. All in all, we highly recommend this air purifier.