Wireless earbud technology has come a long way over the past decade. The first ones were limited to mono, and were only really useful as a novelty. From there, we advanced to simulated stereo Bluetooth. This wasn't actually real stereo, and music fans could easily tell the difference. But it was the first technology that made Bluetooth earbuds worth listening to. And then, finally, we got true wireless stereo. With this technology, both channels are beamed to a single earbud. From there, the second channel is forwarded to the second bud.
It's no coincidence that Apple went to wireless only when they did. The iPhone 7 came out shortly after the development of true wireless stereo. Because of this change, iPhone users are now limited to wireless earbuds. And Android users can get excellent audio quality, even without a cord. This is particularly useful for workouts, where wires can get snagged and cause you to yank out your earbuds.
We're about to review Funcl's AI True Wireless Earbuds. Funcl is the latest in a long line of new companies trying to make their mark with quality, mid-priced earbuds. So how did they do? We're about to dive deep into these earbuds' features, and tell you everything you need to know. Let's begin!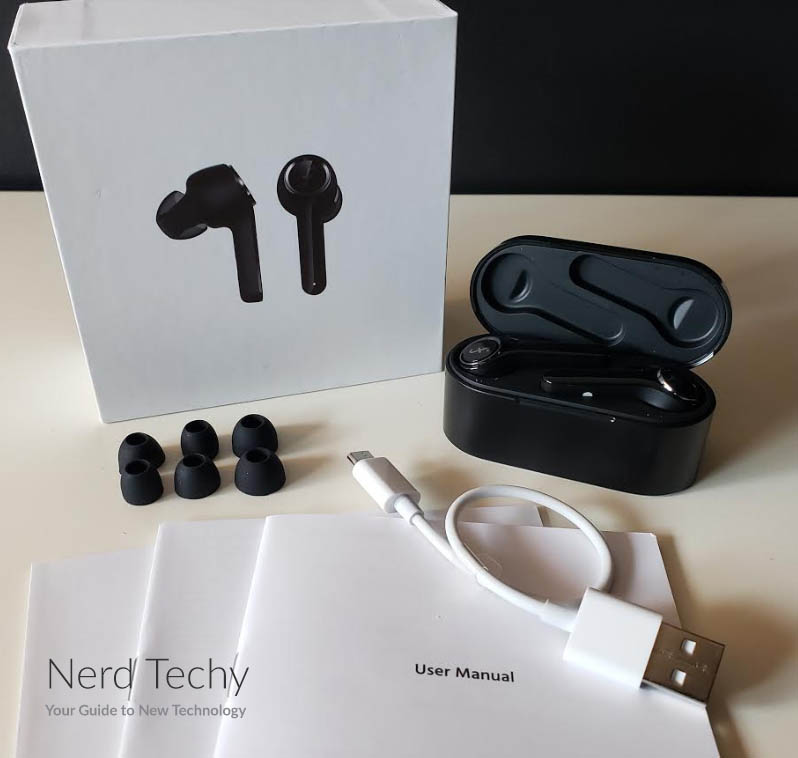 Overall Design
We've already talked about Apple's role in the birth of true wireless earbuds. So it should come as no surprise that many earbud manufacturers drew inspiration from Apple's AirPods. The AI True Wireless Earbuds are no exception. The design will be instantly familiar, with stems that hang slightly down from your ear canal.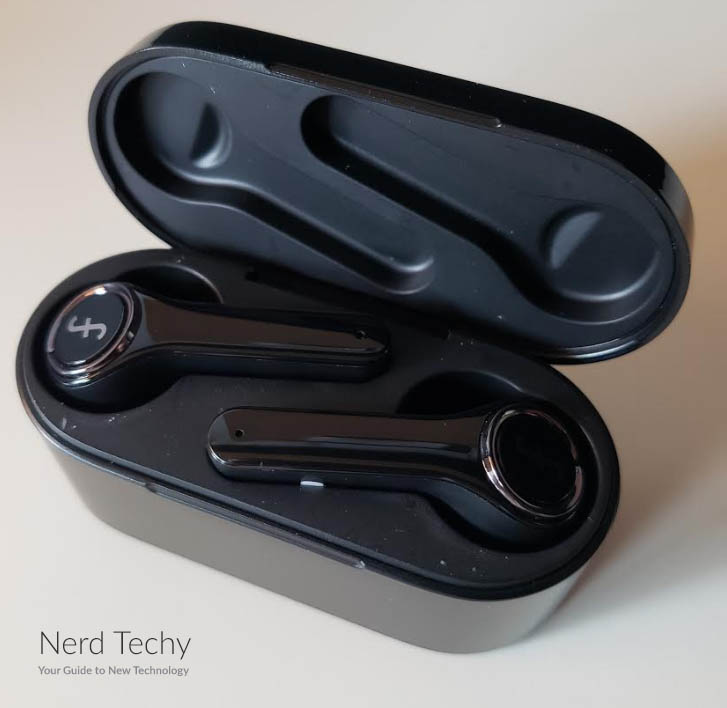 The clamshell case will also be familiar. It's just over 2 inches wide, and just over an inch in height and depth. At 5.8 ounces, the entire kit is lightweight, and it's easy to carry in your pocket. In a backpack or briefcase, it won't even be noticeable. It's constructed from black ABS plastic, with curved edges that won't dig into your leg while it's in your pocket. The lid is magnetic, so it won't open by accident. And it snaps shut with a satisfying click that lets you know it's secure. The earbuds themselves fit into magnetized cutouts, so the buds will stay securely in place while they're charging. On the top of the case, a set of LED lights indicate when the case is charging. They also illuminate when the case is being used to charge the earbuds.
The AI True Wireless Earbuds are lightweight and comfortable to wear. They're designed to seat fully into your ear canal, which both forms a seal and keeps them secure. To ensure that you get a good fit, Funcl included three sets of silicone ear tips in the package. When you open the box, the first thing you should do is check to see how the fit is. If it's not secure or it's too big, swap the tips out accordingly. When properly fitted, you can wear them for several hours without any discomfort.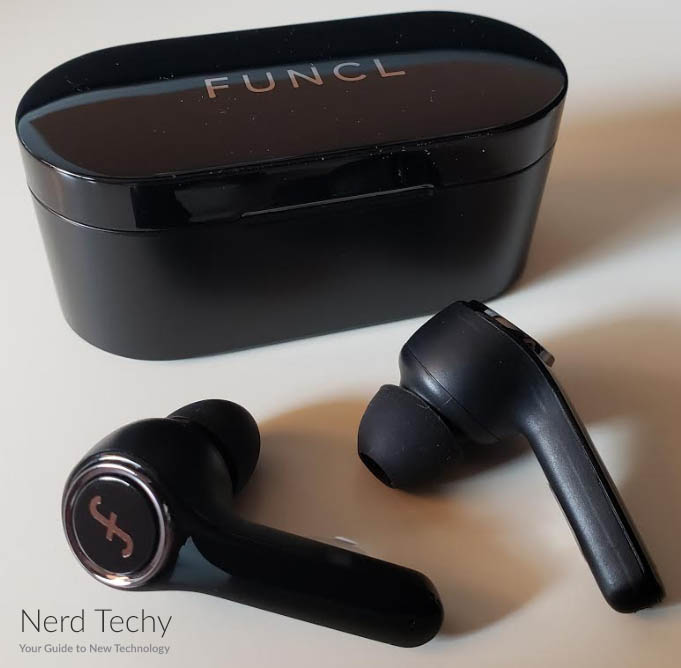 The earbuds are black plastic, with minimal ornamentation. On the back, a Funcl logo is surrounded by a silver border, which is attractive but still minimalistic. This logo functions as a soft-touch control, which allows for a variety of controls. You can pause and play music, answer calls, and even activate your phone's voice assistant.
Like most wireless earbuds, the AI True Wireless Earbuds have a bit of a learning curve. Short and long presses perform different functions, as well as differences between the left and right buds. That said, the controls are comfortable to operate. Unlike many earbuds, you don't have to press very hard. As a result, you won't feel any excessive pressure when you're using the controls. On the other hand, there are no built-in volume controls. You'll have to do that from your phone or MP3 player. There are also small red and white LED lights on the side of the buds. These illuminate when the buds are connected or charging respectively.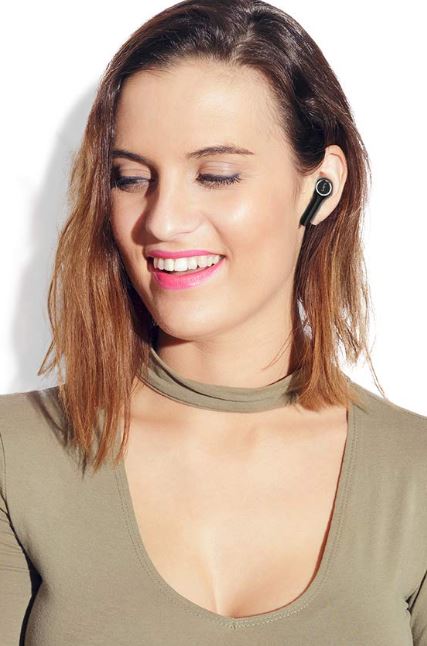 The AI True Wireless Earbuds, as well as the case, offer IPX5 water resistance. This isn't sufficient for submersion, or even for showering. But it's more than good enough for a jog in the rain or a sweaty workout session. You also get a 2-year manufacturer's warranty. If anything should go wrong, you can get a replacement with no issues.
One problem some people have with wireless earbuds is that they can be easy to lose. If you've dealt with this issue in the past, the Mpow Fly is a great choice. These earbuds are connected by a cable that wraps around the back of your neck, so they're hard to lose.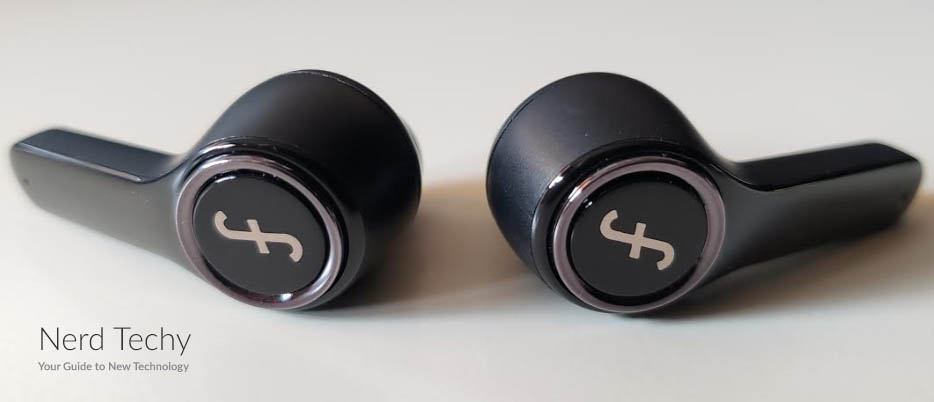 Battery & Charging
The AI True Wireless Earbuds provide up to 6 hours of play time when they're fully charged. As usual, we need to offer our usual disclaimer. This is a manufacturer's rating, and it assumes medium volume. At more realistic volumes, you can expect about 5 hours. That's still not bad. The case functions as a reserve battery pack, with enough juice to recharge the earbuds three times. This gives you an effective battery life of 20 to 24 hours.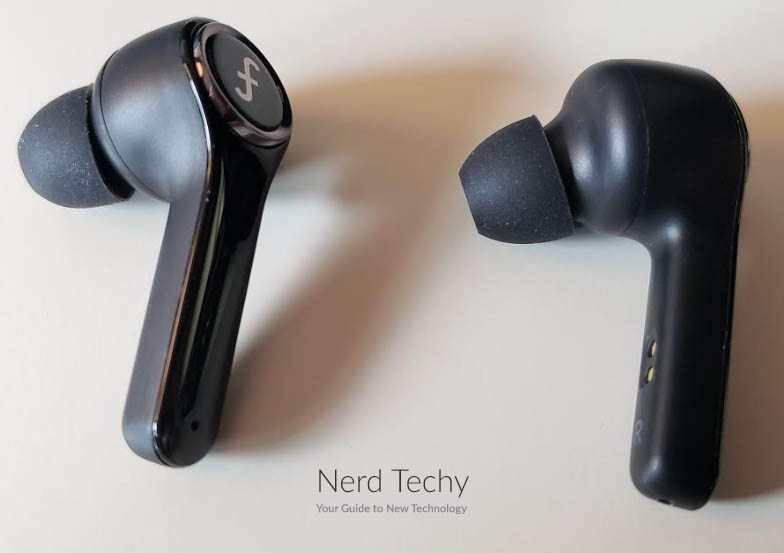 The earbuds themselves will charge in about 50 minutes, an impressive speed. Even a 10-minute charge will give you enough juice for your morning run. The case charges via USB Type-C, and can be fully charged in an hour and 15 minutes. The battery lights aren't always consistent, though. In theory, one of the three lights should indicate one third of a charge. In practice, they're more of a vague guideline.
If you want even longer battery life, consider the Tronsmart Spunky Beat. They offer about 7 hours per charge, along with a more powerful battery pack.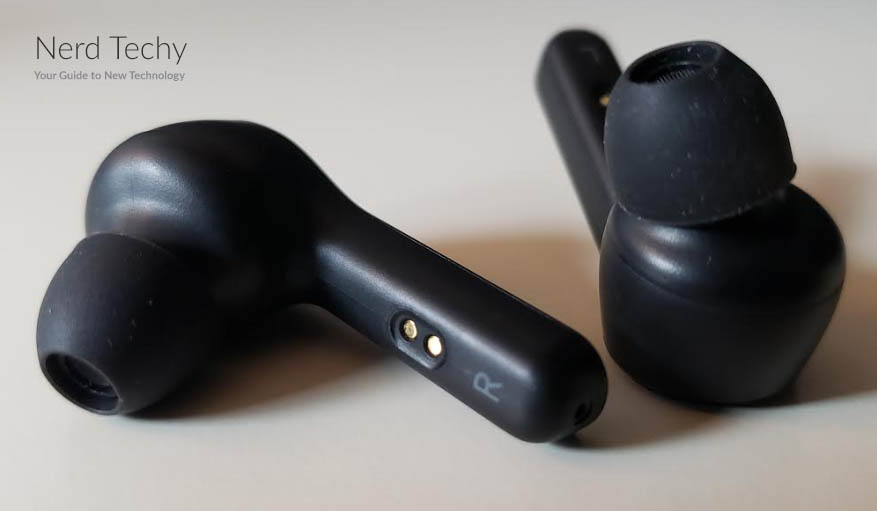 Connectivity & Extras
The Funcl AI True Wireless Earbuds use the latest Bluetooth 5.0 protocol. This allows for an exceptionally stable connection that won't cut out unless you leave the 33-foot range. It also allows for easy pairing. Once your earbuds have been paired to a device, they'll automatically connect when they're turned on. This protocol also cuts latency for a minimum. As a result, these earbuds are an excellent choice for watching movies or for PC gaming.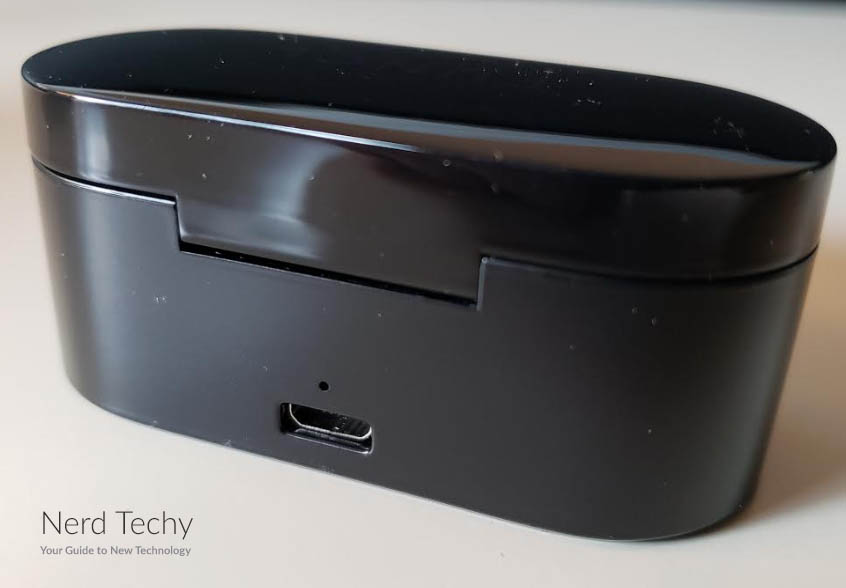 One sweet extra feature is Funcl's companion app. It allows you to track the battery status, which means you'll never be caught by surprise by a dead battery. Funcl plans on eventually building AI assistant controls into the app. However, that feature isn't available yet at the time of this writing.
Sound Quality
With any audio equipment, sound quality is where the rubber meets the road. In this case, it depends on what kind of phone your using. The AI True Wireless Earbuds use the aptX low latency codec, which is the latest and greatest in wireless sound. However, aptX isn't supported by the iPhone. You can still use these earbuds with your iPhone, but the quality won't be as good as it is on Android. The main difference you'll notice is latency, which is near zero on Android, but noticeable on iOS phones.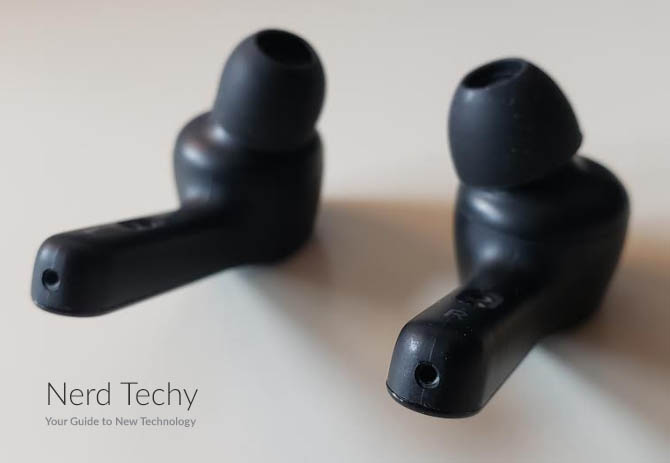 The sound profile is relatively flat, without much variation between trebles, mids, and bass. As a result, you'll get reasonable quality across a variety of music genres. The highs in particular are nice and clear, as are the mids. Vocals and strings are exceptionally clear, without any muddiness or rattle from the bass. That said, as with most wireless earbuds, the bass response is only so-so. It's present, but it's not punchy.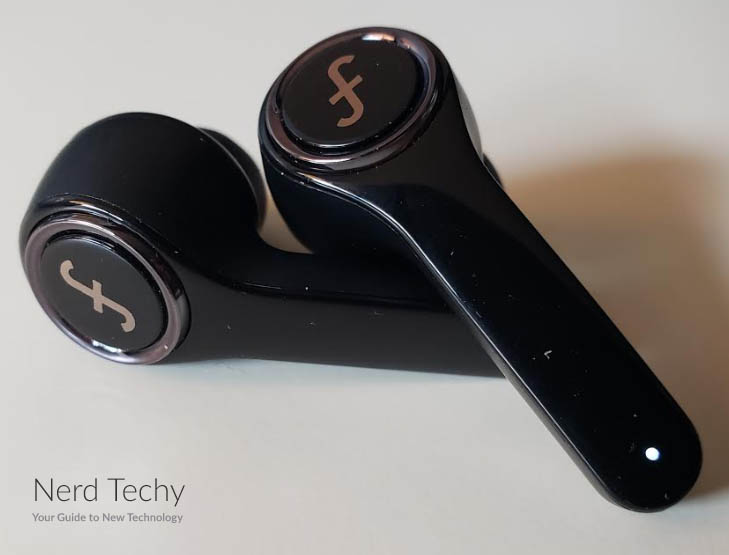 The only thing that disappointed us about the sound quality is the noise cancellation, or lack thereof. Now, most wireless earbuds don't offer active noise cancelling. That's to be expected. But even with a well-fitted pair of ear tips, you'll hear a lot of ambient noise in loud environments. That said, the CVC 8.0 noise cancellation on the built-in microphones makes phone calls nice and clear. Even in a crowded environment, the person on the other end of the phone will hear you just fine. And if you want to use a single earbud for hands-free calling, you can connect them one at a time. This will also effectively double your battery life, since you can use either earbud this way.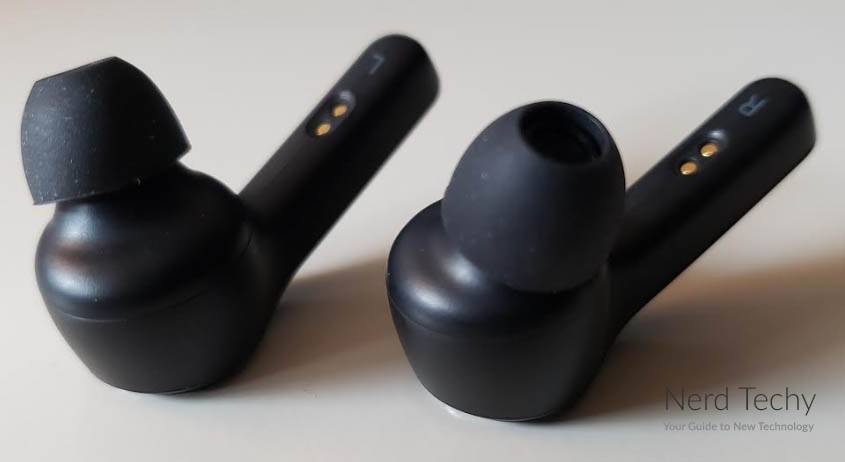 Of course, for hands-free calling, you might prefer a more compact earbud. In that case, the Purity True Wireless Earbuds are an excellent alternative. They're so compact that no-one will notice you're even wearing them.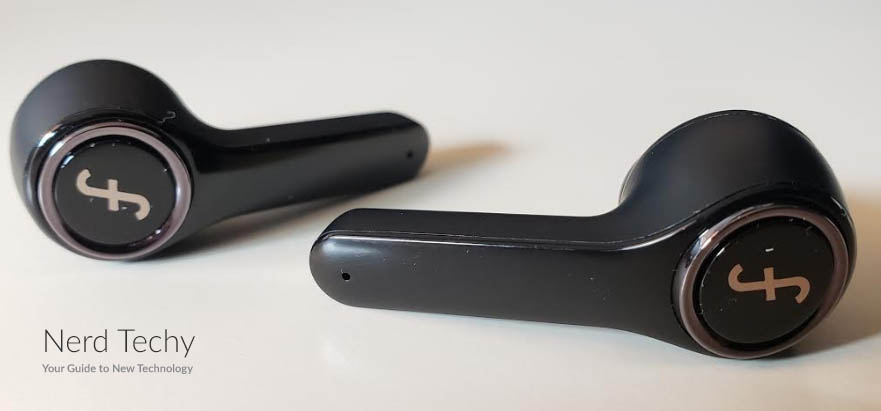 Final Verdict
All in all, the Funcl AI True Wireless Earbuds are a serviceable pair of earbuds. They're particularly good when it comes to latency, since the aptX low latency codec is the best available. We also enjoyed the sound quality. It's not exactly studio quality, but it's excellent considering the price point. We also liked the compact case. Most charging cases with this kind of capacity aren't exactly pocket-sized, so it was a nice touch. The call quality is also great for the price, making these earbuds a solid choice for hands-free calling.