Before the invention of home video tapes, a projector was the only way to watch movies in your house. When VHS and Betamax hit the market, projectors took a huge plunge in popularity. They were still used by film buffs and others who were obsessed with high quality. But for the most part, the general public had moved on. However, with the advent of HD, quality in home video has stopped being a niche market. Nowadays, everybody expects 1080p at a bare minimum. Even 4K has started to creep into the market.
But what do you do when you want to take high-definition video on the road? Sure, you could watch the latest Marvel movie on your iPhone. But the small screen is a severe limitation. This is especially true if you're trying to watch a movie with somebody else. As a result, home projector systems are starting to make a comeback. Today, we'll be looking at one of the most portable of those, the Prima Projector. We went beyond the surface and learned everything we could about its features and capabilities. Here's what we learned.
Design & Construction
The Prima Projector measures 5.75 inches in length, 3 inches in width, and only 0.71 inches in thickness. Not coincidentally, these are virtually identical to the dimensions of an iPhone without the case. At 6.63 ounces, it's hefty for the size, once again, very similar to the iPhone. It's clear that Prima has used the iPhone as their standard, and it makes sense. It's a size and weight people are already familiar with. More importantly, it's a perfect size for slipping into your pocket.
Both the front and the back of the Prima Projector are vented, which allows for as much airflow as possible. On the front, a grey plastic slide covers the projector lens when it's not in use. This is essential, since it means the lens won't get scratched in your pocket. On the right side of the unit, you'll find the video inputs. In addition to an HDMI port, there's also a pair of USB ports, the power supply port, and a 3.5mm audio jack. On the left side, there's a Micro SD card slot, as well as a power switch and even more vents.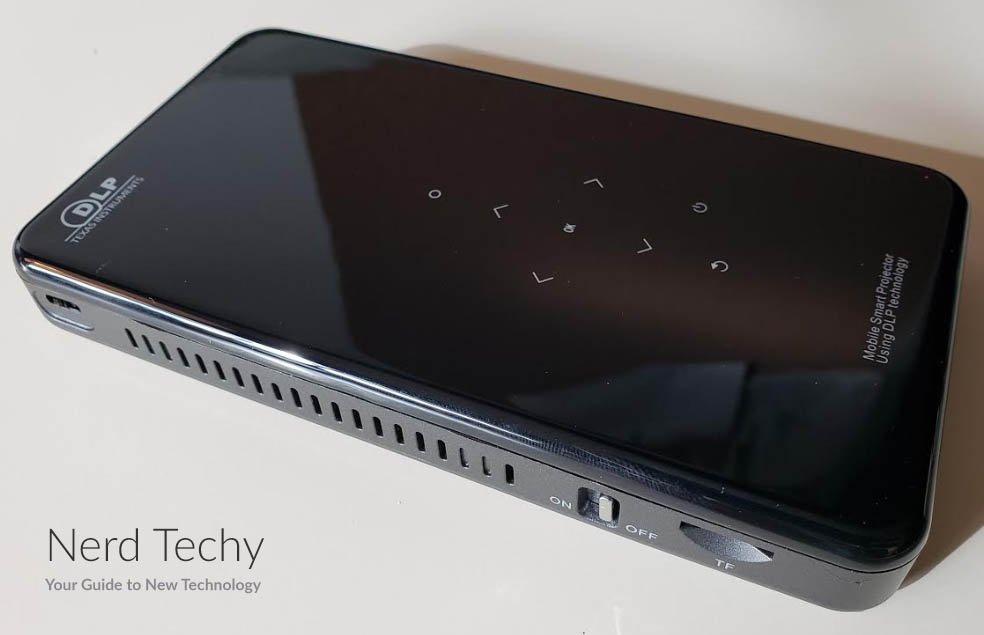 On the top of the Prima Projector, an easy-to-use touchscreen is used to control the unit. The controls are very intuitive, and you should be able to figure them out in just a few minutes. If you do happen to run into trouble, the user's manual is pretty comprehensive. Other than the smart glass screen, the rest of the Prima is constructed from black ABS plastic. It looks sleek, with rounded edges and corners that won't dig into your thigh while it's in your pocket. On the bottom, there's a small threaded hole for tripod mounting. It's smaller than a standard tripod mount, but there's no reason to worry. Prima includes a small tripod that's specifically designed to go with this projector.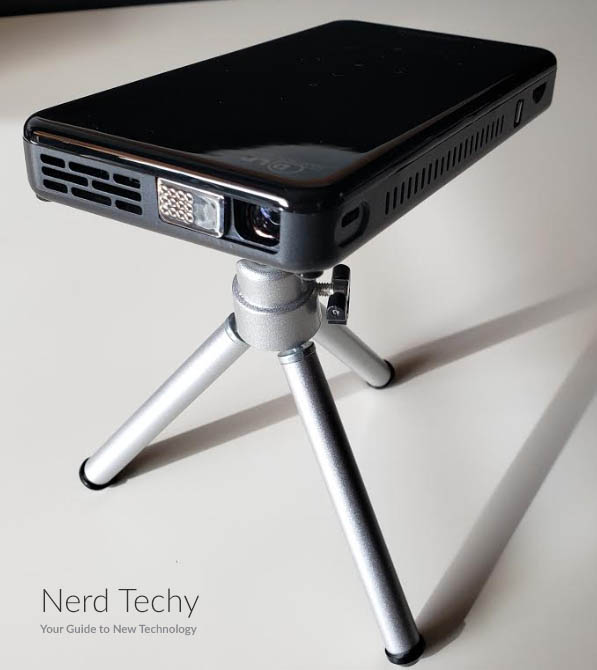 In addition to the tripod, the Prima Projector also includes an AC/DC adapter, remote control, and HDMI cable. The HDMI cable is a nice touch. But the remote is surprisingly useful. While the touch controls are easy to use, it's not always practical to get up and mess with the projector. With the remote, you can get all the same functions without even standing up. A plush carrying bag completes the package. It's not necessary for carrying the projector itself, but it's great for all the accessories.
Of course, a projector is only as good as the surface it's projecting to. If you don't have a nice, clean white wall, that's all well and good. But if not, consider investing in a quality projector screen. It can significantly improve your clarity and color balance.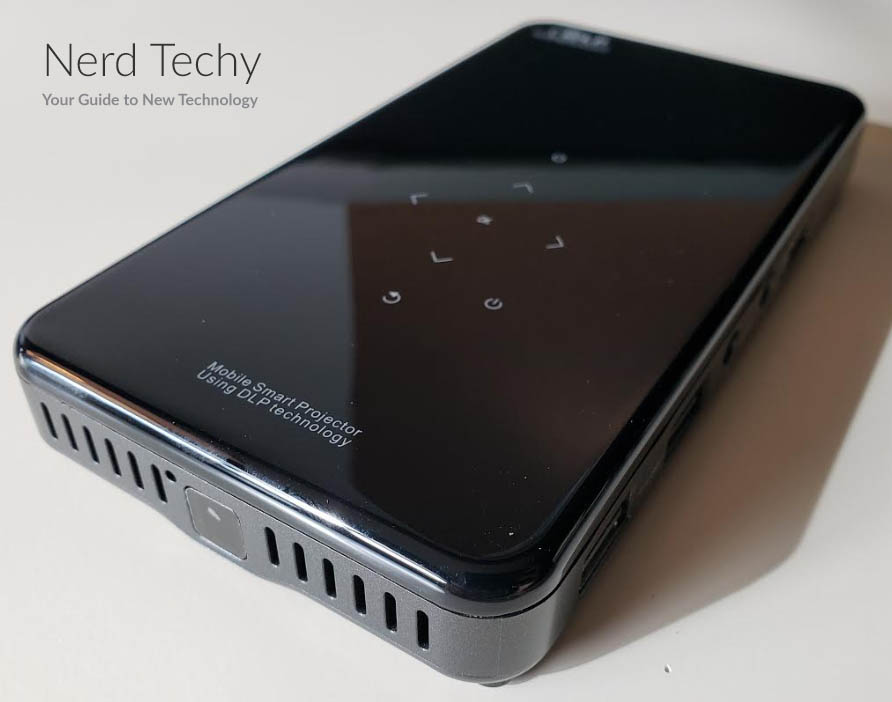 Image Quality
One thing that impressed us about the Prima Projector is that it supports both 1080p and 640 x 480 video. Why, you may ask, would you want to use such a low resolution? Because the alternative is to use a video source that upscales to 1080p. And if you've ever watched an old TV show on a cheap HD television, you know how awful that looks. Much better to just use the original resolution. Similarly, the Prima can switch between 4:3 and 16:9 aspect ratios. This is unusual on a modern projector, and it's much appreciated.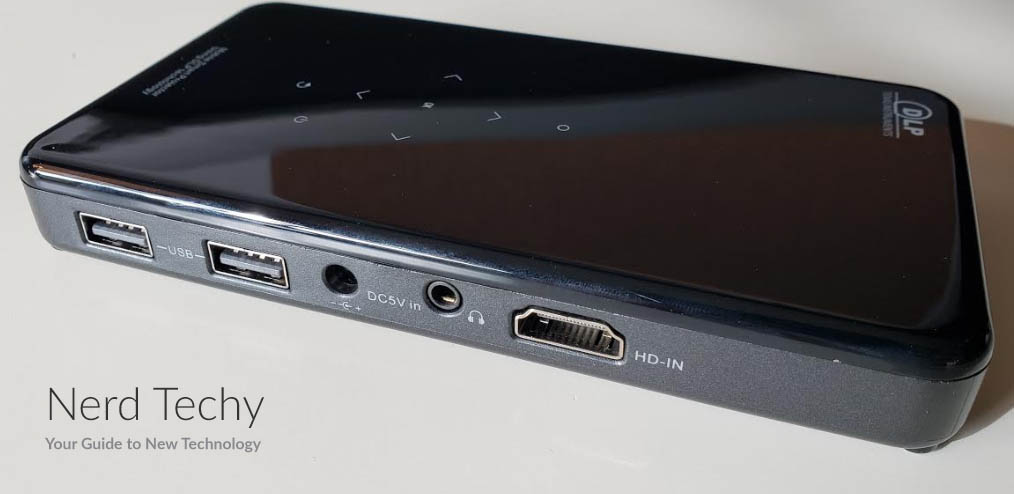 The bulb on the Prima Projector only puts out 200 lumens. But we should put this in perspective. Most mini projectors of this size only have a 100-lumen bulb, so you're looking at twice the brightness. Now, the image is still going to appear fairly dim in a room with the lights on. However, a 100-lumen projector can look dim even in a dark room. As a result, the Prima Projector is one of the best in its class. You'll get plenty of brightness, vivid colors, and a higher contrast ratio than most other mini projectors. The bulb is rated to last for 20,000 hours, which works out to about 10,000 Hollywood movies. Unless you spend your entire life streaming Netflix videos, this will be more than enough for several years.
The Prima Projector can produce a clear image with screen sizes between 30 and 200 inches. This is very impressive for such a small projector. However, keep in mind that the image will be brighter the closer the projector is to the screen. As a result, a 200-inch display isn't necessarily practical. You'll have plenty of brightness at more reasonable sizes of 100 inches or less. As far as angle goes, the Prima can work reliably at angles of up to 40 degrees. This will allow you to project from the side, rather from dead-center. Beyond 40 degrees, the keystone adjustment won't be sufficient to keep the screen square. But 40 degrees is more than enough for most purposes.
The battery is rated to run for 3 hours. This is plenty of time to watch a movie with time to spare. But there's no reason to limit yourself to 3 hours. If you want to run the Prima Projector for longer, simply plug it into an outlet using the AC/DC adapter. The same adapter is used for charging, and the Prima can charge while playing.
All of this being said, if you're looking for the absolute best image quality possible, you'll need a bigger projector. We recently reviewed the Vivimage Explore 3, which is exceptionally bright, vibrant, and powerful. Just don't expect to carry it in your pocket.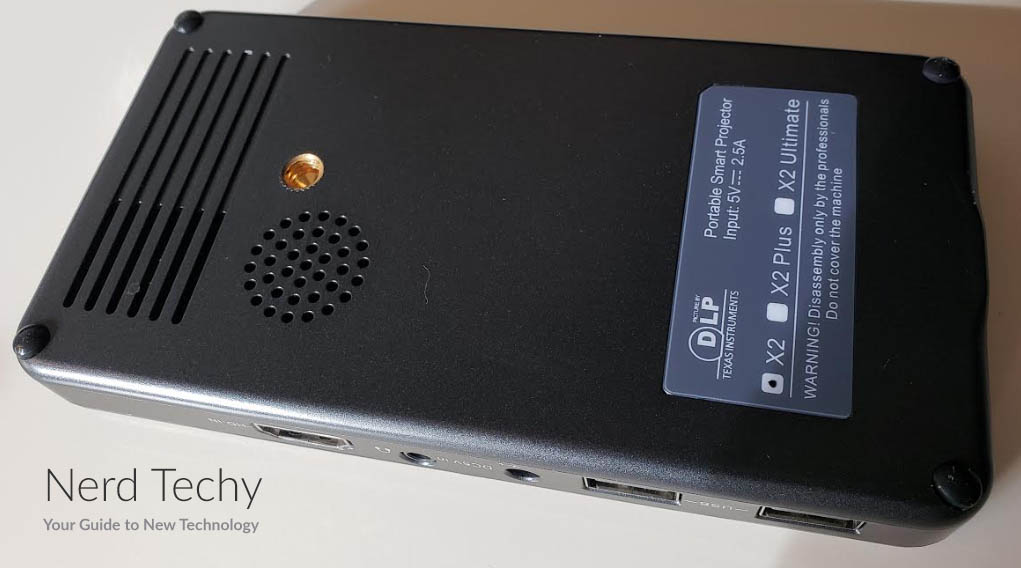 Connection Options
The Prima Projector supports a standard HDMI input, which will have you covered for Blu-Ray players and set-top boxes. But there are plenty of other options. You can also use a USB input, either for a thumb drive or a USB video output. There's also a Micro SD slot. You can use these options for video, or for setting up picture slideshows. The slideshow function is easy to use, since the remote lets you cycle through pictures with the click of a button.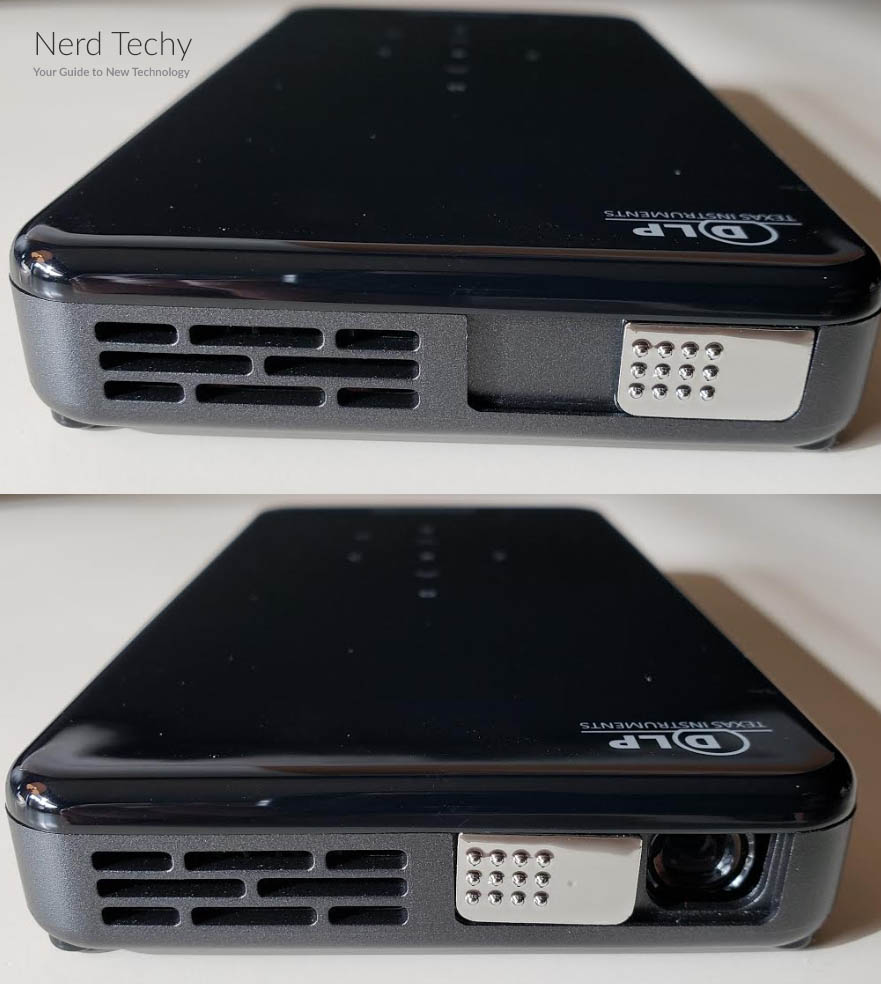 Prima's projector is a bit of an oddball. It runs on Android OS, which we thought was an odd choice at first. However, this puts it in a position to be compatible with a variety of devices. You can use a Bluetooth connection to stream from a phone or a Windows PC. You can also use Apple AirPlay to stream from your iPhone, iPad, or MacBook. Moreover, you can also use Android Screen Mirroring to effortlessly share your screen with the entire room. With that many options, you can stream from just about any device.
There are no built-in speakers on the Prima Projector. This isn't a big deal. At this size, any built-in speakers would be pitifully underpowered. That said, there's a 3.5mm audio jack, so you can easily plug into a set of speakers. It also works as a mobile hotspot. This is a great feature if you want to share video from your mobile device, but there's no wireless signal.
About the only input the Prima Projector won't accept is a standard VGA input. Considering all your other options, this shouldn't be necessary. But if you're trying to project from an older PC, you may want one. In that case, the BenQ EH600. It's small, it's reasonably-priced, and it has an old-school VGA port if you need it.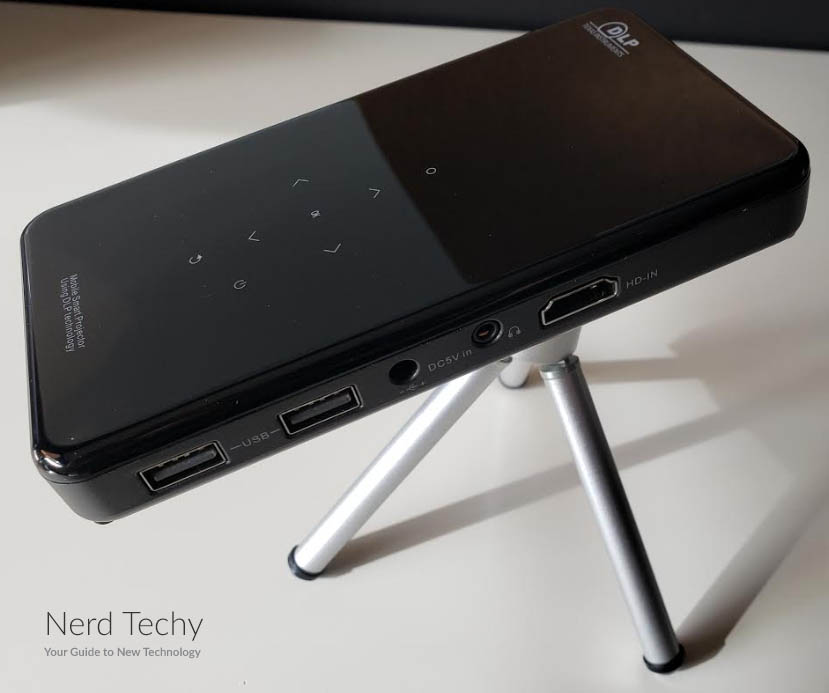 Final Verdict
At the end of the day, the Prima Projector is a very impressive little device. While it's dim compared to a full-sized projector, that's not a fair comparison. The fact is that when you compare it to other projectors of its size, it's exceptionally powerful. And what this projector really offers is its portability. You can easily transport it in your pocket. It also offers widespread compatibility. Whether you want Bluetooth, Apple AirPlay, or Android Screen Mirroring, you're well set-up. And while the tripod shouldn't be necessary, it allows you to position the projector just about anywhere. All-in-all, you're looking at a fantastic deal.
Meet Derek, "TechGuru," a 34-year-old technology enthusiast with a deep passion for tech innovations. With extensive experience, he specializes in gaming hardware and software, and has expertise in gadgets, custom PCs, and audio.
Besides writing about tech and reviewing new products, Derek enjoys traveling, hiking, and photography. Committed to keeping up with the latest industry trends, he aims to guide readers in making informed tech decisions.