If you're choosing a projector for your business' conference room or meeting room, it's important to think about investing in an option that's future-proof. The last thing you want to deal with is needing a technician to come out in two years to or change the lamp in a cheap projector that burned out too quickly. Worse yet, you can find yourself needing to invest in an upgrade very quickly.
BenQ has a sterling reputation for reliability, so we were excited to put their new EH600 projector to the test. This is an Android-based projector, and possibly the first Android-based projector in the world that could possibly be considered professional-grade.
We looked at the EH600 from a variety of angles, including ease of use, file support, the look and feel of the projector itself, and, of course, the quality of the image. Here's what we discovered.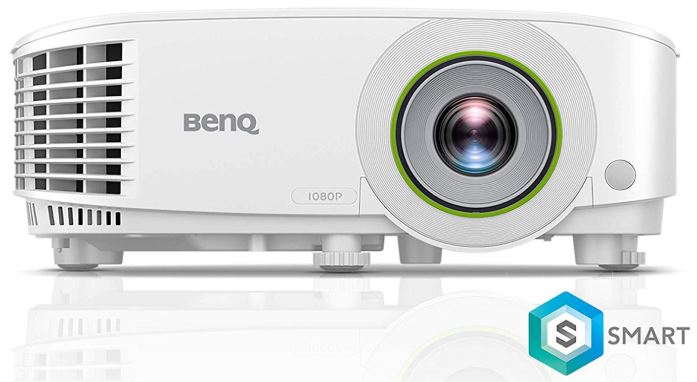 Look & Engineering
The first thing you'll notice about the EH600 is how sturdy the frame is, despite the lightweight, 5.51-pound design. The case is constructed from white ABS plastic, with a smooth, professional finish that will match virtually any décor. It's reasonably compact, at 11.65 inches in width, 9.13 inches in depth, and 4.72 inches in height.
The lens is completely housed inside the body, and does not protrude outside of it except for a small bulge in the bottom. There are six rubber feet that keep your projector from sliding around, and three of those feet can be adjusted in height, so the EH600 can be used on a variety of surface heights.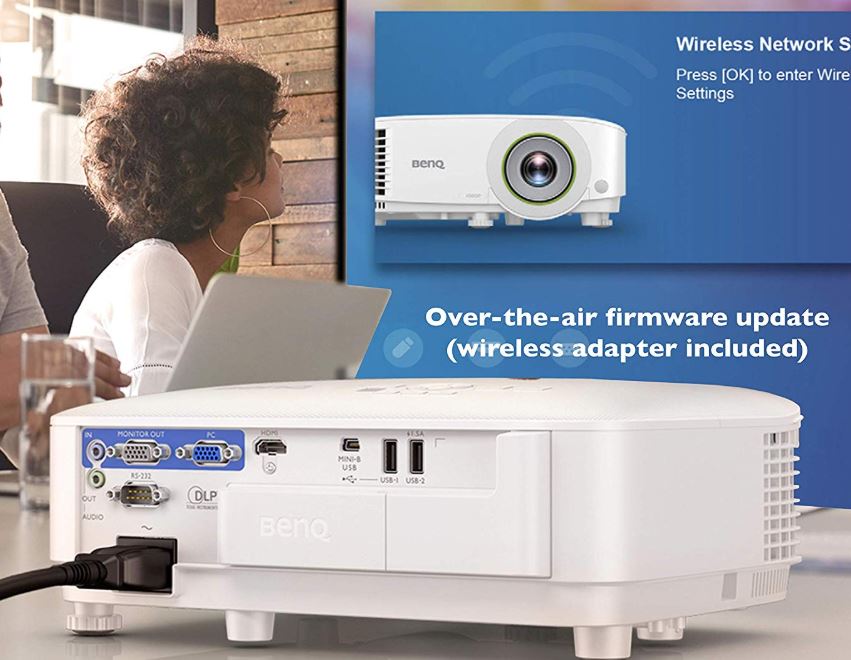 The left and right sides of the unit are vented, allowing plenty of air to pass through and keep the bulb assembly from overheating. On the top, you'll find a few buttons, which can be used to perform a few basic functions such as turning the projector on and off and adjusting the picture adjustment menu. To perform more advanced tasks, you'll need to use the app, which will talk about more in a little bit.
One thing many cheap projectors have in common is that they produce a lot of fan noise. This can be disruptive in a quiet environment, particularly if you're trying to use silence to enhance the mood. The EH600 operates at 33 decibels when it's on full power. In the slightly dimmer "economy" mode, that volume drops to 29 decibels. By comparison, 32 decibels is about average for a human whisper, so this is pretty quiet.
If you frequently need to take your projector on the go, you may want to go with a more portable option. In that case, the Philips PicoPix Max would be a good solution. It's less than 2 inches thick, and it's capable of displaying in 4K, but at 800 lumens, it's only bright enough to use with the lights off.
Display Quality
The EH600 excels in another area that's essential for a professional-grade projector: brightness. For watching home movies or showing vacation slides to friends, you can get away with a dim bulb. But in a professional environment, you oftentimes want to make a presentation with the lights on, both so people can take notes and so they won't fall asleep.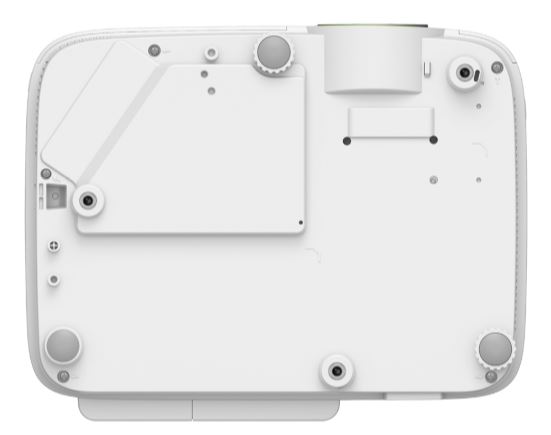 To that end, the EH600 provides an impressive 3,500 lumens when the bulb is at full brightness. That's enough to be seen clearly even under intense fluorescent lights. Alternatively, if you're turning the lights off, you can put the lamp in Economic or SmartEco mode, which can save you power and bulb life.
Speaking of bulb life, the EH600's bulb is rated for 5,000 hours of continuous use on Normal mode. That's a lot of active presentation time. It's rated for up to 10,000 hours on Economic mode, and 15,000 hours on SmartEco mode. Here's the difference between those two: on Economic mode, the bulb isn't illuminated to a full 200 watts, at the expense of a dimmer picture.
In SmartEco mode, the bulb runs in Economic mode, but will eventually go into LampSave mode if it's left inactive for a few minutes. LampSave mode is a dim mode that's rated for 15,000 hours. It's not useful for actually projecting anything, but it keeps the bulb warm if you're alternating between presentation and activity segments in an all-day meeting.
The EH600 offers full 1080p HD, with a native aspect ratio of 16:9 and a resolution of 1920 x 1080. Alternatively, you can choose between four other aspect ratios, which gives you plenty of options to avoid "black bars" under most circumstances. The contrast ratio is 6,000:1, which means you'll be able to clearly see the difference even between very close colors.
The black balance is also excellent, so dark scenes and pictures will be more easily distinguishable. There's also an infographic mode available, which is designed for the bright, high-contrast text and images that are prevalent in presentations.
In terms of sound, the EH600 only includes a single, 2-watt speaker. The quality is better than you'd expect from a 2-watt speaker, but it's not very loud. It's good enough if you're giving a presentation in a small room, but if you're planning on showing videos or presenting in a larger room, you'll want a pair of speakers.
If you're looking for a professional grade projector that provides true 4K video, consider the Optoma CinemaX P1. Not only does it have a bright, 3,000-lumen bulb, but it also features a built-in 40-watt sound bar, which makes it an ideal choice for movie nights.
Connectivity
In terms of connectivity, the EH600 has plenty of options. In addition to a pair of standard USB Type-A ports, there's also a Mini USB port and an HDMI port. No matter what type of output you prefer, you'll be able to plug right in with no issues.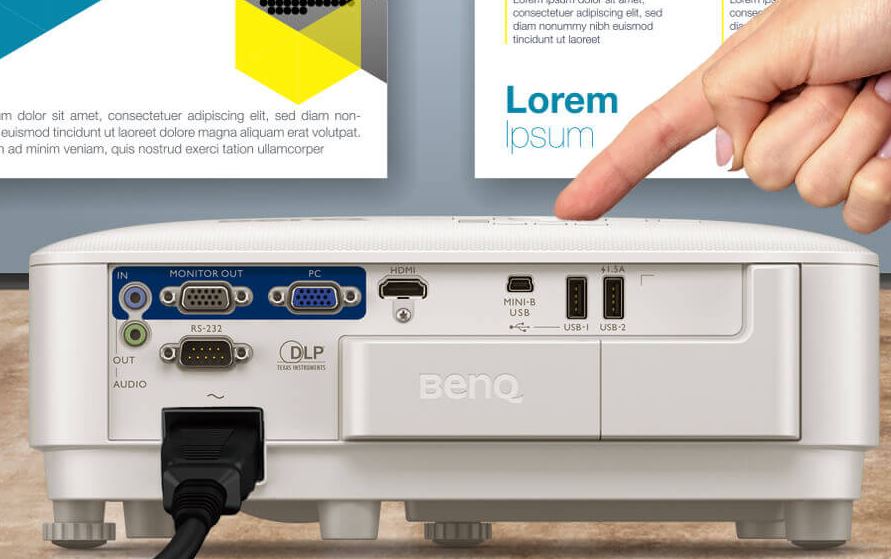 Assuming you've set up the projector and adjusted the image settings to get a nice, rectangular display, all you'll have to do is set your device's display to use the EH600. If there are multiple devices connected to the projector simultaneously, there's a button on top to cycle through the various inputs.
Alternatively, you can connect directly to the EH600 via Bluetooth. You can do this with any smartphone, tablet, or PC, although your results may vary depending on your own device's display options. On most modern devices, you'll be able to easily mirror your display on the projector screen.
One more thing we should mention is that the EH600 has two aux ports. One is an input, and can be used to supply external sound to the 2-watt internal speaker. The other is an output, which can be used to patch audio from USB, HDMI, or the aux input to an external speaker.
If cell phone compatibility is your number one priority, the Canon Rayo S1 is tough to beat. It's designed to be used with a cell phone, and it's not much larger than your phone, although it's not very bright, either.
Native File Support and Built-in Apps
One thing we appreciated about the EH600 is that you don't even need a connected device to display your slideshow, presentation, or document. All you need is a USB thumb drive or portable hard drive. This projector supports JPEG, PDF, DOCX, XLS, PPT, and dozens of other common formats.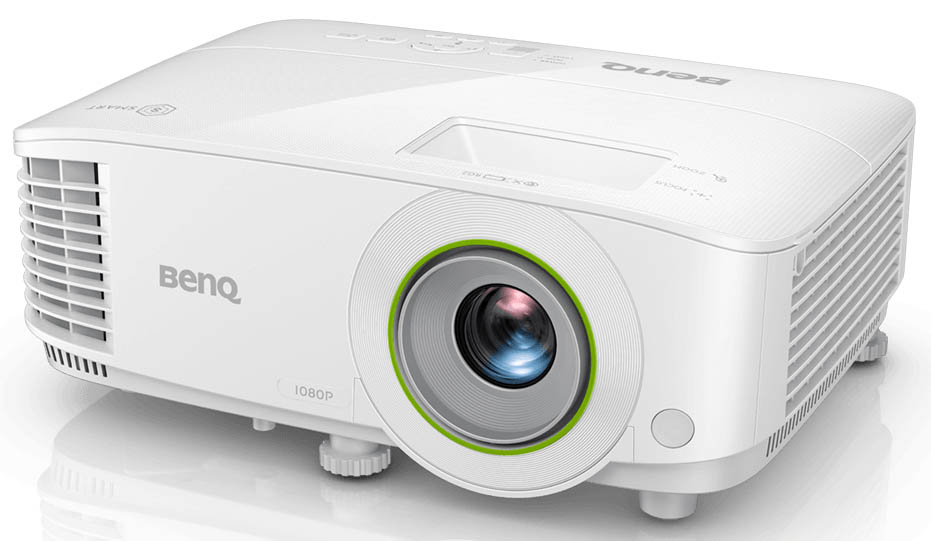 So, how do you control all of those features? BenQ's Smart Control app is available on both Apple and Android devices, and turns your smartphone into an advanced remote control for the EH600. You can play individual videos, skip through slideshows and presentations, and scroll through word documents and spreadsheets without even needing a laptop.
Another app you may want to download is BenQ's Blizz videoconference app. It's already preinstalled on the EH600, but you'll need to install it on your smartphone to get the full benefit. This software allows you to set up videoconferences with other users who have the app. On the one hand, this is a good feature for larger companies who are upgrading entire facilities at once.
On the other hand, it's not much help for small businesses, since the Blizz app only works with other BenQ cameras, and there are other free videoconference apps available to begin with.
Also native to the EH600 is BenQ's TeamViewer Quick Support app. This allows their technicians to remotely access your projector if you've called in for technical support. This service features a fully secure connection, so your other connected devices are safe. The app also allows their technicians to remotely update your projector's firmware whenever a new version becomes available.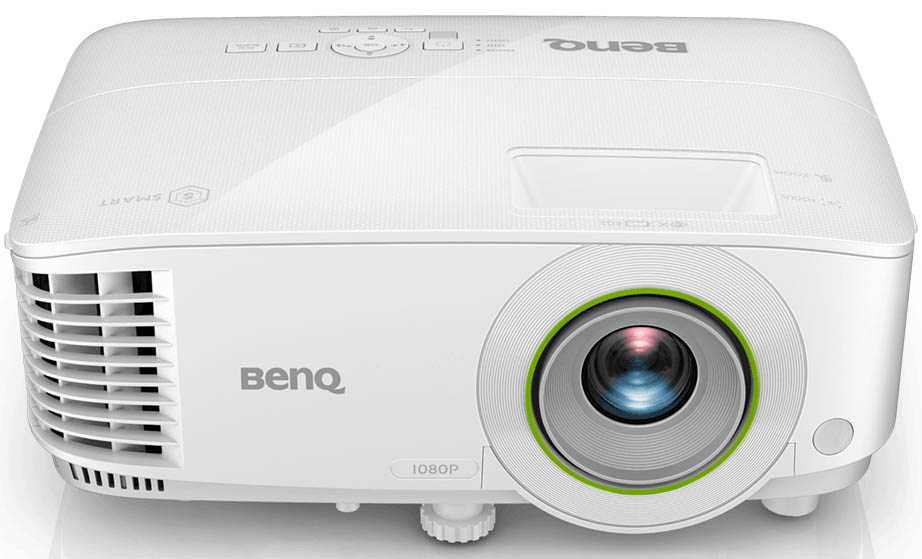 This is a much-appreciated feature in today's world of widespread malware attacks. Many "internet of things" devices have no way to upgrade, and become vulnerable over time as hackers find new ways to exploit old weaknesses. By updating their firmware continuously, BenQ ensures that, at least in theory, your EH600 won't be the cause of any IT security failures.
Finally, the EH600 includes a built-in Firefox browser app. This is a very useful feature if you're using the app to control a presentation and want to click on a YouTube link or other relevant online content. By pre-installing the browser on the projector, BenQ enables you to view online content even if your PowerPoint presentation is stored on a thumb drive. Needless to say, you'll need the Smart Control app to take advantage of this feature.
Final Verdict
So, is the BenQ EH600 a worthwhile investment? For home use, we'd rate it as "good", but not as "very good". While you'll get a lot of life out of the bulb, and the image quality is good, you're ultimately limited to 1080p. These days, all of the best movie projectors are capable of 4K, and if you're planning on projecting in anything larger than a small room, you'll probably want to choose a 4K projector with fewer office features.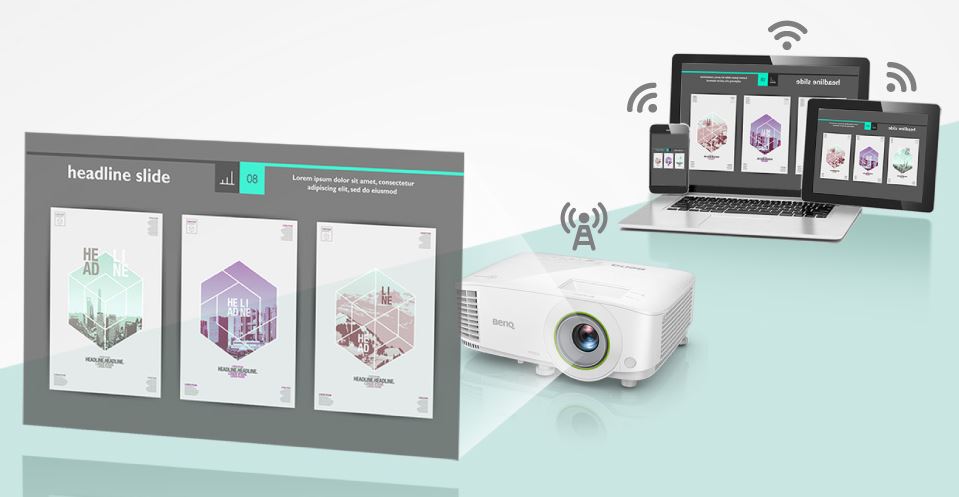 That said, for business use, the EH600 is one of the best projectors on the market. 1080p is more than good enough for most presentations and meetings, and the bulb life is very impressive. But what really makes the EH600 stand out is just how much connectivity and app control it offers.
This alleviates one of the biggest issues you can run into with business presentations: people's devices aren't always compatible. This can lead to snafus if the person who brought the presentation can't connect to the projector. With all of the USB and HDMI options, as well as the smartphone app, this should never become a problem.