What's better than a big-screen TV? An even bigger-screen TV. And while prices are continuing to drop on larger screens, there's a limit. If you want a 100, 200, or 300-inch TV, you can expect to shell out thousands of dollars for the privilege. Not to mention, you'll now have an entire wall that's completely dedicated to your television. On the other hand, with a projector system, you get the best of both worlds. You can project a truly impressive image when you want to. And when you're done, you can put your projector away and use your wall for something else.
To that end, we decided to review the VIVIMAGE Explore 3 Projector. This projector is designed to provide high-quality images, along with a built-in speaker set. But there are a lot of other things to recommend it. We took a long, hard look at this projector, and came away with a good understanding of what it offers. Here's what we learned.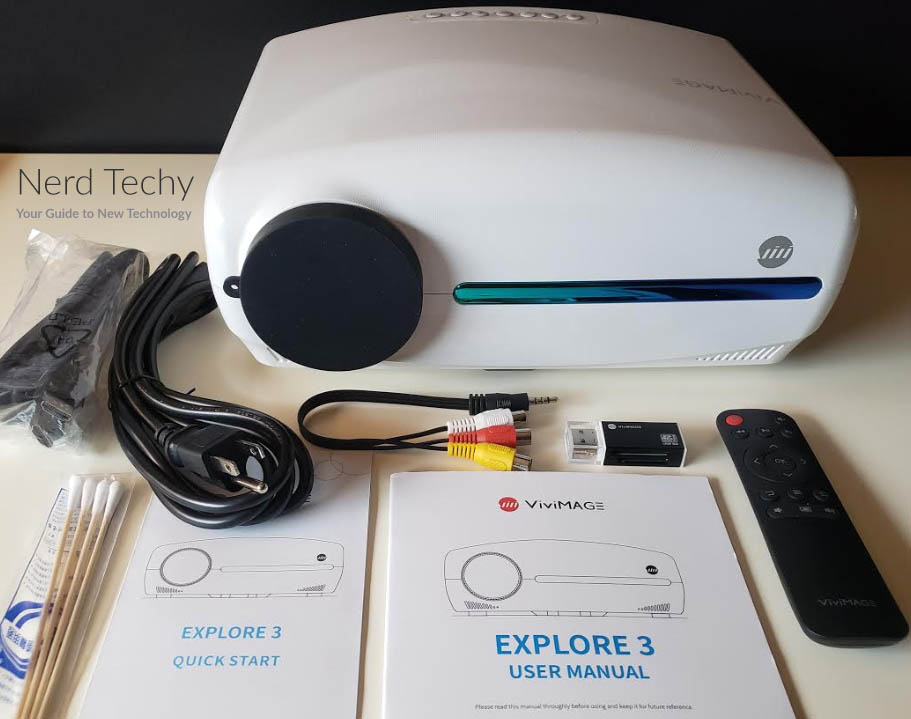 Look & Feel
The Explore 3 is a powerful HD projector with a slick, modern profile. The case is constructed from white ABS plastic, and measures 11.5 inches in width. It's 8 inches deep, and 4 ½ inches tall at its highest point. It has an arched profile, so only the center of the projector is actually this thick. The nice thing about this design is that it's impossible to accidentally set anything on top of the projector. Since projectors produce a lot of heat, they need airflow to stay cool. This means that putting anything on top of them – or obstructing the sides or rear – is a bad idea. The Explore 3 weighs in at 5.3 pounds, so it's a bit hefty, but still reasonably portable.
If you're looking for an even smaller projector, the Goodee G500 might be more your speed. It's not as bright or powerful as the Explore 3, but it's smaller, and it's only half the weight.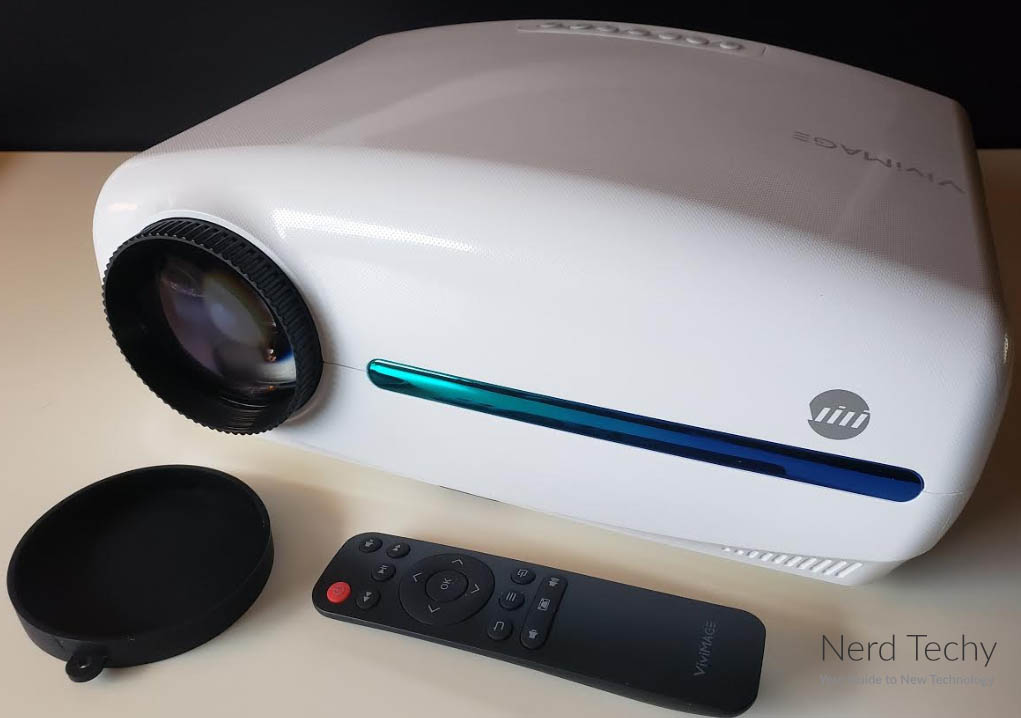 The front of the Explore 3 has a rainbow LED bar next to the projector lens. This is strictly a cosmetic feature, but it looks really sharp. Even the vents are attractive. They're positioned around the bottom of the unit, and have a wavy design that matches the Explore 3's curved profile. The back of the unit has space for all of your inputs, which we'll talk about more in a bit. On the side, a pair of speakers nearly blend into the unit, with soft fabric covers that match the finish. The lens itself only protrudes slightly. It has a textured black ring around it, which can be used to adjust the focus.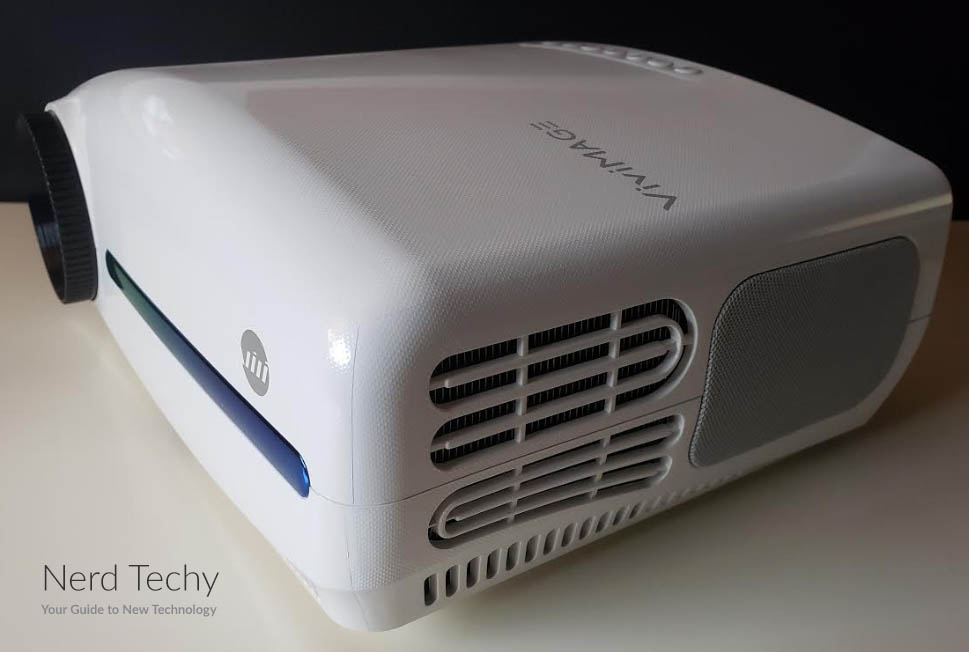 The Explore 3 ships with a handful of accessories to help you get started. To begin with, you get a 3.5mm to RCA adapter for hooking up your audio. You also get an HDMI cable for video. You probably already own a few HDMI cables, but it's nice that they include one anyway. Finally, the Explore 3 includes a 2.4 GHz remote. The remote controls several basic functions, including play, pause, fast-forward, and rewind. There are also a set of menu buttons for controlling the Explore 3's basic functions, including volume adjustment. One thing you won't be able to do is easily make keystone adjustments. For whatever reason, these options are buried in a sub-menu instead of having their own buttons.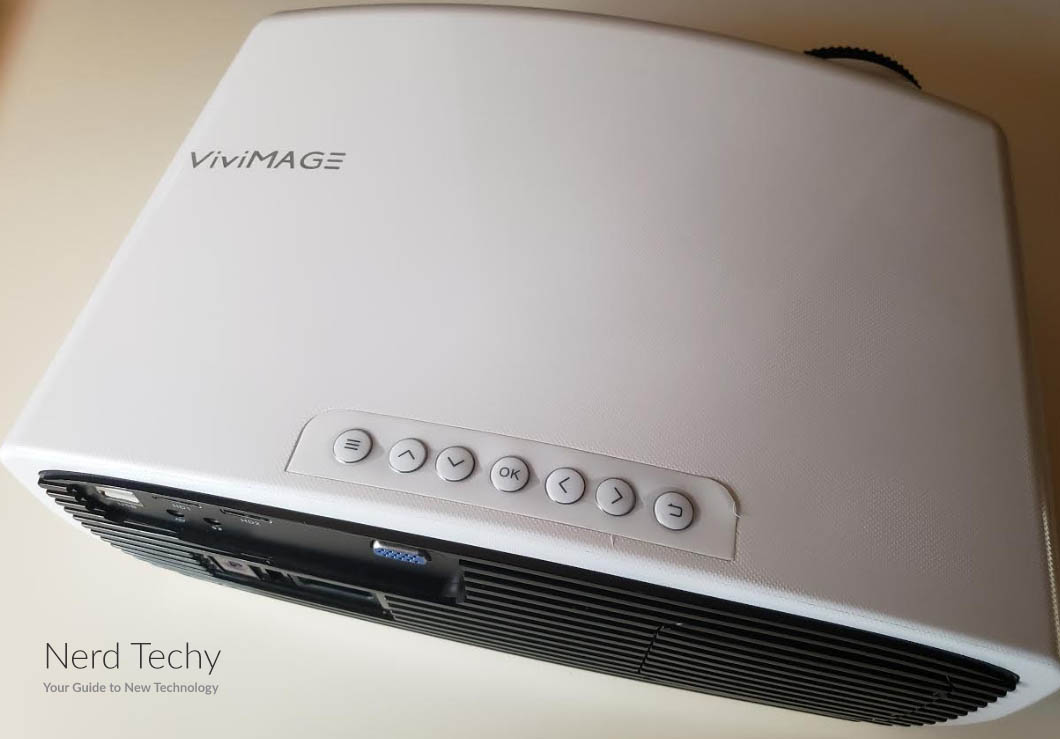 While the Explore 3 is primarily designed for home use, you might still want to mount it permanently. If you want to attach it to your ceiling, it will mount easily on a standard four-point bracket. As with most projectors, it will mount upside down, so you can still access the controls. In order to make this work, you'll need to invert the screen. This can be done easily through the menu.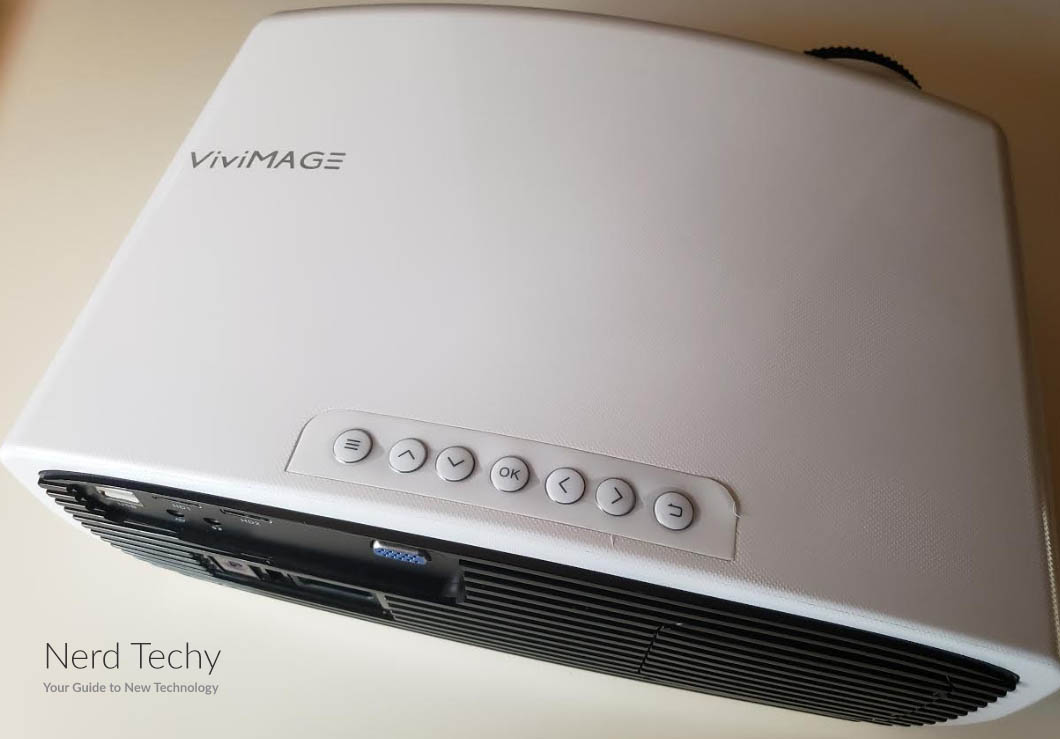 VIVIMAGE offers a 90-day money back guarantee on their projectors. If you don't like it, just send it back within that time period and you'll get a full refund. After that, you still have a 3-year warranty if anything goes seriously awry.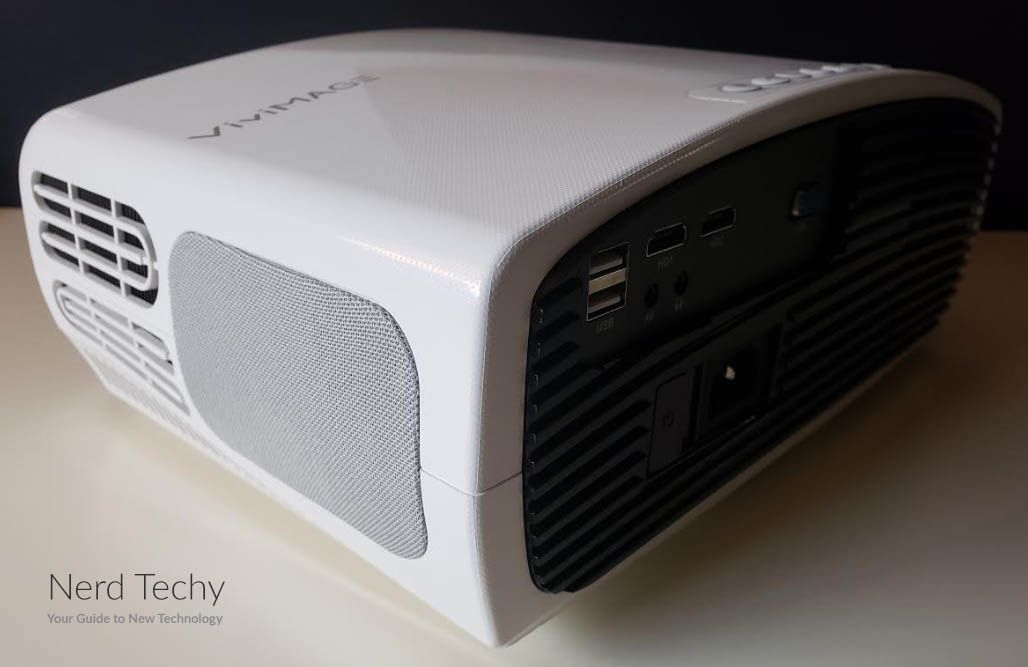 Image Quality
The Explore 3 projects in true 1080p. But that's just about par for the course for projectors these days. The more important metrics are color vibrancy, brightness, and contrast. Those factors are what make the difference between an excellent projector and one that's only so-so. The bulb has a brightness of 6,000 lux. That's exceptionally bright, and can be used to project in a well-lit room if you so desire. Of course, you're going to get a better picture if there are no other light sources mucking up the image.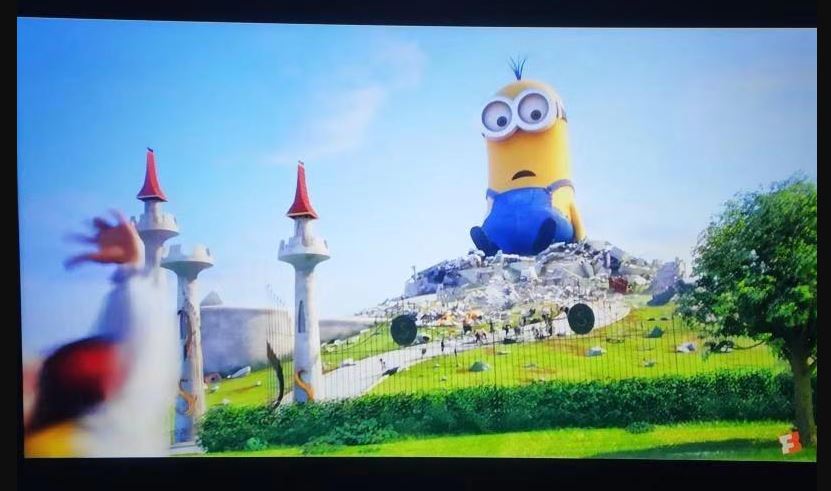 The contrast ratio of this projector is 6,000:1. This is a very high ratio, much higher than the human eye can perceive. Our limited human perception maxes out at about 3,000:1, so the 6,000:1 performance is a bit of a gimmick. That said, it's a lot more than 3,000:1, which means you'll get the best contrast possible. More importantly, you'll get plenty of differentiation between dark colors. This is most noticeable when you're watching dark scenes with a lot of shades of black.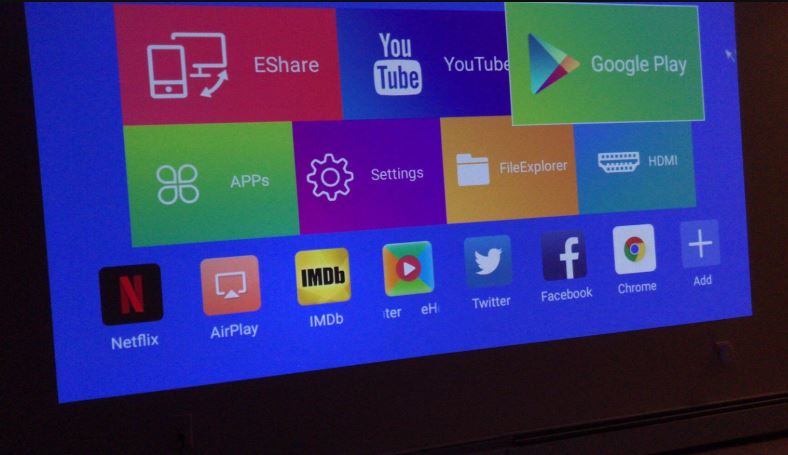 One thing that impressed us about the Explore 3 is the fact that you can project from a wide angle. The keystone adjustment will correct for up to 40 degrees of tilt. In plain English, this means that you can set the projector off to one side and project from an angle. So if you don't want to have your projector right in the middle of your living room, you've got your wish. That said, the keystone adjustment isn't perfect. At wider angles, the corners will tend to get blurred, especially on the vertical. The effect is minor, though, and goes away completely at shallower angles.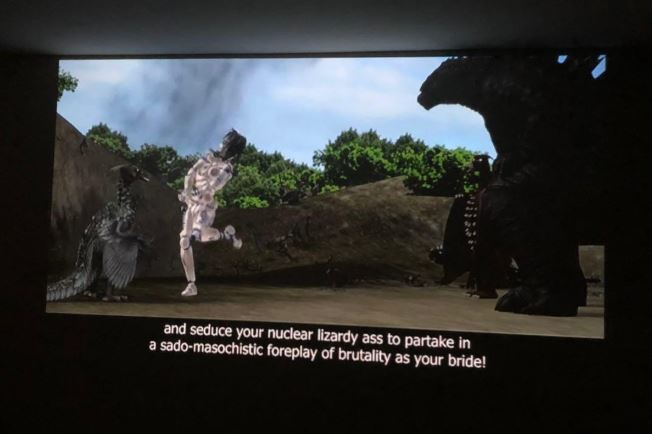 The LCD lens is exceptionally high quality. It consists of seven different layers, all of which have been coated for glare protection. This produces sharp, crisp images at just about any distance. The projector is rated for display sizes of 53 to 300 inches. This should go without saying, but 300 inches is huge. It works out to more than 21 feet in width and 12 feet in height. Forget about your living room. The Explore 3 will work on the back wall of your house! The lamp is rated for 60,000 hours, so it's essentially good for life.
The Explore 3 also has a pair of built-in 10-watt speakers. The sound quality is so-so. It will faithfully produce sound without any muddiness. But the speakers aren't very powerful. You'll want another sound source if you're big on sound. Fan noise is fairly low. But in a small room, it's going to be fairly noticeable.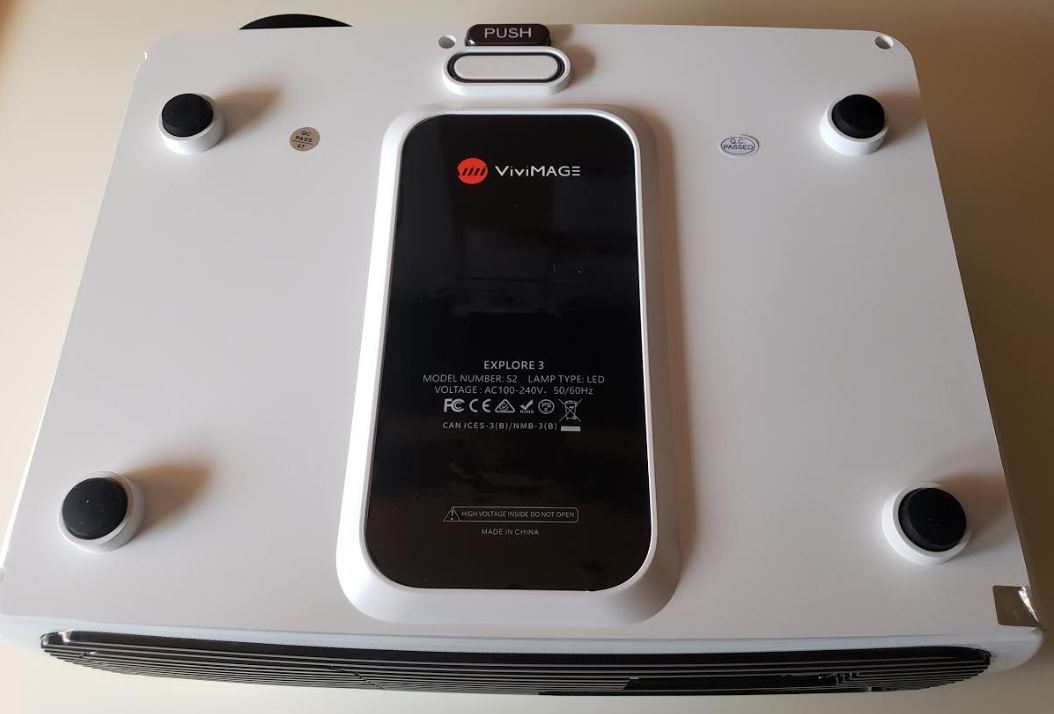 It goes without saying that your image quality will only be as good as the surface you're projecting on. A true white wall will generally do a good job. But most people's walls are off-white of one kind or another. This can change your color balance. For best results, get yourself a good projector screen.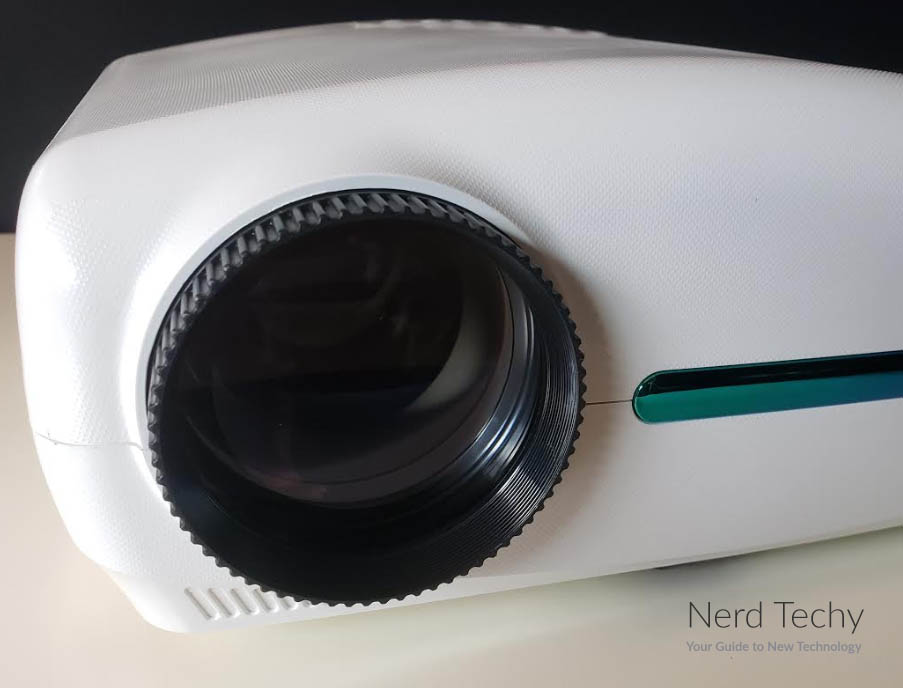 Connectivity
The Explore 3 offers several different ports for connecting your devices. There's a pair of HDMI ports, which are the ideal method for connection. While you'll get full 1080p regardless, HDMI offers less loss and higher fidelity. You can also utilize a VGA input, which is the standard monitor output for older laptops and PCs. AV and SD ports are also available for more unusual devices. For audio, the Explore 3 uses a 3.5mm jack. If you need to connect to a TV with an RCA output, there's an RCA to 3.5mm adapter. This makes it quick and painless to connect between the two.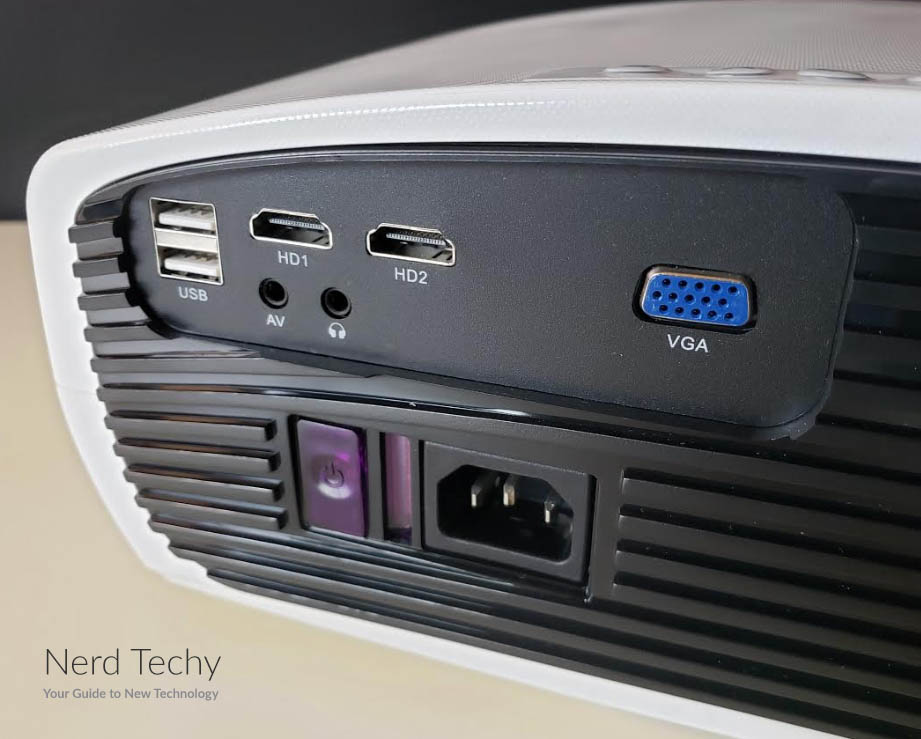 If you want to play a video from your cell phone, you'll need to use an adapter. For an iOS device, you'll need a Lightning to HDMI adapter. For an Android, you'll need a USB Type-C to HDMI adapter. Neither of these is included in the kit, which is a bit disappointing. On the other hand, the Explore 3 is designed primarily for home entertainment, not for work. And if you really need an adapter, they're cheap and easy to pick up.
The Explore 3 also has a pair of USB ports. You can use these ports for playing video, or for flipping through pictures in a slideshow. Finally, the projector comes with a USB SD card reader. If you've got photos or videos on your phone's SD card, this is an easy way to play them.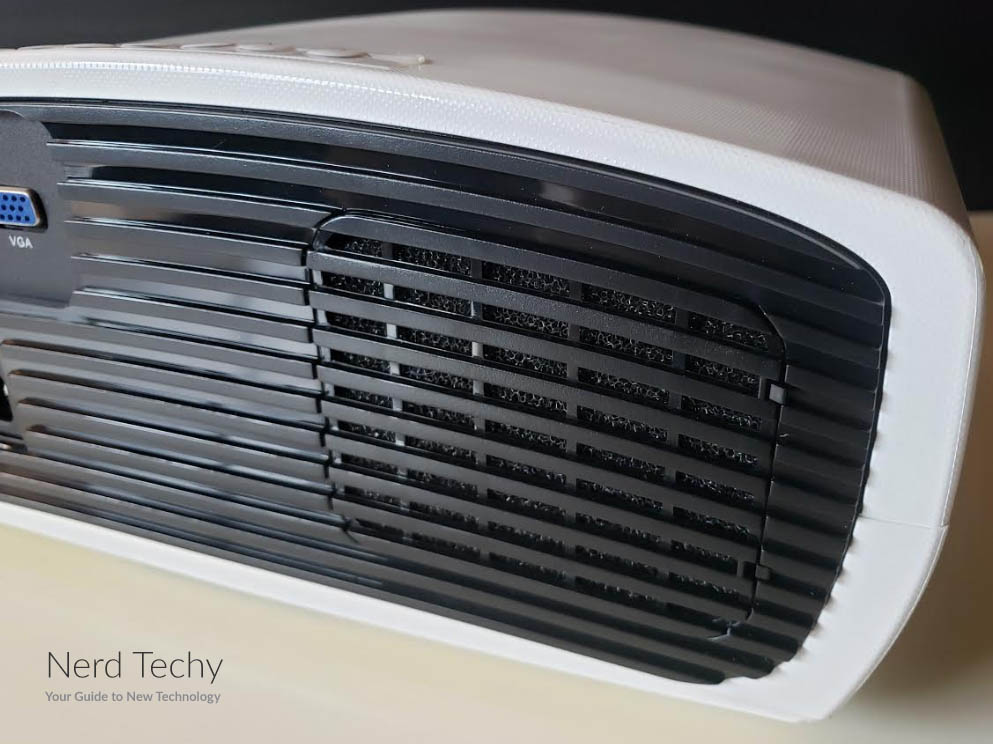 The one thing the Explore 3 doesn't offer is wireless connectivity. For home use, this isn't typically something you'd miss. But if you need to use your projector for work, you might have an easier time just using your smartphone. For maximum connectivity, it's tough to beat the BenQ EH600. This projector offers a Bluetooth connection; no wires required.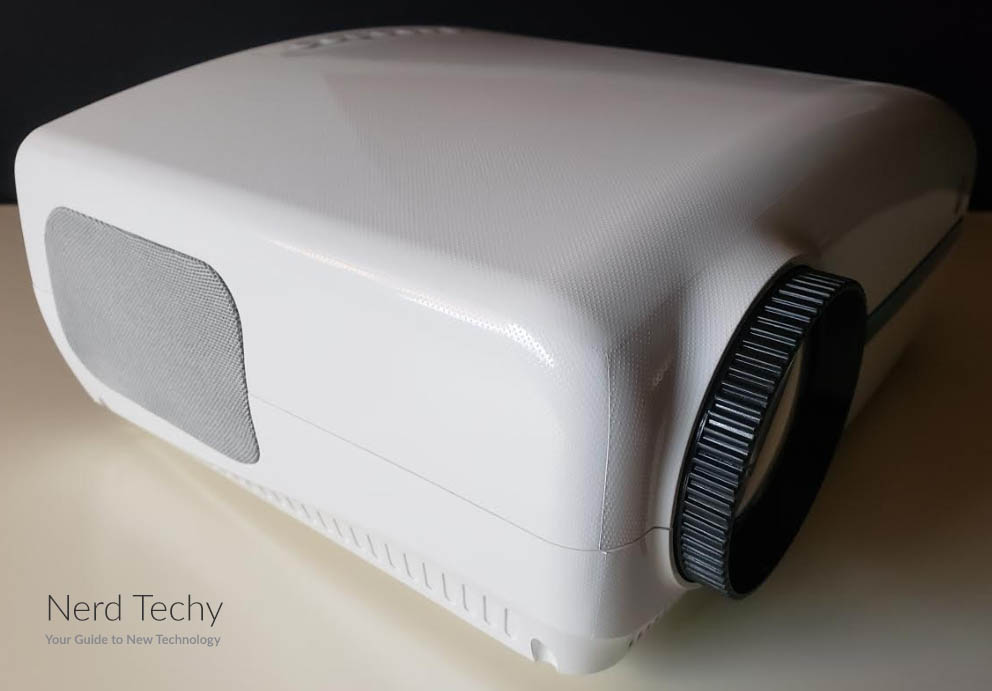 Final Verdict
As you can see, the Vivimage Explore 3 has a lot to offer. Whether you're looking for the best contrast or the biggest screen, it's got you covered. Not only that, but the design is slick and modern. It will look just fine in your living room, man cave, or family room. It's definitely one of the better projectors we've seen this year.