When someone comes to your door, you might want to know who it is before you answer. Maybe your neighborhood is being targeted by salespeople, or maybe there are missionaries canvassing your neighborhood. Or perhaps you have more personal reasons to avoid a particular person. Peepholes have been available for this purpose for ages. And, in general, they're a pretty effective solution. But what do you do when someone comes to your door when you're not home?
A simple solution is to use a video doorbell. With one of these tools, you can keep an eye on your porch, even when you're not home. This isn't just useful for spying on unwanted guests. It's also a way to know when a package has been dropped off. We'll be reviewing the MECO WiFi Smart Home Video Doorbell today. This doorbell camera connects to your WiFi network, and allows you to view your front porch from anywhere. But what else does it offer? And is it worth the investment? We took a closer look, so now we can tell you what we found.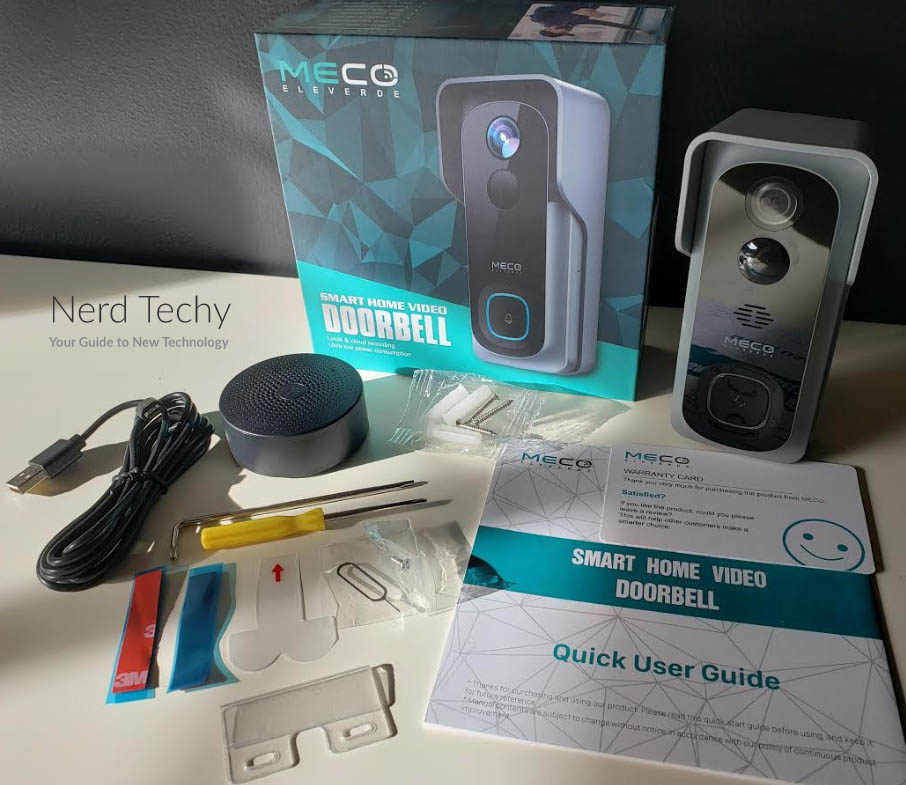 What's in the Box?
Before we talk about how the MECO video doorbell works, let's take a quick look at exactly what it is. Here's what comes in the kit:
Video doorbell unit
Indoor speaker
2 x 18650 batteries
Micro USB charging cable
Mounting bracket
Mounting screws
Reset needle
32GB SD card
Double-sided adhesive
Owner's manual
Innovative Design
There are two primary components to the MECO video doorbell. The camera doorbell itself, and the speaker. The doorbell is 4.9 inches tall and 2.2 inches wide, with an understated charcoal gray ABS plastic case. The front plate is a glossy black plastic, with the doorbell button on the bottom. The button is highlighted by a neon blue outline, which makes it easy to find in the dark. The camera lens and motion detector are located near the top of the face. They're partially protected by a plastic splash guard, which protrudes from the top of the case.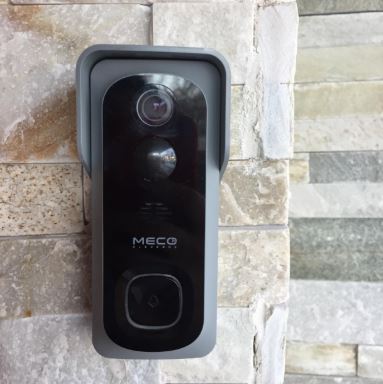 The splash guard is a nice feature, because it helps keep rain spatter from distorting your image. That said, even if a storm is driving horizontal rain right into the camera, it won't be a problem. The MECO doorbell is IP65-rated for dust and water resistance. Short of actually submerging it in water, moisture won't do any damage. This doorbell is also rated to withstand a wide range of temperatures. It will work just fine from -4 degrees all the way up to 122. That's enough variation to accommodate virtually anybody.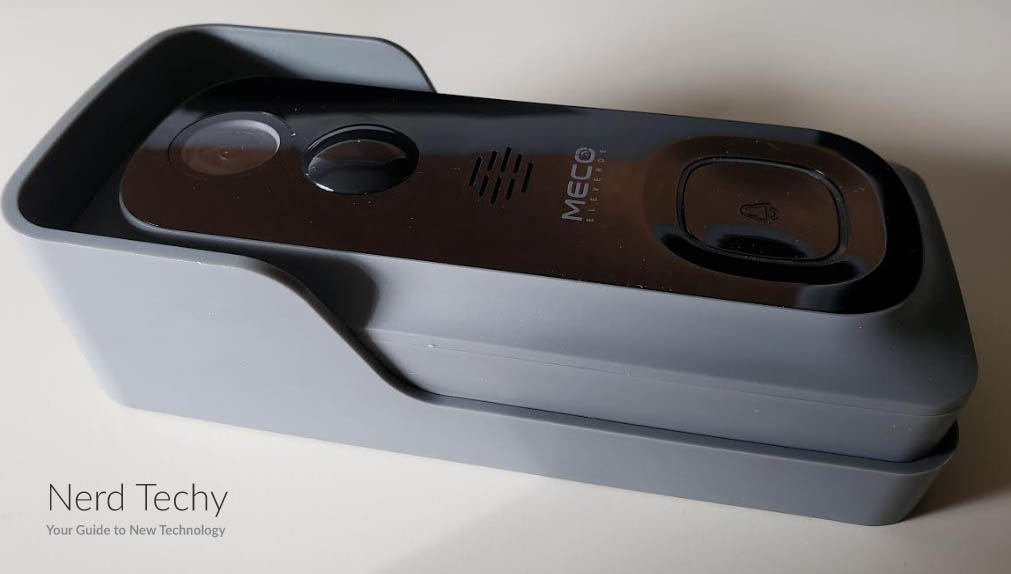 The MECO comes with a mounting bracket and screws. It's designed to be easily popped in and out of the bracket for charging. However, if you don't want to put any holes in your doorframe, MECO also includes double-sided 3M mounting tape. If you're going to go that route, make sure to wash the surface thoroughly before applying the tape. This will ensure it sticks permanently.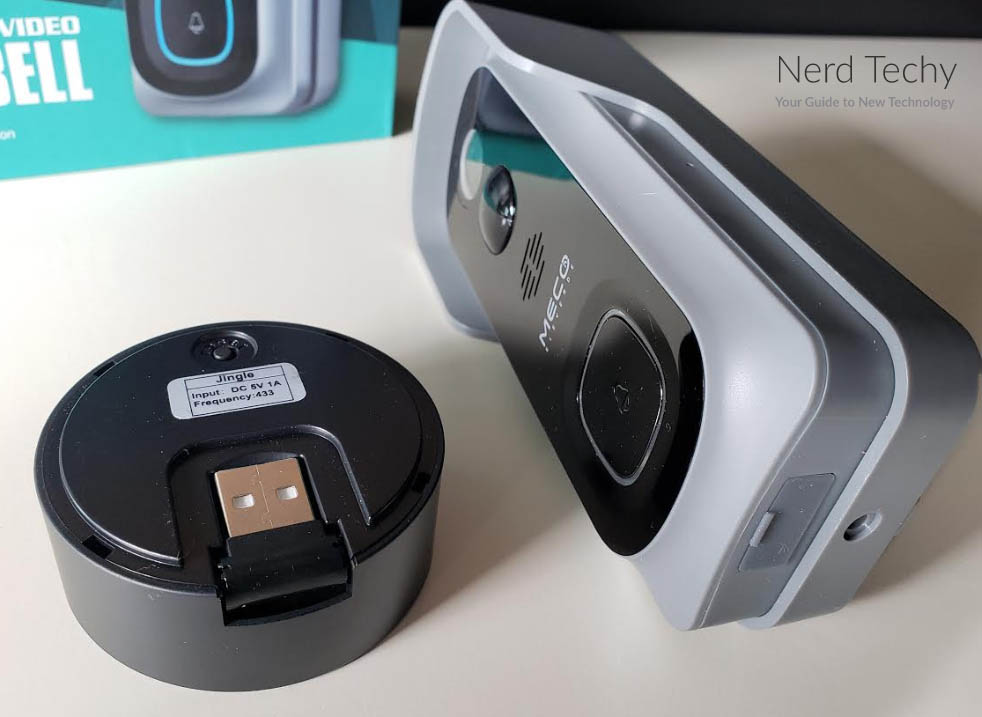 The indoor speaker is about the size of a hockey puck, with a black ABS plastic case. On the top, you'll find the holes for the speaker, along with a small blue LED light that indicates it's plugged in. On the side, a small USB plug protrudes. It operates on a 1-amp current, so even old, low-powered USB plugs will be able to power it. However, there's no cord or AC adapter included. You'll need to provide your own. It's adjustable to 3 different volume levels, with 4 different options for the doorbell chime. You can also mute the speaker altogether if you don't want to be disturbed.
User Coupon Code "MECODOORBELL" on Amazon.com for 25% Off
The outdoor doorbell and camera are powered by a pair of rechargeable lithium 18650 batteries. They're rated to last for 2-3 months, although your performance will depend on exactly how you're using the camera. Keeping track of the charge is easy. MECO's companion app has a built-in battery meter, and will alert you when the charge drops below 20 percent. When you first receive the camera, there's a sheet of plastic covering the batteries. Open the battery compartment and remove the covering to start using the batteries. MECO recommends fully charging the batteries before you use the unit. To charge them, simply plug the doorbell into a USB port with the included Micro USB cable.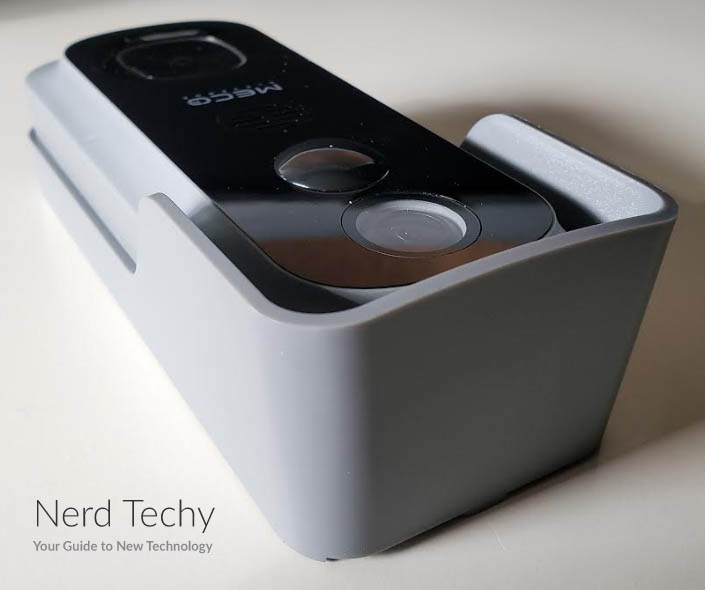 One thing you should be aware of is that the MECO video doorbell is only compatible with 2.4 GHz WiFi. This standard is supported by almost all modern routers. But it's something you should check before you make your purchase, just to be sure. That said, if anything should go wrong, you can always take advantage of MECO's 180-day money back guarantee. Beyond that time period, you also receive a 3-year warranty on defects in manufacturing.
If you want outdoor security without worrying about batteries or power, a solar camera might be a better choice. We recently reviewed the Soliom S90 Pro. It's not a doorbell, but you'll never need to worry about running out of energy.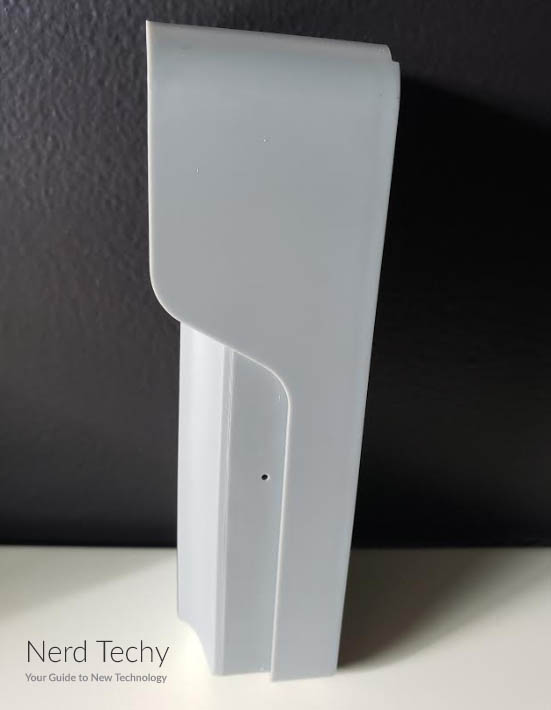 Recording and Other Features
The MECO video doorbell captures video in true 1080p HD. It's effective both day and night, with built-in infrared LEDs to help with night vision. The night vision can be adjusted manually, or you can simply allow the camera to make its own adjustments automatically. You'll get plenty of color vibrancy in the daytime, but the night vision is in black and white. That said, you'll have no problem making out people's faces, and that's what the MECO is for.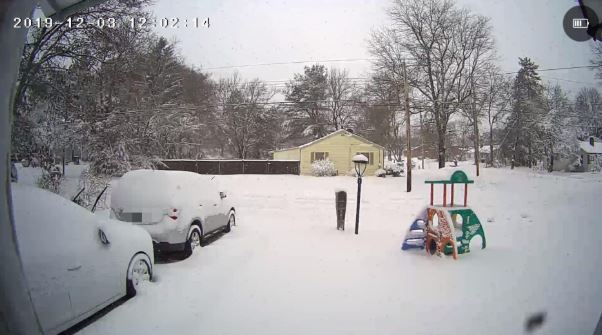 The camera's field of view is 166 degrees, which is a fairly wide angle. This will help eliminate blind spots. There are only 7 degrees uncovered on both the left and the right. Someone would basically have to shuffle along the wall on the side to stay out of range.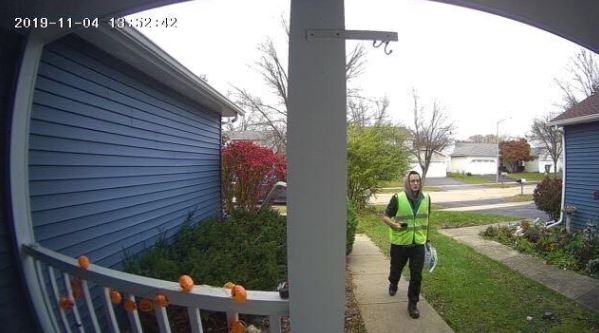 Speaking of range, the passive infrared motion detector is effective out to 26 feet. However, you might want to lower the sensitivity settings. Out of the box, it's very sensitive, and can be easily triggered by animals or branches waving in the wind. This can severely reduce your battery life. That said, your mileage may vary. The only real way to know what settings are best for you is to play with them yourself.
In addition to watching video, you can also talk with someone on your porch. The MECO supports two-way audio through its app. So if you're not home, you can tell a deliveryman to take a package around the side. There's also the option to pre-record a 30-second voice message. You can use this message to automatically respond to a visitor, even if you're sitting in a business meeting.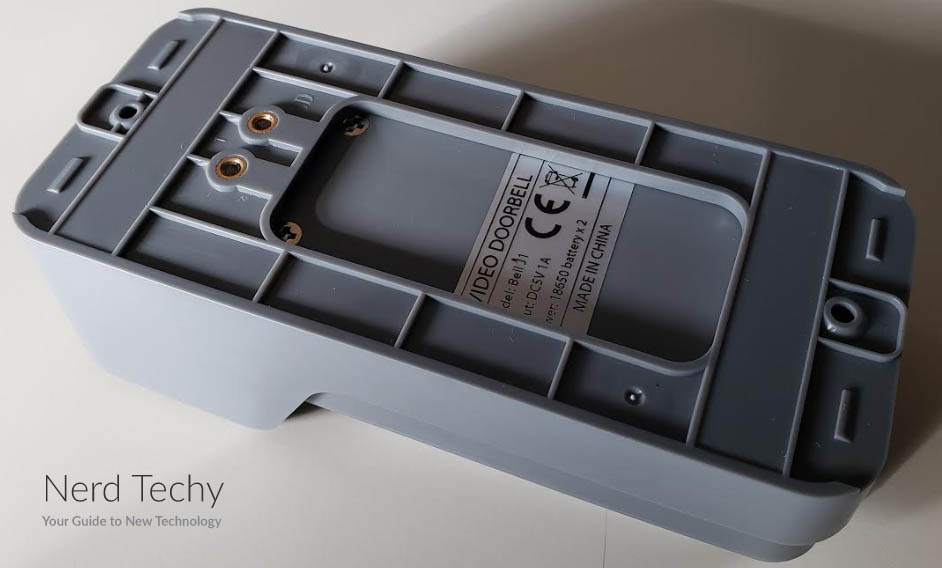 For storage, you have two different options. The first is the MECO's 32GB SD card, which comes already installed in the doorbell. Alternatively, MECO also offers cloud storage. It's encrypted and secure, and unlike the SD card, it's impossible to steal. The doorbell comes with a code for a free 7-day trial. After that, you'll need to pay for a monthly cloud subscription if you want to use it. The only video that will be recorded automatically is when the motion detector is activated. You can record live video if you want, but you'll need to do it manually.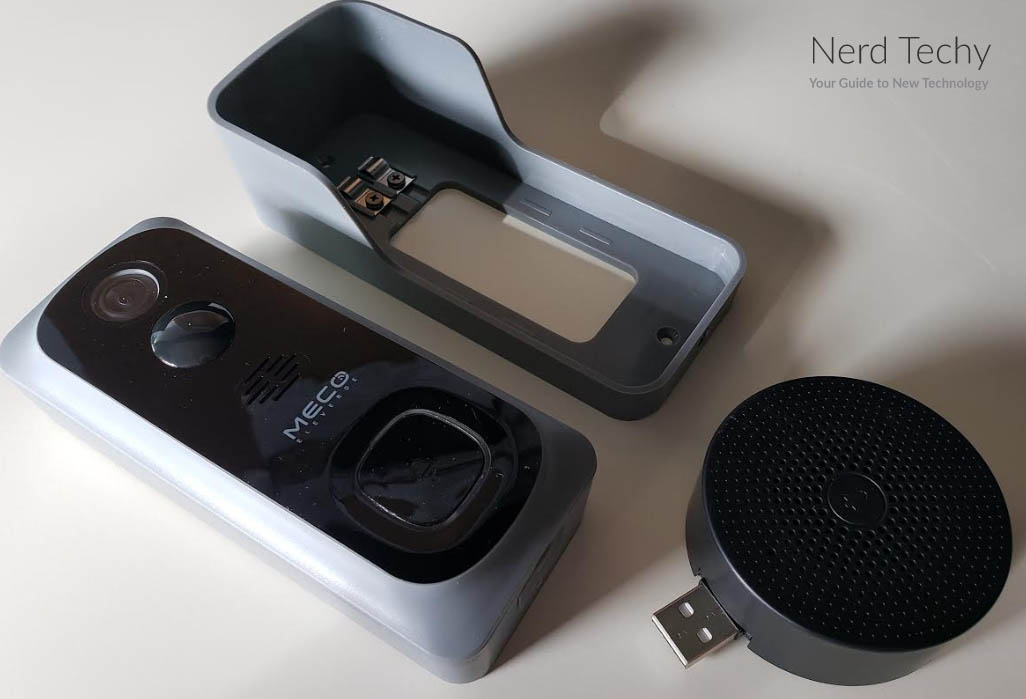 If you're looking for a more traditional camera with similar features, consider the blurams Outdoor Pro. It even allows for two-way audio communication, just like the MECO doorbell.
App & Connectivity
MECO's CloudEdge app is available for free on Google Play and the Apple Store. It's the only way to control your doorbell camera or view video, so you'll want to download it immediately. Once you've set up your doorbell, up to five different users can be added to your account. This way, the whole family can use your MECO doorbell. When the app is installed, you'll receive push notifications when someone touches the doorbell. There's also an option to receive notifications when the motion sensor detects activity.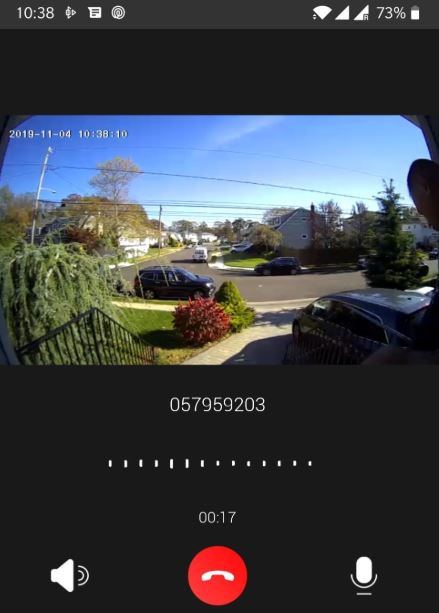 Final Verdict
So, what's the final word on the MECO WiFi Smart Home Video Doorbell? It's a great buy, especially for the reasonable price. Mounting and installation is easy, and doesn't even require drilling if you'd rather use an adhesive. The motion detection is, if anything, too powerful. Most likely, you'll need to turn the sensitivity down. But it's better to have the option and not need it, then to need it and not have it.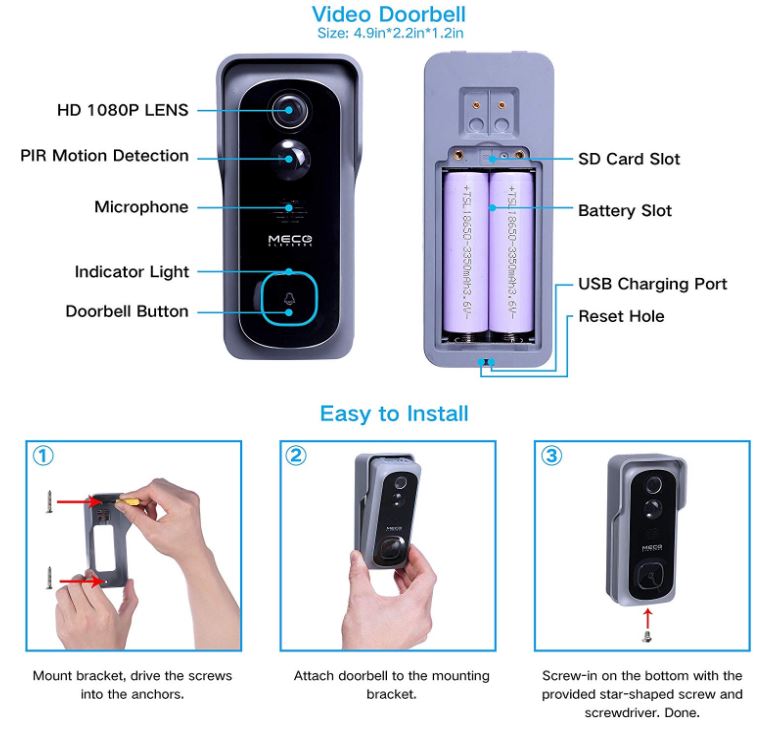 The smartphone app is well-programmed and easy to use. Initial setup takes just a few minutes, and from that point forward everything works more or less automatically. We also liked the ability to pre-record a message for visitors. This is by no means the most amazing feature, but it's definitely unique and interesting.