Selecting the right pair of earbuds is no simple task. There are literally thousands of different options to choose from and seemingly endless new earbuds coming out each month. Needless to say, the market is a little bit flooded with choices.
If you've been searching high and low for your next set, you've likely come across the Purity True Wireless Earbuds. Over the past month, they've been trending as a new-release and are now one of the top rated, budget-friendly models available. They seem to promise quite a bit, especially given their inexpensive price-tag. But do they live up to the hype? Are they worth picking up or skipping out on? Today we're going to take a close look at them and go in-depth.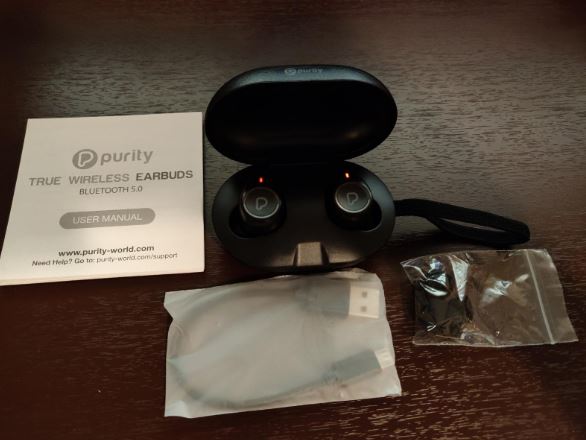 First-Time Use
When the Purity True Wireless Earbuds arrived, we were pretty excited to open the box and test them out. Inside the box, there's a couple accessories included. First, you have the charging case that houses the earbuds themselves. Looking further, you'll notice an instruction manual, micro USB cable and several different-sized silicone ear tips.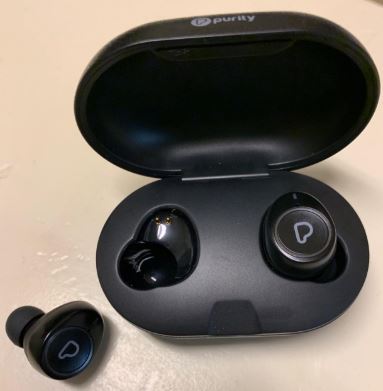 Once you take the earbuds out of their charging case, the small LED will began flashing intermittently, indicating that they're ready to pair. Open up your smartphone and make sure Bluetooth is enabled. After that, give it a few seconds and you should see "Purity" appear on the list of available nearby Bluetooth connections. From then on, they'll remember your device so this process won't need to be repeated each time you use them. Simply turn them on and they'll automatically pair.
The pairing process was about as easy as it could get. Once you've completed the initial pair, you'll want to take advantage of those extra silicone ear tips that are included. Your goal is for them to achieve a tight sound-seal in your ear canal so they provide the most isolated sound possible. This will not only make the audio quality as good as it can be, but also keep them snug and comfortable for long listening sessions.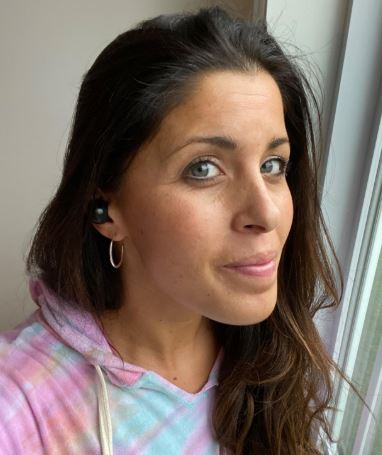 Sound Quality
Once we paired the Purity earbuds, we were ready to begin enjoying music for the first time. We opened up iTunes and began from the top of our all-genre variety playlist. We began with some classic rock from AC/DC and then moved onward to some modern-day hip hop. It didn't take much for us to start enjoying the sound. Right from the start it was apparent that the highs and mids were quite strong and really seemed to shine through. Vocals seemed clear with only a slight degree of tinniness. Nothing that really seemed to get in the way, but worth mentioning.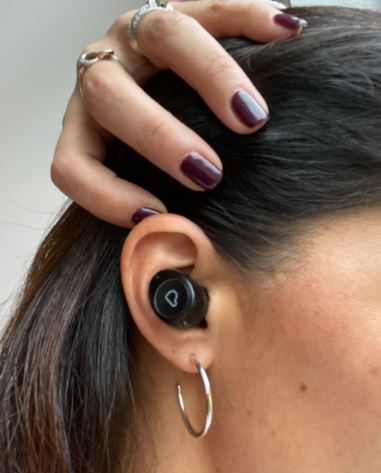 When it came to low tones like bass, we must say, they were slightly lacking. However, bass is never really that strong in a pair of earbuds in this price-range. We'd say the bass is acceptable, but nothing special if you compared them to an over-ear set of headphones like the Mpow H17.
Overall, sound quality seemed about average, but quite good considering the low price-tag that the Purity earbuds come in at. We felt like they excelled at most music, but tended to get slightly distorted and tinny at high volumes. We'd say, if you keep the volume at an appropriate level, you'll likely never experience what we're describing.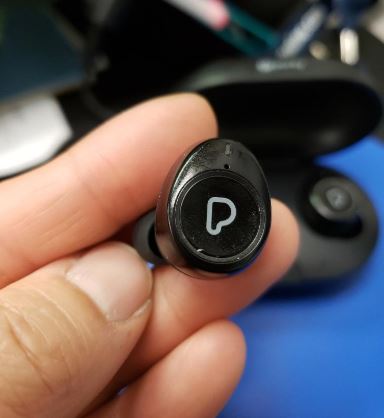 If you want better all-around sound quality, you might have to slightly increase your budget and go with something like the SoundPEATS TruEngine SE or Aukey T10.
Battery
It's a really nice inclusion to have a charging case in conjunction with the earbuds themselves. The buds fit snugly when not in use and receive a steady charge at the same time. With this setup, you'll likely always begin listening with a full-charge – unless you forgot to charge the case every once and a while. You see, the case provides around 3 additional full-charges for the earbuds. We wouldn't claim this to be incredibly long-lived, but it seems to be just enough for most scenarios.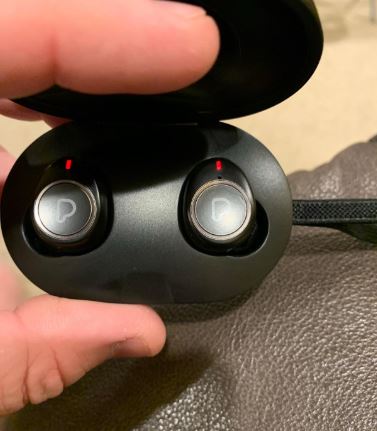 The charging case is nice and small and seems to be constructed well. It opens with a hinge and securely closes down to a size ideal for your pocket. The look of it is pretty straightforward – black with a texturized outer membrane. On the outside, you'll notice 4 tiny LEDs that'll illuminate to indicate the charging status/battery level. This will give you a general idea of how much battery life is remaining. On the back of the case is a small micro USB input. Attach the included cable and connect via USB for charging.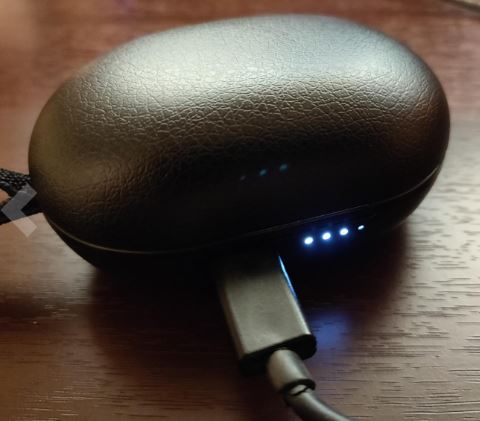 Once the earbuds were fully charged, we wanted to see if the advertised 4 hour battery life was realistic. We set them to a moderate volume and let them play for roughly 3 hours and 45 minutes before we noticed a "low battery warning" at that time. It's an audible "beep" that'll indicate you need to place them in the charging case.
It's nice to see that 4 hours is a realistic expectation. Some manufacturers overstate their estimates but the Purity wireless earbuds seem to be right on-key with an accurate estimated battery life. Additionally, we found that the charging case provided multiple charges before it needed to be plugged in. We achieved 3 full charges before only 1 LED was illuminated on the case.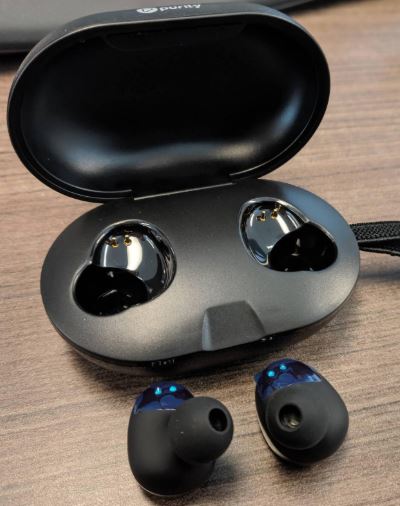 Durability
The Purity True Wireless Earbuds are ideal for working out and on-the-go activities. These aren't the kind of headphones that you'd want to spend indoors listening to all day long. They're best suited for active lifestyles and those who love to hit the gym, ride some bike trails or just go for a jog. They fit well and seem to be up to the task, but how durable are they?
They're given an IPX5 waterproof rating which ultimately means that they're able to resist low-pressure water jets. In addition, they're sealed for dust ingress so tiny particles won't be able to find their way in and affect performance. IPX5 offers full sweat-proof abilities so you can rest assured taking these in the rain or during an intense workout. You won't want to take them swimming, but you could probably bring them on any adventure and they should be able to survive the elements. We haven't tested them in extreme heat or cold, but they seem quite robust and built-well.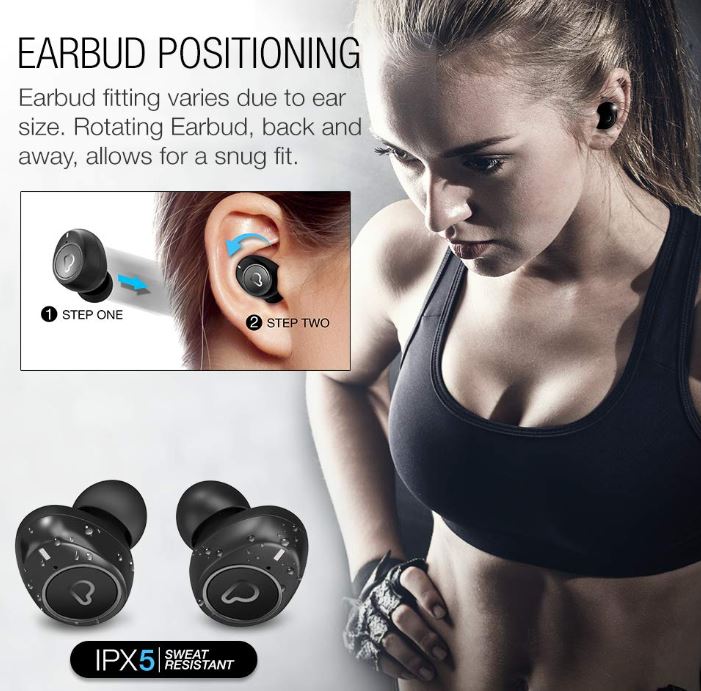 Final Words
We can't say that these are the absolute best wireless earbuds on the market, but for their price-range, they might be. All of the attractive features of a more-expensive pair are included and the sound is decent, but the bass is slightly lacking.
The battery life is about average and the charging case is a nice addition. Having a dedicated spot to place them inside when not in use not only protects them, but keeps them charged up and ready to go whenever you want to use them. Additionally, they're slimmed down to the essentials and built to a portable-sized form factor, making them easy to bring along with you, wherever you end up.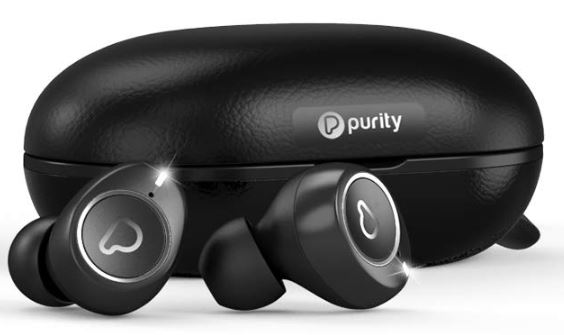 Best of all, the Purity True Wireless Earbuds come included with a generous 1 year warranty period. If for any reason they fail or don't live up to the hype, you can get a refund or replacement within the first 12 months of ownership. To take advantage of it, simply send an email directly to autoaccess.purity(AT)gmail.com. It's not everyday that you find an inexpensive pair of true wireless earbuds that provide this many enticing features.
Not sure if you'll be happy with them? We suggest spending a tiny bit more and going with something a little better quality. Try the TOZO T6 or the EarFun Free. Both are more expensive but seem to provide better sound clarity and better features.
Meet Derek, "TechGuru," a 34-year-old technology enthusiast with a deep passion for tech innovations. With extensive experience, he specializes in gaming hardware and software, and has expertise in gadgets, custom PCs, and audio.
Besides writing about tech and reviewing new products, Derek enjoys traveling, hiking, and photography. Committed to keeping up with the latest industry trends, he aims to guide readers in making informed tech decisions.