In August, 2019, AMD announced the release of three new motherboard designs: the TRX40, the TRX80, and the WRX80. These motherboards are designed to compete with Intel's top offerings.
Specifically, they're engineered to support AMD's 3rd-generation Ryzen processors. While processor speed has been approaching physical limits for several years, manufacturers have been able to get creative. To continue improving performance, manufacturers have instead focused on increasing the number of CPU cores. 10 years ago, a dual core CPU was considered standard, while a quad core was exceptionally fast. Fast forward to 2019, and AMD's new processors are shipping with up to 64 cores. Wow.
If you aren't intending on using a 3rd-generation Ryzen processor, why not save yourself a few dollars? A few months ago, we reviewed the best X570 motherboards. These are quality gaming motherboards, albeit not quite as future-proof as the TRX40. And they're definitely worth a serious look if you're building a dedicated gaming PC.
Today, we'll be looking specifically at TRX40 motherboards. These will still support 3rd-generation Ryzen processors, but they don't offer as many I/O options as the TRX80 or WRX80. But for most purposes, they'll offer more than enough versatility. If you want your new PC to run next year's games on maximum settings, the TRX40 is a good start. But with so many manufacturers jumping on the TRX40 bandwagon, it can be hard to choose the right version. That's where we come in. We've searched for the best TRX40 motherboards available online, and presented the top three choices for you. But first, a little bit of background on what makes a good motherboard.
Built-in Chipsets
When you're choosing a motherboard, the first consideration is what chipsets are already built in. This is critical to know, since it will affect what other types of hardware you need to install in your system. For most gaming system, you don't need a video chipset at all. This is fortunate, since the TRX40 doesn't include one. AMD assumes you're going to use the TRX40 for gaming, so you'll be integrating your own graphics card.
That said, a built-in sound card can be a make or break addition. Most modern motherboards, including the TRX40, have one built in from the manufacturer. If you choose a motherboard without a sound card, you'll find that you need to invest in one immediately. That's not a terrible idea if you're a serious audiophile and you want studio-quality sound. But the fact is that for 99 percent of people, a motherboard-based sound chipset is more than good enough.
Quality of Construction
In addition, it's also important to look for a motherboard with sturdy construction. At first glance, this may not seem necessary. After all, it's an internal computer part. What could possibly go wrong?
The answer, of course, is a lot of things. The motherboard is the central hub of your PC, where all of your devices connect. And if you've never built your own PC, we've got news for you; you'll be plugging into it a lot. A flimsy board can have all the same technical specifications as a more durable one, but it's more likely to break. Imagine you're 90 percent of the way done assembling your new PC. You're plugging in the SSD, and the motherboard snaps. Congratulations! Not only do you need to order a new motherboard, you need to re-do 90 percent of the assembly. Because of this, we've looked for motherboards with a little bit of backbone.
Asus Prime TRX40 Pro
The Asus Prime TRX40 Pro is designed for PCs that are dedicated for 3D rendering and other graphics-heavy applications. Whether you're a gamer, an animator, or a graphics artist, it's a solid foundation for your new PC. The first thing that struck us about this motherboard was the large, brushed aluminum heatsink. There's even an additional heatsink positioned by the SSD slots. As a result, your processor won't be the only thing that stays cool. Your SSD will also be safe from damage, even when reading and writing at maximum speeds for an extended period. There are actually three SSD slots. In addition to the primaries, a third SSD slot near the CPU, to take advantage of air flow.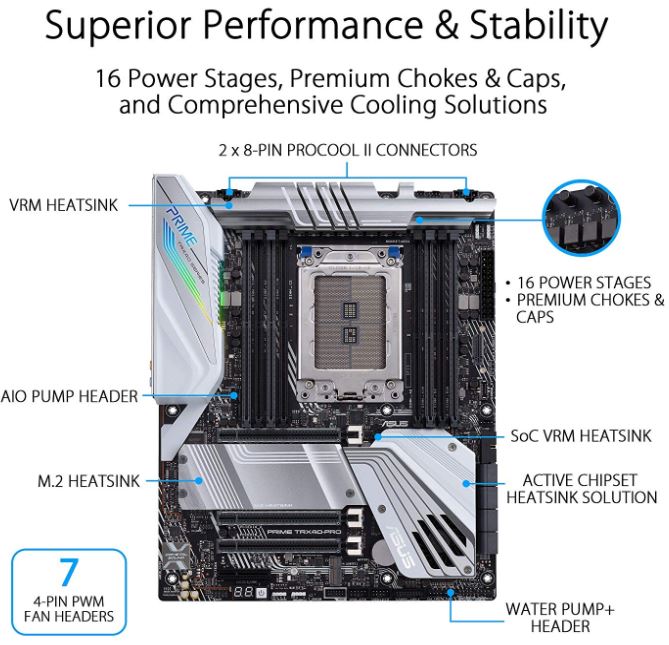 For device connections, you have several USB controllers. Three USB 3.2 Gen 2 Type-A controllers are built into the back panel, along with a USB 3.2 Type-C controller. In an ideal world, we would have liked to see more Type-C controllers. That said, the TRX80 is better suited for a large number of peripherals. And for the vast majority of everyday applications, a single USB Type-C port will be more than enough. There's no built-in WiFi, but there is a built-in E-key M.2 2230 socket for adding a WiFi module. A wired Gigabit Ethernet port is already built-in, so hardwired gamers will have everything they need right out of the box.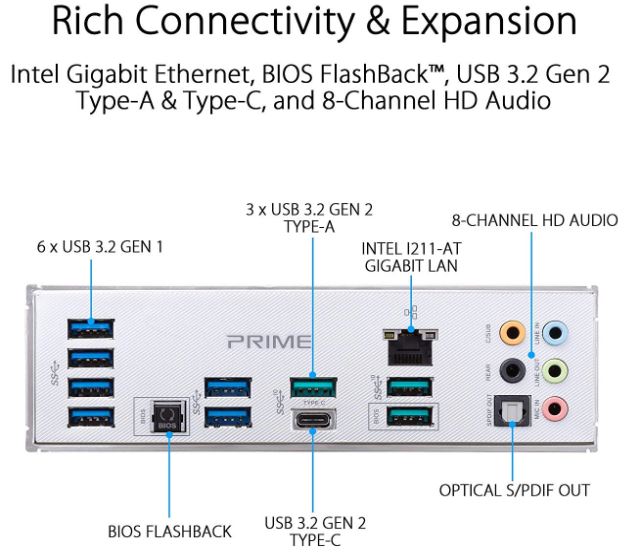 Alongside the heatsink, you'll find a trio of PCI Express 4.0 slots. All three of them have an x16 configuration, so you'll have room for three full-sized expansion cards. Obviously, a full-sized GPU will occupy two of these slots. But what you do with the third slot is up to you. A sound card would be one option, but that's not really necessary. The Asus Prime uses the Realtek S1220 audio codec, which supports full 7.1-channel surround sound. And it pushes excellent quality, even at top volume. If you're looking for immersive gaming sound, look no further.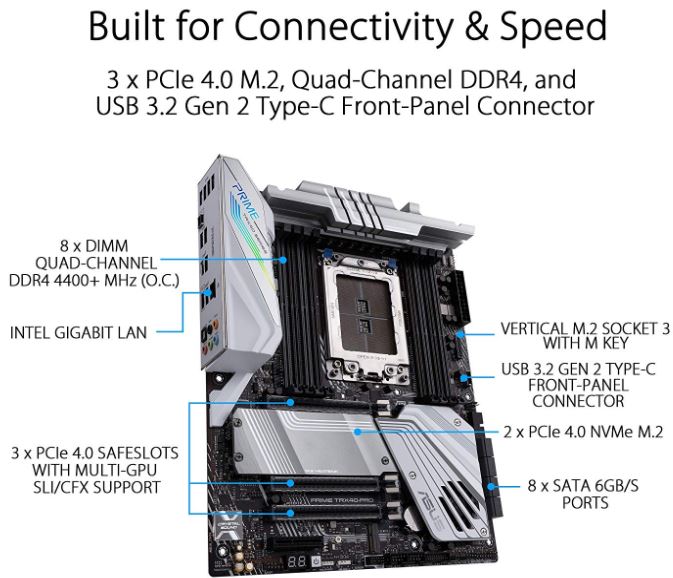 The Asus Prime comes equipped for liquid cooling. While the built-in heatsinks will be good enough for almost everybody, you might want this feature if you're overclocking. Asus' Fan Xpert 4 utility is included, and can be used to control your aftermarket liquid cooling system. You also get UEFI BIOS. This is a common BIOS that's used by many manufacturers, because it's so easy for beginners to use.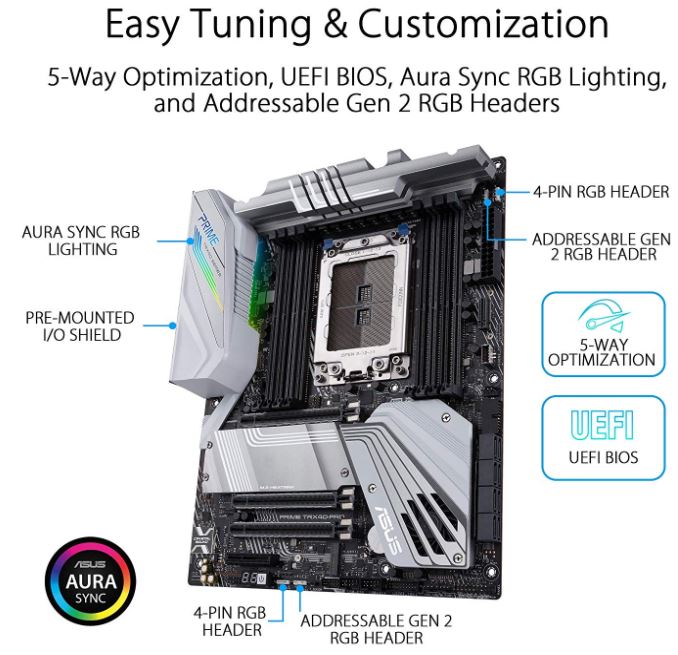 If out-of-the-box connectivity is what you need, consider a Z390 motherboard. These boards are designed not just for built-in WiFi, but also for blazing fast read/write speeds. They also tend to have more USB controllers than TRX40 boards.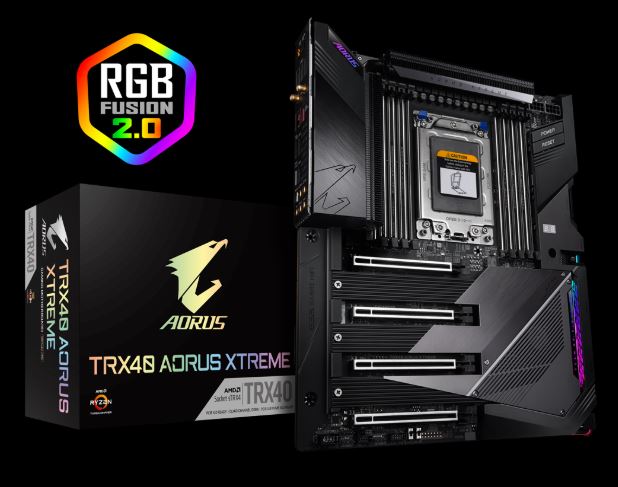 Gigabyte TRX40 Aorus Xtreme
Where the Asus Prime emphasizes cooling, the Aorus Xtreme emphasizes expansion slots. It features a whopping four PCI Express 4.0 slots, which is more space than we can imagine ever needing. Pop in a full-sized graphics card, add a sound card, and you'll still have room for another expansion. When VR technology inevitably evolves to the point that you want an add-on, you'll have space. That's a lot of expandability, and it's easy to understand why Gigabyte decided to go this route. After all, what's the point of supporting a 64 core processor if you're not going to take advantage of it?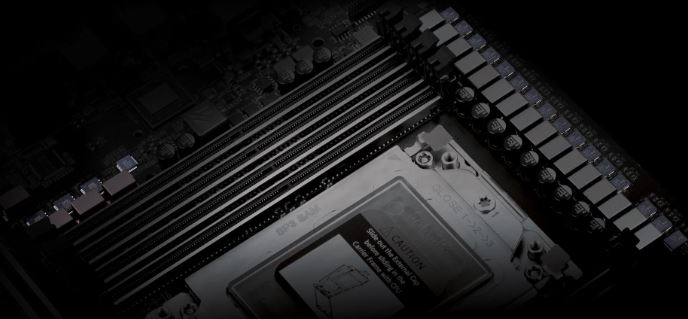 The Aorus Xtreme also delivers plenty of connectivity. With dual gigabit Ethernet ports, you can actually use two router ports to maximize your speed. This may require fiddling with your router, since it's an unusual setup to say the least. Inexperienced users should tread lightly when pursuing this option. More realistically, you can just use the 802.11ax WiFi. The WiFi card is soldered directly to the motherboard, so you won't need to worry about installing one later. As we've already mentioned, there's plenty of space for a sound card. However, the Aorus Xtreme already features an audio chipset based on ALC4050H. This is a solid codec, and it can deliver excellent quality. However, it doesn't offer quite as much depth and ambiance as the Realtek S1220 codec. But most people won't even notice the difference.

One thing we would have liked to see is support for liquid cooling. The Aorus Xtreme doesn't offer any native support. That said, once you've got your PC set up, you can install an aftermarket utility to manage your cooling system. And you really shouldn't need that cooling system outside of gaming. If your processor is overheating during OS installation or startup, you've got it clocked way too fast.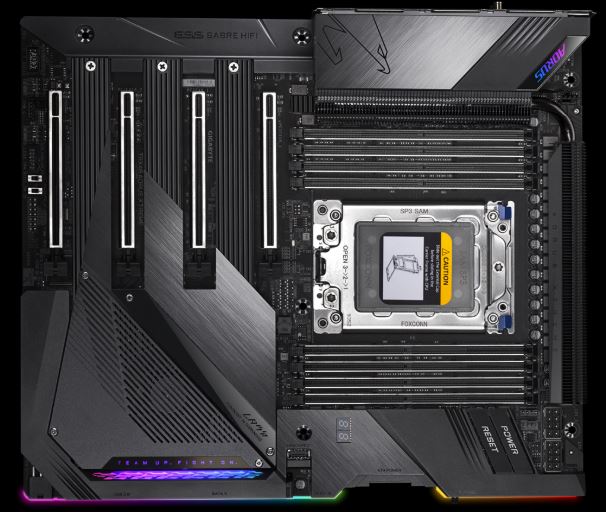 For expansion, the Aorus Xtreme offers an impressive 10 SATA ports. Much like the 4 PCI Express ports, we're hard-pressed to think of an everyday situation where this would be useful. On the other hand, you won't need to worry about running out of SATA connections any time soon. The only realistic reason we could think of for using this many ports is if you're running a home server. Then again, if you happen to be building a server, 10 SATA connections might come in handy.
Lastly, be aware that the Aorus Xtreme has an XLATX form factor. It's quite large, so you'll need a large PC case to support it.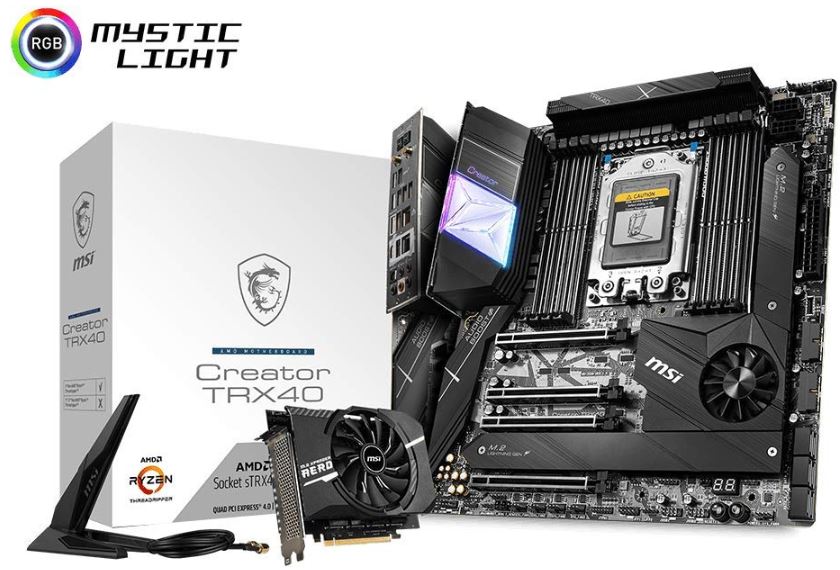 MSI Creator TRX40
The MSI Creator TRX40 was clearly built with gamers in mind. It comes with a built-in RGB controller, the Mystic Light, which supports 16.8 million colors and 29 effects. This is mostly a cosmetic feature, but it's something a lot of gamers care about. Like the Aorus Xtreme, the MSI Creator also features four PCI Express slots. This gives you plenty of expansion space, although you'll likely be installing a GPU on day one.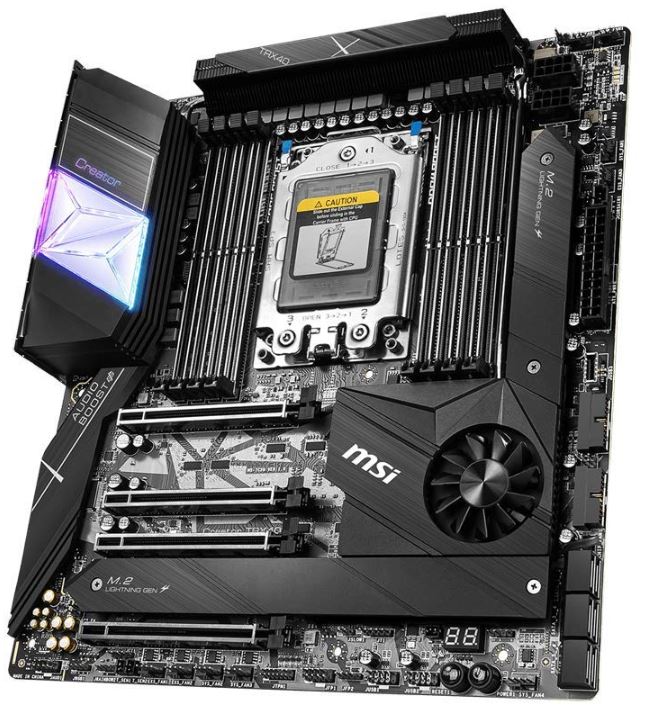 The aluminum heatsink is exceptionally large, but you might not notice it at first. It has a black finish that blends into the grey motherboard if you're not paying attention. MSI's Frozr heatsink also includes an extended heat pipe. This pipe connects the primary heatsink with the CPU heatsink, further improving heat dissipation. If you're looking to overclock your processor, the MSI Creator isn't a bad choice. That said, serious overclockers will probably want to install an aftermarket liquid cooling system.

For internet, you've got a couple of options. First, the MSI Creator has a gigabit Ethernet port for wired connections. If you prefer to go wireless, there's also a built-in WiFi 6 card. This is the latest WiFi protocol, and it supports speeds of up to 2,400 MB/s. That's actually faster than gigabit Ethernet, so you'll experience less lag during online gaming. Keep in mind, though, that this depends on your router. Unless you just bought your router in the last few months, you'll need to upgrade to benefit from WiFi 6.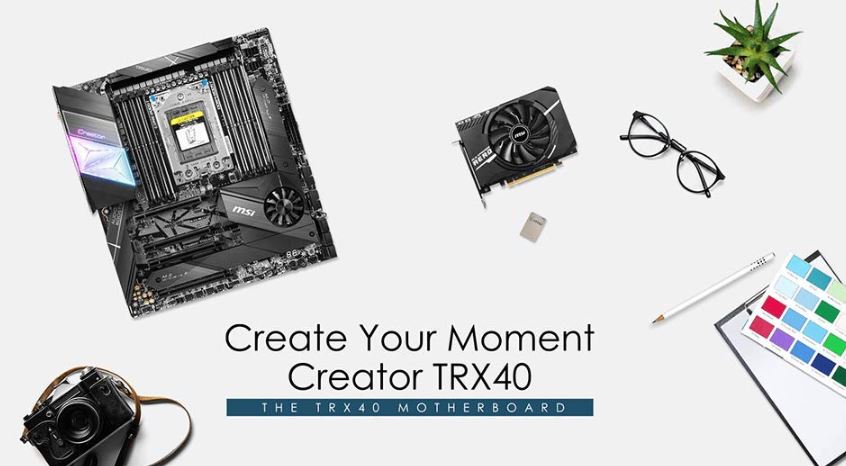 One thing we very much liked about the MSI Creator was the PCI Express steel armor. This is a series of plates that provide extra support to your PCI Express components. During installation and later handling, it reduces stress on important parts like your GPU. It also supposedly reduces EM interference, but it's mostly just for stability.
If you intend to overclock your CPU from the get-go, a AMD B350 motherboard might be a better choice. The B350 chipset is designed specifically for overclocking, so you won't have to struggle during configuration. And because it's built for gamers, you'll have an easy time installing all your high-performance hardware.
Final Verdict
Which of these TRX40 motherboards is the best? As usual, it's going to depend on what you need. The Asus Prime TRX40 Pro is by far the best choice if you plan on overclocking. The built-in cooling is on par with the MSI Creator, but the native liquid cooling support is a nice touch. That said, it doesn't come with WiFi support. Since WiFi is essential for any modern PC, this was very disappointing.
The Aorus Xtreme is the king of connectivity. With its 10 SATA connections, you could easily use it as the foundation for a home server. Don't get us wrong. Any motherboard with a 3rd-generation Ryzen CPU is going to be just fine for gaming. And four PCI Express ports doesn't hurt, either.
Finally, the MSI Creator TRX40 is the best all-around motherboard for a dedicated gaming PC. While there's no built-in liquid cooling controller, the stock heatsink is very effective. And while RGB lighting isn't the be-all and end-all of a gaming PC, the native lighting support is impressive. Best of all, you still get four PCI Express slots and built-in WiFi. The MSI Creator is a future-proof motherboard that will last through many system upgrades.