Motherboards are the core of any PC build. While it's easy to overlook them because they're not often the source of high performance standards, they're still essential in other important ways. They help determine the kind of connections your PC will be able to make, now and in the future. And they help determine what happens if some kind of electrical incident occurs.
If you order a bad GPU and it ends up frying itself, will that GPU take half of your build with it? Will it knock out your motherboard? Will it fry your RAM? Those are the kind of stakes you're playing with when picking a board.
Choosing an X570 Motherboard
Even though picking an X570 motherboard can be a little difficult, the process can be made a little simpler. For starters, there are some things you don't have to worry about. For instance, any X570 board will have an AM4 socket. So you don't have to think twice about processor support. Instead, you should be focused primarily on three categories: build quality, port options, and chipsets.
Build Quality
This is mostly self-explanatory. But a cheap board that flexes in your hand isn't going to hold up well under strain. PCIe ports that aren't reinforced may sag under the weight of a heavy GPU, which could risk both components. However, if you're picking a motherboard above the $200 price point, build quality isn't going to make or break your selection. Because after you stop looking at value-oriented boards, build quality shoots way up.
The other element of build quality is heat dissipation. Like all electronics, PC components suffer from wear and tear. But motherboards that are used for gaming or other heavy application can undergo far more heat-stress than other devices, especially when they endure lots of heat. Large heatsinks can help, though are only necessary for heavy-duty applications.
Port Options
How many USB connections do you need? How fast do those connections need to be? How about Type-C vs. Type-A connections? Do you plan on running two GPUs? Planning on connecting six hard drives? Then you'll need six SATA connections. Unless you want some of those drives to be M.2 SATA SSDs, at which point you'd need a different port.
Depending on the reason you're building a PC, it may help to look at the video ports in particular. Is there only one HDMI slot? Do they have DisplayPort? How about legacy formats for older monitors? Depending on the type and number of monitors you want to connect, this can be worth checking out. Though it's not worth obsessing over if you plan on running a graphics card inside your system, since that card will introduce new video port options.
Added Chipsets
Sound cards are mostly a thing of the past because basically any decent motherboard these days will have some kind of audio chipset on board. But there's still a world of difference between one chipset and another, especially if you happen to have any high-quality audio equipment, or if you do work in audio.
If you plan on using a video card in your system, you can pretty much overlook or forget about video chipsets. But how about wireless connections? Do you want a wireless card inside your PC? How about Bluetooth support? Every chipset that you add to a board means you're paying a bit more for it. But it also means you won't need to install a PCI card to get those needed features in the future.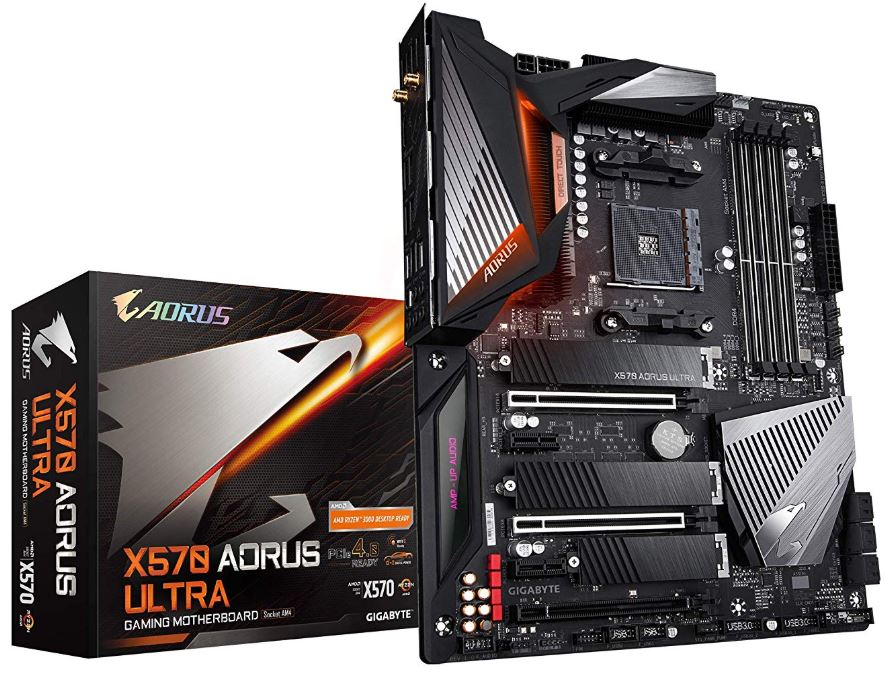 GIGABYTE X570 AORUS Ultra
As a brand, GIGABYTE needs no introduction. Their AORUS Ultra is a gamer-oriented motherboard with a lot of extra frills. Though this particular board isn't quite what you would consider top-shelf, it's enormously close. This is pretty much as nice as you can make a mid-shelf motherboard without it tipping over into the top tier. Which makes it an excellent entry-point for someone trying to mix quality and value.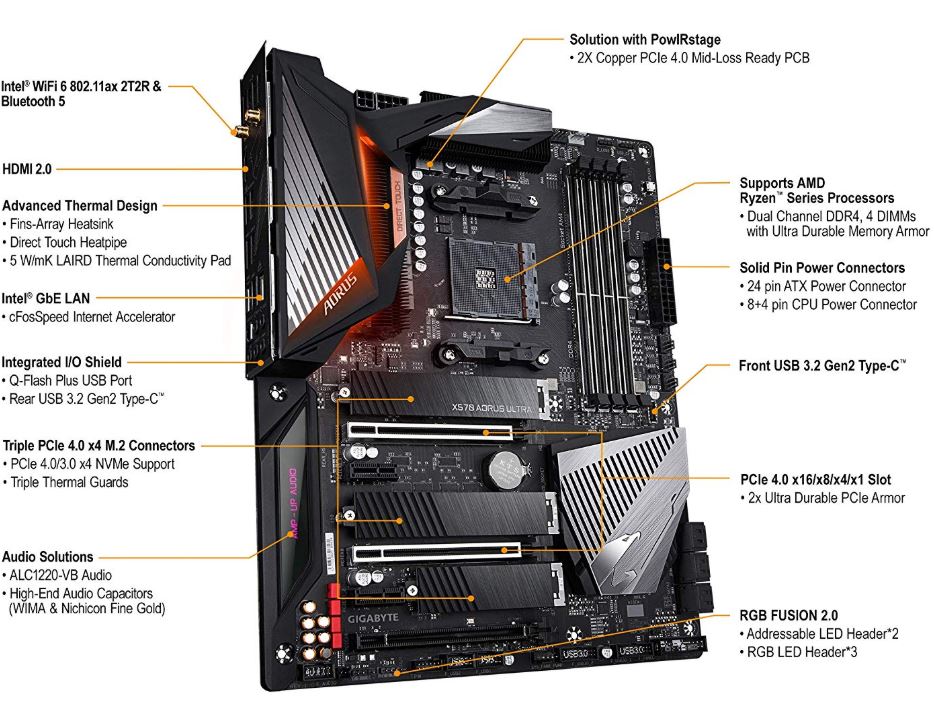 Layout & Chipset
Taking a look at the board, you'll notice it uses a standard ATX layout. That includes RAM up in the top left corner, and PCI ports down towards the bottom left corner. There's actually a nice amount of space between each of the PCI ports, making this board very suitable for someone who might want to run two larger GPUs. You'll probably also notice the board is just a little bit bulky because of all the extra heat shielding they've tacked on.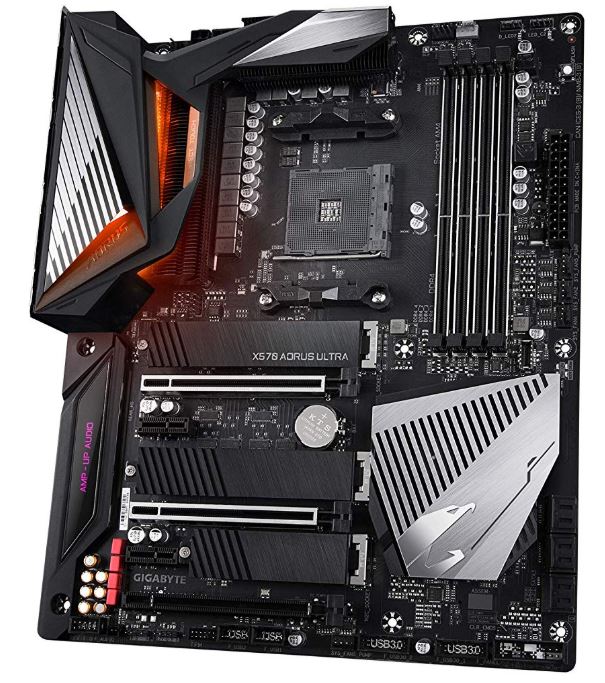 The X570 AORUS Ultra supports third generation Ryzen. It's also backwards compatible with second generation Ryzen. For memory, you have a standard array of four DIMMs. That allows for both a dual channel and a non-ECC configuration. And the I/O shield is integrated into the board, so you don't have to worry about misplacing it, or forgetting to install it. That's a nice touch, though one you don't see that often unless they've integrated LEDs into the shield.
For wireless, you're looking at an Intel WIFI 6 chipset, operating the latest iteration of wireless tech. You also have support for Bluetooth 5, the latest version of Bluetooth. In both cases, pretty cutting edge stuff. Running Wi-Fi 6 means this board is ready for Gigabit bandwidth speeds. And the audio chipset is no less impressive. For sound, there's a 125dB SNR Amp-Up chip, which is supported by a ACL1220-VB chipset. Suffice to say, you won't need to be adding a sound card.

Connections
On the I/O, things are fairly well organized. There's actually a lot of unused space, which makes the whole thing look much neater. As is often the case, they've shoved the audio ports down towards the bottom of the I/O. Just above that, you'll find a USB-C port, Ethernet port, and as many as nine USB ports. Though due to bandwidth limitations on the board, only two of these connections are USB 3.1, and only three are USB 3.0. The remaining ones are more typical 2.0 ports aimed at mice, keyboards, and so forth.
Internally, you'll find four PCIe 4.0 terminals. Power is run on a standard 24-pin ATX connection, and an 8 + 4 CPU connection. There are three NVMe PCIe connections, and just as many M.2 slots with triple thermal guards. For RGB lighting, you're looking at two addressable LED headers, and three RGB LED headers. Quite the layout for someone who wants to make their case a little prettier.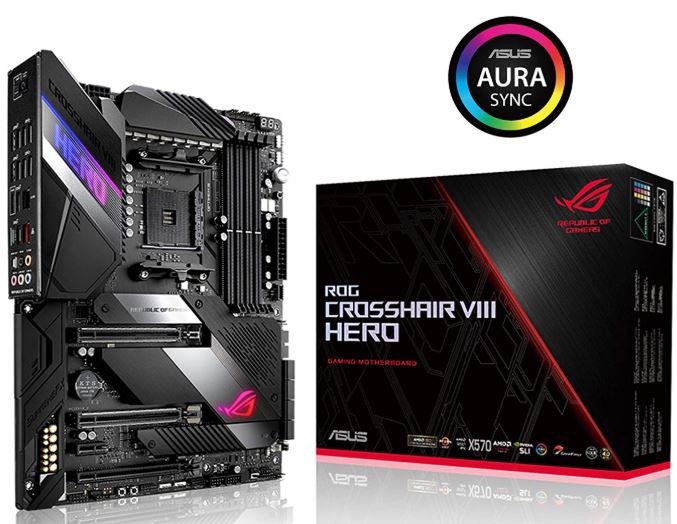 ASUS ROG Crosshair VIII Hero X570
As you may know, ROG is ASUS' gaming brand. And their VIII Hero X570 does live up to its name. For standard stuff, the ASUS Rog is running the AM4 socket, making it equipped for both third generation and second generation Ryzen processors. For less standard stuff, this board has an immense array of gaming-specific customization options.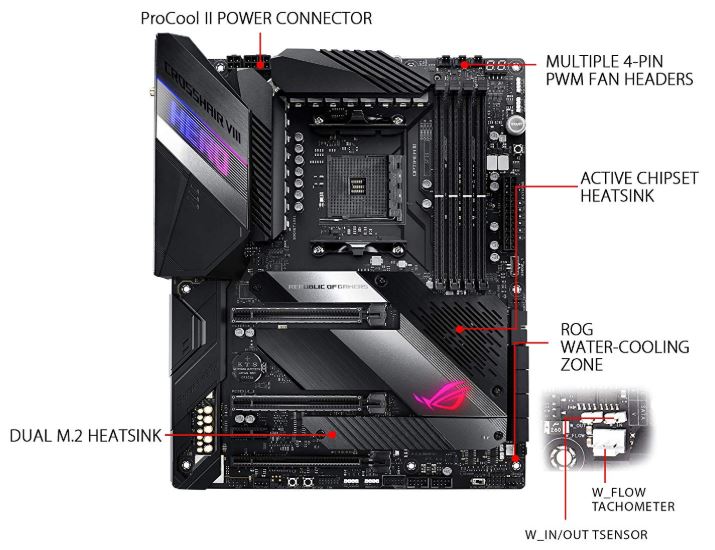 Layout & Chipset
You've probably noticed there's a very cohesive thermal design, aimed at keeping the entire board cool. A lot of cheaper boards will only plop down a single heat-sink, usually located off towards one side of the board. Here they've used ROG cooling zone tech, to try and keep all your components at more optimal temperatures. Even though they've given it a fancy name, this basically amounts to a mixture of some cleverly placed heat-pipes and heat-sinks.
There's a DIY friendly design that makes this board more approachable to people who are inexperienced. For instance, the pre-mounted I/O shield removes one more step from the installation process. When you look at the chipsets, things stay just as good.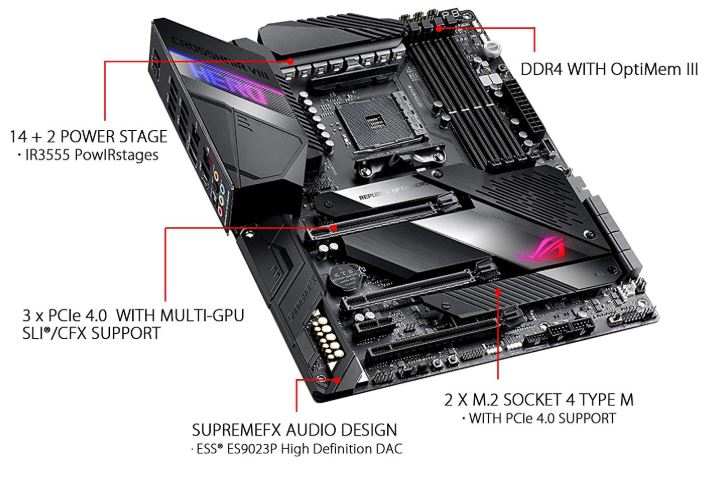 Similar to the GIGABYTE board, here you'll find high performance networking standards, especially with the inclusion of Gigabit Ethernet ports. Though going a bit further, ASUS includes their LANGuard protection software. That basically precludes the need for a gaming router because you virtually have one on this board alone.
The audio looks just as good as the wireless. ASUS went with a SupremeFX Audio configuration, running an equally impressive ES90230 HD DAC. If you're someone who uses nicer headphones or nicer speakers, that's something you're going to be able to appreciate. Though it might fall short of audio production quality for professional endeavors.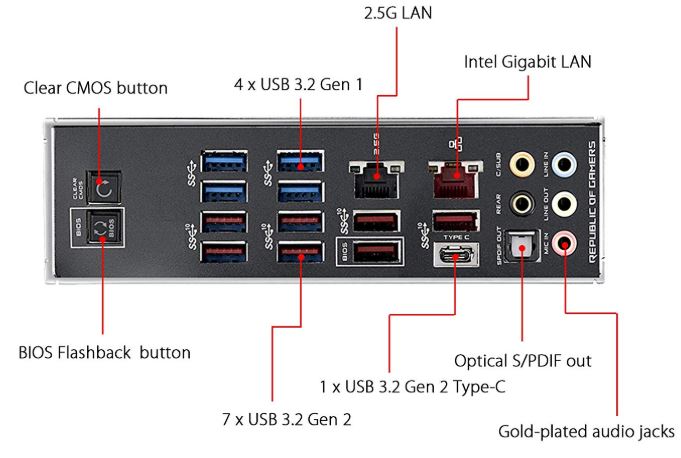 Connections
There's no getting around the fact that this I/O looks busy. For starters, the bottom side is packed with a total of six audio jacks. Those jacks are each gold plated in order ot help them resist corrosion. Just above that, there's 12 USB ports, including one Type-C, and seven USB 3.2 Gen 2 ports. That's a ridiculous amount of bandwidth. But when you're getting a top-shelf board, brands like ASUS finally dispense with using those older USB 2.0 ports. There's also a 2.5G LAN and Intel Gigabit LAN Ethernet port hidden away in there.
Once again similar to GIGABYTE's board, there's four DIMM slots for DDR4 support, with OptiMem III backing these ports. The 14 + 2 power stage keeps your connections steady and reliable. And there's a total of three PCIe 4.0 slots, which also support multiple GPU configurations.
And you can find a total of two M.2 sockets, also supporting PCIe 4.0. Those are a little tricky to locate at first because of the bulky nature of the heatsinks and various other reinforced ports. It's a very standardized layout for a gamer, but the thorough reinforcement of almost every aspect of its design really this board hold up.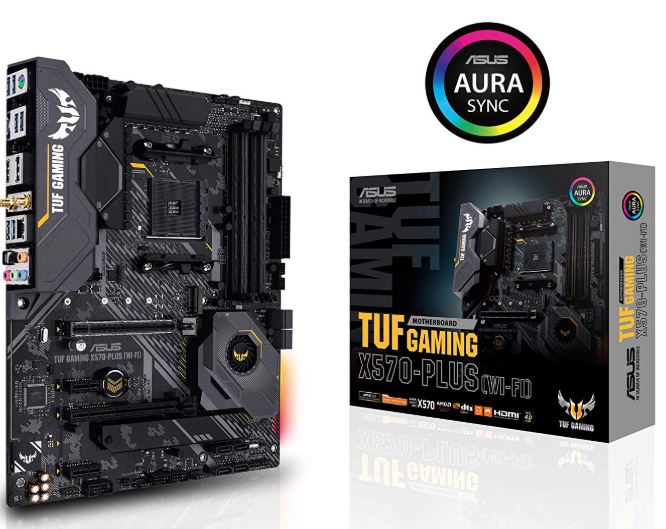 ASUS AM4 TUF Gaming X570-Plus
Another ASUS motherboard? Yep! Since ASUS makes some of the best boards out there, it shouldn't be too surprising. But the Gaming X570-Plus is basically a super-powered version of the Crosshair VIII Hero. As an X570 board, the ASUS AM4 socket is able to run third and second generation Ryzen processors. But past that, there's quite a bit more in store. That includes an enhanced power solution, plus military grade TUF components, and ProCool socket features for optimizing cooling.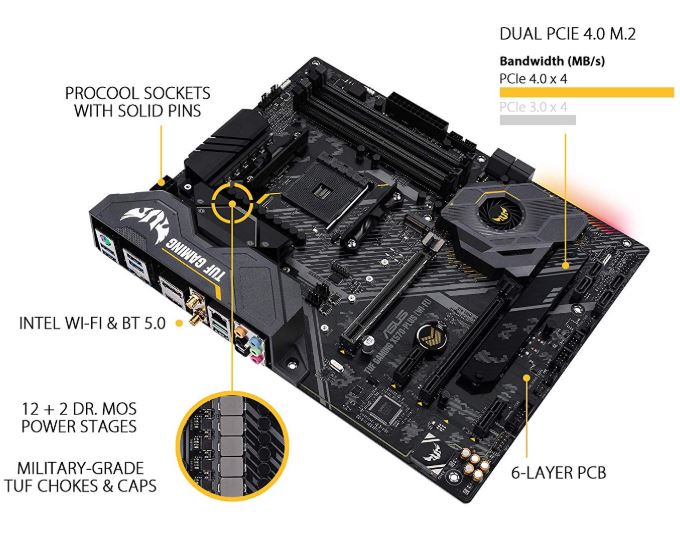 Layout & Chipset
This board looks a bit like a tank. Between the M.2 heatsink, active chipset heatsinks, and the VRM heatsink and thermal pad, everything is thoroughly protected from heat. There's also some shielding around the PCIe ports, which they're calling ASUS SAFESLOT. It does help prevent heavier cards from sagging while horizontally placed in the port.
As with the previous ASUS board on this list, this board makes use of a comprehensive approach to cooling. That includes a VRM heatsink, an active PCH heatsink, an M.2 heatsink, and several hybrid fan headers. All of this can be supported through their Fan Xpert software. And this board is ASUS Aura Sync compatible.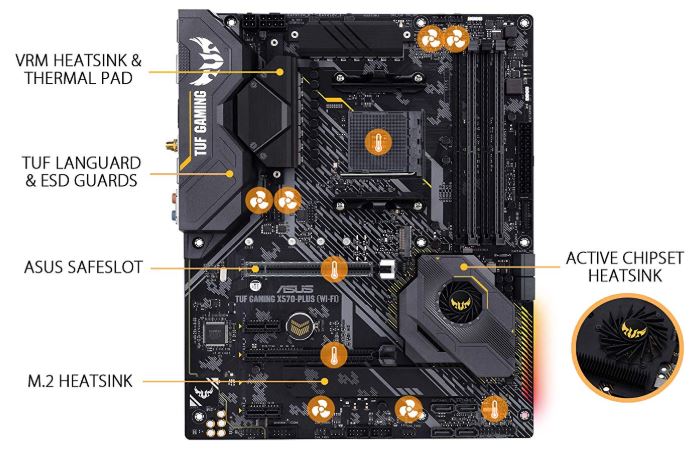 For wireless, this board runs a Realtek L8200A gigabit Ethernet chip. That's going to be able to keep up with even the fastest internet connections and the most responsive routers. And Intel 2×2 802.11ac Wi-Fi is onboard. Though the MU-MIMO support is a little limited, making it optimal for connecting with no more than two high-bandwidth devices and four devices in total.
It might seem strange that this motherboard has so much focus on the 5G band considering the chipset will be trapped inside the chassis of your PC. But to help resolve that location issue, ASUS includes a Wi-Fi antenna you can use to broadcast your signal. The included antenna cable is only a couple of feet long, but it would be easy to extend. Bluetooth 5 is included in the chipset, and everting is protected with TUG LANGuard.
Additionally, this motherboard includes a rear I/O panel shield. But that shielding is not pre-installed like it is on the other boards. It's a shame they haven't pre-installed it since being able to remove it really isn't going to affect the dimensions of the I/O during installation into a case. But the difference is fairly minor.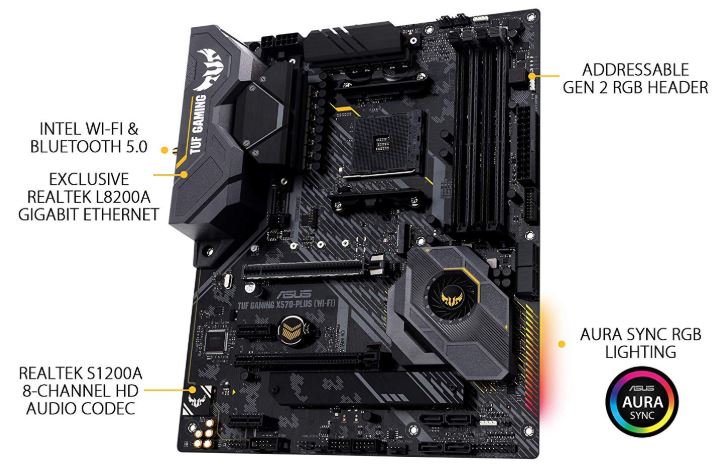 Connections
The I/O looks a little old-school. Again, the audio ports are towards the bottom of the board, providing five jacks and an optical out. Just above that, there's the Gigabit LAN port, and analogue connections for Intel Wi-Fi and Bluetooth. The DisplayPort and HDMI 1.4B connections are towards the center of the I/O, surrounded by six USB ports. Those USB ports are mostly USB 3.2 generation 2, but there's also a USB 3.2 Type-C connection.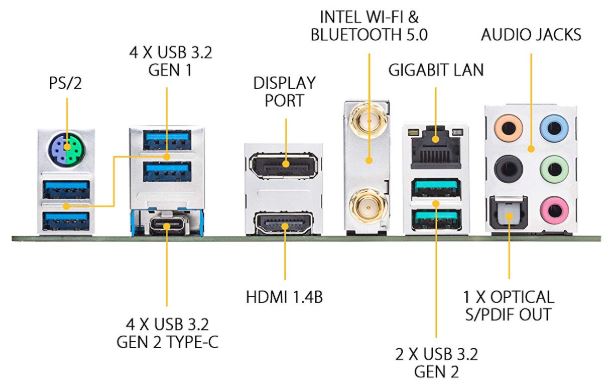 Looking to internal connections, this board starts to resemble the Crosshair VIII Hero once again. You've got a dual PCIe 4.0 configuration, and just as many M.2 ports. Each are given a heatsink and a reinforced design, but otherwise aren't especially noteworthy.
Picking the Best X570 Motherboard
The GIGABYTE X570 AORUS Ultra is clearly a high-end board. It's got Wi-Fi 6, an audio amp that's more than respectable, and a thermal design that is anticipating gaming. It doesn't go over the top with USB connections, nor with its display port options. Because again, this thing is expected to be used for gaming. For someone who doesn't need to go top-shelf, this is probably your best bet.
The ASUS ROG Crosshair VIII Hero X570 is very similar to the AORUS X570. One key difference is you have far, far more USB 3.2 ports for high bandwidth connections. They've also made other slight ease of use improvements, like the BIOS Flashback button, and small quality improvements, like the gold plated audio jacks. So this board is going to make sense for someone who's running a tower with tons of extra peripheral connections.
The ASUS AM4 TUF Gaming X570-Plus is a strange board. What helps make this one distinct is not only the super-powered Wi-Fi chipset, but also the included Wi-Fi antenna. It's quite similar to the Crosshair VIII Hero, except they've really made something extra special with the added range behind your wireless connectivity. For someone who anticipates running their wireless through their PC, the TUF Gaming X570-Plus can make sense.