For big, nasty messes, there's no replacement for a powerful vacuum, like a shop vac. But for everyday messes and maintenance, do you really want another bulky appliance? Standard home vacuums used to fill that niche. But they tend to take up a lot of space. Not too long ago, though, they were your best choice. Sure, you could buy a small dust buster, but they weren't suited for large areas. And cordless vacuums were woefully under-powered.
But nowadays, cordless vacuums are coming into their own. They take up less space than standard upright vacuums, and offer comparable performance. They also tend to be more reasonably priced. Today, we're reviewing the Levoit LVAC-120 Cordless Stick Vacuum Cleaner. It packs upright performance into a compact package. But what else does it offer? We're about to take a deep dive, and tell you everything we've learned about this nifty new machine.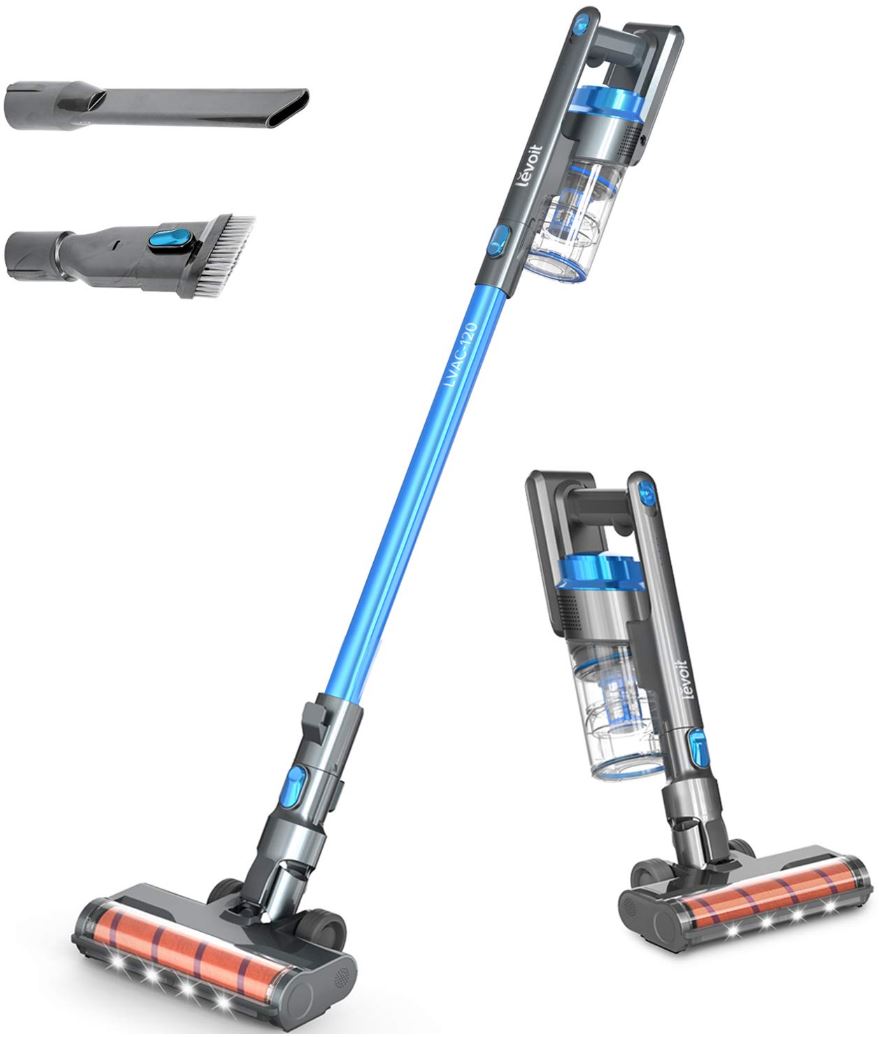 Physical Design
The first thing you'll notice about the LVAC-120 is just how compact it is. When assembled with the standard carpet attachment, it's small enough to hang on your wall. The overall dimensions are 30.3 inches in length, 10.4 inches in width, and 5.3 inches in depth. This depth includes the clear dust collector, which makes it easy to see when it's about to get full. The vacuum is very lightweight, at only 3 pounds, so it's easy for almost anybody to handle. Even if you want to clean overhead, you can lift it easily. No more worrying about cobwebs in the corner or dirty curtains on high windows. The quality of construction is also very good. Levoit offers a 1-year manufacturer's warranty. By sending in the registration card, you can extend this warranty to a full 2 years.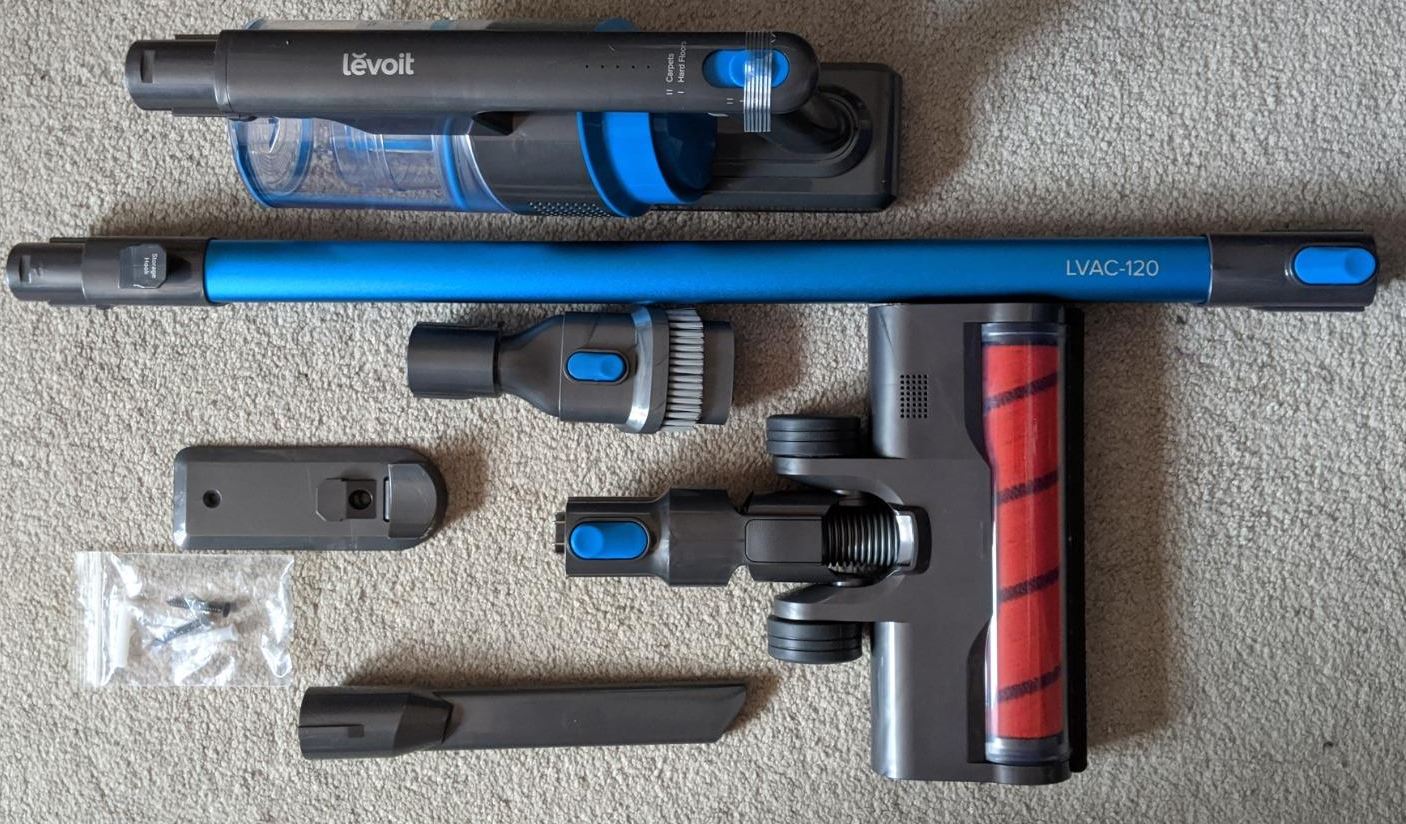 The LVAC-120 has a pistol-style grip, much like you'd expect from most battery-powered power tools. The grip includes the dust collector, which we've already mentioned. Just below the dust collector, you'll find a connection point for attaching your attachments or an extension rod. The rod is included in the 30.3-inch length, since you'll probably want to use it for most purposes.
Storage is easy. The LVAC-120 ships with a wall mount that doubles as a charging station. You'll want to either screw it into a stud, or use drywall anchors to ensure that it remains secure. Needless to say, you'll also want to mount it at least 30 inches off the ground. This will give the vacuum enough room to hang. Also, consider the proximity of the nearest power outlet. While the vacuum itself is wireless, the charging station will need to be plugged in. When it's hanging on the wall, the LVAC-120 will protrude less than 6 inches. You can hang it just about anywhere without it getting in the way. This will save you closet space, as well as preventing pets and small children from knocking your vacuum over.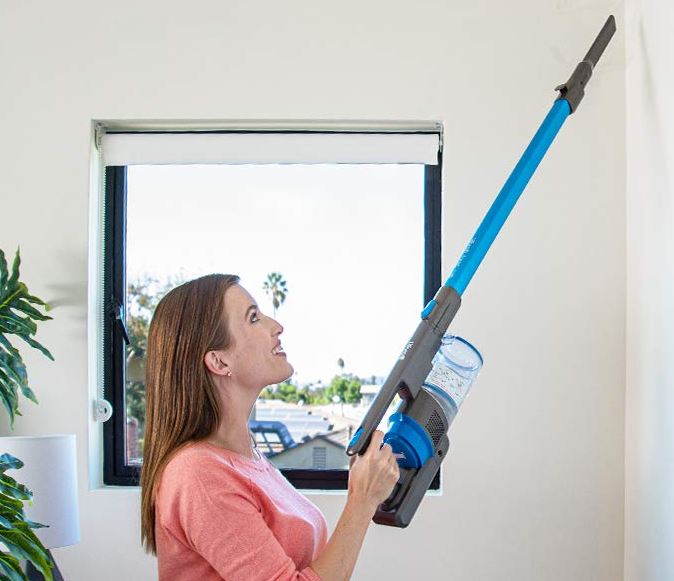 We'll talk about all the attachments in a bit. However, the main roller brush particularly impressed us. It has a row of four LED lights on the front, which makes it easy to see under furniture and shelving. While this is a standard feature on most upright vacuums, it was impressive to see on a stick vacuum. In addition, the mount on the roller brush pivots in any direction. This makes it even easier to vacuum underneath your furniture. The handle is also impressive. With a battery that stores right underneath, it provides for excellent balance. This is because the bulk of the LVAC-120's weight is located directly underneath your hand.
Of course, there are even easier ways to keep your floors neat and tidy. A robotic vacuum is one of these methods. The Amarey A980 is one of these. Not only is it very compact, but it has much smarter pathing than most robotic vacuums.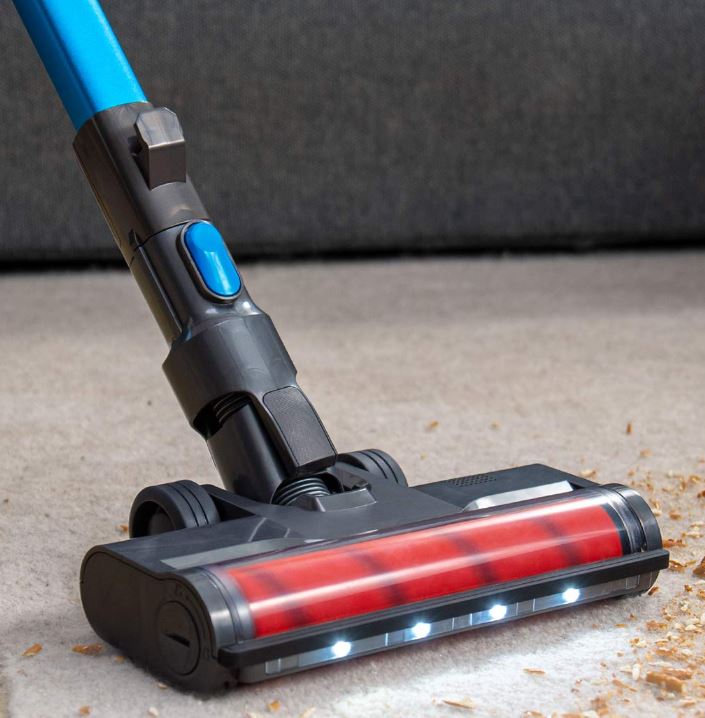 Cleaning Performance
The Levoit LVAC-120 has a powerful, 120-watt motor, powered by an 18-volt battery. It pulls with 10 kilopascals of force, which is somewhat lighter than the average 14 kilopascal upright vacuum. More importantly, it generates a negative pressure of 1.5 PSI. This is right in line with a standard upright. It will collect far more than dust and pet dander. It will also collect rice, cat litter, and other heavier debris. There are two different suction powers, so you can turn it down for lighter messes to save batteries.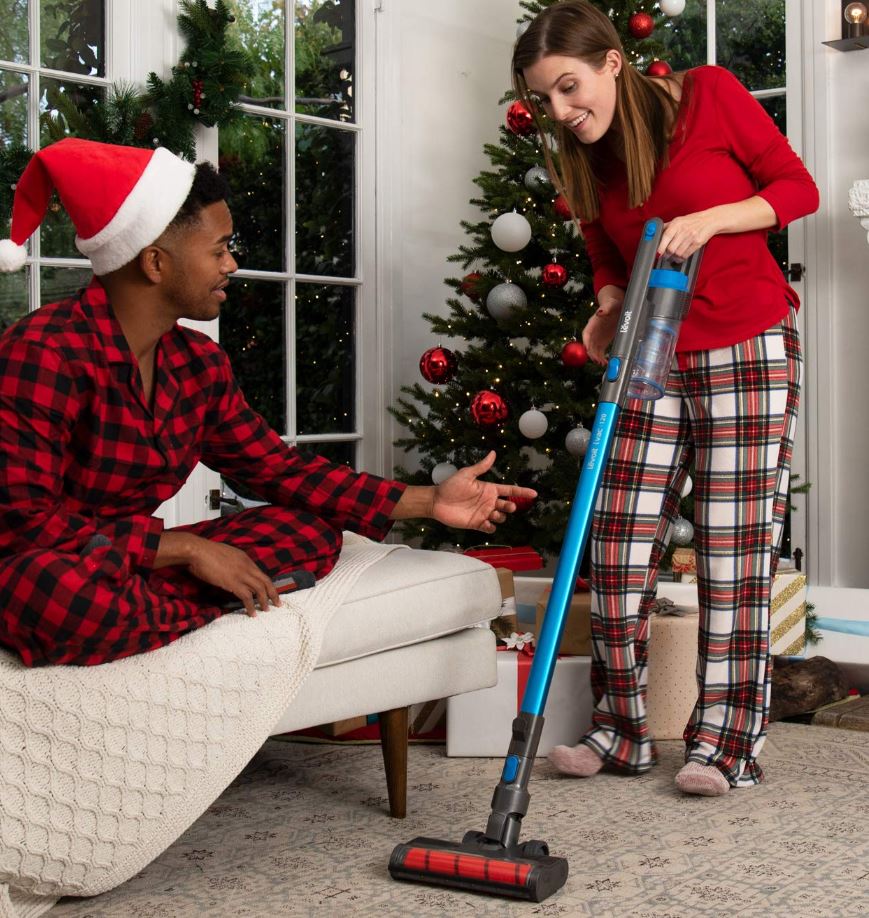 We've already talked about the roller brush, which is impressive enough already. But we didn't mention the serrated edge inside of the unit. This cuts hairs, which are the bane of every roller brush. As a result, you won't have to worry about the brush getting clogged and jammed with hair. In addition to the roller brush, you also get a crevice tool and a brush attachment. The crevice tool is perfect for getting into tight spaces. If you want to quickly clean up between couch cushions, it will get the job done. And it will also clean corners and other hard-to-reach locations where larger attachments won't reach. You'll also receive a brush attachment, which is designed for cleaning delicate surface. It won't scratch delicate marble countertops or electronics. It's also great for curtains, since the brush will keep the curtains from getting sucked into the vacuum.
About the only thing the LVAC-120 won't do is soak up water. It's not a wet-dry vacuum, so it's not ideal for spills. That said, there are other vacuums out there that are up to this unique challenge. Consider the Narwal Self-Cleaning Robot Mop. It's a robotic vacuum that can also function as a mop or wet vacuum.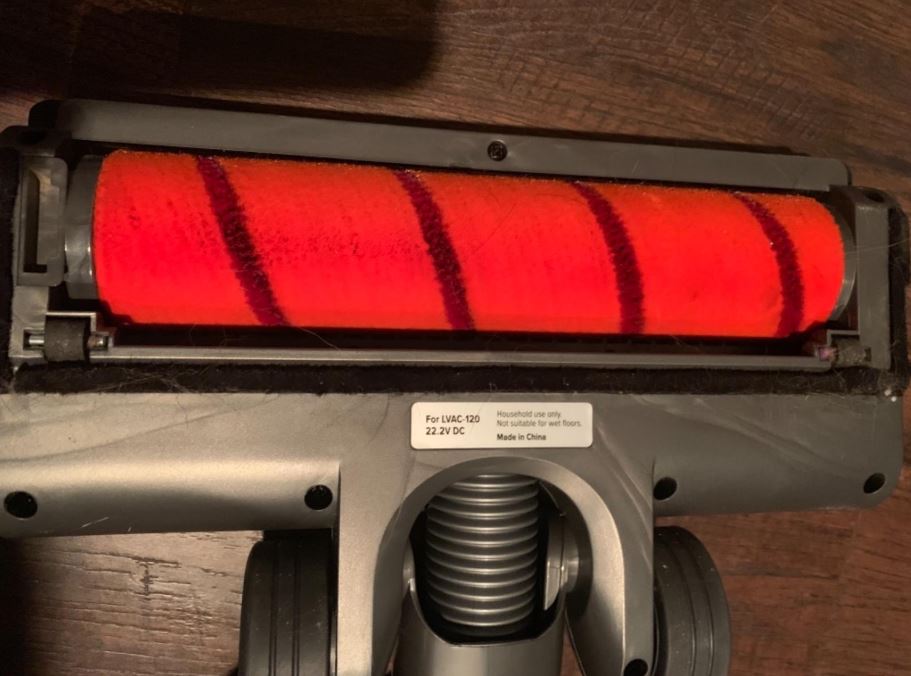 Battery & Filter
When fully charged, the battery on the LVAC-120 is capable of operating for 40 minutes. This is generally enough to clean up any ordinary mess. It's also enough to vacuum a few rooms without the need to recharge your battery. If you stop and think about it, how often have you actually spent more than 40 minutes vacuuming? Probably never. When it comes time to charge the battery, the LVAC-120 will fully charge a dead battery in 5 hours. The charger will automatically shut off when the battery is full, which prevents the risk of over-charging. You can also charge a partially-used battery, further extending battery life during long tasks. Finish one room, then hang up the LVAC-120 while you're prepping or dusting in the next room. This will significantly extend your battery life, allowing you to clean all day if you need to.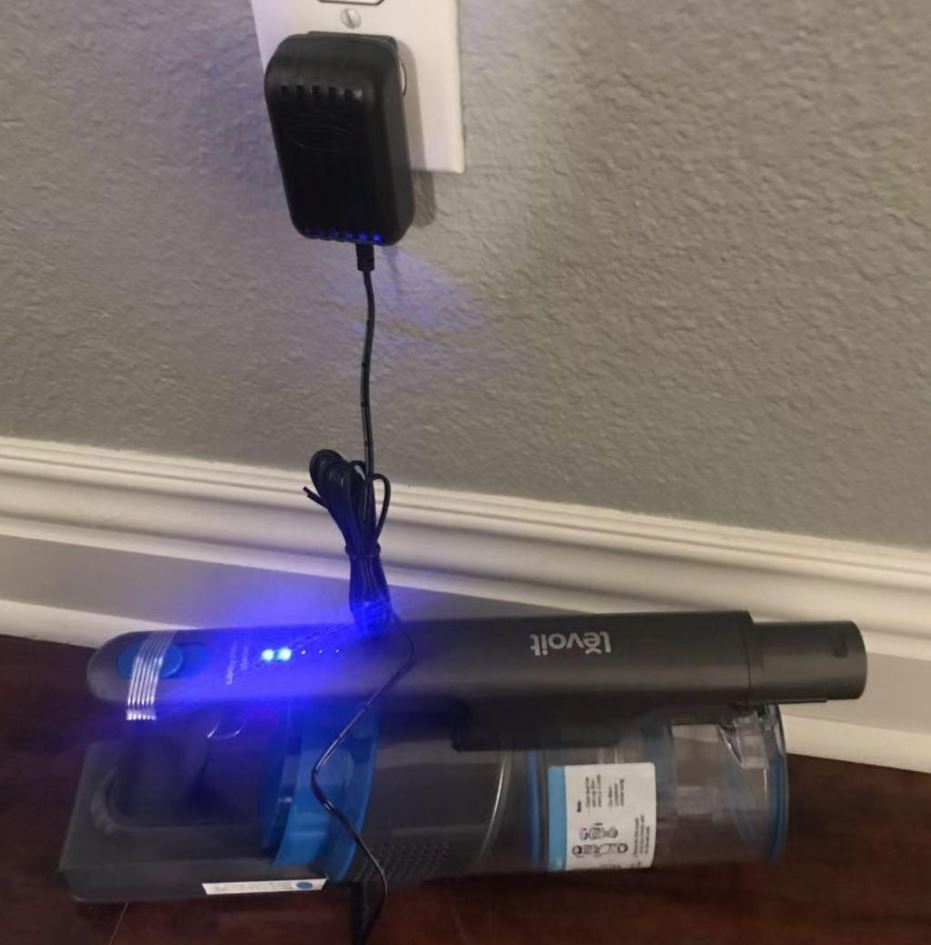 If you need longer battery life, the Acum DC-901 is a solid choice. It has a similar stick-style design to the LVAC-120, and a similar charging base. However, the battery lasts for a full hour. It also comes with more attachments, as well as a powerful filter for removing allergens. That said, it costs almost twice as much, so consider your needs before you make a purchase.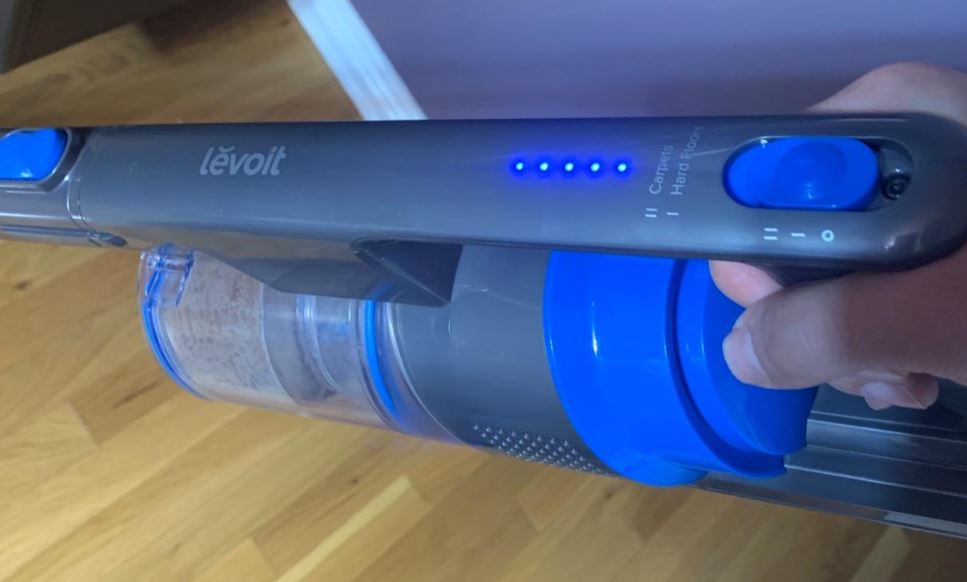 The LVAC-120 itself is no slouch when it comes to filtration. It uses a cyclonic method, which creates a small whirlwind in the dust bin. This ensures that particles will collect on the sides and the bottom, only pulling clean air through the outflow vent. That said, the performance decreases dramatically as the dust bin gets full. The actual filter is just a light mesh cap over the outflow vent. When the cyclonic action stops working, the filter can become quickly clogged. To prevent this, you'll want to empty the dust bin when it's about half full.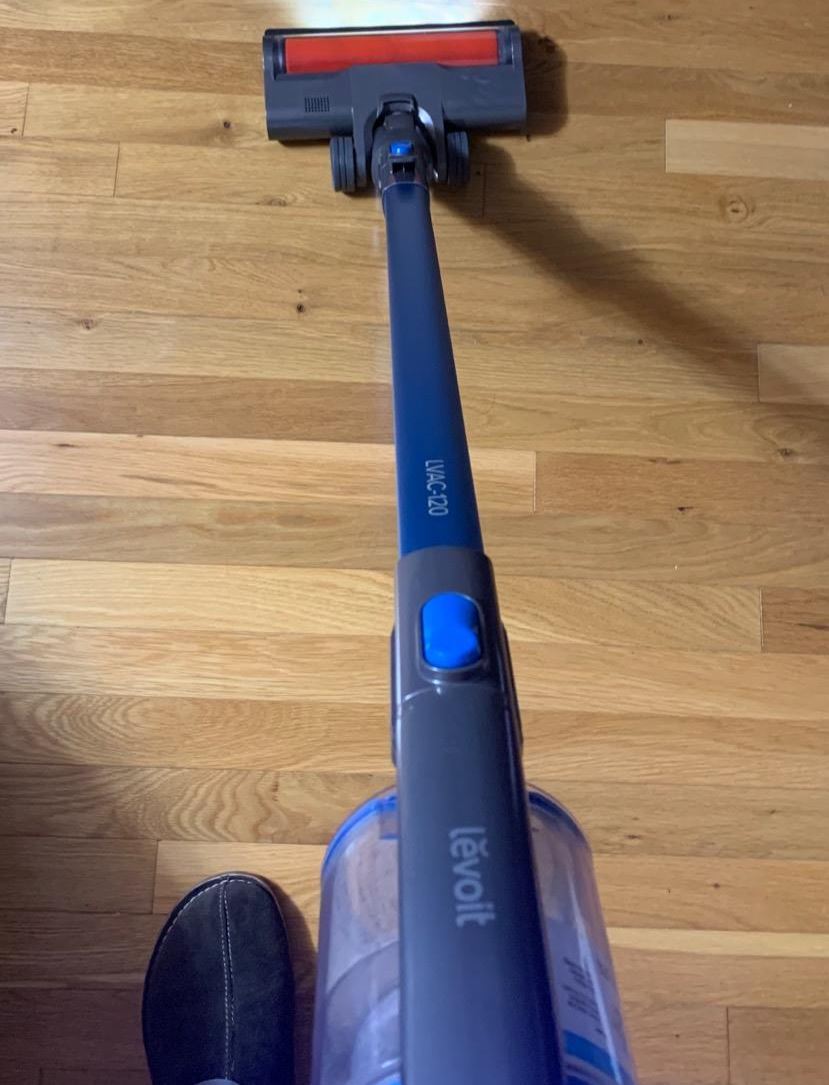 The dust bin itself is easy to clean. Since it's all plastic, you don't have to worry about giving it a thorough rinse. Run it under the faucet, then wipe it dry with a paper towel or rag to keep it sparking clean. To further improve your performance, you can also remove the mesh filter and wash it. Just make sure to run the water through it from the inside. This will cause dust and dirt to run out easily down your drain.
Final Verdict
So, how well does the LVAC-120 perform? Considering the size and power constraints, it performs remarkably well. In fact, it's nearly indistinguishable from a standard upright or canister vacuum. If you want noticeably better performance, you'll need a shop vac.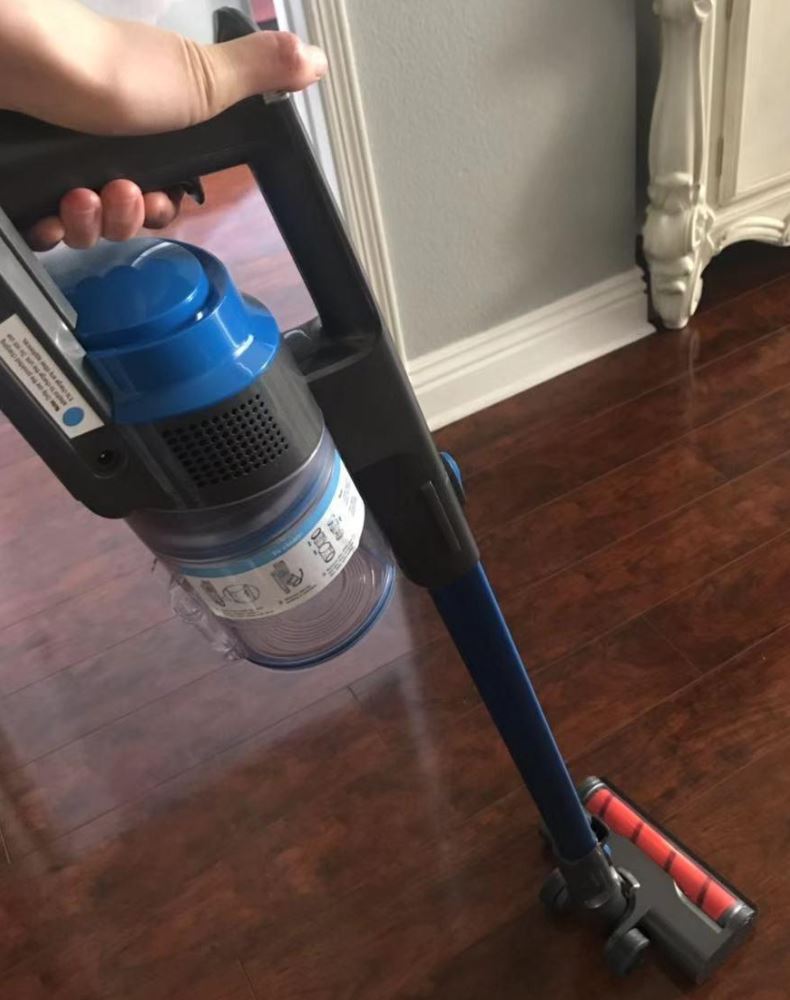 The overall design is excellent, especially if you're looking for something lightweight. Heavier vacuums can be hard to move up and down stairs, or to get into awkward spaces. The LVAC-120, on the other hand, weighs only 3 pounds, so it's easy to maneuver. If you suffer from arthritis, you won't have to worry about holding it securely and lifting it over your head. This makes it ideal for cleaning hard-to-reach places.
The roller attachment is particularly well designed. The serrated attachment makes quick work of hairs, which keeps it from clogging. And the LED lights make it easy to clean in dark spaces. There's just about nowhere this vacuum won't go. Throw in the other two high-quality attachments, and the LVAC-120 is one of the best on the market.
Meet Derek, "TechGuru," a 34-year-old technology enthusiast with a deep passion for tech innovations. With extensive experience, he specializes in gaming hardware and software, and has expertise in gadgets, custom PCs, and audio.
Besides writing about tech and reviewing new products, Derek enjoys traveling, hiking, and photography. Committed to keeping up with the latest industry trends, he aims to guide readers in making informed tech decisions.