When you want the most immersive sound possible, a pair of earbuds isn't going to cut the mustard. There are just so many limitations on the design, and small drivers can only put out so much sound. For more immersion and better bass, you need a set of proper, over-the-ear headphones. Today, we'll be looking at two of Anker's top offerings, the Life Q10 and Life Q20. So, what separates the Q20 from its little brother? And how do both of them compare to the competition? We're about to explain what both of these headphones bring to the table.
Anker Soundcore Life Q10
Anker Soundcore Life Q10 headphones have a flexible, ergonomic headband that's padded on the inside. It's designed not to dig into your head or create any pressure points. The overall weight is 9.1 ounces, which is about standard for a set of headphones. It's enough that you'll know you're wearing them, without being uncomfortably heavy. The headband is also collapsible, which makes it portable and easy to store. The hinges and extension straps are metal, which ensures plenty of strength. These headphones won't break the third, tenth, or hundredth time you collapse them.
Note: At no extra cost to you, we may earn a commission for purchases using our links. Learn more.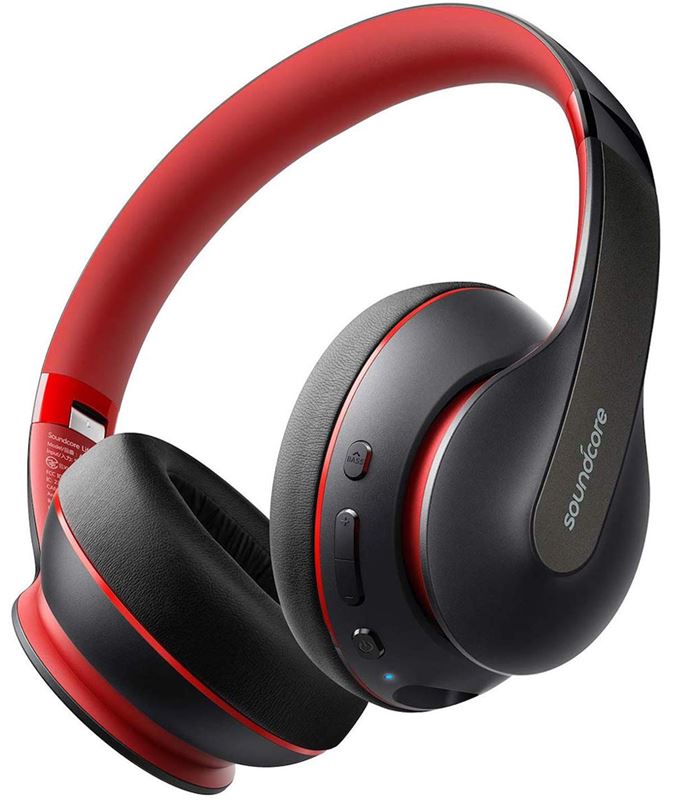 The Q10's ear cups are made of memory form, which conforms comfortably to the sides of your face. There are several controls, all of which are located on the right ear cup. There, you'll find volume and power buttons, along with another button that activates the Q10's BASSUP feature. We'll talk more about BASSUP in a second. There's also a built-in USB Type-C charging port, for topping up your battery. Inside the box, you'll also find a USB Type-C charging cable, as well as a 3.5mm aux cable. In addition, you receive Anker's 18-month manufacturer's warranty. If you have any unexpected problems, you'll be well protected.
For a more compact design, consider a pair of hybrid headphones. For example, the Rock Space B2 Fancy. They don't offer the immersion of true over-the-ear headphones, but the sound quality and battery life are excellent.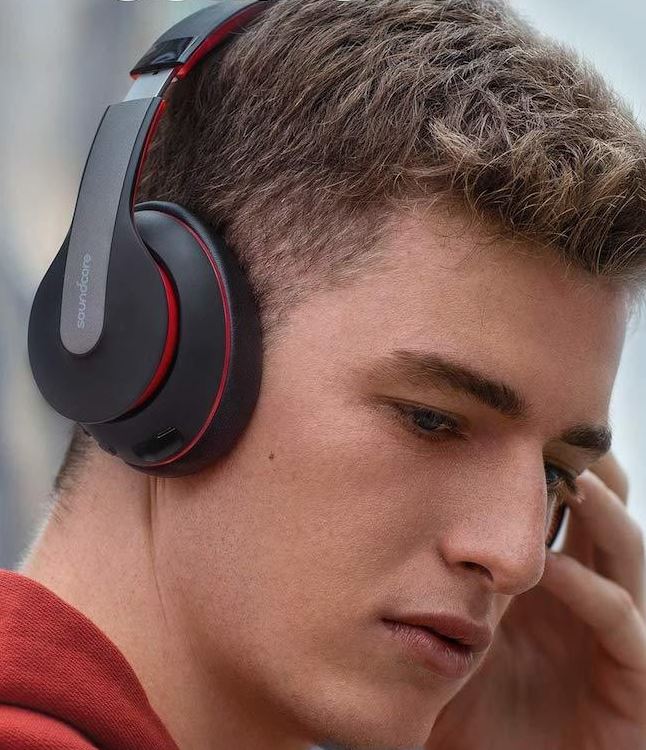 Battery and Connectivity
When fully charged, the Life Q10 has enough battery life for 60 hours of playtime. That's enough for a month's worth of workouts, or a week's worth of workdays. And the battery will fully recharge in as little as 2 hours. There's no excuse to run out of juice with these headphones. But if you happen to get caught flat-footed, the Q10 also has a quick charge option. Plug it in for 5 minutes, and you'll have 5 hours of playtime. And if you need any more playtime, you can use the 3.5mm cord indefinitely. This obviously isn't ideal for physical activity, but it's just fine for travelling or relaxing.
The Q10 uses the Bluetooth 5.0 protocol. This ensures a secure connection with minimal latency. These headphones are a great choice for gaming or watching movies. They also have an exceptionally powerful Bluetooth card. While most Bluetooth 5.0 devices have a range of 33 feet, the Q10 has a range of 50 feet. This gives you the freedom to move around your house or yard without losing your connection.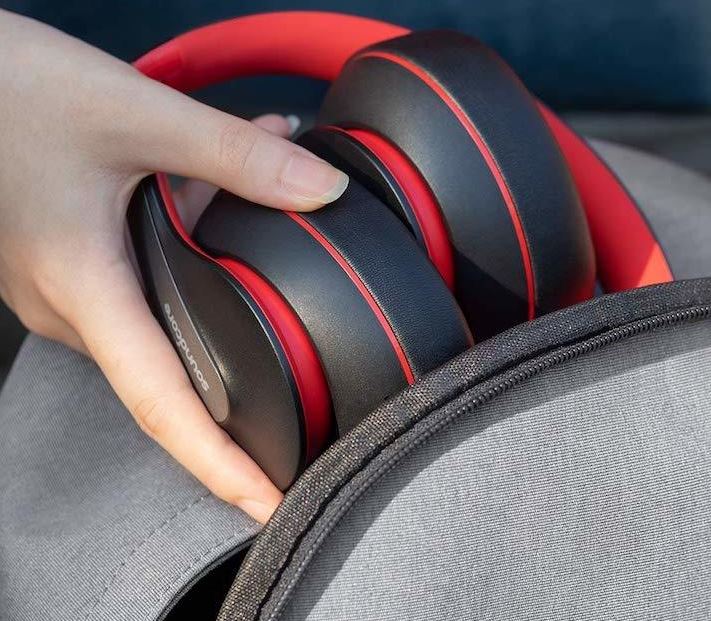 Sound Quality
The Q10 features a pair of 40mm drivers. These are fairly large, enough to provide full-spectrum sound with no loss of quality. Whether you're looking for highs, mids, or bass, you'll hear plenty of separation. There's no crowding between the frequencies, no muddiness, and no rattle. The Q10 will faithfully reproduce all genres of music, from classical to hip-hop to heavy metal. And if you want to pump up the bass, all you have to do is press the BASSUP button. This will provide punchy, driving bass on almost any genre, although it's obviously ideal for dance music. Keep in mind, though, that it will also lower your battery life.
The Q10 can also be used as a hands-free headset. There's a built-in microphone, which uses Uplink noise reduction technology. This helps filter out background noise, so the person on the other end can hear you clearly. The Q10 will automatically pause your music when you make or receive a call. When the call is ended, it will automatically resume playing. This helpful feature reduces the amount of button pressing you'll need to do, for a truly hands-free experience. Be aware, though, that the Q10 does not support hands-free calling via the aux cable. You'll need a Bluetooth connection if you want to make phone calls.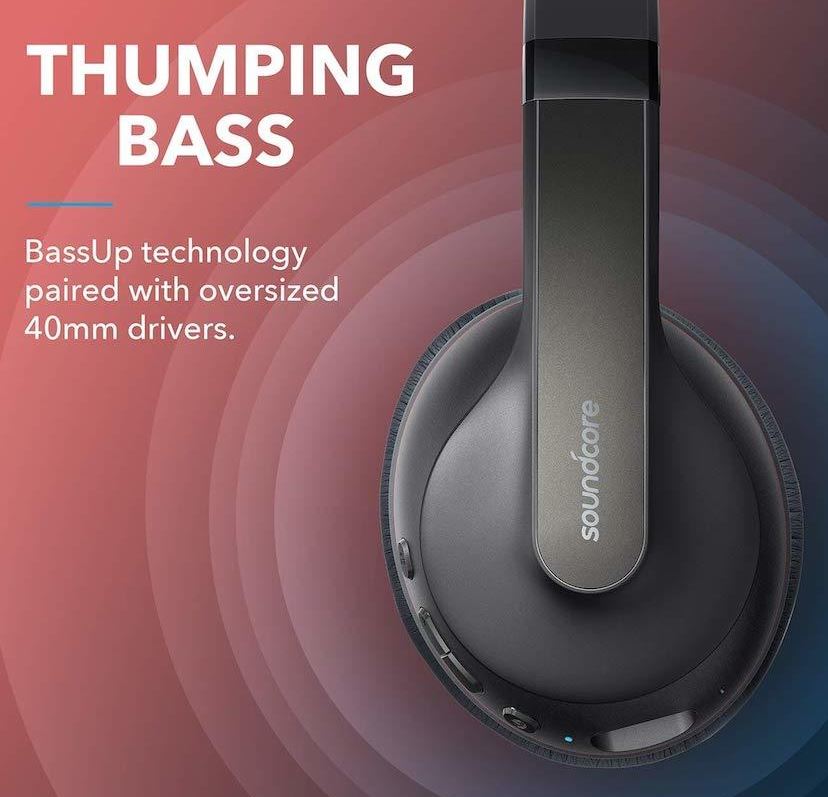 If you like the Q10's portability but want even better sound, why not consider an upgrade? The Mpow H19 offers a similar, collapsible design with active noise cancelling.
Anker Soundcore Life Q20
The Anker Soundcore Life Q20 has the same collapsible design as the Q10. But the first thing you'll notice is how much more attractive it is to look at. While the Q10 has bright red padding, the Q20 is molded from black or silver plastic. If you prefer a padded headband, this is a bit of a downgrade. However, the Q20 is equally flexible and considerably more sturdy. All the joints and hinges, as well as the extension straps, are made of metal. To put it mildly, they're built like a brick. At 9.3 ounces, they're only slightly heavier than the Q10, so they're still comfortable to wear and carry.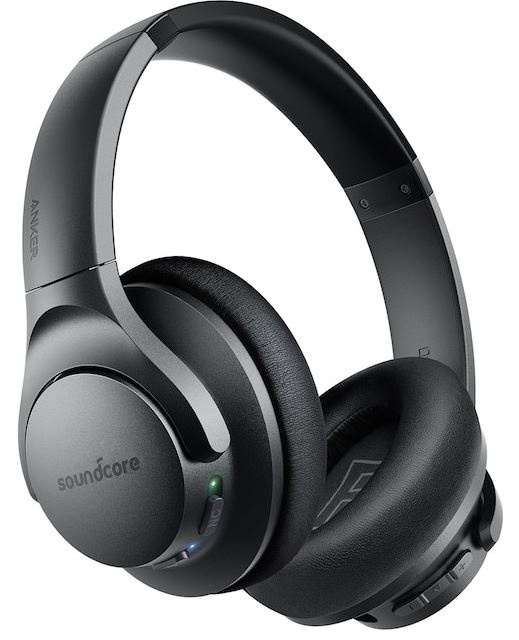 The Q20's ear cups are made from memory foam, which conforms to your face. Combined with rotating ear cup joints, this makes the Q20 ideal for any head shape or size. On the right ear cup, you'll find a pair of buttons for changing the volume and skipping tracks. There's also a play/pause button, which doubles as a answer/end call button for hands-free calling. The power button and noise cancelling controls are located on the left ear cup. This keeps the controls from getting crowded together on a single ear cup. On the other hand, it also means you'll need both hands to access all the Q20's functions.
In addition to the Q20, you'll also receive a small PU leather carrying pouch. This isn't strictly necessary, but it keeps the Q20 from getting scratched while you're travelling. The Q20 also includes a 3.5mm aux cable, and a micro USB charging cable. Like the Q10, the Q20 is also covered by Anker's 18-month manufacturer's warranty. No need to worry about any quirky defects.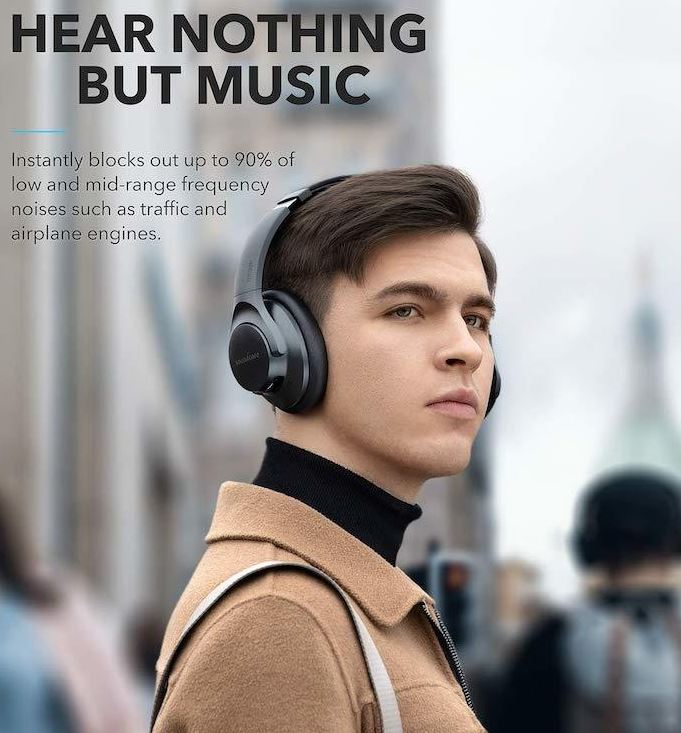 Battery and Connectivity
How much battery life you'll get from the Q20 will depend on what options you're using. With the noise cancelling off, you'll get up to 60 hours. However, turning on the noise cancelling will cut the Q20's battery life to about 40 hours. These are manufacturer ratings. As always, your mileage may vary. But running out of battery shouldn't be a significant concern regardless. And if you happen to find that you've run out of juice, there's a quick charge option. 5 minutes on the micro-USB charger will get you about 4 hours of listening time. In total, charging from a dead battery takes about 2 hours.
Like its little brother, the Q20 uses the Bluetooth 5.0 protocol, and includes a 50-foot range booster. This ensures a seamless, low-lag connection, making the Q20 an ideal choice for gamers or movie lovers. Should you desire, you can also use a 3.5mm aux cable. This will provide a similar low-lag experience, and you won't need to worry about draining your battery.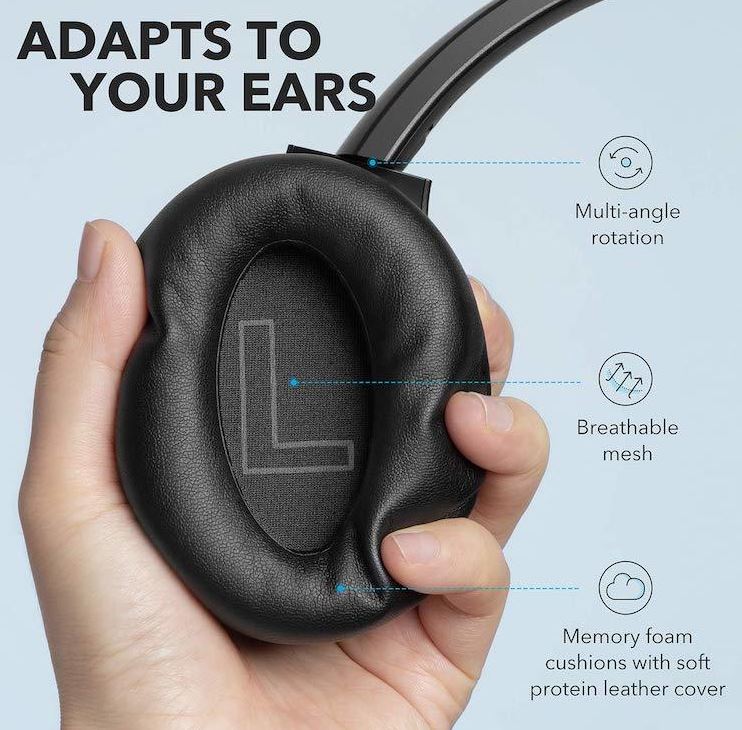 Sound Quality
The Soundcore Life Q20 uses custom oversized 40mm dynamic drivers. These are similar to the drivers used in the Q10, and provide similar sound quality. This is a good thing, since the Q10 is already pretty good. Whether you're a fan of country, hip-hop, or electronica, you'll be pleased with the overall performance. The Q20 also uses similar BASSUP technology to the Q10. However, the controls aren't quite as simple. Rather than a dedicated BASSUP button, you simply double-press the play button. This will instantly activate a powerful, intense bass boost, bringing new life to bass-heavy genres. Double-pressing the play button again will turn BASSUP mode off.
The Q20's primary upgrade over the Q10 is the active noise cancelling technology. The noise cancelling is optional. You can turn it off when you're in a quiet environment and want to save batteries. When you're in a loud environment like a commuter train, you can have privacy at the push of a button. The Q20 also uses noise cancelling on the built-in microphones. This means you'll have exceptionally clear hands-free calling, both for you and for the person on the other end. And the dual microphones ensure better noise cancelling than a single mic. That said, much like the Q10, the Q20 only supports hands-free calling via Bluetooth. When using the 3.5mm aux cable, there's no way to make phone calls.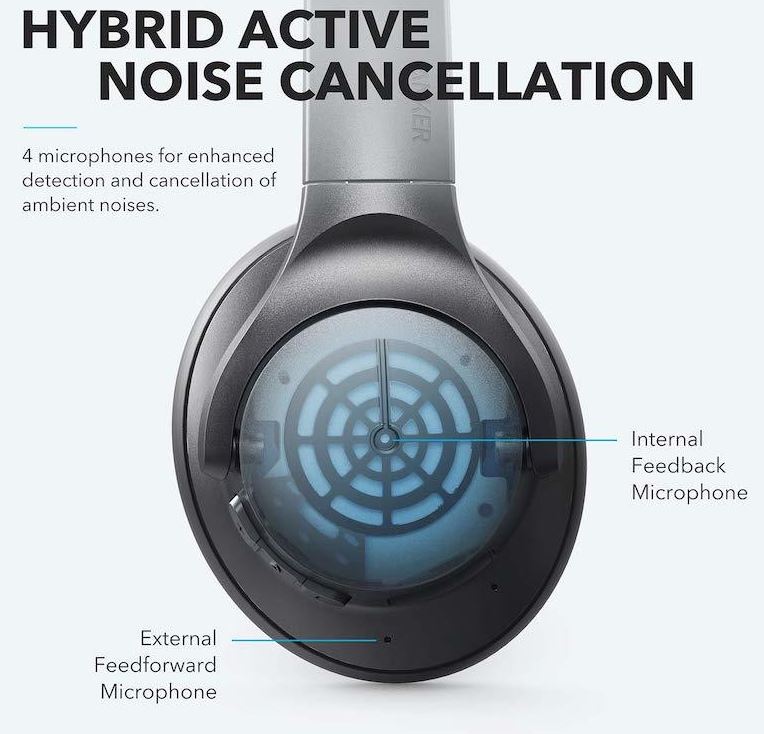 To get better sound quality than the Q20, you'll need a pair of studio headphones. If that's what you need, consider the V-MODA M-200. They provide the best audio you can get from a pair of headphones, but they're strictly a wired pair.
Final Verdict
As you can see, the Anker Soundcore Life Q10 and Q20 are similar in a lot of ways. This is to be expected, since they're part of the same product line. To begin with, they both offer stellar sound quality. If you want to get full-spectrum sound with punchy bass, either of these headphones is a good choice. They both also have an ergonomic design. The flexible headbands are very sturdy, and the memory foam ear cups provide a tight, sweat-free seal. When it comes to comfort, the choice is a bit of a toss-up. The Q10 features a padded head strap. However, the Q20 has rotating ear cups for a better fit. Which one is more important is a matter of preference. Additionally, the Q10's utilize a modern USB-C connection, whereas the Q20's rely on the outdated micro-USB connection.
That said, the Q20 has a few significant upgrades. To begin with, the construction is a bit more durable. We particularly liked the metal reinforcement on all joints, not just on the hinges. We also appreciated the active noise cancelling. In a quiet environment, it doesn't make any difference. But if you spend a lot of time on planes or trains, you'll appreciate the value of silence.
Please consider sharing:
Note: At no extra cost to you, we may earn a commission for purchases using our links. Learn more.