If you're looking for quality audio accessories, it might be time to consider a pair of wireless earbuds. The technology has come a long way in recent years, and there are many worthwhile options. Today, we'll be reviewing two of those options: the Haylou GT1 and the AIKELA True Wireless Earbuds. We'll talk about each of their features, and then see how they stack up. Let's begin!
Haylou GT1
The Haylou GT1 earbuds have a compact design, with no hanging extensions or ear wings. They're constructed from black ABS plastic, with soft-touch buttons on the outside. Because the surface is so small, each earbud only has a single, multi-function button. All they do is play/pause and skip tracks, or answer and end phone calls when needed. The buttons have a blue-green LED that's shaped like a fingerprint, and illuminates when you press them. Because the buttons are soft-touch, you won't feel any discomfort when you press them. The fit is also very secure. The GT1 ships with 3 extra sets of ear tips in 3 different sizes. Experiment a little, and you're sure to find a fit that's just right for you.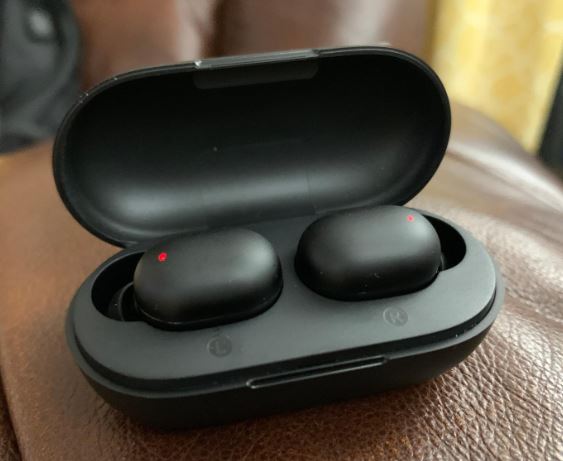 The charging case is very small, measuring only 3.5 inches wide, 2.3 inches deep, and 1.5 inches thick. This makes it small enough to easily carry around in your pocket, or slip into a backpack or purse. Even with the earbuds inserted, the total weight is only 3.2 ounces. This makes it exceptionally lightweight and portable. The case has a clamshell-style design with a magnetic lid. This ensures that it will stay shut if it shifts around in your bag.
Both the earbuds and the charging case are IPX5-rated for water resistance. This means they're not rated for immersion, so you'll want to stay out of the shower. However, it's a solid sweat-proof rating, so the GT1 earbuds are more than good enough for long workouts. An iPX5 rating is also enough to withstand driving rain. If you get caught in a storm while you're jogging, you won't have any worries about your earbuds getting ruined.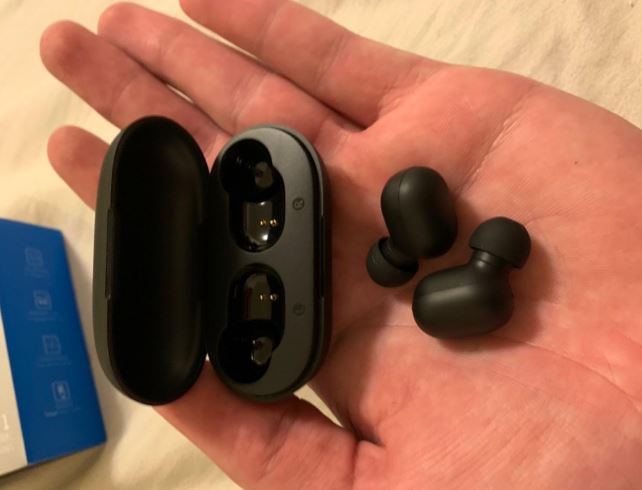 If you're looking for the most secure fit possible, you'll want to invest in earbuds with wings. One of these is the Soundpeats TrueWings, which we recently reviewed. They have rubber wings that extend over your ears, ensuring a secure, comfortable fit for most people.
Battery and Connectivity
The G1 earbuds offer about 4 hours of listening time on a single charge. If you're using your earbuds for two-way phone conversations, this rating drops to 3.5 hours. Either way, the usual caveat applies: these are manufacturer ratings, and they're based on medium volume. But even if you listen at full volume 3 ½ hours of audio and 3 hours of talk time isn't an unreasonable expectation. In addition, the charging case holds enough charge for another 8 hours of listening time. This is less than most wireless earbuds on the market. However, it's a side effect of the G1 charging case's small size and light weight. There's just not that much room inside for a battery. And all that being said, a total of 12 hours is more than enough for most people to find a charger.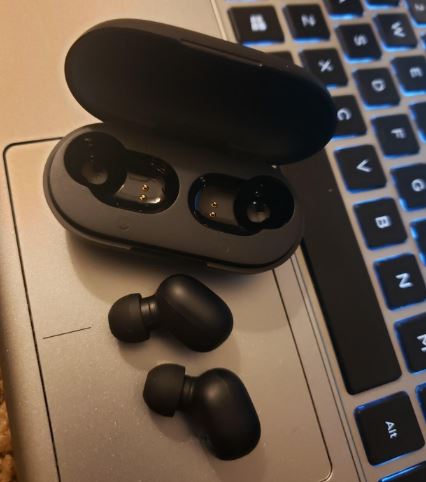 The G1 uses Bluetooth's latest 5.0 protocol, which allows for lower latency and higher bitrates. It has a range of 33 feet, which should be enough for most purposes. By default, the earbuds will pair in stereo. However, if you remove only a single earbud from the case, it can be synced individually. Obviously, this isn't ideal for music, but it's a great way to double your battery life for hands-free calling. Keep in mind that you'll need to re-sync the pair when you want to go back to stereo. You'll have to clear the G1 from your phone's memory, then re-sync both earbuds together.
For even better battery life, the Anker Soundcore Life P2 is a solid choice. Not only are they compact, but they offer an impressive 30-40 hours of total battery life.
Sound Quality
The Haylou GT1 uses a 7.2mm dynamic driver with a high-polymer diaphragm. This is a mid-sized driver with middle-of-the-road quality. To begin with, the highs are clear and crisp. Strings and cymbals maintain their shimmer, without any interference from the other frequencies. Middle frequencies are similarly interference-free. This is especially important for vocal-heavy genres like rap and hip-hop, since you'll actually be able to understand the lyrics. The bass, on the other hand, leaves a bit to be desired. It's clear, but it isn't powerful. This is an unfortunate side-effect of the GT1's mid-sized driver. There's just not enough surface area to push a lot of air. That said, the GT1 earbuds do support Advanced Audio Coding (AAC), which supports high-bitrate audio. As long as you're not picky about loud bass, you'll thoroughly enjoy your listening experience.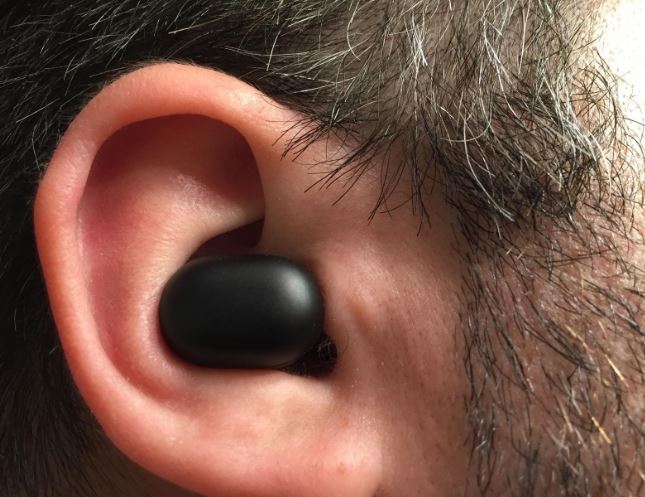 For phone calls, the GT1 does not support single-earbud use. You'll need to have both earbuds paired, even if one is in your pocket. That said, they do use DSP noise-cancelling technology, which makes your voice clearer to the person on the other end. And the soft-touch buttons can be used to activate your voice assistant. If you want truly hands-free calling, the GT1 will more than meet your needs.
AIKELA True Wireless Earbuds
The AIKELA True Wireless Earbuds have a similar, compact design to the GT1. They're a little bit thicker, but the overall profile is pretty close. Unlike the GT1, the buttons are responsive, and click slightly when you press them. On the one hand, this can be slightly uncomfortable. On the other hand, it ensures you'll always know when you've pressed a button. AIKELA buds come with 3 different sizes of ear tip. Because the noise cancelling requires a secure fit, make sure to try different tips if you're not 100 percent comfortable.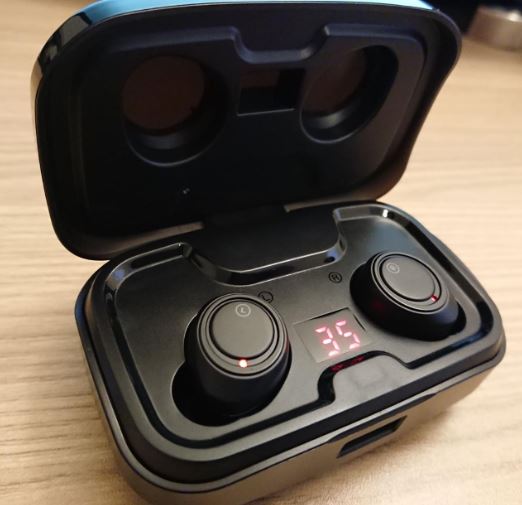 The charging case is relatively small, at 3.35 x 2.17 x 1.38 inches. However, it weighs 6.4 ounces. This is pretty heavy for the size, but it's necessary due to the large battery. We'll talk more about that in a minute. It has a spring-loaded lid, so it stays shut when you need it to. There's also an LED charge meter in the center, which displays the battery charge as a percentage. When fully charged, it reads "100", so you'll know you're all juiced up and ready to go. The charging wells aren't magnetic, but they're easy to figure out. Furthermore, small LED indicators on the earbuds light up when the buds are charging. This makes it easy to ensure that your earbuds are properly seated.
The AIKELA earbuds themselves are IPX7-rated for water resistance. This means they're far more than sweat and rain-proof. In fact, they can withstand immersion in 3 feet of water for up to half an hour. We still wouldn't go swimming with them. But they're a great choice if you want to wear your earbuds in the shower.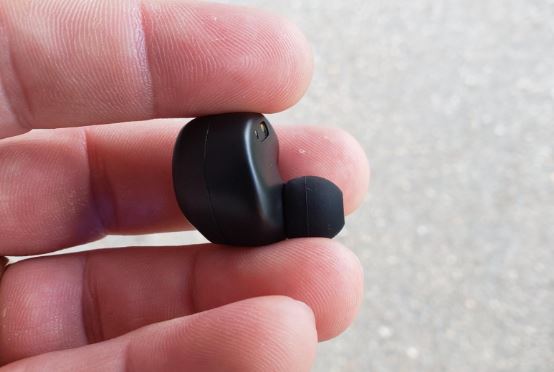 Battery and Connectivity
AIKELA True Wireless Earbuds last about 3 to 4 hours on a single charge. This is a bit underwhelming, but it's well within the "normal" range for wireless earbuds. But where these earbuds really shine is when it comes to the charging case. It has a large, 3,500mAh battery that offers an incredible 140 hours of playtime. That's good enough to take your AIKELA earbuds and case on vacation, without worrying about a charging cable.
In addition, you can also use the AIKELA's charging case as an emergency power bank. 3,500mAh is enough for about 2/3 of a charge on an iPhone 10, or slightly less on a Samsung Galaxy. In other words, it's not going to replace a larger power bank for long trips. But it's a great way to extend your phone's battery life if you're caught in a pickle.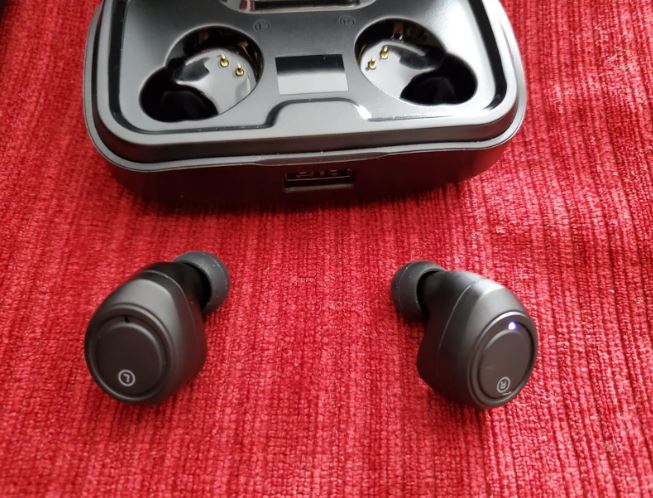 AIKELA earbuds use the Bluetooth 5.0 protocol, much like the GT1. The connection is low-latency and secure, with a range of about 33 feet. However, if you're using your earbuds individually for hands-free calling, you may need to re-pair them. Simply clear them from your phone's memory, insert them both in the case, then remove them to re-sync.
Sound Quality
The AIKELA earbuds have a compact driver that's about what you would expect for its size. It offers crystal-clear mids and highs, with plenty of separation. This ensures that instruments and vocals will all have their own space, so you won't experience any muddiness. As with most small earbuds, the bass presence is only so-so. But the bass you do hear will be clean, without any buzz or muddiness. And background noise is a non-issue. AIKELA earbuds use active noise cancelling. Provided you've chosen the right ear tips for a good seal, you'll have your own private listening space. This is an unusual feature on wireless earbuds, and it makes the AIKELA buds an ideal choice for travelers.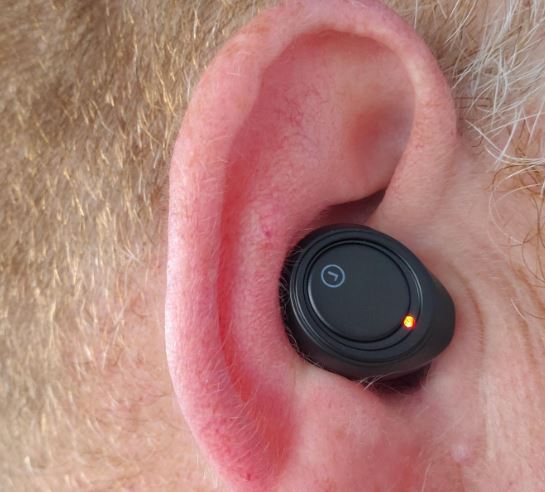 For even better sound quality in a small package, the Soundpeats TruEngine SE is an even better choice. These earbuds are just as compact as the AIKELA or the GT1, but they offer more separation and punch.
AIKELA earbuds are ideal for hands-free calling. Both the left and the right channel have their own individual microphone, and can pair independently. Not only will this double your battery life, but it will improve your spatial awareness. Just be careful about loud spaces. The noise cancelling does not extend to your phone calls, so the person on the other end might hear interference.
Final Verdict
So, which of these earbuds is the best? It depends on what you're trying to do. If you're looking primarily for excellent call quality, the Haylou GT1 is hard to beat. The noise cancelling mics put it over the top, ensuring crystal-clear phone calls. On the other hand, the AIKELA earbuds are better for music. The active noise cancelling provides for minimal distraction while you're focusing on your favorite tunes. In addition, the ability to use the charging case as a power bank is a nice added bonus. Other than that, these earbuds are pretty similar. Think about what you need, and make your decision accordingly.