Along with the newest generation of Ryzen processors, every major motherboard manufacturer has produced their own boards to match. For those not initiated with the naming scheme, each board is differentiated based on its AMD chipset. In this case, they're the X470, X370, B350, or A320. And while all of those chipsets has a lot in common, every resulting board is distinct in its own way.
B350 boards are a mish-mosh of features from inexpensive and expensive motherboards. Some portions of its design are drawn from the minimalist A320 boards. But you also find forward-looking features, like USB-C, M.2 drive space, and additional PCIe lanes. While B350 boards wouldn't be out of place in a workstation, many of these boards are explicitly intended to be used by gamers who use a single GPU.
B350 is Gamer Friendly
One of the key features that makes B350 boards useful for gamers is they allow you to overclock your CPU. When you're trying to fine-tune the performance of your machine and squeeze every last frame you can out of your games, overclocking can be an invaluable asset. If you purchase a CPU that can be overclocked and run it on a board that doesn't allow overclocking, you're essentially paying for hardware that you can't use.
But gamers will want to take note that B350 boards don't allow you to run two GPUs in SLI or Crossfire. That will only be of concern to enthusiasts who are looking to spend thousands, but it's something to keep in mind while you're thinking about how many PCIe lanes you need on your motherboard.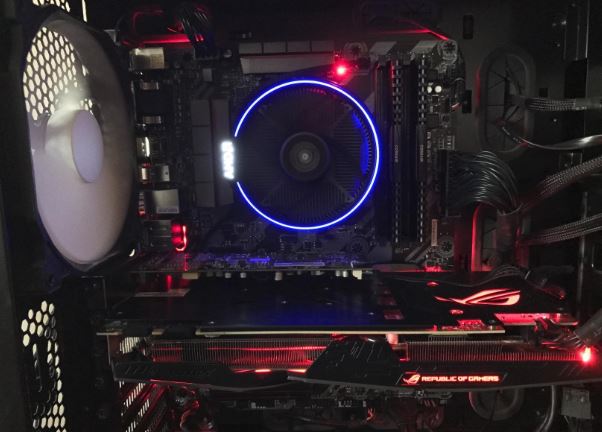 Choosing a B350 Motherboard
All B350 boards share essential compatibility features, like having the type of socket necessary for Ryzen CPUs. But not all B350 boards are the same size. You'll can find full sized ATX boards, tiny micro-ATX boards, and every size between. It almost goes without saying, but the first thing you have to think about is the size of the motherboard and the form factor of your case.
Many B350 boards come with added features that you may or may not care about. Sometimes what is included is less important than what isn't included. You don't want to pay for features you don't need, and you're paying for every chipset that's added to a motherboard.
Imagine you were trying to build a gaming computer. All gaming PCs will use some kind of GPU. Consequently, there's little reason to choose a motherboard that includes a graphics chipset because you're definitely going to have a GPU. Likewise, if you don't have a bunch of Bluetooth peripherals, you probably don't care if your motherboard has a Bluetooth card. Further still, you probably don't want the board to support Bluetooth because it will add to the cost of the board.
In short, your goal should be to find a board that has everything you need, and as little as possible of the things you don't care about. That's true of every aspect of the board, from the number of SATA ports to the number of fan headers. Anywhere you can get around a feature you don't need, you can get a much better deal without costing yourself any system performance.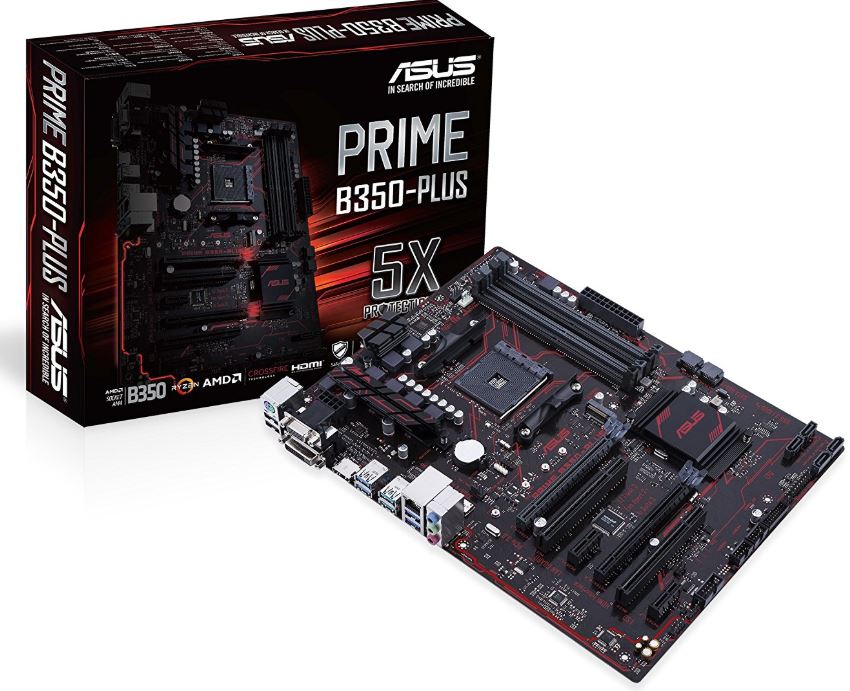 ASUS Prime B350-Plus
ASUS is one of the larger and better trusted brands in the industry, and with good reason. If you know what you're paying for, it's always easy to get a good deal from an ASUS board. Once you know what ASUS has to offer, you know what you can expect from them, year after year. And that kind of consistency is easy to appreciate.
All B350 boards can be overclocked, but ASUS makes it as easy as possible with their Prime B350M-Plus. If you've done overclocking before, then you know it can be a fairly tedious process. Alternatively, you may have never done overclocking before because you've been intimidated by the difficulty. In either case, ASUS one-click overclocking can help solve the problem. How good is automated overclocking? It's not capable of working with the same high level of precision as a human doing the task, but it's a far sight better than no overclocking at all.

Ports and Connections
The B350-Plus supports 4 fan headers, a fairly modest number. You'll find similar quantities for the other essential ports, including six SATA 3 connectors. You'll only find one PCIe 3.0 x16 slot, which is fairly typical of B350 boards due to their 1 GPU limitation. And there is a single PCIe 2.0 x16 slot, providing you just enough room for basic expansion. The B350-Plus also has the essentials, like an HDMI output, a PS/2 port, and support for six USB 3.0 ports. It's also worth noting the B350-Plus has S/PDIF OUT ports for high fidelity audio, and supports 8 audio channels.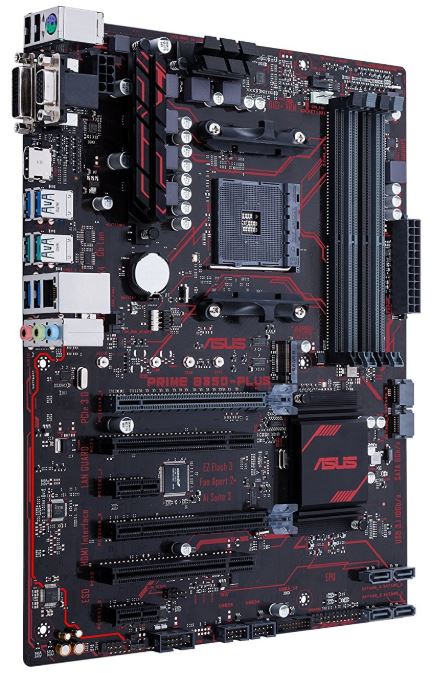 Along the top of the board, you'll notice the B350 Plus also has the usual four RAM slots you'll find on these type of boards. The B350 boards support up to 64GB of RAM. This B350-Plus has base RAM speed start at 2667MHz, but it can be overclocked through the BIOS to 3,200MHz. For people who are looking to run a workstation, the B350-Plus also supports ECC memory.
Other Considerations
The B350-Plus doesn't have a Wi-Fi or Bluetooth chipset, which is great if you plan on running a wired Ethernet connection. It also includes no graphics chipset, which is ideal for gamers who plan on using a GPU anyway. But there are some things you might miss. There's no USB-C port, and no support for RAID 5. There is however a 3-year standard warranty from ASUS.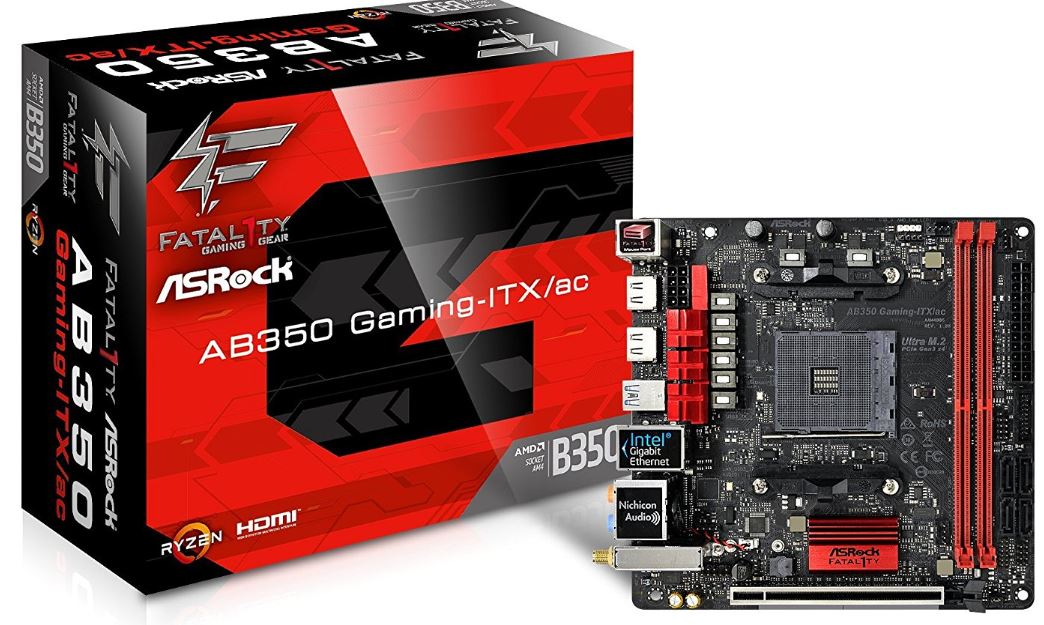 ASRock Fatal1ty AB350 Gaming-ITX/ac
Though it's less of a household name, ASRock is another huge name within the motherboard industry. Their boards could be called somewhat less mainstream, but a favorite amongst many. The AB350 is a Mini-ITX motherboard made for smaller cases. And many of its features are reflective of its small design. But that doesn't mean the Fatal1ty AB350 is a weak board. On the contrary, knowing space is at a premium within small cases, ASRock packed this board with more features than you can shake a stick at.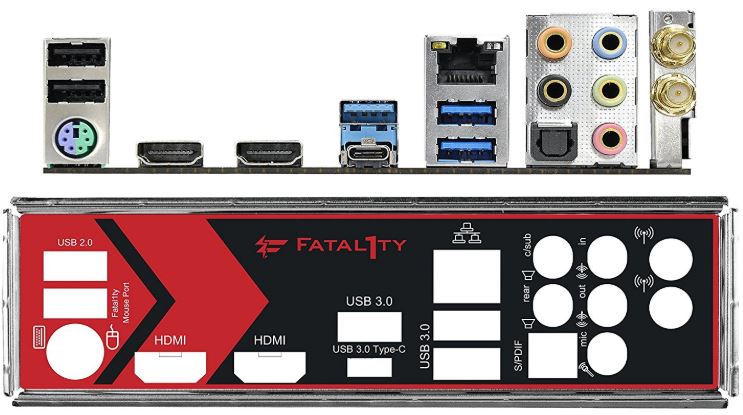 Ports and Connections
One place where the AB350 may be less powerful than its larger counterparts is the RAM department. You'll only find two memory DIMM slots as opposed to the usual four, and a maximum supported memory of 32GB as opposed to 64GB. Considering 8GB is about all your average gamer needs, these limitations do not pose a significant problem.
Base speeds for those RAM modules are 2666MHz, but that can be over overclocked to 3,200MHz in the BIOS. This board also supports ECC memory for workstations. People running a workstation will appreciate the inclusion of a trusted platform module (TPM) connector. TPM is a special chip that stores encryption keys related to hardware authentication. It can protect your system from attacks, and is a useful tool for many types of antivirus software, firewalls, and similar security measures.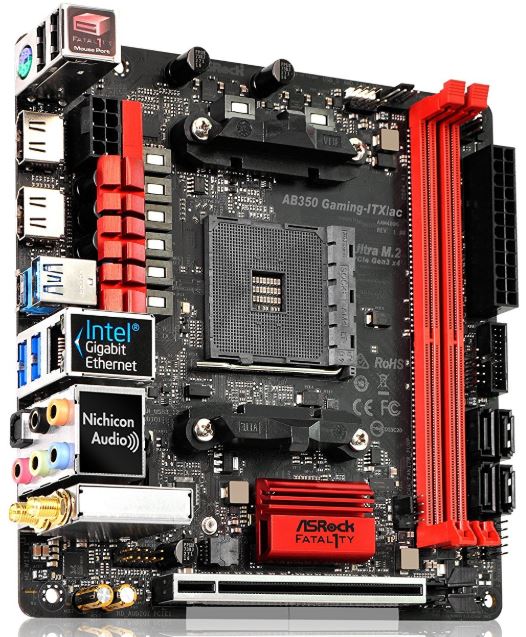 Among the essentials, you'll find five fan headers, two PCIE 3.0 x16 slots, and four PCIE 2.0 x16 slots. That provides ample room for expansion, and more than enough cooling options for any smaller case. Whether you end up adding on a network card, a graphics card, or anything between, you've got plenty of options on the board. There are also six SATA 3 connectors, one M.2 socket, standard HDMI output, and one PS/2 port. You won't find a S/PDIF port, but the included Realtek audio codec supports 7.1 channel high definition sound.
Finally, this board supports six USB 3.0 ports, as well as one USB-C port. Each port supports ASRock's signature USB charging boost, which can help charge your devices faster than an ordinary USB port. With some changes to the settings of your PC, you may even be able to charge from a USB port while your PC is off.
Other Considerations
The ASRock Fatal1ty AB350 surprisingly includes an onboard Radeon chipset for graphics. Even though the branding for this board specifically names gamers as its target audience, the inclusion of the Radeon chipset makes this board an exceptional choice for a small workstation. This board also includes an onboard LAN and Bluetooth chipset from Intel, and ASRock's 3-year warranty.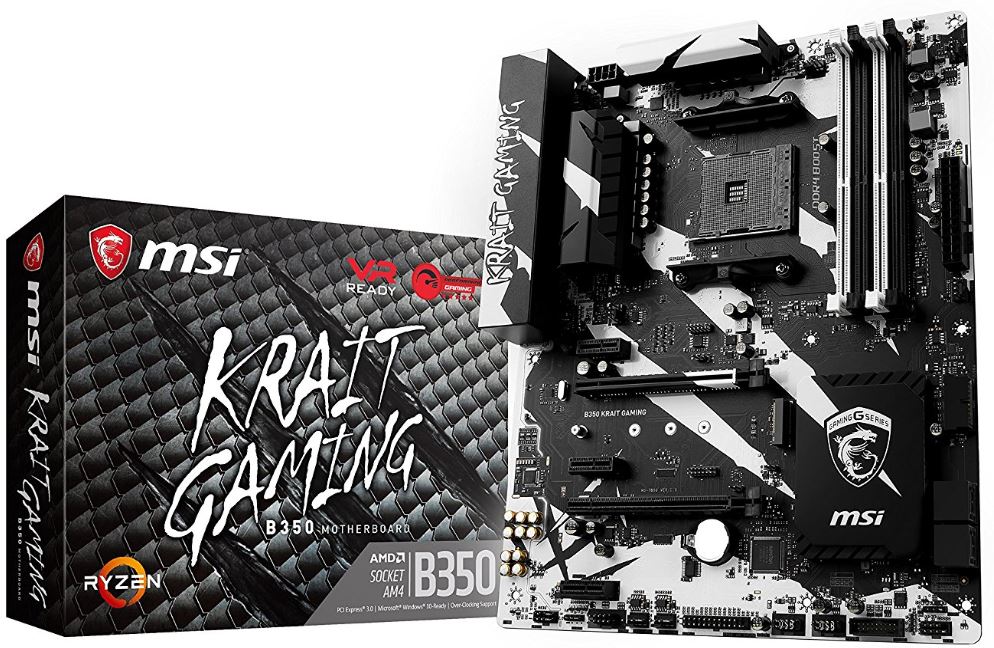 MSI B350 Krait Gaming
MSI is another brand that needs little introduction. And their Krait Gaming B350 says it all in the name, it's a board built with gamers in mind. In addition to having a lot of the usual features you see on these boards, the Krait Gaming B350 as many as six fan headers. It's clearly been built to accommodate the kind of airflow conditions more common in gaming PCs, and design decisions like that are what characterize the entire board.

Ports and Connections
For RAM, you'll find the typical four slots, with a 64GB memory maximum. Supported speeds for DDR4 memory are between 2400MHz to 3200MHz, depending on overclocking you can do in the BIOS. Unlike the other B350 boards on this list, the Krait Gaming board does not support ECC Memory, making it a poor choice for some type of workstations.
Along the board you'll find a single PCIE 3.0 x16 slot, which is intended to be used by your GPU. You'll also find four PCIE 2.0 x 16 slots for the remainder of your expansion cards. Unfortunately, there's only four SATA-3 connectors. That's enough for most consumers, but it does make expansion a little limited. Fortunately, the inclusion of six USB 3.0 ports and one USB-C port mean there's plenty of options for peripherals. There's also the standard PS/2 port, and a TPM chip.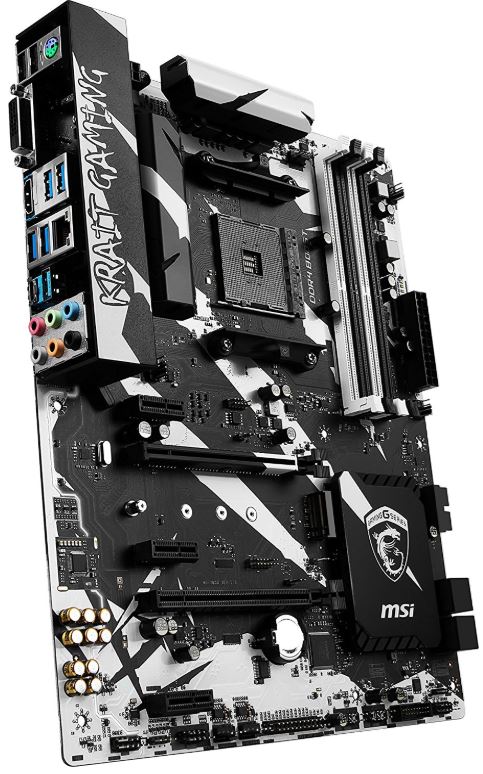 Other Considerations
The MSI B350 Krait Gaming motherboard doesn't include a Wi-Fi or Bluetooth chipset. It doesn't have integrated graphics, and it has no S/PDIF ports for high definition audio. It's especially worth noting that this board does not have a VGA connector, and DVI is the only on-board video connection. It also includes MSI's standard three-year warranty.
Choosing Between Three Excellent B350 Motherboards
The ASRock Fatal1ty AB350 is a good choice for someone building with a Mini-ITX case. Even though it's the smallest board on this list, it has many features lacking in larger ATX boards. With one of the larger boards like an ASUS Prime B350-Plus or MSI B350 Krait Gaming, it would be easy to add a Wi-Fi card, or otherwise amend absent chipsets. But expansion space is far more valuable within a small form factor, which is what makes the ASRock Fatal1ty AB350 a great choice for anyone building in a small case.
For a full sized ATX board, you're left to choose between the ASUS Prime B350-Plus and the MSI B350 Krait Gaming board. The ASUS Prime B350-Plus is equally split between being useful for gamers, and being useful for workstations. If you're inexperienced at overclocking, you'll appreciate the ASUS one-button OC features. This board also has a remarkably high quality audio chipset, including S/PDIF out and 8-channel audio support. If you're looking for a high quality board on a budget, you'll have a hard time finding a better deal.
By contrast, the MSI B350 Krait Gaming motherboard is a good choice for gamers who place a premium on the availability of cooling options. People who are less experienced with setting up computers may want to choose this board as well since MSI's BIOS may be the easiest to use in the entire industry. For more advanced users, overclocking isn't as simple as it is with ASUS, but it's not far off. And whether or not you currently need a USB-C port, the inclusion of one on this board helps futureproof your PC for years to come. For making a gaming PC on a budget, it's a great board.