If you're in the market for a new printer, it's important to consider what you're looking for. Are you looking for a simple home document printer? A photo printer? A heavy-duty office printer? Depending on what you need, you're going to be looking at wildly different printers.
Today, we're going to be reviewing the Epson Workforce Pro WF-4820 Wireless All-in-One Printer. As its name implies, this is an all-in-one printer, designed for all-purpose use. It's also primarily designed for home use. The size and capacity just aren't enough to handle the demands of an entire office pool. That said, with a speed of 25 pages per minute, it's just as fast as your top-tier office printers.
You're probably familiar with the Epson brand because of their printers. However, they're all-around image experts. Epson even makes some high-quality projectors. Because of their all-around imaging expertise, we were interested to see what the WF-4820 has to offer.
Of course, even a high-quality brand is no guarantee of a high-quality product. But it's certainly a good start! Even so, we're going to take a long, hard look at the Epson Workforce Pro WF-4820. We'll start by examining the physical construction – how it's built. Next, we'll look at how you connect the printer and interface with it. Finally, we'll talk about the quality of the final product. After all that, we'll know what we need to know to render our final verdict. Let's take a closer look, and see what the WF-4820 brings to the table!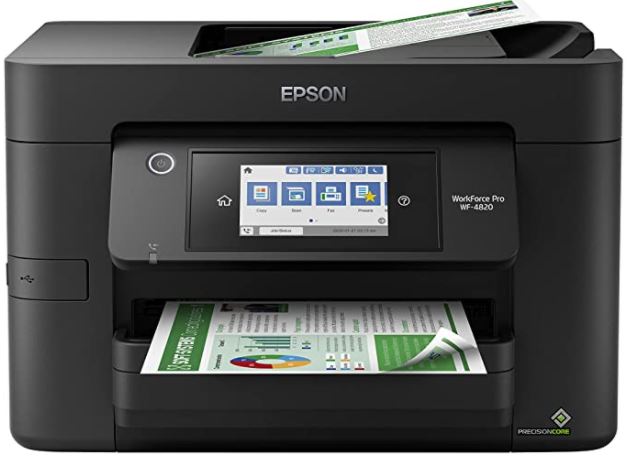 Overall Design
The Epson Workforce Pro WF-4820 is built like many home printers. It has an input tray on the top, and an output tray on the bottom front. In addition, there's also an internal hopper that pulls out like a drawer. The hopper has a capacity of 250 pages, so it can handle even very large documents. To be fair, there are home printers with larger capacity. But that capacity comes with a correspondingly larger size, so you've got to pick your poison. Regardless, for ordinary home use, the WF-4820's hopper should be more than sufficient.
The size of the unit is well-suited for a home desk, table, or even a kitchen counter. It's only 15.3 inches deep, 16.7 inches wide, and 10.9 inches tall. This means it can fit tight spaces if you so desire. Of course, there are varying degrees of compact. If you need a truly "miniature" printer, consider the Epson XP-340. It's slower and lower-capacity than the WF-4820, but it will fit just about anywhere.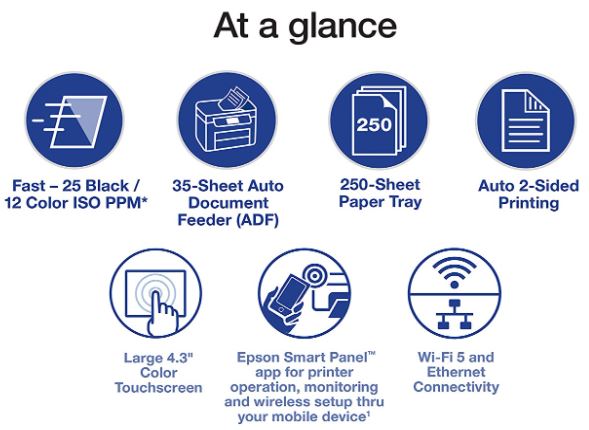 The WF-4820 has a black ABS plastic housing with a matte finish. This makes it easy to keep clean, and you don't have to worry about it gathering fingerprints. Even the front control panel is black, with a black power button that's surrounded by an LED ring. The rest of the controls are located on the 4.3-inch touchscreen panel. This makes it easy to navigate the menu and adjust settings as you desire. The display is crisp and bright, and is easy to read and understand. All the controls are intuitive, so you shouldn't even need the owner's manual.
For copying and scanning, there's an automatic document feeder (ADF) on top of the unit. The ADF can accommodate up to 35 pages, enough for large copy and scanning jobs. To be fair, some printers have larger ADFs. But those larger printers tend to be very big, and are designed mostly for commercial use. All documents feed from the side. This can take some getting used to, but it minimizes the depth of the unit. In turn, this means you can position the WF-4820 in a wider variety of locations.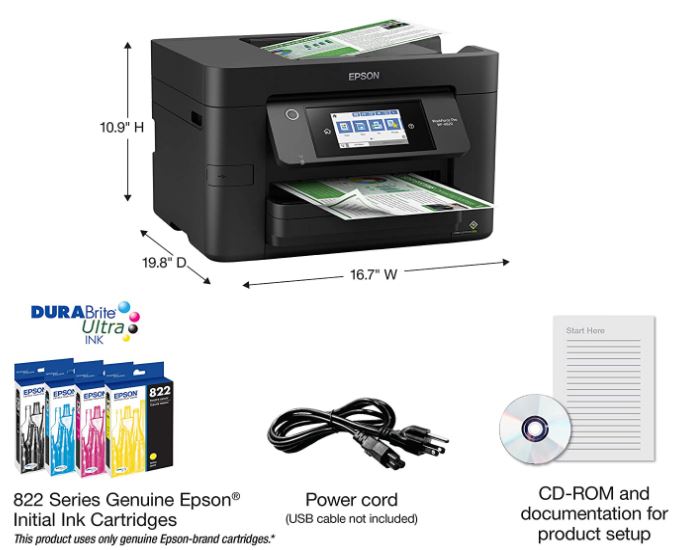 In addition to the WF-4820 printer itself, you get a power cord. This is a bare minimum, since it's required to turn the printer on. More to the point, you get a full set of ink cartridges. This means you have everything you need to get started on day one. You won't have to run out to Staples and buy cartridges before you can even print anything.
Connectivity and Setup
Setting up the Workforce Pro WF-4820 is relatively simple. If you're just using it as an ordinary home printer, you can simply connect it via USB. This is the default connection mode, and is fine for connecting to a single PC or Mac machine. That said, the USB connection only allows you to print from a single device. What if you want to print from your tablet or smartphone?
In that case, you can set up the WF-4820 on your home's WiFi network. Once it's connected, you can print from any device, anywhere in the world. This unleashes the capacity of your printer and allows you to take full advantage. Alternatively, you can connect the WF-4820 directly to your router via Ethernet. This doesn't give you the same freedom of placement as a WiFi connection, but it's more stable and secure. As yet another alternative, you can print via Bluetooth. This requires you to be in the same room as the printer. However, it's more secure than a WiFi connection, since the printer does not connect to the internet.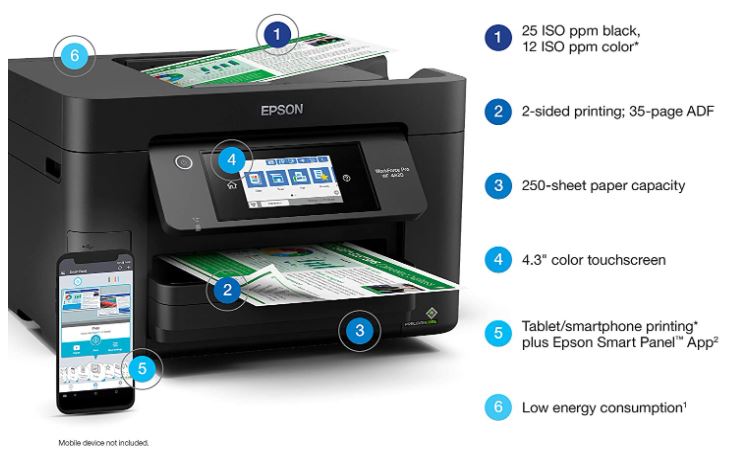 If you're printing from your smartphone or tablet, you should install the Epson Smart Panel App. This app is completely free, and is available on both iOS and Android. Through the app, you can print photos from social media or from your phone's camera app. Combine this with a WiFi-connected printer, and you can see how powerful the app is. If you're on vacation, you can print your vacation photos as you take them. When you get home, you'll have a full set of prints waiting for you in your printer tray.
The Epson Workforce Pro WF-4820 also gives you the option to set a password lock on the control panel. This is a great feature if you've got kids and don't want them wasting all your precious ink. It's also useful if you're using the WF-4820 in a shared office. You don't have to worry about your coworkers using up all of your ink.
Speaking of ink, that's one of the few downsides of the WF-4820. The printer heads are very picky, and will only accept Epson ink. This means using only Epson-brand replacement cartridges. If you're looking for an environmentally-friendly printer with refillable cartridges, you're looking in the wrong place. This also eliminates the option to buy more affordable, third-party cartridges. You have to buy Epson cartridges, which means paying Epson prices for all your refills.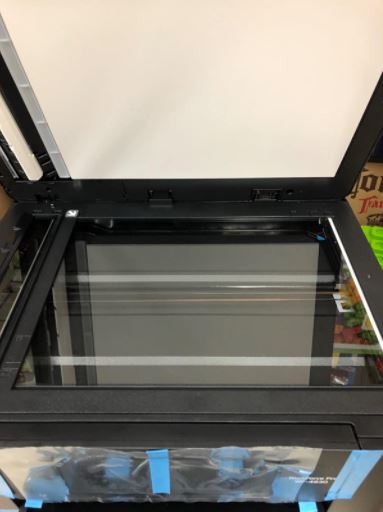 Printing Performance
The Epson Workforce Pro WF-4820 accepts paper up to 8 ½ x 14-inch legal paper. This means it's suitable for just about any task you might expect it to perform. In addition, it automatically prints on both sides of the paper. You can turn duplex printing on or off at will, of course. But by default, the WF-4820 will start saving you money from day one by printing on both sides.
In terms of speed, you're looking at a maximum of 25 pages per minute in black and white. This is a pretty brisk pace, on par with all but the fastest office printers. If you need to run off a long document quickly, you're well set up. Even in full color, the WF-4820 will put out 12 pages per minute. If you're printing brochures or other colorful documents, you won't have any trouble.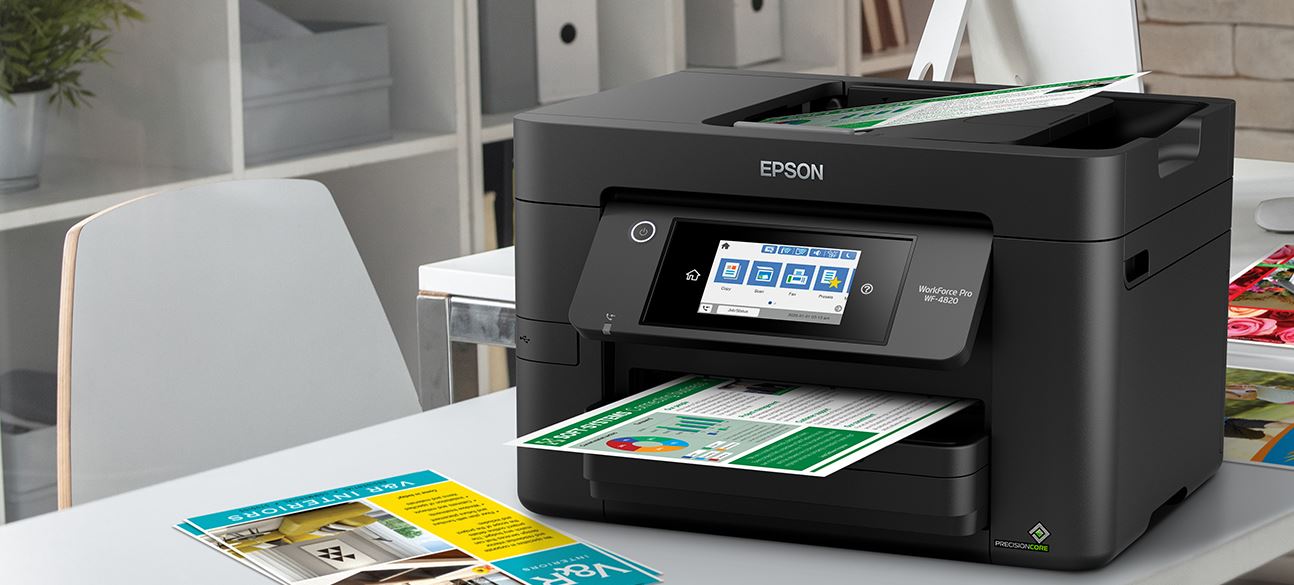 Of course, these speeds are the maximum, and assume that you're printing at maximum quality. At higher resolutions, you'll experience correspondingly lower print speeds. The maximum resolution of the WF-4820 is 4,800 x 2,400 DPI. That's exceptionally sharp, and is suitable for printing even high-quality photographs. To complement this, the Epson inks are also fast-drying. When your photo comes out of the printer, you'll be able to handle it immediately without smudging. So whether you're printing long documents or just a few photos, you're well set up.
If you want an even better, dedicated photo printer, check out the Epson Expression ET-2600 and ET-2650. These are both high-quality printers that are specifically designed for printing photos. So if all you need to do is print photos, they're both good choices. On the other hand, they're slower at printing black and white documents. So the WF-4820 remains a better choice if you're looking for a single, all-in-one printer.
In addition to all this, the WF-4820 can scan, copy and even fax your documents. Because of the 35-page ADF, you get plenty of capacity to play with for these functions. And thanks to the large paper hopper, you're unlikely to run out of paper while copying. As you might expect, using the fax function requires you to have a fax line. But if you've got one set up, you'll be more than happy with the WF-4820's performance.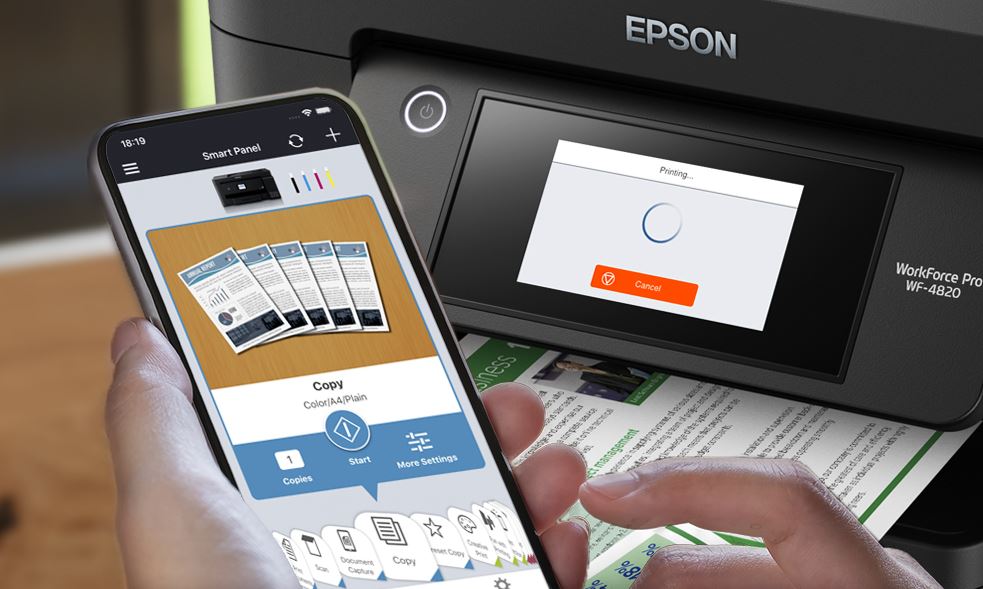 Final Verdict
So, is the Epson Workforce Pro WF-4820 Wireless All-in-One Printer worth your time and money? If you're looking for a powerful, all-purpose home printer, absolutely! There's a lot to like here, starting with the high-capacity hopper and fast print speeds. If you're a freelancer, or if you're just working from home due to Covid, you'll have more than enough capacity. Not only that, but the printer performance is excellent for a variety of purposes. You can print draft-quality documents on day, then print high-quality photos the next. With its high resolution, the WF-4820 can print photos as well as the pros.
Is the WF-4820 perfect? Of course not! We still would have liked to see a larger paper hopper. Surely, 500 pages isn't too much to ask. We would also have liked to be able to use third-party ink instead of pricey Epson replacements. Even so, it's undeniable that the WF-4820 is one of the most versatile printers on the market. If you need a high-quality home printer, you're looking at one of the best options that money can buy.