Epson has always been known as a high end brand. Many of their printers are used in professional photo labs, and serious photographers know that their specialty inks are the best way to get a true-to-life print.
Despite the prestige that the brand carries, Epson still has quite a few entry level products on the market. This business strategy isn't exactly common.
Take Mercedes, for example. Their affordable B-Series vehicles sold very well, but they pulled them off the market. Why is that? As they were a fraction of the price of a standard Mercedes, the build quality wasn't of the same standard. For many this is to be expected. But others thought that it would cheapen their brand name, so they decided to stick to the high end market.
What does this have to do with printers? Well, we all know that you get what you pay for. This means that Epson's latest entry level office printer is going to be one of two things. Either it's an amazing bargain on a printer that was built to Epson's high standard, or an inexpensive knockoff that doesn't stand true to the name. To find out, we put the Epson XP-340 to the test.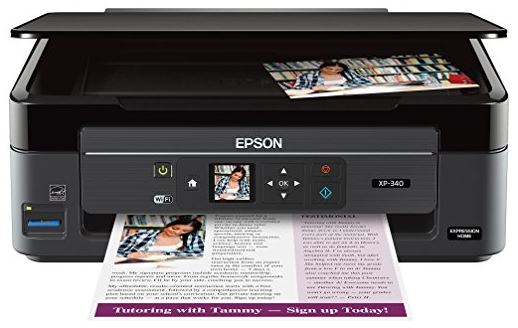 First Look
This all-in-one printer is the latest entrant to Epson's "expression home" line of consumer printers. It's designed to be a jack of all trades. It prints both documents and photos, copies document, scans pictures, and even emails scanned files. There are dozens of other printers that have the same features as this model, but none come close to the incredibly low price that Epson is selling it for. The XP-340 is geared towards casual users who don't need a printer all the time, but want something reliable when they do use it.
Design & Layout
When a popular manufacturer is creating their entry level model, it's common for them to strip the printer down visually as well. On store shelves, consumers are likely to look away from the simple utilitarian printer towards the one with all the bells and whistles.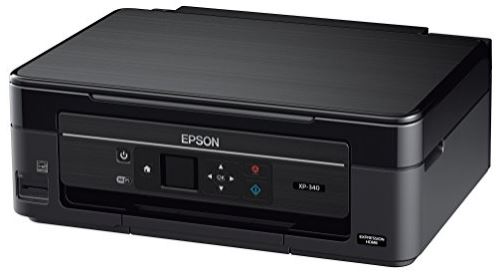 That's why we were surprised to see the sleek and modern design of the XP-340. The combination of sharp lines and rounded corners would look right at home on a shelf with Epson's high end printers.
Featuring a 1.44" color display, a digital navigation pad, obvious start and stop buttons, and a front-facing SD card reader, you're definitely getting a lot of bang for your buck. The simple control scheme allows you to whip through all the settings with ease, so you're not going to get frustrated while trying to change simple settings.
The rest of the layout is pretty straightforward. Load up to 100 sheets of paper in the back, have printed documents pushed out the front. Our main concern was with how the documents looked.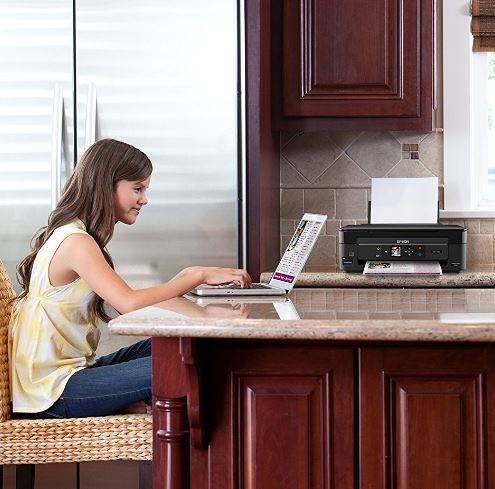 Printing
This printer uses a four-color ink cartridge set, filled with standard pigment ink. One of the upgrades from previous models is the new print heads, which Epson calls MicroPiezo Inkjet Head. A MicroPiezo is a small electronically controlled ink outlet that vibrates at a very high speed. The idea is that it allows smaller, more precise amounts of ink to be pushed on the page. At 3 picoliters, the drop size is definitely smaller than most printers in this price range. This allows colors to be blended more evenly, creating a smooth looking print.
This was obvious to us when we were printing color. We didn't see any banding like we would on most budget printers, and the colors seemed pretty accurate. It was surprising how good photos can look, even when they're printed from such an inexpensive printer.
At a resolution of 5760×1440, these aren't the most detailed images on the planet, but they're more than adequate for documents or personal files. Plus, while you're printing you won't have to worry about letting the pages dry. This ink dries instantly, so you can take your documents and leave as soon as they hit the tray.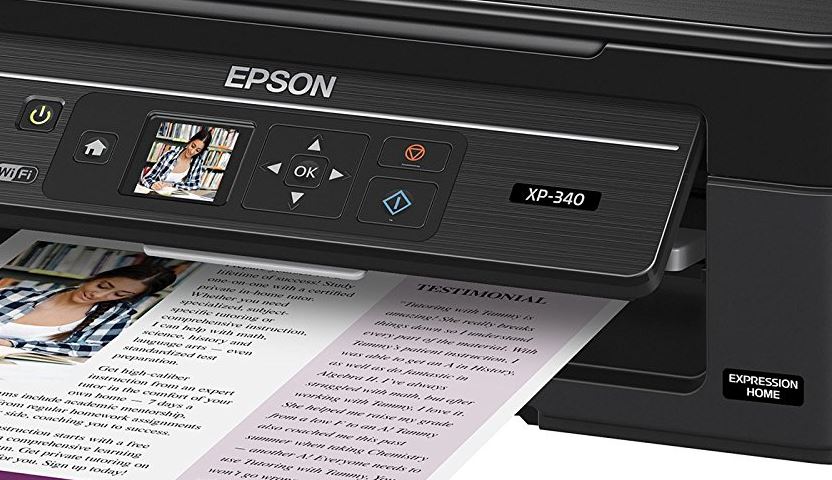 Scanning
The flatbed scanner on top allows you to digitize your documents and photos with ease, although only one at a time. It scans at a resolution of 300 dpi. This makes it a fairly entry level scanner, but it's still pretty proficient. We were able to scan our documents, and use OCR software to convert them into editable word files. There were very few errors, and the text looked nice and sharp.
Digitizing hardcopy photos also went pretty well. The photos were more than adequate for posting online, and some even needed to have the resolution reduced a little. While we wouldn't want to rely on this for high end archival purposes, the scanner is totally competent and we couldn't ask for more.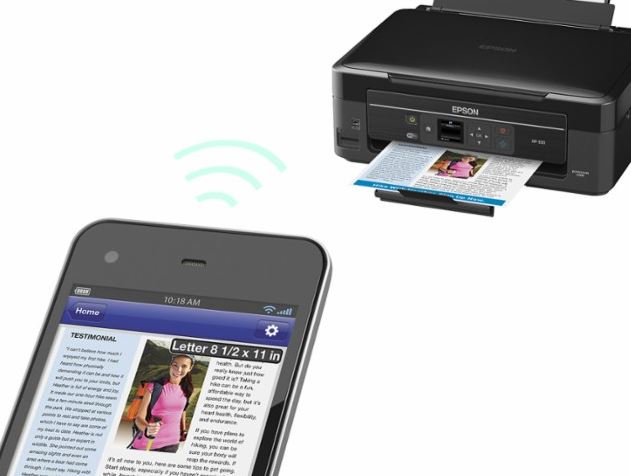 Connectivity
Gone are the days when you had to physically plug your printer into your computer with a special (and expensive!) printer cable. Today, everything is wireless. This used to be a feature reserved for high end printers, but today Epson has made it clear that this is the new standard. If a printer this affordable can have wireless printing, there is no excuse for any modern printer to be without it.
The easiest way to print wirelessly is to use WiFi direct. The printer creates its own wireless network, and you connect directly to it. This means that you don't have to go through the trouble of entering your home WiFi information. WiFi direct works with PCs, Macs, Android, and iOS.
If you're looking to cut out an extra step, you can use the setup wizard CD to get the printer on your network, and print from anywhere. One of your computers can be used as a host, allowing you to print files through Google Cloud Print or apple Air Print. With cloud services, you don't even have to be in your home to make a hard-copy of an important document.
Cost of Ownership
Many consumers tend to be skeptical of inexpensive printers. From the late 90s until the mid-2000's, retailer shelves were stacked high with high quality printers that didn't cost much more than this model. The deals were too good to pass up. In fact, they were so good that manufacturers were losing money on every printer they sold. Why would they do that? Well, they would charge such a high markup on ink, that they wound up making more money.
When you're getting a deal this good, it's important to run the numbers and see how much this printer will cost you over its life span.
The ink cartridges are a little price than some, but not unreasonably so. Printing documents in black and white is the most affordable, with a per page cost of only 5.6 cents. Printing an image on standard 8.5 x 11 paper is a little pricier, but still only costs 27 cents.
Based on these numbers, you can see how much you'll spend every month to keep this printer running. Let's say that you print two reports for work every week. Each report has one cover page with color graphics, and five sheets of text. At this rate, you're only spending $1.09 per week on ink. This is very affordable, but if you print high volumes then it can become expensive quite quickly.
Disadvantages
It's rare to find a printer in this price range that creates such good looking prints, but there is one downside to this design – it's slow. Printing 10 sheets of monochrome text took nearly 1.5 minutes, and color documents took nearly twice that time. If you're only printing a few sheets this Is no big deal, but for higher capacity you might want to look for a different option.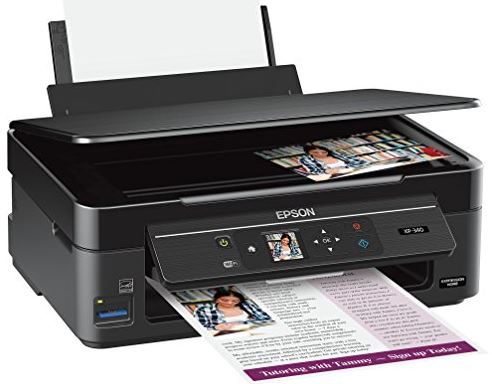 Final Verdict
It's clear to us that the Epson Expression Home XP-340 has earned it's branding. This really is the bottom of the barrel when it comes to printers, and manufacturers are forced to make compromises. But it's these compromises that make the XP-340 stand out.
It looks great on your desk, and comes in a compact and easy to use form factor. The prints look great, and it connects to all of your devices wirelessly. In terms of basic functionality, this printer checks off all the boxes.
Sure, it is a little slower to print, and you're paying a few cents extra for each page. If you're a low volume printer (under 150 pages per month) then this shouldn't make much of a difference.
If you are printing higher volumes, this might not be the best option for you. We'd recommend that you check out our guide to the best monochrome laser printers on the market. These have the lowest cost per page of any printer, making the initial cost well worth it for high volume users.