These days, you can't throw a rock without hitting a pair of wireless earbuds. Okay, maybe that's an exaggeration. But the fact remains that over the last few years, there's been a massive growth in the wireless earbud market. This is good news if you're looking for a new pair. There are so many to choose from, there's no excuse not to get a pair that's a great choice for your needs. How did it get this way?
The answer is True Wireless Stereo (TWS). Before TWS, there was no good way to get quality audio out of a pair of headphones. The bitrate was limited, and you could only listen in mono. Needless to say, this was a non-starter for listening to any kind of music. At best, wireless earbuds were good for spoken word podcasts and hands-free calling. When TWS was first developed, many companies were leery to jump on board. Apple led the way with their iPhone 7, which had no headphone jack. Around the same time, they also released the AirPods, some of the first "good" wireless earbuds.
Other manufacturers quickly jumped on board, and the rest is history. Now, there's an absurd number of choices available. But some wireless earbuds are better than others, and so are some manufacturers. TaoTronics is widely respected in the electronics industry. Today, we're going to review the TaoTronics SounderLiberty 94 ANC Bluetooth 5.1 Earbuds. We'll start with the physical design, move on to battery performance, and finish up with sound quality. Along the way, we'll point out any features, benefits, or drawbacks that are worth noticing. Let's take a look, and see what we learn!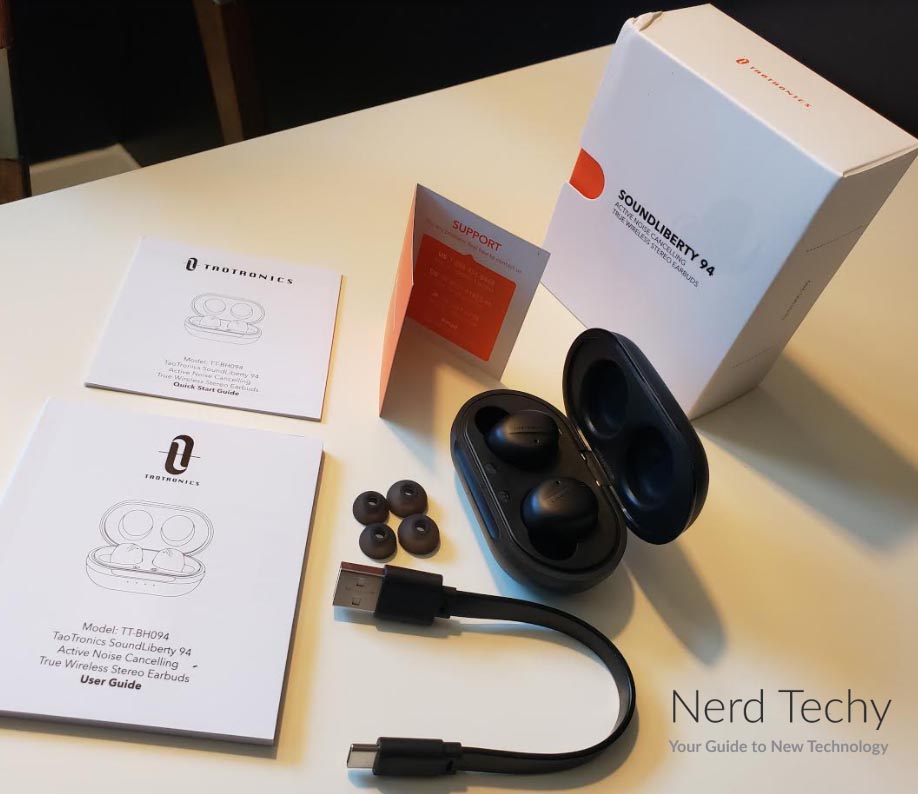 Overall Design
The SounderLiberty 94 ANC Bluetooth 5.1 Earbuds have a compact, shell-style design that's made to fit in your ears. When properly fitted, they have a low profile, and also fit very securely. Of course, a lot of this depends on the silicone ear tips. Too tight, and the buds won't be comfortable; too loose, and you risk losing them. Not only that, but loose ear tips won't provide a good seal against outside noise. This means that even with active noise cancelling (ANC) earbuds, you'll still get noise bleeding through. Thankfully, TaoTronics includes two extra sets of ear tips in the box. One is larger and one is smaller, so most people will be able to find a secure, comfortable fit.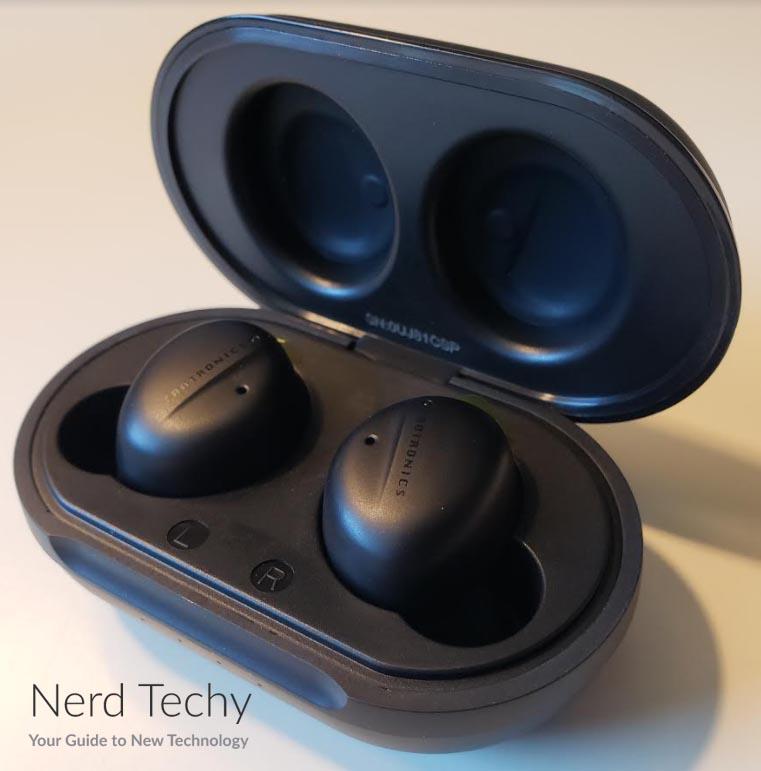 The earbud shells are oval in shape, with protruding studs that insert into your ears. They're constructed from black ABS plastic, with an understated matte finish. Small mic holes and a tiny embossed TaoTronics logo decorate the back. However, this logo is about a lot more than decoration – or even brand promotion. The logo on the left earbud functions as a soft touch button. Press and hold to turn ANC mode on or off. A double tap will activate or deactivate ambient mode. We'll talk about both of those in a second.
The SounderLiberty 94 buds should be more than comfortable for most people to wear. That said, if you have very sensitive ear canals, you'll probably prefer an AirPod-style bud that sits outside your ears. If that's what you need, consider the TaoTronics SoundLiberty 92 wireless earbuds. They have a loose, AirPod-style fit, but no ANC function.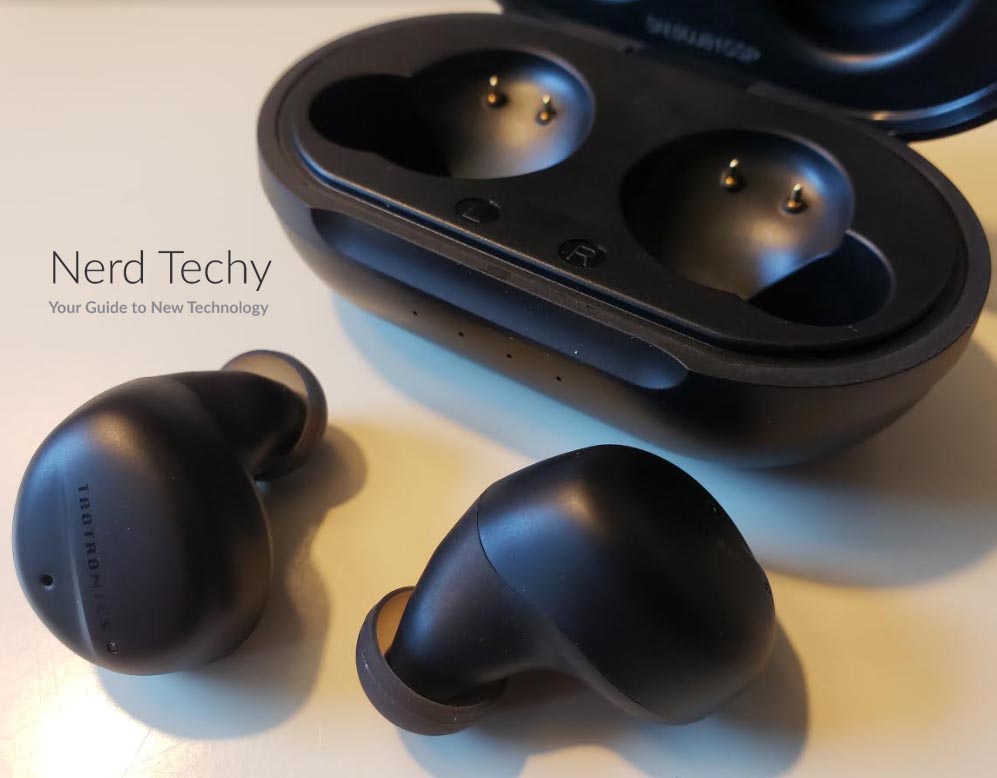 If you're looking for good workout performance, the SounderLiberty 94 earbuds perform admirably. They're IPX5-rated for water-resistance, which means they're splash-proof and sweat-proof. You can wear them during an intense, sweaty workout, or even wear them in the rain. They're technically okay to wear in the shower, but we wouldn't risk it.
The charging case is relatively compact. It measures just over 4 inches wide, just over 2 inches deep, and about an inch thick. This makes it small enough to slip into your pocket if you so desire. At eight ounces, it's a bit heavier than we would have expected for the size. But even so, it's light enough to easily carry in your pocket, or to throw in a backpack or carry-on bag. The edges of the case are all rounded, giving it an oval profile that's comfortable and safe to carry.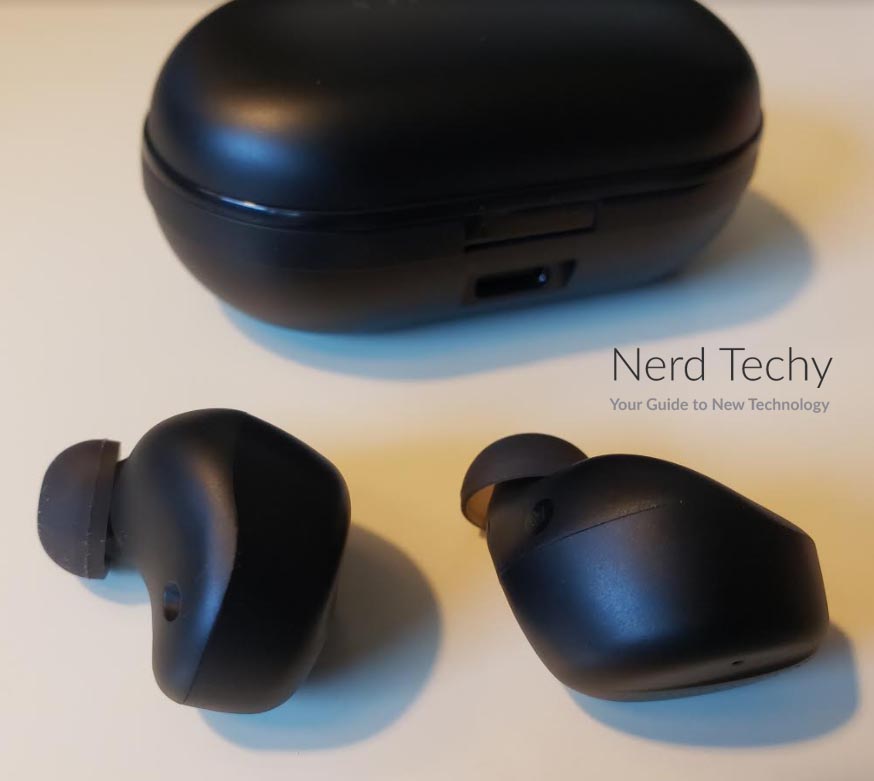 The case is constructed from a matte black ABS plastic that matches the buds. There's also a matching TaoTronics logo embossed on the top of the lid. It has a clamshell-style design, with a spring-loaded lid that snaps easily open and shut. This makes it both secure and easy to operate. If you're having trouble, there's a cutout under the front of the lid that makes it very easy to open. Beneath this, you'll see a row of four small white LED dots. These lights indicate the current status of the battery, and only illuminate when the case is plugged in. They also turn on briefly when you open the lid or insert your earbuds. Otherwise, they'll stay off in order to save your battery life.
Battery & Connectivity
The SounderLiberty 94 earbuds can perform for up to eight hours on a single charge. However, there are two caveats to that. For one thing, this assumes that ANC is turned off. For another thing, as with most manufacturer ratings, it assumes you're listening at medium volume. If you've got the volume cranked up, your battery life will be correspondingly shorter. Even so, you're looking at about five hours of battery life at full volume with ANC turned on. For a set of ANC buds, that isn't half bad!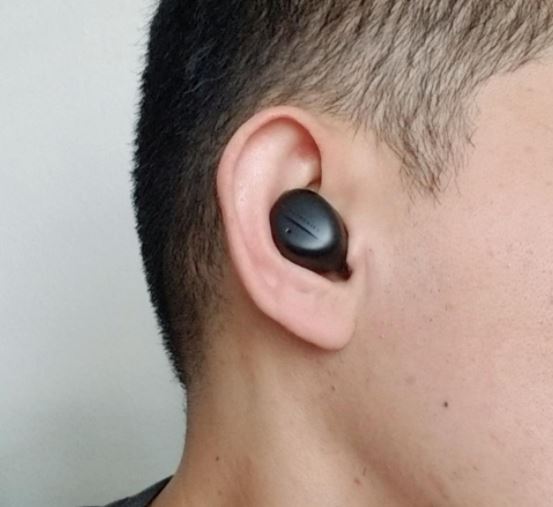 If you can't plug in after five hours of listening, there's no need to worry. The charging case carries enough juice for three additional charges. This works out to a total of 32 hours at medium volume with ANC turned off. When it comes time to charge the case itself, the task is easy. The 360mAh battery will fully charge in two hours, using the included USB Type-C charging cable.
The SounderLiberty 94 earbuds use the Bluetooth 5.1 protocol. This is an upgraded version of Bluetooth 5.0, which is engineered specifically to provide the most stable connection. It's even more stable than the original Bluetooth 5.0 protocol, which was already more stable than Bluetooth 4.2. It also maintains Bluetooth 5.0's low latency and high bitrates. You can listen to rich, high-definition audio even over a wireless connection. And you can watch movies or play games without the video and audio going out of sync. Finally, Bluetooth 5.1 allows for automatic pairing. After your buds have been paired for the first time, they'll automatically pair when removed from the case.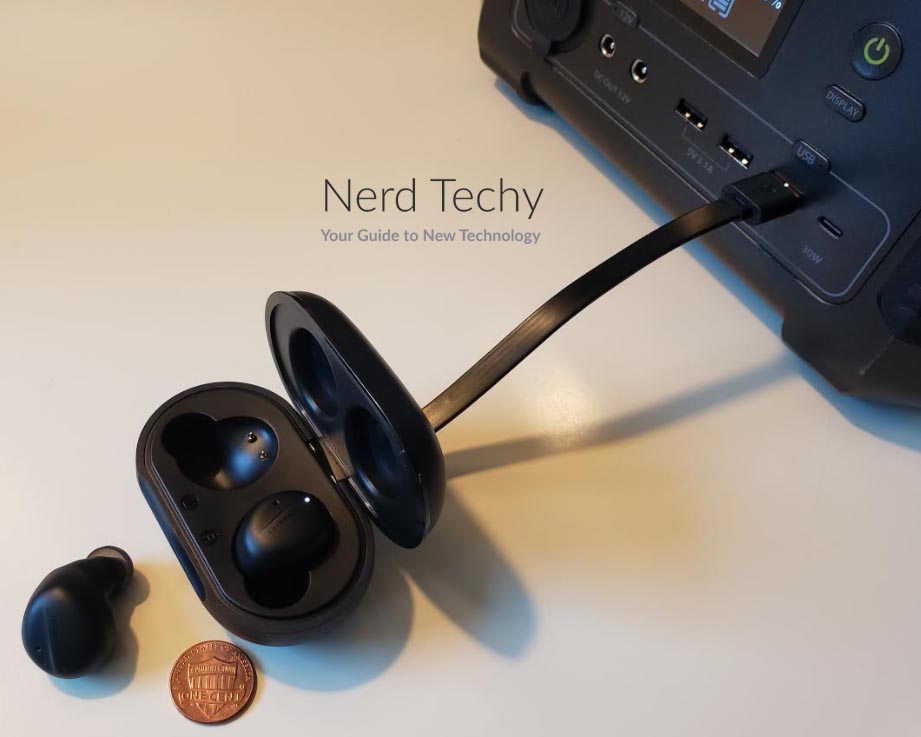 Sound Quality
The TaoTronics SounderLiberty 94 ANC Bluetooth 5.1 Earbuds contain 9.2mm dynamic drivers. These drivers are about 30 percent larger than typical earbud drivers, and we expected correspondingly bigger sound. Sadly, we were disappointed. The sound isn't "bad." It's just a bit lackluster. The frequency response is just fine. You get good performance across the band from bass to high. But everything seems a bit muffled and bland. This is most likely a result of the ANC function. At this price point, you can't have everything. Even so, unless you're a serious audiophile, you probably won't even notice the difference.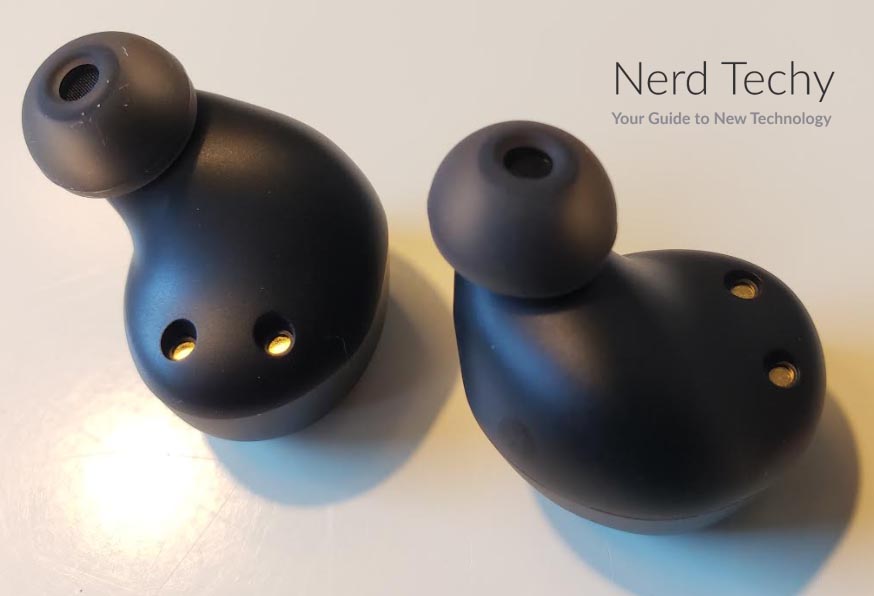 If you want better audio quality, one way to go is to choose a bigger set of drivers. With a full-sized set of headphones, you get much richer audio by their very nature. If that's what you need, check out the TaoTronics SoundSurge 90 headphones. They offer superior audio quality with ANC, but they're obviously bulkier than earbuds.
Another alternative is to order earbuds that ditch the ANC function and focus solely on rich audio. In that case, consider the TaoTronics SoundLiberty 79 earbuds. They offer excellent audio quality for earbuds. However, the battery life is significantly shorter than the SounderLiberty 94.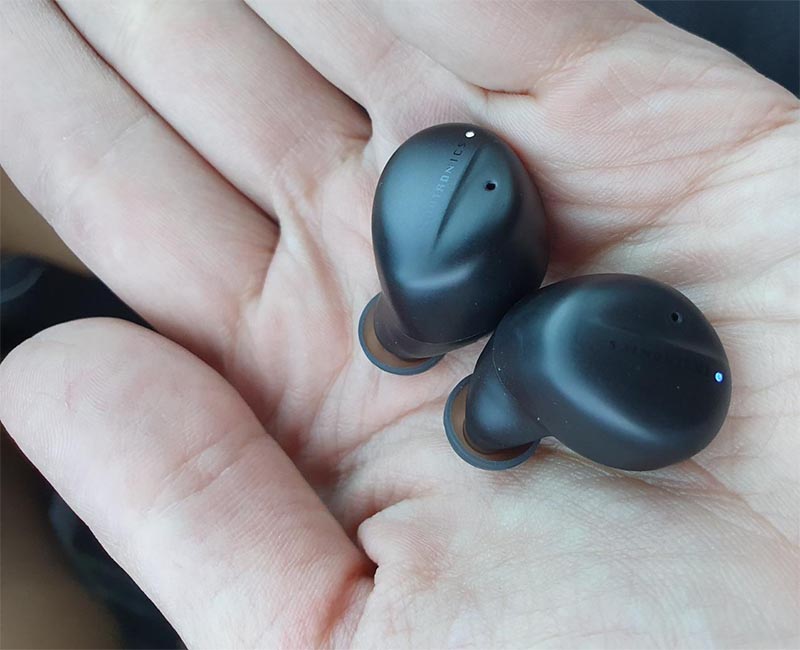 As you may have guessed by now, the SounderLiberty 94 earbuds have an ANC mode. You may not have guessed just how effective it is. Using a pair of outward and inward-facing mics on each earbud, the earbuds can block up to 35dB. This is loud enough to reduce the sound of a lawnmower to a whisper. On the other end of the spectrum, you can take advantage of ambient mode. This mode allows you to hear background noises more easily, for brief conversations and social interactions. Unfortunately, the ambient mode creates a bit of static. We're not sure why this would be the case, but presumably you're focusing on your conversation anyway.
Not to point out the obvious, but the ANC and ambient modes do not work well together. After all, ANC is designed to block background noise, while ambient noise is designed to let it through. They're literally trying to do the opposite thing. If you turn on ANC and it doesn't do anything, check to see if ambient mode is active. Conversely, if you activate ambient mode and still can't hear, make sure ANC is turned off.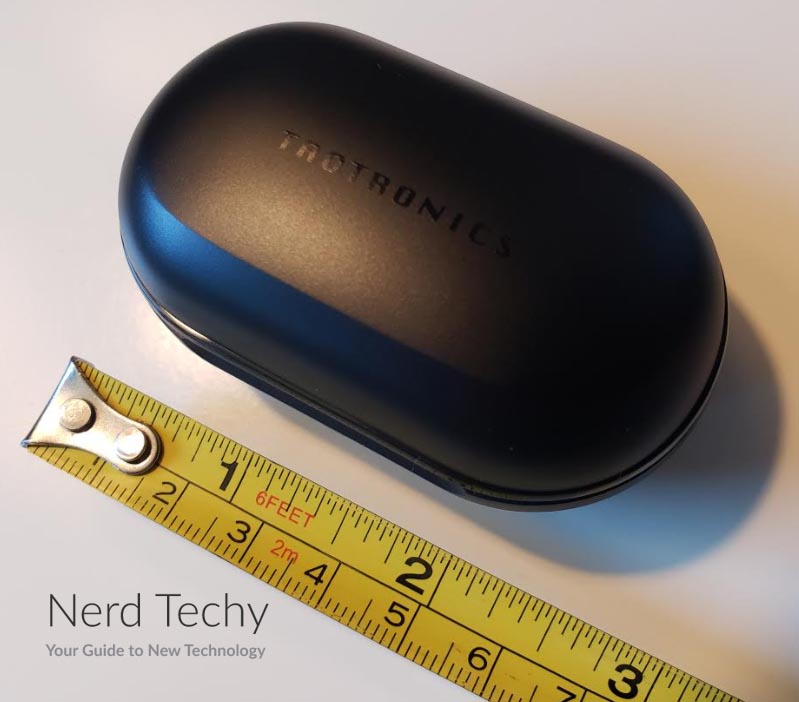 Final Verdict
As you can see, the TaoTronics SounderLiberty 94 ANC Bluetooth 5.1 Earbuds are a bit of a mixed bag. Let's start with what's in the name. They use the Bluetooth 5.1 protocol. This is the most advanced Bluetooth version yet, and provides several significant benefits. The battery life isn't insanely good, but it's better than you'd expect from ANC buds. In addition, the charging case provides a reasonable amount of added longevity. The physical design is also good. The charging case is lightweight and portable, and the buds themselves are comfortable to wear. They're also waterproof, which is another plus.
The major downside here is the sound quality. We admire any attempt at making a mid-priced pair of buds with an ANC function. But the overall audio quality and soundstage seem to suffered as a result. That said, the ANC function itself works very well. We had no complaints there. The ambient mode was a bit less impressive, but still performed satisfactorily. For anyone who isn't an audiophile, these buds are a solid choice.
Meet Derek, "TechGuru," a 34-year-old technology enthusiast with a deep passion for tech innovations. With extensive experience, he specializes in gaming hardware and software, and has expertise in gadgets, custom PCs, and audio.
Besides writing about tech and reviewing new products, Derek enjoys traveling, hiking, and photography. Committed to keeping up with the latest industry trends, he aims to guide readers in making informed tech decisions.