Quick Analysis
Pros
Excellent stabilization.
Accepts hand gesture controls.
Includes app for post editing and effects.
Automatically tracks subjects.
Cons
Not many "action cam" features.
Relatively short battery life and long charge time.
Smartphones have given us the ability to communicate in ways we never thought possible. Yes, there's the ability to text or call from anywhere, at anytime. But there are also the video capabilities. Nowadays, everyone from your grandma to the biggest influencers is using video to communicate. This has opened up all kinds of possibilities, particularly during the days of social distancing.
But a smartphone isn't primarily designed as a camera. At the end of the day, it's a tool that has to perform dozens of functions. This means making sacrifices in some areas. For instance, a camera should ideally be very easy to aim and point. A smartphone requires an awkward grip when you're taking pictures. This isn't a problem when you're grabbing a quick snapshot or filming your sister's birthday party. But if you're trying to record an action shot, the ergonomics can become a challenge. One solution to this problem is to use a smartphone gimbal.
Today, we'll be reviewing the Zhiyun Tech Smooth XS Smartphone Gimbal. This gimbal is a combination of an action gimbal and a selfie stick. As such, it provides more versatility than many gimbals on the market. But how well does it perform? Is it comfortable in your hand, and is it easy to use? We're about to take a deep dive into all the XS Smartphone Gimbal's features. We'll look at the design, how it works in action, and even the battery life. With all of those factors combined, we'll be able to make an informed recommendation. Let's take a closer look, and see what we find!
Design & Construction
The Zhiyun Tech Smooth XS Smartphone Gimbal consists of two parts. The main component is the gimbal itself. This is a polymer unit, and comes in either white or pink. Both versions have a grey rubbery grip, which is comfortable to hold. It's also lightly hashed, which makes it easy to hold on to even in the rain. It also has an ergonomic curve, so you can take very long recordings without getting uncomfortable. On the front of the handle, there's a set of controls, so you can operate your phone with just your thumb. Snap photos, take videos, and change basic settings without the need to move your hand.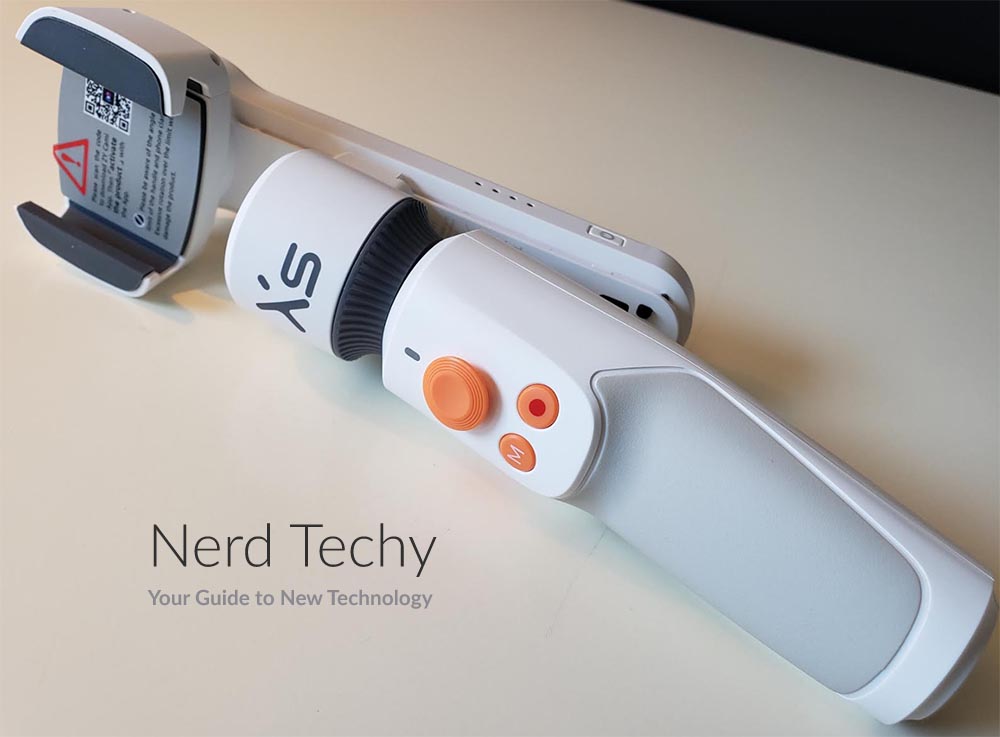 On top of the gimbal, there's a short, 10.2-inch telescoping aluminum extension. When fully collapsed, this is completely invisible. When extended, it allows you to get a bit more reach for a selfie. It's not as long as most dedicated selfie sticks, but it gets the job done in most circumstances. At the top of the extension, as you might expense, you'll find the clamp for attaching your phone. The clamp is spring-loaded, so it will safely hold just about any smartphone. It's also very well-padded. Even if your phone case is lightweight, you don't have to worry about your phone getting damaged.
The clamp is mounted on a vertical arm that can be swiveled or pivoted 360 degrees. The clamp itself can also be rotated. As a result, you can film at just about any angle without needing to contort your body. This is, after all, the purpose of using a gimbal.
The other component of the XS Smartphone Gimbal is the tripod base. This base is removable, so you don't need to carry it around when you're holding the gimbal. Instead, it's designed for taking shots where the camera is stationary. The tripod is the same color as the rest of the gimbal, providing a unified aesthetic. It also screws into the gimbal with a standard tripod screw. As a result, you can also use the XS Smartphone Gimbal with other tripods. This is fortunate, since the included tripod is fairly short, for desktop or tabletop use. If you want to put your camera on the ground, you'll probably want a taller tripod.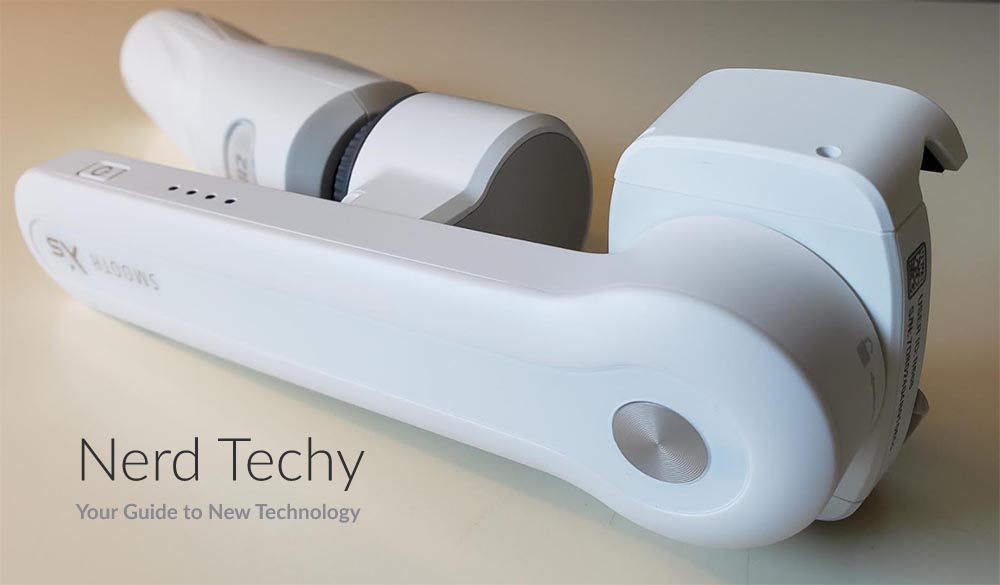 Along with the gimbal and tripod, you get a couple of extras. The first is a drawstring travel pouch. This is not a crush-proof case or anything fancy. It's designed for convenience, and to provide a measure of scratch protection. There's also a USB Type-C charging cable, which is used to power the gimbal.
Operation & Ease of Use
There are two different ways of controlling the XS Smartphone Gimbal. The first is to use the controls on the handle, as we already mentioned. This is the preferred method when you're actually holding the camera. But what if you're using the tripod to film yourself? In that case, the gimbal supports hand gesture controls. With the wave of a hand, you can adjust the angle, pivot the camera, or make it track you. You can also use hand controls to snap pictures, stop or start the camera, and other basic functions. If you want to film a video of yourself and also operate the camera, you're all set.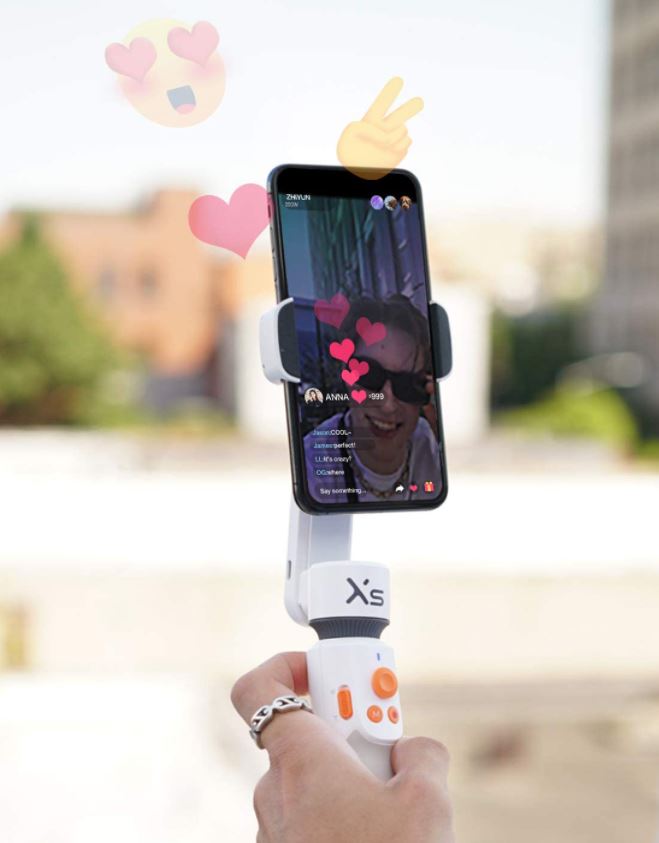 One feature we should note about the controls is that there's a single button for switching camera orientation. In just a second, you can switch between portrait and landscape mode. This is great if you're trying to record the same general video for multiple platforms.
Another interesting feature of the XS Smartphone Gimbal is that it has AI-powered tracking. This means that it can recognize and follow a single subject. If you're filming your friend, you can select them within the frame. Once that's done, the camera will continue to follow them wherever they go. This is useful for smooth tracking if you're filming somebody else. However, it's also useful in tripod mode, since the camera will follow you without further input.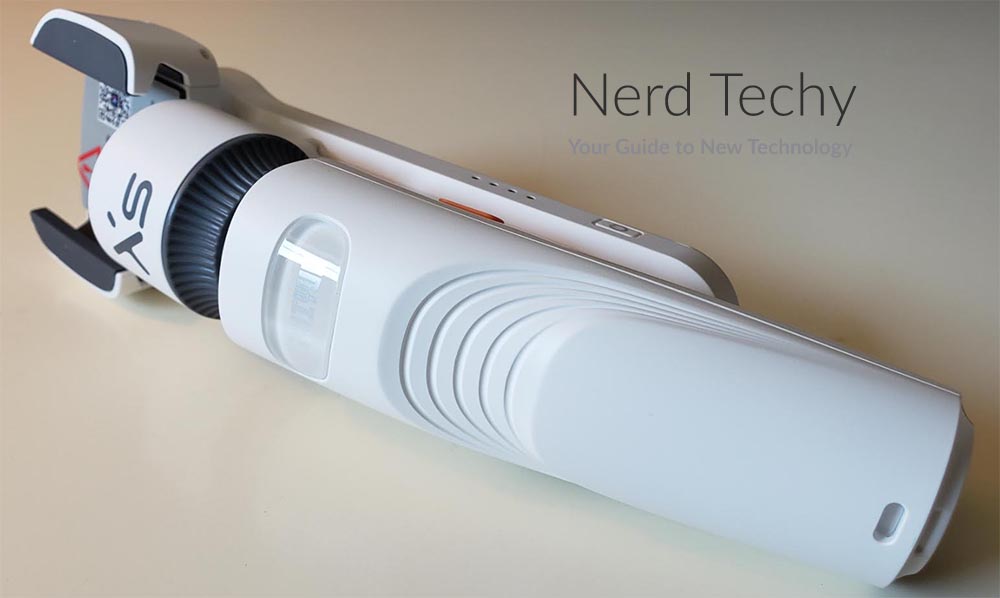 To use this feature, you need to use the ZY Cami companion smartphone app. Thankfully, it's free on both iOS and Android. Once it's installed and paired via Bluetooth, you'll be able to use AI tracking and hand gesture control. In addition, you'll gain access to a suite of post-editing functions. You can add filters, string clips together with transitions, cut, and splice your videos. This way, you can use the same app to record, edit, and publish videos without switching around. Not only that, but the app offers time lapse, slow motion, and panorama modes for even more versatility. Alternatively, you can just use your phone's native camera app. You won't get access to all the extra features, but familiarity has its own benefits.
As you can see, the XS Smartphone Gimbal is primarily designed as a stationary camera. It does just fine as an action cam, but the hand controls and other features are best if the camera is stationary. If you're primarily looking for an action cam, consider the Hohem iSteady Pro 2. It offers better handheld features, but it doesn't have gesture controls or a selfie stick feature.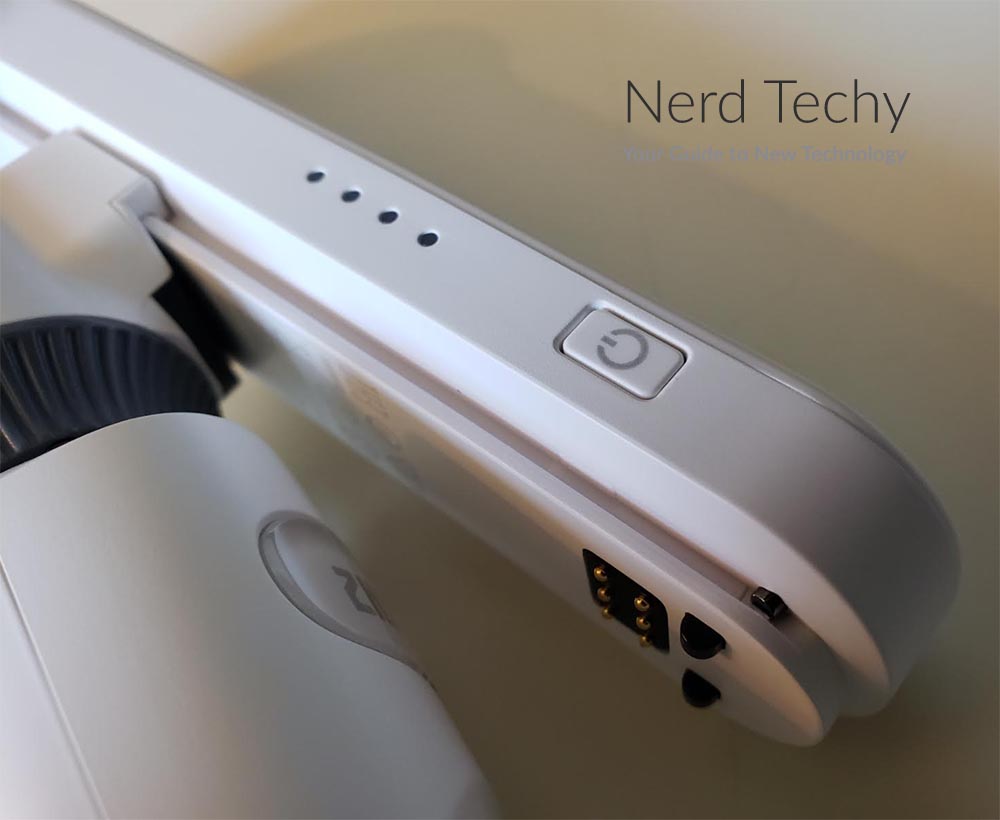 Running Time & Charging
The XS Smartphone Gimbal's 1,000mAh internal battery will operate for about 4-5 hours. Zhiyun's lab testing indicates a minimum of four, but it's tough to say for sure. The reason is that it depends on how the gimbal is being used. Is the subject mostly stationary? The motors won't have to run much, so the battery will last longer. Are you recording a lot of long, complex action shots? The motors will have to run more, so the battery will drain faster. Regardless, you're looking at plenty of battery life. It's not often that you'll spend more than four hours recording in a single day.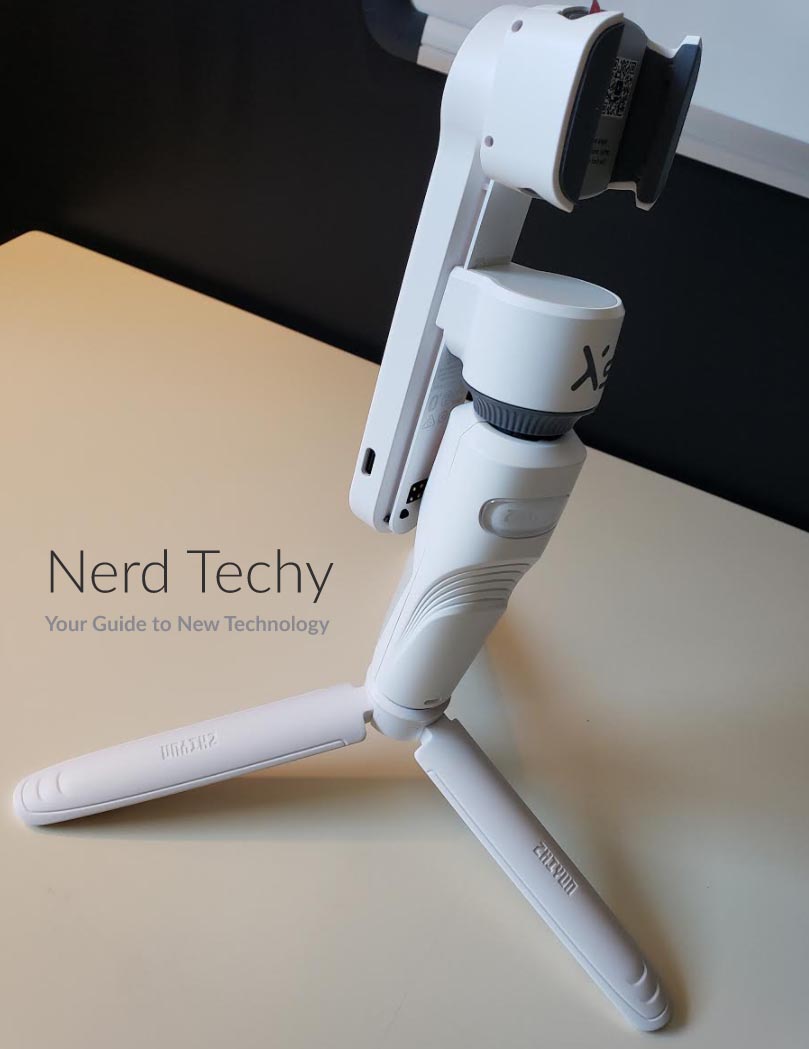 When you need to recharge the XS Smartphone Gimbal, it takes about three hours. This is a bit longer than most electronics of this size. That said, you're presumably recharging overnight. In that respect, it doesn't really matter whether the battery charges in one hour or eight. Not only that, but the charge time is less than the running time. In other words, in tripod mode, you can just leave the gimbal plugged in. In that configuration, it will operate indefinitely. As you can see, it really depends on what you're trying to do.
If you do need a longer-lasting battery, there are gimbals that offer longer battery life. For instance, there's the Funsnap Capture 2. It can run for up to 12 hours on a single charge, and a minimum of 8 hours. That said, it has fewer "smart" features than the XS Smartphone Gimbal.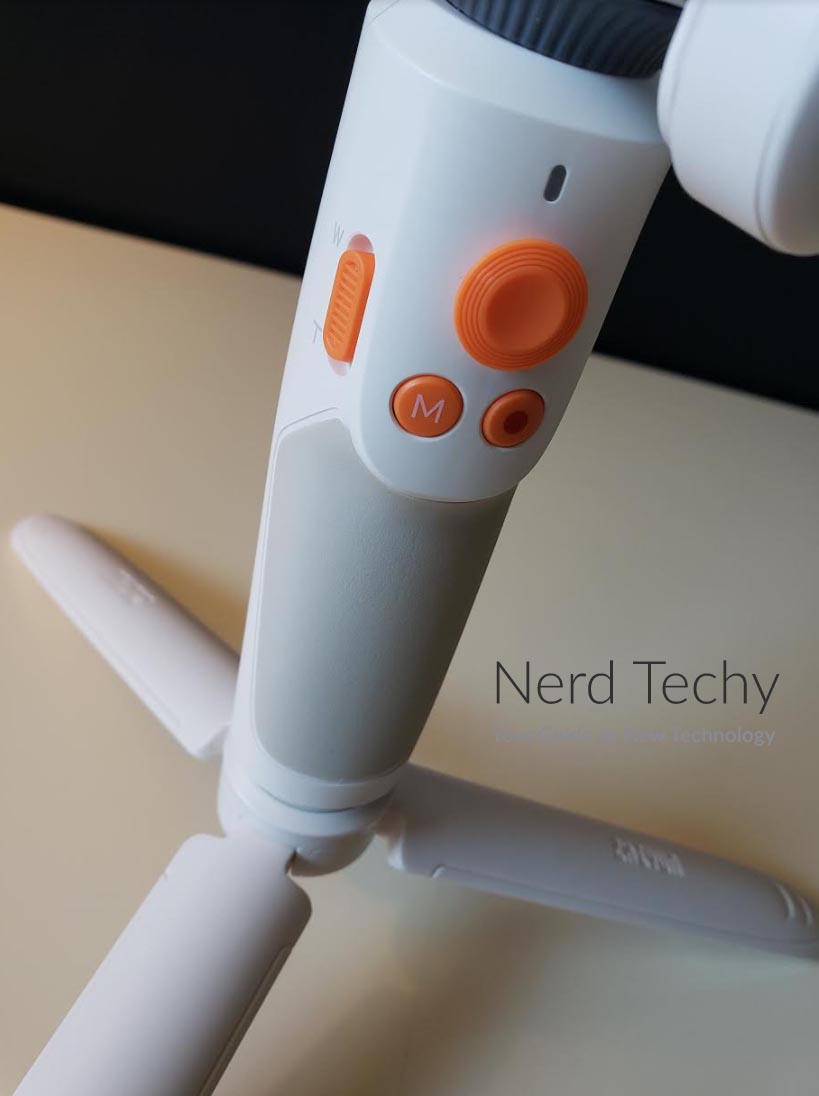 Final Verdict
As you can see, the Zhiyun Tech Smooth XS Smartphone Gimbal has a lot to offer. It's well constructed, and the tracking and app features are among the best on the market. We should start with the obvious. The XS Smartphone Gimbal is better for stationary use than "action cam" use. Its plastic construction is durable, but it's not as tough as some aluminum gimbals. Not only that, but it doesn't offer some of the movement and stabilization features of "action cam" gimbals.
That said, it does have several smart features that are worthwhile. For instance, the ability to track individual subjects is perfect for shooting your own videos. Set your phone in the tripod, have it track you, and start performing. You don't need anyone holding the camera. Moreover, the hand gesture controls are a major benefit. If you're filming yourself, you don't want to have to keep going to the gimbal to make adjustments. With hand gestures, you can do everything from several feet away. This makes it quick and easy to create videos for YouTube and other social media sites.
The battery life of 4-5 hours isn't the best we've seen. However, it's more than you'll probably need on any given day. Not only that, but if you're in tripod mode, you can just plug the gimbal in. Unless you're planning on shooting several hours of action shots, it's not really a concern. Finally, the app offers a ton of added value. It even has a full suite of editing features. With one app, you can shepherd your video from first take to final cut.