Not too long ago, the only people who used projector screens were old-school film buffs. VHS tapes were cheap and abundant, and reel-to-reel projector film was expensive. Not only that, but everything on the market was geared towards VHS. Whether you were renting a movie or making home videos, it was an easier format to use.
That said, projector screens have always maintained an aura of nostalgia. When you watch a movie on a projector, it feels like you're sitting in an actual theater. Not only that, but even a cheap projector can give you a much bigger picture than an expensive TV. So if you want a big, immersive experience, a home projector system is the way to go.
Today, we'll be looking at three portable projector screens. These aren't designed for permanent installation. Rather, they're intended for being moved from place to place. First, we'll be reviewing the GooDee 100JY Portable Projector Screen. This screen is medium for a projector screen, measuring 100 inches on the diagonal. Next, we'll look at the VANKYO StayTrue Projector Screen. This is a similar, lightweight screen with a larger 120-inch diameter. Finally, we'll examine the VIVO Portable Projector Screen. This is a different beast altogether, a bit heavier, but includes a tripod. Let's get a closer look at each of them!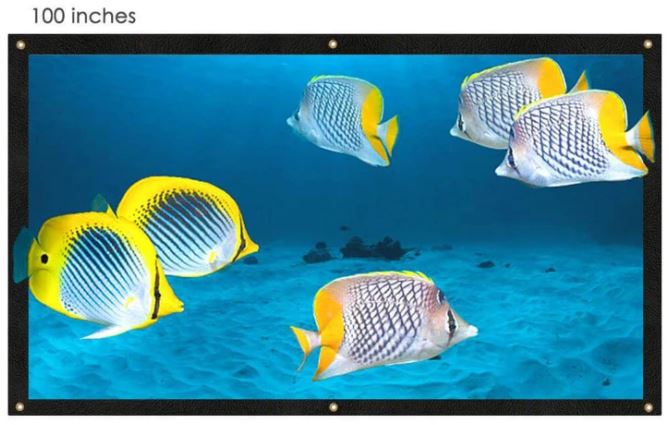 GooDee 100JY Portable Projector Screen
First on our list is the GooDee 100JY Portable Projector Screen. GooDee is known for producing a variety of equipment, including the high-quality GooDee BL98 1080p Projector. Because of their track record, we were excited to see how the 100JY Portable Projector Screen performed. At 100 inches on the diagonal, it's small for a projector screen, and weighs just under 2 pounds. This makes it very easy to carry around.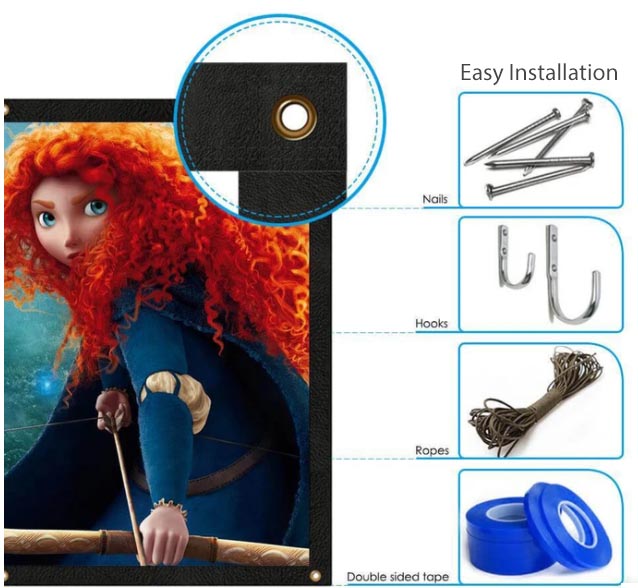 The main screen is white, as you'd expect from a projector screen. The border is black, providing a high-contrast outline that makes videos pop. The border is stitched from webbed nylon, with reinforcement at the corners and seams. Along the perimeter, there's a set of six metal grommets: three on the top, and three on the bottom. These are designed for hanging the projector. When it's time to move the screen, it rolls up easily and fits in a simple carrying case.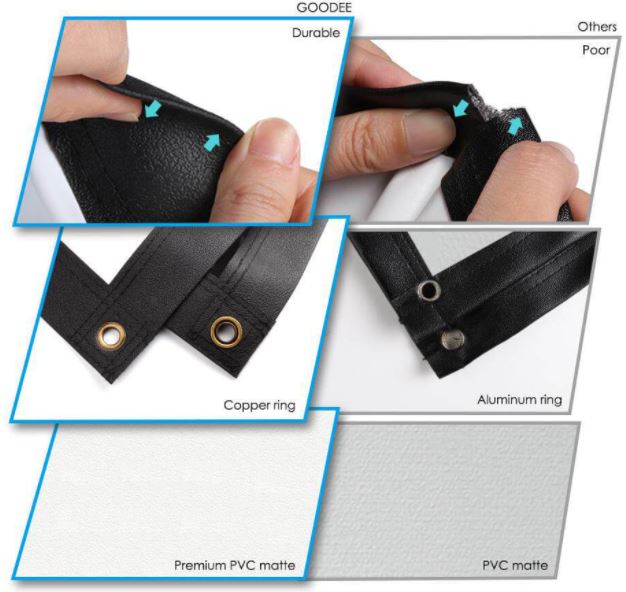 The GooDee 100JY Portable Projector Screen is protected by a 3-year manufacturer's warranty. If anything goes wrong in this time, it can be sent back for a refund or repair. There's also a 60-day no-questions-asked return window. This basically gives you a free trial period, to decide whether the 100JY is right for you.
Image & Screen Quality
The 100JY screen is constructed from high-quality PVC. The PVC material is exceptionally smooth, and actually corrects itself. The idea here is that you hang your screen a day or so before you're going to use it. You can use nails, hooks, or anything else that fits through the grommets. Inevitably, there's going to be some wrinkling. That's the nature of hanging a bit, flat sheet from a couple of nails. But if you leave the screen hanging for about a day, it will straighten itself out. Wrinkles will disappear, and you'll be left with a totally flat screen. Admittedly, this requires a bit of advanced notice before setup. But even with a few minutes' notice, the screen is smoother than most.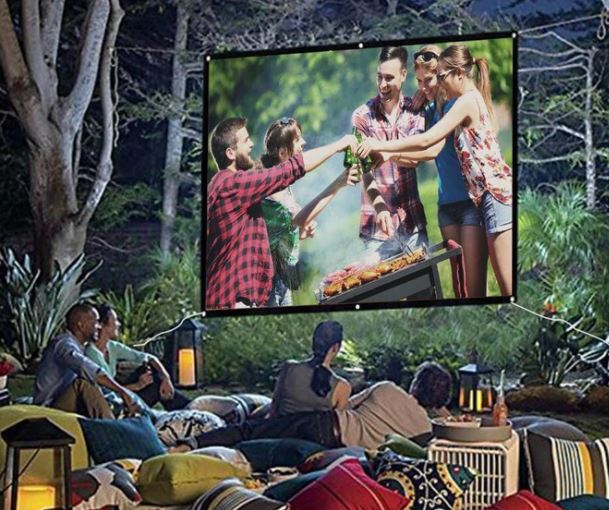 The image looks nice and clear, thanks to the low-reflectivity finish. There's no glare, just a faithful representation of whatever video you're projecting. The screen itself has a 16:9 aspect ratio, which is standard for modern projectors. This makes it easy to watch the latest Hollywood movies, or even smartphone videos. In addition, the screen is engineered to allow for a 160-degree viewing angle. Even if you're sitting close to the screen and off to the side, you can see plenty of details. This makes the 100JY a great choice for groups of just about any size.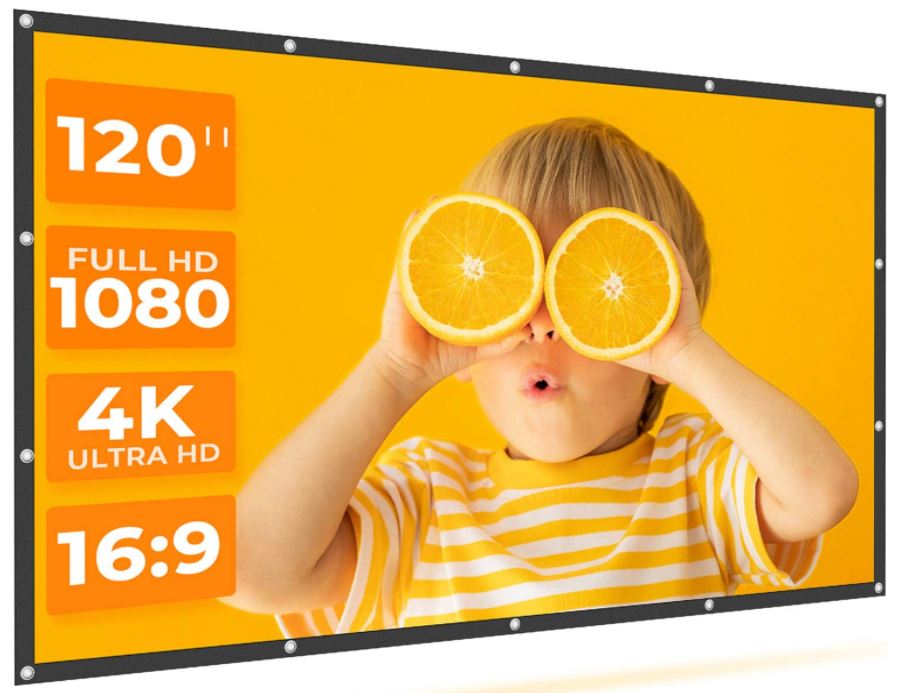 VANKYO StayTrue Projector Screen
VANKYO is another company that's well-known for home entertainment equipment, including Bluetooth headphones. Similarly, their projector screen looks similar to GooDee's at first glance. But if you look closer at the overall design, there are a couple of important differences. To begin with, it measures 120 inches on the diagonal, rather than 120 inches. The VANKYO StayTrue Projector Screen is slightly heavier, weighing 2.25 pounds. However, it's still as light as a feather. You can roll it up and carry it anywhere with ease, without worrying too much about weight or bulk.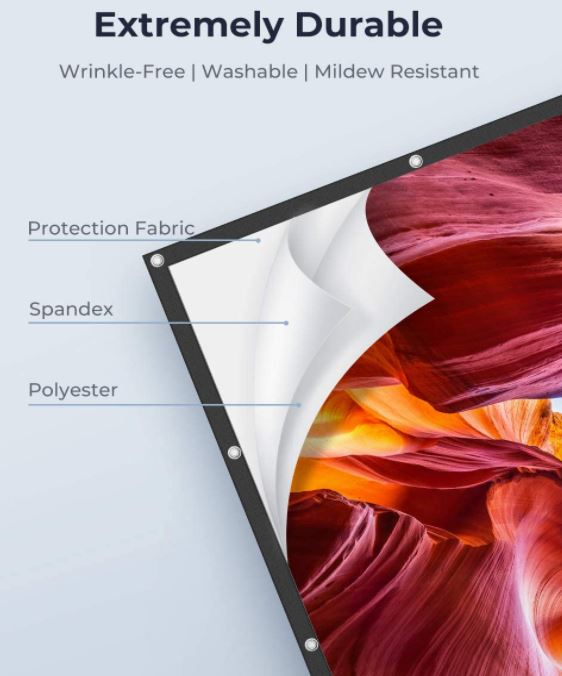 The border of the screen is constructed similarly to the GooDee's. It's made of black nylon webbing, with lots of reinforcement. This reinforcement makes it highly durable, so you can hang it hundreds of time without any damage. Around the perimeter, there's a set of 14 metal grommets for easy hanging. The kit includes a set of 16 adhesive hooks, which can be used for mounting on indoor walls. For outdoor use, there's also a pair of ropes included in the kit. This is a minor convenience, but it's one less thing you have to worry about before getting started. All you have to do is hang the screen and start projecting.
Image & Screen Quality
Like the GooDee 100JY, the VANKYO StayTrue Projector Screen has a 16:9 aspect ratio. This puts it right in line with most modern TV shows and movies. It's also compatible with most smartphone cameras. As always, this depends entirely on your camera angle. If you film your videos in portrait mode, that's how they're going to appear. A 160-degree viewing angle allows for a large number of viewers. This number can be even larger thanks to the monitor's larger size. When social distancing is finally over, you can easily watch a movie with 100 people or more.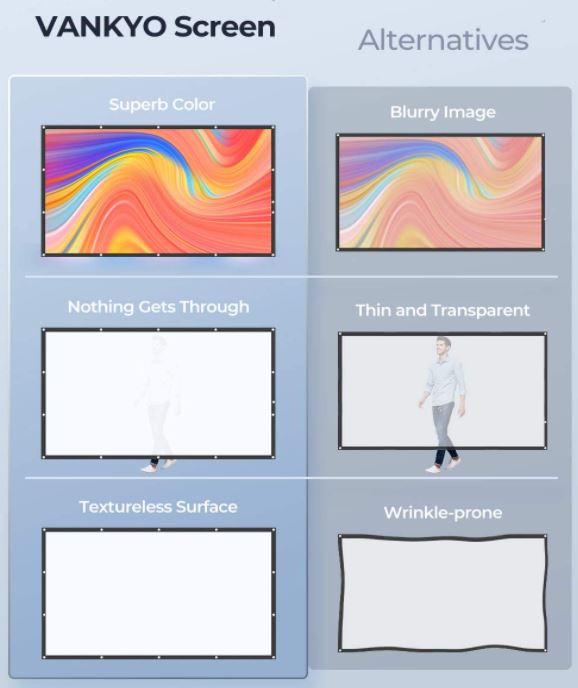 The StayTrue screen is constructed from three distinct layers of material. The back layer is made of sturdy black nylon fabric. This offers reinforcement, as well as keeping light from leaking through the back of the screen. The front layer is made of polyester, with a bright white outer finish. This provides ultra-true colors, with a minimum of glare. Finally, there's a spandex inner core tying everything together. This core is designed to allow for as much flexibility as possible. It also returns to shape after a period of time. If you hang the StayTrue screen up for about a day, it will be totally flat and wrinkle-free.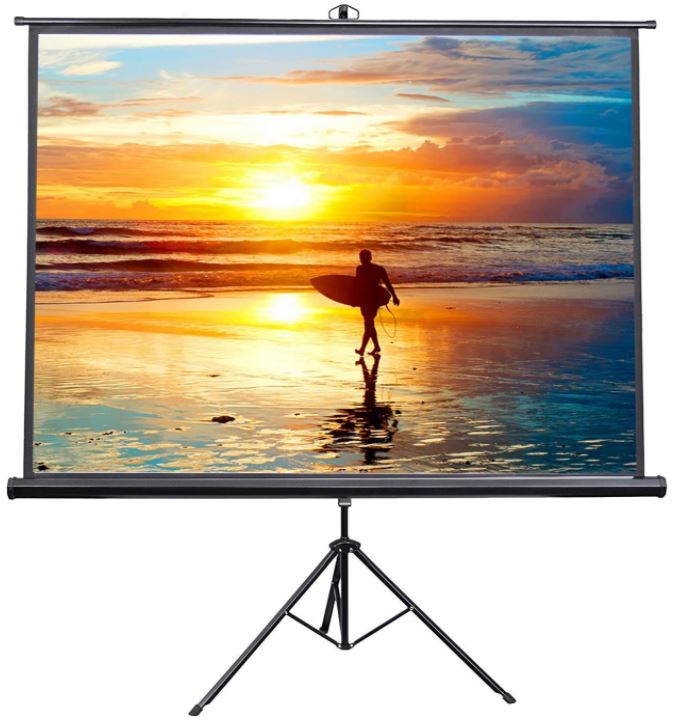 VIVO Portable Projector Screen
The VIVO Portable Projector Screen is a bit different than our last two options. Both of them are designed to be hung on something. The VIVO screen, on the other hand, is a free-standing unit. The screen itself comes attached to an aluminum tripod, so it can be set up just about anywhere. The screen itself collapses into a matching aluminum housing, just like you saw in grade school. The tripod can also be collapsed, which makes the entire unit easy to transport. Despite the screen's large, 100-inch maximum measurement, it collapses to a small tube 84 inches long.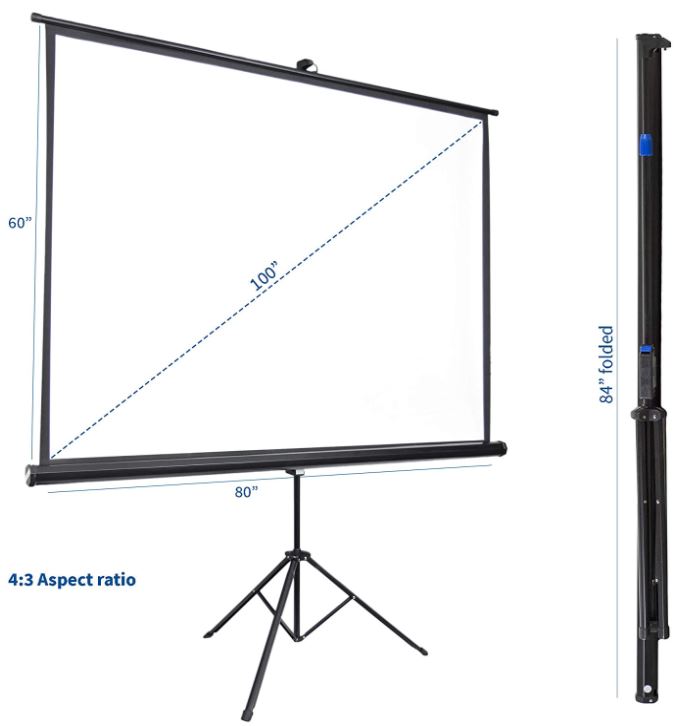 The overall weight of the unit is 20 pounds. This is a bit heavy, but a small handle on the collapsing cylinder offers a convenient grip. Speaking of which, the cylinder and frame are available in either black or white. Black is generally better for contrast and emphasizing your video. However, white can be better for blending in in some scenarios. It really depends on how you intend on using your screen.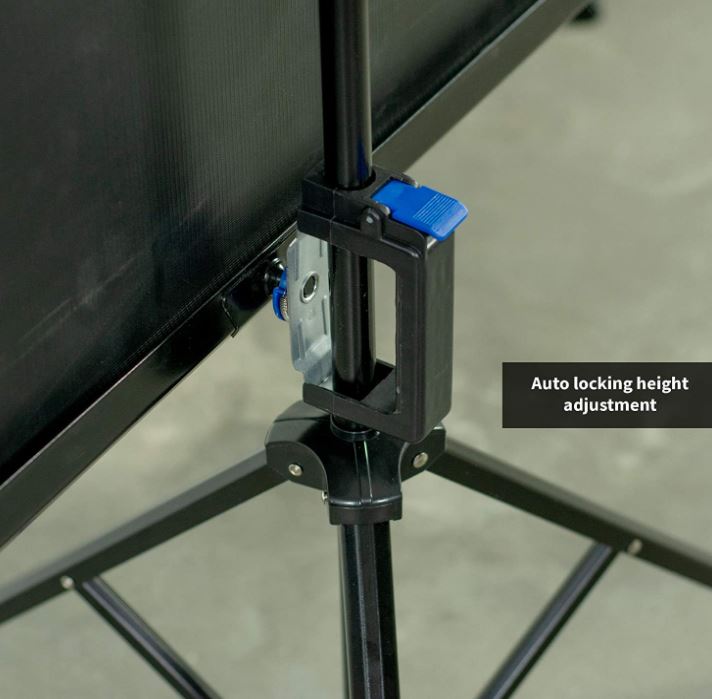 When it comes time to use the VIVO screen, it's easy to open. The cylinder will release the screen with the push of a button, and you can pull it out to any length you want. When it's at the length you need, just twist the cylinder handle. This will lock the screen in place, so you don't have to worry about it moving.
Image & Screen Quality
The VIVO Portable Projector screen differs from our other options in regard to its aspect ratio. Instead of 16:9, the dimensions are 4:3 when fully opened. This is an old-school aspect ratio, but it's useful for office presentations. Otherwise, there's no rule saying your video has to occupy the entire screen. You can still project a 16:9 video, just with empty space at the top and bottom. Better yet, there's always the option to open the screen partway. This will get you a 16:9 aspect ratio without any distracting dead space.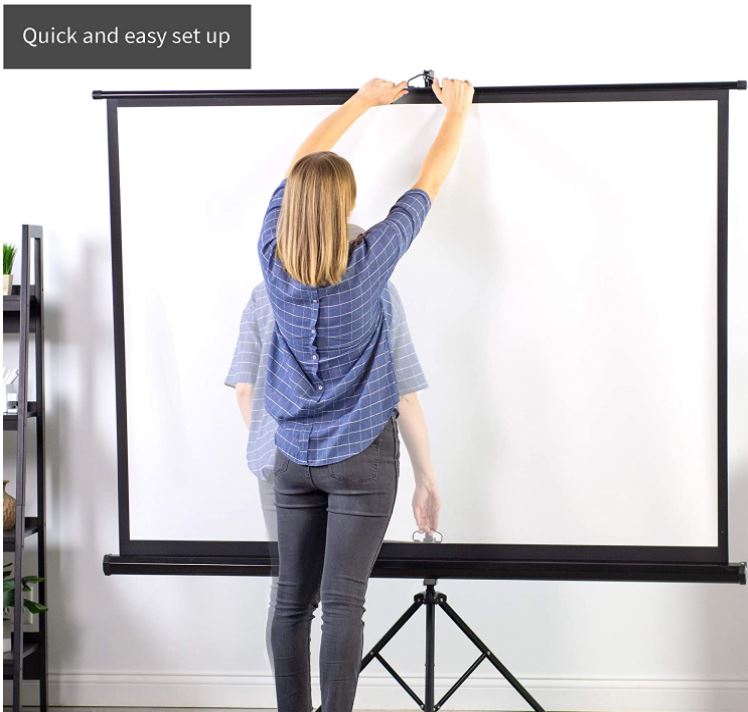 The screen is constructed from a white PVC layer, which overlays a black fabric backing. The black backing serves to prevent light penetration, and avoid backlighting. The PVC front layer is meant to reflect as much light as possible. This means bright colors and vivid action, and plenty of visibility even in dark scenes. The rated viewing angle is 120 degrees. This isn't quite as good as our last two screens. However, unless you're very close to the screen, it's a non-issue. For most purposes, 120 degrees of visibility is going to be more than enough.
Final Verdict
As you can see, any one of these projectors would be a viable option. But there are still important differences we need to take into consideration. To start with, we looked at the GooDee 100JY Portable Projector Screen. This projector screen is ideal for portability. At only 100 inches on the diagonal, it rolls up into a very compact package. Moreover, it's ideal for temporary use. Thanks to its self-straightening material, it can be hung and used even on irregular surfaces. Just give it a day to smooth out.
The VANKYO StayTrue Projector Screen is similar to the GooDee screen in many ways. Primarily, it's a hanging screen, without any type of stand. It also sports metal grommets for secure hanging. The main difference is the size, which is a good 20 percent larger than the GooDee screen.
The VIVO Portable Projector Screen is a different animal altogether. It's a free-standing screen, which comes on a tripod for easy use. This added functionality does lead to extra weight. At 20 pounds, the VIVO screen is no lightweight. But if you need a screen you can use anywhere, the added weight is well worth the benefit.