Quick Analysis
Pros
Exceptionally compact and easy to carry.
Good video quality with motion stabilization.
Helpful smartphone app.
Can mount on most types of mounts right out of the box.
Cons
No way to preview photos without the smartphone app.
Short battery life.
Social media has changed the way we keep friends and family posted on our lives. No longer do conversations wait until weeks or months after the fact. Now, you can send photos or videos with the push of a button. If you want to share pictures of your dinner cruise or a day at the beach, a smartphone is all you need. But if your hobbies run on the more adventurous side, you need a camera that can keep up. For instance, suppose you're into mountain biking. You need a camera with a GoPro mount and stabilization. Similarly, if you want to record your snorkeling adventure, you need a waterproof camera.
We're about to review the VUPOINT Share Q Underwater Action Camera. This is a tiny travel camera that's both rugged and waterproof. It also has built-in stabilizers, so you can record smooth video even during a long action shot. But how well do the other features stand up? Is the video quality good? How about the batteries? We're going to take a deep dive into these and other features. We'll look at everything from the physical construction to the companion app. After that, we'll be in a better position to render a final verdict. Let's take a closer look, and see what we find!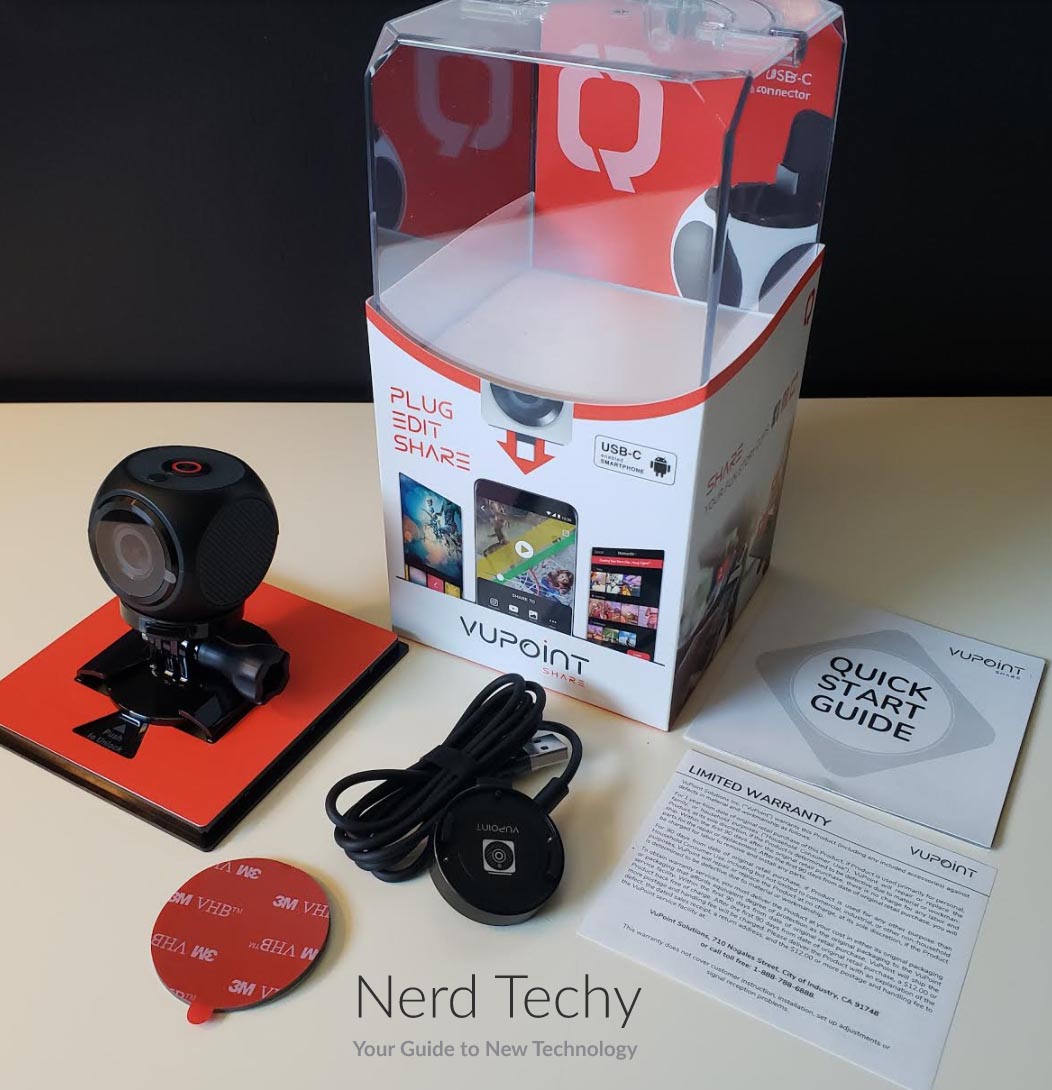 Overall Design
The VUPOINT Share Q is a cube-shaped camera that measures just over an inch and a half on each side. At this tiny size, and weighing only a third of a pound, it can be easily carried in your pocket. Packing it in a backpack or rucksack is also easy. This makes it ideal for backpacking, or any activity where you need to pack light.
The housing is constructed from durable plastic, and is available in black, pink, or white. On the front, you'll see the lens, with its black housing and protective outer ring. On the top, you'll see a pair of buttons. The small one is a simple power button. The larger button will take a still picture if pressed, and a video if held. Unfortunately, there's no monitoring screen, probably due to the very small size. In order to preview pictures or videos, you'll need to use the smartphone app. However, the Share Q is primarily an action cam, so you'll probably be using it hands-free anyway. Befitting this function, the sides and back of the camera have a durable finish that's designed to take a beating.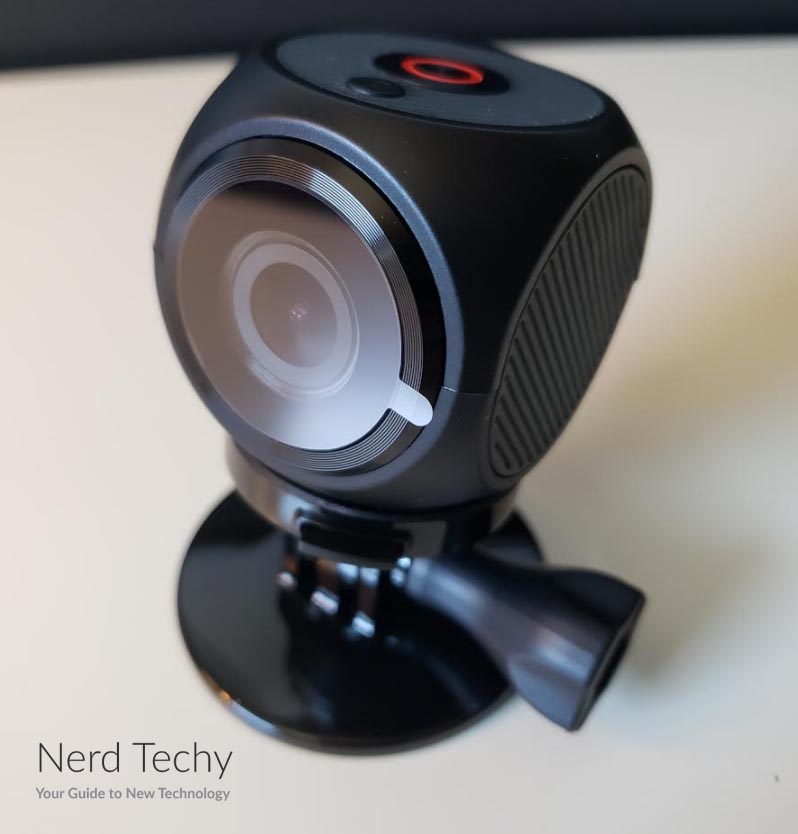 The Share Q is rated for submersion in up to 10 feet of water. This makes it ideal for surfing, snorkeling, or other aquatic activities. That said, the rating is a bit shallow for scuba. If you want a camera that goes even deeper, consider the Nikon W300. It's waterproof to 10 meters, or about 33 feet. It's also very expensive, so casual hobbyists will want something a bit more affordable.
On the bottom of the Share Q, a plate can be folded open to reveal a pop-up connector. There are both iOS and Android connectors available. Make sure to order the right version for your phone, or you'll end up having to exchange it. Under this same plate, you'll also find an SD card clot for photo and video storage.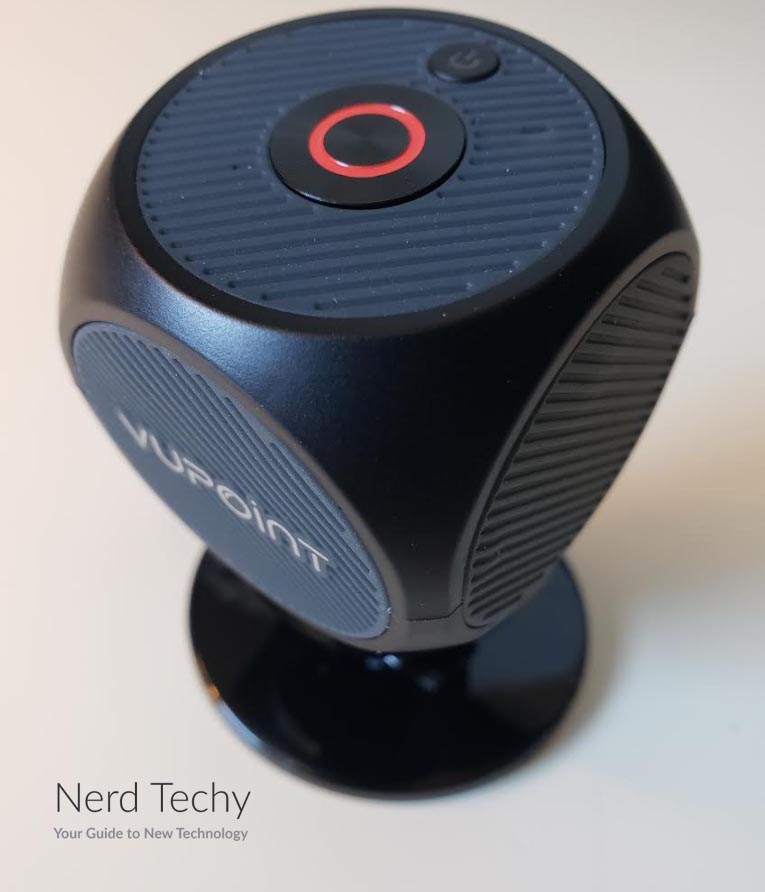 The kit includes a USB charging pod. When the battery runs dead, just plug the charging pod in and set the camera in it. There's also a flat mount and base plate. This can be used to attached to GoPro and other similar mounts. Not only that, but there are a set of 3M magnet stickers in the kit. These can be used to attach the base plate to any ferrous metal surface.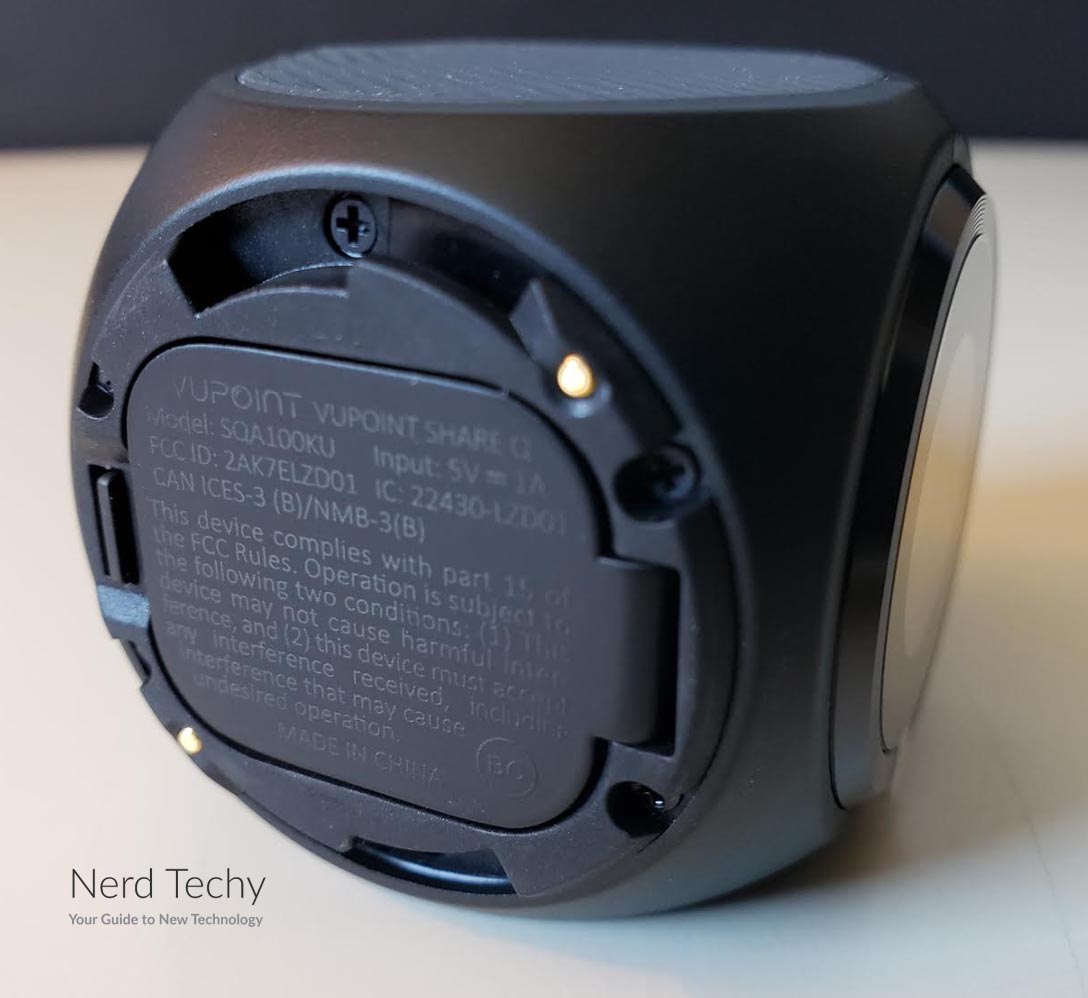 Image & Video Quality
There are two different video modes on the Share Q camera. You can record at 60 frames per second with stabilization off, or 30 frames per second with stabilization on. In general, 60 frames per second looks a bit smoother. It's particularly useful if you want to slow the video down later, since you'll have twice as many frames available. That said, 30 frames per second has its place. Because of the stabilization, it stays stable even if your hand or mount is shaking. As a result, 60 frames per second is better when the camera is still and the subject is moving. 30 frames per second with stabilization is better when the camera itself is moving.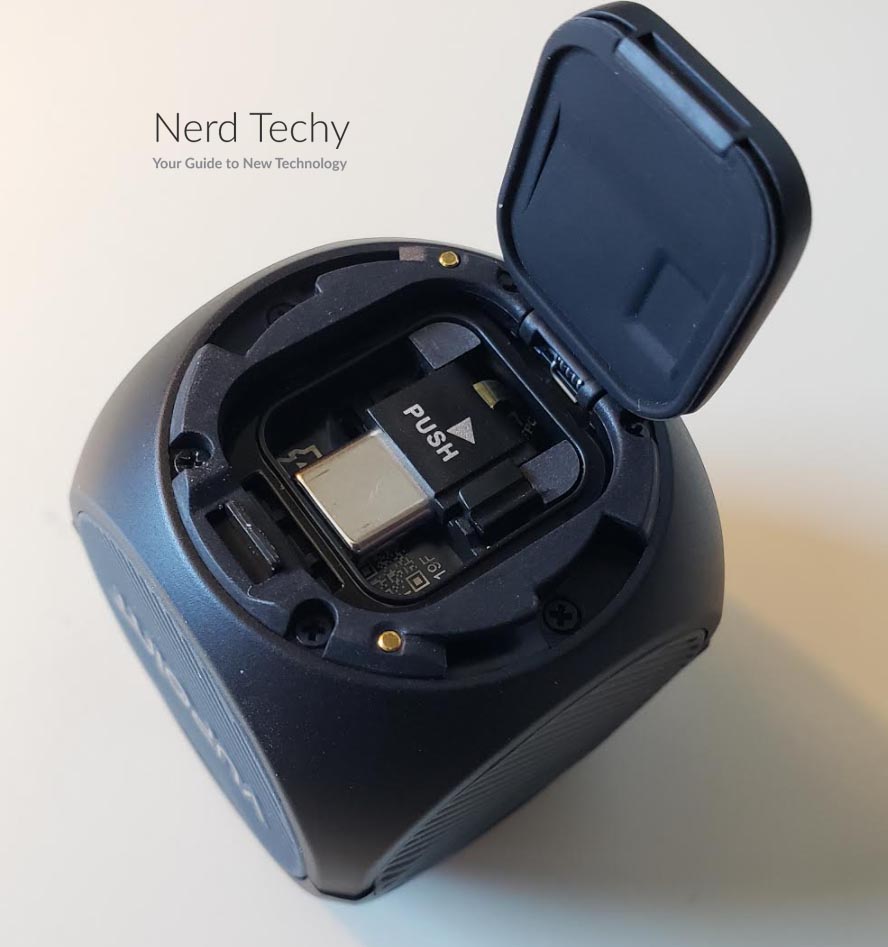 In addition to recording video, you can also use the Share Q to snap still photos. It captures images in 4 megapixels, which is a resolution of 2,560 x 1,440 pixels. This makes it about half again as crisp as 1080p, so you can even order good-looking large photo prints. They won't look pixelated like printouts from cheaper cameras.
Both for still photos and videos, the image capture technology is very good. Colors are bright and vivid, and edges are clean and clear. You're looking at similar quality to some of the nicer smartphone cameras on the market. When you share your photos and videos, they'll be as true to life as possible.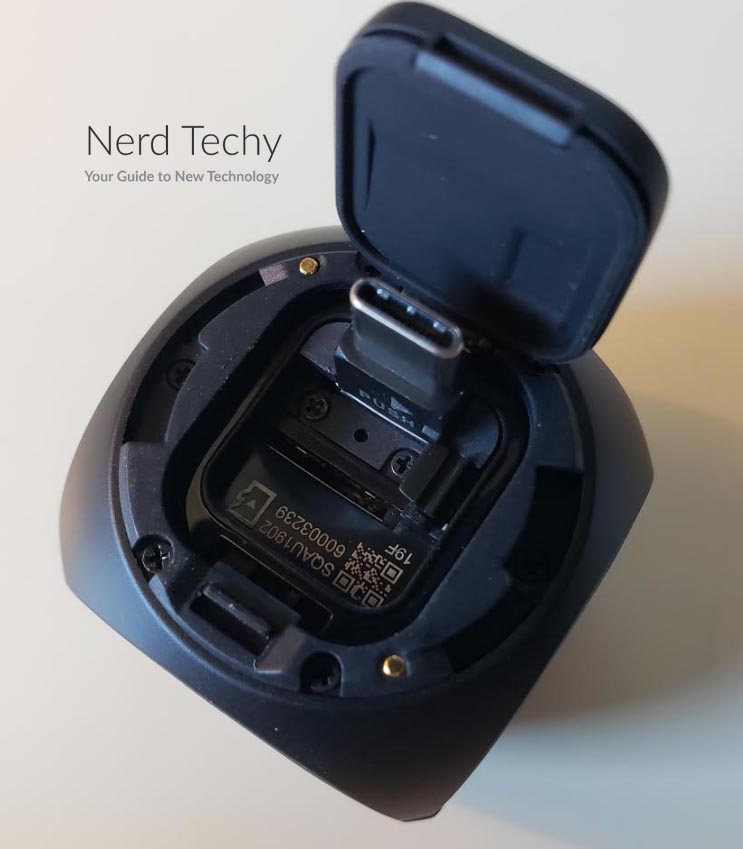 The Share Q records audio in addition to video. The sound recording isn't quite as crisp or as clear as we would have liked. It sounds a bit muffled. This is probably due to the waterproofing. It's tough to make a good waterproof microphone, and it costs a lot of money. The Share Q is a more affordable camera, so VUPOINT had to use a cheaper microphone. It's fine for fun vacation videos, but don't plan on shooting professional-grade recordings.
Battery & Storage
The Share Q's internal battery supplies enough power for 2 hours of continuous recording. Keep in mind the word "continuous." Unless you're literally filming the entire time, you'll get considerably longer performance. Even so, this is a relatively short amount of battery life. If you're trying to film all day, you're not going to be able to do it. However, we should point out that batteries can be the biggest and heaviest part of a device. To extend the Share Q's battery life, VUPOINT would have needed to make it significantly bulkier. This would have been counterproductive, since the Share Q is specifically made to be small and lightweight.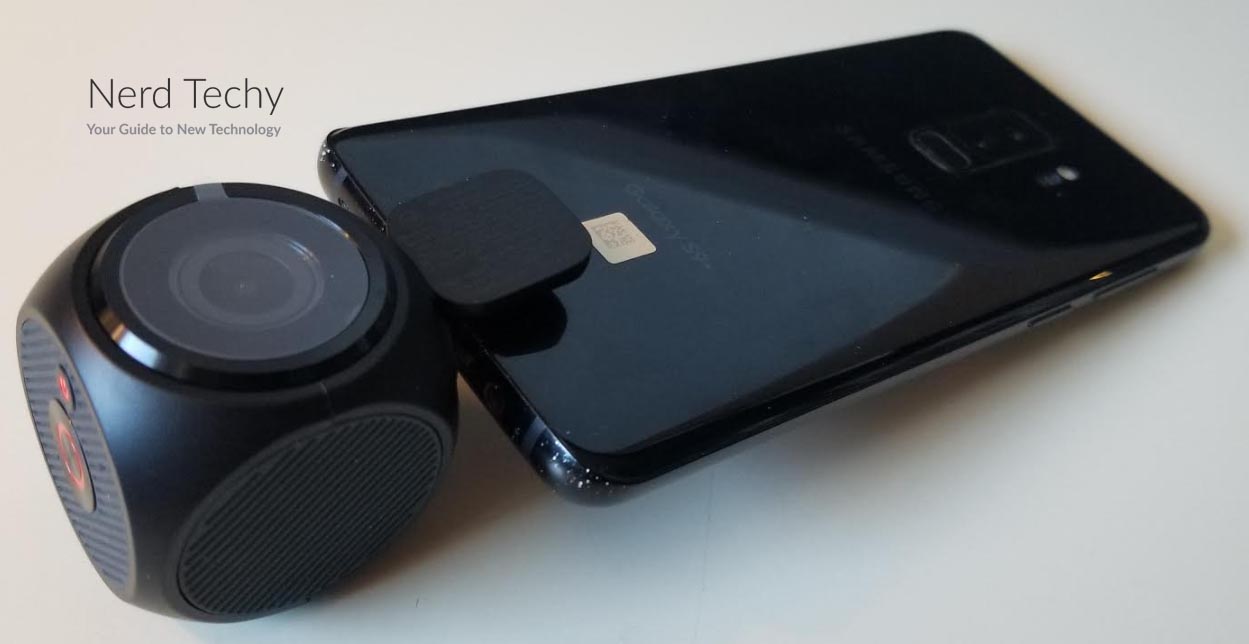 If you do need more battery life, there are plenty of options. For instance, the AKASO Brave 7 LE will literally record all day long. However, it's a bit bigger than the Share Q, and it costs nearly twice as much. This is one of those areas where you have to weigh your options and decide what works best for you.
There is no SD card included in the kit. You have to provide that yourself, which is fairly common for digital cameras. The maximum size is 128GB, which is enough to store literally weeks' worth of video. That's more than you're ever likely to need at any given time. Alternatively, if you want to save a few bucks, you can install a 32 or 64GB card and call it a day. Even with a card of that size, you can just upload anything you want to save to social media. After that, there's really no reason to keep your video saved on the physical camera.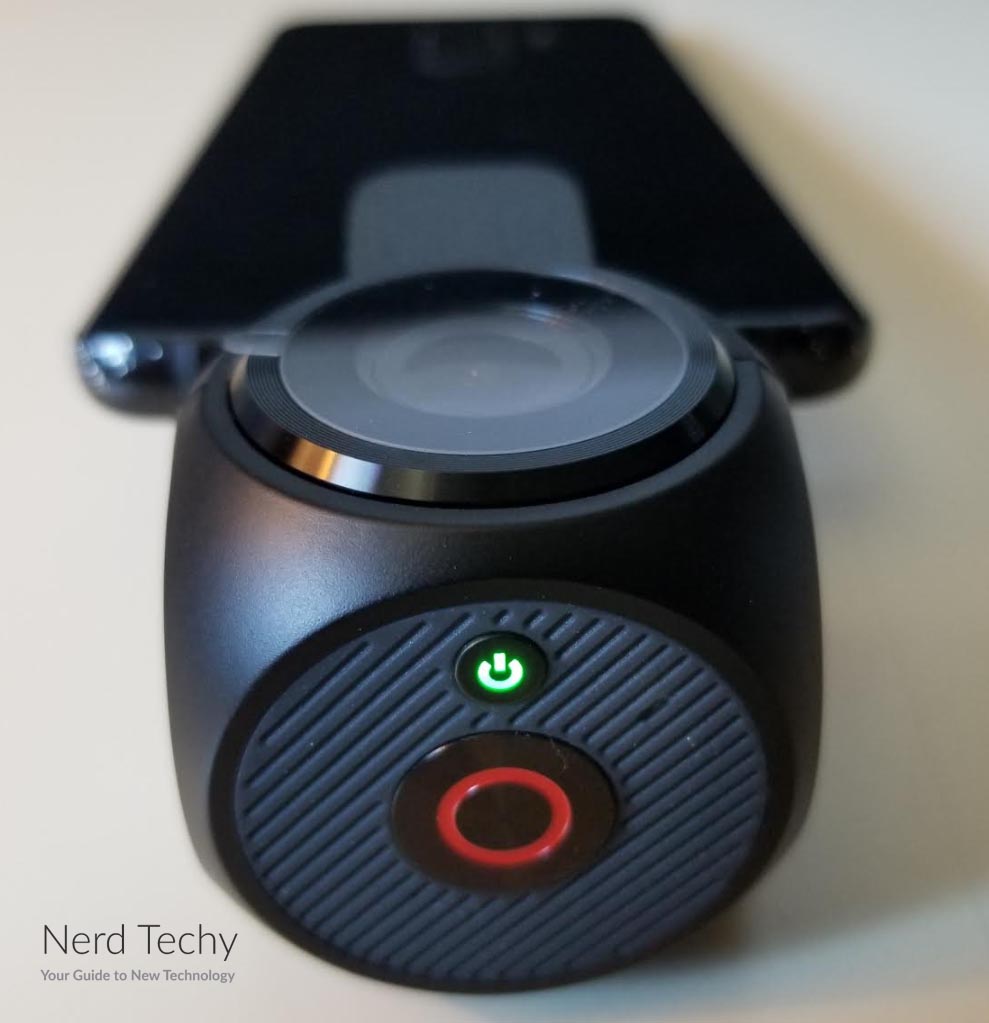 Extra Features
As we mentioned, the VUPOINT Share Q requires a smartphone app to take advantage of all the features. Thankfully, the VUPOINT app is free. Just search for it in the Apple Store or Google Play, and it will install in just a couple minutes. The primary function of the app is to use as a monitor. Not only is there no monitor on the camera, but that doesn't help if you can't see the camera. For example, if the camera is on your helmet, the app lets you ensure that it's pointed the right way.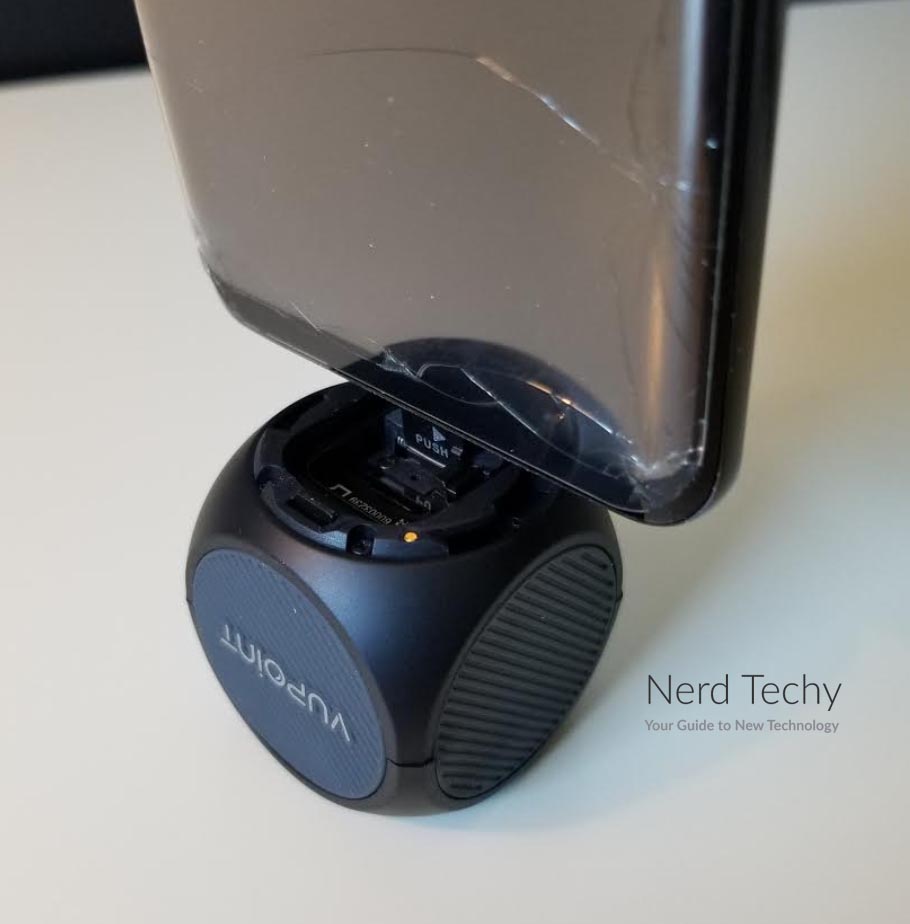 After photos have been snapped or videos recorded, you can also review them. From there, you can sort them into albums for easy recovery later. You can delete them if they're not worth keeping. You can also upload them to social media directly from the app. This makes management easy, since everything is controlled from the same place. Keep in mind that the app connects to the Share Q via Bluetooth. This means they need to be within about 30 feet of each other to function. Beyond that, if the camera is rolling, it will still continue to record. You just won't be able to interact with it again until you come back into range. Similarly, if your camera is at home, you can't access it from your office. You have to be physically close to it.
Final Verdict
The VUPOINT Share Q is a great all-around action camera. To begin with, the physical design is impressive. At only about an inch and a half on each side, VUPOINT has packed a lot into a small package. The included mounting kit provides plenty of versatility. Forget about using a handheld camera. You can capture action shots with a mounted camera and still have your hands free for other tasks. To pair with this, the stabilization function is highly effective. Even if you're mountain biking down a bumpy trail, the video will be nice and fluid.
To be fair, there are a couple of drawbacks. The battery life isn't what we would have liked, and there's no built-in monitor. However, either of those features would have required a larger camera, negating the Share Q's greatest strengths. The app is highly functional, and lets you do everything you need. Because social media uploading is built in, you don't have to constantly switch apps as you share your story. Finally, the video itself looks very good. It's nice and crisp, with great color fidelity. As a result, you're looking at the complete package, especially at the Share Q's low price point.