Unless you've been living in a cave, you're probably familiar with the term "smart home devices". Everything from refrigerators to smoke detectors to light switches is getting its own internet connection. This will make our homes and our lives more efficient than ever before. For example, there are already refrigerators that can create a grocery list for you. A camera monitors the inside of the fridge, keeps track of what you remove, and puts it on the list.
In order to achieve this, a whole new generation of routers is needed. The reason is that older routers aren't designed to support this many devices. A fast router from five years ago might have been impressive if it could support 24 simultaneous connections. Soon, you'll need hundreds of connections.
Today, we'll be looking at the TaoTronics AC3000 Mesh WiFi Router. TaoTronics is mostly known for their audio technology, such as their ANC headphones. But in producing that technology, they've learned a thing or two about connectivity. So we were excited to see how the AC3000 performs. Let's take a closer look, and see what we've uncovered!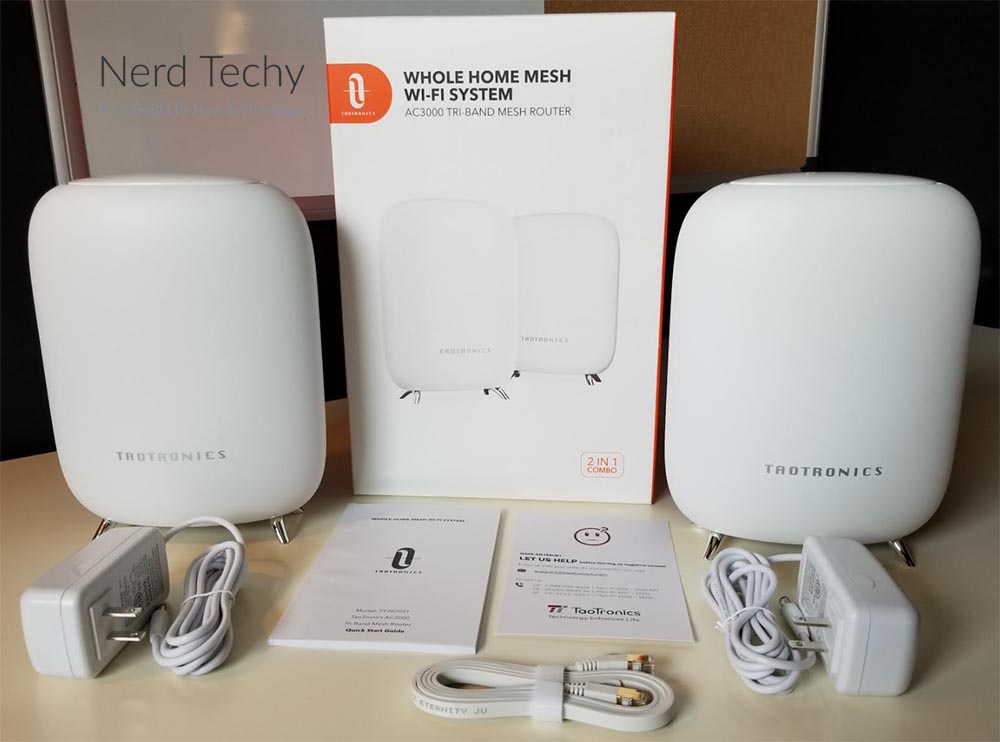 Design and Installation
The TaoTronics AC3000 is a mesh router. This means that it's designed to be used in sets of two or more, and it comes in a two pack. You can add a third router if you need to cover even more area, but those are sold separately. Regardless of whether you're using two or three routers, installation is the same. One of the routers gets plugged into your home's Ethernet connection. This becomes the "main" router, while the other router becomes a node. Next, you place the node towards the other end of your home. As long as the two routers are in range of each other, the node will extend your home's network. Additional routers work in a similar fashion, creating an overlapping "mesh" of wireless coverage.
The routers themselves are attractive to look at. They're constructed from white ABS plastic, with a beautiful, high-gloss finish. The only decoration is a discreet TaoTronics logo on the front. The legs are constructed from stainless steel, and make the router look like a small sculpture. There's also a blue LED light ring on the top that illuminates when the AC3000 is powered on. If you prefer to keep the light off, it's easy to do from the companion app.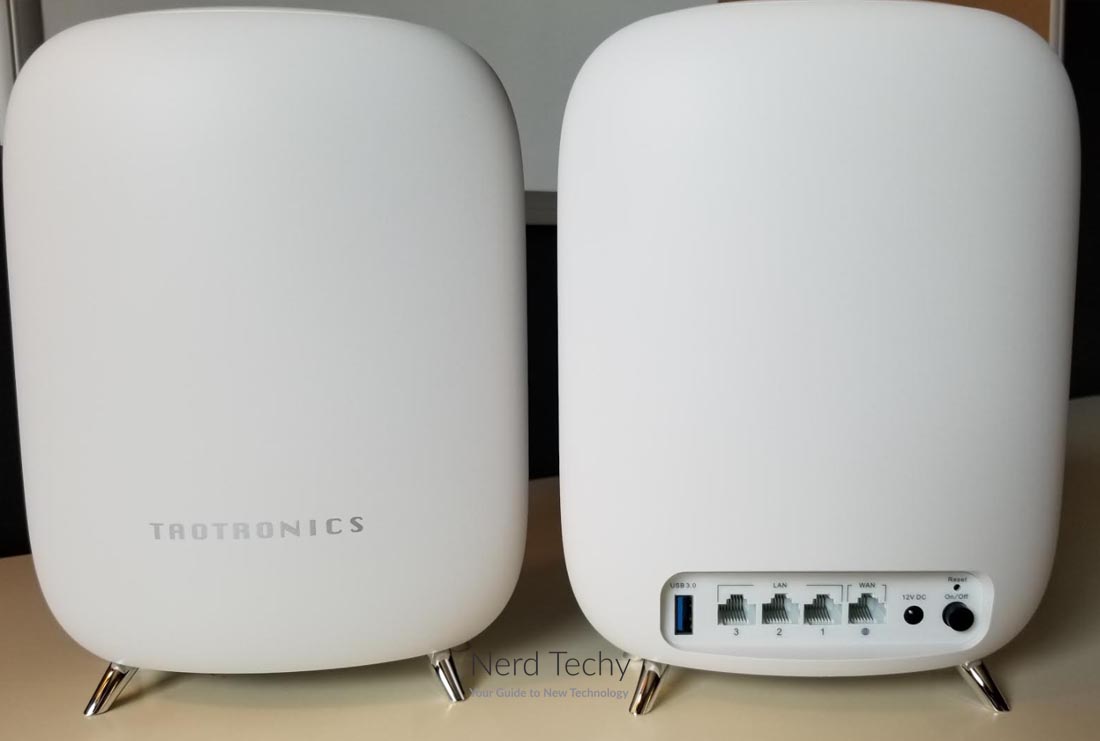 All the input and output ports are located in a small cutout in the back of the AC3000. There are four Gigabit Ethernet ports for connecting your wired devices. There's a USB 3.0 port for connecting a thumb drive or external hard drive. There's also a simple, barrel-style DC input. The AC adapters are included in the box, as is a single Ethernet cord. Next to the power input, there's a small black reset button.
Once you've gotten your routers plugged in, setup takes only about 10 minute. To set up your network, you'll have to download the "TT Router" app, which is free on Android and iOS. This app will guide you through the process of setting up the network. It will also allow you to manage your network, with a whole bunch of useful tools we'll talk about shortly.
About the only thing we didn't like about the AC3000 is the price. This is not unusual for mesh routers, which tend to run on the more expensive side. That said, there are more affordable options available. The GRYPHON Guardian is very reasonably-priced, comes in a one-pack, and will cover a small house or apartment. And because it's a mesh router, you can cover a larger home simply by adding more units.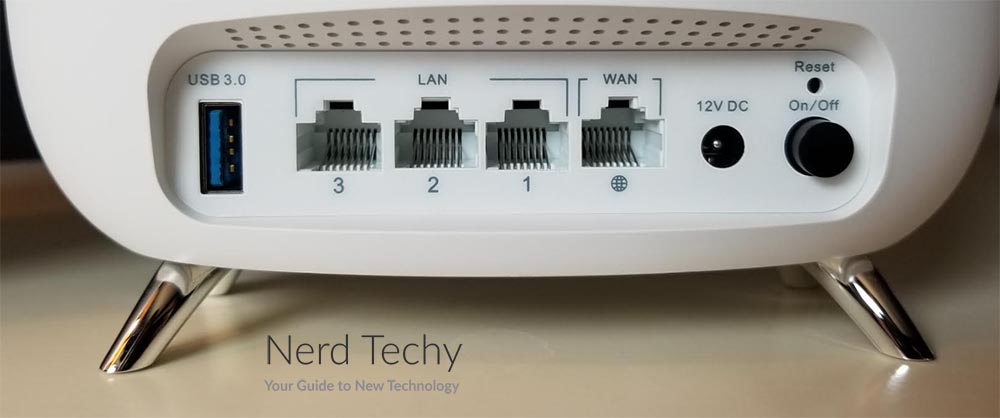 Speed and Coverage
The AC3000 utilizes tri-band technology to achieve high transfer speeds with multiple devices. The 2.4GHz band provides long-range stability at a speed of 400Mbps. The 5.0GHz band provides a shorter-range signal with a higher 866Mbps speed. Finally, the 5.8GHz band offers speeds of up to 1,733Mbps. Not only is this enough for streaming 4K video, but the third band helps keep the 5GHz band uncluttered. The total bandwidth of the system is 3Gbps over all three wireless bands.
The way the tri-band system works is that your phone or other device will automatically choose the best band. It will also switch between bands as needed to adjust for conditions. For example, if you're sitting right next to your router, you'll probably be on the 5GHz band. Let's say you go outside to check the mail. While you're walking, at some point, the 5GHz signal won't be strong enough. Your phone will then switch to the 2.4GHz band. Switching bands takes only 40ms, so you won't even notice it happen. When you come back inside and you're closer to the router, your phone will reconnect to the faster 5GHz band.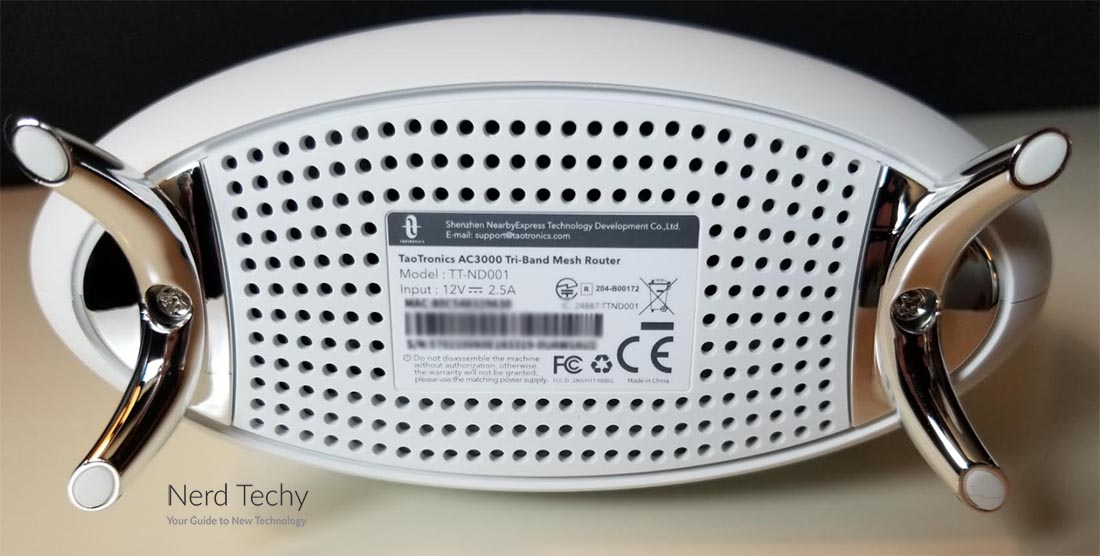 In addition to all this, you still have the four gigabit Ethernet ports on each router. These allow for very fast, very stable wired connections. If you have a 4K TV or game console, you'll usually want to put your main router near that device. That way, you can take advantage of the Ethernet connection. That said, the 5 and 5.8GHz bands are both pretty fast in their own right. If an Ethernet connection isn't practical, you'll still have a good enough signal for gaming or streaming.
Each router will support up to 200 devices. So for the two-pack we're looking at, you get support for up to 400 devices. If you were to add a third router, you'd be able to connect a total of 600 devices. Unless you're running a showroom full of smart home devices, you'll probably never need that many connections. But that's the point. By allowing for a ridiculous number of connections, TaoTronics has ensured that you'll never run out.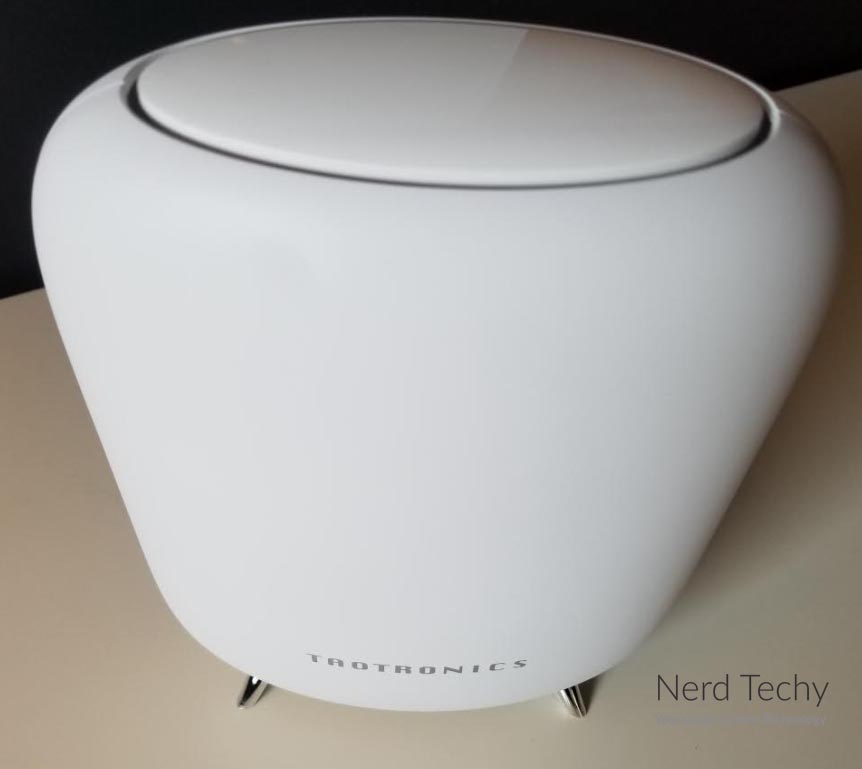 The AC3000 utilizes beamforming technology to get the longest possible range. This means that internal antennas will point towards your devices while you're using a lot of bandwidth. The result is approximately 3,000 square feet of coverage per router. With two routers, you're looking at 5,000 square feet. With three routers, TaoTronics says you can cover 6,000 square feet of space. Like any such rating, these are really just ballpark numbers. There are any number of factors, such as metal furniture or internal brick walls, that can affect range. Suffice it to say that the AC3000 can cover even the largest of homes.
As you can see, the AC3000 is one of the fastest routers on the consumer market. But if you want even more speed, it's achievable. The Arris SURFboard Max Plus W30 offers up to 4Gbps on three wireless bands. It will also cover 6,000 square feet with only two units, but it costs almost twice as much as the AC3000.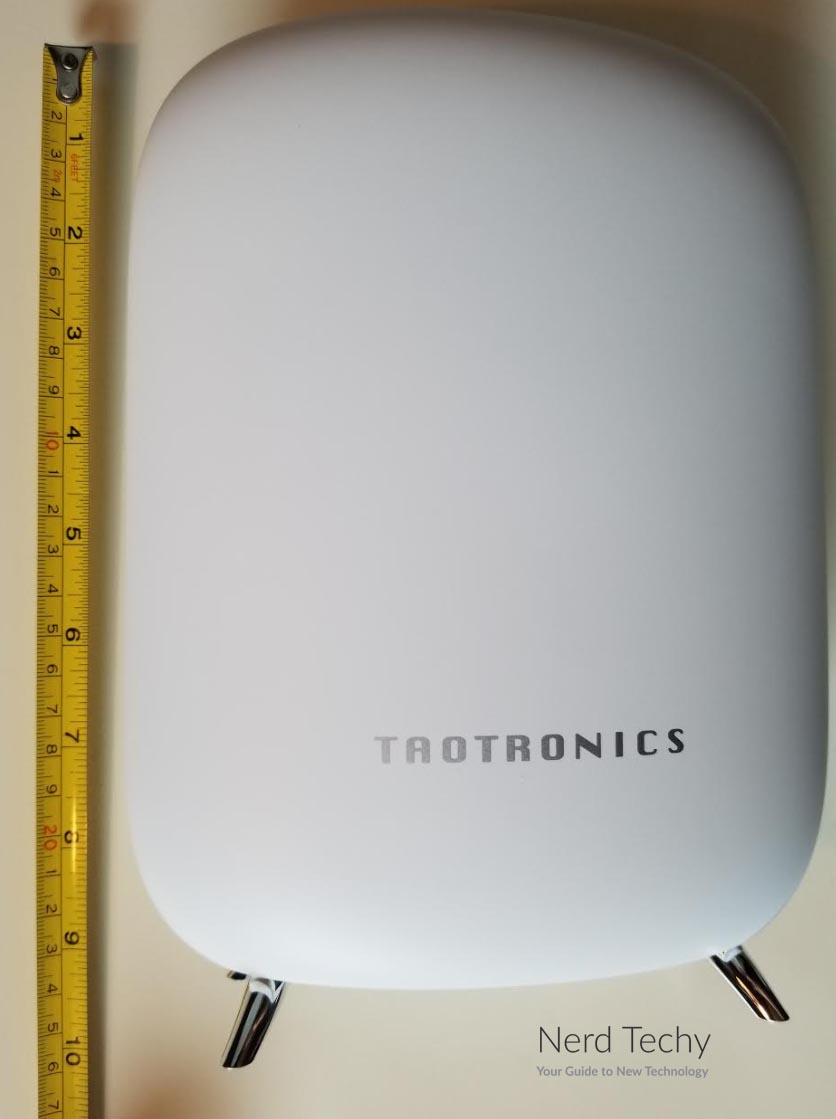 App and Extras
As we briefly mentioned, the TT Router app offers a number of configuration options for your network. To begin with, you can create a private guest WiFi network. This is a separate network that you can share with friends and family. That way, guests can still use their phones, but only you will have access to your smart home devices. For added security, there are additional network protection features built into the routers themselves. This makes it virtually impossible for anyone to access your network without the password.
Smart parental controls allow you to regulate who can get online, when they can do it, and what they can access. This can be done on a per-device basis, so you can create custom settings for each device. For instance, you probably don't want to put restrictions on your smart smoke detector or light switch. On the other hand, if you have kids, you can shut off their internet at bedtime. You can even create a 7-day schedule so your kids can stay up late on weekends.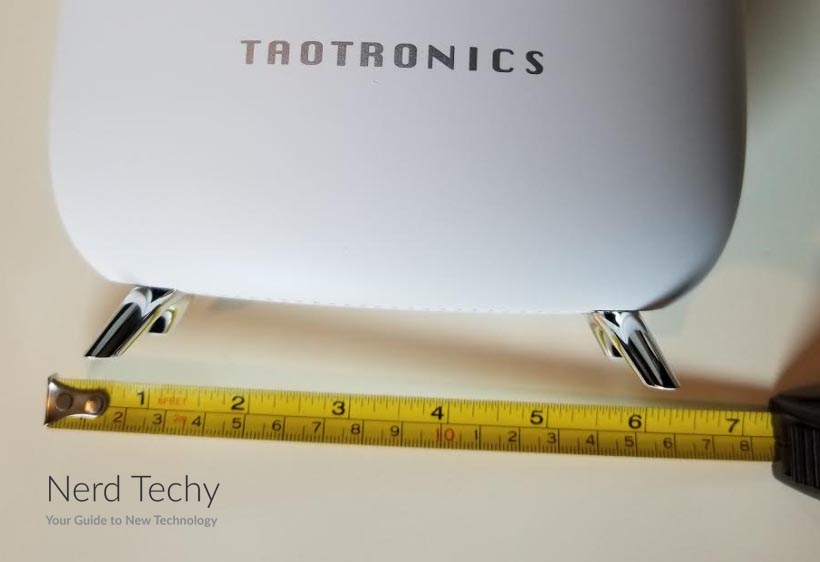 Similarly, you can block particular types of content. If you don't want your kids to see violent or sexually explicit material, it's easy enough to block. This can also be done on a per-device basis, leaving your personal devices unrestricted. It can be done by category, or you can even block specific sites. You can also track the browsing history of each device. This gives you peace of mind if you're worried about your kids getting into trouble online. You can even set bandwidth limits for specific devices. This is incredibly useful if you have metered internet, since your kids won't be able to run up the bill.
In addition, the AC3000 router supports external DNS servers. Admittedly, this is an advanced option that most people aren't going to use. But if you're a networking guru, you'll appreciate this feature. Finally, the USB port on the back allows you to easily set up a network drive. That's great news if you're trying to set up a home media server.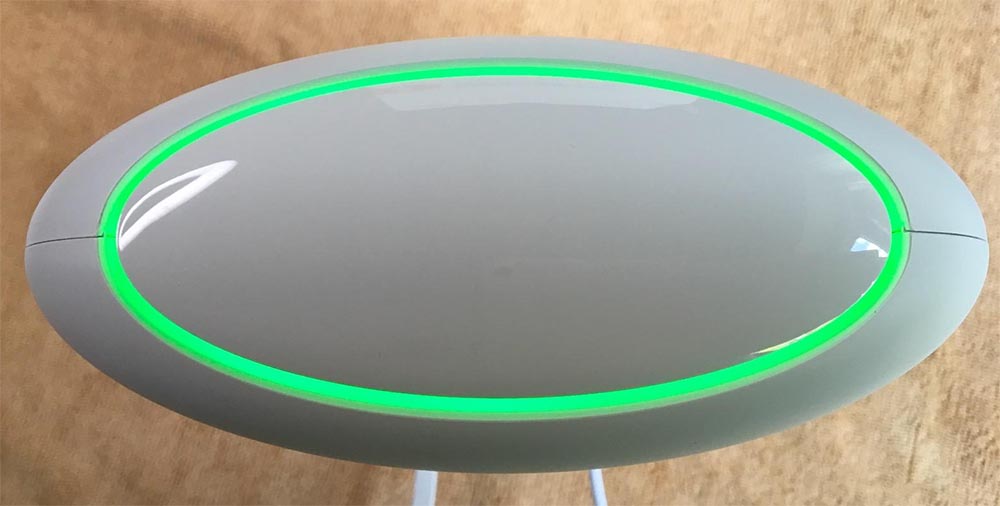 Final Verdict
So, is the TaoTronics AC3000 Mesh WiFi Router a good investment? If you don't mind paying top dollar for a beast of a router, then yes. To begin with, it provides wide mesh coverage. With the ability to cover over 5,000 square feet, it's suitable for even very large homes. Not only that, but the speeds are very fast. The 2.4GHz band is fast enough for most tasks. The 5.0GHz and 5.8GHz bands allow for even higher speeds for gaming and 4K streaming.
The security and management suite is full featured. You get more parental control options than you'll know what to do with. You get a private guest network, intrusion protection, and bandwidth budgeting. All in all, you'll have more control over your home network than you will with most routers.
To top it all off, the AC3000 is beautiful to look at. It's obvious that TaoTronics put a lot of thought into the gorgeous design. This makes placement easy, since you don't have to worry about hiding an ugly router. If you want to keep the AC3000 out in the open, it will look just fine.
Meet Derek, "TechGuru," a 34-year-old technology enthusiast with a deep passion for tech innovations. With extensive experience, he specializes in gaming hardware and software, and has expertise in gadgets, custom PCs, and audio.
Besides writing about tech and reviewing new products, Derek enjoys traveling, hiking, and photography. Committed to keeping up with the latest industry trends, he aims to guide readers in making informed tech decisions.