SoundPEATS H1
Pros
Comfortable, ergonomic design.
Long-lasting battery with wireless charging support.
Ultra low latency gaming mode.
Compact, portable charging case.
IPX5 waterproof rated.
Cons
Bass presence is very limited.
Limited color schemes available.
These days, there are an absurd number of wireless earbuds on the market. This isn't just because there's a current wireless earbud fad. In fact, it's because recent revolutions in technology have allowed for significantly better quality at lower prices. This wasn't always the case. Just a few years ago, True Wireless Stereo was nothing but a concept on an engineer's desk. Now, it's the standard for every manufacturer, from Sony to startups. This and other similar developments have led to a technological arms race between manufacturers. Moreover, the growth in availability of high-quality parts has created fertile ground for ambitious startups.
SoundPEATS is one of those startups. Over the past few years, they've gone from a tiny company to one of the world's leading headphone manufacturers. This popularity isn't just a matter of clever marketing. It's because they make some of the best wireless earbuds you can get your hands on in their price range. So when we heard they were releasing some new earbuds, we were eager to get our hands on a pair.
The SoundPEATS H1 Hybrid TWS Earbuds are currently gaining popularity. However, you can now get your hands on a pair. The H1 buds are designed to be nice and compact, and to deliver good quality audio in that form factor. So, do they succeed, or do they fall flat on their face? Let's take a closer look, and see whether the H1 earbuds live up to expectations!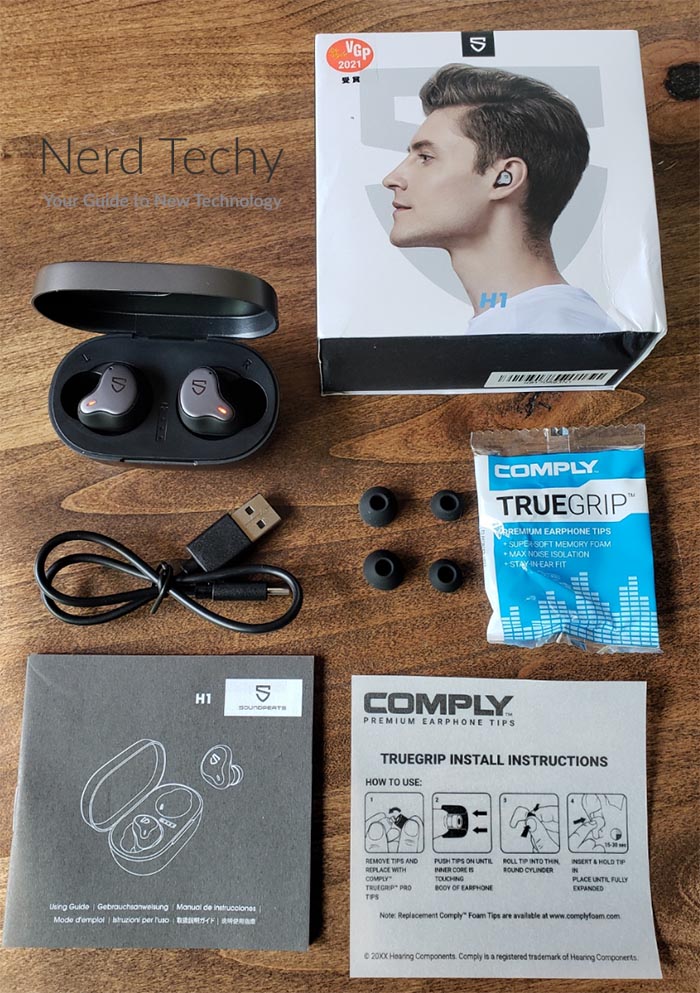 Overall Design
The SoundPEATS H1 Hybrid TWS Earbuds have a compact design that's engineered to fit securely in your ears. This low profile form factor makes them nice and stealthy, as well as requiring a smaller case. That said, the entire quality of the fit depends on having a secure seal on the silicone ear tips. Too tight a fit, and you're not going to be comfortable. Too loose a fit, and you'll end up losing your buds. You also won't get the noise isolation you want from a good set of tips. Thankfully, like most manufacturers, SoundPEATS includes three sets of different-sized ear tips in the box. If the standard tips don't provide a good fit, try moving to a larger or smaller set as needed.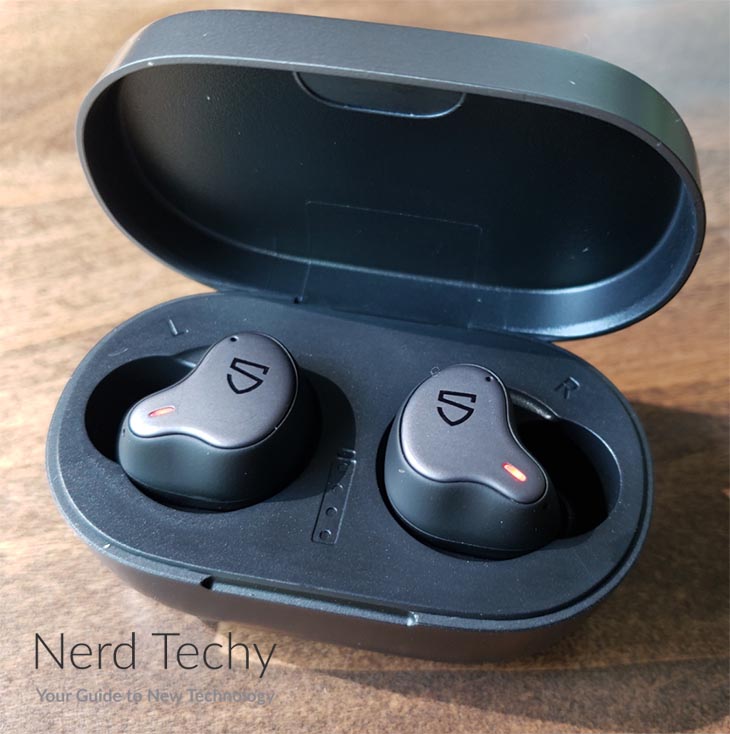 If you have very sensitive ears, you may prefer a set of buds that doesn't sit inside your ear canal. In that case, consider the SoundPEATS TrueBuds. The AirPod-style design sits in the outside of your ears, so it's less invasive. That said, it also doesn't provide any noise isolation, and the fit isn't quite as secure.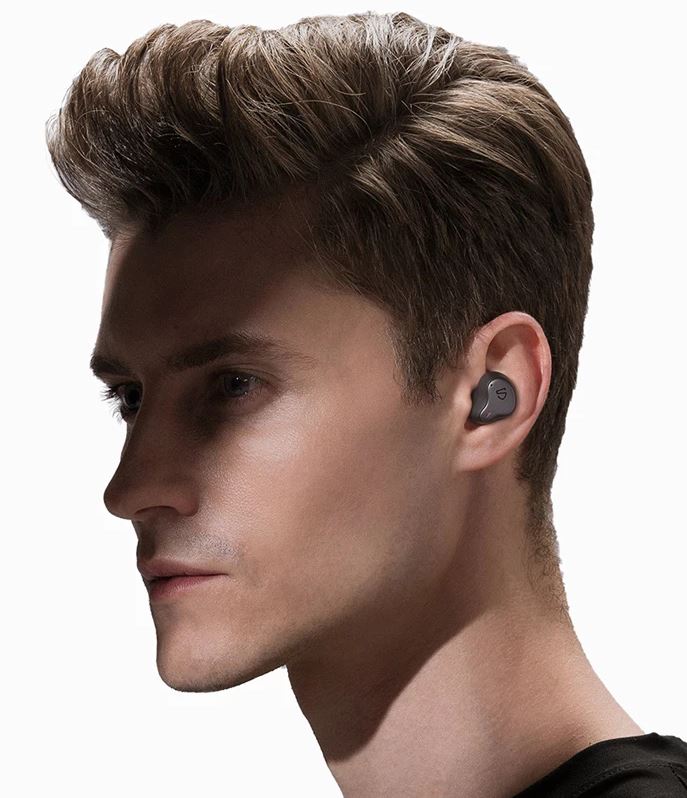 On the back of each matte black shell, a charcoal back plate shows off a glossy SoundPEATS logo. These back plates double as soft touch buttons for your phone or MP3 player. You can adjust the volume, skip tracks, and answer or end calls with a tap or a hold. For more complex tasks, you can even activate your phone's voice assistant. This way, you won't need to use your hands at all.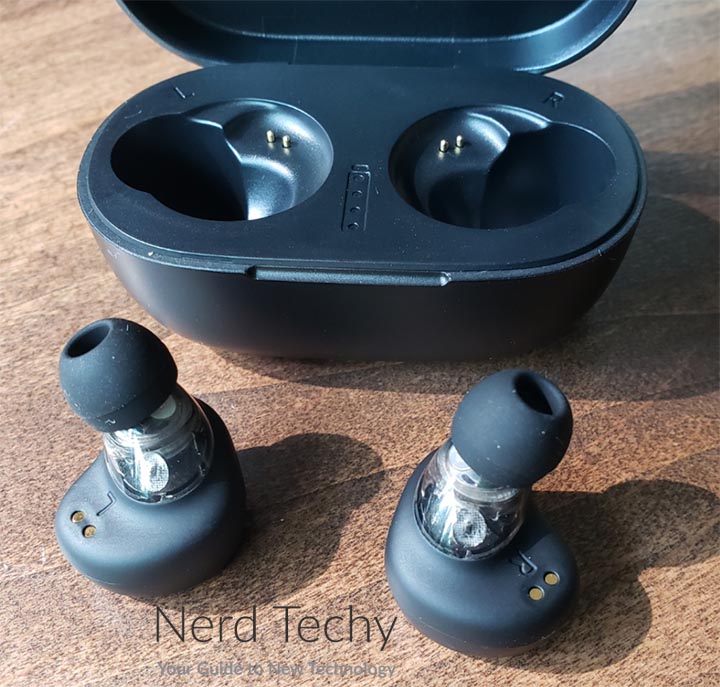 One thing that impressed us was the IPX5 waterproof rating that SoundPEATS gives the H1 earbuds. You can safely go into the rain, shower or willingly splash water on them and there won't be any issues. Even the sweatiest person can use them in damp conditions without worry. However, the rating is only given to the earbuds, themselves. The charging case should always be kept dry and away from moisture.
Speaking of the charging case, it's constructed from a matte black plastic that matches the earbud shells. It has an oval design, with rounded edges that feel smooth in your pocket. The top bevel is a bit sharper than most, but this gives it a forward-looking design. It's also a nice contrast to the smooth, profiled shape of the earbuds.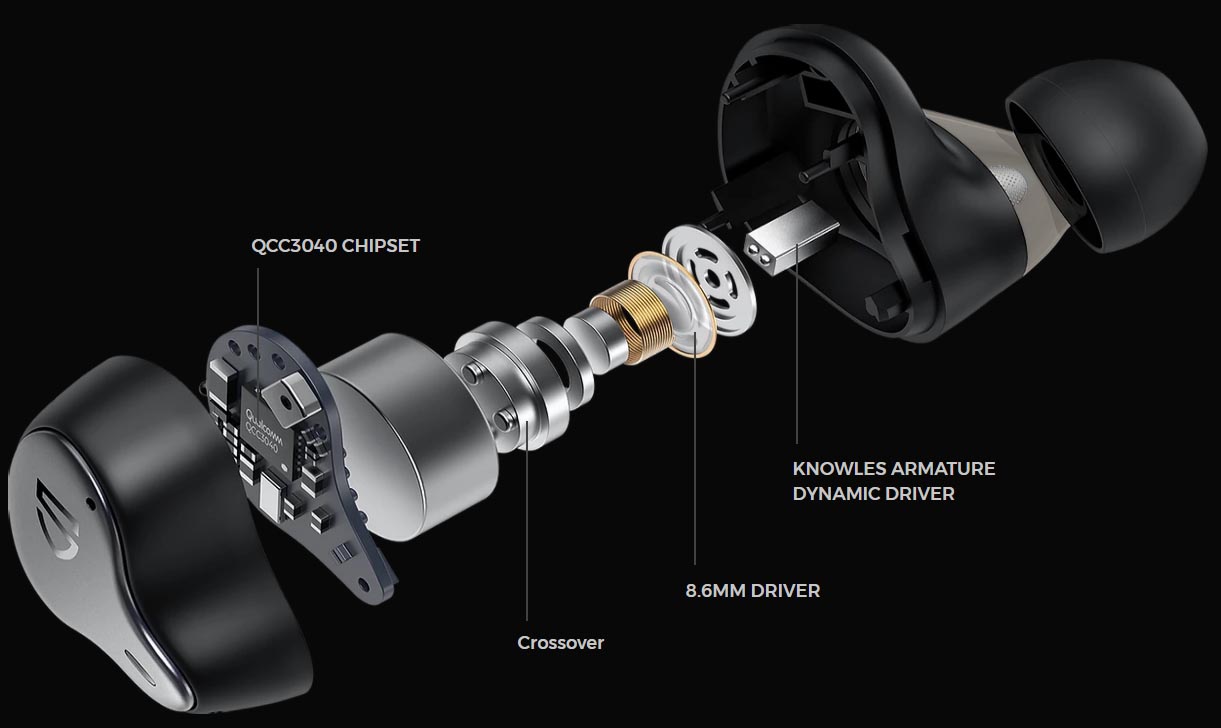 The earbud wells are well molded, and the buds fit neatly into place when you drop them into the case. Between the earbud wells, there's a vertical row of white LEDs that indicates the current battery status. The lid has a clamshell-style design, and is spring-loaded to stay shut easily in your pocket. Under the front of the hinge, a small cutout makes it easy to open the lid when you want to. A USB Type-C charging port is located under the back hinge.
Along with the earbuds and charging case, you also get a USB Type-C charging cable. That's everything you need to get started listening.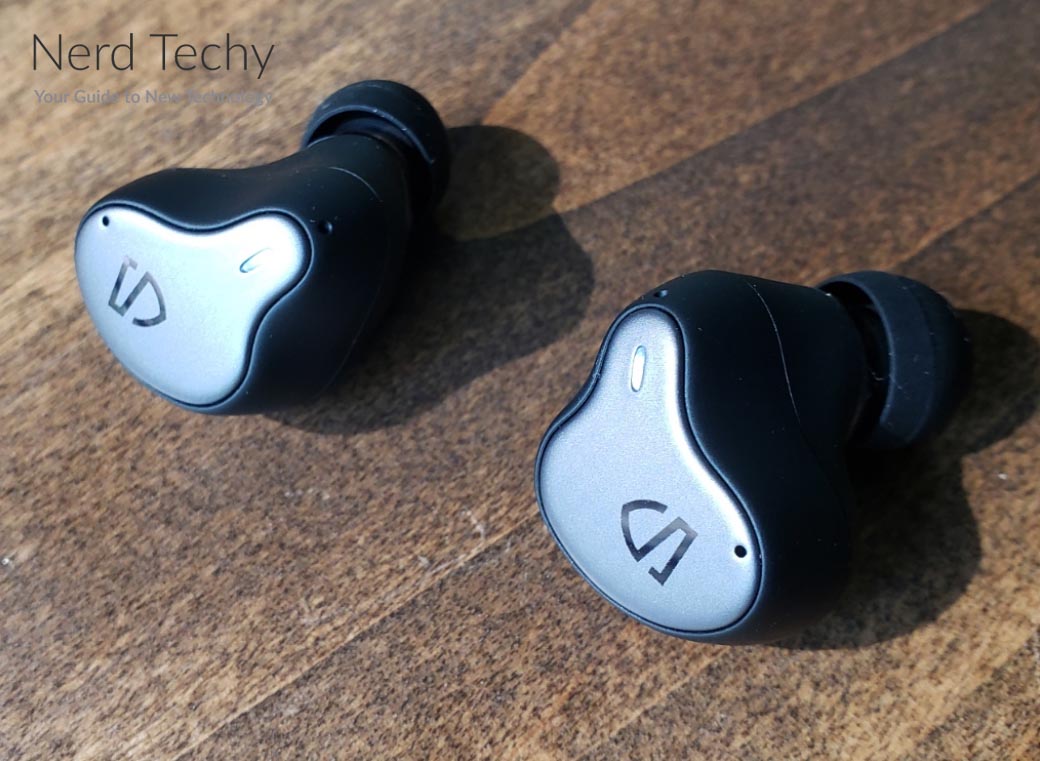 Battery & Connectivity
The SoundPEATS H1 Hybrid TWS Earbuds will run for about six hours on a single charge. We should point out again that we're currently talking about a prototype. Your final results may vary, but the difference should be minimal. At this late stage in the game, there's not much SoundPEATS could do to mess things up. Even at full volume and in cold weather, you can expect to get about five hours to the charge. That's not bad at all, and it's good enough to get through your day without plugging in.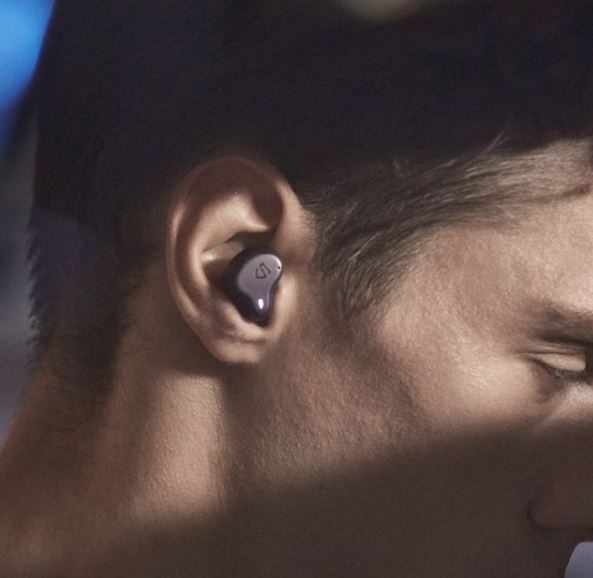 If you do need a little extra juice, the charging case provides a total of five additional charges. This gives you a theoretical maximum of 36 hours, although SoundPEATS says 35 hours to stay safe. In practice, at full volume, 30 hours is more realistic. But no matter how you cut it, you get more battery life than your average set of wireless buds.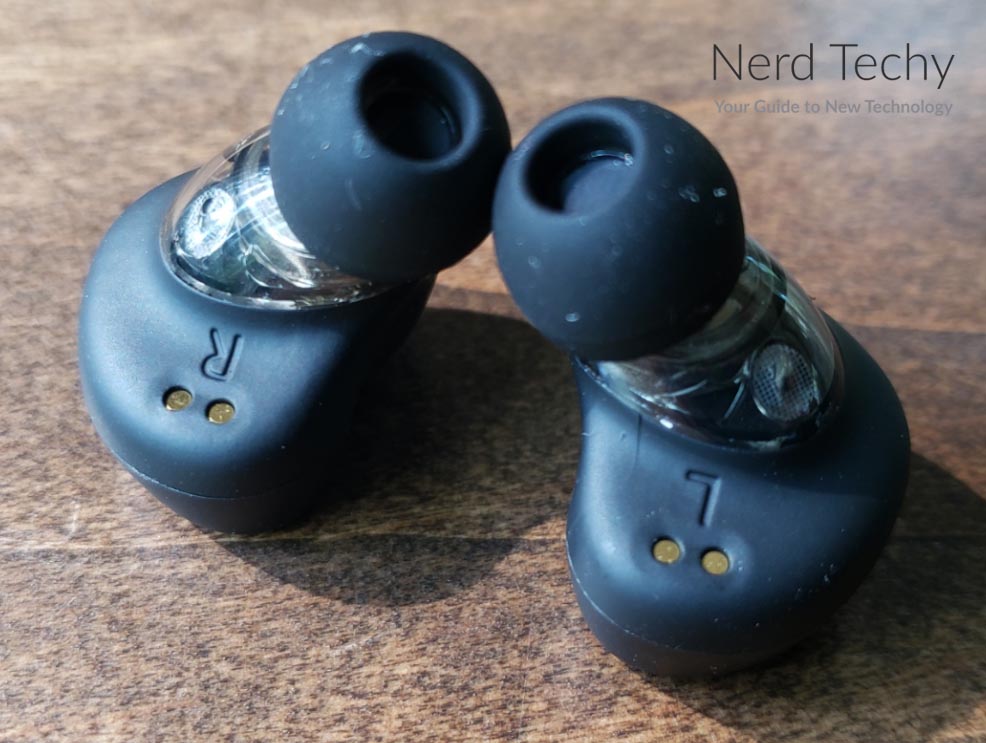 The case charges easily, and takes about 2 ½ hours to fully charge via USB Type-C. If you prefer, you can also charge on a wireless Qi charger. This eliminates the need to mess around with cables, so there's one less part to worry about. On the other hand, Qi charging is considerably slower than USB charging, and can take up to 7 hours. This isn't the earbuds' fault. You'll find the same thing with any wireless charging devices. Qi charging might be more convenient, but a USB Type-C cable is still faster when you're in a hurry.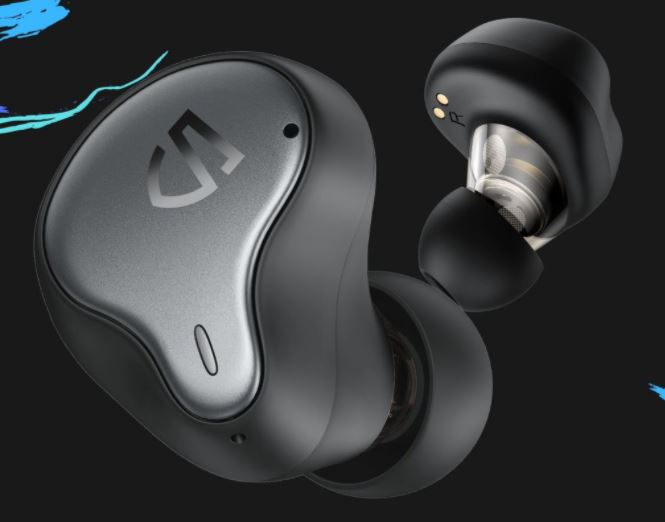 The H1 Hybrid TWS Earbuds utilize the latest Bluetooth 5.0 wireless protocol. This version of Bluetooth has three distinct advantages when compared to the previous Bluetooth 4.2 protocol. First, it allows for lower latency, which makes it ideal for gaming or watching videos. Second, it provides a more stable connection, which means fewer dropped calls and no stutters during music. Finally, it allows for higher bitrates, so you can listen to high-bitrate audio in full quality.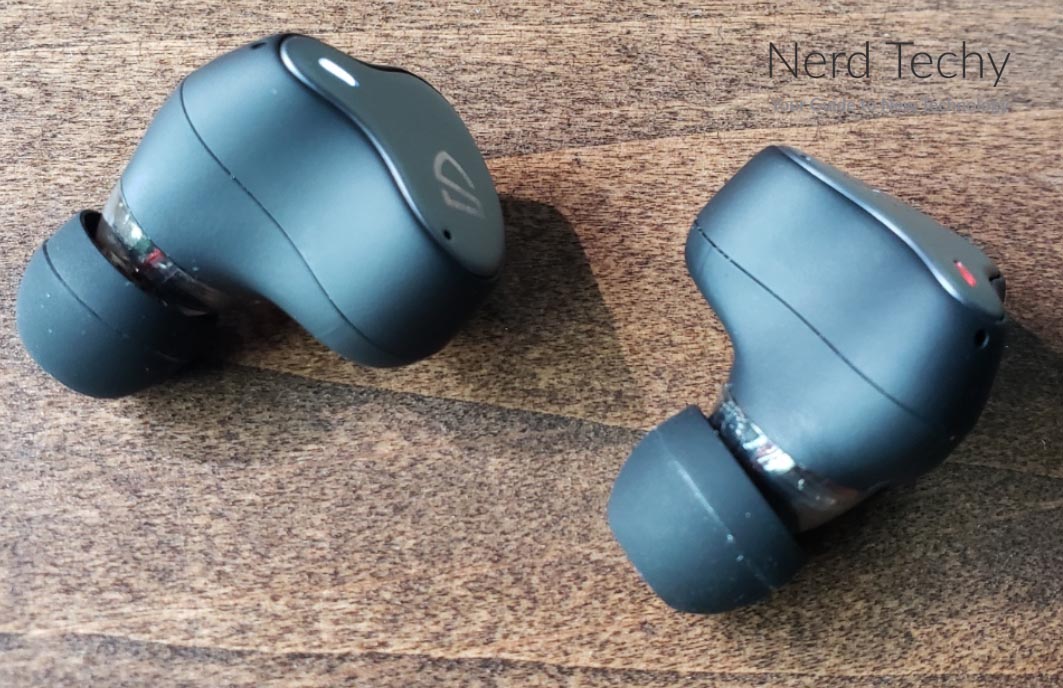 The H1 earbuds also offer a special gaming mode. This mode will burn through your batteries a smidge faster, but it offers latency of 30ms or less. If you're looking for a low-latency set of wireless gaming buds, you're looking at a solid choice. If you need even lower latency, you're going to need a wired headset.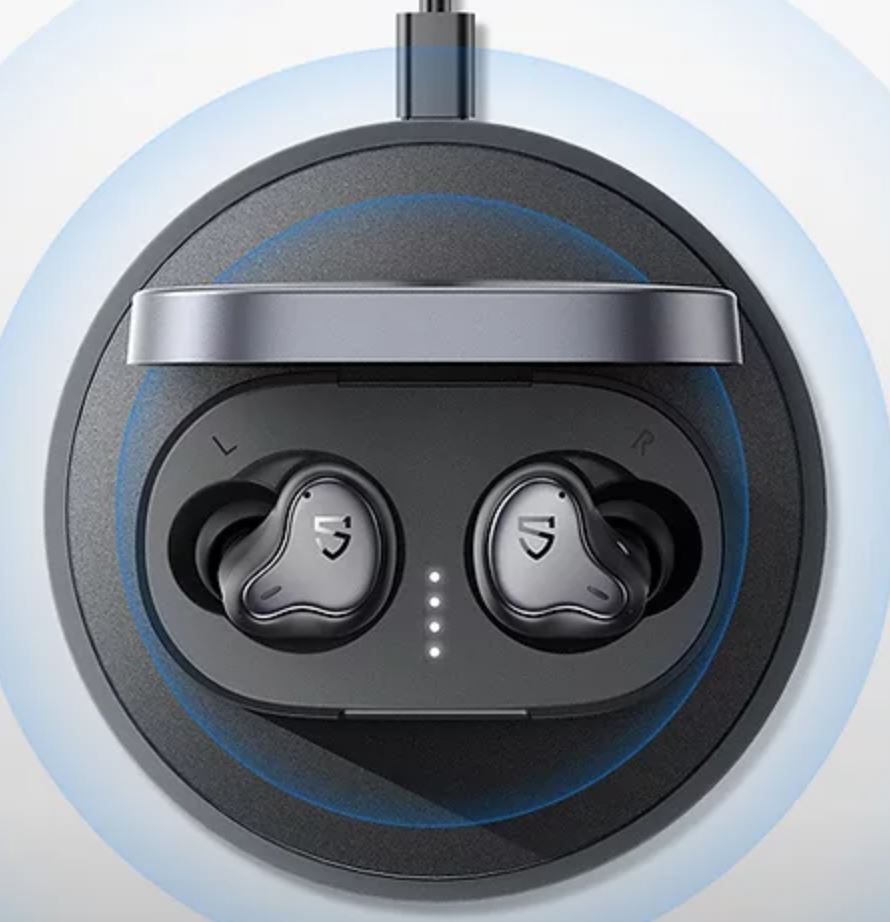 Sound Quality
The SoundPEATS H1 Hybrid TWS Earbuds feature 8.6mm drivers, which is slightly larger than average for earbuds. More to the point, they're constructed from organic material, which gives them added flexibility and stretch. The result is a wider frequency response, and smoother transition between frequencies. In less technical terms, you're looking at excellent response on all parts of the sound spectrum. Mids, highs, and bass all sound equally clear and pleasant. Of course, the bass is fairly weak, and is not ideal for dance music. But this is par for the course on a mid-sized pair of earbuds.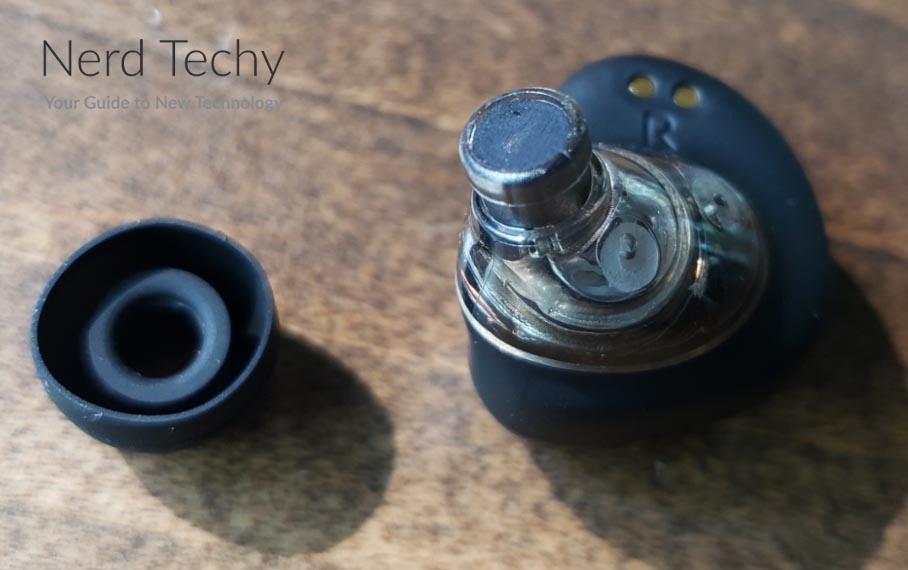 The soundstage is nice and wide, providing plenty of separation between instruments. When you're listening to music on the H1 buds, it feels like you're sitting in a real, physical space. So unless you need that extra-punchy bass, it's not necessary. If you do need earbuds with a lot of bass, check out the SoundPEATS TruEngine 3 SE. These buds offer much punchier bass, but with correspondingly shorter battery life. They also don't offer wireless charging, but you can't have everything.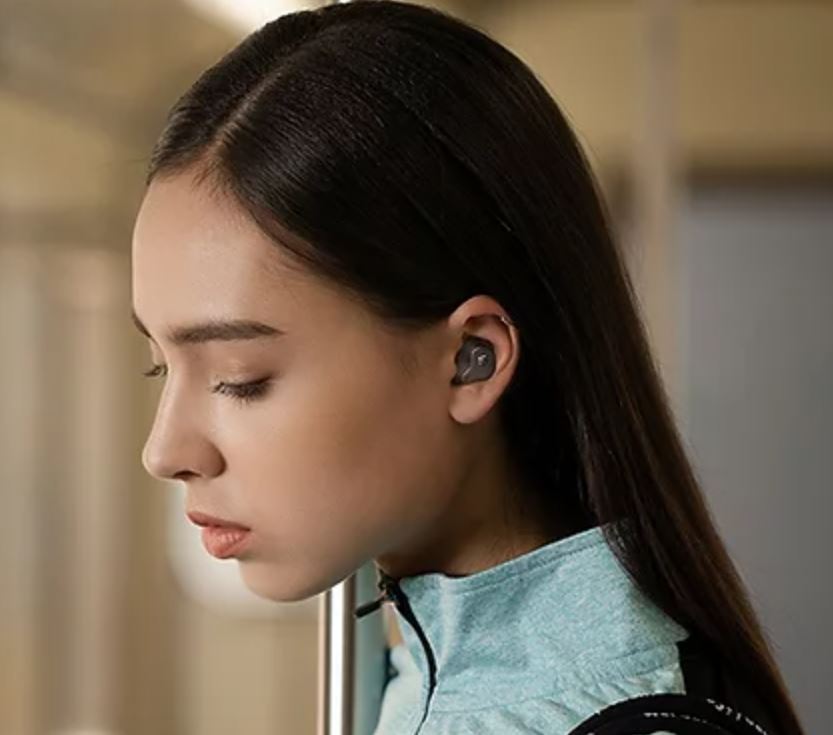 To compliment the Bluetooth 5.0 wireless connection, the H1 earbuds alto utilize aptX Low Latency technology. This technology does just what it sounds like; it allows for extra-low latency over Bluetooth 5.0. This makes the H1 buds some of the best buds you'll find for gaming or watching videos.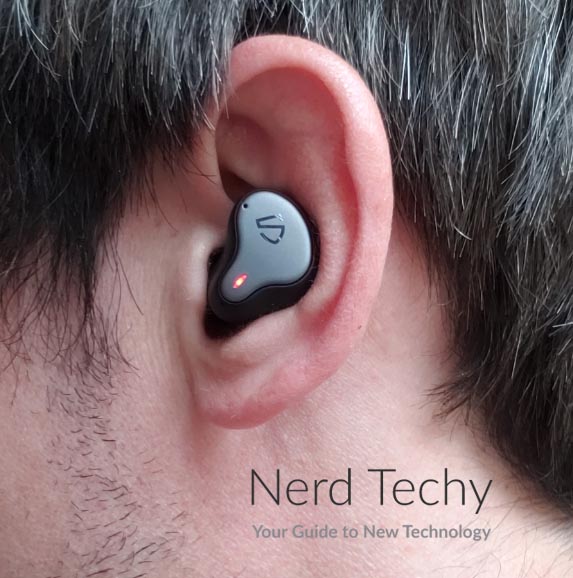 For voice calls, the H1 buds provide CVC 8.0 noise cancellation. CVC is short for "clear voice communication," and is a technology developed by Qualcomm for hands-free calling. It uses a dedicated chip to filter out background noise from your conversations. The result is that the person on the other end of your call can hear you clearly even in a noisy environment. Keep in mind, though, that this only affects the quality of audio on your end. How well you can hear the other person will depend on their mic and background noise on their end.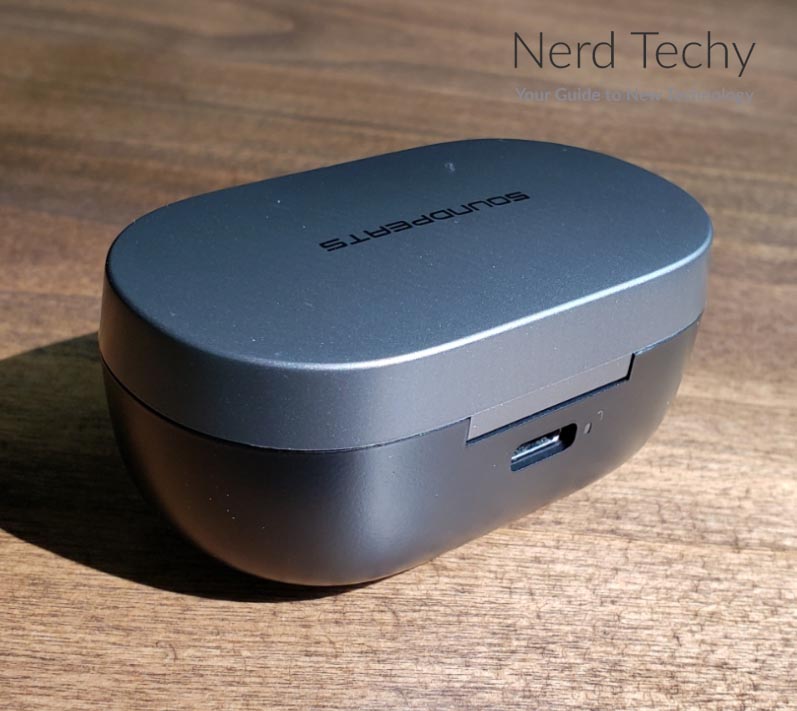 Final Verdict
The H1 Hybrid TWS Earbuds are a promising new entry in SoundPEATS' catalogue. Before we declare them an unqualified winner, we'd like to see an official water-resistance rating. But even without one, there are plenty of reasons to like the H1 buds. First and foremost is the gaming and movie watching performance. Most wireless earbuds, even very good ones, struggle to maintain low enough latency for comfortable viewing. That isn't an issue with the H1 buds, especially in gaming mode.
The audio quality isn't perfect, but it's very good for the price. The only thing that's really lacking is power at the low end. On the other hand, all frequencies are crystal clear, so you'll love the sound if you don't need heavy bass. There's currently a discount if you preorder a set of H1 earbuds. Whether or not that's a good idea depends on whether they meet your needs.
Meet Derek, "TechGuru," a 34-year-old technology enthusiast with a deep passion for tech innovations. With extensive experience, he specializes in gaming hardware and software, and has expertise in gadgets, custom PCs, and audio.
Besides writing about tech and reviewing new products, Derek enjoys traveling, hiking, and photography. Committed to keeping up with the latest industry trends, he aims to guide readers in making informed tech decisions.