Quick Analysis
Pros
Very easy to set up and connect. Blue light can be turned off.
Offers two bands for simultaneous connections.
Uses beamforming technology for stable Wi-Fi connections and fast download speeds.
Includes security features by default.
Has energy-saving features as well.
Cons
Blue light can be too bright in a dark area.
2.4 GHz band's download speeds could be a bit better.
So-called "smart" Wi-Fi routers are starting to become more common across the market. They're ostensibly better choices for those without the tech-savviness to set up clunkier devices, and they're designed to be quick to start to facilitate fast connections and family connectivity in just minutes. But many smart Wi-Fi routers are expensive, overly slow, or don't have the same extra features you might be used to from regular Wi-Fi devices.
Still, some smart Wi-Fi routers are very much worth your time and money. The Rock Space AC2100 Smart Wi-Fi Router is one such example. It's very clearly a router designed to be used with larger groups or families with relatively large homes since it offers dual-band connectivity and relatively fast download speeds for both bands. Furthermore, it comes packed with additional features like security functions and an energy-saving mode.
But all of these features are only worthwhile if you'll actually use them, and the Rock Space AC2100 isn't as cheap as some of the $30 routers you can find online. Let's take a much deeper dive into this router and see what it offers when you break down its specs and functions.
Overall Design
The Rock Space AC2100 is designed for tons of traffic, full stop. You can partially tell this just from the number of antennae lining the router's back edge. The four antennae work together to communicate with multiple devices simultaneously, and the entire router is small and stable enough to be placed on a counter, shelf, or anywhere else that's convenient for your Wi-Fi needs.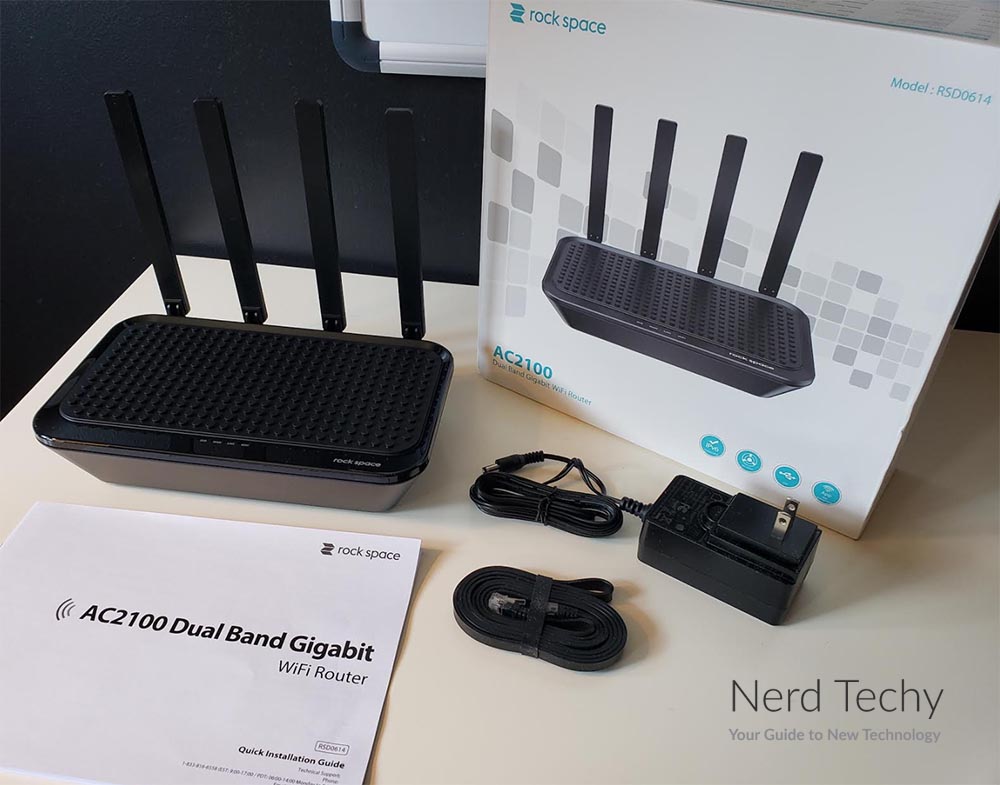 It comes with dual bands for 5 GHz and 2.4 GHz networks – you can use both network types to run multiple simultaneous devices without "clogging" any one band. Thus, it's perfect for using high-bandwidth devices, like streaming consoles or TVs, and low-bandwidth activities, like general browsing on your smartphone, without experiencing lag or interruption.
Both bands are managed by a single SSID, so running maintenance or setting up a network will also be quick and easy. Both bands benefit from fast download speeds, too.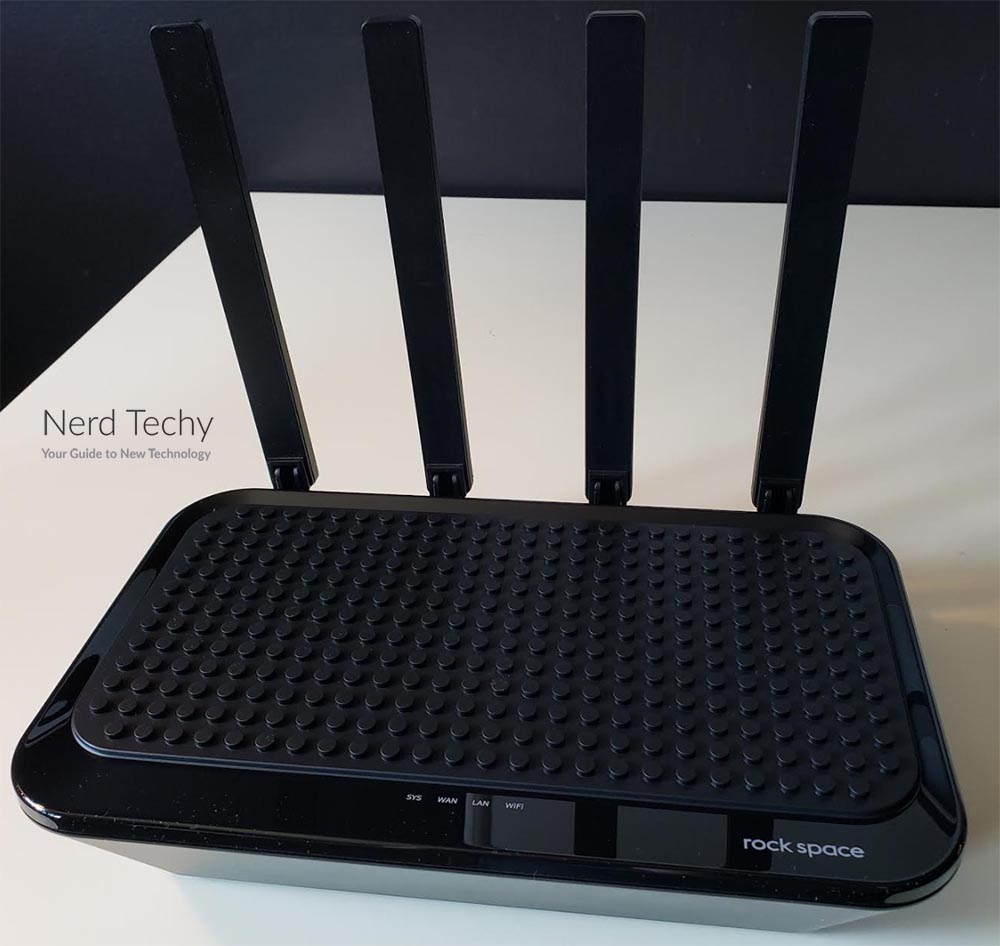 The router even supports Bluetooth connectivity as well, so synching up different devices to the various bands and your greater network doesn't require hardwire cables in any form. Even better, the router will automatically and intelligently connect your devices to the faster of the two bands available unless the faster band (the 5 GHz band) is so full that it would compromise the other devices on the network.
Should you want the security and stability of a wired connection, you'll also benefit from four wired Ethernet ports, all of which are lined up on the back of the router. An additional USB 2.0 port is available for downloading content, adding updates, or facilitating another USB connection for another purpose.
All in all, the major aspects of the Rock Space AC2100 highlight the fact that it was designed for very heavy traffic and busy families that like to stream, download content, and surf the web all at the same time.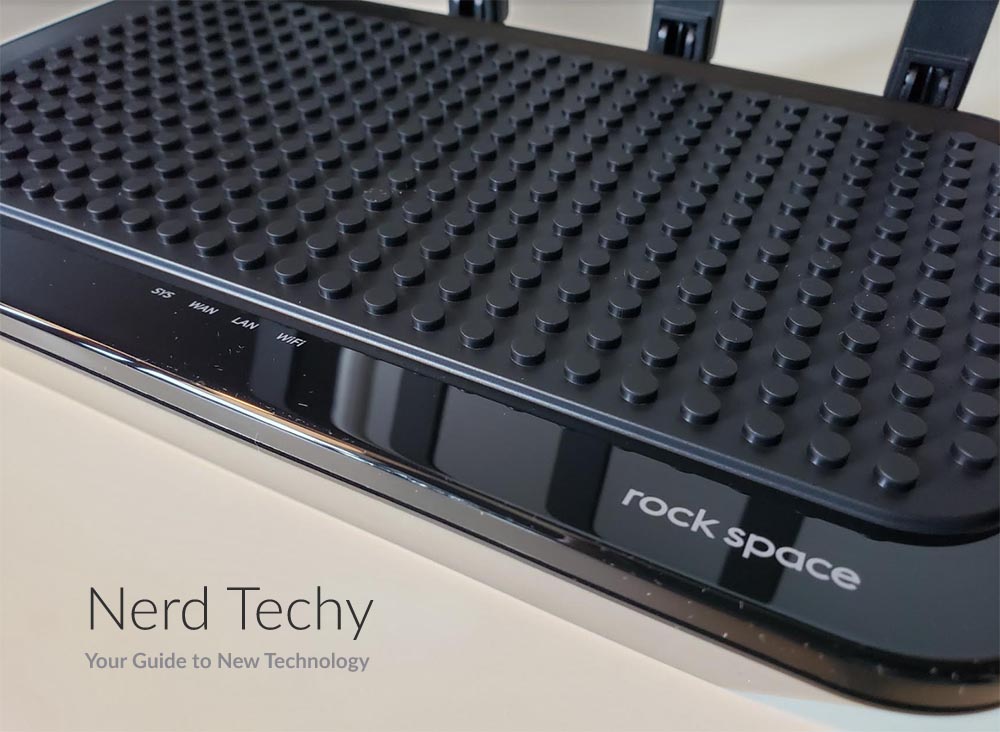 Transmission and Download Speeds
To really understand who the Rock Space AC2100 is good for, you have to look at the maximum download speeds and the technology that facilitates such fast connections.
The Rock Space AC2100 uses a relatively new technology called beamforming. In a nutshell, regular Wi-Fi routers (those that don't use beamforming) send out wide but relatively weak signals in broad waves. The waves eventually interact with a Wi-Fi receiver on your device, which allows you to maintain a connection to the Wi-Fi router. But this signal is vulnerable to being thinned out such that you experience interruptions or lag.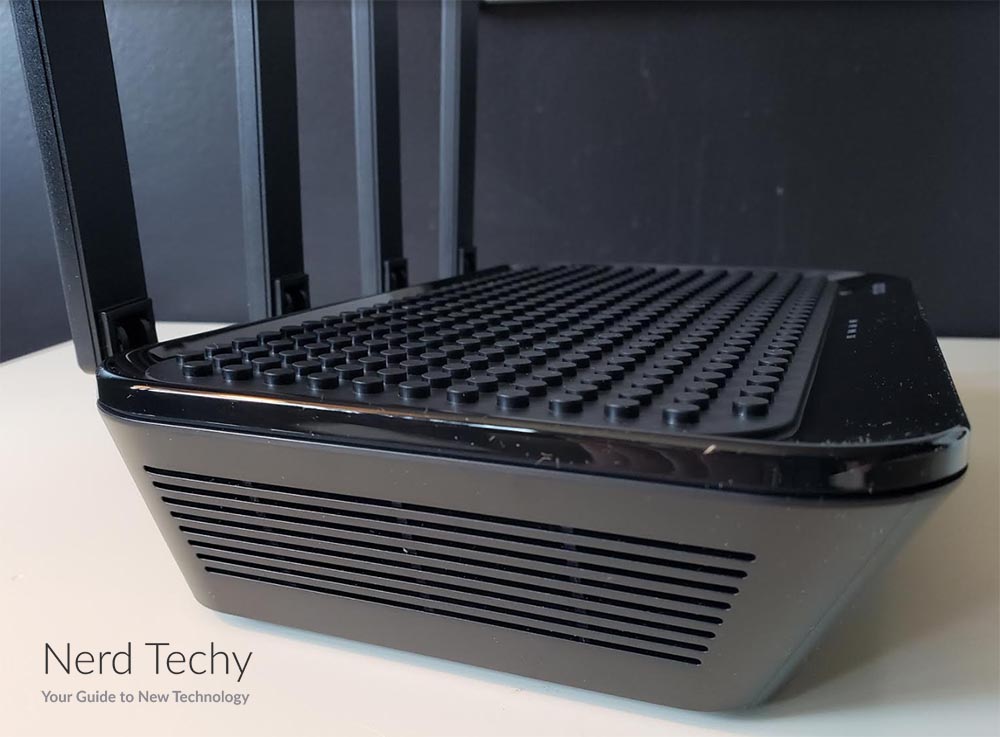 Beamforming is much more focused. Wireless signals are dispersed into a single direction to provide strong signal transmissions and a more stable Wi-Fi connection. This beamforming technology applies to both the 5 GHz and 2.4 GHz bands, and it allows the router to cover over 1300 ft.² in a house or property.
The result? You'll be able to enjoy superfast Wi-Fi speeds anywhere in your home, and even on multiple levels. Both bands should have very stable connections – the 5 GHz band can allow for up to 1733 Mb per second download speeds while the 2.4 GHz band will offer 300 Mb per second download speeds.
Thus, the 5 GHz band is much better for enjoying streaming or video content, while the 2.4 GHz band is better for general Internet browsing and basic connections. The Rock Space AC2100 is not unique with its beamforming technology, but it is on the more advanced side of things and it can be purchased for an affordable price – many other routers with beamforming tech will run you well over $100.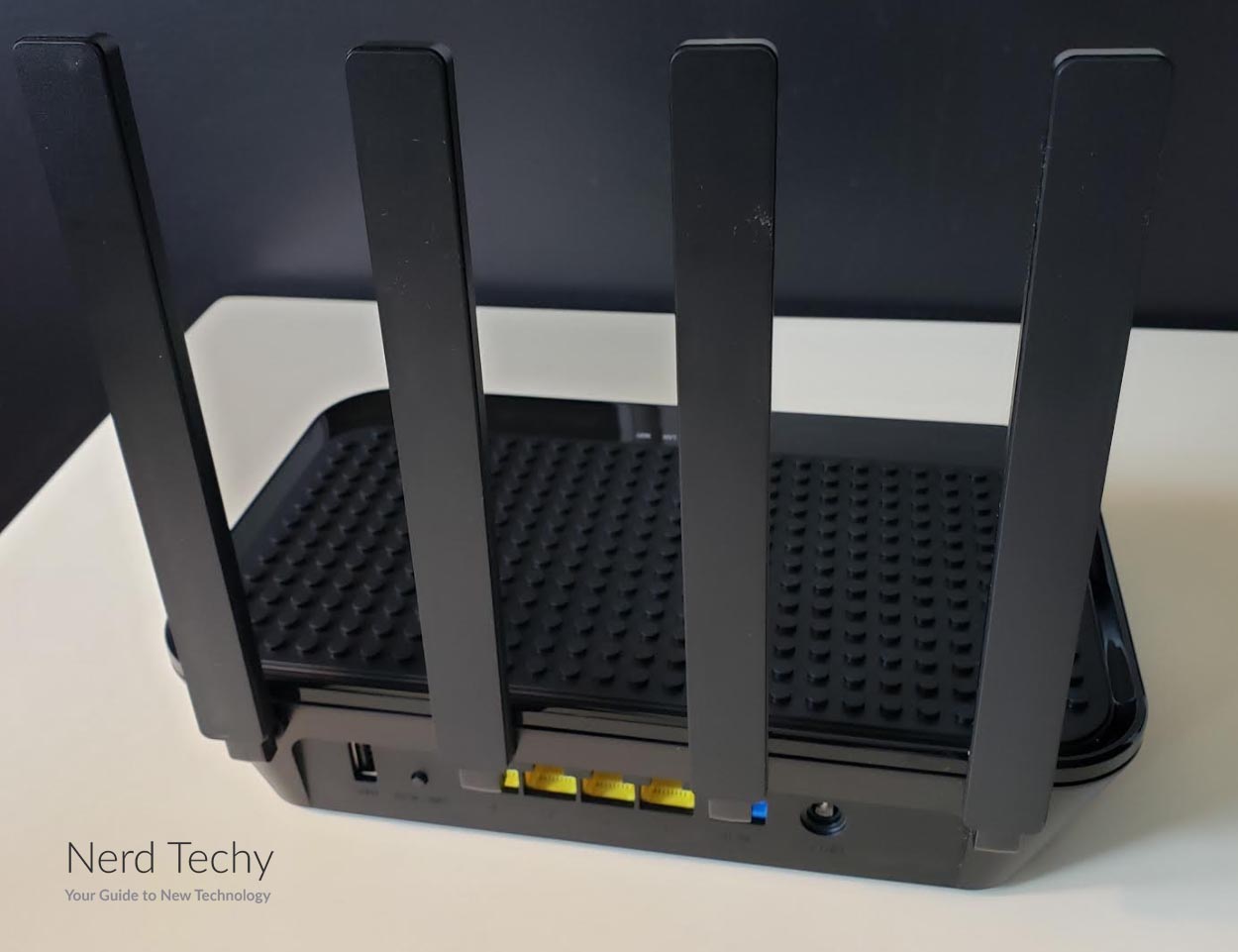 Control and Setup
The Rock Space AC2100 is also pretty easy to control, which is good news for families or heads of households that aren't the most tech-savvy or who don't like doing lots of troubleshooting. The router can be controlled using the proprietary Rock Space app, which can be downloaded for free with iPhones or Android devices as soon as you purchase your router.
All you have to do is register, then log into the app to access all of the remote controls. You'll pair your router with your mobile device and be able to control all of its major functions from afar. The majority of the functions you need to adequately control or monitor the router (and any traffic that goes through it) can all be handled through the Wi-Fi application. For instance, you'll be able to shut down Wi-Fi access, change or examine the password, and alter aspects of network security (more on that below).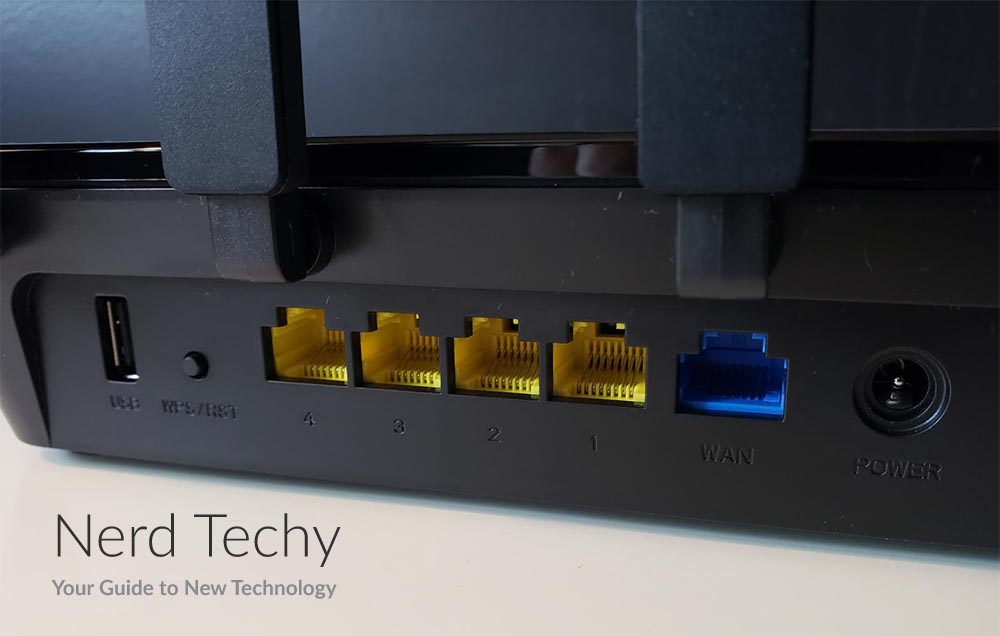 Furthermore, you can remotely track any devices connected to the Wi-Fi network at any time from the app. Families may appreciate this feature in particular since it will allow them to monitor their kids' browsing habits or social media activities. This is also a good way to ensure that your data isn't being hogged by one person.
Extra Features
The Rock Space AC2100 has plenty of other extra features that really push its full value much higher than you might anticipate. For starters, it comes with a robust network security suite that can help prevent hackers from entering your network. These are largely facilitated by WPA and WPA2-PSK wireless security protocols, essentially making it harder for hackers to get your password and brute force their way into your network.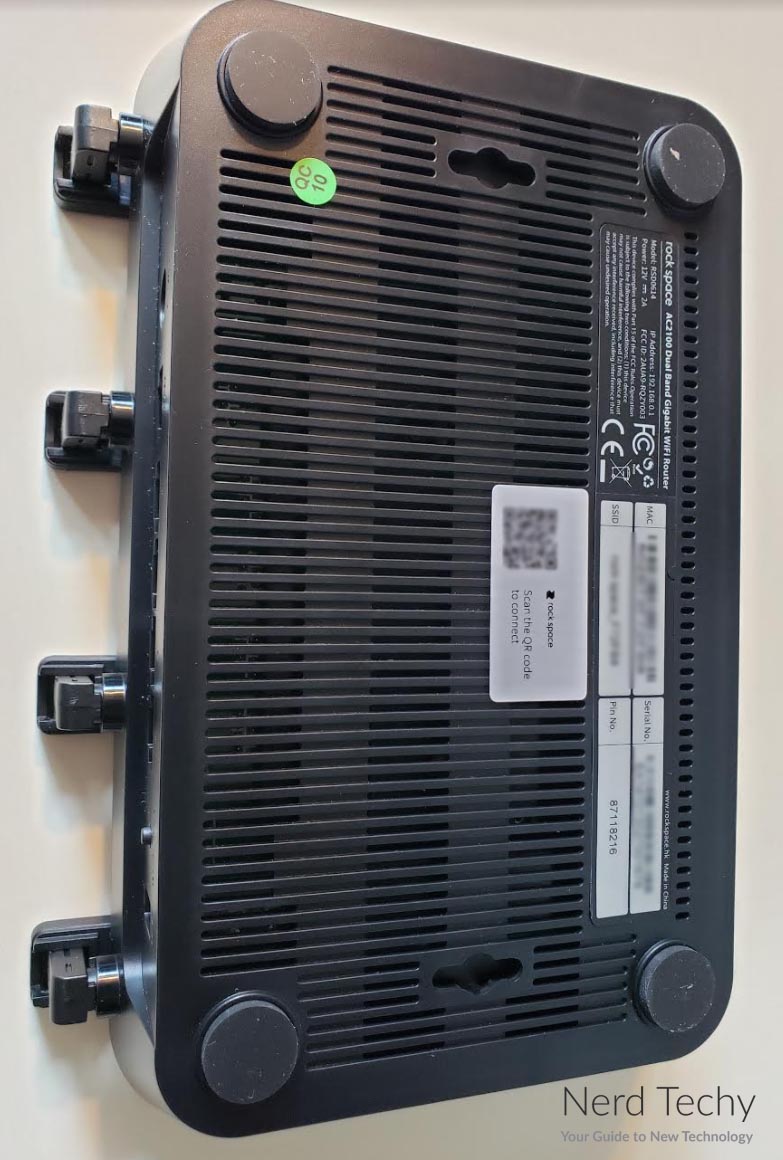 An additional firewall, which can be controlled from the aforementioned mobile app, is also in place right out of the box. This, in turn, will help secure your Wi-Fi network in case someone downloads something risky or potentially harmful to the other devices connected. This may be a good feature for families with kids that don't have good digital hygiene or who might visit sites with potentially malicious bugs.
You can even set up black or white lists using the security features. Again, these are all controlled using the mobile app, and they essentially allow you to mark certain websites or domains as "off-limits" to everyone on the network. You can also make other, parent-vetted websites easy to access for everyone.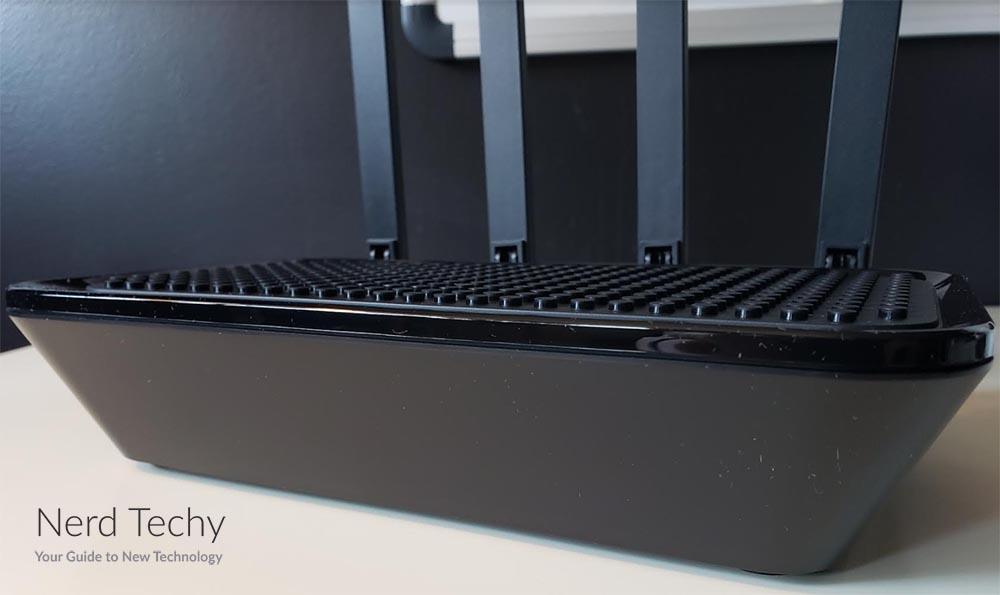 Beyond security features, the Rock Space AC2100 also impresses thanks to its power-saving features. The router comes with an energy-saving function that you can initiate either right on the box or using the proprietary mobile app. Once initiated, the energy-saving mode (which is switched on by default) will go into a sleeping mode when no one is using the Wi-Fi router or when traffic levels can permit. This may be a good thing since you don't have to worry about switching the router off when you and your family go on a vacation.
An additional timer switch is included – this is essentially the same thing as the energy-saving sleep mode, but with the added ability to pre-set a sleeping schedule (say, at night when no one is supposed to be using the router). This can also be used to prevent kids from browsing on the Wi-Fi too much when they should be sleeping. The sleeping mode should automatically occur when traffic is less than 3 kB per second for a half-hour.
One last feature – the blue lights on the top of the router are quite vibrant and are even a little annoying when viewed in a dark room. Thankfully, the Rock Space AC2100 allows you to shut these blue lights off using the mobile app if they might keep you up and if you set up your router in your bedroom.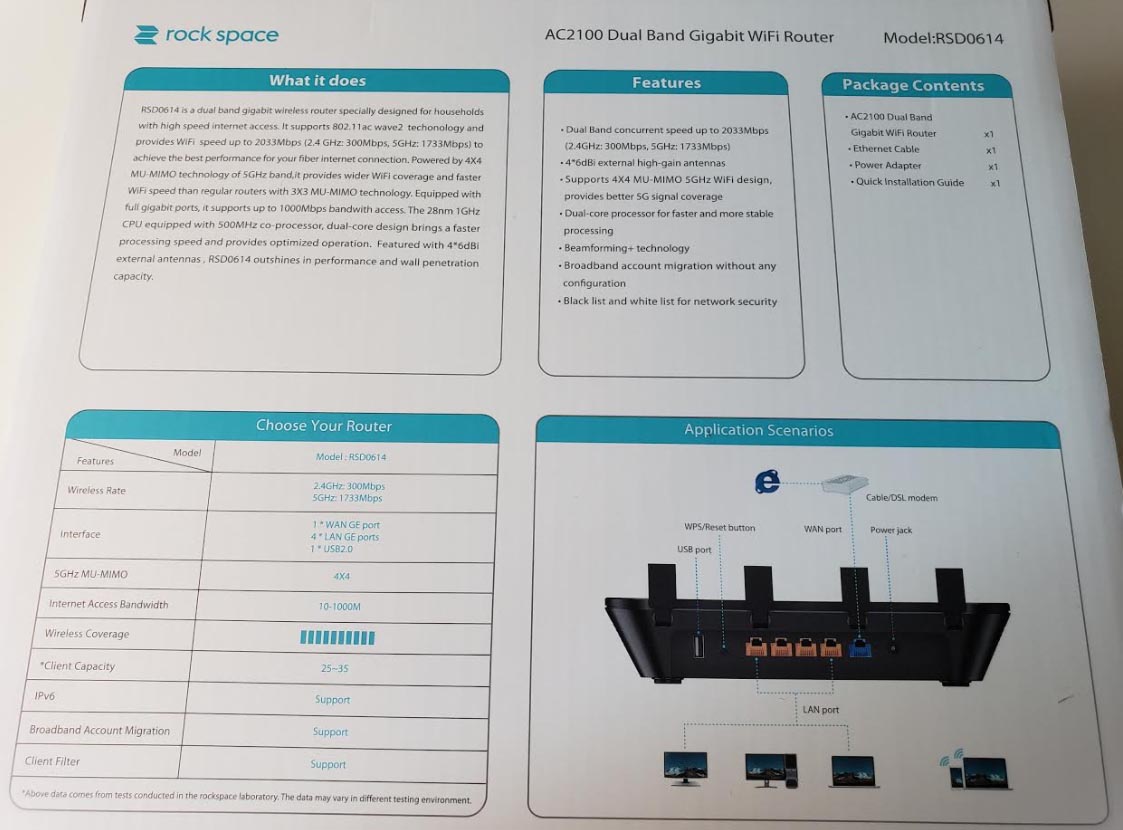 Final Verdict
Ultimately, the Rock Space AC2100 has a lot to impress, even when compared against other smart Wi-Fi routers on the market. It offers dual-band connectivity, with 5 GHz and 2.4 GHz networks, which both offer good download speeds (presuming you can reach their maximum limits), plus smart connectivity and set up procedures that make it easy to plug in and install in your home.
The plethora of additional features, including the security stuff and the energy-saving mode, make it a solid choice for families that want to keep an eye on their kids' browsing habits or otherwise install Wi-Fi usage limits to make sure that everyone doesn't spend too much time plugged in. The security features, too, are excellent if you keep sensitive data on your home network, like private photos or financial information. This can also make it a great choice for those with home businesses.
All of these features – fast speed, good security, and a few extra bonuses – can be acquired for a really reasonable asking price when all is said and done. This router can be purchased for less than $100 at the time of this writing, making it both one of the best and one of the most affordable smart Wi-Fi routers available now.