Quick Analysis
Pros
Decent audio quality for the price.
Comes with carrying bag.
Extremely lightweight compared to other gaming headsets.
Good connectivity options and included cables.
Optional downloadable 7.1 Surround Sound drivers.
Cons
Not super durable.
Mesh in ear cups can be torn relatively easily.
Volume control location will be hit or miss.
More people than ever are gamers. This is a great thing for the industry, but it also means that multiple gamers now live in the same household and need headsets that give them the immersive auditory experience they crave and allow them to speak with their teammates without hearing tons of background noise at the same time. Gaming headsets are the answer – they're essentially headphones designed and specialized for gaming purposes.
But while gaming headsets can be found everywhere, many headsets leave a lot to be desired in terms of comfort, weight, and overall user convenience. Some of them are downright bulky and uncomfortable, especially if you want to game for multiple hours over a long session. By the time you're done, a heavy headset could cause your head to ache in the spot where the band placed too much pressure caused by the excessively large ear cups on either side.
Enter the Eksa Air Joy Headset. This headset, while far from the most expensive or the most high-tech in terms of sound quality and extra features, was designed primarily with user comfort and convenience in mind. To this end, it's one of the lightest headsets on the market, but it still has extra features that make it a good competitor for gamers looking for a one-size-fits-all audio solution. Let's take a closer look at this headset and see what it really offers.
Overall Design
The most important thing to grasp about the Eksa Air Joy Headset is that it's designed for portability and comfort more than any other factor. There are other gaming headsets that undoubtedly provide better sound, greater compatibility, and more in-depth user controls, alongside user customization features, than this headset. But the designers clearly intended to create something accessible, affordable, and overall comfortable to dominate the more budget-minded market.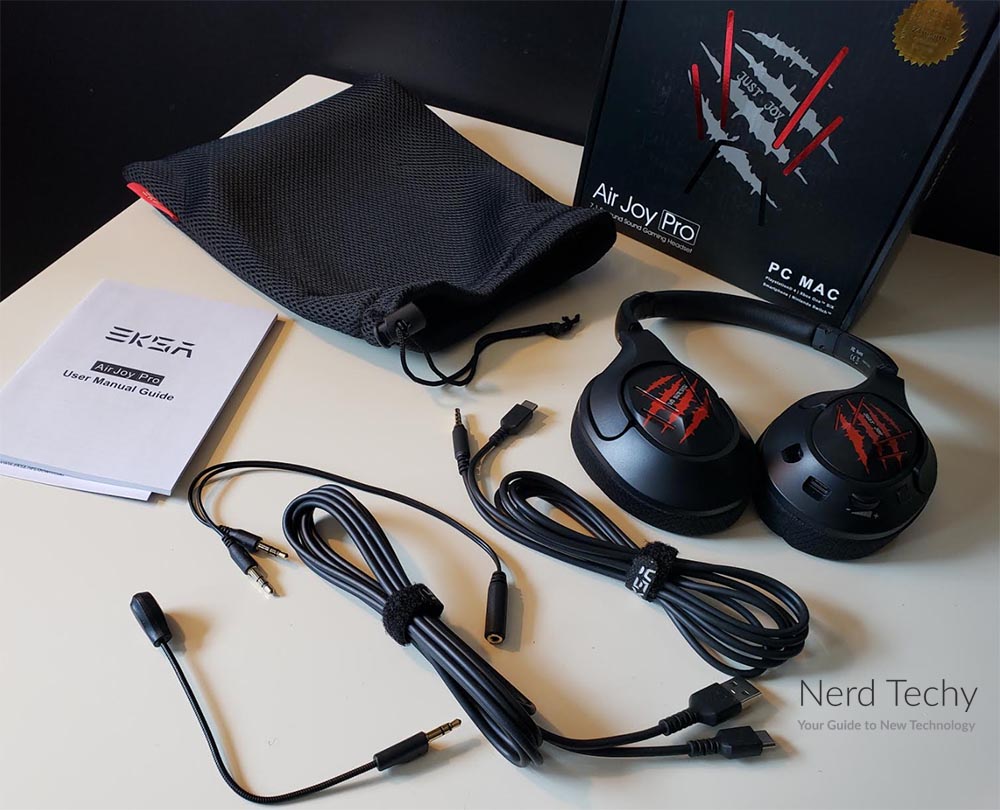 In this respect, they largely succeeded. There are still plenty of features that make this headset appear to offer much more value than its low asking price would initially suggest. The headset offers pretty good stereo sound, plus surround sound compatibility if you add the requisite software drivers. Easy to access audio controls, a bidirectional microphone, and comfortable ear cups all combine to create a product that has the appearance of luxury and high-profile gaming equipment without actually demanding an equivalent asking price.
The one area where the headset could really use an upgrade is in durability. There are plenty of headsets that are relatively bulky and heavy on the head, which limits user comfort. But this headset goes in the opposite direction and strives to create a lightweight and comfortable experience. The only problem is that the lightweight plastic materials used for most of its components (at least on the outside) means that while it's not super fragile, it's also not very tough.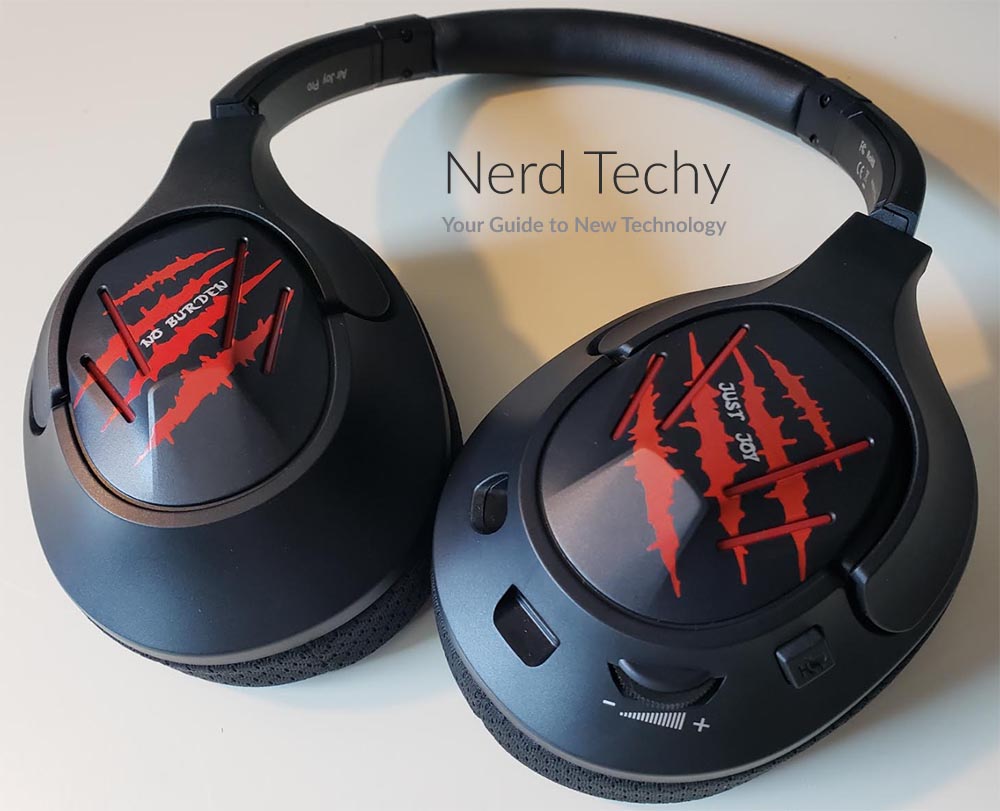 The result? You should definitely use the included carrying case that comes with the purchase and try to take care of the headset by wrapping the cord gently. Avoid throwing it around or tossing it on the couch in defeat. Any of these actions could significantly affect the cord, internal circuitry, or cause other physical issues with the Eksa Air Joy Headset.
Audio Quality
Perhaps the most important quality for any sound-based accessory or device is the quality of its audio projection. After all, if the Eksa Air Joy Headset doesn't provide great sound, there's not much point in choosing them over the many other competitors available on the market.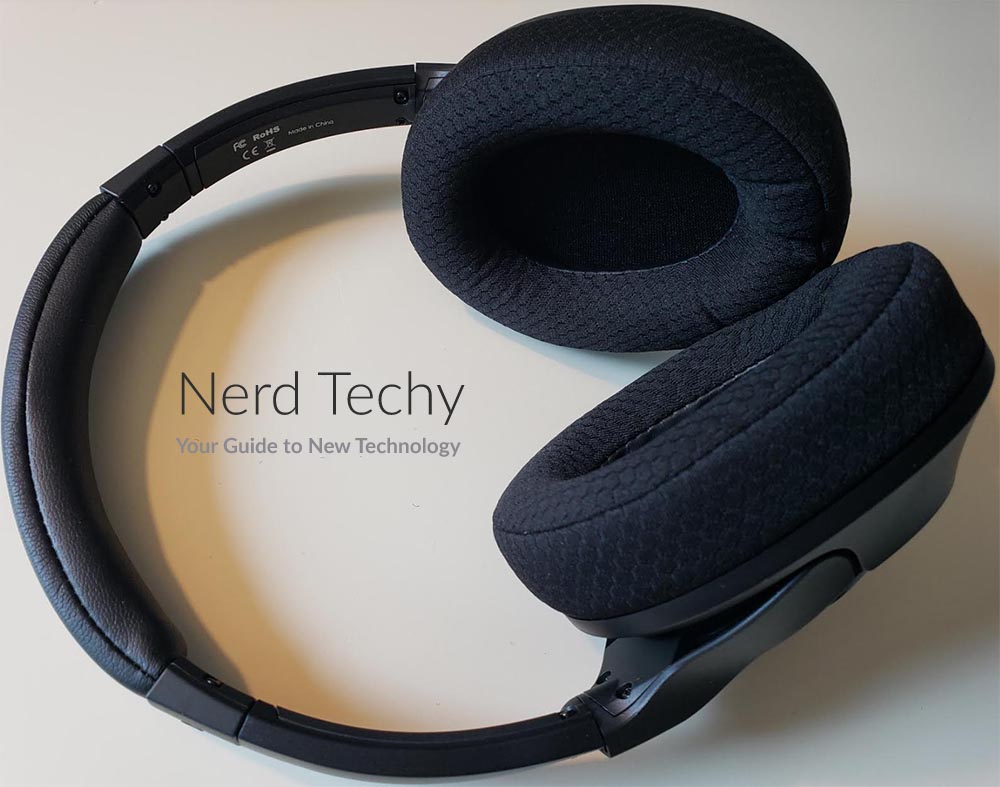 The good news is that users will experience pretty good sound, no matter whether they use the stereo sound included in the headset's speakers and software by default, or if they upgrade to 7.1 Surround Sound.
The default stereo sound is pretty decent considering the low asking price for the headset. Bass sounds are well-represented, and highs and mids aren't particularly tinny or annoying, so most gaming environments will be bolstered rather than hindered when experienced through this headset. Keep in mind that these are far from audiophile quality when it comes to listening to music, although you can do so and still get a reasonably pleasurable listening experience.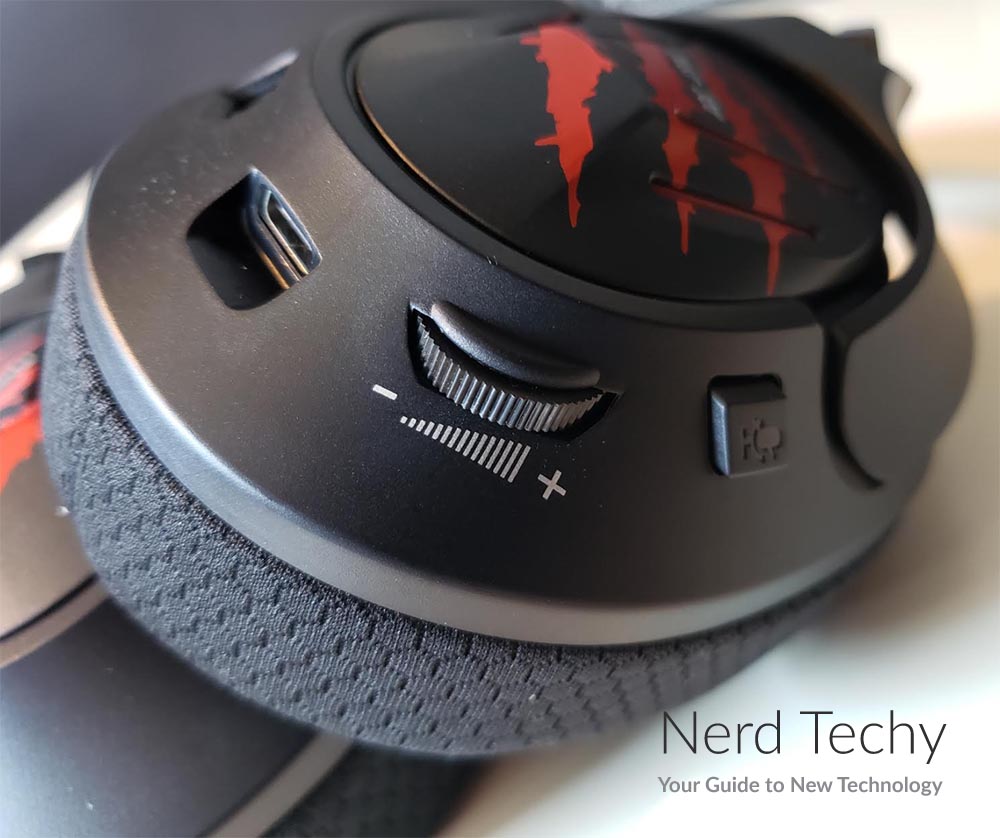 The 7.1 Surround Sound is a great option you can add to the headset's driver chips if you use them with your computer. The Surround Sound is optional because you have to download the sound drivers from the Eksa website. Of course, you can only enjoy this with PC gaming since any gaming console experience is limited to the 3.5 mm audio cable connection that you'll use to hook up the headset to those system's controllers.
Still, we're overall impressed by the audio quality offered by the headset. It's not the best on the market, but that's to be expected since the manufacturers are clearly going for something middling in terms of quality and budget and leaning too hard on one side of the aisle.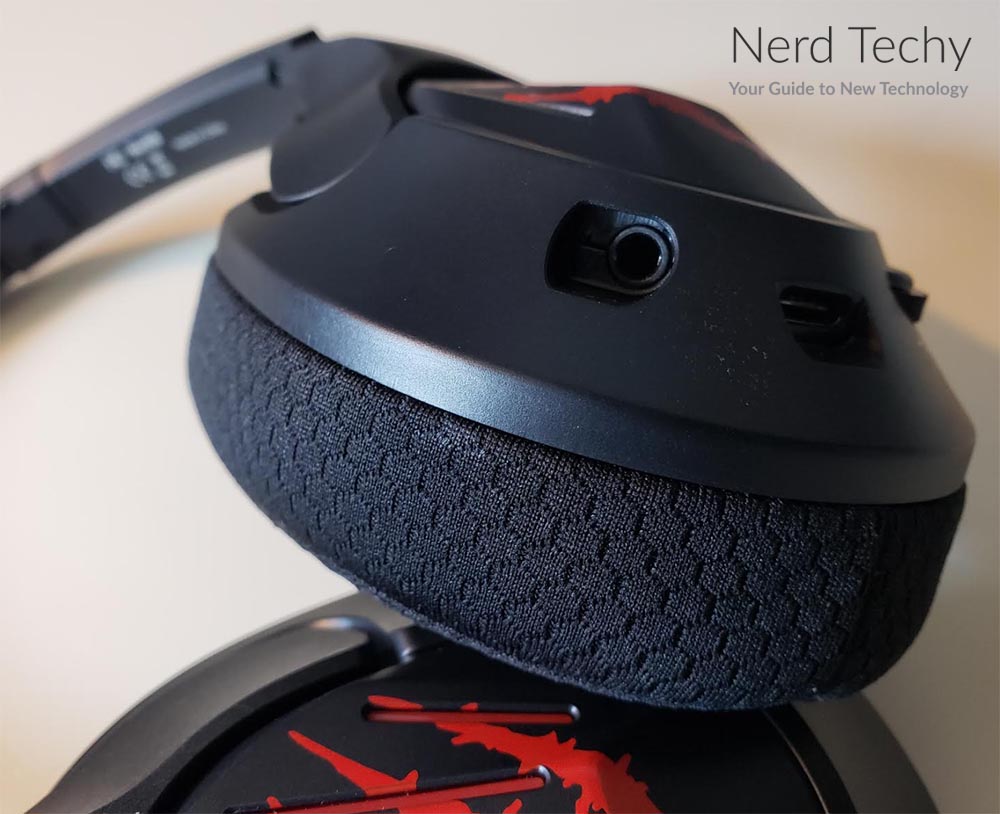 There's also the microphone to examine. The headset's mic is bidirectional, essentially meaning that it can pick up your voice from any direction and isolate ambient noise at the same time. The mic is attached to a flexible rod that can be bent in the optimal position to pick up your voice. But it can also be removed entirely – this is great if you just want to use the headset to listen to movies or music and don't need the microphone in front of your mouth the whole time.
The noise-canceling feature of the microphone is noticeable if not totally reinventive or astounding. There's a chance that anyone gaming with you could pick up some background noise if you tilt the microphone in the wrong direction. But it's definitely better than gaming headsets with mics that don't attempt noise cancellation at all.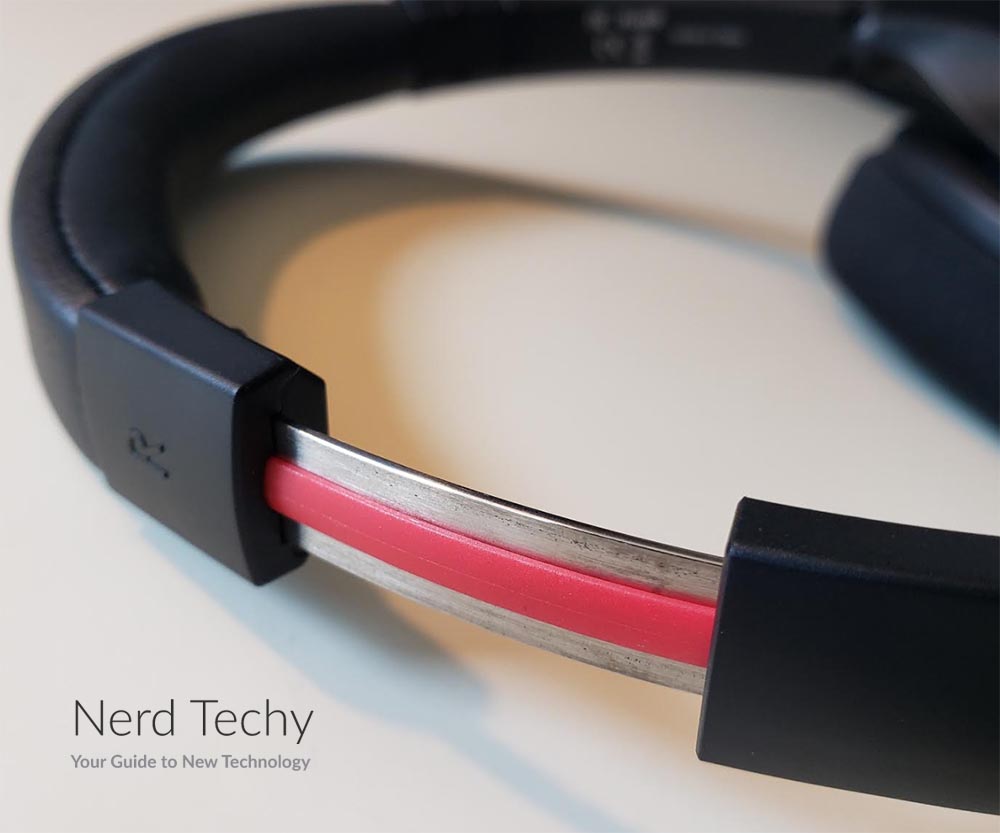 User Comfort
Here's where the Eksa Air Joy Headset really starts to shine. The headset only weighs 162 g: that's less than 0.4 pounds! This makes the headset about half as heavy as most other gaming headsets on the market. How does this boost user comfort?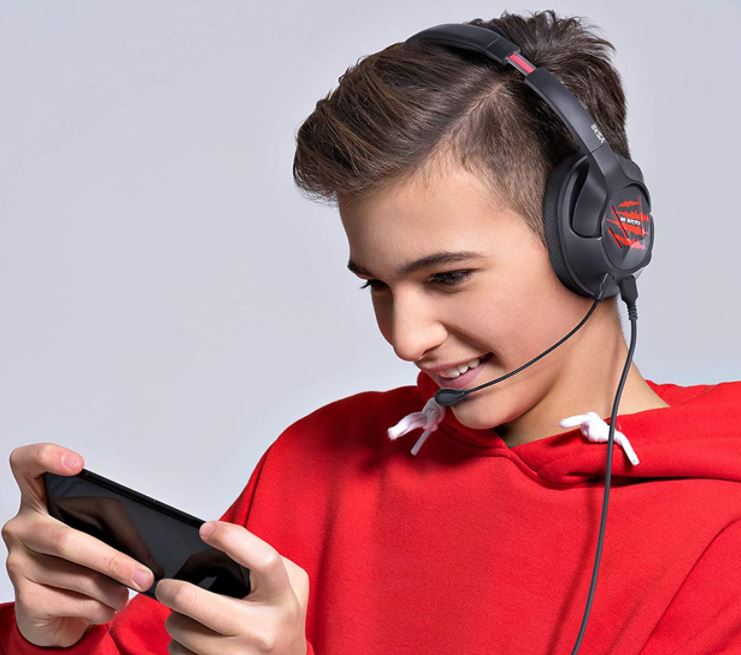 In short, it lowers the pressure on the top of your head and prevents the headset ear cups from dragging too hard down on your ears. This is particularly important for those with large ears. Furthermore, the ear cups are made with a woven mesh material that is both moisture-wicking and passively cooling. While most of us don't particularly sweat often around our ears, having this mesh fabric is nice since it's both comfortable and practical.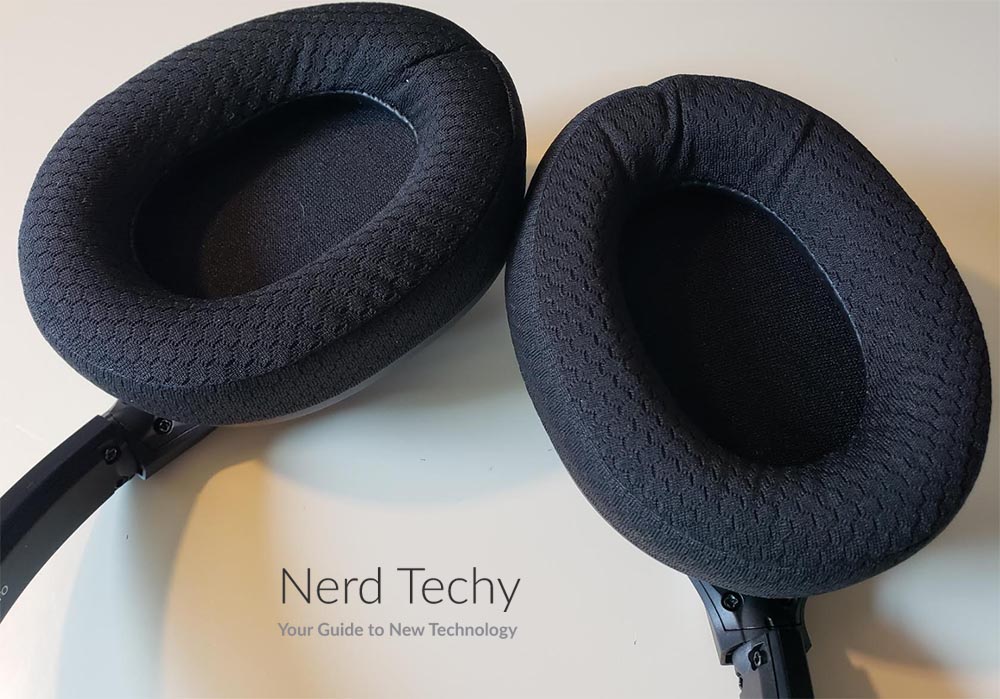 We did notice that the earmuff material can tear relatively easily. Therefore, you should be careful when storing the headset and prevent the cable or any other moderately sharp objects from getting near the muffs to stop any shredding.
Ultimately the Eksa Air Joy Headset is one of the most comfortable on the market – definitely consider it if your previous gaming headsets made your head ache after a while or otherwise uncomfortable.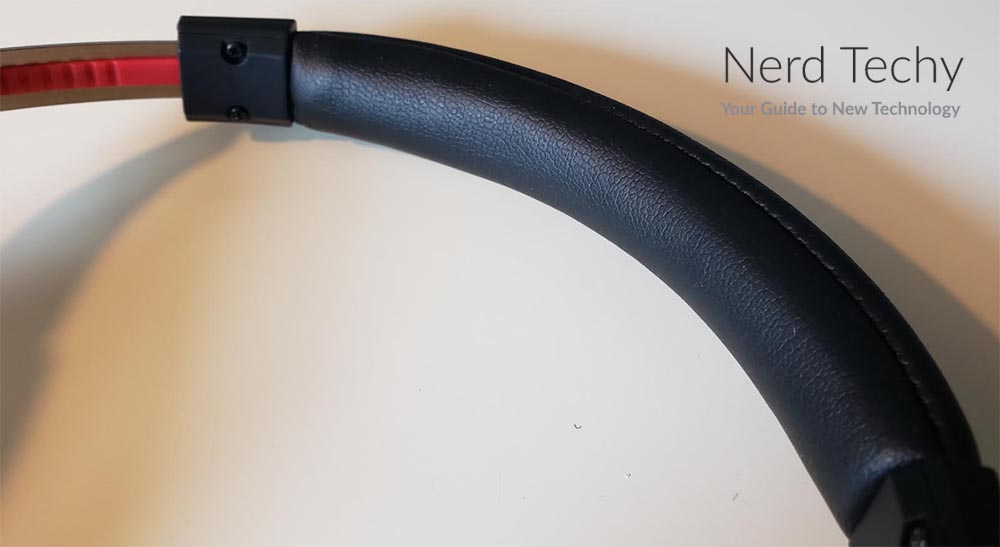 Controls and Compatibility
The Eksa Air Joy Headset is also pretty good in terms of compatibility and control location, though your mileage may vary when it comes to the actual control spot. This headset puts its volume controls behind the left earmuff. The controls are simple, consisting of a connectivity and power button and a volume wheel that you can slide back and forth with your finger. The volume wheel is easily the best part, as it's intuitive and easy to control.
Some other gaming headsets, however, will place the controls closer to your actual controller, meaning you don't have to take your hands away from the buttons that handle your character or avatar to change the volume or anything else. This headset does require you to do so, which may be a small downside if you prefer all your controls to be within easy reach of your hands in the middle of a gaming session. In the end, though, whether this is a plus or a neutral factor is a tossup based on personal preference.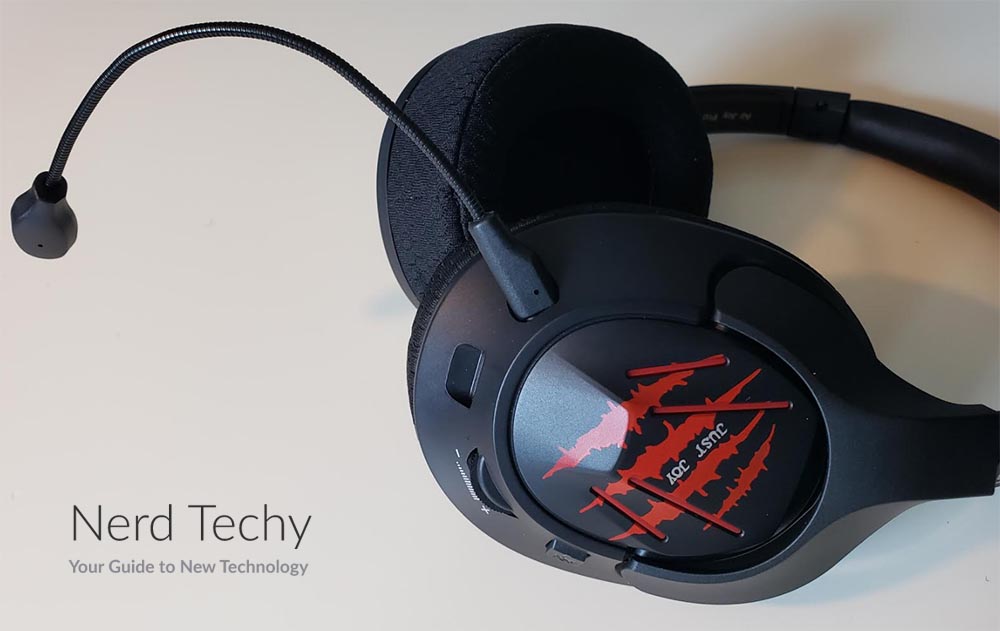 When it comes to connectivity, the Eksa Air Joy Headset basically has two options: a USB connection for PC gaming and a 3.5 mm audio cable that connects to Xbox, PlayStation, and Nintendo Switch controllers. This is pretty standard for the industry and the cable is reasonably thin and light, and there's enough length between the headset and the cable end that you shouldn't feel constrained in your movements or posture while you are gaming. You can use the same 3.5 mm cable for hooking the headset up to any mobile device with an appropriate port.
We do really like that the set comes with a splitter cable as well, which adds some extra versatility and connection options for those who plan to use this headset as their primary media-listening device. The included carrying bag is a nice final touch, especially considering the low asking price – the manufacturer could easily have gotten away with not including any other accessories.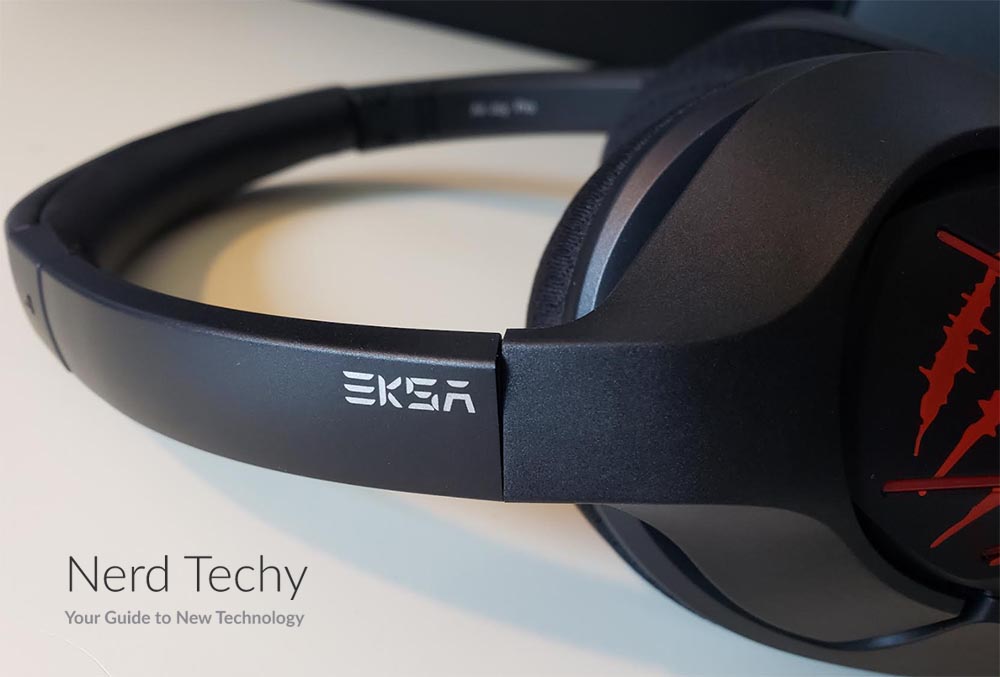 Final Verdict
All in all, we're really positive about the Eksa Air Joy Pro Headset. While they're far from the most luxurious or high-tech option in the market, they're an excellent pick if you want something relatively quality without having to totally empty your wallet at the same time. This represents most gamers, to be honest, so we expect this headset will be a hit for most people who give it a try.
The sound quality is pretty good when all things are considered, and the additional optional drivers available for download make the headset possibly even better for PC gaming, where high quality is more sought after anyway. Furthermore, the variety of connecting cables and decent cable length make it a great console gaming headset for the asking price.
But more than anything, it's a solid gaming headset for those who are tired of excessively bulky or heavy headsets that sink onto their skulls and make their heads ache after long gaming sessions. This set weighs less than half a pound, has comfortable ear cups for long listening enjoyment, and a carrying bag for organization. Our recommendation? Give them a try if you want a new gaming headset but are on a budget.