If you're a fan of online gaming, a quality gaming headset is a necessity. You need to stay in touch with your teammates, even when you're slogging through the Gulag in Warzone. But there's a world of difference between a well-engineered gaming headset and a pair that's only so-so. A good pair will offer solid noise isolation, so your other teammates don't hear your background noise. It will also offer a good sense of space with reasonable accuracy across the spectrum. Not only do you want to be able to hear every footstep; you want to know where they're coming from.
That said, it can be tough to suss out which gaming headsets are worth buying and which are not. Over the past years, we've reviewed a variety of gaming headsets. Through that experience, we've learned a thing or two about what you should be looking for. Now, we're passing on what we've learned and helping you find a great headset.
Note: At no extra cost to you, we may earn a commission for purchases using our links. Learn more.
Today, we'll be looking at two different stereo gaming headsets. First, we'll review the Pacrate Stereo Gaming Headset. This is beefy, chunky headset with a directional microphone. Next, we'll look at the Peohzarr Gaming Headset. This is a more straightforward, utilitarian headset that sports a 360-degree microphone. Which one is the best choice for you? Let's take a closer look, and see how these headsets stack up!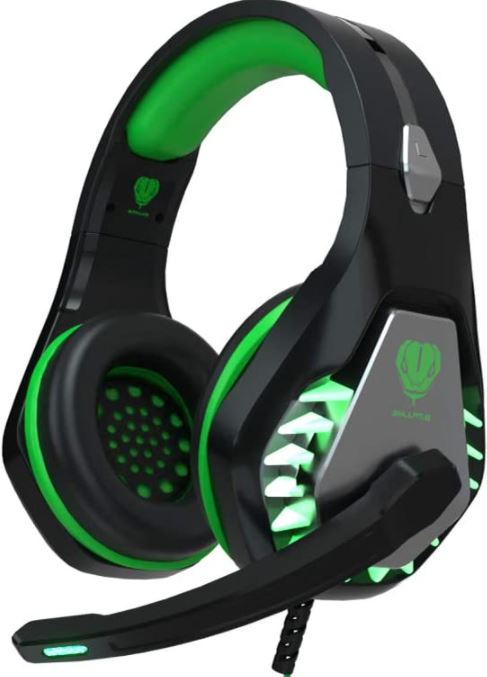 Pacrate Stereo Gaming Headset
The Pacrate Stereo Gaming Headset is a big, beefy headset that weighs 12.3 ounces. This isn't too heavy for comfort, but it's enough to let you know there's some weight inside the housing. The hexagonal ear cups are fat and stylish, with a ribbed LED pattern on the backs. The LEDs come in blue, green, or red, with matching padding in the top of the head band. There's also a more laid back "luxury black" version with blue LEDs and a black head band pad.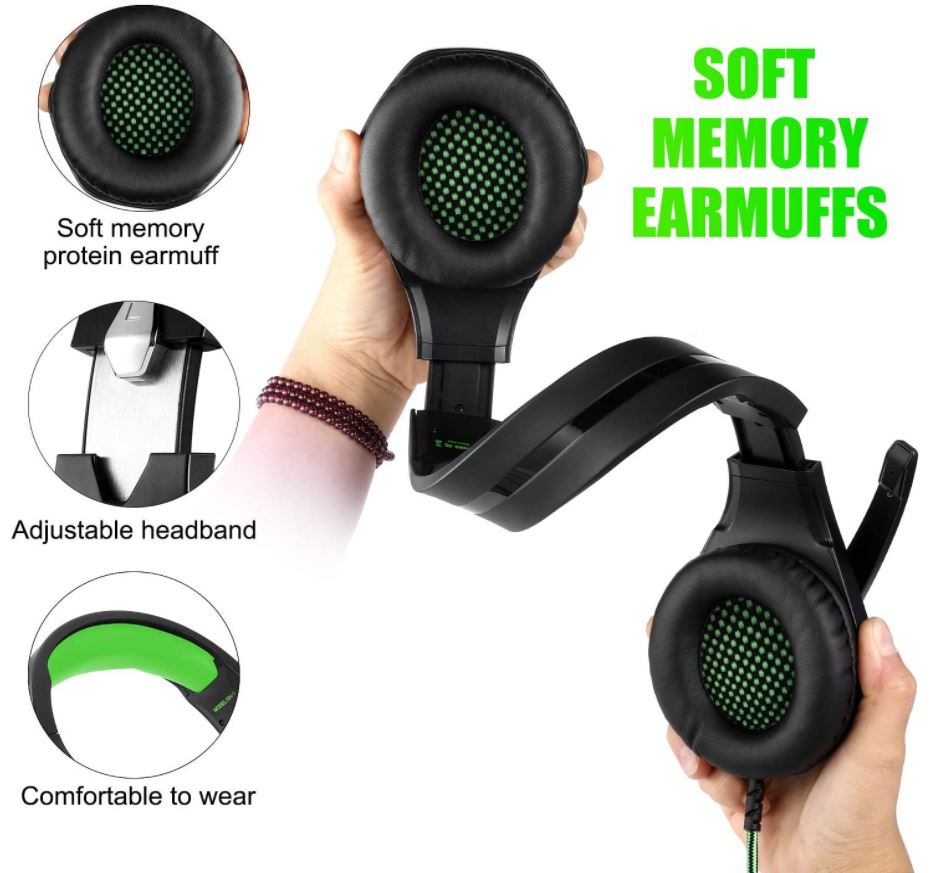 Regardless of which cosmetic option you choose, you're looking at a very comfortable pair of headphones. The ear cups are very generously padded, with plenty of space for even the biggest ears. The faux leather padding is nice and soft, although it can get a tad sticky if you're sweating heavily. The padding at the top of the head band is even heavier, but it's hardly even necessary. In fact, the head band is so flexible that it's tough to believe it stays in place. You can even twist it 360 degrees, and it will snap back into position when you let go. Regardless, the result is a very comfortable fit. The ear cups will flex left or right, up or down, as needed. You'll barely even notice that they're conforming to your face, but they are.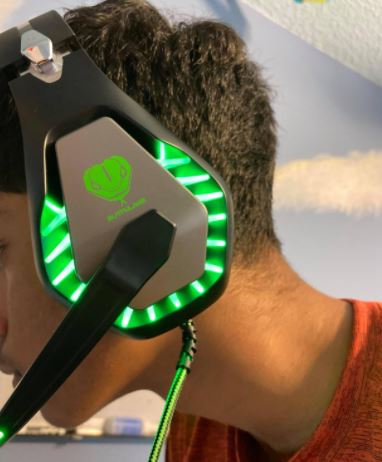 The cord measures 6 feet, 6 inches long. It sports a dual-tip design, with both a 3.5mm and a USB tip. Both of these tips do different things, and we'll talk about them more in a second. The cord itself is high-quality, with thick enough insulation for safety, but slippery enough that it won't easily get knotted. The headset is also covered by Pacrate's 12-month manufacturer's warranty. If anything goes wrong during the first year, just file a claim for a refund or replacement.
Connectivity & Compatibility
The Pacrate Stereo Gaming Headset connects to your console or PC via a 3.5mm headphone jack. Because this is a near-ubiquitous standard, you can connect to pretty much any game system on the market. On the PlayStation side, you get support for the PlayStation 3, PlayStation 4, PlayStation 4 Pro, and PlayStation 4 Slim. On the Xbox side, it works with the Xbox One, Xbox One S, and Xbox One X. It will even work with the Nintendo Switch, as well as 3DS and PSP handheld platforms. Obviously, it will work with PCs, as well as Mac computers, laptops, iPads, and most other systems. Basically, you shouldn't have any issues with compatibility.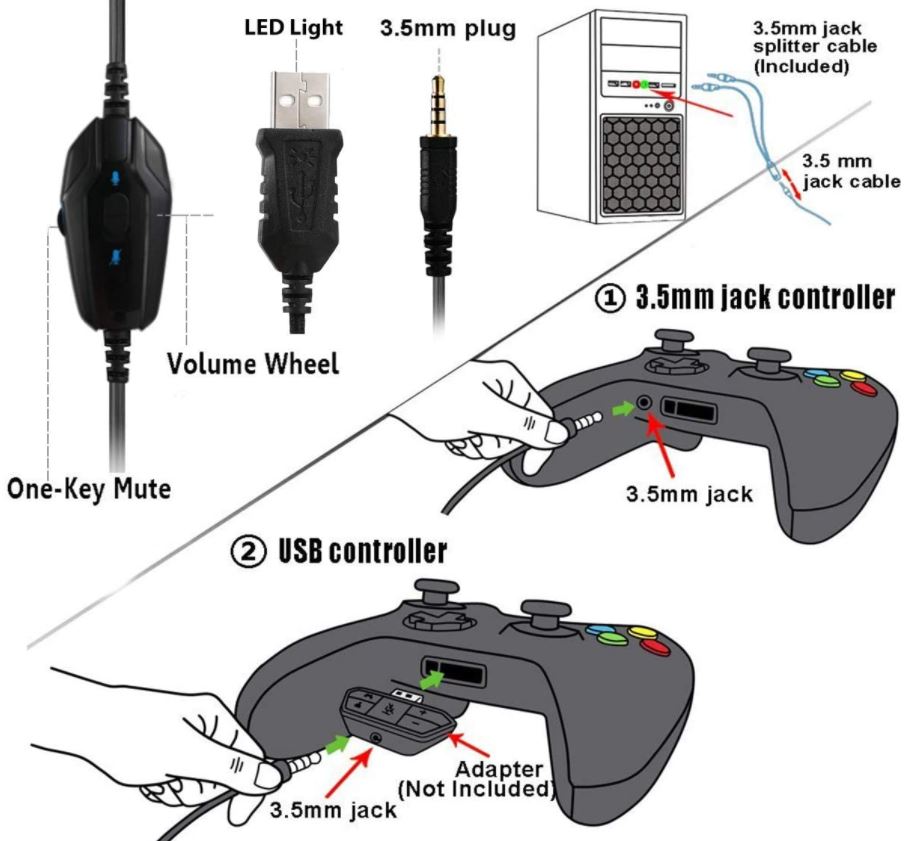 There are three important exceptions, though: the PlayStation 3, iPad Pro, and older Xbox One controllers. These will require an adapter for use with a 3.5mm headset. With any other system or a newer Xbox One controller, you won't have any trouble.
Another thing we should mention is the USB connection. This is used for the LED lights only, and has no impact on the headset's audio performance or noise reduction. Your teammates will literally have no way of knowing whether it's plugged in unless you're streaming video. As a result, there's no reason to panic about using the USB cord when you're playing on a console.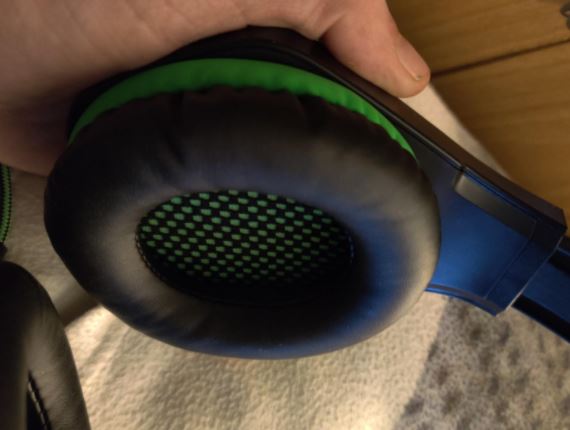 Sound Quality
The Pacrate Stereo Gaming Headset sports big, wide 50mm drivers. These are bigger than most headset drivers, and deliver proportionately big sound. Now, we should clarify that we're talking specifically about game performance here, not music. For music, you'd probably like more detail and texture in high frequencies. For most games, though, the low frequencies are where it's at. We're talking about explosions, gunfire, footsteps, and the bass rumble of tank tracks over some poor French guy's farmland.
In that regard, the Pacrate headset performs very well. It also provides excellent directionality. When you hear that grenade or that tank, you won't have any trouble telling where it's coming from. Even better, the wired connection means your latency will be as low as possible. You won't have to worry about being a few milliseconds behind like you will with a Bluetooth headset.
The Pacrate microphone provides good noise isolation. You won't have to worry about your home's background noise bleeding into your game session. That said, it does this largely through a directional mic that won't pick up anything to the sides. This means you'll need to have the mic pointed directly at your mouth. This isn't a big deal, but it does mean you'll have to do some adjusting when you first sit down to play. Once that's done, you're ready to go.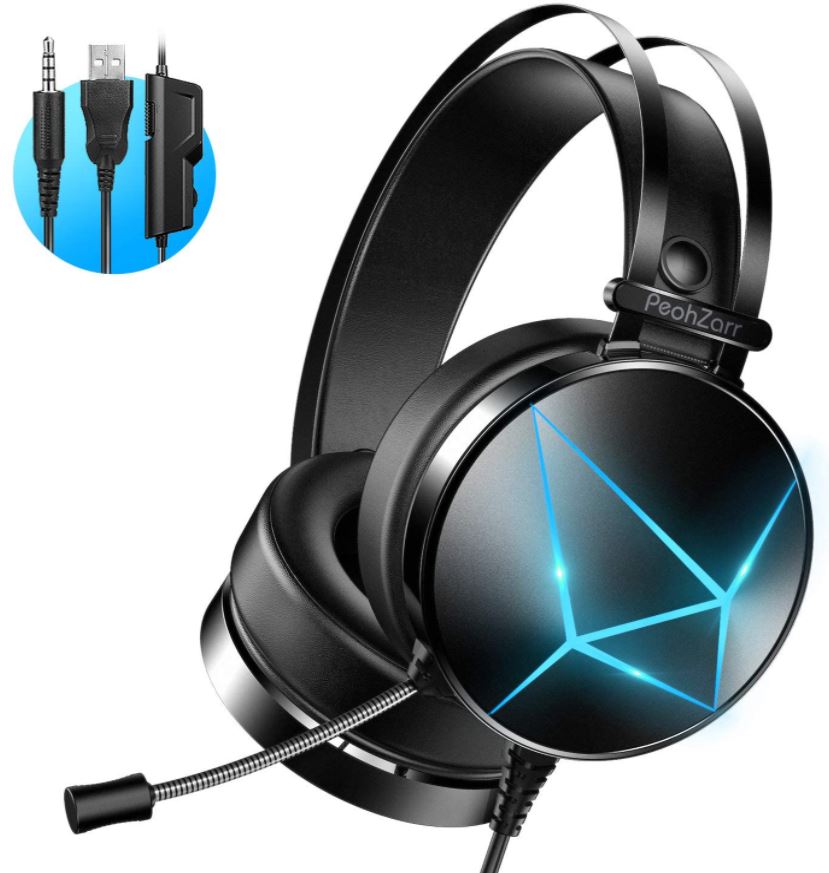 Peohzarr Gaming Headset
Peohzarr is a relatively new headset manufacturer, but they're not entirely unheard of. In fact, we recently reviewed their T50 Bluetooth Earbuds, and we liked what we saw. So we were excited to check out the Peohzarr Gaming Headset and see how it performed. Our first impression was of a slick, straightforward design that's surprisingly sturdy. At first glance, the round ear cups might not look like much. Until you lift this 1.25-pound headset and realize that it houses some serious hardware.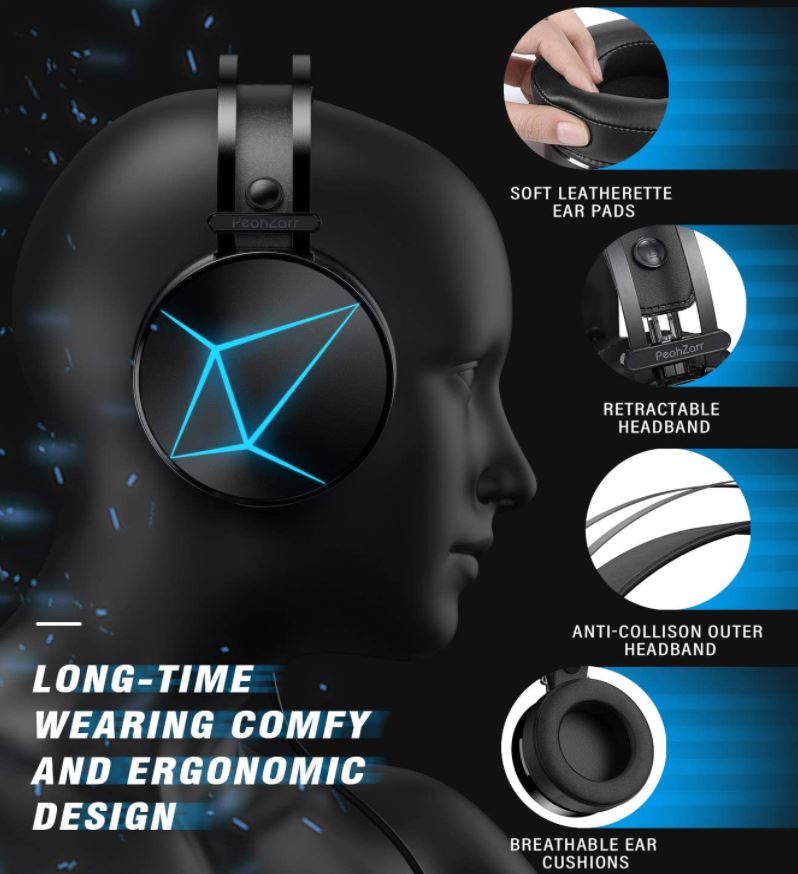 The backs of the ear cups sport an irregular geometric LED pattern, with electric blue lighting. The rest of the design is a relatively Spartan black, lending the headset a no-nonsense appearance. The head band is broad and relatively soft, although it doesn't have any padding. That said, it's fairly forgiving. Rigidity is provided by an aluminum frame that arches above the main part of the head band. The mic has a gooseneck design, and is easily adjustable as you're playing.
The ear cups are very well padded, with bionic protein foam padding. This padding is soft and forgivable as needed, but still has enough rigidity to maintain its shape over time. The shell is slightly porous, just enough to allow sweat to evaporate easily. As a result, the Peohzarr Gaming Headset is a great choice for long sessions.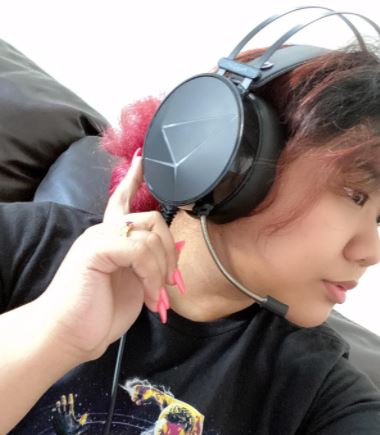 The Peohzarr cable is similar to the Pacrate's, and is only slightly longer at 7.22 feet. It does come with a longer, 24-month warranty, though, which offers plenty of peace of mind.
Connectivity & Compatibility
Like the Pacrate headset, the Peohzarr Gaming Headset utilizes a 3.5mm audio jack for its connections. This makes it easy to plug into any system that will work with the Pacrate headset. Keep in mind, though, that you also deal with the same limitations. If you have an iPad Pro, an older Xbox One controller, or a PlayStation 3, you're going to need an adapter.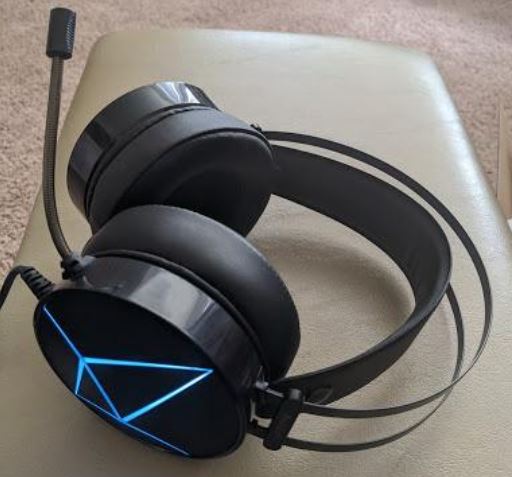 You'll also have a similar USB connector on the end of the cord. This is for LED power only. Go ahead and plug it in if you want to look as sharp as possible, but it won't affect your gameplay.
Sound Quality
The Peohzarr Gaming Headset features 50mm magnetic drivers, just like the Pacrate headset. These are neodymium drivers, and at this weight, you're looking at plenty of power. You can easily pump out very loud volumes from these headphones. And even when you've got the volume cranked up all the way, there's virtually zero distortion. Considering the modest price point, you're looking at great across-the-board sound quality. There are no "extra" features, but there are no weaknesses in any particular frequencies. For gameplay as opposed to music, that's exactly what you should be looking for.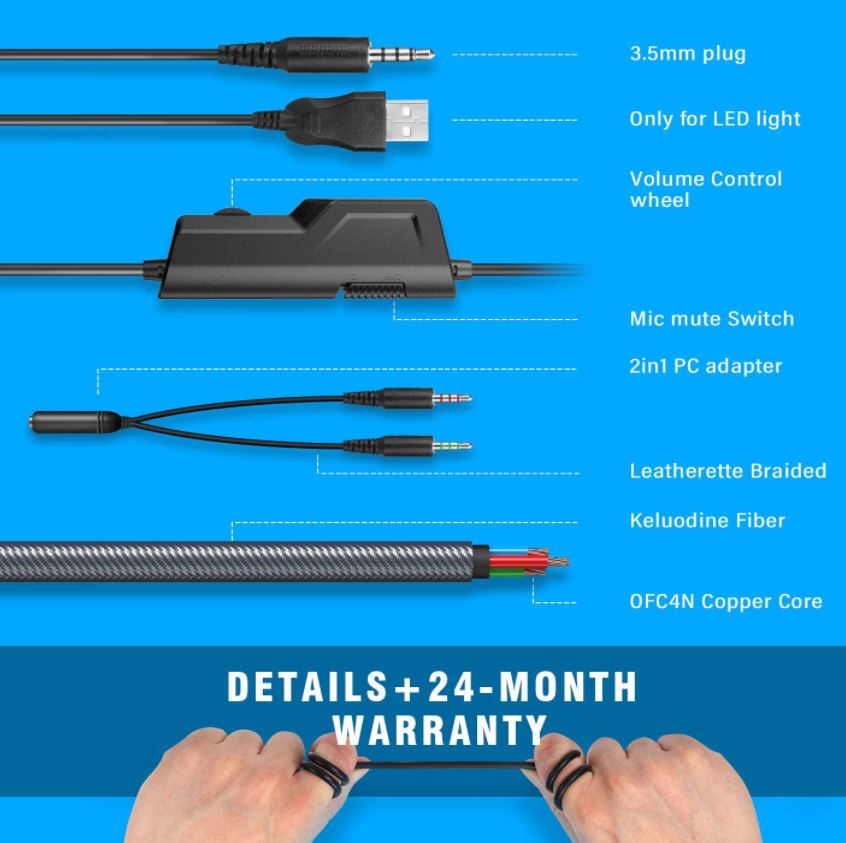 A 7.1-channel simulated surround sound system offers an excellent sense of space. This is an essential feature for gamers, since you need to maintain situational awareness while you play. You won't have any trouble understanding what's going on around you, or locating enemies or teammates.
The mic on the Peohzarr Gaming Headset offers some level of noise reduction. It will filter out quieter background noises, and make louder noises softer. That said, it's omnidirectional. This means it's inevitably going to pick up some level of background noise. On the flip side, it's also easy to position, since it doesn't have to be pointed right at your mouth.
Final Verdict
Clearly, we're looking at two strong contenders here. The most important feature, the sound quality, is more or less the same on both headsets. You get good broad-frequency audio along with a strong sense of directionality. But there are still significant differences between these headsets. Here's a quick summary.
The Pacrate Stereo Gaming Headset is physically larger, but actually lighter. It has big, hexagonal ear cups and a frame that can be twisted like a rubber band. It also offers good noise reduction for the price, but the mic can be a pain to adjust.
The Peohzarr Gaming Headset isn't quite as flexible as the Pacrate, and it's also a bit heavier. That said, it compensates with breathable ear cup padding and a lighter head band. It doesn't offer the same level of noise reduction, though, instead opting for a more adjustable 360-degree mic.
Please consider sharing:
Note: At no extra cost to you, we may earn a commission for purchases using our links. Learn more.