If you're trying to keep your property clean, you're not alone. With everyone going crazy during lockdown, more people are looking for home improvement projects than ever before. But buying a pressure washer is a tricky proposition. On the one hand, you want a machine that works. On the other hand, you're also not going to use it that often. Do you really want to spend $300, $400, or $500 on a machine you'll use twice a year?
Not long ago, your options would have been limited. You either paid up, or you ended up with a piece of junk. But in the past couple of decades, affordable pressure washers have gotten much more reliable. The main reason for this is improvements in electric engines. A powerful electric engine can be built much cheaper than an equivalent gas engine. As long as you're not looking for an enormous pressure washer with a ton of power, electric is all you need. In fact, electric motors have been getting very powerful lately. This has led to an explosion of powerful pressure washers in an affordable price range.
Today, we're looking at three different electric pressure washers in the $150 price range. We'll start out with the PAXCESS Electric Power Washer. This is an easy-to-use pressure washer that comes with an adjustable tip. Next, we'll look at the Sun Joe SPX3000. This beast is built for cleaning, with a pair of built-in detergent tanks. Finally, we'll review the TEANDE 3800PSI Electric Pressure Washer. This is a reliable machine with on-board storage for extra tips. Which one is the best? Let's take a closer look, and see what they have to offer!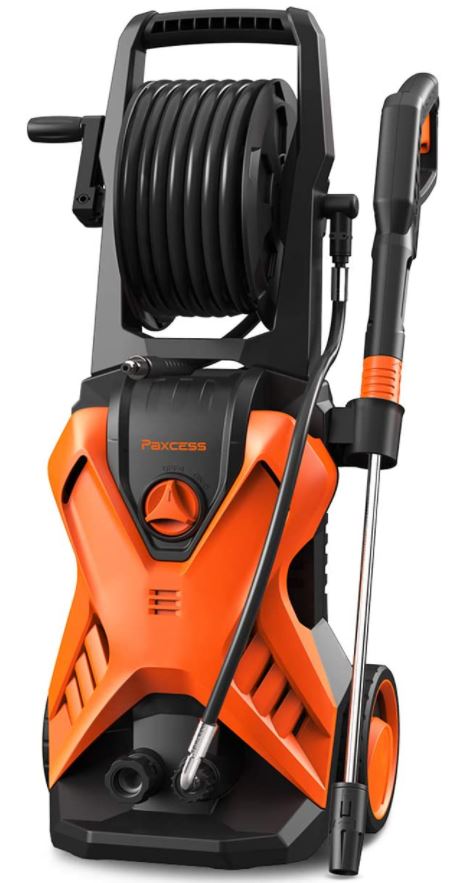 PAXCESS Electric Power Washer
PAXCESS is a relatively new manufacturer, but they're starting to make a name for themselves in the consumer electronics space. We recently reviewed their Rockman 200 power station, and we were pretty impressed! So we were excited to see what the PAXCESS Electric Power Washer had to offer.
This is a suitcase-sized pressure washer, and it's similarly easy to handle. The top of the handle is just under 3 feet tall, so it's comfortable for the average adult to grip. It's also lightweight, with a total weight of less than 24 pounds. This makes it easy to transport, whether you're moving around the patio or driving around town.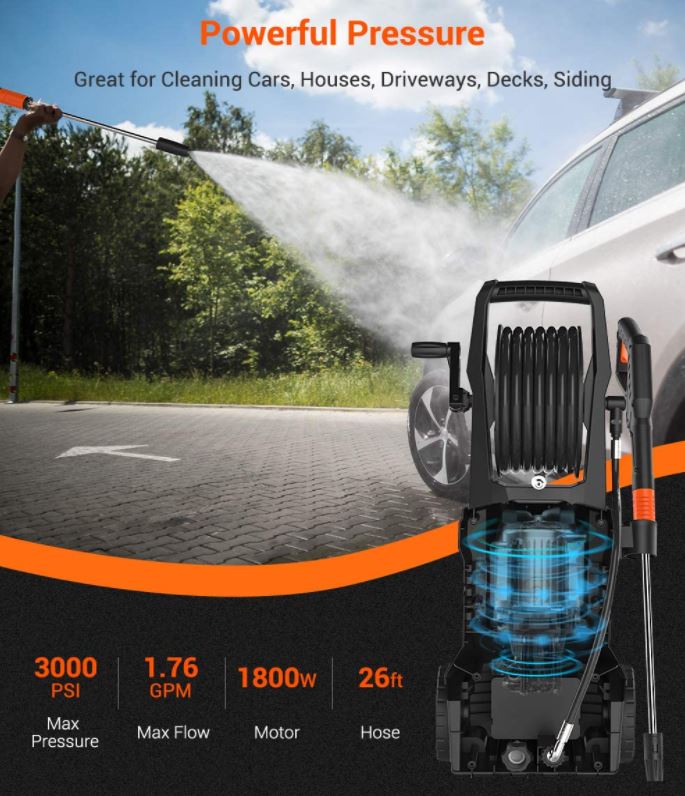 The machine itself stands about knee high, and is housed in sturdy ABS plastic. The front of the unit sports a flashy orange "X" shape, while the rest of the unit is black. The wheels aren't enormous, but they're bigger than we'd expect at this price. Most importantly, they've got plenty of texture. They won't get bogged down in mud or other obstacles.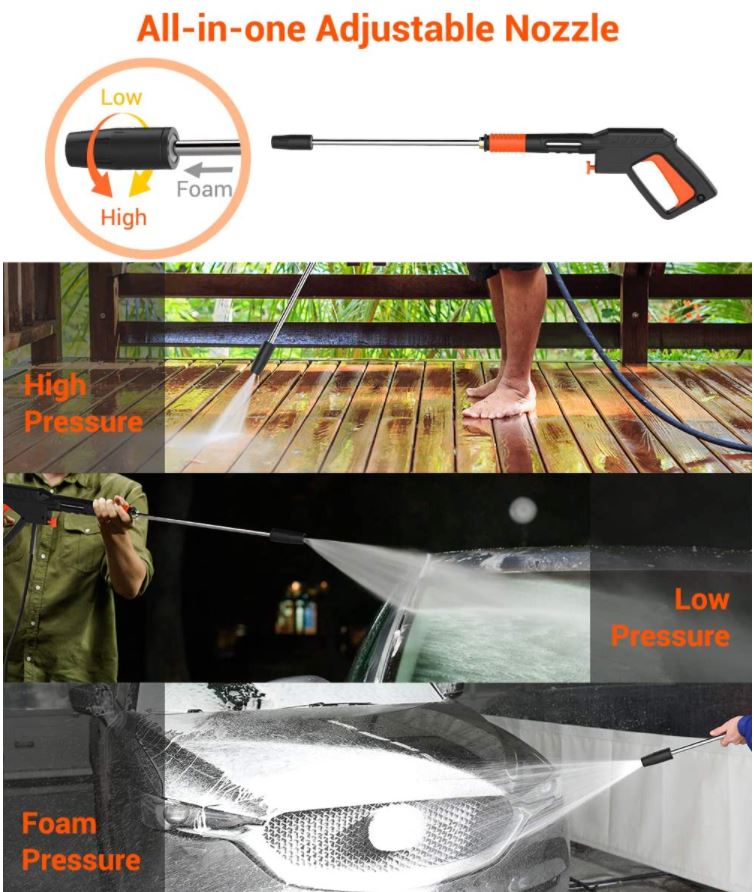 The overall power rating of the PAXCESS Electric Power Washer is 3,000 PSI. This is powerful enough for just about any cleaning job. You can even clean concrete. Be careful on delicate surfaces, though. On your car or untreated wood, you'll want to avoid using the sprayer on full pressure. At 1.76 gallons per minute, the rate of flow is relatively slow. You're looking at a great pressure washer for cleaning. But when it comes time to rinse, you'll probably just want to use the hose.
The kit includes a hose, as well as an adjustable cleaning wand. The hose wraps around a reel that's located under the handle, so everything is stored on board and ready to go. Leak-proof brass connections and a built-in detergent storage tank complete the package.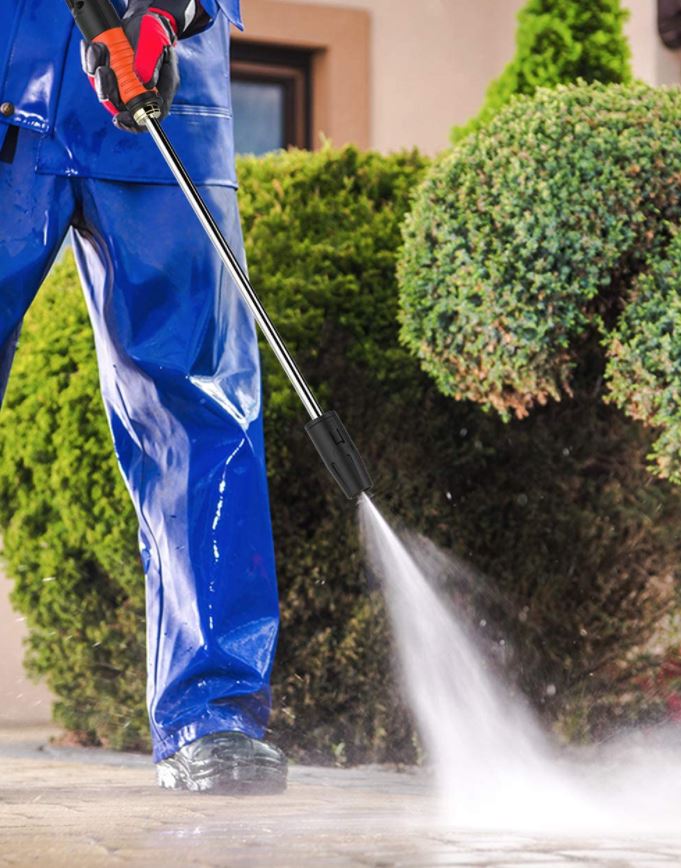 Accessories and Extra Features
The nozzle tip on the PAXCESS pressure washer is an all-in-one adjustable tip. Simply by twisting it, you can switch between a variety of modes. You can spray at low or high pressure, or even go into detergent mode. Admittedly, the most powerful mode isn't as powerful as a powerful tip. On the other hand, the built-in nature of the all-in-one tip simplifies matters. You don't have to worry about switching out tips or keeping track of accessories.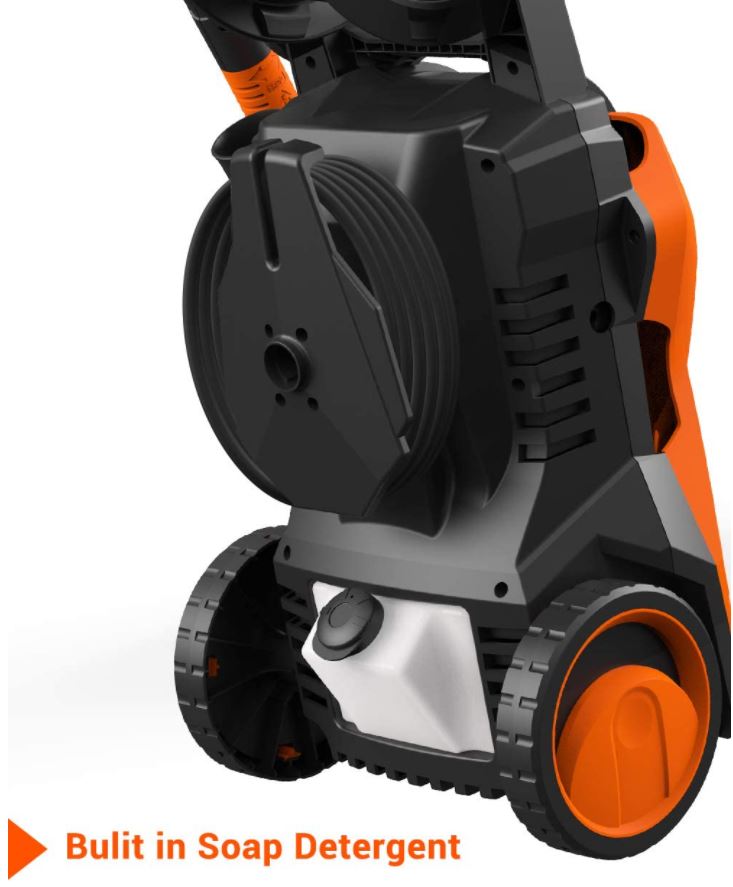 The PAXCESS electric pressure washer's 26-foot hose isn't the longest on the market, but it isn't the shortest, either. It's enough to make your way around most areas of your house. Not only that, but the storage reel makes it very easy to manage. You don't have to worry about fumbling with excess hose when it's unneeded.
Perhaps the best feature of the PAXCESS Electric Power Washer is that it can suck in water from any source. You don't have to worry about being tied to a spigot. Just drop the intake hose into a bucket, barrel, or other water source. For many people, this isn't going to be necessary. But if you need to pressure wash far from a spigot, you'll appreciate it.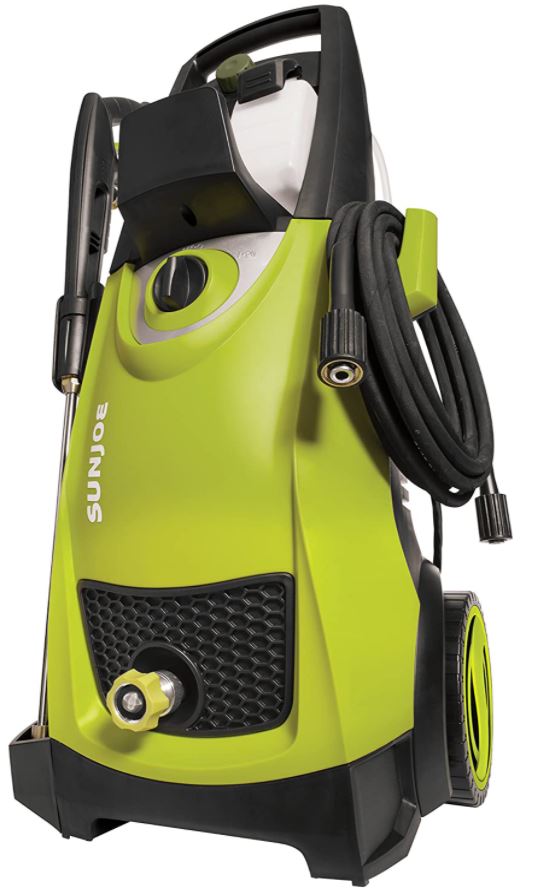 Sun Joe SPX3000
The Sun Joe SPX3000 is a bit more laid back, with a maximum pressure of 2,030 PSI. This means it's not capable of handling the most demanding jobs. But that's okay! Instead, it's ideal for delicate surfaces that could be damaged by a more powerful pressure washer. This makes it safe for wood decks, aluminum siding, and other surfaces that are easily damaged. Not only that, but it features a pair of detergent tanks, so it has more cleaning power than you might think. As such, you're looking at the complete package. To be fair, the 1.76 GPM flow rate is somewhat limiting. But that's something you'll run into everywhere at this price point.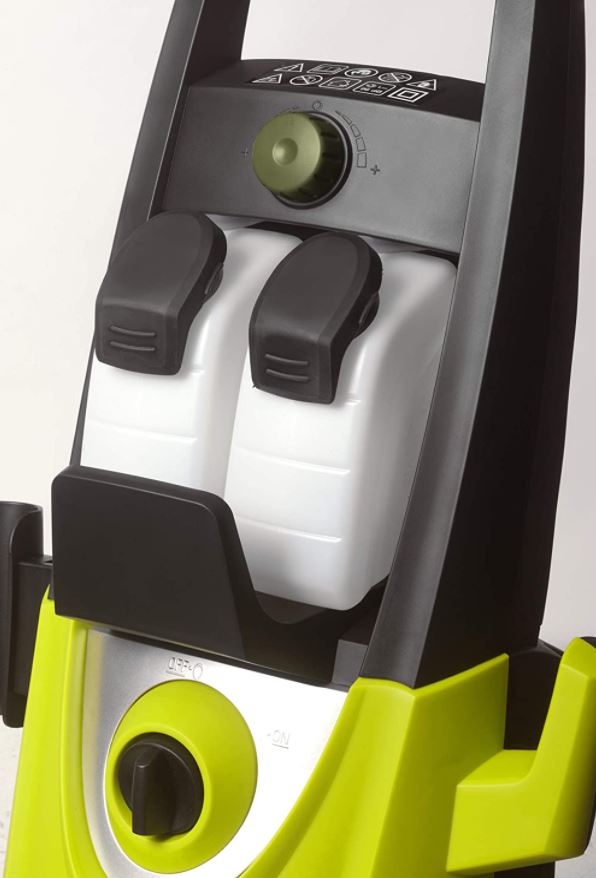 Another thing se should note is that the rating of 2,030 PSI is only the maximum rating. During normal operation, water pressure is actually 1,450 PSI. This might be disappointing at first glance. But once again, remember that this is a low-powered machine. It's designed for light cleaning and rinsing, not for blasting away gobs of grease.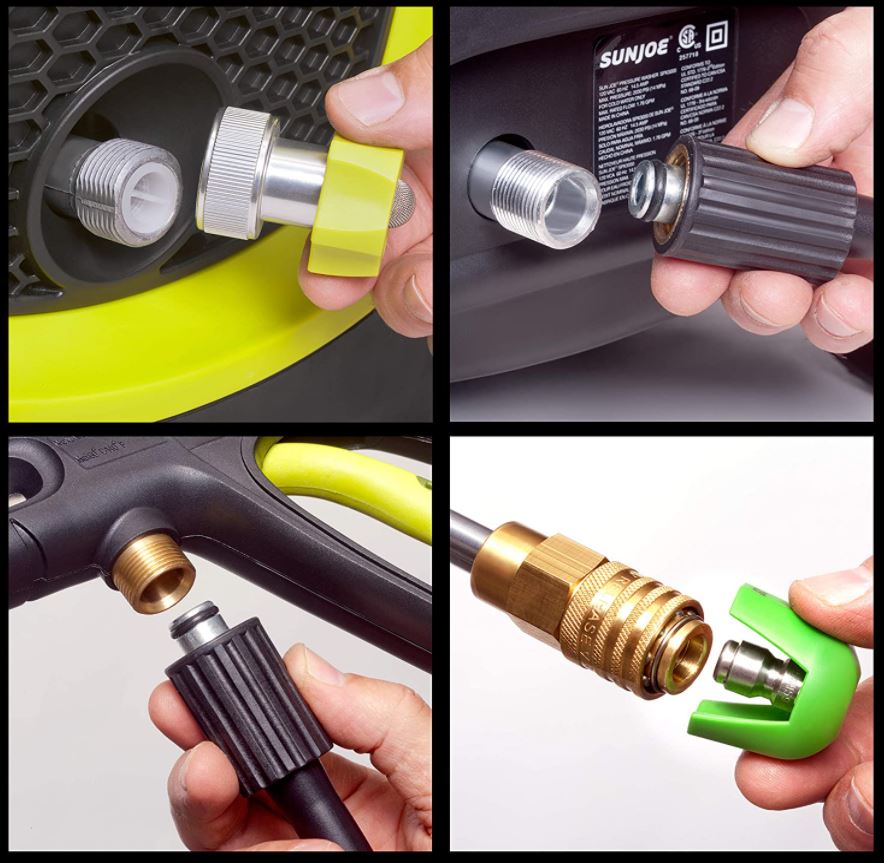 The SPX3000 pressure washer itself is constructed from green ABS plastic. It has a slightly-curved, forward-sloping profile that's attractive to look at. On the side, a pair of claws allow for easy storage for your cord and hose. Speaking of which, the cord measures 35 feet and the hose is 20 feet long. This works out to a total length of 55 feet. You've got plenty of range before you have to worry about a hose or extension cord.
The complete SPX3000 kit comes protected by a 2-year manufacturer's warranty. If anything goes wrong in this period, simply contact Sun Joe for a replacement or repair. You also get 24-hour customer support. We're not sure why you'd need that, but it's nice to know that Sun Joe has got your back.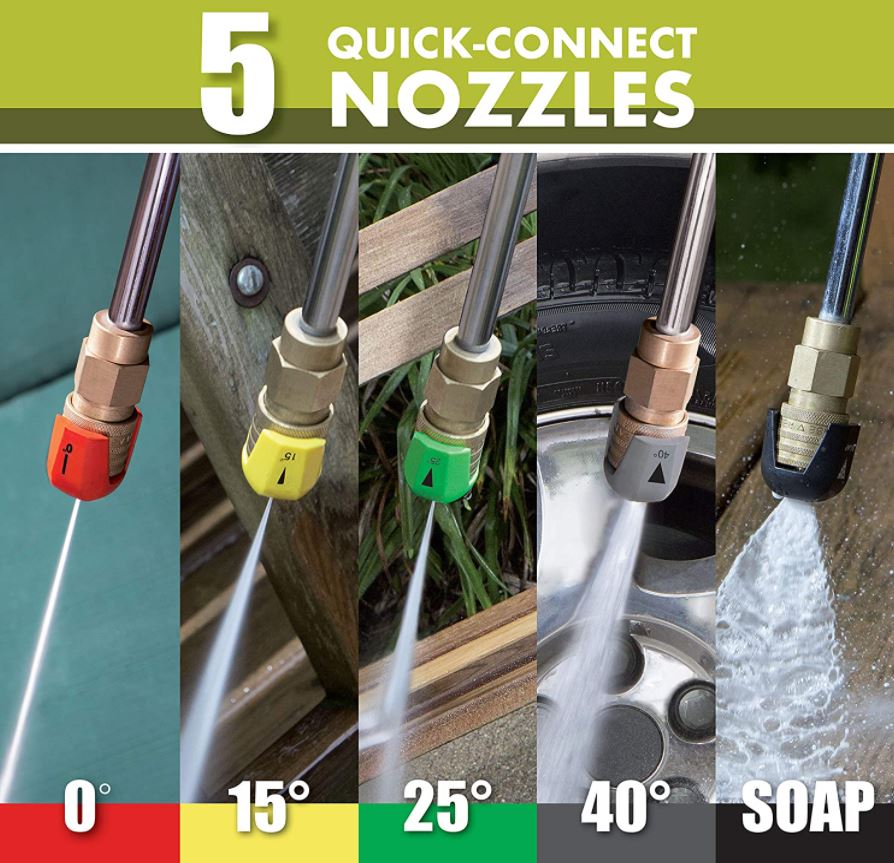 Accessories and Extra Features
Along with the pressure washer itself, the SPX3000 includes five pressure washer tips. These include a red 0-degree tip, yellow 15-degree tip, green 25-degree tip, grey 40-degree tip, and black detergent tip. They're easy to switch in and out, so adjustments are easy. The benefit of this is that you can follow standard pressure washing instructions. You don't have to guess whether your adjustable tip is set correctly. Be careful, though. The 0-degree tip can cause injury, even on a relatively weak pressure washer. Exercise common sense, and keep the tip pointed away from you and others.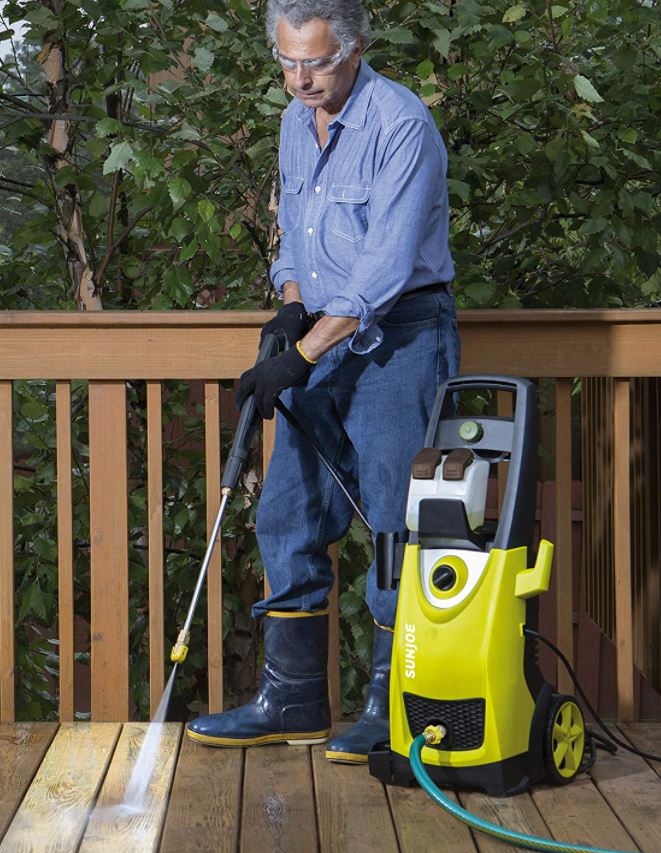 The Sun Joe SPX3000 features a pair of 0.9-liter on-board detergent tanks. These can be helpful for cleaning off stubborn messes. For instance, motor oil is virtually impossible to clean off with water pressure alone. To get your surface 100-percent clean, you need to use a good detergent. As you're working, be aware of the environment. Don't use dangerous chemicals around your plants, and don't let them drain into public water. A little bit of common sense goes a long way in this regard.
One neat bonus feature of the SPX3000 is the Total Stop System (TSS). The TSS will automatically deactivate the pressure washer pump when the trigger is not engaged. This saves energy, and also reduces wear and tear on the equipment.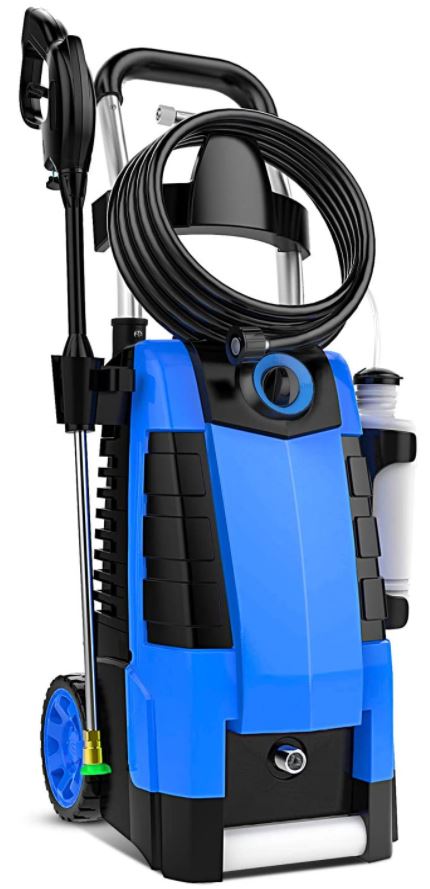 TEANDE 3800PSI Electric Pressure Washer
When it comes to cosmetics, the TEANDE 3800PSI Electric Pressure Washer tops our list. It comes in blue, green, and orange to match just about any taste. But this pressure washer is a lot more than just a pretty face. Regardless of what color you choose, you're also getting a powerful cleaning machine. The 1,800-watt motor will provide up to 3,800 PSI at a rate of up to 2.8 GPM.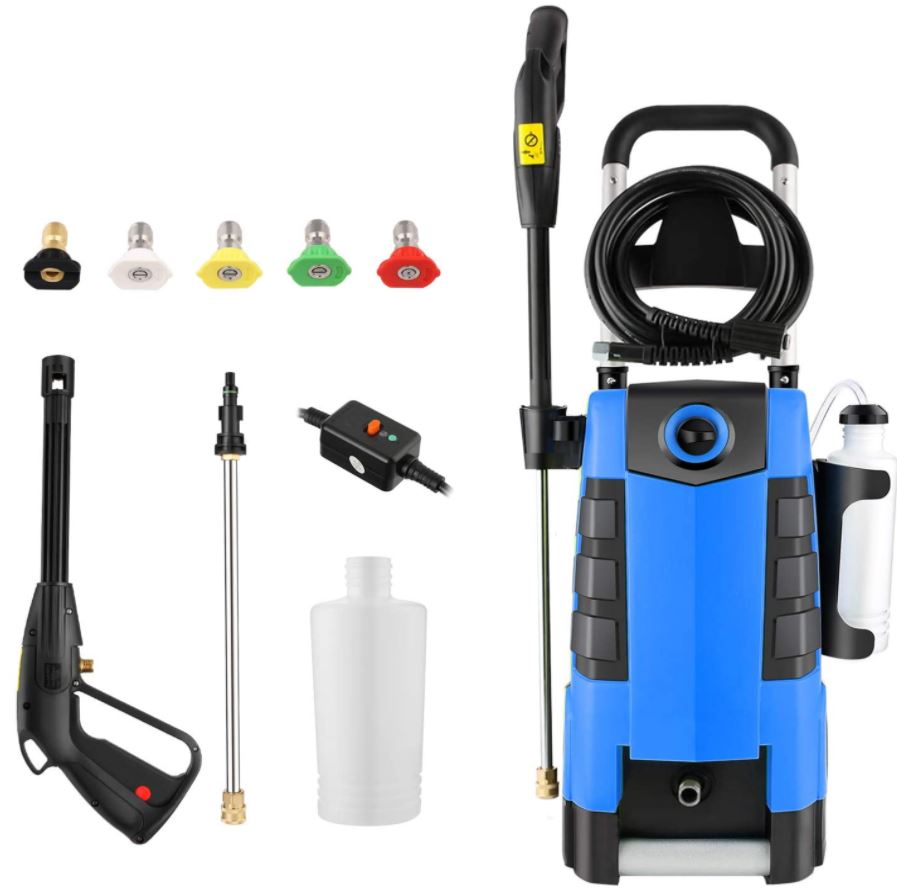 This means you get exceptional cleaning performance with a high flow rate for rinsing. On the other hand, you have to be careful about delicate surfaces. Use this pressure washer at full force on damaged wood or aluminum siding, and you'll end up with significant damage. Similarly, you have to be careful about what outlet you plug into. The TEANDE pressure washer will trip an ordinary 15-amp outlet if the motor spools up all the way. For best results, you'll want to plug into a 20-amp outlet. Whether or not this is feasible depends on your house.
For the size of the unit, the TEANDE pressure washer has fairly beefy wheels. They're not huge, but they'll get you through any ordinary lawn. Not only that, but the handle is large and well padded. This makes it comfortable to grip, as well as ergonomic to pull. All in all, this is a very well-engineered design. You also get a row of built-in storage compartments for your accessories. This makes it easy to keep track of your tips, zip ties, and other odds and ends. All of this is covered by a 2-year manufacturer's warranty. If there are any problems, TEANDE will repair or replace your pressure washer for free.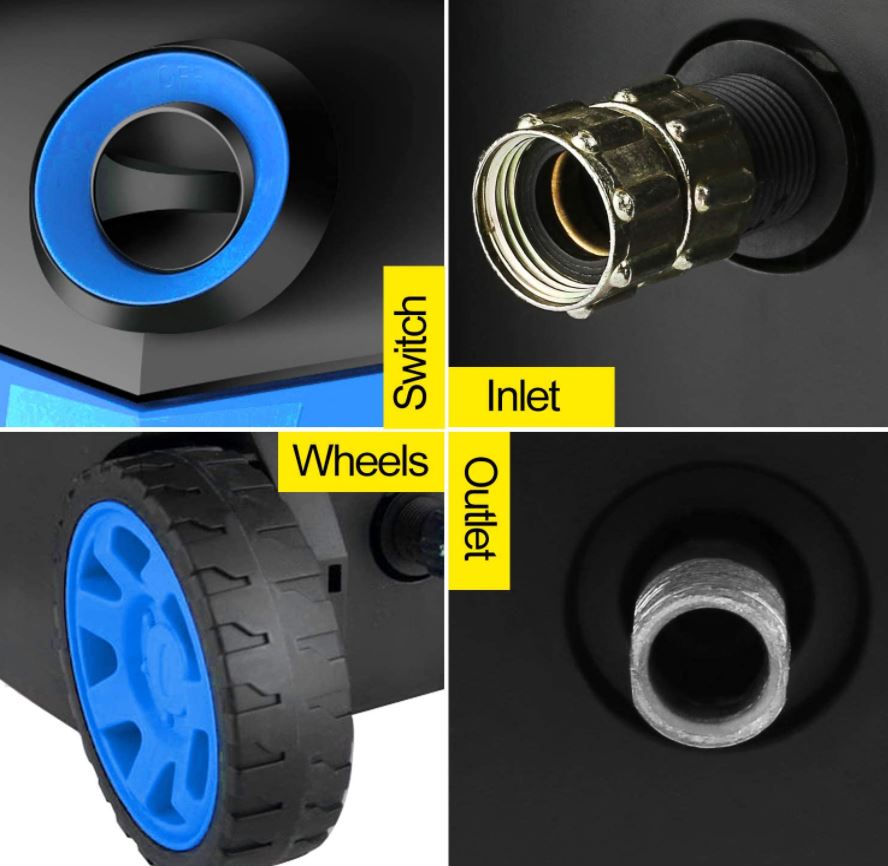 Accessories and Extra Features
The TEANDE pressure washer includes the same five tips as the Sun Joe pressure washer. This means it's suitable for cleaning just about any surface. Throw on the 0-degree tip for degreasing concrete, or switch to 25 degrees for blowing dirt off your car. As long as you're smart about using the right tip, you won't have to worry about damaging anything. For particularly stubborn messes, you might want to use soap. In that case, you can take advantage of the TEANDE's detergent dispenser and black detergent tip.
The TEANDE pressure washer's range is quite good. With a 25-foot hose, you don't have to worry about being tethered to a spigot. Similarly, a long power cord lets you easily access the nearest power outlet.
The TEANDE 3800PSI Electric Pressure Washer also features the same TSS system as the Sun Joe washer. This means that whenever the nozzle is closed, the motor will automatically shut off. This isn't just an environmental benefit. It's also good for your pressure washer, since the motor won't be running unnecessarily.
Final Verdict
Without a doubt, each of these pressure washers is well worth your investment. They're all well engineered, and they're all covered by a reasonable warranty. But which one is the best? For light-duty, everyday jobs, it's hard to ignore the PAXCESS Electric Power Washer. This little beast has an impressive amount of power for the size. More importantly, it has an adjustable nozzle and a built-in hose reel. For the average homeowner who isn't a pressure washer enthusiast, this is an ideal choice.
The Sun Joe SPX3000, in the mean time, offers a great option for light-duty jobs. To be clear, it's too low powered for the most demanding tasks. But if you're washing aluminum siding or an old deck, that's just fine. You don't want the Iron Man of pressure washers. You want something that's slightly more powerful than a garden hose, but won't damage your siding. For that purpose, the Sun Joe is A-okay.
The TEANDE 3800PSI Electric Pressure Washer is the workhorse of our lineup. With a 3,800 PSI working pressure, it's strong enough for even the most demanding jobs. You'll need to plug it into a 20-amp outlet to operate it reliably. But as long as that's no issue, you're looking at one monster of a pressure washer.