Mpow is well-known for producing high-quality audio equipment. We've reviewed several of their wireless earbuds. We've also reviewed their headphones, including the H12, H17, and H19. But Mpow is less well-known for gaming headsets, which is a shame, because some of them are quite good. Today, we're going to review two of their offerings, the Mpow EG10 and the Mpow Iron.
The difference between a gaming headset and standard wireless headphones is threefold. To begin with, you need better noise isolation on the microphone. This is essential to avoid interference and echo during team chats, which can already get cluttered. You also need lower latency. A small amount of latency might get annoying for voice calls or music, but it's not a deal-breaker. On the other hand, with online gaming, even a few tens of milliseconds can lead to a total party kill. Finally, you need a better sense of directionality. Yes, a good soundstage is important for music, but that's not quite the same thing. For gaming, particularly for shooters, you need to know what direction sounds are coming from.
So, how do these two headsets compare? We took a good look at both of them, both the construction and the sound quality. Now, we'll tell you what we learned.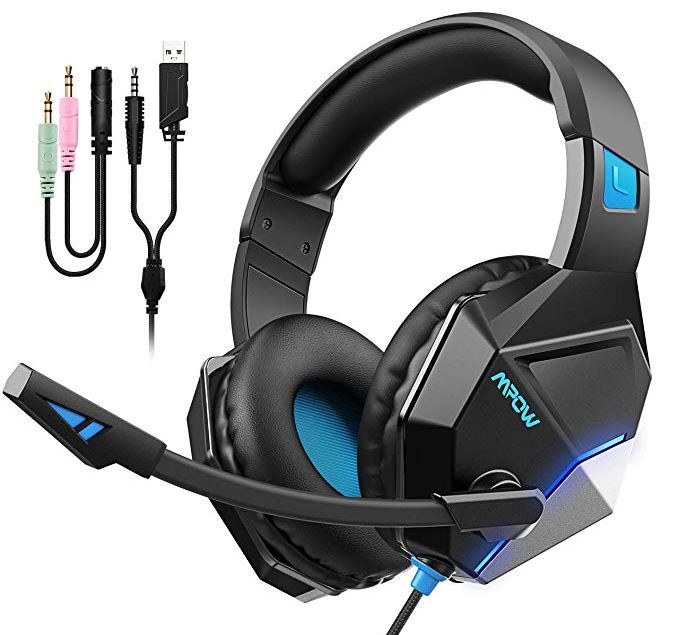 Mpow EG10
The Mpow EG10 is designed to be both lightweight and comfortable. It tips the scales at just under 9 ounces, so it's light enough to wear during an hours-long gaming session. The ear cups are hexagonal, with inner ear pads that are constructed from memory protein foam. This foam is similar to standard memory foam, but it's not quite as squishy. As a result, it holds its shape better, and conforms better to the contours of your face. The backs of the ear cups feature attractive LED lighting, which is available in either blue or red. There are matching blue or red panels on the sides of the headband.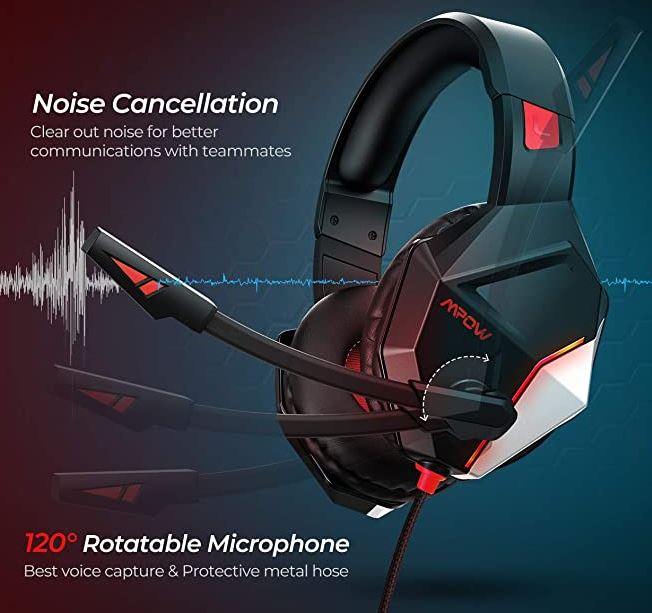 The headband itself is adjustable, and has a nice, firm feel when you pull it out or push it in. In the top, there's a faux leather pad that prevents the band from digging into your head. It's constructed from a rubbery, flexible plastic that can be twisted 360 degrees. When you let go, it will snap back into its original shape. This allows the headband to flex comfortably to fit just about any head shape. On the left earbud, you'll find a boom microphone. The mic will swivel 120 degrees, so it's easy to position right in front of your mouth.
The EG10's cable is 7.22 feet long, enough to reach the back of your PC if you so desire. It has a braided construction, which makes it harder to damage than a standard nylon or rubber cable. There are volume and mute controls built into a small fob on the cable for easy operation. The cable has a split design, with a 3.5mm aux plug and a USB plug. The USB plug is solely for powering the LED lighting. Your actual audio comes through the 3.5mm plug. There's also a 3.5mm splitter included in the package, so you can connect to your PC.
In addition to PC, the EG10 is compatible with most game consoles. These include the Nintendo Switch, PlayStation 4, and Xbox One. Be aware that older Xbox One controllers will require an adapter, which is not included in the kit. That said, you won't have any issues connecting to newer Xbox One controllers with a 3.5mm jack.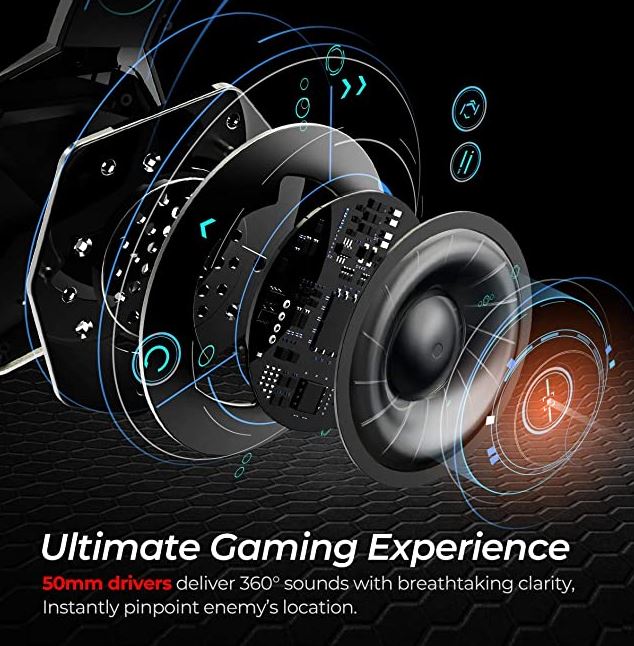 Sound Quality
The EG10's sound quality is fairly good, with plenty of directionality. It's standard stereo, not 7.1-channel surround sound, so it's only a 2-channel system. Still, you get a good idea of where sounds are coming from in your game. Gunfire in CS:GO and Call of Duty is easy to locate.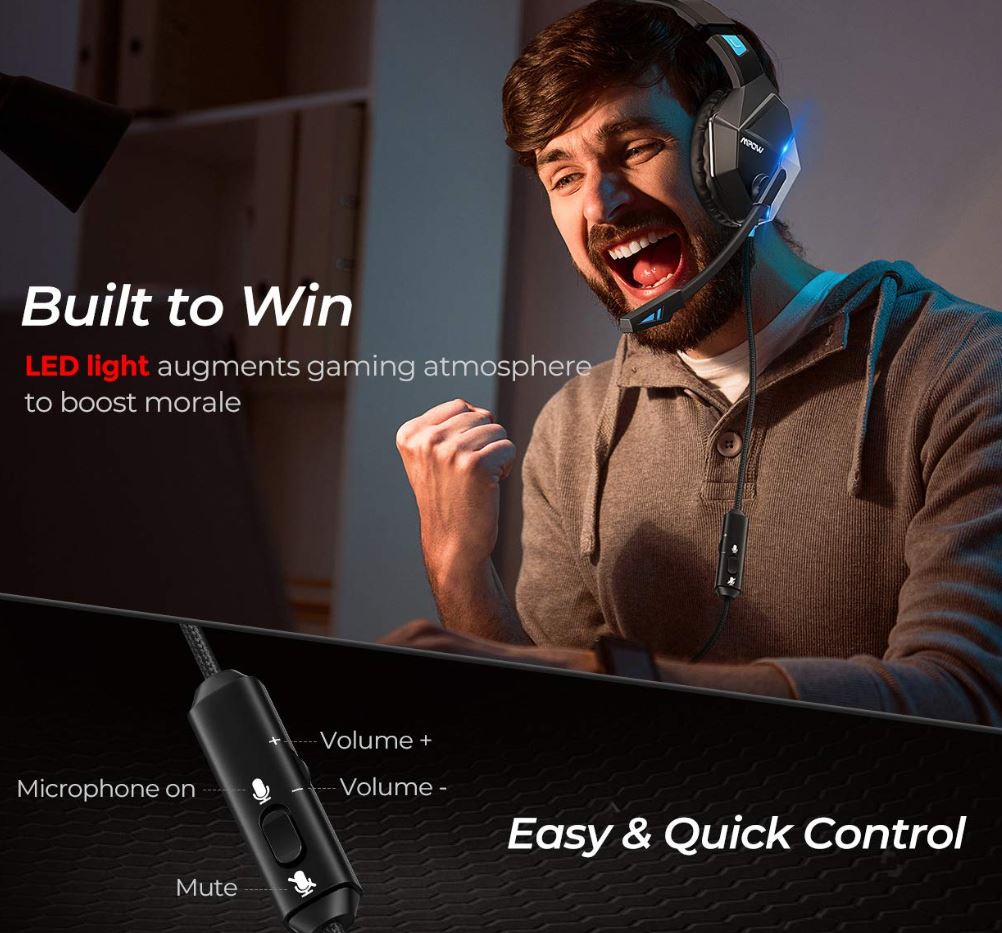 The 50mm stereo drivers provide quality sound across the full spectrum. Highs are clear, and come through cleanly without being overly piercing. The mids have plenty of separation, which is essential for a gaming headset. Vocals won't get muddy or distorted by other sounds. In other words, you'll be able to hear your teammates clearly, provided they have good mics. The bass response is also reasonably good. Again, this is essential for a gaming headset, particularly for first-person shooters. Gunfire, explosions, and rumbling tank engines are clear and easy to locate. All in all, the sound quality is what you'd expect from an affordably-priced Mpow headset.
The mic is both noise cancelling and directional. This means two things. First, the noise cancelling will eliminate background noise and room buzz. It also cuts down on the dreaded echo from your system's speakers, but won't eliminate it entirely. The fact that it's directional means it won't pick up much of that ambient noise to begin with. Just make sure it's pointed at your mouth, and you won't have any issues with picking your voice up. The mic quality is good, and won't distort your voice. Your teammates shouldn't have any trouble hearing and understanding you, as long as they have decent headsets or speakers.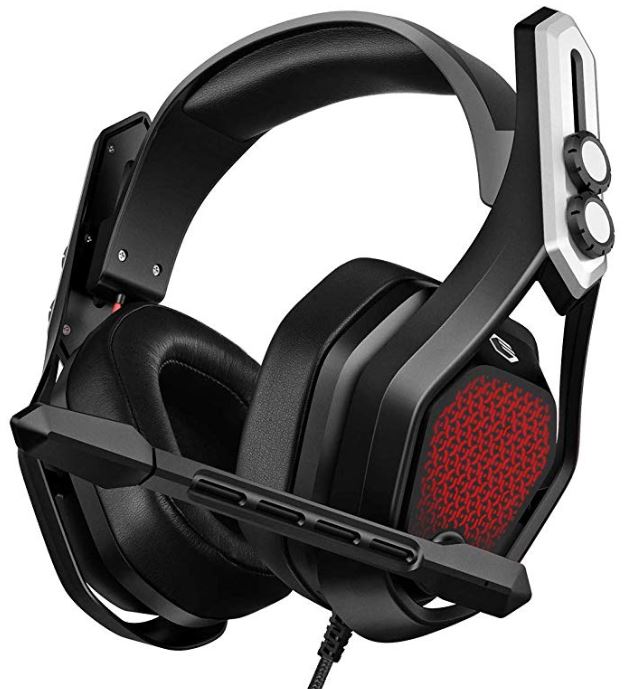 Mpow Iron
The Mpow Iron's design is the antithesis of the EG10's. Where the EG10 is flexible and rubbery, the Iron is built like a brick house. It has a stiff, sturdy frame that's designed to take a beating. The most attractive feature is how easy it is to adjust. The top of the frame is actually separate from the two sides. It's connected on each side by a pair of fat screws. The screws run through a slot on each side piece. To adjust the size, loosen the screws and slide the ear cup up or down as desired. When you've found a comfortable fit, simply tighten the screws and the headset will be locked into place.
This might sound uncomfortable, but it's anything but. The top of the headband has a PU leather pad on the inside, so it rests comfortably on top of your head. It weighs 13.4 ounces, which is a bit heavier than the EG10. However, it's still lightweight enough to wear comfortably during long gaming sessions.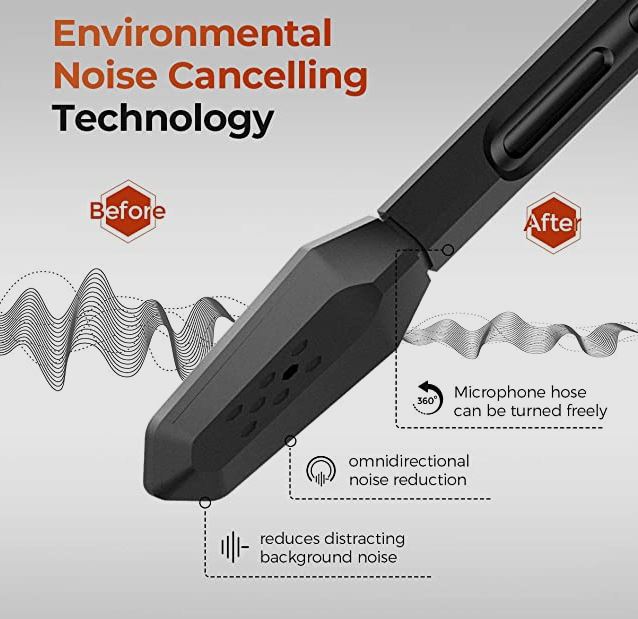 The ear cups themselves are fat and chunky, with a downward-facing triangular shape. On the back, there's deep red lighting, which can be adjusted to other RGB settings if you're playing on PC. The ear padding is made of a breathable protein memory foam, similar to that on the EG10. The foam is sheathed in an artificial leather, which resists sweat and conforms well to your face. On the side of the left ear cup, there's a mic located at the end of a sturdy plastic arm. It can swivel 270 degrees, which allows for literally any conceivable position. The mic can also be rotated along the other axis. This makes positioning very easy.
Like the EG10, the Mpow Iron has a 7-foot cable with dual 3.5mm and USB connections. Both of these connections are located on the end of a fob, which features mute and volume controls. Keep in mind, though, that you can only use one connection at a time. Much like the EG10, the Iron can connect to a wide variety of game systems. However, when you connect to PC, you use the USB connection, not a 3.5mm splitter.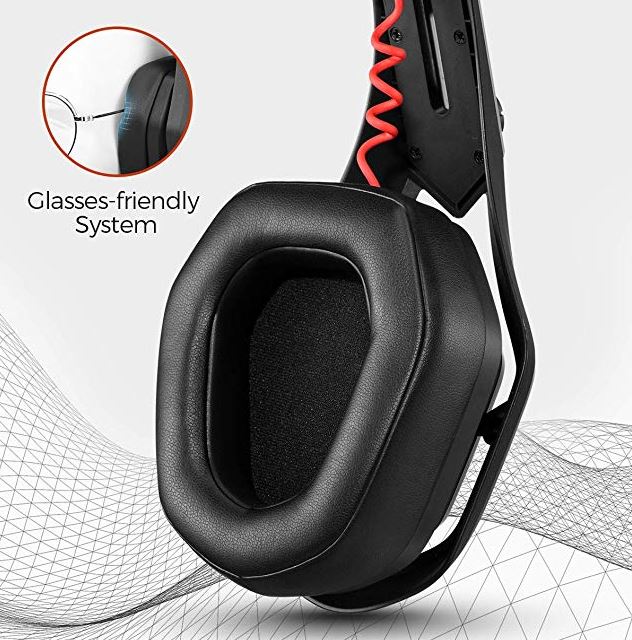 Sound Quality
The Mpow Iron features 50mm magnetic neodymium stereo drivers. These provide quality, responsive sound across the full range of the spectrum. The bass is particularly impressive, with plenty of thump and punch. Explosions in first-person shooters will sound like you're actually there. The midrange is also clear, with plenty of separation from the rest of the spectrum. You won't have any issues hearing your teammates, even if there's a lot of noise going on in the game. On most systems, the Iron plays sound in standard 2-channel stereo. However, if you're connected to your PC via USB, you get 7.1-channel stereo surround sound. This provides top-tier directionality, which makes it easy to pinpoint where your opponents are located.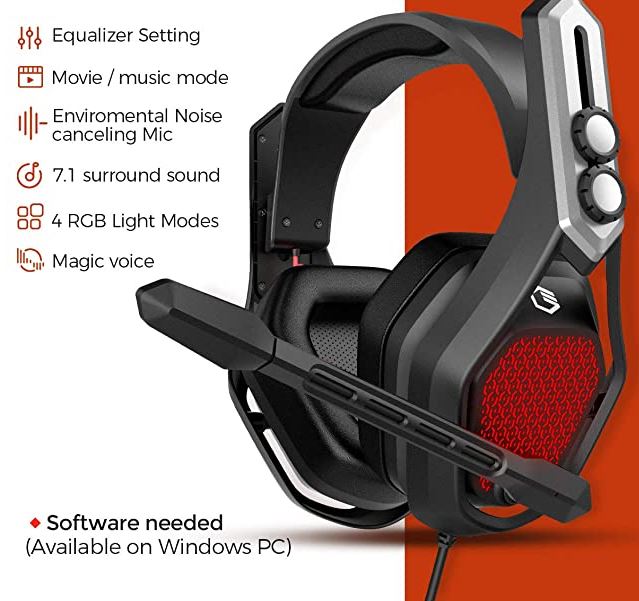 Connecting to PC via USB also provides several other benefits. We've already talked about being able to adjust the RGB lighting, but you can also adjust your own voice. With Mpow's Xgear Magic Voice software, you can choose between four different voices: dinosaur, duck, man, or woman. Clearly, this is a bit silly. But depending on your gaming style, it can be a fun way to enhance your online gaming experience. You can download Xgear Magic Voice from Mpow's website. From their website, you can also download driver software for more enhanced features. This will give you a custom equalizer, as well as active noise cancelling to eliminate background noise.
The Mpow Iron's mic is noise cancelling and directional. This offers similar benefits to the mic on the Mpow EG10, which we've already discussed. However, the Iron offers a little bit extra with dedicated echo cancellation. Echo cancellation processes game sounds in real time, and strips them from your audio signal. Your teammates will never complain about room echo again.
Final Verdict
So, how do these two Mpow gaming headsets compare to each-other? To begin with, the EG10 is the most comfortable to wear. This isn't to say that the Iron is uncomfortable, but the EG10 is lighter and more flexible. It also has slightly wider and better-padded ear cups. The EG10 is also more attractive, with both red and blue color options. Obviously, this is a matter of taste, not an objective fact.
On consoles, the sound quality is basically the same on both headsets. With a 3.5mm audio connection, you won't notice any difference between the two. That said, the Mpow Iron sounds significantly better on PC, provided you have 7.1-channel surround sound enabled. The Iron also offers other benefits on PC, such as the equalizer and the Magic Voice software.
At the end of the day, the Mpow EG10 is a better choice for console gaming. It's more comfortable, and it's slightly lighter. However, for PC gamers, the Mpow Iron is a better choice. The surround sound puts it over the top, as does the enhanced echo cancellation. But neither headset will disappoint you either way.