Suppose you want to use some Bluetooth speakers with your TV, and you don't want to mess with the expense and headache of a large media control system. There's a simple solution: a Bluetooth transmitter/receiver. These devices take your TV's RCA, aux, or optical signal and convert it to Bluetooth, which you can then pick up with a pair of Bluetooth speakers or headphones.
Today, we'll be looking at three different selections, and comparing them with each other. These are the Avantree Oasis Plus, the Boltune Bluetooth Transmitter/Receiver, and the 1Mii B03Pro. Each one of them has a lot to offer, so we'll be taking a close look at each of them.
In particular, we'll be looking for a sturdy design, that's attractive to look at on your shelf or entertainment center. We'll also be looking at what kinds of inputs the transmitter can receive, as well as any wired outputs if there's any kind of pass-through option. And, of course, we'll be looking at the range and power of each transmitter, so you know how far you can get from your TV. Let's get started!
Avantree Oasis Plus
At first glance, the Oasis Plus looks like a wireless router. It's short and flat, with a control face that's ever so slightly slanted towards the front. From the front, the ABS case looks smooth and uninterrupted, with the voice command microphone slots arranged on the back of the unit. It measures 4.5 inches in width, 3 inches in height, and is 1.2 inches thick, not including the 9-inch antenna. Like the antenna on most routers, the antenna on the Oasis Plus can pivot from side to side as well as swivel up and down.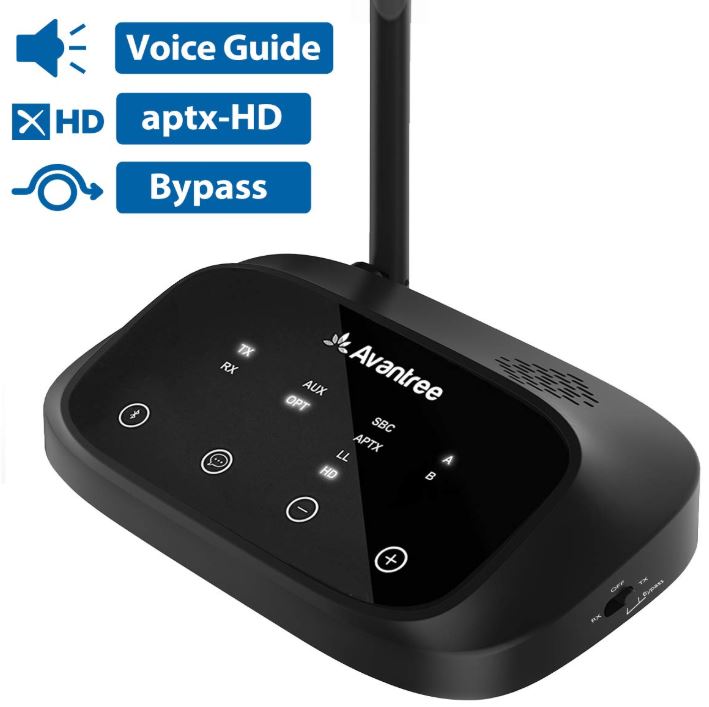 The control panel has 10 indicator lights arranged in four rows, to indicate what type of cord connections are active, which outputs are active, what audio codecs are in use, and whether or not the bypass is activated. The bypass itself is controlled by a small, grooved switch on the right side of the unit. On the front panel, beneath the indicator lights, you'll find a row of four buttons. From left to right, they control Bluetooth pairing, activate voice commands, and toggle back and forth between different options. Speaking of voice commands, you can use them to control the Oasis Plus from across the room.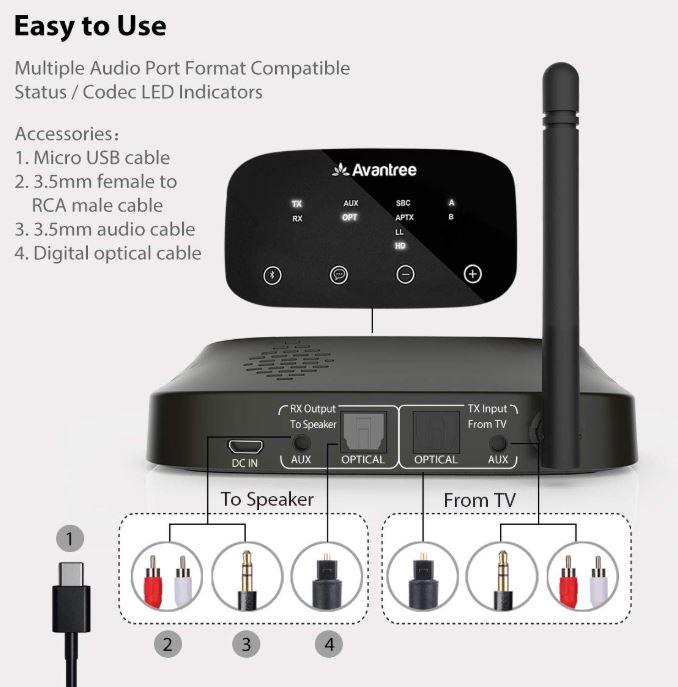 When it comes time to connect your TV to the Oasis Plus, you'll have a range of any wired option you choose. Optical, aux, and RCA cables are all supported, and you can even connect multiple sources and switch between them, much like you would with a beefier, full-featured media controller. You can also adjust the volume independently for each input source, and the Oasis Plus will remember each channel's settings. In addition, you can also use the Oasis Plus as a Bluetooth receiver or repeater, which enables you to use the bypass option to convert your cell phone or tablet signal to something a stereo system can use.
The bypass mode itself is an excellent feature, and supports outputs in RCA, optical, or aux. This function allows you to use the Oasis Plus to output to a traditional stereo amplifier with the flick of a switch. If you want to play that new Beyonce song, but you think it deserves more than just your cell phone speakers, the bypass gives you a way to upgrade your experience.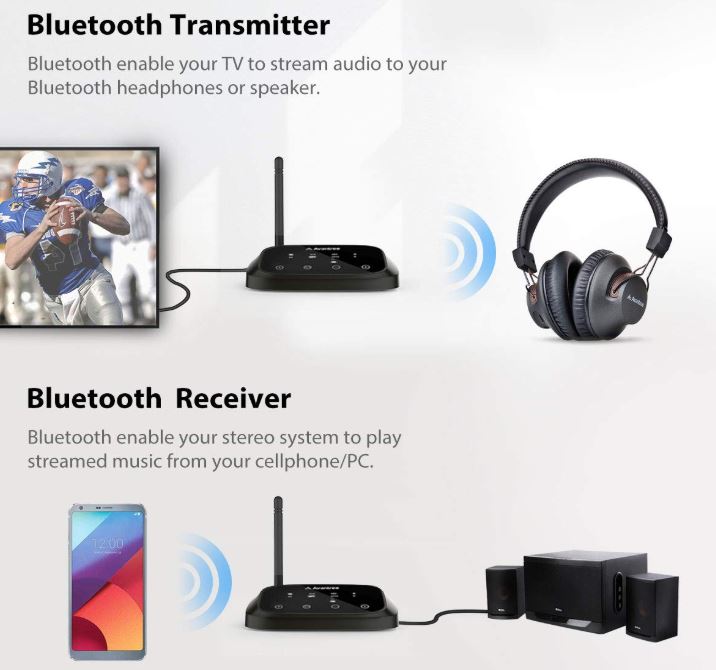 Of course, the main purpose of a Bluetooth transmitter-receiver is to convert your wired signal into Bluetooth, and the Oasis Plus does a great job at performing its primary task. In that regard, the Oasis Plus performed very well. Not only does it boast a powerful signal, with an impressive 295-foot range, but it can be paired with two devices simultaneously, so you and your partner can watch a horror movie together and both enjoy an immersive experience. As an added bonus, you can pair two Oasis Plus units together, and use one as a signal booster for the other, which offers a maximum total range of 328 feet. Would you want to listen to your TV from that far away? Probably not. But you might want to stream to a stereo system from that distance.
Avantree offers a 12-month warranty on all their products, which can be extended to 24 months if you register your device.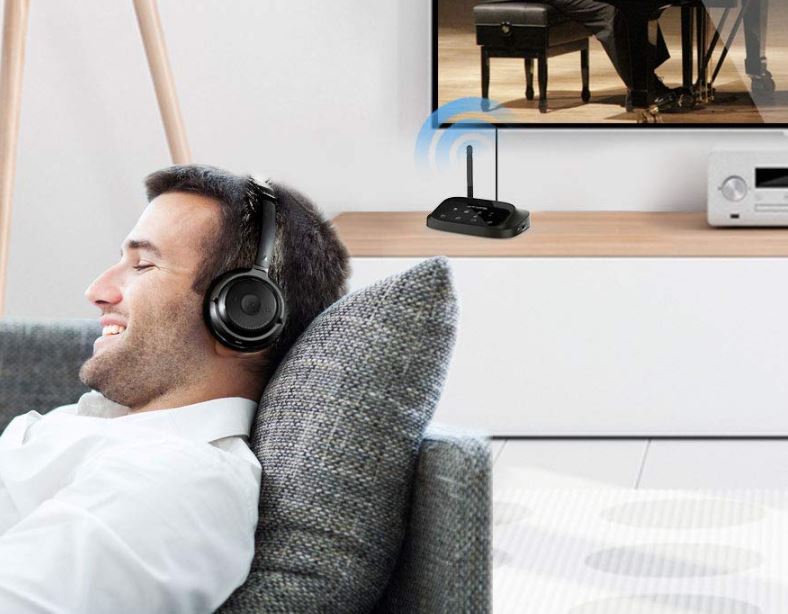 One thing to be aware of with the Oasis Plus is that it uses the aptX low-latency codec for streaming. If your headphones or speakers don't support the aptX protocol, you're likely to experience some latency, up to as much as 220ms, which can make movies nearly-unwatchable. That said, a higher-latency connection won't be an issue for streaming music, so all of this depends on what kind of audio you're going to be listening to.
If you're looking for big sound, a big sound bar goes a long way towards serving up what your ears are craving. The Wohome S9920 is one of these powerful sound bars, and although it isn't Bluetooth, it serves as a great example of one of the Oasis Plus' other features. You can listen through a hardwired sound bar and a pair of headphones simultaneously.
Boltune Bluetooth Transmitter/Receiver
The Boltune Bluetooth Transmitter/Receiver is a little bit bulkier than the Oasis Plus, measuring 5.1 inches in width, 3.5 inches in height, and 1.2 inches in thickness. However, the design doesn't look as big, because it has a transparent, modern-looking lid with LEDs underneath that glow through the plastic. The first thing you'll notice when comparing the Boltune to the Oasis Plus is that the Boltune has a pair of antennas, rather than a single one. They're shorter, however, measuring just about 6 inches in length. Both of them pivot and swivel as you'd expect, so you can maneuver them easily out of the way to avoid awkward situations.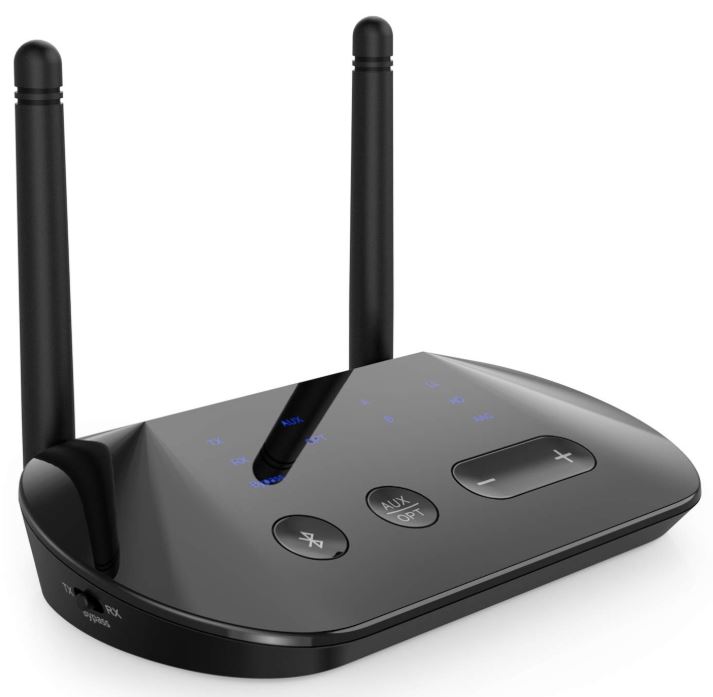 In terms of a display, you get the aforementioned blue LEDs, 10 in all, which tell you which inputs and outputs are active. Underneath, four buttons offer easy control of all the Boltune's functions. These buttons allow for Bluetooth pairing, switching between aux and optical inputs, and adjusting volume on each of the input channels. The switch on the left hand side of the unit controls the bypass mode, which allows you to use the Boltune as a wired output. However, the only output supported by the bypass is optical, which means your sources will essentially be limited to home stereo systems and AV receivers.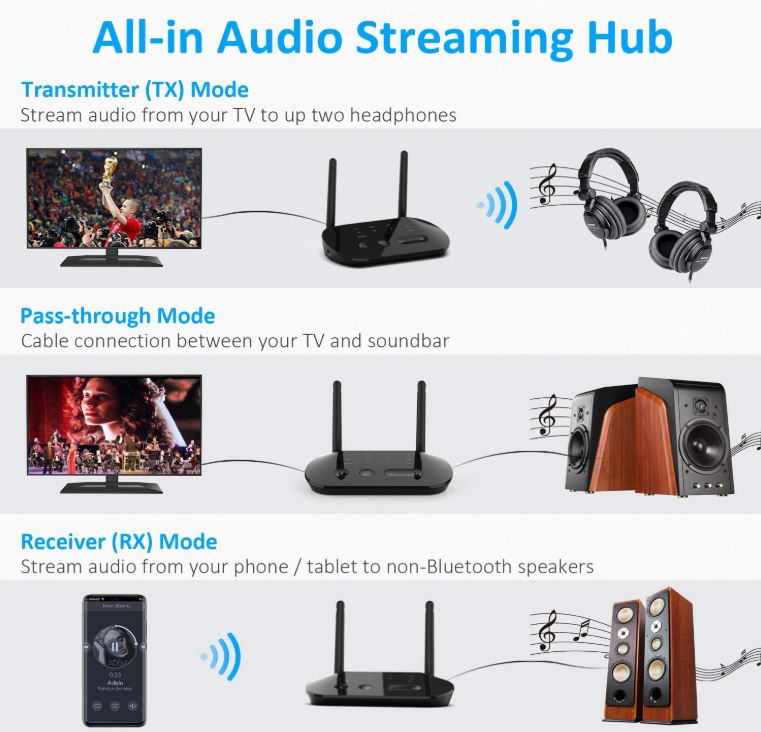 Like the Oasis Plus, the Boltune also supports dual-link technology. This allows you to link two pairs of headphones or sets of speakers, so you can watch a movie or listen to music along with somebody else. The HD audio is virtually lag-free, provided your audio devices are compatible with the latest Bluetooth 5.0 technology. If you're using older, Bluetooth 4.2 devices, you may experience some lag. This won't be noticeable while listening to music, but it can make it difficult to watch movies.
In addition, once again much like the Oasis Plus, the Boltune can be used as a Bluetooth signal booster. It offers a maximum range of 164 feet, but that assumes a clear line of sight. Indoors, your realistic range is 50 feet. As always, it's important to remember that these numbers are just approximations. In a real-world environment, there are just too many variables to precisely predict how far your signal is going to travel.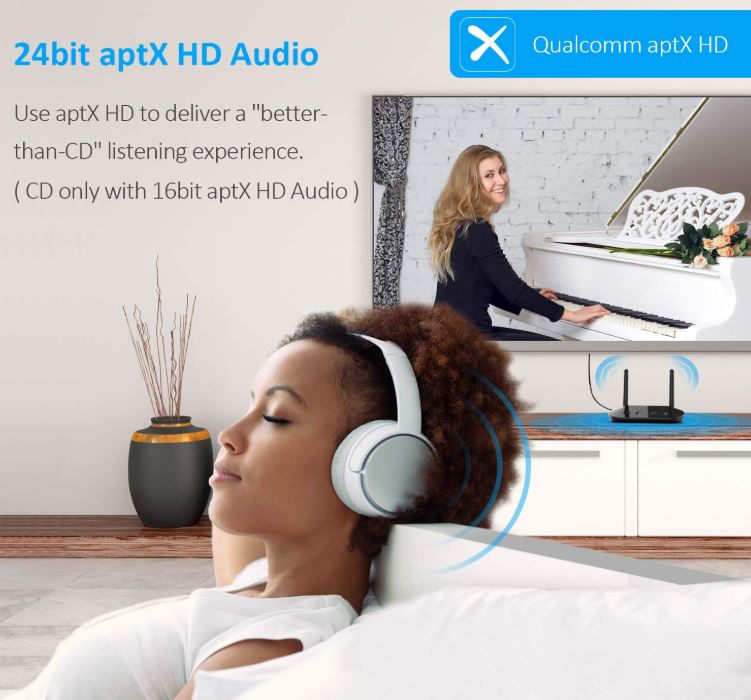 One thing we liked about the Boltune is that it doesn't rely on a particular audio codec for playback. This is a significant improvement to many Bluetooth transmitter-receivers, which rely on a single codec for lag-free playback. In turn, this makes it tough to use many popular brands, including Bose. However, the reliance on Bluetooth 5.0 sets its own limitations. But we're talking about the cutting edge of modern audio technology. If you're not using the latest version of Bluetooth, you can't expect to get quality performance from the latest devices.
The Boltune comes with an 18-month warranty. This is a repair-or-replace warranty, so if you file a claim you may end up receiving a refurbished unit. However, that's not as bad as it sounds. In reality, most electrical failures happen within the first year of owning a product, so even a refurbished unit should do just fine. What's more important is that an 18-month warranty tells us that Boltune stands behind their product.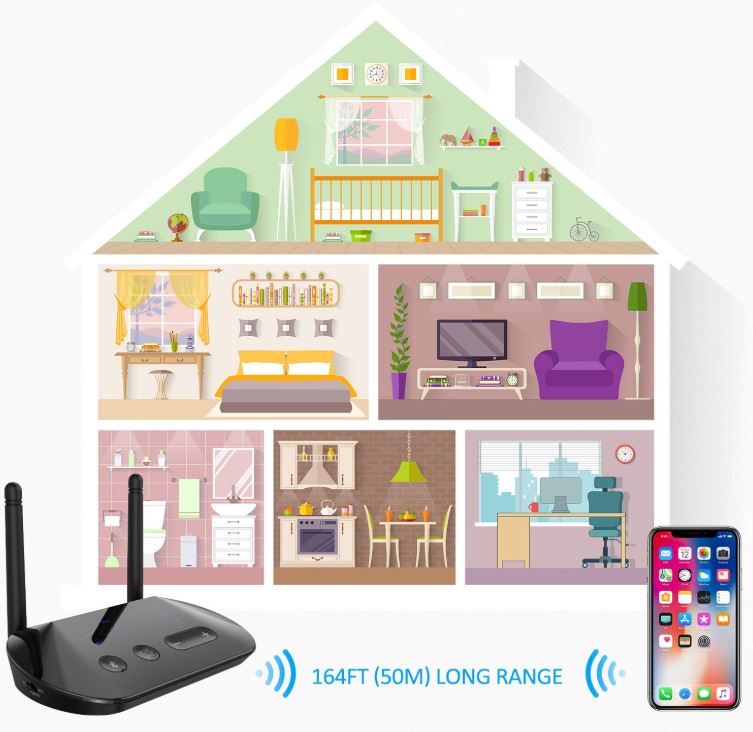 1Mii B03Pro
The 1Mii B03Pro is the largest Bluetooth transmitter-receiver on our list, at 6.2 inches in width, 3.1 in height, and almost 2 inches in thickness. Like the Boltune, it sports a pair of 6-inch antennas that will both pivot and swivel. The case itself is constructed from tough ABS plastic, and has a chunky appearance, with a raised, textured surface for the control panel. A set of 9 LED lights indicate the various inputs and connection modes, with orange and yellow bypass and on/off switches towards the top. At the bottom of the control panel, brightly-colored buttons allow you to activate Bluetooth pairing, switch between codecs, and adjust the volume.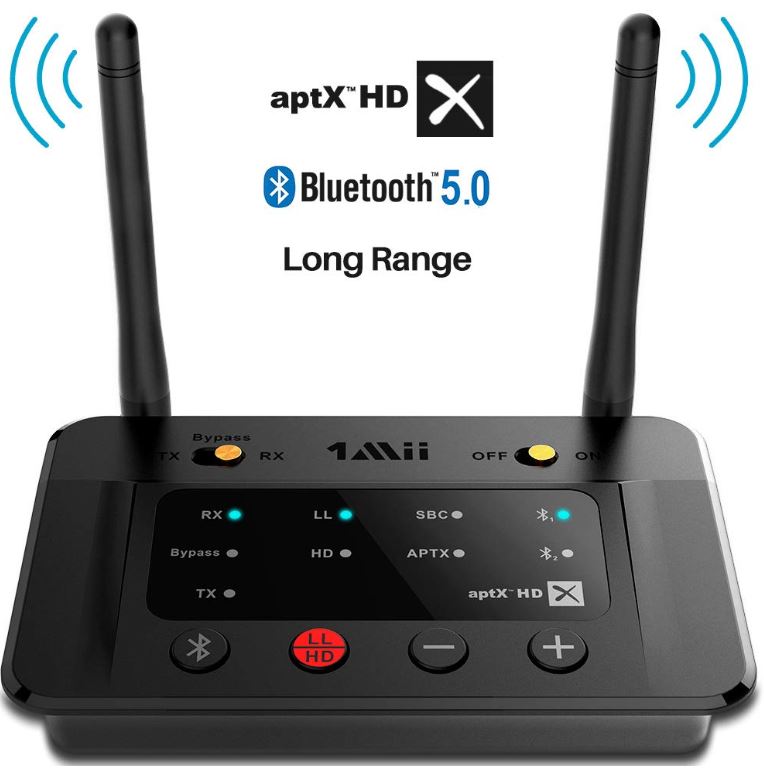 One notable feature of the 1Mii is the fact that it allows you to switch between audio codecs. In HD mode, you'll get clear, lag-free transmission over most Bluetooth 5.0 connections. However, if you're using an older device, you've still got the option to use the AptX low latency codec. This codec isn't supported on all devices, but keep in mind that this is an either-or decision. Unless your headphones or speakers only support older Bluetooth and don't support the AptX codec, you'll do just fine.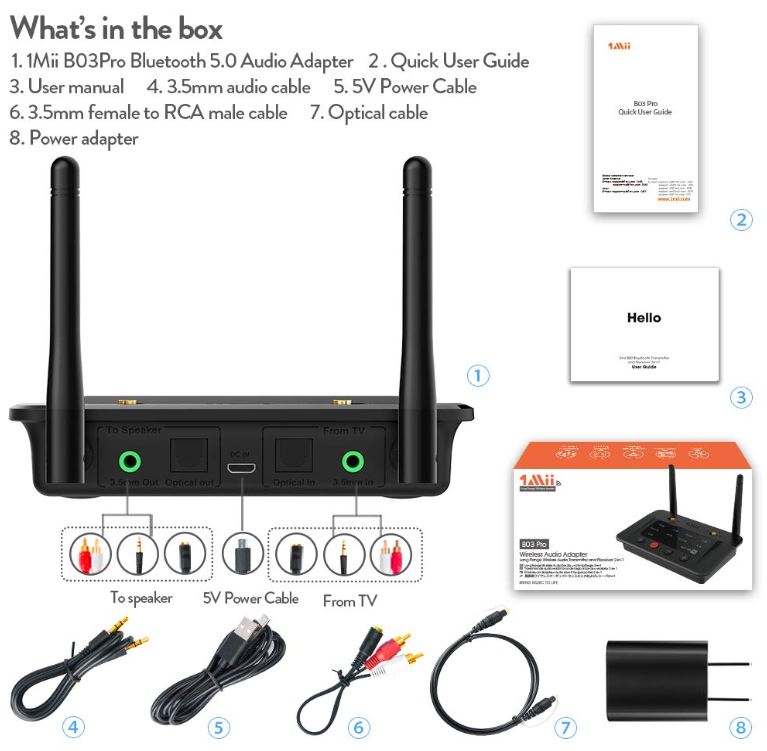 The 1Mii accepts inputs from RCA, optical, and 3.5mm aux connections. It allows for Bluetooth transmission of signals from any of these connections, and also functions as a receiver for converting Bluetooth transmissions to an optical or aux output. This can come in handy for streaming from a phone to an older stereo, or even if you're streaming a YouTube video to your TV for big screen playback. The overall range of the Bluetooth signal is as much as 265 feet with a clear line of sight. Even indoors, you're looking at a range of around 80 feet, which is very impressive.
Of all the devices we've looked at today, the 1Mii offers the longest warranty. They provide 24 months of after-sale service, which includes a full repair-or-replacement warranty on any parts. This tells us the company has a lot of confidence in their product. Besides which, the sturdy construction alone told us everything we needed to know about the overall build quality.
If you need a good set of headphones to go with your new Bluetooth transmitter-receiver, the Raycon H50 and H100 are both excellent choices. The H100 even offers active noise cancelling, for a distraction-free listening experience.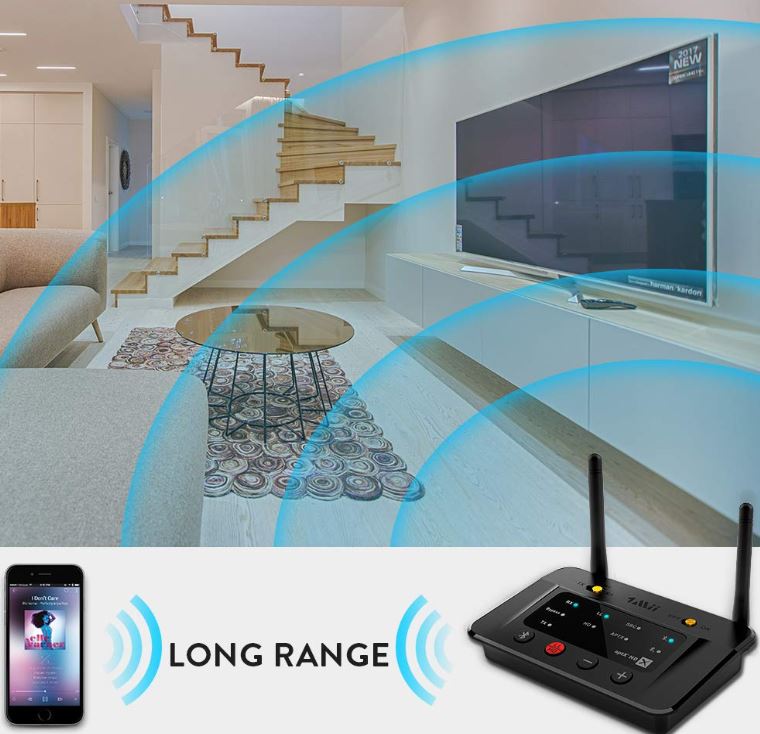 In terms of range, the Avantree and the 1Mii are clearly superior, with a ridiculous range of 295 feet. And since the 1Mii comes with a longer, 24-month warranty, so if we had to choose a single "best" transmitter-receiver, it would be the 1Mii. That said, the Avantree does have the advantage of a bypass option on all three types of output, so you may prefer it if you want to output on RCA or 3.5mm aux.