Mpow MDots
Pros
Nice sound quality without any distortion.
Bass delivers punchiness with nice separation.
Controls are very easy to use.
Charging case is very compact.
Automatic pairing is simple and straightforward.
Cons
Only available in black.
Battery life is only so-so.
Utilizes outdated micro-USB rather than USB-C.
No support for wireless charging.
We're no stranger to Mpow. They're one of the leading wireless earbud and headphone manufacturers in today's market. With several higher-end models like the X3 and X6, Mpow has found itself in one of the most popular niches; affordability. The most affordable of them all is the MDots. They strive to offer a balanced blend of quality with a low-price – for those on a budget.
With more than 16,000 reviews on Amazon alone, it goes without saying; the Mpow MDots are quite popular. Not only because of their affordability, but their nice mix of sound quality, features and comfort. In reality, how do they truly perform? We're here to find out. Let's dive-in and see what makes them a top-pick for most consumers.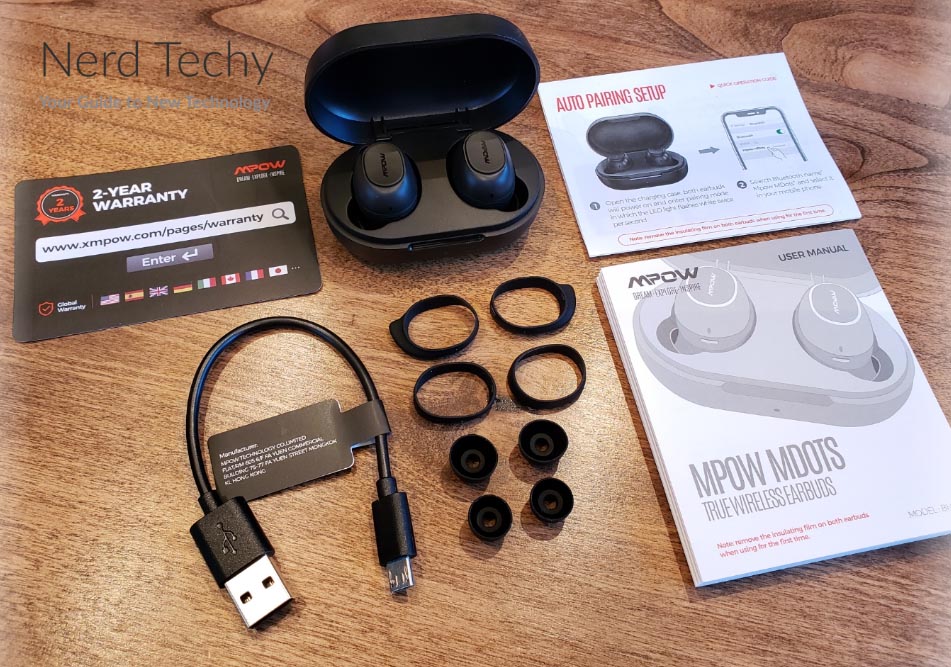 First Look
Upon opening the box, you'll notice a few things right from the start. The Mpow MDots come in a super-compact, clamshell-style, matte-black charging case that securely nestles them within, all while making sure the earbuds' internal batteries are always charged-up and ready to go.
Measuring just 2.5 inches wide and 1.5 inches deep, it goes without saying; the case can easily fit anywhere you desire. On the backside is a micro-USB charging input to use with the included cable that comes in the box.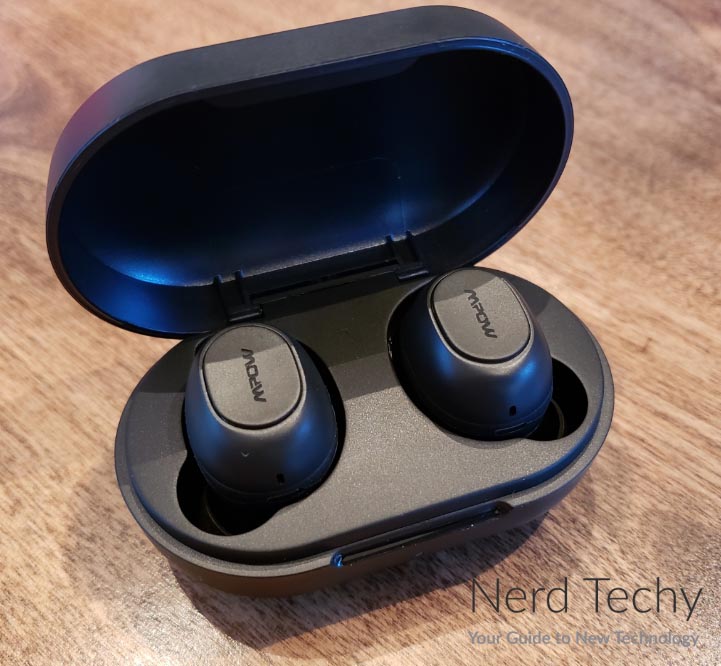 In addition to the earbuds and case, inside the box you'll find two extra pairs of both eartips and earwings. These can be used interchangeably to adjust the fit, depending on the size of your inner-ear. There's a total of three pairs, but the medium size comes pre-installed on the buds.
Some paperwork is inside the box as well. You'll notice a warranty card, auto-pairing documentation and an instruction manual that's surprisingly very useful. Some manufacturers don't put much effort into their instruction manual; it's nice to see Mpow make sure they provide in-depth literature to help out new-users.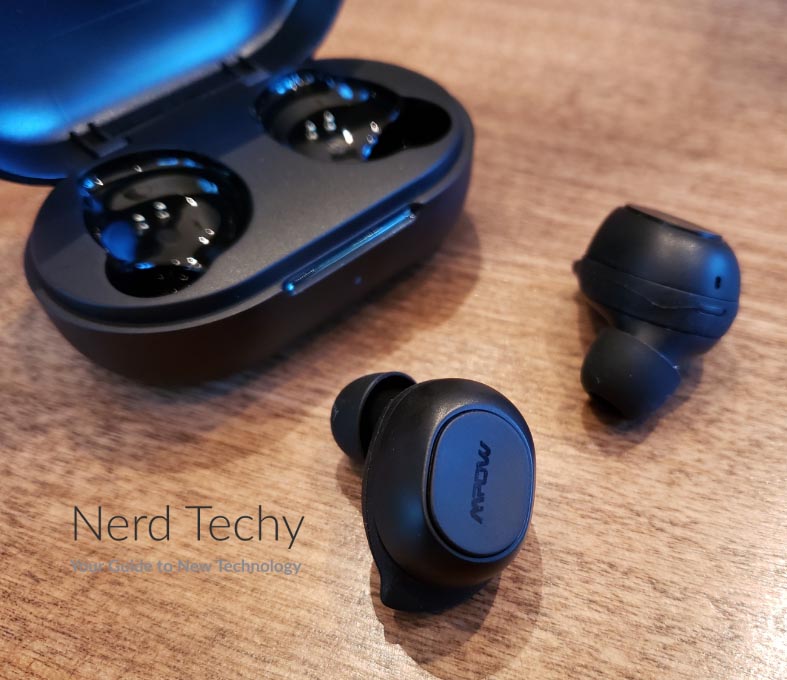 Pairing
The Bluetooth pairing process is very straightforward. First, simply open the charging case and make sure you remove the small sticker on each bud. It's placed there for shipping purposes.
After you open the lid to the case, both earbuds will power on and enter pairing mode. At this time, you'll notice the LEDs blink white intermittently. Next, you'll need to pull up the Bluetooth settings on your smartphone or supported device. Scroll down the list of available nearby connections and select "Mpow MDots". Tap it and you're good to go.
Comfort
Placing the MDots in your ears for the first time is simple. Orient them with the tips facing backwards, enter them into your ear canal, then give them a 180-degree twist to "lock" them into position. The tiny nub on the wing will assure they wedge into your ears without wiggle-room. If they seem too tight or too lose, take a moment to swap out for a different sized pair of tips or wings.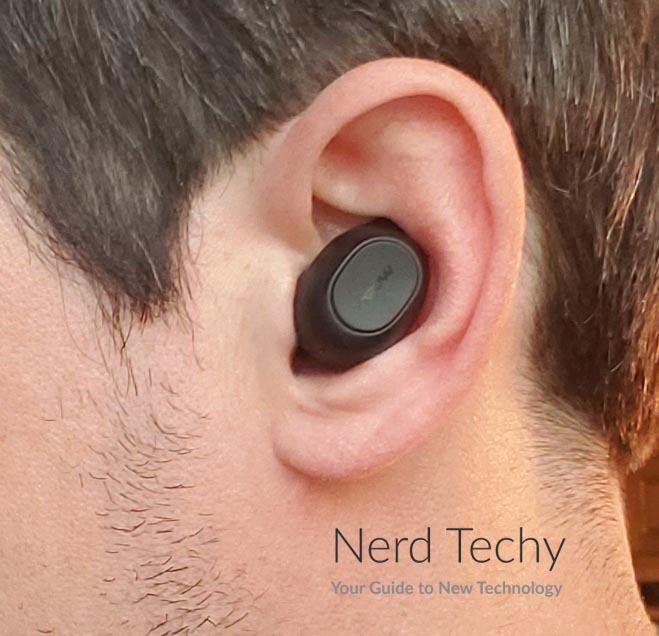 When properly in your ears there should be no pressure points. Ultimately, we felt they held snug without causing any discomfort. Jumping around vigorously, jogging and sudden movements didn't seem to affect the fit; which is a great thing. Because of this, we can confidently say that they'd be great for working out.
Sound Quality
Utilizing Bluetooth 5.0, the Mpow MDots promise "no audio dropouts", which can be quite common for outdated, older models. While testing, we never experienced any dropouts or distortion, unless we were further than about 30 feet away from the paired smartphone we were using (understandable). However, Mpow also promises that the MDots provide balanced and natural sound. Do they?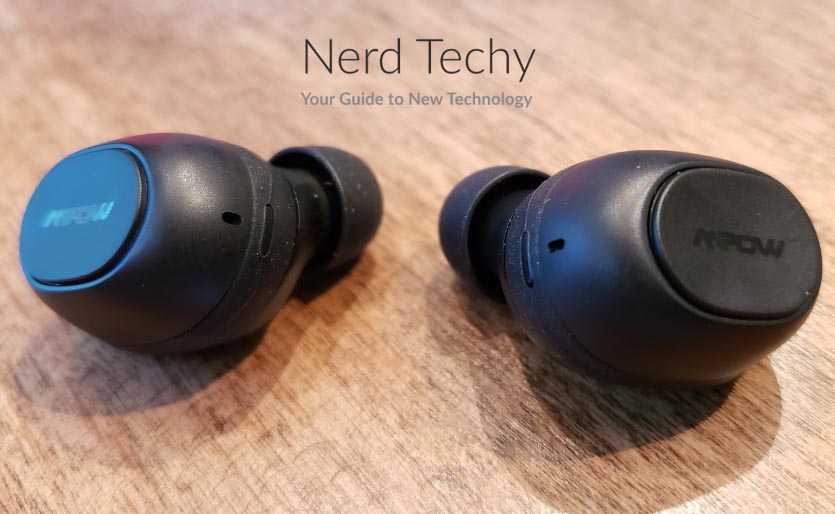 In our opinion; yes, they do. In fact, we found the MDots to provide an exceptional amount of clarity and vibrancy. For the price that Mpow sells them for, it's surprising how decent sound is.
The bass is present – not the deepest, but sufficient. It's slightly on the weaker side but we never experienced any issues with low tone distortion. Simply put, the MDots do seem to provide a nice amount of dynamic range. The separation of tones between high, medium and low are good. You can clearly hear a nice balance of vocals to instruments/sounds without everything "mudding" together – something we've seen from several low-end earbuds in the past. There's nothing really to complain about if you're just an average listener.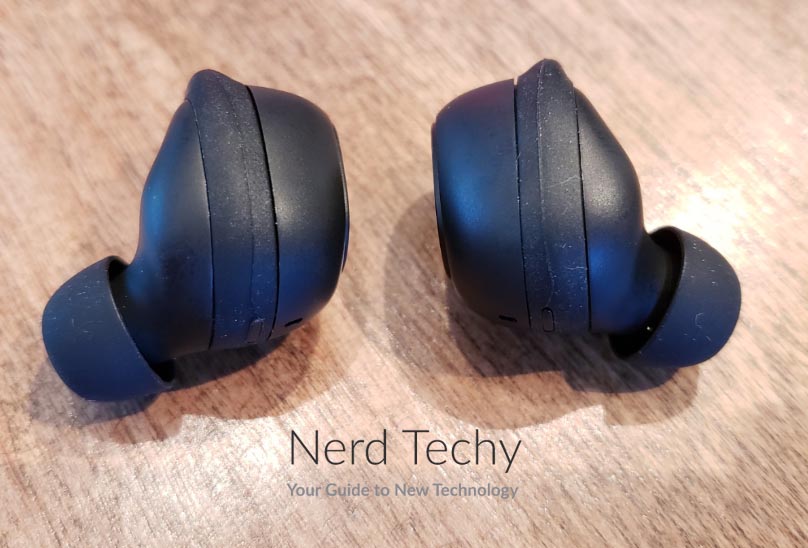 The sound quality seems decent, considering the MDots seem to be designed for workouts or quick-listening. You're not going to get the beautiful, heavy bass that you might expect from name-brands.
One noticeable feature that the MDots don't have is active noise cancellation. They're really mediocre for blocking out background noise, since there's no algorithm that keeps out audible distractions. Mpow claims they provide "passive noise cancellation" which is just a simple explanation meaning they seal up your ears and passively keep out background noise. There isn't a chip or complex program that cancels noise. This is really what sets them apart from other earbuds that cost two or three times as much.
Battery Life
From first glance, you may think the MDots have a battery life of 20 hours. After all, that's what Mpow claims in their description. However, if you look a little closer into the text on their sales page, you'll see that the 20 hour approximation is based solely on the charging case. And in all reality, you're probably not going to achieve a full 20 hours in most instances. Let us explain.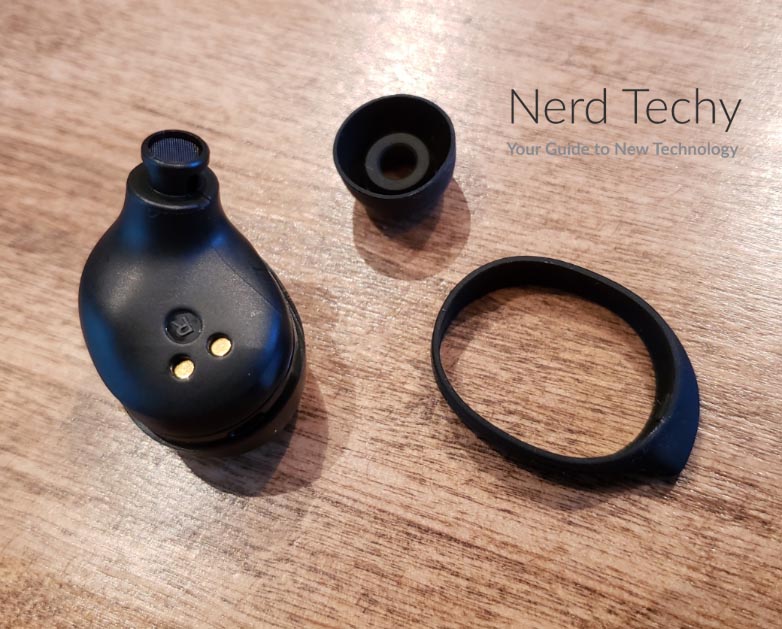 Each earbud has its own independent lithium-ion battery inside that's rated for 4 hours of duration per bud. In reality, this duration is only an estimate as it solely depends on a few factors; ambient temperature and volume being two of them.
You see, lithium-ion batteries don't perform as well in colder temperatures. They work as they need to, but you cannot expect them to last quite as long. In fact, ideally you'll want to keep them above 60 degrees Fahrenheit to maximize their longevity.
Volume is a second factor that closely affects how much battery life is left. If you play your music at a high level rather than somewhere right in the middle, it'll drain the charge at a much faster rate.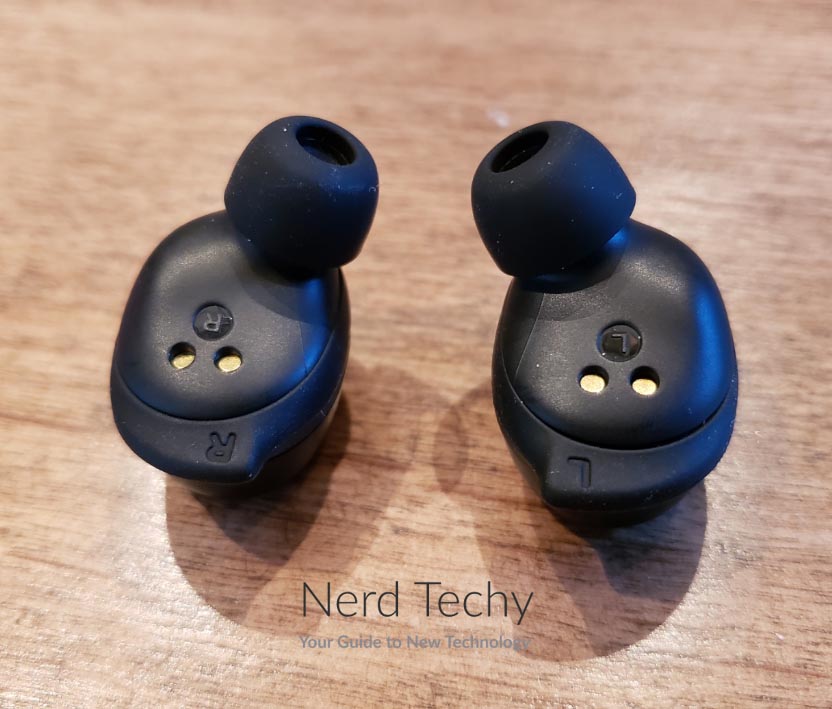 In the end, we found that each earbud lasted up to 3 hours in most instances. We used them at a high to medium volume range with the ambient temperature always above 55 degree Fahrenheit.
A nice thing about having a charging case included is the ease of use that it offers for re-charging them on the go. Not only does the case keep them safe and in one place together, it charges-up each earbud within about 30-60 minutes. Additionally, the case packs enough capacity to fully recharge them about 3-4 times. In our testing this seemed to hold true and accurate.
One thing in particular we really liked about the charging case is the tiny LED in the front-middle. It will toggle between red, green and white. Red means the battery is between 0-60%. Green means the battery is between 60-95%. White means the battery is pretty much full, between 95-100%. This offers a quick way to check how "charged-up" the case is before you leave the house.
Last but not least, it's worth mentioning the intelligent battery status display. With your smartphone, you're able to check the precise battery life of each earbud. It's a nice addition to the whole package and a surprising feature to find at this price-point.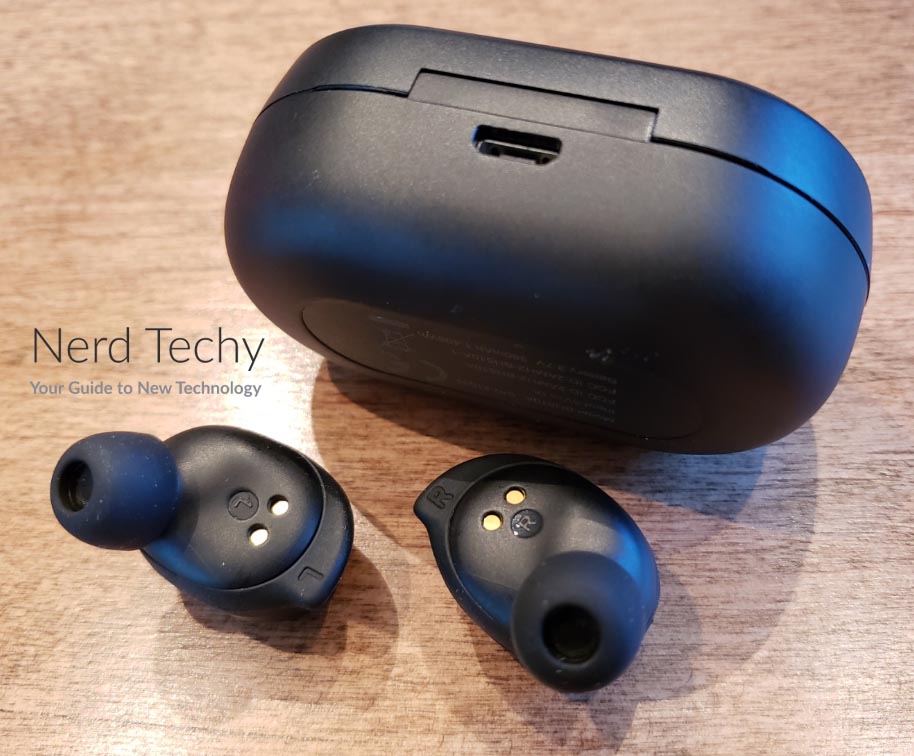 Durability
Holding the Mpow MDots in your hands for the first time, they don't scream super-high-end quality. They're comprised of plastic and have a control button on the exterior of each bud. This button slightly rattles a bit but does offer responsiveness that you can't find with simple "touch" controls.
While they aren't meant to be submerged in water, they're IPX6 rated, meaning that they can withstand sweat, moisture and even pressurized water without any qualms.
Do keep in mind, however, that the charging case isn't rated for any kind of water resistance. The IP rating is simply for the earbuds, not the case. It's quite understandable but something you need to be aware of if you ever decide to use them in the rain or snow.
Call Quality
The inclusion of a microphone means that the MDots can easily be used to make and receive phone calls. While paired to your smartphone, you can effortlessly "click" the outside of either earbud to answer the call and speak through the earbuds. This means you won't need to physically remove them from your ears if you want to take a call. Want to reject a call, instead? Simply press and hold for 2 seconds rather than quick-tapping.
We tried them with several different phone calls, all without any issues. In fact, the vocal clarity of the integrated microphone seemed to work well; no better or worse than the X6 – an Mpow offering that's three times as expensive.
Even though CVC isn't a feature of the MDots, it didn't really seem to matter. To be honest, we never tried them in a busy public environment – this may affect the vocal quality a bit differently. However, in the majority of scenarios, you're going to be just fine accepting phone calls while they're paired to your smartphone.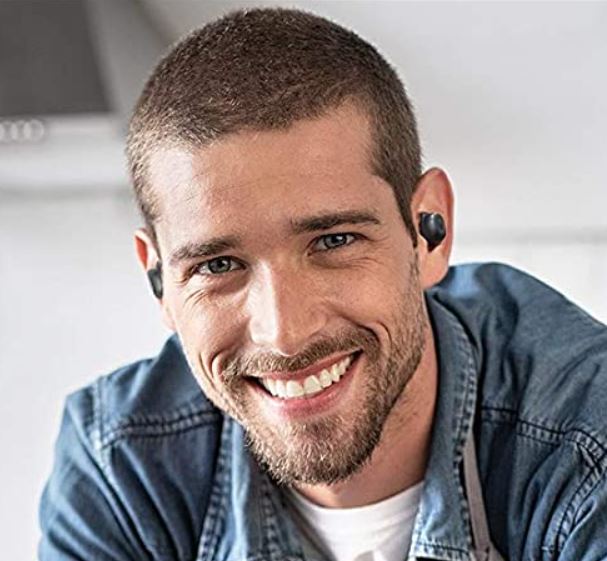 Final Thoughts
As you can see, the Mpow MDots are definitely a good buy for the money. They come in at a very affordable price-point with several features that are actually useful – not gimmicky.
Although there's a lack of active noise cancellation, you're getting nice audio quality without distortion at a budget-price. The audio probably isn't suitable for those expecting studio-grade quality, but those requiring decent sound in a compact package, the MDots exceed on many fronts.
They're comfortable, built well, and actually do indeed provide "punchy sound" as Mpow promises. Yes, on paper, they could have more features, but for the price they're being sold for as Mpow's cheapest earbud model, it goes without saying; the MDots are an excellent choice overall.
Meet Derek, "TechGuru," a 34-year-old technology enthusiast with a deep passion for tech innovations. With extensive experience, he specializes in gaming hardware and software, and has expertise in gadgets, custom PCs, and audio.
Besides writing about tech and reviewing new products, Derek enjoys traveling, hiking, and photography. Committed to keeping up with the latest industry trends, he aims to guide readers in making informed tech decisions.