What happens when the power goes out? What happens when you go out to where there's no power? Generators are great for solving these kind of problems, but generators can come with problems of their own. And your selection can make more of a difference than you might think.
Fortunately, with the help of lithium portable power stations, you no longer have to rely on gas generators. That means you don't have to listen to a howling engine to produce power. You've got no need to buy, carry, or store fuel. And compared to moving around the weight and size of an engine, lithium power stations are about ten times as portable.
Choosing a Lithium Portable Solar Power Station
Before getting into the details of choosing a solar power station, you'll want to get some basic questions out of the way. When you want your generator to do more than simply store power, you can attach lithium portable power stations to solar panels. For camping, planning, or emergencies, solar connections can make a world of difference.
But how do you want your portable power station to charge? It's quite standard to have wall-charging and even car charging, but solar power generation isn't something that's quite as easy to find. Depending on your needs, you may want all three.
How portable do you need it to be? Lithium portable solar power stations typically between 10 and 30 lbs., and are usually not much larger than a desktop PC. But you'll want to check to ensure your selection is appropriately portable enough for the tasks you have in mind.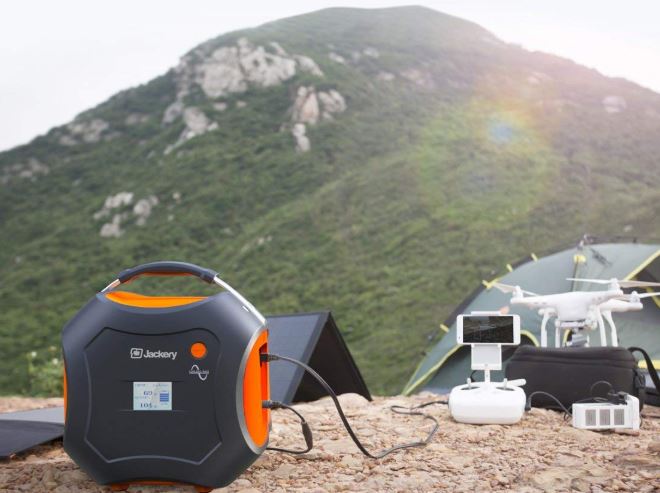 Battery Capacity
Another thing you'll need to know is about the capacity of the battery, as measured in watthours (Wh) or milliamp hours (mAh.) These can give you a clear indication of how much power the quiet generator is capable of storing, and what that means for real world performance.
For example, smartphones often use batteries around 2,000mAh with low amperage. If a quiet generator had a capacity for 200,000mAh, you might expect to be able to recharge your phone nearly 100 times before deleting the battery.
Batteries can take time to recharge. Just how long? You'll want to know for both a wired and potential solar connection. Those types of calculations involve a variety of variables, but most notably will depend on the size of the solar panel and the size of the battery.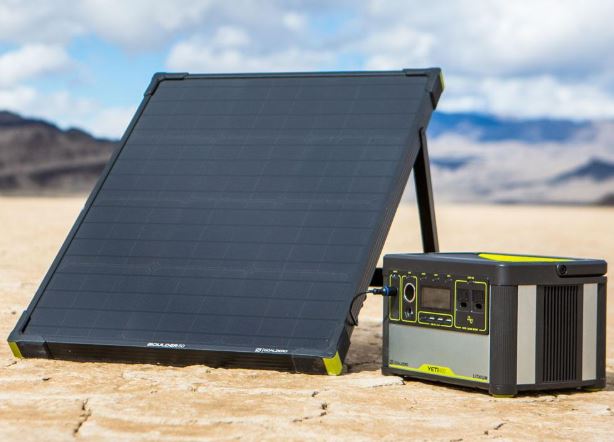 Power Station Needs
How much electricity will you need? If your stuff is going to draw 800-watts, you'll want to make sure the quiet generator you choose supports at least 1,000-watts. More importantly, ask yourself if you need to use the lithium portable power station for anything besides small electronics like smartphones. Depending on what you're looking to power, you may run into some issues.
For example, an electric coffee maker may have listed itself as having peak power usage of 1,000 watts, which is a measure of its electrical use over the course of an hour. The coffee maybe actually only consumes 200 watts over the course of an hour.
It may also be worth looking at the amperage of USB ports on the generator. The speed at which your stuff charges is partially dictated by the amperage of the current. A good selection for fast charging is 2.4A USB slots.
Power Station Connectivity
Speaking of connections, how many are there, what kind of connections are they, and how many will you need? Some quiet generators provide only one standard AC power plug, while others provide several. Some provide a single USB power port, while others are more generous. Making the right choice all depends on an evaluation of what kind of devices you anticipate using.
Digital Display
Do you know what's going on with your generator? Most decent portable generators will have some kind of digital display that can let you know if any problems come up. These displays also keep you informed about the status of the generator, or otherwise make your life easier when it comes to monitoring the input and output of electricity.
Checking to ensure the quiet generator has a highly visible digital display is easy to forget when you're caught up in electrical concerns, but it's of grave importance for ease of use.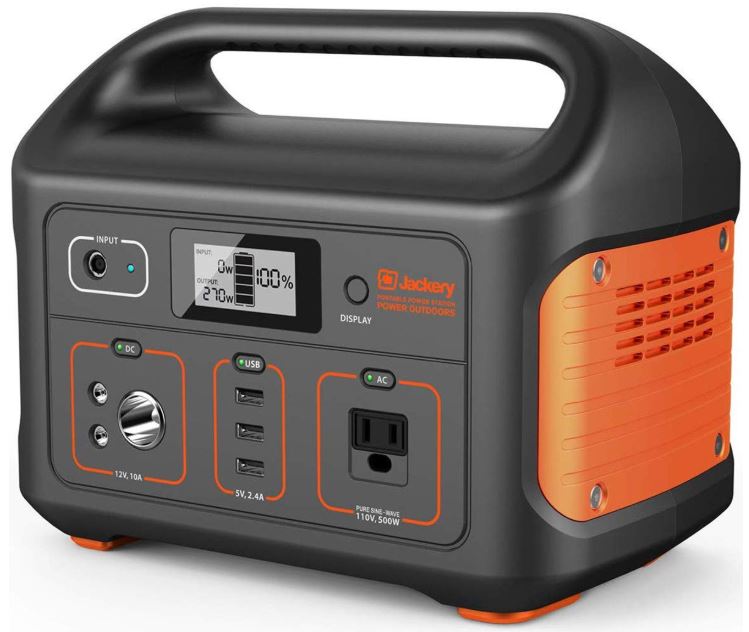 Jackery Explorer 500 Portable Quiet Generator Lithium Battery Pack
As you might expect, the Explorer 500 allows you to charge through a wall outlet or solar panel. What you might not expect is the size of its battery. But all you really need to know about the Jackery Explorer 500 portable generator is that it's one of the lightest and most portable options on the market. Provided that's what you're looking for, it's worth a close look.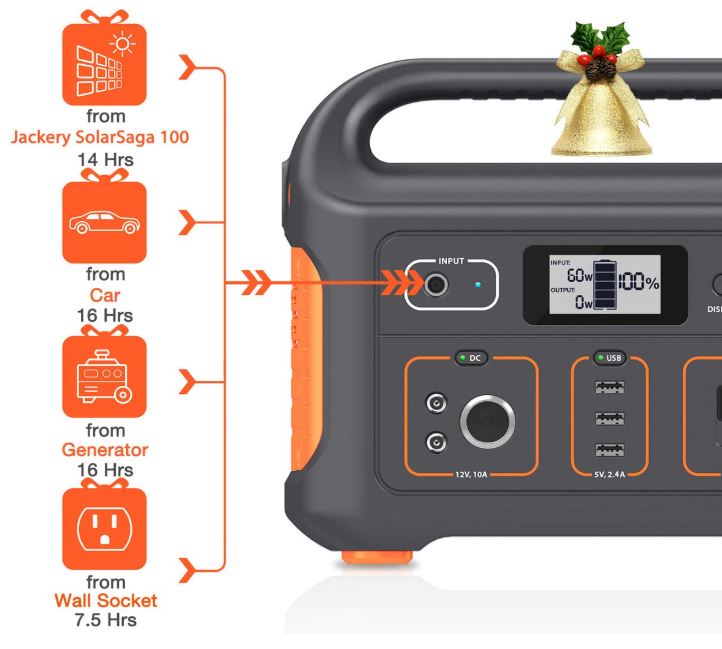 Build & Design
The Explorer 500 looks like it belongs outdoors. The bright orange and gray design is a nice high contrast that fits in well with other common types of outdoor gear. The external casing has been splash-proofed. And while you wouldn't want to submerge it, it does holds up adequately to rain. It even has a built-in LED flashlight that can be used to brighten things up.
Front and center, the Jackery Explorer 500 LCD screen shows your current charge and discharge status, letting you keep a close eye on your battery. Their simple 3-button design includes indicator lights to keep you informed about the use of the power.
The topside is constructed along with a sturdy carrying handle, and the on/off button in its face controls the LED display. On the right side of the unit, you'll find the AC port for plugging in your regular stuff, as well as the 25.2V solar AC input. On the left side, you'll find a pair of USB 2.1A ports, a pair of DC 6mm ports, the built-in flashlight, and the car-adapter port.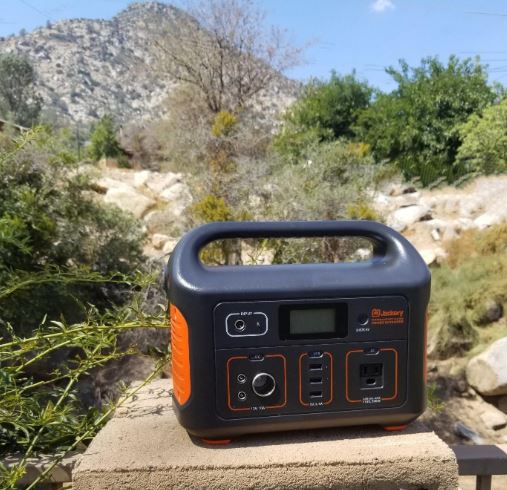 Other Considerations
The 139,200mAh capacity of its battery is quite adequate for keeping all your stuff powered for a trip into the wilderness. Refrigerators, coffee machines, laptops, tablets, and so forth. That battery is enough for 9 hours of mini-fridge use, about 40 smartphone recharges, more than a dozen tablet recharges, half-a-dozen drone recharges, several hours of television on a large screen, and so forth. Given a 100W solar panel, it takes about 7 hours of good exposure to the sun for charge.
The Jackery Explorer 500 supports a 120W car cigarette lighter socket, 120W DC Ports, 21W USB ports with 2.1A for rapid charge, and a 300-500W AC outlet. It includes surge protection, temperature control, and short circuit protection. It also includes the Explorer 500, one AC adapter, a user guide, and a two-year warranty with 24-hour customer service.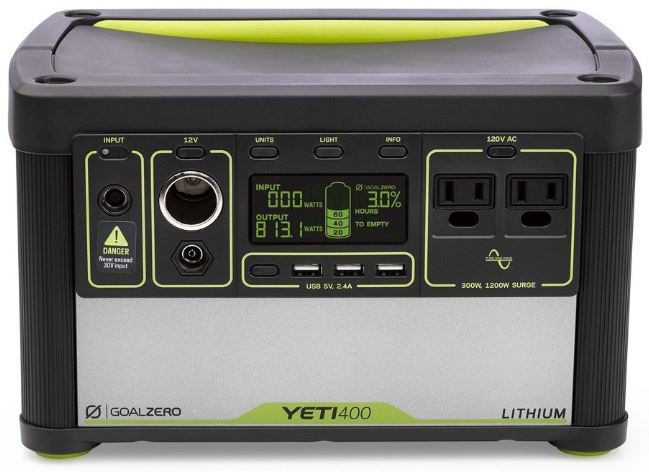 Goal Zero Yeti Lithium
The Goal Zero Yeti 400 is a 428Wh rechargeable generator, supporting a maximum of 300-watts. It's hard to describe the Yeti. It's rugged, portable, but generally built for use by only one or two people. Nevertheless, it can power an array of seven devices at one time, including fast-charging 2.4A USB ports, and 120W 12V options.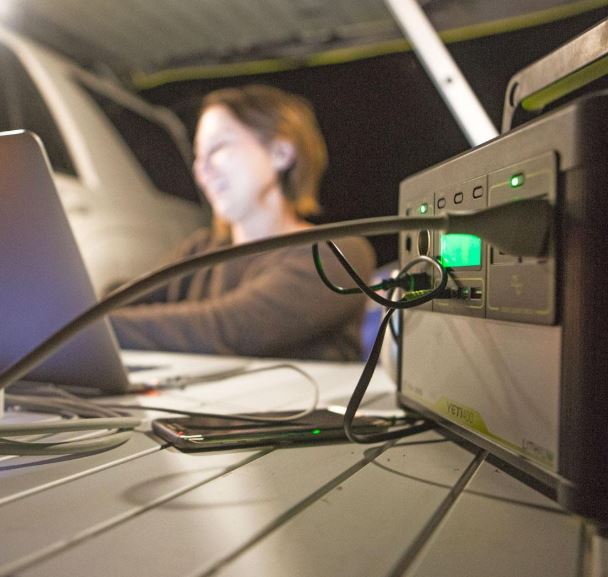 Build & Design
Physically speaking, the Yeti 400 resembles a car battery that's been given a thick handle. It measures 7 x 7 x 11-inches, and weighs about 16 pounds. On its front side, you'll find each input has been well-labeled, though not color-labeled. Fortunately, that's probably not necessary because the car charger, 12V charger, three USB ports, and 120V AC 300W standard ports are hard to mistake.
The Yeti 400 is rated to provide more than 30 smartphone charges, a dozen tablet charges, and about 5 laptop charges. It uses a high quality sine wave inverter that's ideal for charging up devices with bigger batteries, like tablets, phones, cameras, and so forth.
The total charge capacity is a fairly massive 119,000mAh while at 3.6V. With maximum power input from a wall charge, it only takes about four hours to totally recharge the Yeti 400. Solar recharging is also available, though as you may expect, no solar panel is included in this kit.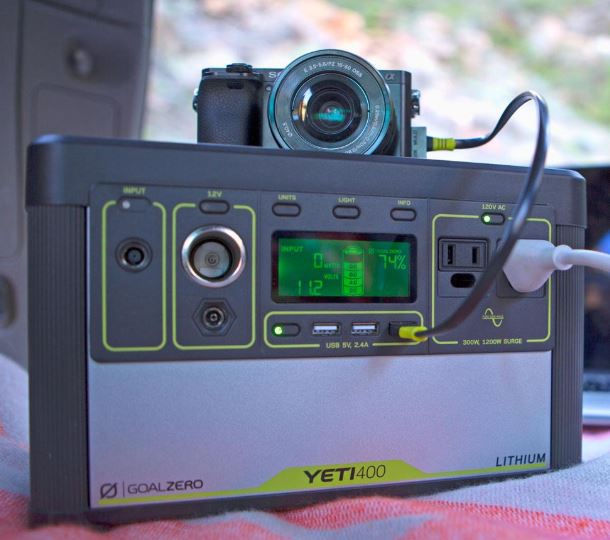 Other Considerations
Along the topside of the Goal Zero Yeti 400, you can adjust the units on the LCD display, or initiate the onboard lighting. The fairly large LED display gives you information about the status of the charge, and is graphically presented for quick and easy reading.
For example, it'll show you precisely how many hours you've got remaining with current consumption, and the current output on the battery. It also lets you know precisely how long it will take to recharge at the current rate of gain, which is especially useful for people who plan on recharging from solar. And it may be worth noting, Goal Zero offers US-based customer service.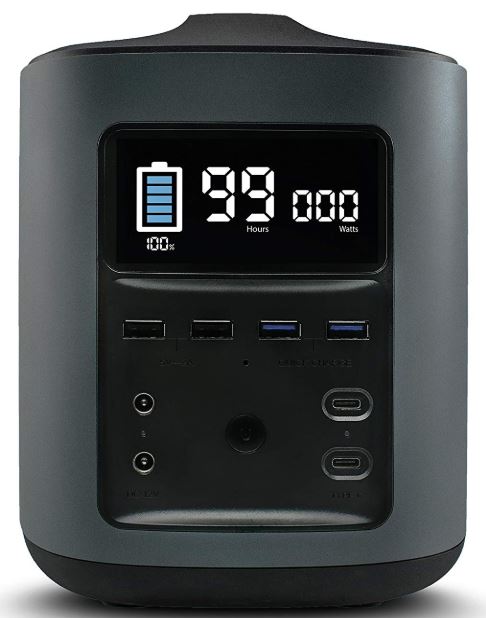 EcoFlow RIVER Portable Power Station Bundle
The EcoFlow RIVER is great for emergencies, camping, and much between. It's exceptionally well equipped for outdoor use, with a wide operational temperature range of -4° to 140°F. Whether you're on a campsite or out with an RV, the EcoFlow RIVER provides a ridiculous amount of power.
The RIVER's maximum battery capacity is 370Wh. To put that in terms you may be more familiar with, that's a 114000mAh battery at 3.6-volts. That's roughly the equivalent of 75 laptop batteries. Enough to charge a battery-thirsty drone eight times, a Go-Pro camera 80 times, and a phone 30 times over. For laptops, drones, mini-fridges, charging tools, it's well rounded and ready for the road.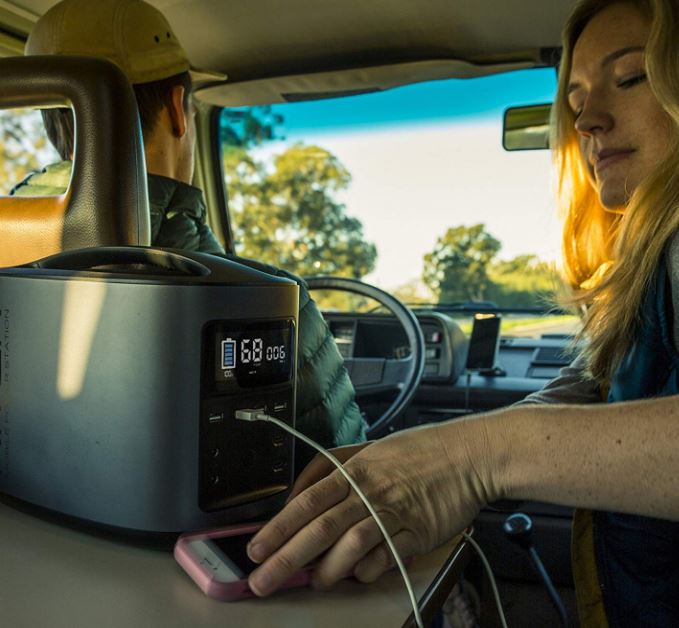 Build & Design
The EcoFlow RIVER weighs roughly 11-pounds, sitting at 9.8 x 6.3 x 8.2-inches. That's a fairly portable design for a lithium portable solar power station, but it's not something you'll want to have to carry more often than necessary. A large cooling vent is found along its backside, as well as the AC power button necessary for turning the device on.
You can charge this power station in one of three ways, through AC, DC, or with solar. It holds 98% charge for a year, which happens to be best in class performance. And the RIVER allows you to charge up to 11 things simultaneously.
That's possible using 2 standard AC charging plugs, 4 USB ports, 2 USB-C ports, the car charger, DC output, and wall a pair of wall outlet ports. All said, those outputs total to a maximum power output of 500-watts and 300A. The USB ports aren't quite as juiced as the other sockets, but still have a respectable 2AC for each port.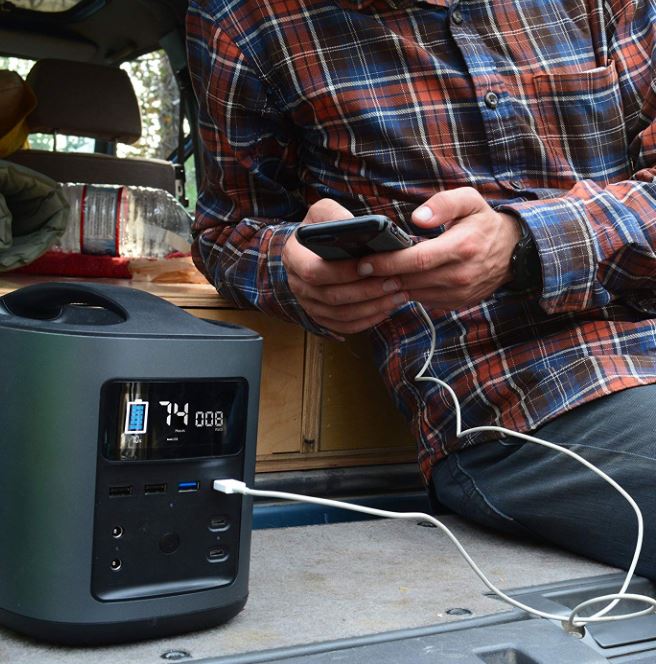 Other Considerations
From an outlet, it takes about 6-hours to fully charge the EcoFlow RIVER Portable Power Station. From a car, that's about nine hours. Charging with solar, you're looking at closer to 10-15 hours, depending on the weather and on your solar panels. It won't power a full refrigerator, a coffee maker, a hair dryer, heater, or water pump.
The EcoFlow RIVER Power Station is fairly easy to use, and you can see that from one look. The top portion of the station holds a large LCD display, which is there to help keep you up to date about power consumption and troubleshooting issues. The LCD display also shows the battery power indicator, and the screen will begin to blink if it drops below 6%.
Within this kit, EcoFlow includes the power station, a wall charger, car charger, USB Type-C cable, DC cable, and DC power tips. The EcoFlow RIVER Portable Power Station also includes an 18-month warranty from RIVER.
Choosing Between 3 Great Lithium Portable Solar Power Stations
The Goal Zero Yeti Lithium 400 is a good choice for essential power. It can only charge 7 devices at once, making it better suited to being used by two or three people, but may not serve as well for a campground of five or six. Whether or not you end up using the solar panel connection, the Yeti 400 is a formidable choice for someone on the hunt for value.
The EcoFlow RIVER Portable Power Station Bundle has all the emergency and safety capabilities that you want from a portable power station, like its ability to safely hold charge for a full year. The relatively large 370Wh capacity may not be the right choice to operate a full sized refrigerator, but it's certainly good enough for everything short of that. The RIVER is a good choice if you need to be able to charge nearly a dozen devices simultaneously, well suited for camping trips with seven or eight people.
The Jackery Explorer 500 Portable Power Station is highly portable, and quite versatile. The 500Wh capacity is more than enough for camping, household emergencies, and so forth. Unless you're trying to run heavy industrial equipment like full-sized freezers, it's likely more than you'll need. With its diverse range of USB connections and adapters, it's a worth a close look for anyone interested in an adaptable and portable quiet generator.