Over the past generation, electronic devices have gone from optional to essential. You used to be able to leave your smartphone behind for a weekend of camping. Now, most of us are expected to be reachable at all times. For many of us, laptops and tablets are nearly as essential. Whether you're traveling for work or for pleasure, it's important to keep all your gear charged. Depending on your needs, this could mean using anything from a small power bank to a large power station. The bottom line is that it's important to have backup electricity.
Backup power is even more important if you depend on a medical device like a CPAP machine. In that case, you're not just trying to work or browse social media. Your life may depend on whether or not you get power to your medical equipment. At the same time, you don't always know how much power you're going to need in an outage. Is it going to be out for a few hours? Days? Longer? For longer outages, even the most powerful charging stations can run out of juice. If this is a concern, you don't want to use just any power station. You need one that can be recharged via a solar panel.
Note: At no extra cost to you, we may earn a commission for purchases using our links. Learn more.
Today, we'll be reviewing three of the best lithium portable solar power stations on the market. First up, we'll look at the BLUETTI AC200P. This beefy station can charge up to 17 devices simultaneously, so it's suitable for the whole family. Second, we'll review the Goal Zero Yeti 1500X. This is a powerful, 2,000-watt, app-controlled power station. Last, we'll check out the Ecoflow River Pro. This is a more compact option that's better suited for travel. Which one is the best of the bunch? To find out, we're going to have to take a closer look. Let's see how they stack up!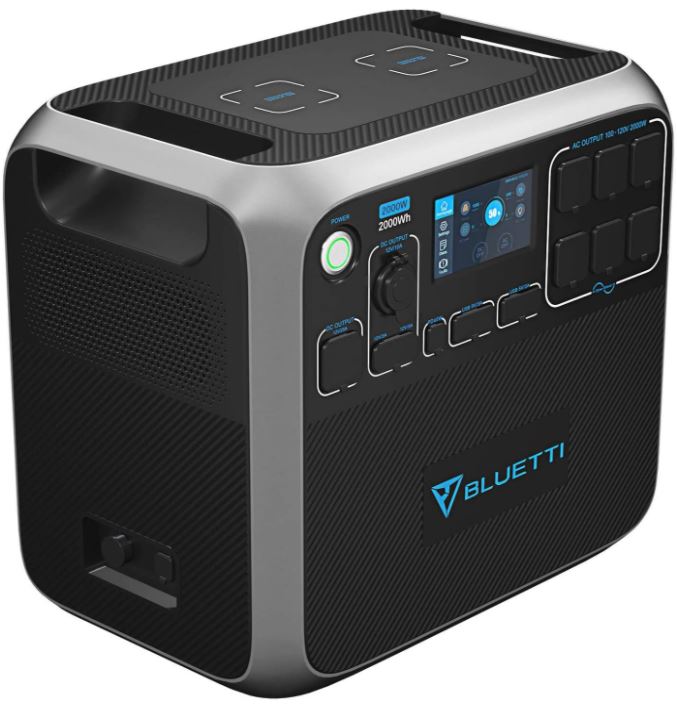 BLUETTI AC200P
BLUETTI is an established manufacturer of backup power solutions, with a large catalog. We've reviewed several of their offerings in the past, including their EP500 Power Station. The EP500 is absurdly powerful, but it's too big to actually be considered portable. So today, we'll be reviewing the slightly smaller AC200P. Now, "smaller" is a relative term. This power station still weighs in at over 40 pounds, so it's got some heft to it. But a pair of thick handles molded into the housing make it easy to carry with a partner.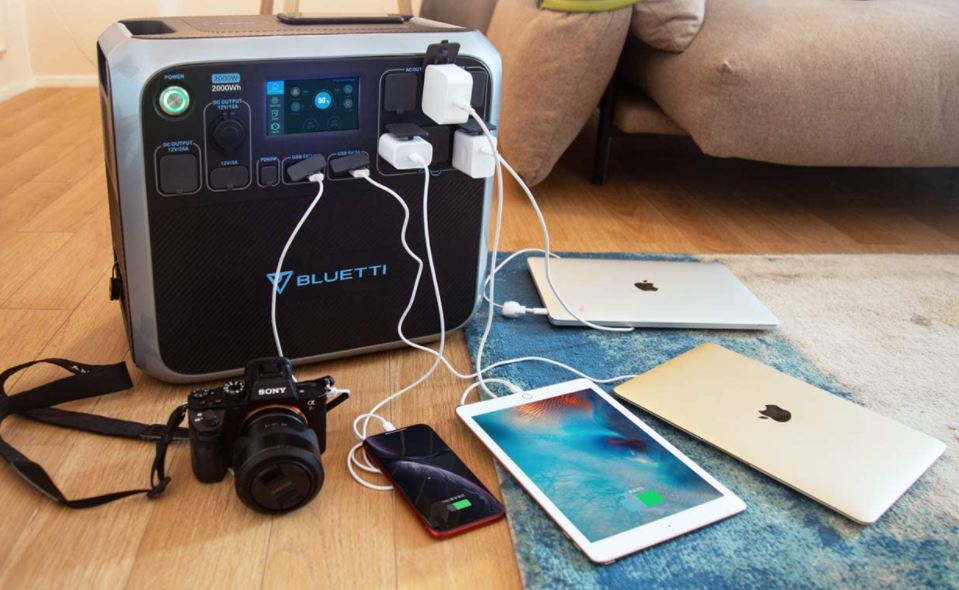 The housing is mostly black, with silver-grey trim around the edges. The sides have large grilles, which are used for the venting system. Inside, not one but two separate fans move air through the entire unit. These fans have a temperature-activated controller, and won't even turn on until they register temperatures of 45℃ (113°F) or higher. As a result, the AC200P is completely silent under a low power load. And even under a heavy load, the fans are still quieter than a microwave.
In the front of the housing, you'll see a large touchscreen LCD display. This is where you monitor the battery status, as well as control all of your settings. Within the menus, you can view the current voltage on each charge port, as well as the power remaining. You can also monitor incoming voltage when the battery is charging, or even view the temperature. As an added convenience, you can turn AC and DC power on and off individually. This prevents loss to phantom power when those ports are not in use.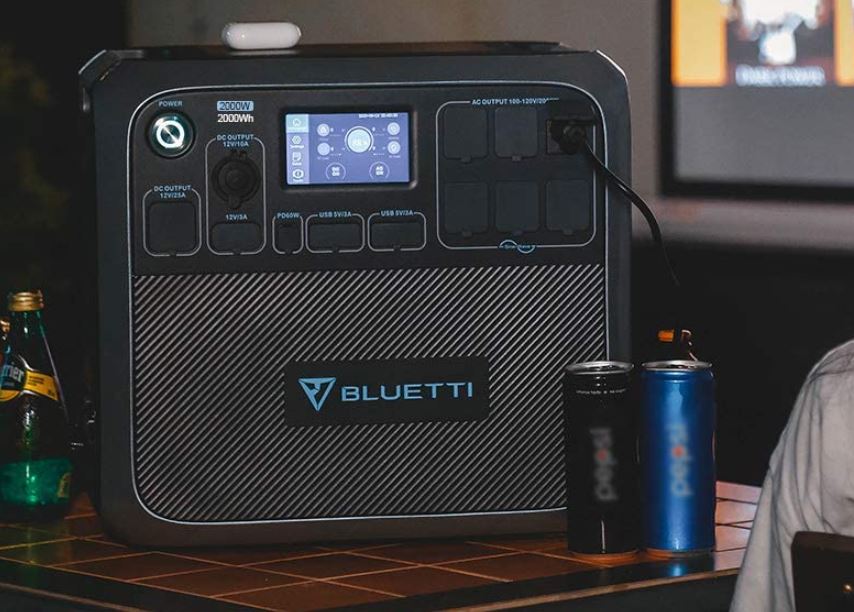 In theory, the AC200P can charge 17 devices simultaneously. Two of these would be wireless devices, on the pair of 15W Qi charging pads on top of the power station. The rest would plug into an array of ports on the front. To begin with, there are six three-prong AC outlets, with individual plastic dust covers. There are four standard USB Type-A ports, as well as a 60-watt USB Type-C PD port. A pair of 12V/3A ports allow for drone and camera connections. There's also a pair of 12V ports, one for RVs and the other in a standard automotive format.
The package includes everything you need to get started. Along with the power station, there's an AC cable, a car charging cable, and a solar charging cable. All of this is covered by a robust 24-month manufacturer's warranty. You don't have to worry about any potential defects.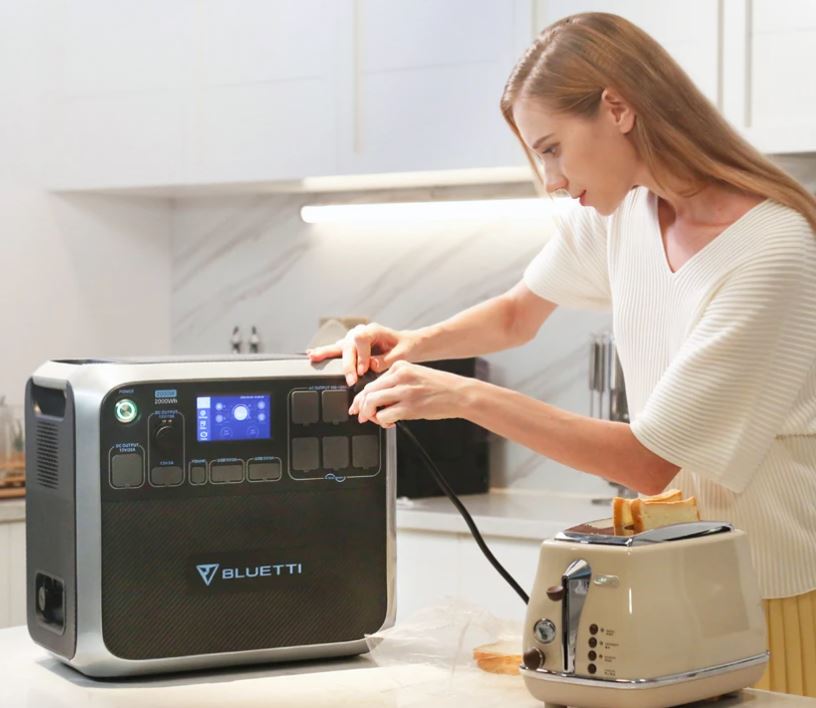 Battery and Charging Capacity
The AC200P is built around a durable, safe LiFePO4 (Lithium iron phosphate) battery. This allows for more power, more charge cycles, and less thermal output than older battery types. In total, it's rated for 3,500 charge cycles. It's tough to imagine how you'll ever use it that much, barring off-grid solar system storage. And in that case, deep-cycle batteries would be a better choice anyway.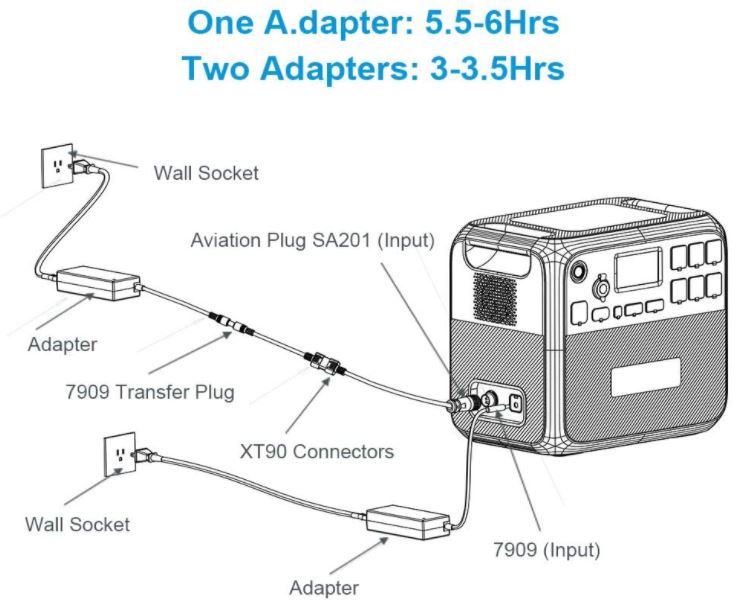 The battery has a capacity of 2,000 watt-hours (Wh). This is equivalent to 400,000mAh at five volts, or over 16,000mAh at 120 volts. Regardless, you're looking at an absurdly powerful battery. You could recharge an iPhone over 120 times, or a MacBook Pro 16" over 12 times. The total power output can be 2,000 watts maximum across all devices. So if you're running a 1,500-watt mini fridge, you'll only have 500 watts left for everything else. Thankfully, the display helps you keep track of how much power you're drawing. Not only that, but the AC200P has a 4,800-watt surge capacity. You don't have to worry about fridge compressors and other machines that draw high starting wattage.
Charging the battery is fairly straightforward. At home, you can simply connect the AC adapter and it will fully charge in about 5 ½ hours. If you use a second AC charger with a DC adapter, you can cut this to three hours total. In a car or RV, the battery will charge in about 20 hours, 10 hours in RVs with a 24-volt power system. As is often the case with solar charging, the times are highly variable. But with a 700-watt system in full sunshine, times of three to 3 ½ hours are achievable. It all depends on your solar panels and how much sunshine you're getting.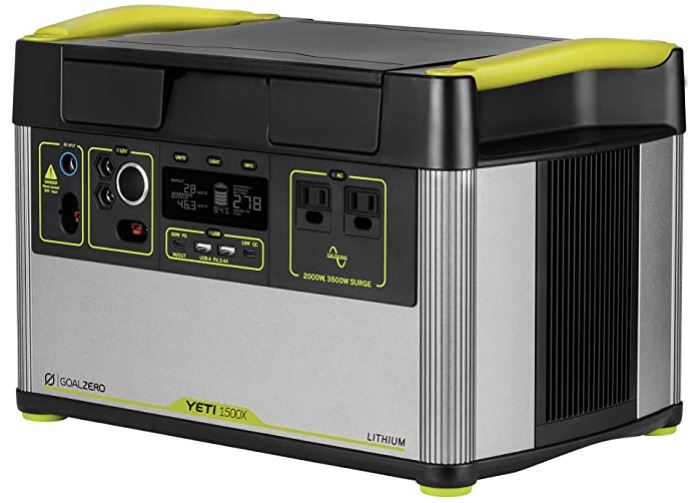 Goal Zero Yeti 1500X
Goal Zero is well-known for their Yeti line of power stations. We've reviewed the Goal Zero Yeti 200X, which is similar to today's offering. But while the 200X is small, portable, and low-capacity, the 1500X is a bit larger. Like the BLUETTI power station we just looked at, it weighs over 40 pounds, and sports dual carrying handles. The handles are crafted from yellow rubber, and are bolted into a black and steel housing. The top is plastic, with clips that can be opened to access the inside and perform maintenance.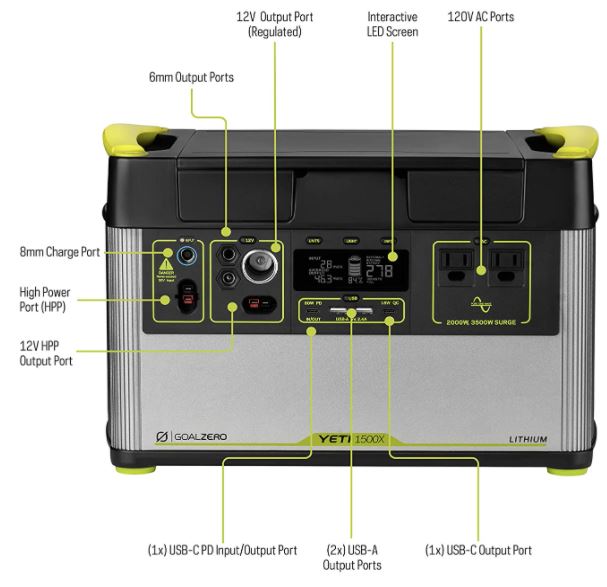 Like the BLUETTI, you'll see an LCD display, albeit a somewhat smaller one. However, this LCD isn't a touchscreen. It's controlled by three physical buttons, which is a better option with dirty or greasy hands. Alternatively, the Yeti can also be controlled via a smartphone app. The app is free, and easy to install on both Android and iOS. That said, it relies on a Bluetooth connection. You'll need to be within about 30 feet of the power station to use the app controls.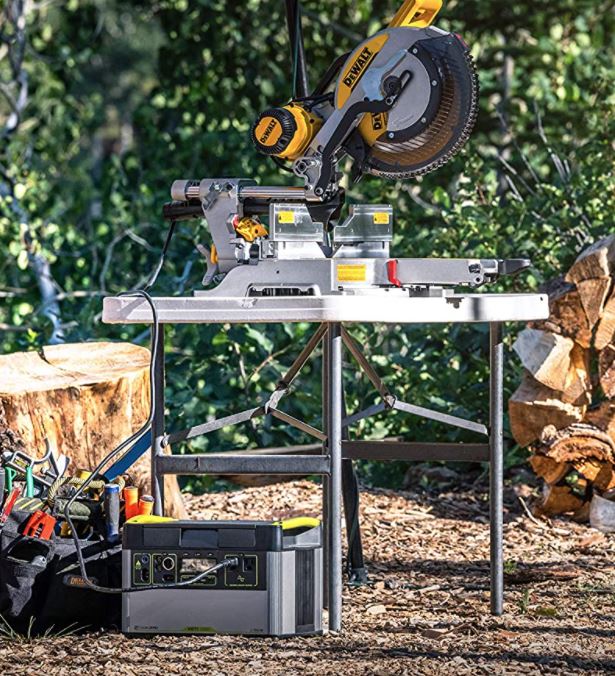 There are seven charging outputs, starting with a pair of 120-volt three-prong AC outlets to the right. Beneath the display, you'll find two standard USB Type-A ports, as well as 18 and 60-watt USB Type-C ports. A 12V vehicle port, 12V flat power port, and 6mm port round out your options. The entire package is covered by a two-year manufacturer's warranty to protect you from any issues.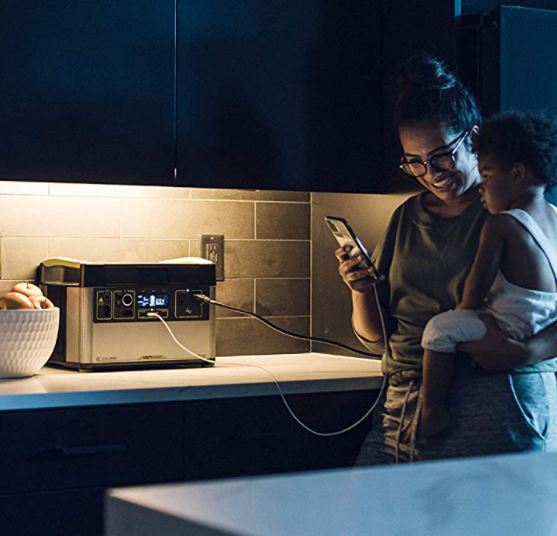 Battery and Charging Capacity
The Yeti's overall battery capacity is 1,500Wh, or 300,000mAh at five volts. At 120 volts, you'll still get 12,000mAh of life. This makes the Yeti exactly ¾ as powerful as the BLUETTI. Even so, you're looking at an insane amount of power. You can charge a smartphone almost 100 times, or run a CPAP machine for days. The maximum wattage is 2,000 watts, the same as the BLUETTI. However, the maximum surge wattage is a hair lower, at 3,500 watts. Even so, this is a lot of capacity.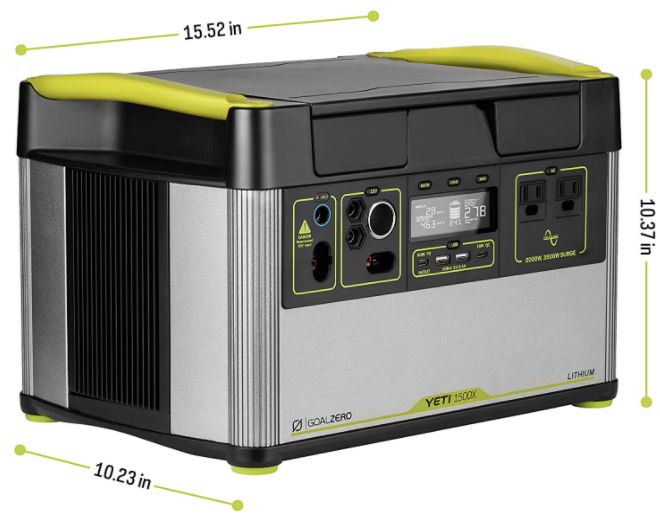 Charging the Yeti with the included AC adapter takes about 14 hours from dead to full. However, there's an adapter available for the APP input. This increases your charging power to 600 watts, and lets you fully charge the Yeti in about three hours. 12V car charging takes about 14 hours, the same as ordinary AC charging. Solar charging is variable, but can take as little as four hours with 400 watts of supply.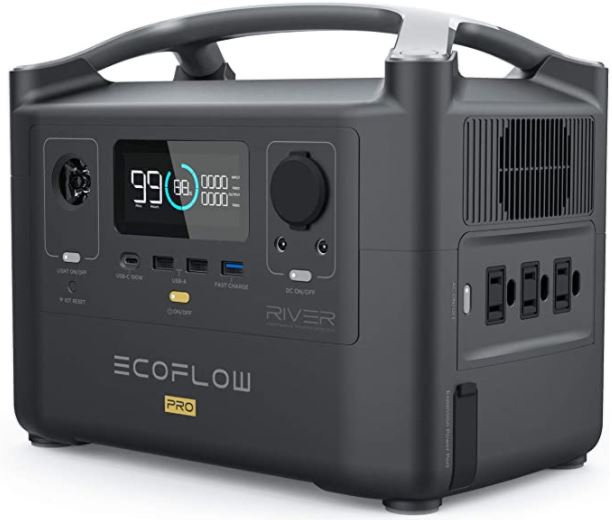 Ecoflow River Pro
Ecoflow is yet another brand we've reviewed and approved of in the past. We looked at the Ecoflow River 370, and liked what we saw. The Ecoflow River Pro is a slightly larger variant, with more capacity and inputs. At 16 pounds, it's less than half the weight of today's other offerings, and this alone makes it worth considering. It's also easy to carry, with a large, ergonomic handle extending across the top of the black housing.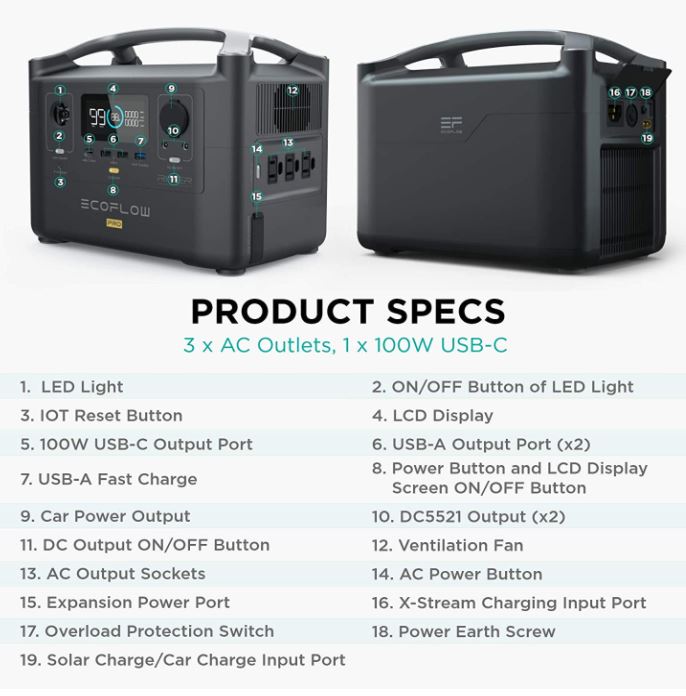 The front of the unit plays host to an LCD display. Actual controls are performed through the Ecoflow app, which is free to use and download. As with the Goal Zero app, it relies on Bluetooth, so it's useful at short distances only. Individual groups of power ports can also be deactivated with buttons, which are located near the ports.
On the right side of the housing, you'll see three AC outlets, with their own activation button. On the front, there's a 12V DC car charging port, which also has a control button. Finally, there's a row of four USB ports. There are two USB Type-A ports, one 18-watt Type-A port, and a 100-watt USB Type-C PD outlet. There's also a flashlight built into the front of the housing, which shines as a very bright lantern. The flashlight and USB ports are also controlled by their own buttons.
Charging cables are included for ordinary AC power, 12V DC power, as well as solar panels. As with our previous two choices, you also get a two-year manufacturer's warranty.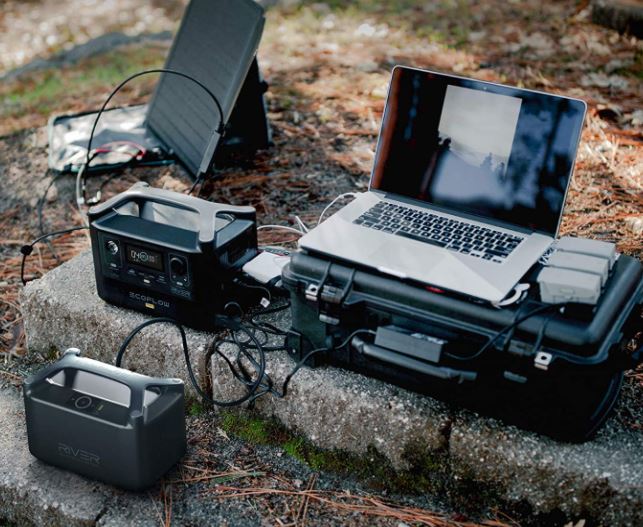 Battery and Charging Capacity
The River Pro has an impressive capacity for the size, at 720Wh, or 144,000mAh at five volts. Even at 120 volts, you'll get a respectable 6,000mAh. The total maximum wattage is 600 watts, with surge capacity of up to 1,200 watts. Using the app, you can activate X-Boost mode, which increases the wattage to 1,800 watts. This gives you more capacity, at the expense of draining your battery rapidly. Make sure to download the latest firmware via the app before using this mode. Otherwise, you may have trouble with some devices.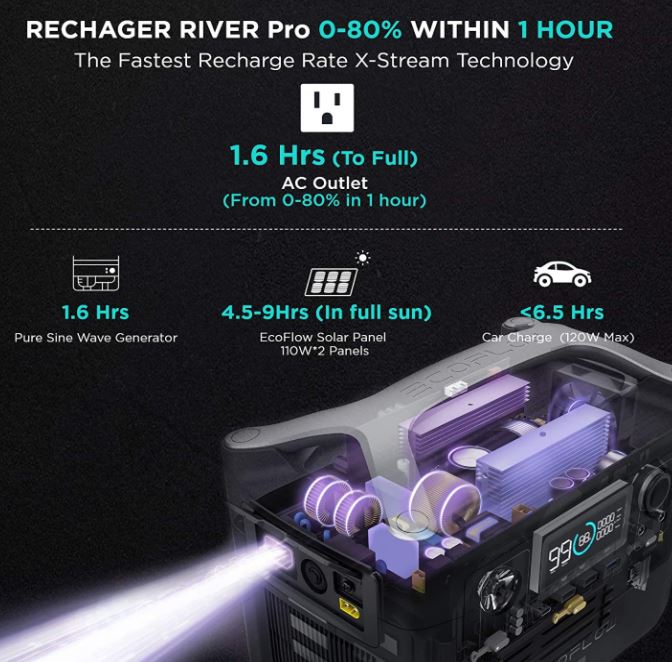 The battery can be quick-charged from 0 to 80 percent in one hour via AC, and fully charged in 1.6 hours. Using the car charger, it can be fully powered in 6.5 hours. The solar capacity is 220 watts, enough to charge the battery in 4 ½ to 9 hours.
Final Verdict
Which one of these power stations is the best is largely a matter of preference. If power and capacity are your main concern, look no further than the BLUETTI AC200P. It's bulky and expensive, but it's worth every pound and penny. You get 17 charging connections, including wireless charging. You also get a 400,000mAh battery, and 2,000 watts of power delivery with 4,800 surge watts. Whether you're charging a ton of cell phones or running a pair of appliances, you'll be well-equipped.
The Goal Zero Yeti 1500X is a good charging station, but we're not sure who it's for. If you're willing to pay a lot for a lot of capacity, the BLUETTI is better. It does everything the Yeti does, plus a little bit more. Meanwhile, the Yeti actually costs more. To be fair, you get an app control, which the BLUETTI doesn't have. But that's cold comfort for all the other features you'll be missing out on.
The Ecoflow River Pro is ideal if you prize portability above all. It weighs just 16 pounds, and can still put out up to 1,800 watts in X-Boost mode. The capacity is correspondingly smaller than our first two choices. But it's one of the best compact power stations on the market.
Please consider sharing:
Note: At no extra cost to you, we may earn a commission for purchases using our links. Learn more.