Reolink Argus 3 Pro
Pros
1440p Super HD camera.
Color night vision and two-way audio.
Connects to both 5GHz and 2.4GHz WiFi bands.
Accepts voice commands.
Cons
Does not include a power supply.
Cloud storage not available in all countries.
Home, as they say, is where the heart is. It's where you go to sleep, and it's where you feel safe from the rest of the world. Even if you don't control anything else, you're in charge of your own home. But you can't always be there to make sure your home is safe. Even in the midst of a pandemic, life beckons, and you've got to go out now and then. This leaves your home vulnerable to burglars, porch pirates, and other undesirable characters. If you're not careful, you could come home from work to find that your house has been robbed.
A good security camera can help prevent this unfortunate outcome. Is it a guarantee? Of course not; but there's no such thing as a guarantee. A camera is designed to do two things. First, it serves as a deterrent. Any would-be thief who sees a camera is liable to go elsewhere. Believe it or not, even most career criminals are hesitant to commit a crime when they know they're being filmed. Second, if someone is foolish enough to go ahead and rob your place, you'll have evidence. This can help the police track down the thief. It can also prove useful when you file your homeowner's insurance claim.
But not all security cameras are equally well-designed. We're about to review the Reolink Argus 3 Pro, and see how well it performs. We'll start by looking at the physical design, and how well it's built. We'll move on to the power supply, and how you monitor the video. Next, we'll talk about the video quality, as well as the night vision function. Finally, we'll cover how your footage is stored, as well as the camera's bonus features. At that point we'll have the complete picture, and we'll be ready to render our verdict. Let's get going!
Design & Construction
The Reolink Argus 3 Pro is a compact camera with a vertical, oval-shaped profile. It has a rounded back, with a white plastic housing that's easy to keep clean. The only decoration on the camera itself is a pale blue Reolink logo on the side. The front of the housing is black, with the lens located towards the top. Just above, there are a pair of spotlights, which can be activated automatically or via the app. Underneath, there's a motion sensor, which we'll discuss in detail in a little bit.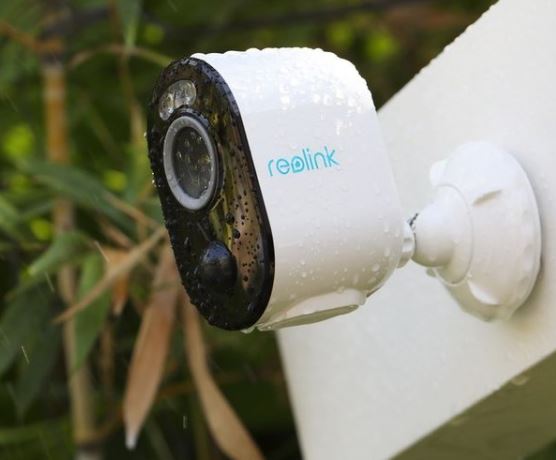 The camera attaches to a mounting bracket, with a simple screw-on release. This makes it easy to take the camera up and down without removing the base itself. Charging the battery doesn't have to mean uninstalling the entire camera. Along with the mounting bracket itself, you get all the necessary hardware and anchors. You even get a template for screwing the holes in the correct pattern. All you need is a drill and a screwdriver, and installation takes as little as five minutes.
The Argus 3 Pro is IP65-rated for dust and water resistance. This equates to a medium-high level of dust resistance, and a medium level of water resistance. You won't have any trouble in dry and dusty areas, nor will direct exposure to rain pose any threat. Under any normal climate conditions, the camera will work just fine. If it doesn't, you're well protected. Reolink backs their camera with a two-year warranty, which covers you for any manufacturer's defects.
If you want an even smaller, more inexpensive camera, consider the Reolink Go. It's more compact, and it comes so cheaply you might decide to buy two. On the other hand, the video resolution isn't as high, and the night vision is only in black and white.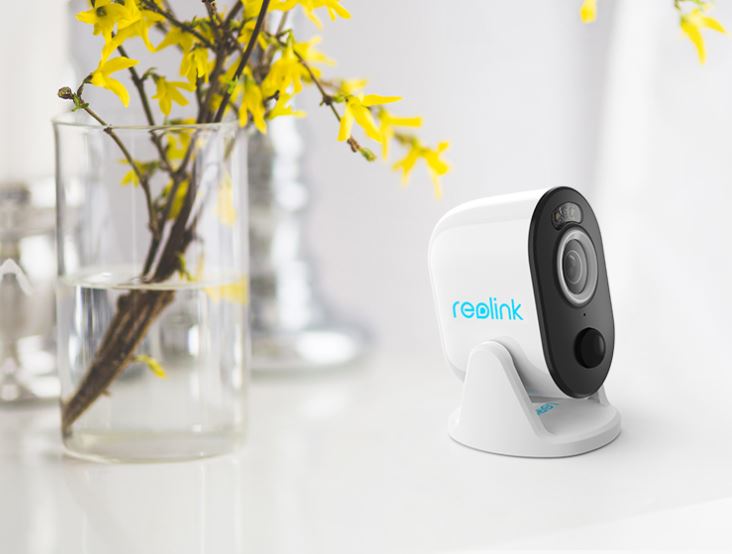 Power & Connectivity
The Argus 3 Pro is battery-powered, and doesn't need to be plugged in. This is both a blessing and a curse. On the one hand, the 6,500mAh battery is long-lasting, and the camera is portable. You can put it in a remote location, or on an outbuilding like a garden shed that doesn't have its own power. On the other hand, you're going to have to charge the battery periodically. This means taking the camera down and plugging it into a USB charger. If the camera is indoors, it's worth considering plugging it in permanently.
The exact battery life will vary depending on a variety of factors. Recording takes significantly more power than monitoring, for example. So if the camera is doing a lot of filming, it will last far shorter than if it's mostly sitting idle. One solution is to install a solar panel, which is sold separately. This way, you can use the camera off-grid without having to worry about charging it. Another option is to buy a camera that already comes with a solar panel, like the Reolink Argus Eco +. It's perfect for off-grid use, but the resolution isn't as sharp as the Argus 3 Pro.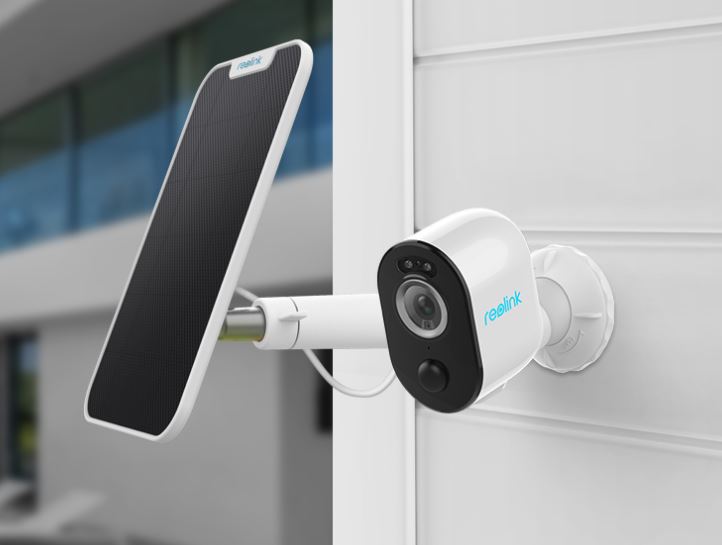 This camera connects via WiFi, and can connect over both the 5GHz and 2.4GHz bands. Some cameras are limited to one or the other, each of which has inherent weaknesses. By allowing you to use both bands, the Argus 3 Pro ensures the maximum possible range and bandwidth. Of course, you'll still need to have access to a WiFi network or mobile hotspot in order to connect the camera. If this isn't feasible, you'll need to have some other way of connecting to the web. One option is to use the Reolink Go PT, which connects via 4G. However, the Go PT requires its own data plan, which might be more expensive than you'd like.
There are a couple of ways of controlling the Argus 3 Pro camera. The standard option is to use the Reolink app. This app installs for free, and allows you to access the camera remotely. You can check in on your feed, record videos, and perform other functions we'll talk about shortly. Alternatively, you can set up Alexa or Google Assistant voice commands. Obviously, you won't be able to view your feed in this fashion. But you can change your settings and access two-way voice communications without touching your phone.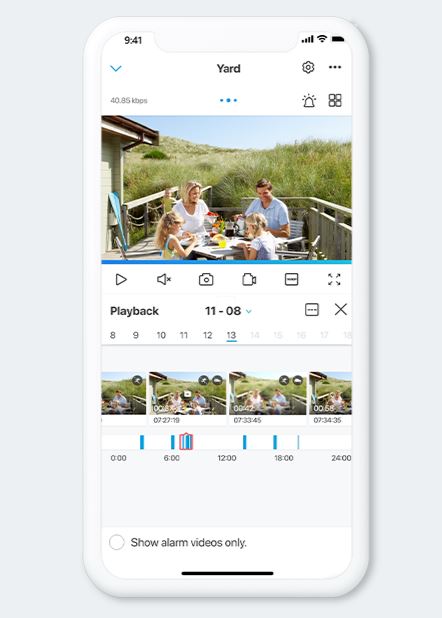 Camera Quality
The Argus 3 Pro camera records 2K Super HD video. This has a resolution of 1440p, significantly sharper than ordinary 1080p HD. The photo resolution is 4 megapixels, which is roughly the same as 1440p. Either way, you're getting considerably better video resolution than most home security cameras. With 2K resolution, you can make out finer details, and even read license plates at a distance. You're better able to read name tags and find other identifying markers on an individual.
Many security cameras drop off at night, and experience a significant loss in quality. Even if you have night vision, it's often in black and white, grainy, or both. The Argus 3 Pro records night vision in full color, so you can see far more details than many cameras. Moreover, the range of 33 feet isn't bad for a full color night vision system. On the other hand, it's less well-suited for covering a large area, like an entire backyard. That said, the built-in spotlights are exceptionally bright. If you do need extra range at night, just switch on the lights.
Storage & Extra Feature
Of course, even the best video isn't very useful if you can't record it for later use. There are two storage methods on the Argus 3 Pro, each with its own benefits. For local storage, you can use up to a 128GB Micro SD card. There's none included, but it's not as if they're terribly expensive. This is especially true if you use a smaller 32GB card, which is still enough for hours and hours of footage. The camera uses loop recording, so the oldest footage is always overwritten first on a full card. The second option is to use Reolink cloud storage. This costs a monthly fee, and isn't available in the UK and some other countries. On the other hand, it allows more flexibility in accessing and transferring your videos.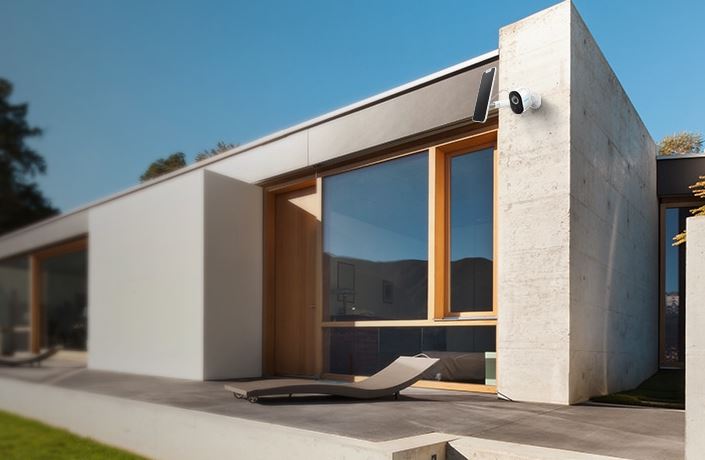 The Argus 3 Pro doesn't record 24/7. Instead, it uses an advanced AI algorithm with person and vehicle detection. When it sees a person or vehicle, it starts recording. When the person or vehicle is no longer visible, it shuts off. Keep in mind that for this reason, it's a bad idea to point it directly at the road. It will trigger every time a car drives past. But as long as the camera is pointed in an intelligent direction, the detection works very well. You can optionally turn on push alerts and emails for when a recording is triggered. This ensures you'll always know what's going on at home. Alternatively, if you'd rather not be bothered, you can turn alerts off.
When you do receive an alert, you'll have a few options. You can activate two-way audio, in order to talk with the person. Maybe you want to remind your daughter to walk the dog, or tell the delivery man to use the side entrance. You can also activate the spotlights and siren. These can terrify an intruder, and will usually be enough to make them run away. You can even set the alarm and spotlights to activate automatically. This is useful for storage units and other out-of-the-way locations that you don't visit often.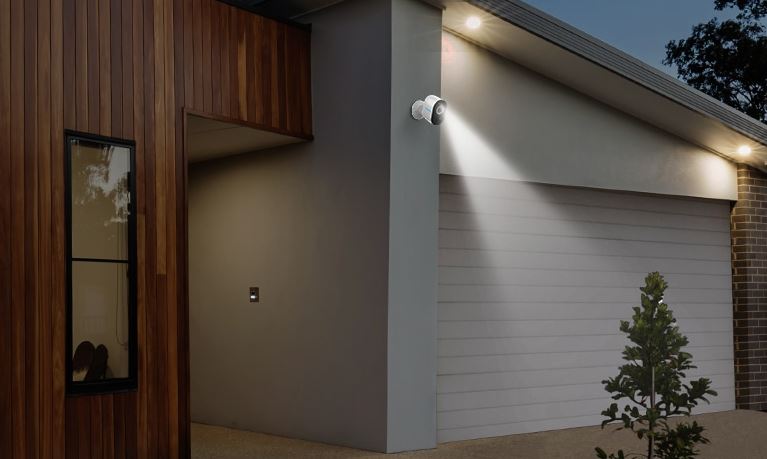 Final Verdict
All in all, the Reolink Argus 3 Pro is one of the better security cameras out there. For one thing, it records in very high resolution, so you can see plenty of detail. For another thing, it connects easily to WiFi, and can be battery or solar-powered. You can take advantage of storage on both an SD card and in the cloud. You can even use two-way communication and activate a siren and spotlight. With this many capabilities and so few flaws, the Argus 3 Pro is an excellent choice.