Quick Analysis
Pros
Solar powered, no need for complex wiring.
Weatherproof design stands up to the elements.
Free cloud storage, although slightly limited.
Fairly inexpensive for what you get.
Helpful and robust mobile app.
Cons
Solar panel must get direct sunlight throughout the day.
Can't read license plates from a distance.
These days, you just can't be too careful about your home's security. Whether you're concerned about porch pirates or garden-variety burglars, a security camera can help you feel safer. Needless to say, modern technology has made security cameras cheaper than ever to manufacture. What used to be limited to businesses and the wealthy can now be enjoyed by everybody.
But with all these new products on the market, how do you know which ones are worth buying? We'll help you out by reviewing one of the most popular models, the Reoling Argus Eco +. We'll look at how it works, the best features, and where it falls short. Let's begin!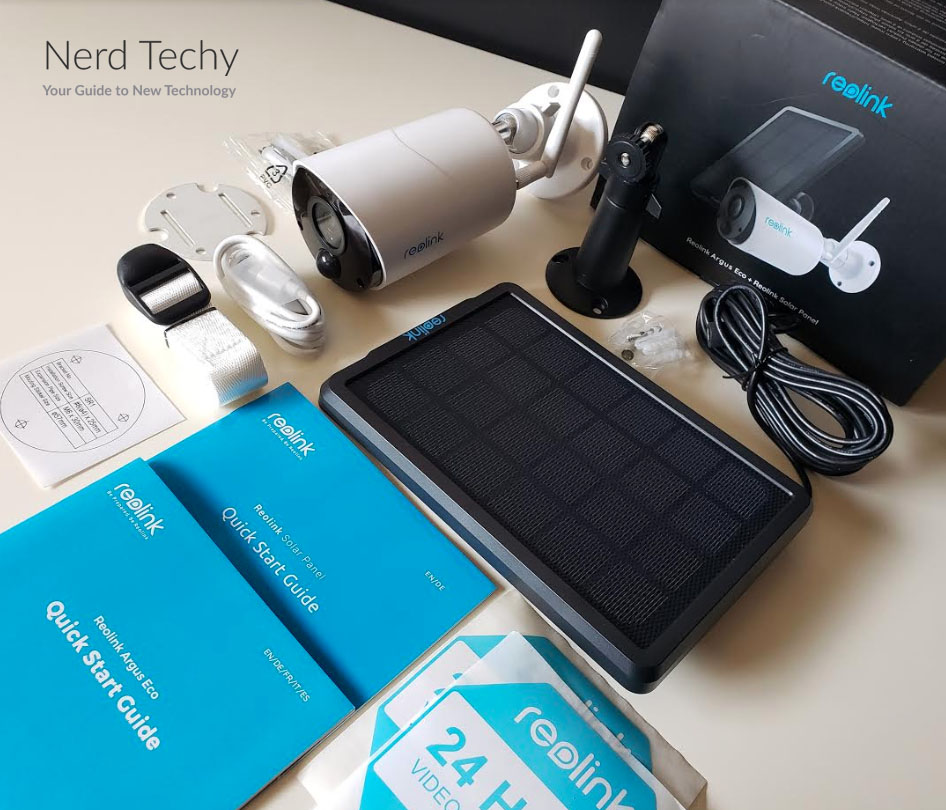 Design & Engineering
The Reolink Argus Eco + is a lightweight unit, weighing in at a total of 2.5 pounds. This is exceptional, considering the fact that it includes a solar panel. The camera itself is a 4-inch cylinder, encased in white ABS plastic. The lens housing has a glossy black finish, and protrudes slightly from the casing.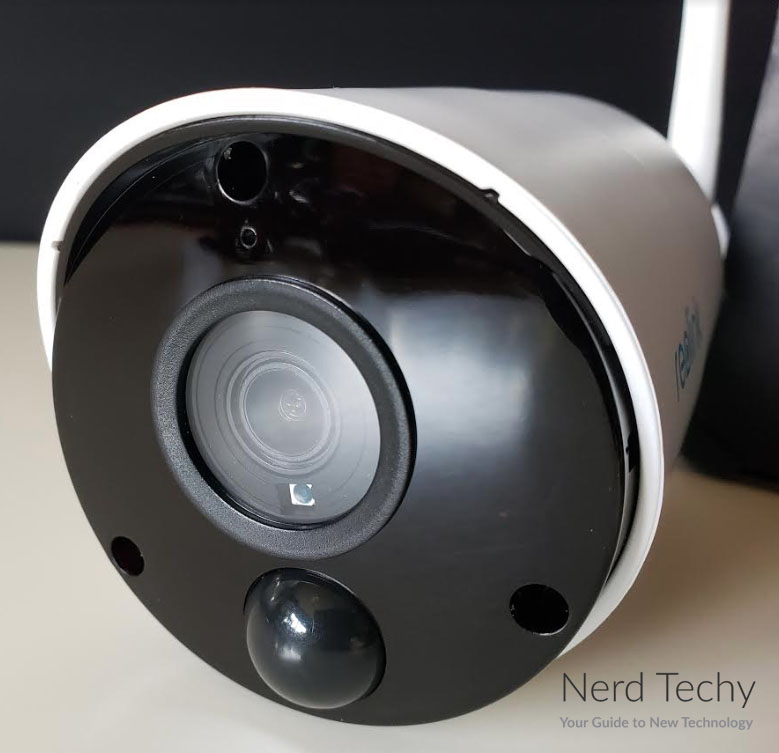 At the top, it's shrouded by a rain guard, which keeps the lens from getting sprayed with water in the rain. The camera is attached to a 2-inch mounting bracket, which allows for 360-degree rotation. The bracket is constructed from durable, scratch-resistant anodized aluminum, painted flat white to match the camera. A small antenna protrudes from the back, and can be rotated as desired to get the best possible wireless signal.
The solar panel is square in shape, and measures just over six inches to a side. It's housed with black ABS plastic, providing an attractive contrast to the white camera. It's also mounted on a rotating anodized aluminum bracket, which is black to match the solar panel.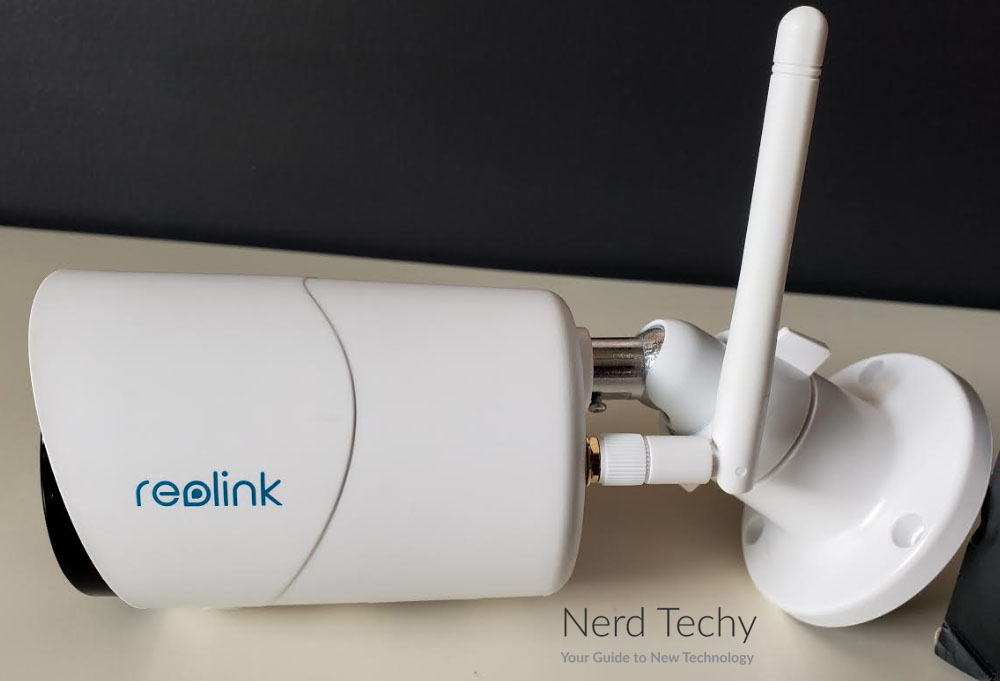 The connecting cord measures just over 12 feet in length, which allows for easy positioning. If your camera is mounted on the shady side of your house, you can position the solar panel around the corner. In a pinch, you could even mount it on your roof if that's what's needed. There's even a template included for both mounting brackets, so there's no guesswork involved in pre-drilling your holes.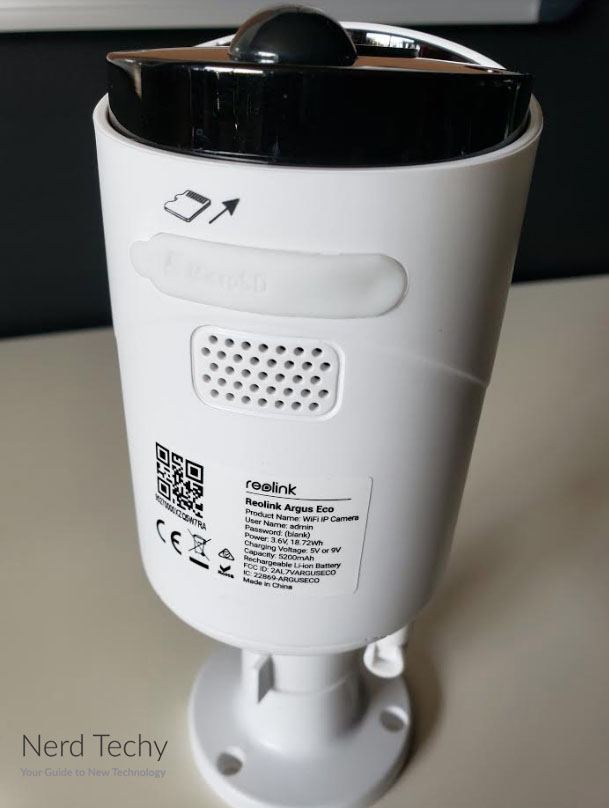 Both the camera and the solar panel are IP65-rated for water and dust resistance. They're capable of withstanding dry, dusty days, and to endure through heavy rain storms. The camera itself has a Micro USB port, which allows you to charge it up completely before mounting.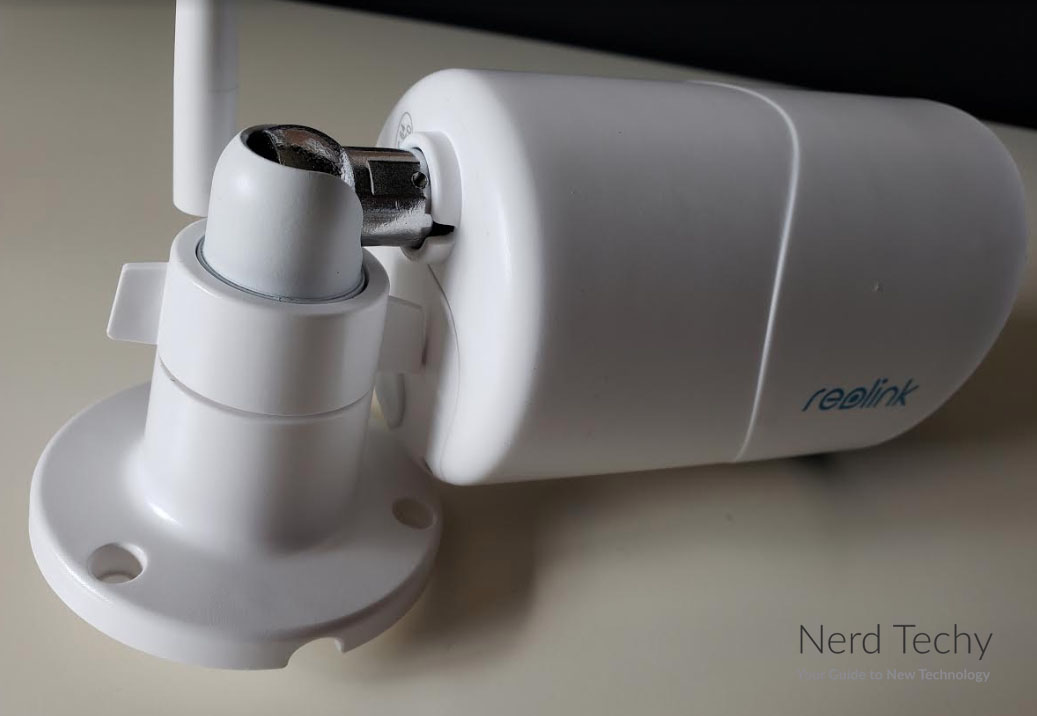 The battery has a 5200mAh capacity, enough for more than 12 hours of continuous recording. However, due to the camera's motion sensor, you won't ever need to record continuously that long. The battery has such a large capacity in order to ensure that it will keep working overnight and during cloudy days. In addition to all this, there's a surveillance sign in the package, which may deter potential thieves altogether. You can even hardwire the camera if you desire, although the hardwiring adapter is sold separately.
In the past, we reviewed the Reolink C2. It's more compact and affordable, and can be plugged directly into a wall outlet. However, it's only rated for indoor use.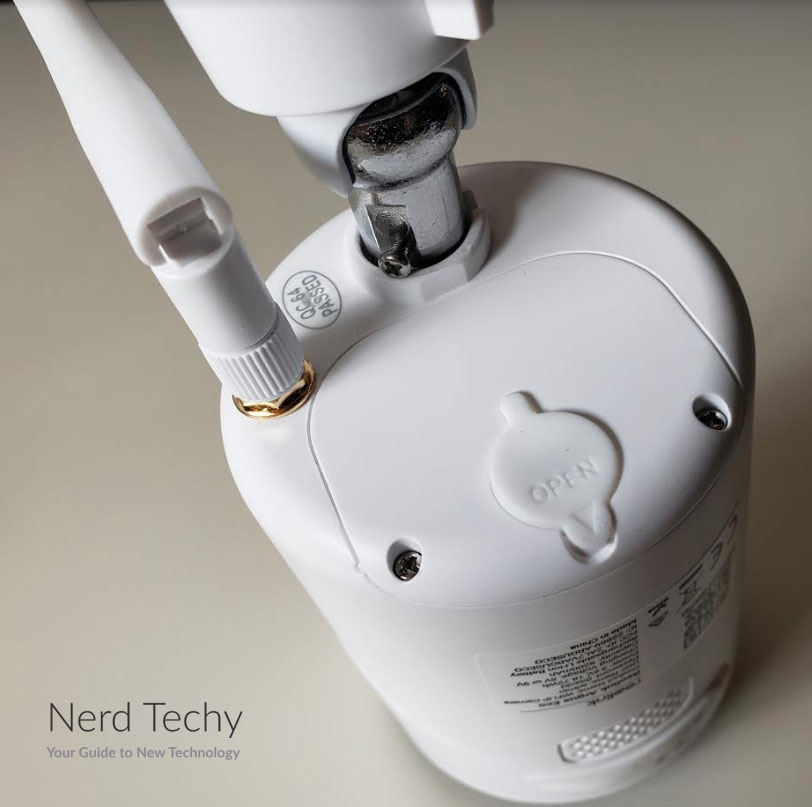 Video & Audio
The Argus Eco + records video in full 1080p. This is, on its face, a fairly high resolution. However, the field of view is 100 degrees, which is relatively wide. On the one hand, this is good. It allows you to record a wide area, without having to worry about blind spots.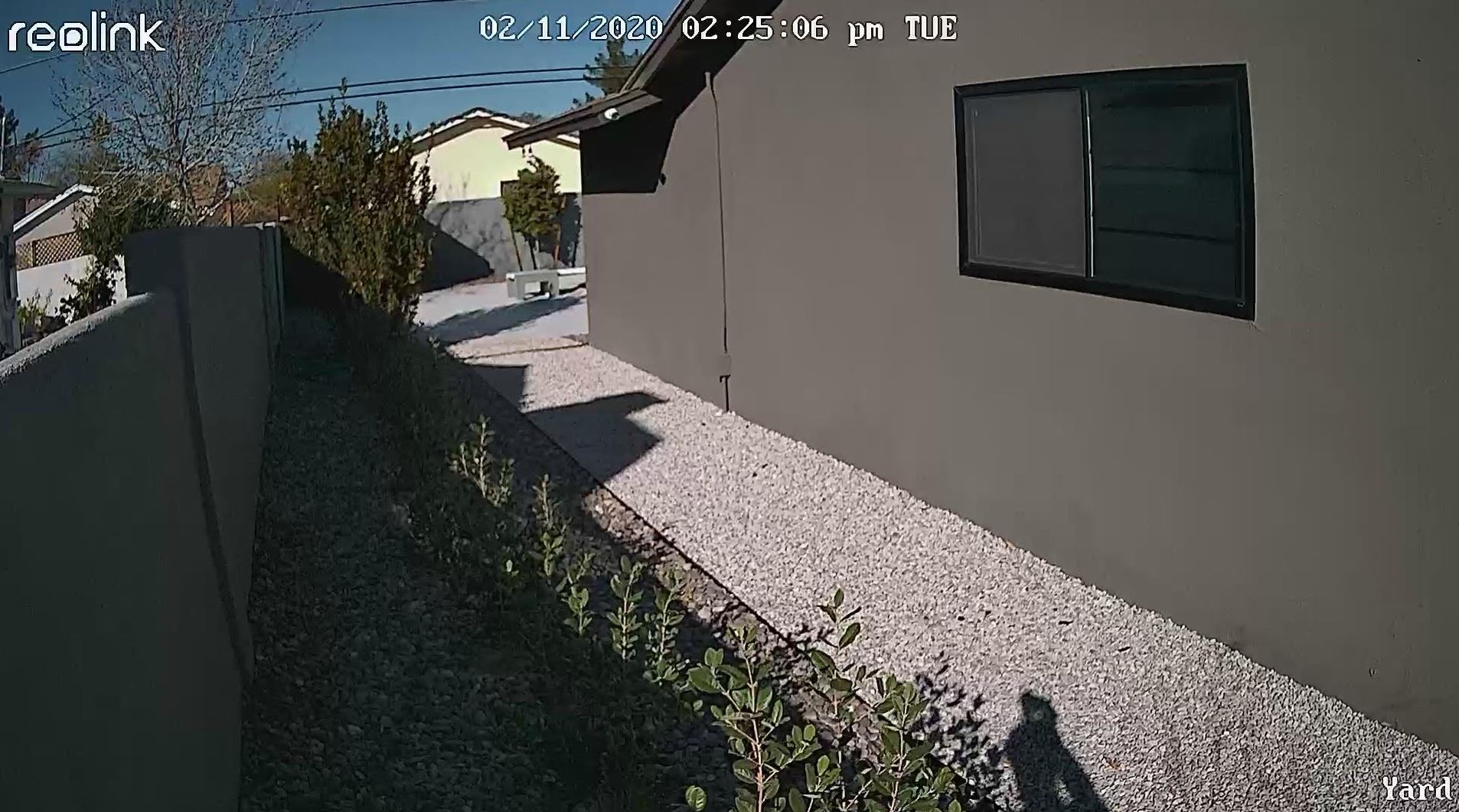 On the other hand, the wider the field of view, the less detail you're going to capture at a given resolution. For 100 degree field of view, we would have liked to see 2K or even 4K video. That said, the Eco + is more than good enough to identify someone from 10, 20, or 30 feet away. You just won't be able to read license plates on a car parked in the street.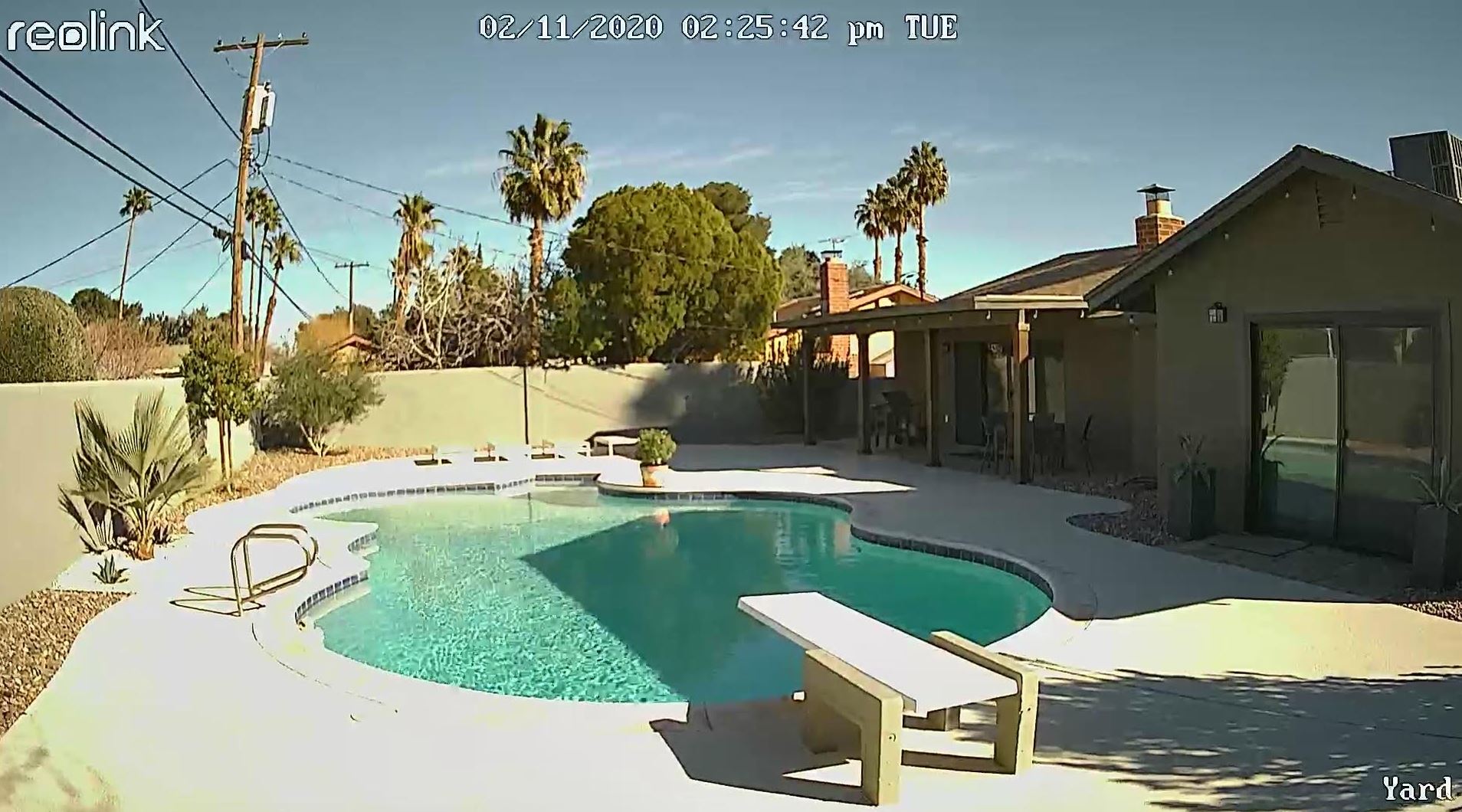 At night, the Argus Eco + provides images that are nearly as crisp and clear as they are in daylight. It features a set of 850nm infrared LEDs. These LEDs allow you to record in complete pitch darkness. No street lights, floodlights, or moonlight is required.
That said, the range on the LEDs is limited to 33 feet. Once again, we run into a similar problem to the resolution and field of view problem. You get plenty of clarity at close ranges, but recording at longer distances becomes a problem. That said, it's more than good enough to catch a burglar. The LEDs are also discreet, and don't give off any visible light to show the camera is operating.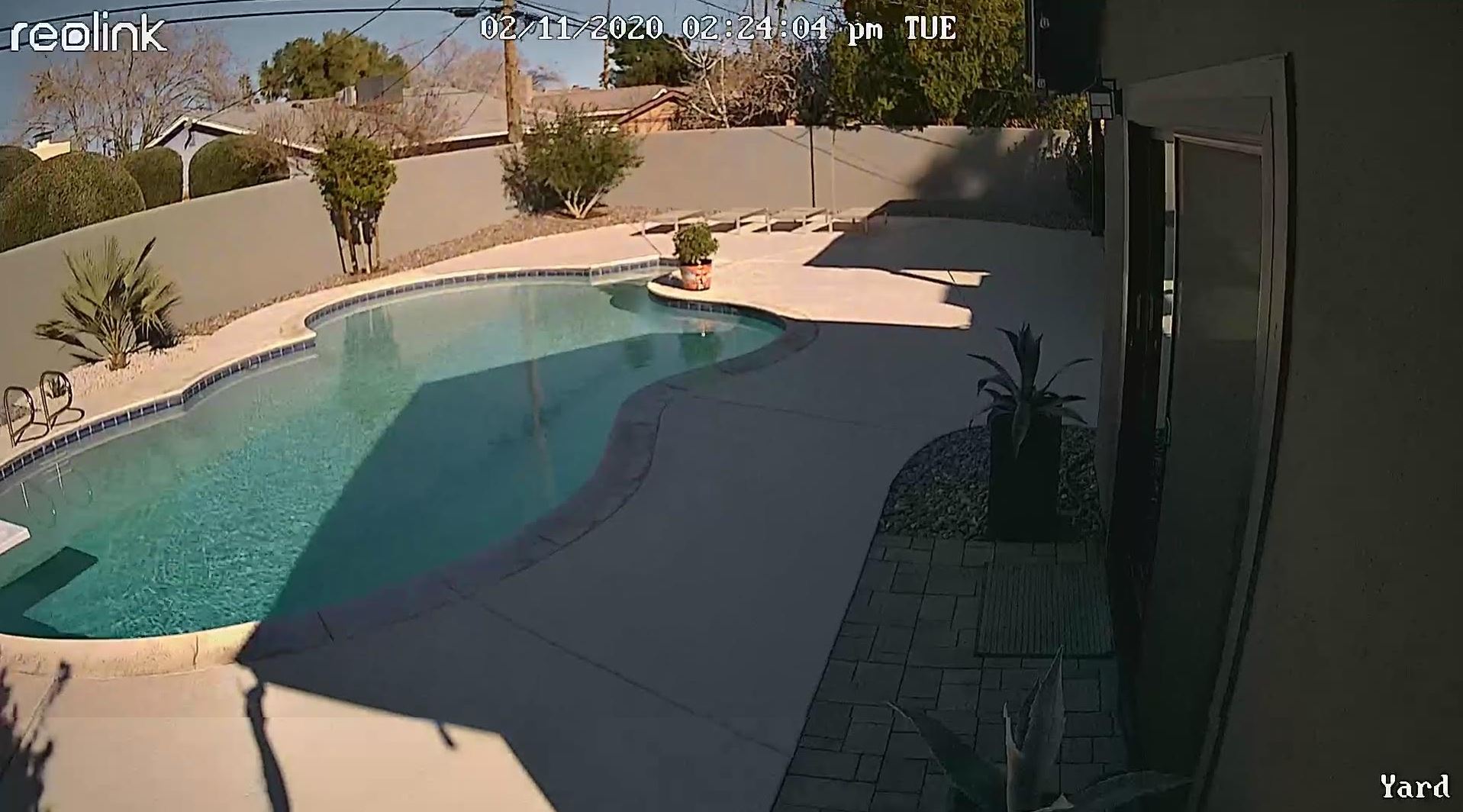 In addition to recording video, the Argus Eco + also records audio. The quality of the microphone is far from studio grade, more similar to what you'd get from a telephone. Then again, you're not trying to record music with this camera. And the audio is more than good enough to make out what somebody is saying.
Suppose you want better clarity from a 1080p camera, and you're less worried about field of view. In that case, consider the Reolink Argus 2, which we've already reviewed. Not only does it have a narrower field of view, but it's also significantly more compact than the Argus Eco +.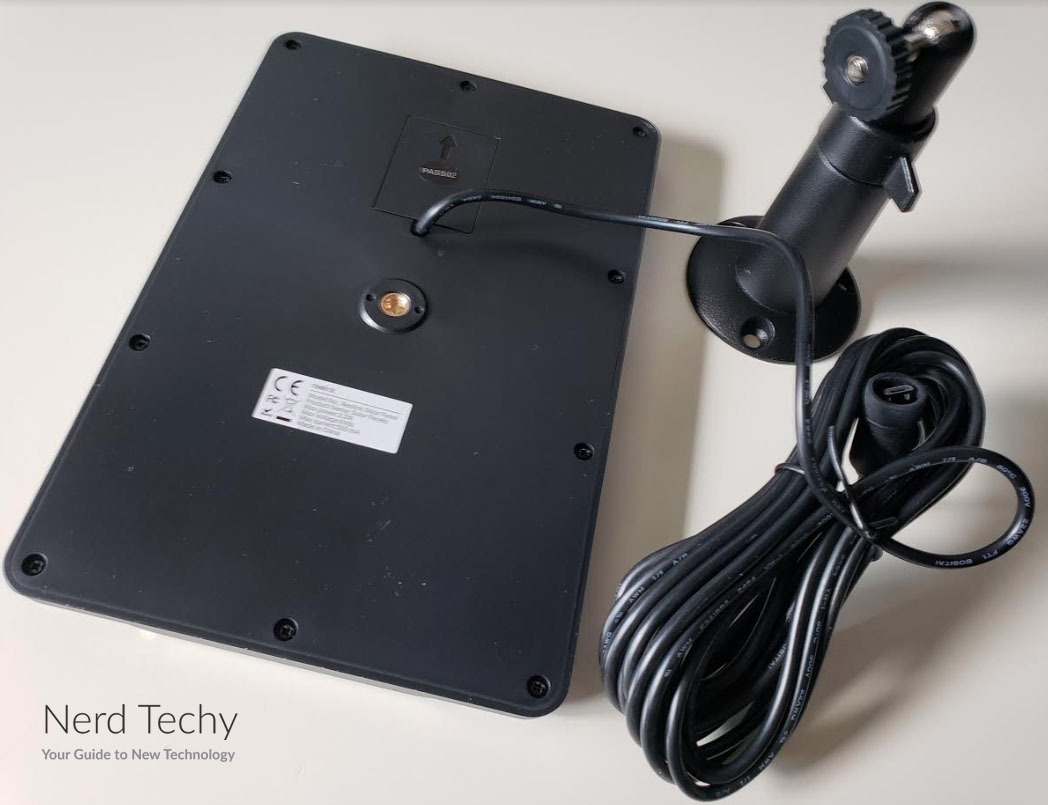 Connectivity & Storage
At the end of the day, there's more to a security camera than just good, or even passable, video quality. After all, even the clearest video is useless if you don't have a good way of storing it. Thankfully, the Argus Eco + offers two different ways of storing your recordings.
The first method is to use a built-in SD card. The SD slot on the back of the camera can accommodate up to a 64GB Micro SD card. There's none included in the kit, but they're cheap enough to buy. The other method is to use Reolink's cloud service. The cloud service is free, which really impressed us, since most similar cloud services charge a monthly fee. Recordings are only triggered when the Argus Eco +'s motion detector senses activity. The motion sensor is powerful enough to trigger when a cat or dog passes by. So it will certainly pick up any human movement without any issues.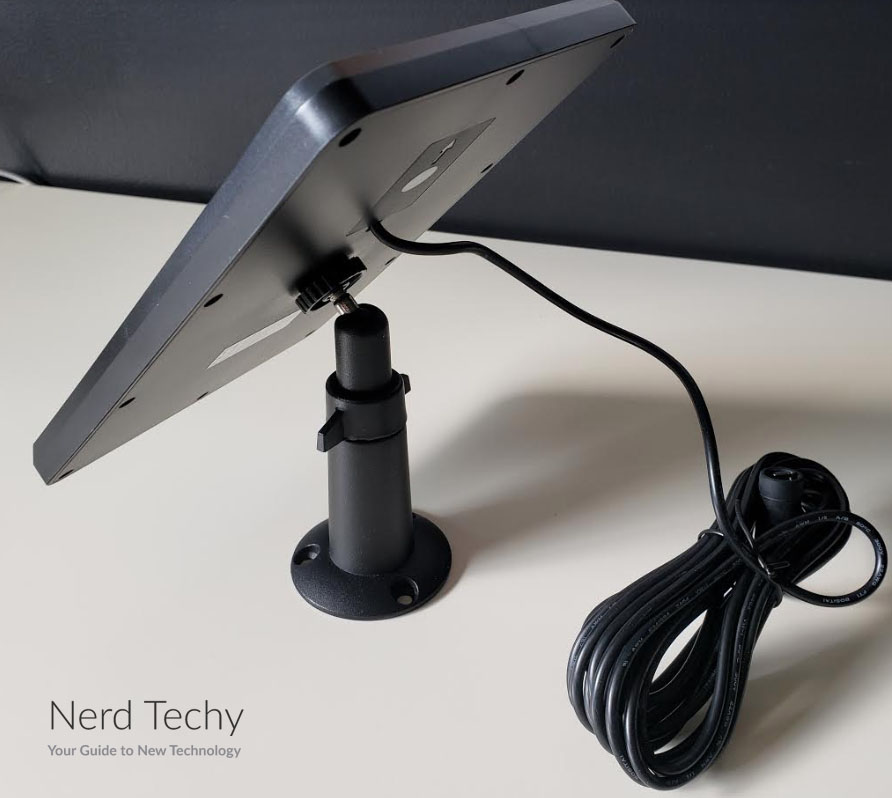 The Argus Eco + connects to the internet via 2.4 GHz WiFi. On the 2.4 GHz band, it easily connects through walls and even masonry. However, the range is limited to about 50 feet, so make sure your router or range extender is appropriately placed. Connection is easy, with a simple WPS button on the back of the camera. The easiest way to connect is to use the WPS connection before installation, rather than after.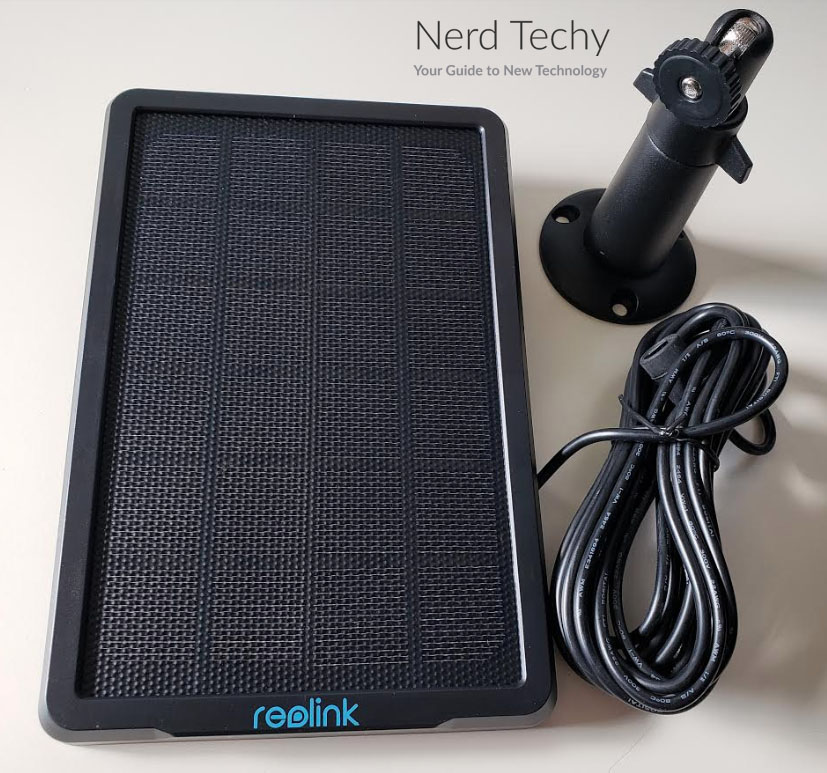 That said, provided you're inside of wireless range, you shouldn't have any significant problems. If you do run into an issue, the Reolink app provides easy voice instructions for setup. In the event that you don't have a suitable WiFi network, you can still use an SD card for storage. However, you won't have the benefit of cloud storage or the app features, which we'll talk about in a second.
If you need online features but don't have a useful WiFi network, there are other options available. For example, the Reolink Go is an excellent choice. It can connect to the web via 4G, although you'll need a SIM card with an active mobile subscription.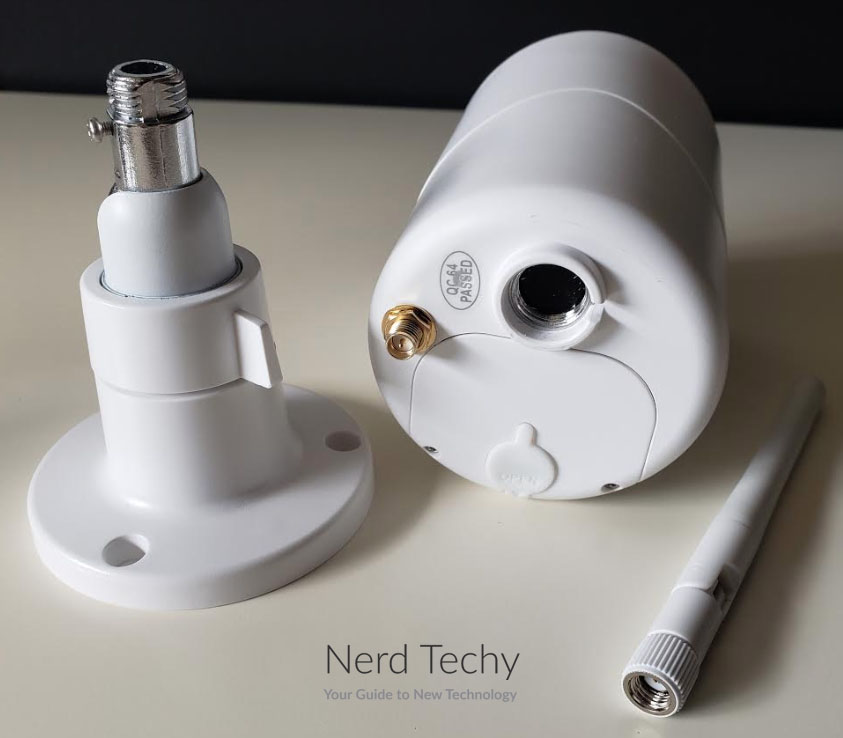 Extra Features
So, what else does the Argus Eco + have to offer? The extra features are powerful, but they require the app in order to use them. To begin with, you can adjust the motion detector sensitivity. This is a great feature if you have trees or bushes near the camera, which can trigger recording in high wind. That said, you'll need to fiddle around a bit in order to determine which settings are the best for you.
The Reolink app also allows for live viewing of your camera. Whether you have a serious security concern or you just want to know what's going on, just access your feed. Depending on your situation, this is a great way to keep tabs on your kids, or even to watch your pets.
In addition, the app can send you push alerts when the motion detector is triggered. This lets you know immediately when someone is approaching your porch. By default, all motion detector videos will be saved in the cloud for 7 days. However, the free service only applies to a single camera. If you have multiple Argus Eco + cameras, you'll need to pay for a subscription.
Via the app, you can also communicate with 2-way audio. Obviously, this is a great way to make a would-be burglar or porch pirate soil their trousers. However, you can also communicate with delivery personnel. For example, you can tell your FedEx driver to drop a package near the side door. You can even let friends know if you're running late getting home for a dinner party.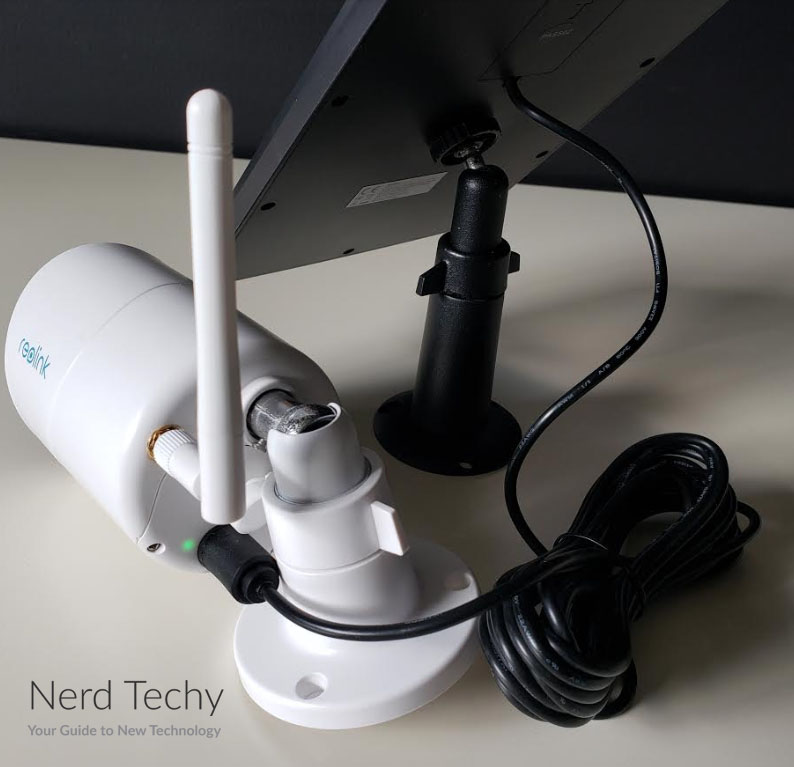 Final Verdict
At the end of the day, whether or not the Reolink Argus Eco + is worth buying depends entirely on your needs. First off, the solar panel is a great touch. Not only does it allow your camera to keep going during a power outage, it's also great for off-grid use. The cloud storage is also an excellent feature. Most wireless cameras charge a monthly fee for this storage, so getting it for free is a great value. In addition, we liked the app. It offers all the features you'd expect to see from a top-tier app, packaged with a mid-priced camera.
The 1080p resolution is fairly run of the mill. If you're only worried about recognizing faces, it's more than good enough. But if you're trying to read a license plate from 50 feet away, you'll want a higher-resolution camera. That said, for most people's purposes, it's going to be more than good enough. Installation is also fairly easy, which makes the Eco + a great choice for average homeowners.
Meet Derek, "TechGuru," a 34-year-old technology enthusiast with a deep passion for tech innovations. With extensive experience, he specializes in gaming hardware and software, and has expertise in gadgets, custom PCs, and audio.
Besides writing about tech and reviewing new products, Derek enjoys traveling, hiking, and photography. Committed to keeping up with the latest industry trends, he aims to guide readers in making informed tech decisions.