Kensington Pro Fit Ergo
Pros
Very comfortable, ergo-friendly design.
Multiple programmable buttons.
Easy to keep clean.
Places your hand, wrist and arm in a healthy position.
Cons
Might be too large for some users.
Definitely not compact.
Only available in one color scheme.
These days, the vast majority of mice utilize optical sensors. And, when compared to older mechanical mice, optical mice offer a lot of advantages. For one thing, you can use them on a wider variety of surfaces. For another thing, they're not as susceptible to dirt and grime, and they're easier to clean when necessary. They also have no mechanical parts, which means there are fewer potential points of failure.
That said, optical mice require at least a moderate amount of space for use. On an airplane tray table or a crowded conference table, it's easy to run out of space. One popular solution is to use a trackball mice. Trackball mice work similarly to old-school mechanical mice, but the trackball is designed to be operated manually. By using your thumb or finger to roll the trackball, you get full cursor movement without needing extra space. This way, you can keep your hand stationary while you click away.
Today, we're going to review the Kensingto Pro Fit Ergo Vertical Wireless Trackball. As its name implies, this mouse is designed not just to remain stationary, but also for ergonomics. But how well does it actually work? And how does the functionality compare to a more traditional mouse? We'll take a close look at all the features and extras, so you can decide for yourself.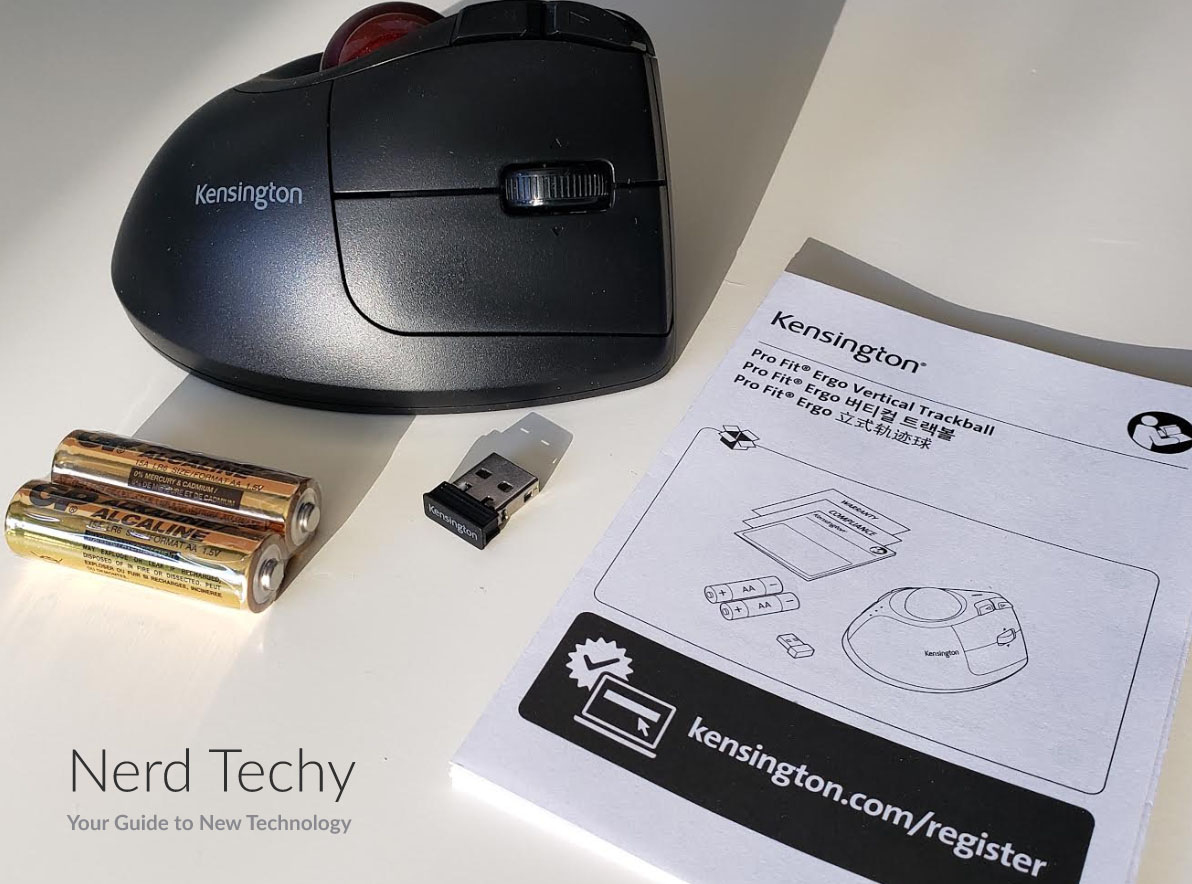 Overall Design
The Pro Fit Ergo has an unusual, intriguing design. The housing is a glossy black ABS plastic, with a matte, vented finish on the inner edge. It's just over six inches long, roughly four inches wide, and a touch over three inches high. It's designed for medium-sized hands, but people with larger hands will also find it to be comfortable. That said, users with very small hands might find the distance from the buttons to the trackball a bit of a stretch.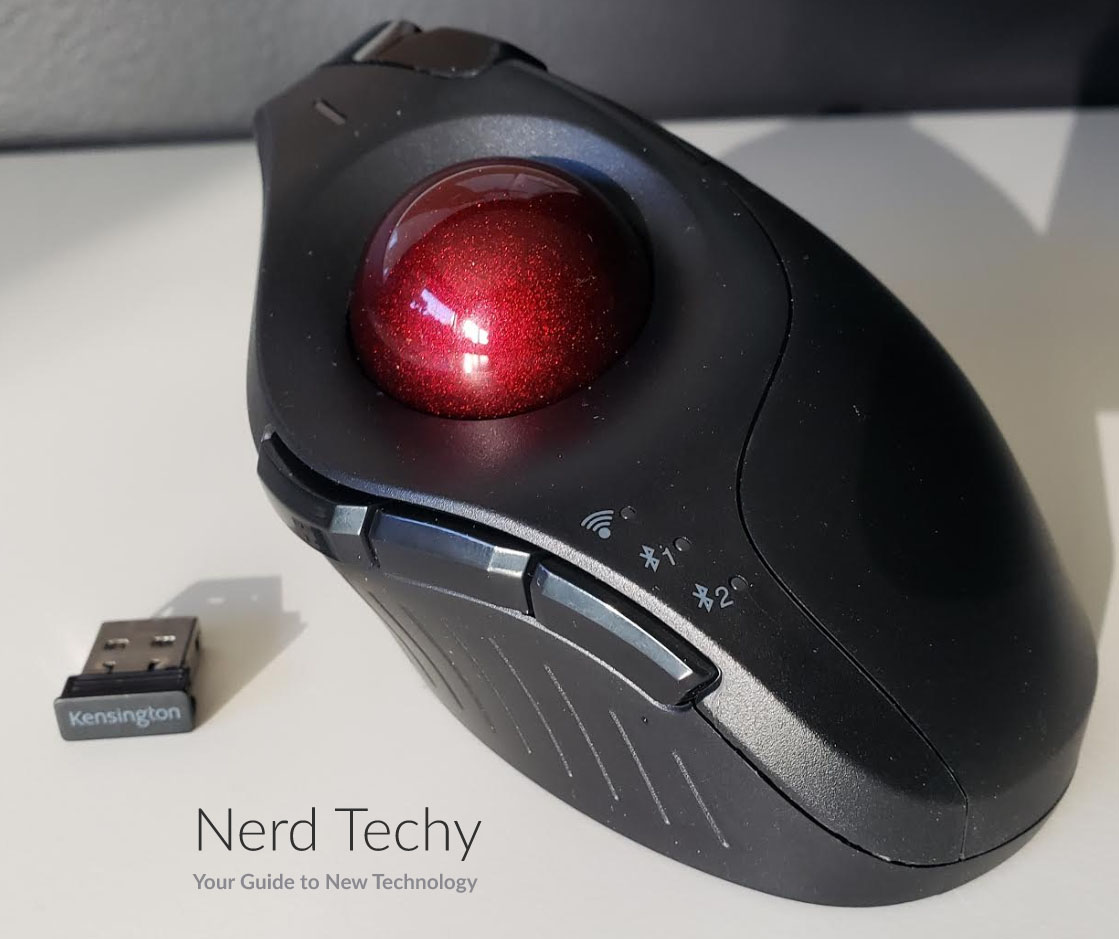 One thing that really makes it stand out is that the surface is steeply angled at 60 degrees. The idea here is to keep your hand in a comfortable, natural position. If you hold your hand out in front of you, as if you're shaking someone's hands, you'll notice that it's angled. A traditional mouse, in most cases, requires you to hold your hand out flat, which can get uncomfortable. This is particularly true if you're using the mouse continuously for an extended period. By angling the mouse at 60 degrees, Kensington helps to mitigate this problem and reduce stress on your wrist.
The track ball itself is large and finished in a high-visibility red, with a smooth surface that's easy to operate. It sits in a shallow recession, so your thumb can rest naturally on the side of the housing while you scroll. There are two standard left and right buttons at the top, along with a standard scroll wheel. This makes it look, at first glance, like a traditional mouse. Kensington did this on purpose, rather than go with some wacky, innovative design. The traditional layout makes the Pro Fit Ergo accessible to beginning trackball users. As a result, if you're buying your first trackball, you'll find this mouse easier to get used to than most.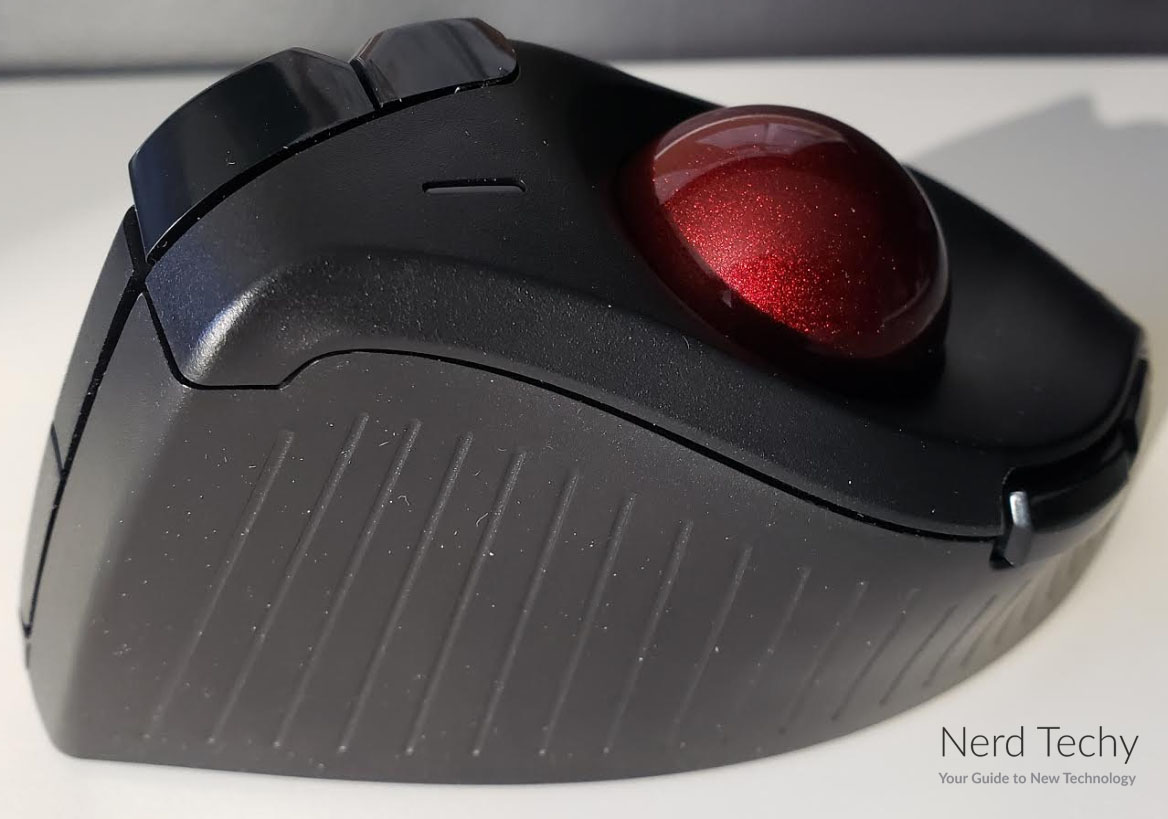 In addition to the standard buttons, there are also five additional programmable buttons. To do this, you'll need to use the free configuration software, which we'll discuss more in a bit. By default, the two buttons at the left of the main button are used to adjust the DPI settings. The other three are located further down on the housing, beneath your thumb.
If your main goal is to improve your PC's ergonomics, an ergonomic mouse is just the beginning. Another important part of ergonomics is a keyboard wrist rest. These devices help keep your hands at a more sustainable angle while you're typing. We've reviewed several in the past, including the well-engineered Kensington Duo Gel.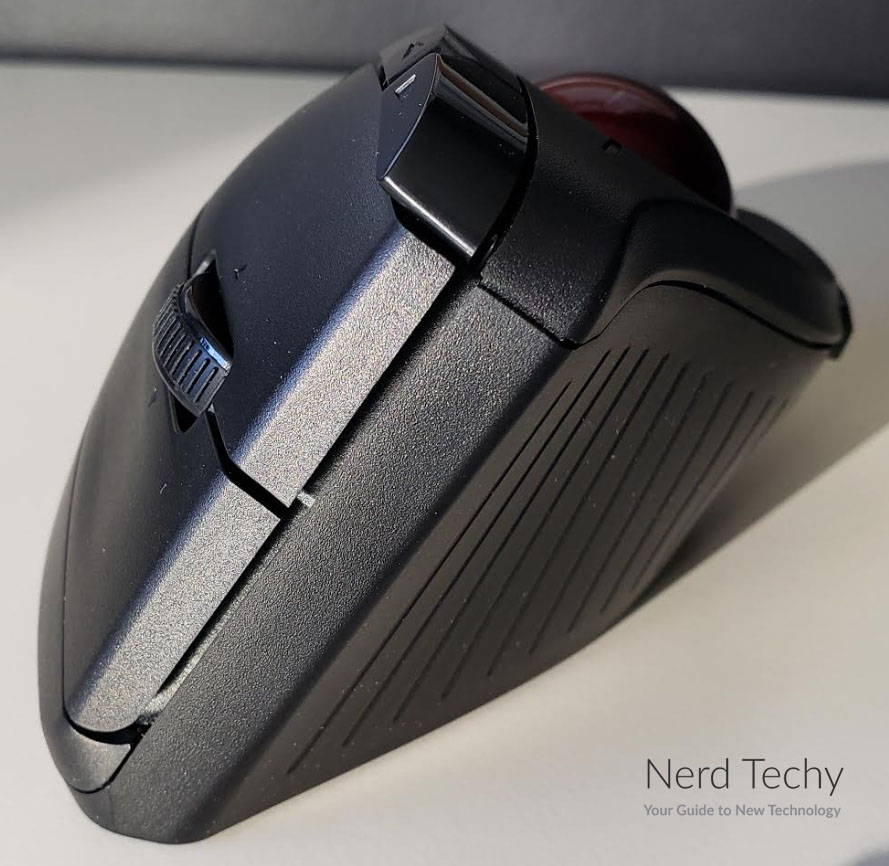 Ease of Use
So, how easy is it to use the Kensington Pro Fit Ergo? We've already established that it's comfortable to use, but ergonomics are only part of the package. In order to work well, a mouse also has to be easy to use in multiple other ways.
Perhaps the most important part of your mouse is the cursor control. With an optical mouse, that would be the optical sensor. With a trackball mouse, that's the trackball. In the Pro Fit Ergo's case, the trackball itself is easy to control. The finish is smooth enough to scroll without any stuttering, but has just enough stickiness that your thumb won't slip. It's also easy to clean. This is important, since dirt, grime, and finger grease can cause a trackball to get clogged up over time. The Pro Fit Ergo has a simple eject button, which pops the trackball out. If you find that you're loosing accuracy, just remove the trackball, clean the socket, and replace it.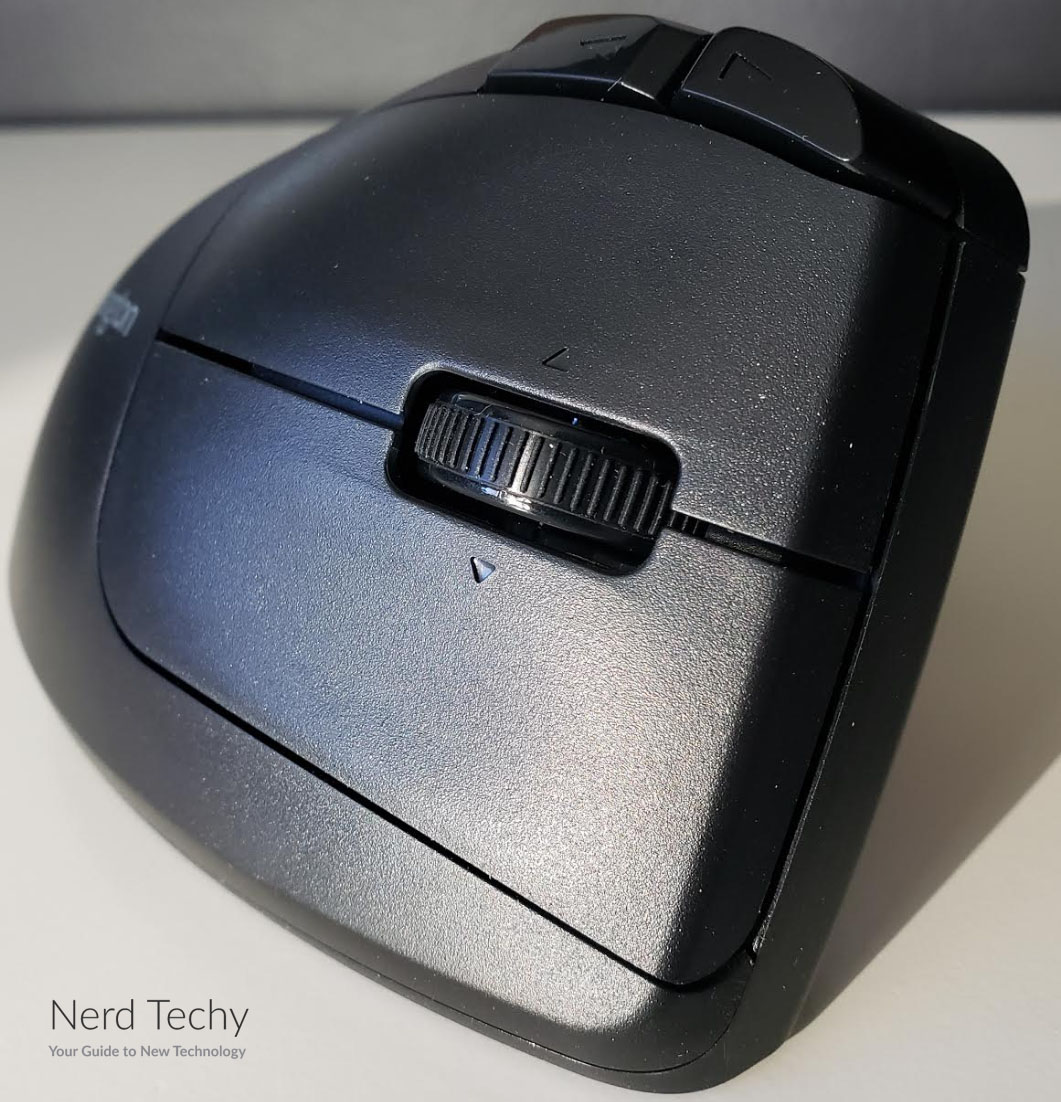 Another feature we appreciated was the adjustable DPI setting. This is a common feature on gaming mice, but in office mice, it's like the Silverback Gorilla; difficult to find. A DPI adjustment simply changes the sensitivity of the trackball. At a higher setting, the cursor will fly rapidly across the screen, while a lower setting will move more slowly. Different settings are useful for different purposes. For example, if you're just answering emails, you might want a higher setting to navigate menus quickly. Conversely, if you're a graphic designer, you'll want a lower setting to get better precision. The up and down buttons by your index finger allow you to adjust this setting on the fly.
Getting the mouse set up is also easy. It's plug and play, both on Windows and Mac machines, so you can get up and running in seconds. Unless you want the three custom buttons, you don't even need to set them up. If you're just looking for an everyday office mouse, this is probably all you'll need to do. That said, there are several benefits from these buttons, which we'll talk about more in a second.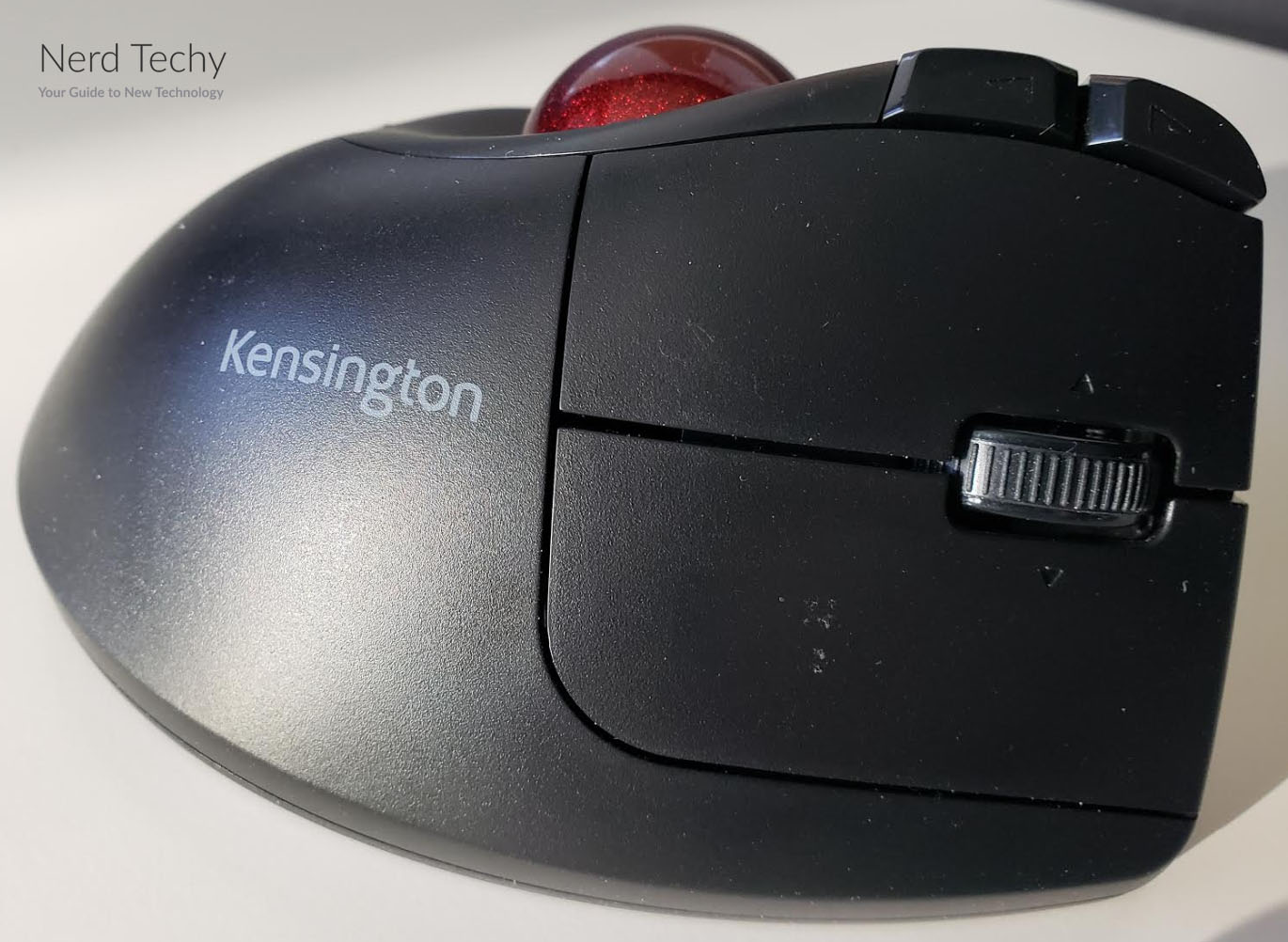 Compatibility and Connectivity
Last but not least, a quality mouse has to connect to all your favorite devices. As we mentioned, the Kensington Pro Fit Ergo is compatible with both Windows and Mac. It will also work with a Chromebook, but the configuration software won't work. As a result, the additional 3 buttons won't be customizable.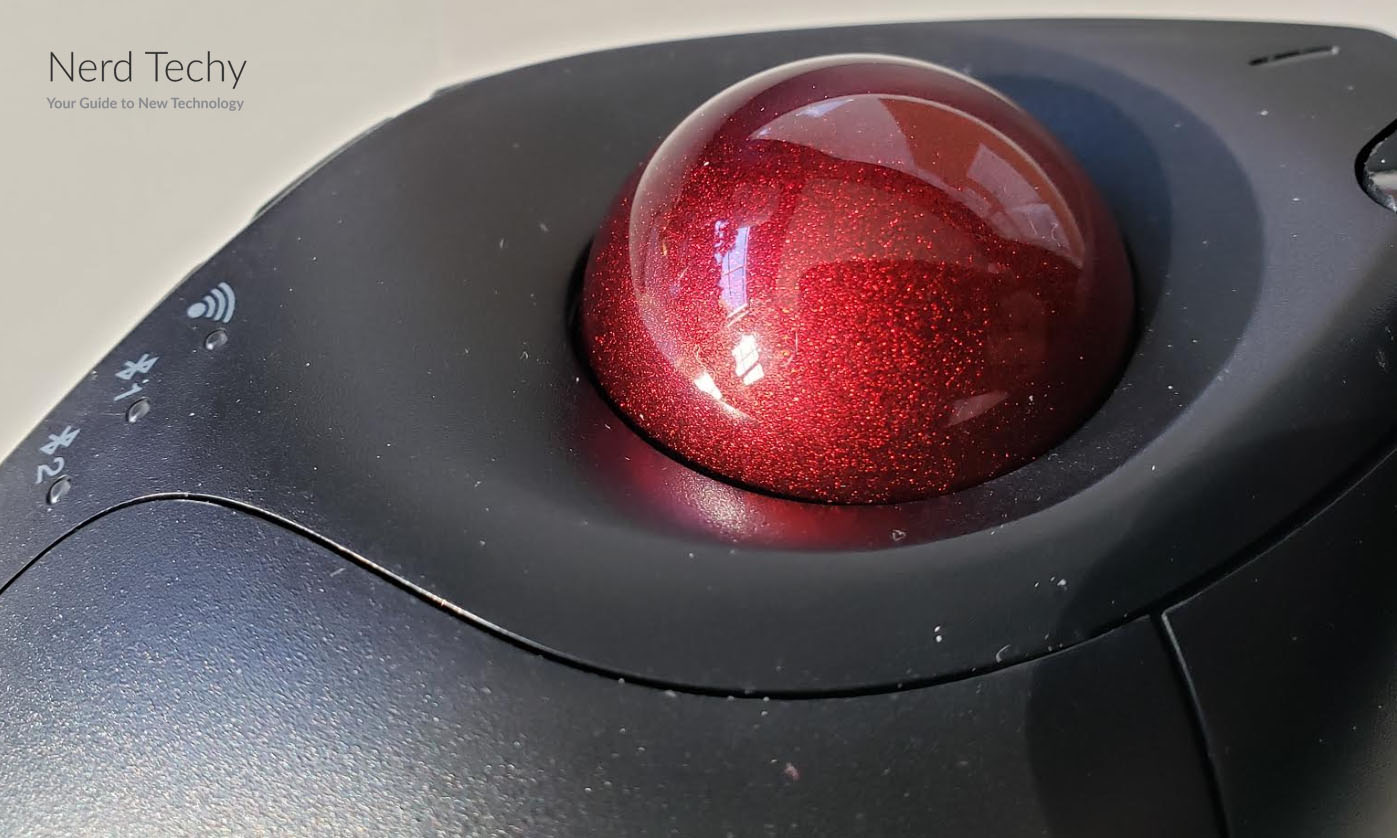 The configuration software is easy to use, and can be downloaded for free on Kensington's site. Scroll down to the bottom of the page, and click the KensingtonWorks link for Windows or Mac. Make sure to download the right version for your system, or it won't install properly. The link will also download a digital owner's manual, which will walk you through customization.
The extra buttons can be programmed for a variety of functions. If you use a lot of keyboard shortcuts, they can be programmed to enter, for instance "alt + tab". You can also use these buttons to act as shortcuts for frequently-used programs. Apply one to your favorite mail client, editing software, or even your iTunes. At the end of the day, this is just a quality of life fix, not a game-changer. But it can still save you time and effort while working or playing.
The Pro Fit Ergo is a wireless mouse, which means you don't have to worry about any wires or tangling. It can connect to up to 3 total devices, so you don't need to re-sync it when you're switching between them. For your primary device, use the 2.4GHz dongle, which is about the size of a thumbnail. When it's not in use, it can be stored conveniently in the bottom of the mouse. The Pro Fit Ergo can connect to 2 additional devices via Bluetooth, so you'll have plenty of options.
The downside of a wireless mouse is that you have to worry about batteries. Thankfully, the Pro Fit Ergo gets up to 18 months of battery life on a single pair of AAs. Obviously, this will depend on how much you're using your mouse, so your mileage may vary. But even with heavy usage, you can expect a full month. In addition, there's an indicator light on top that warns you when your batteries are low.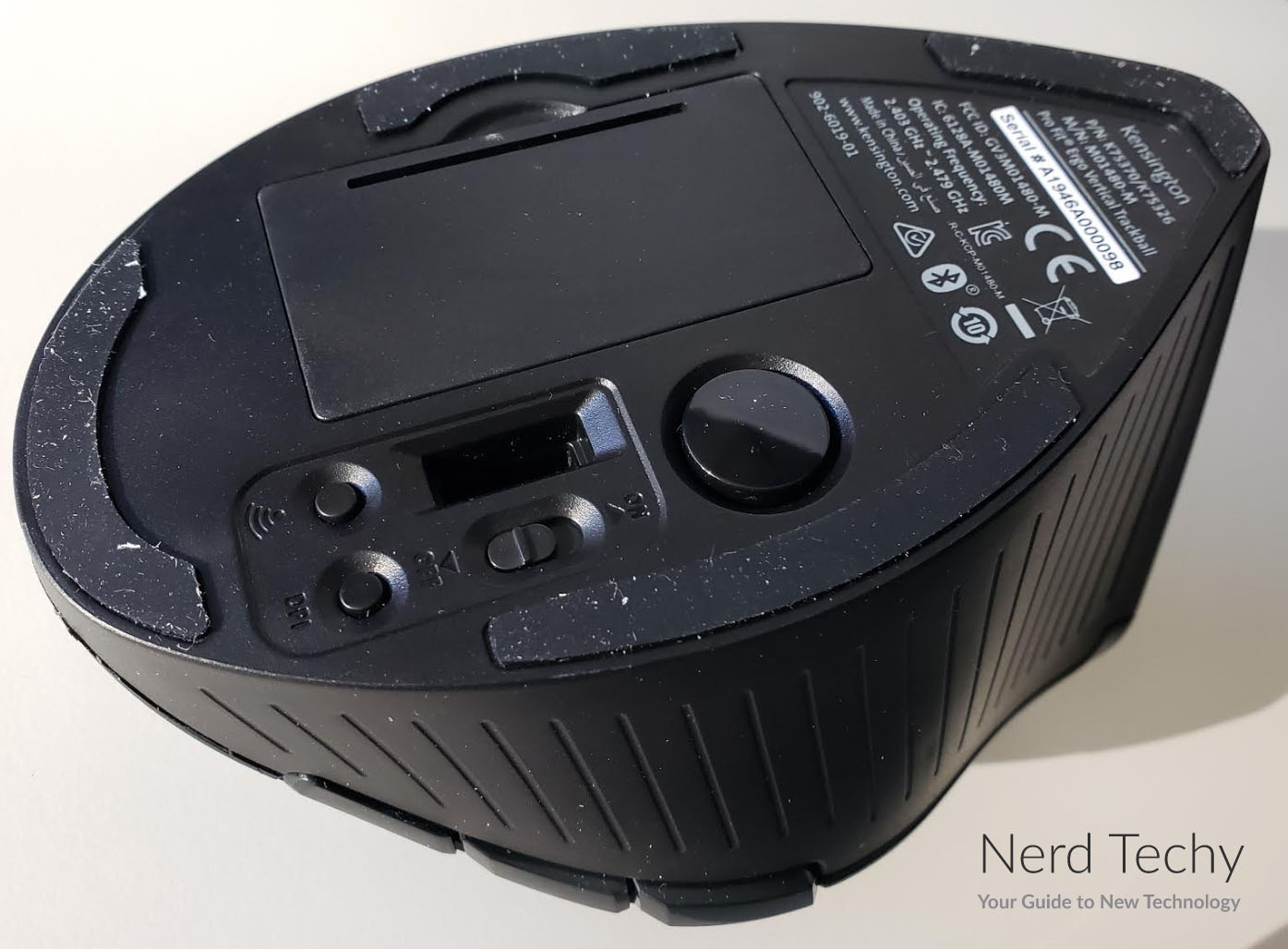 Of course, the Pro Fit Ergo might not be the best choice for everybody. If you want a trackball mouse, but not this trackball mouse, check out our guide to the best trackballs. There, you'll find three additional options.
Final Verdict
At the end of the day, the Pro Fit Ergo lives up to its name. It's designed for comfort, and it delivers. It also allows for plenty of extra functions. The programmable buttons are useful for a variety of functions. And the DPI adjustment makes it easy to perform with either high precision or high speed as needed.