In recent years, home video projectors have been making a major comeback. They allow for easier portability than a large television, and they can also produce a larger image. This is particularly helpful if you want a big display, but you don't have room for a giant TV. Simply hang up a projector screen, watch your 200-inch movie, and put everything away when you're done. You can also take a projector on the road. Not all hotels have the best TVs, so why take your chances? Just bring your projector. Projectors are a solid choice for business travelers, too. If you have to give a presentation, bringing your own projector ensures that you won't get caught off guard.
All of these factors have led to a resurgence of projectors on the market. But this resurgence has come with a downside. Specifically, there are so many choices available that it's hard to tell what's what. Are you getting a good deal, or are you getting a less than stellar product? We can't review every projector on the market, but we can at least have a go at some of the popular ones.
Here, we review two similar projectors: the DBPOWER L21, and the Vamvo L4200. They're both affordably-priced, and they're both designed for portability. That said, there are important differences that are worth considering. We'll cover everything you need to know, from the construction to the video quality.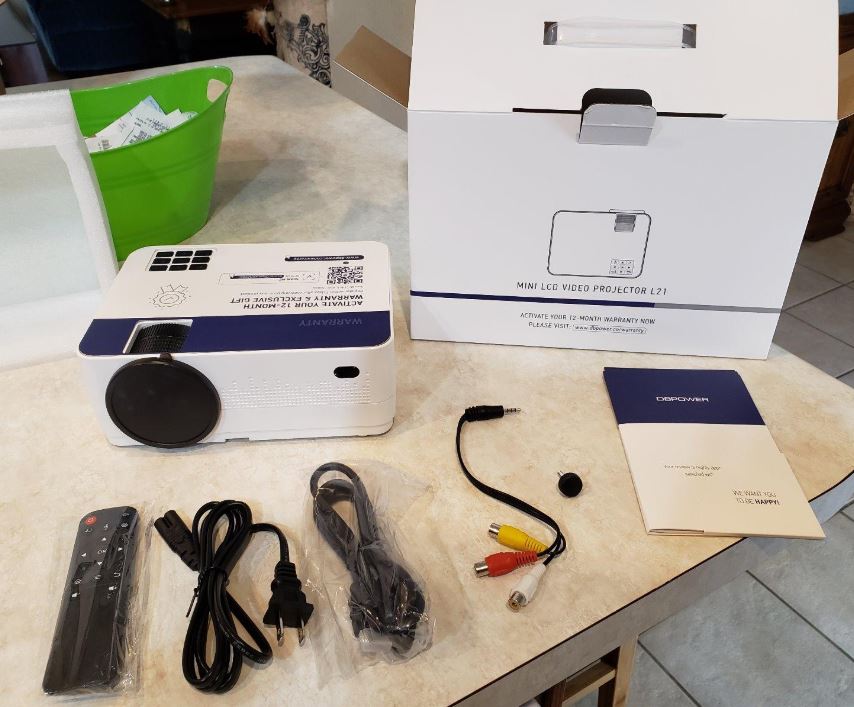 DBPOWER L21
The DBPOWER L21 has a slick, white look that will match the majority of modern electronics. It has a glossy kite pattern on the top, with a DBPOWER logo etched in the corner. The front has a stippled waveform pattern for decoration, breaking up the monotony. On both sides, there are ridged vents toward the front of the unit. This allows for plenty of airflow for the dual fans, which keep the lens cool during long-term operation. The overall size is fairly compact, at 7.4 inches in width, 5.9 inches in depth, and 3 inches in height. It's also lightweight and easy to carry, at only 2.3 pounds.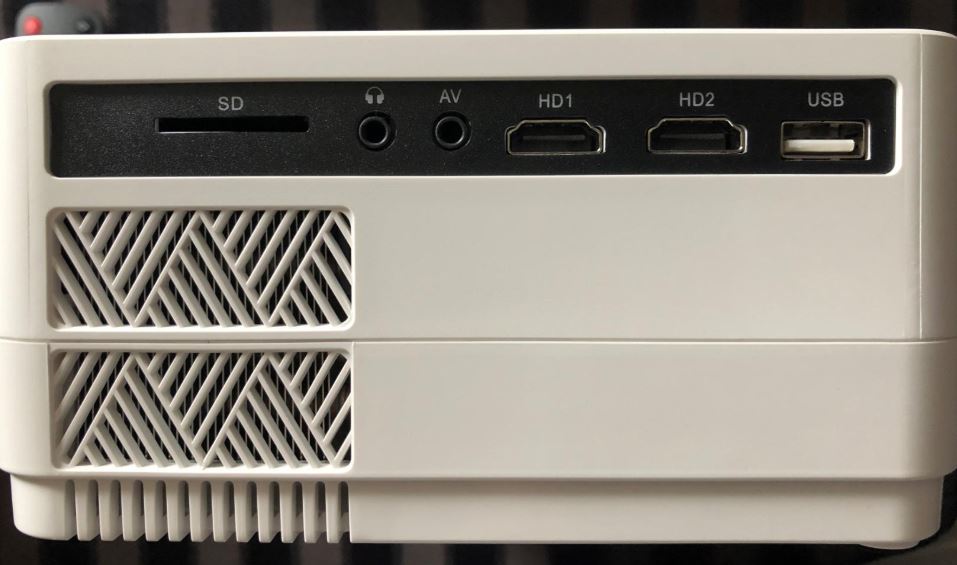 On the right side of the unit, you'll find a jack for the power supply. On the back, there's a standard VGA port for connecting a laptop or PC. On the right side of the unit, you'll find the rest of the inputs. These include 2 HDMI ports, a USB port, an AV port, and a 3.5mm headphone audio jack. There's also a slot for inserting your SD card, allowing you to play video directly from the projector.
The lens is housed in black ABS plastic, which forms an attractive accent on the front of the L21. On top of the lens, there are two rotating wheels. The first adjusts focus, and the second corrects the keystone correction by up to 15 degrees on each side. On top of the projector, there's a simple 9-key control pad for adjusting most functions. This makes it easy to play local video, or to adjust menu settings like brightness and contrast. You can also use the small remote, so you can change these settings without getting out of your chair.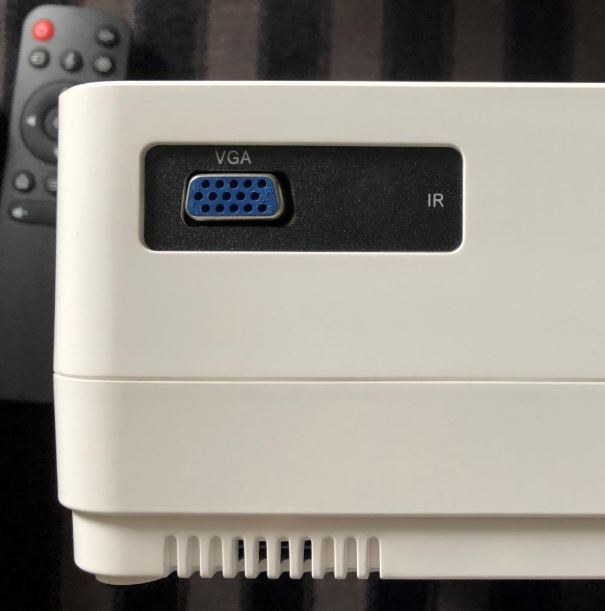 The L21 supports a wide range of display sizes, from 40 inches up to 200 inches. The exact size of the display will depend on how far the projector is from the screen. To get the best focus, DBPOWER recommends a distance of 1 to 5 meters, or about 3 to 15 feet. Positioning the projector is easy. It has an adjustable, screw-down foot that allows you to adjust the angle. You can even put the L21 on your floor and project on your wall.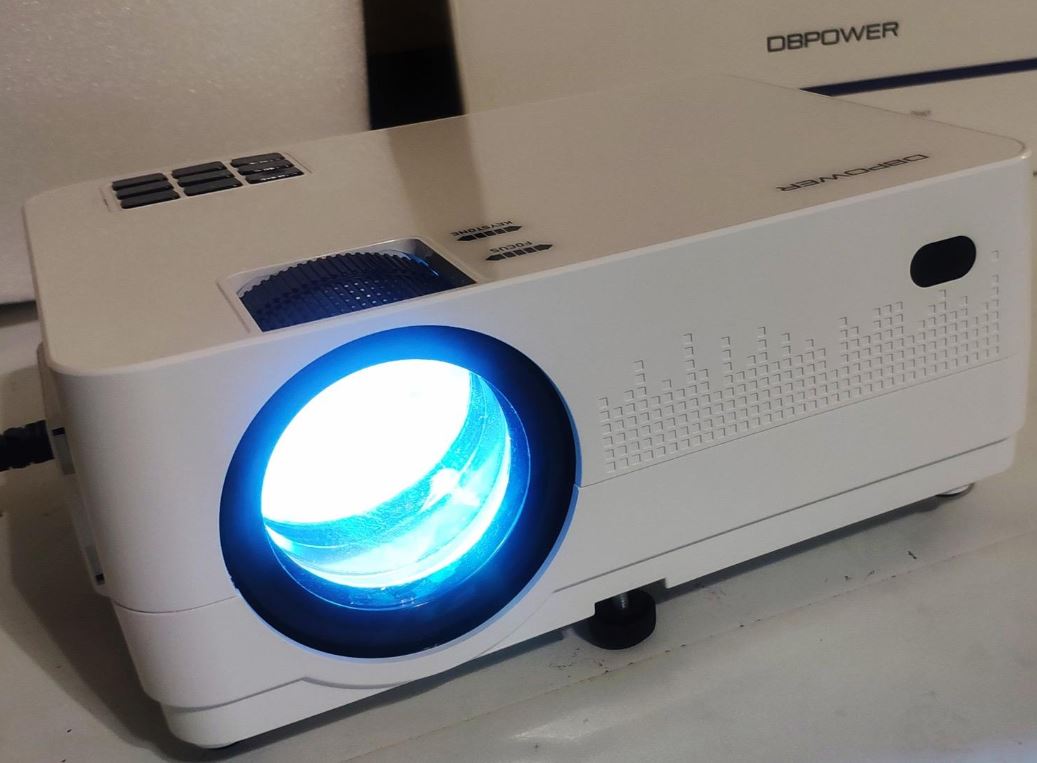 Video Quality & Extras
The DBPOWER L21 has a 4,200-lumen bulb, which is on the bright side for a home projector. It's suitable for a variety of lighting conditions. You can use it easily in a dark room, or even in a room with everyday household lighting. That said, you might have trouble dealing with bright fluorescent lights, which can overpower the L21. The contrast ratio is also impeccable, at 3000:1. This determines the difference between the brightest and darkest colors on the screen. And 3000:1 is the highest ratio that's visible to the average human eye. Some projectors advertise ratios of 5000:1 or even 6000:1, but that's just a marketing gimmick. You won't notice any significant improvement over 3000:1. The bulb is rated for 50,000 hours of use, so it will essentially last forever.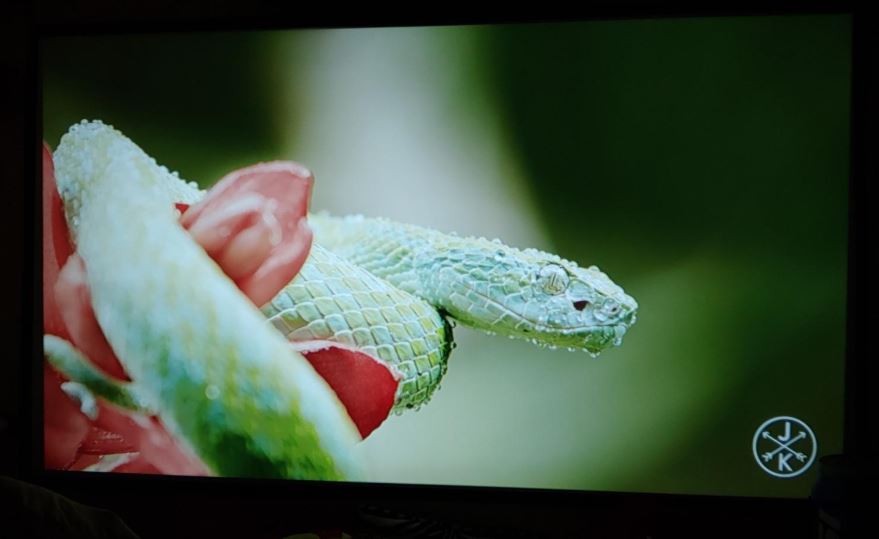 In terms of resolution, the L21 offers a maximum of 720p. This is HD, but it's not "full" HD, which would be 1080p. That said, you can still play 1080p video. The L21 will simply downscale it to 720p when it projects. This isn't ideal, but as affordable projectors go, it isn't bad. In addition, the L21 will also support a 4:3 aspect ratio as well as 16:9. If you're watching old home videos or TV shows, you won't have the dreaded "black bars" on the sides.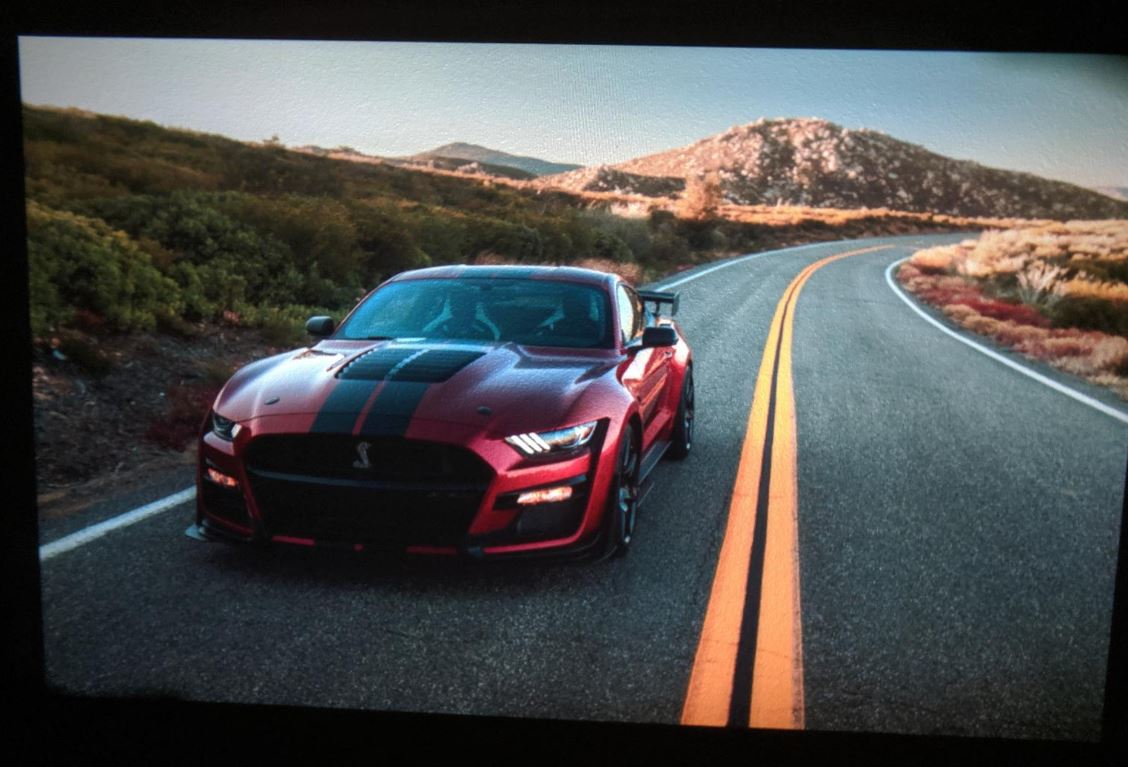 In addition to playing video, the L21 also plays audio. It sports a pair of internal stereo speakers, which are loud enough to listen at a moderate volume. That said, if you want top-tier sound quality, you're going to want a set of external speakers or headphones. The speakers also don't support Dolby, so make sure your audio source is outputting in standard stereo.
The L21 comes with a 3-year manufacturer's warranty. However, DBPOWER requires registration in order to honor this warranty. Make sure to send in the warranty card within 7 days if you want to be covered.
If you want an even more compact projector, read our review of the DBPOWER T21. It's cheaper and more compact than the L21, but the bulb only has a brightness of 2,000 lumens.
Vamvo L4200
Like the L21, the Vamvo L4200 is also designed to be lightweight and portable. It's fairly compact, at 7.58 inches wide, 5.9 inches deep, and 3.43 inches thick. At 2.36 pounds, it's also fairly light. Throw it in your laptop bag or backpack, and it's easy to carry wherever you like.
The RD-822's case is made of ABS plastic, with a white front and top and black back and sides. The sides are vented, allowing plenty of airflow for the dual fans. This keeps the lens and bulb as cool as possible, so you don't have to worry about the case overheating. The lens itself is housed in a silver ring, with black control wheels on top. These wheels can be used to adjust both the focus and the keystone correction.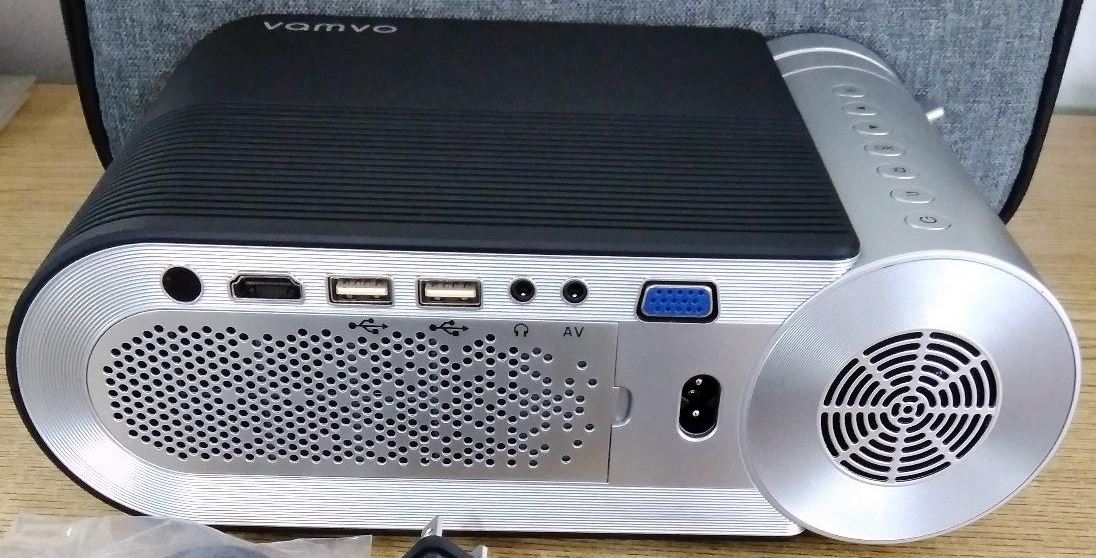 The inputs are located on the left side of the RD-822, including 2 HDMI inputs, 2 USB inputs, and an AV input. Like the L21, the L4200 also has a 3.5mm audio jack for speakers or headphones. On the back of the case, you'll find a basic VGA input for hooking up your laptop. An AV cord and HDMI cord are included in the box, allowing for instant connectivity.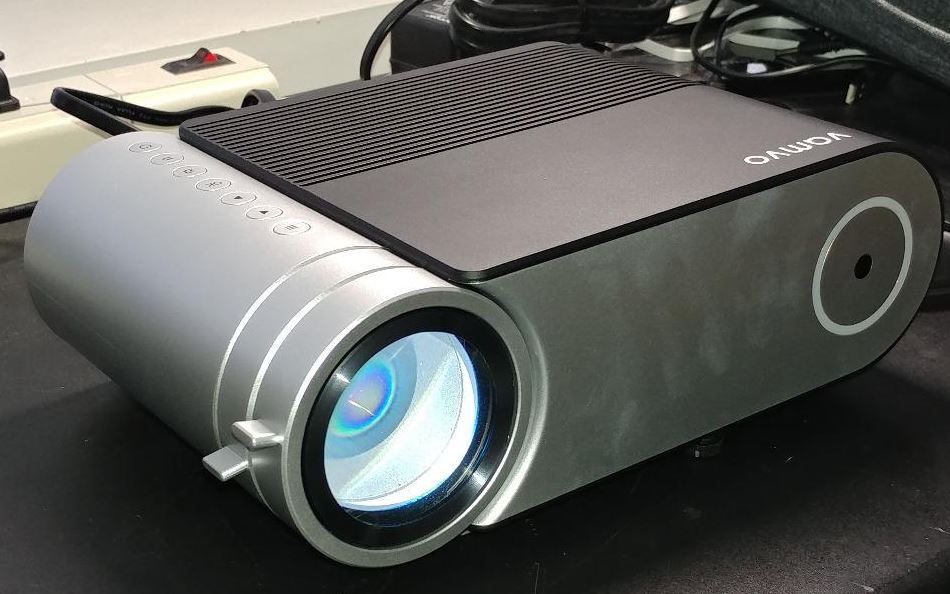 On the top of the projector, you'll find a set of basic control buttons. These white buttons control the menu, the power, and a few other basic functions. There's also a remote included with the kit, so you can easily control the RD-822 from across the room.
The RD-822's display can range from 40 inches to 200 inches in size, depending on how far away the screen is. The recommended distance is between 1 and 5 meters (3 to 15 feet), in order to get the best focus. The one thing we didn't like was the absence of any adjustable foot. The RD-822 can only sit flat, which makes it hard to use from an end table or floor.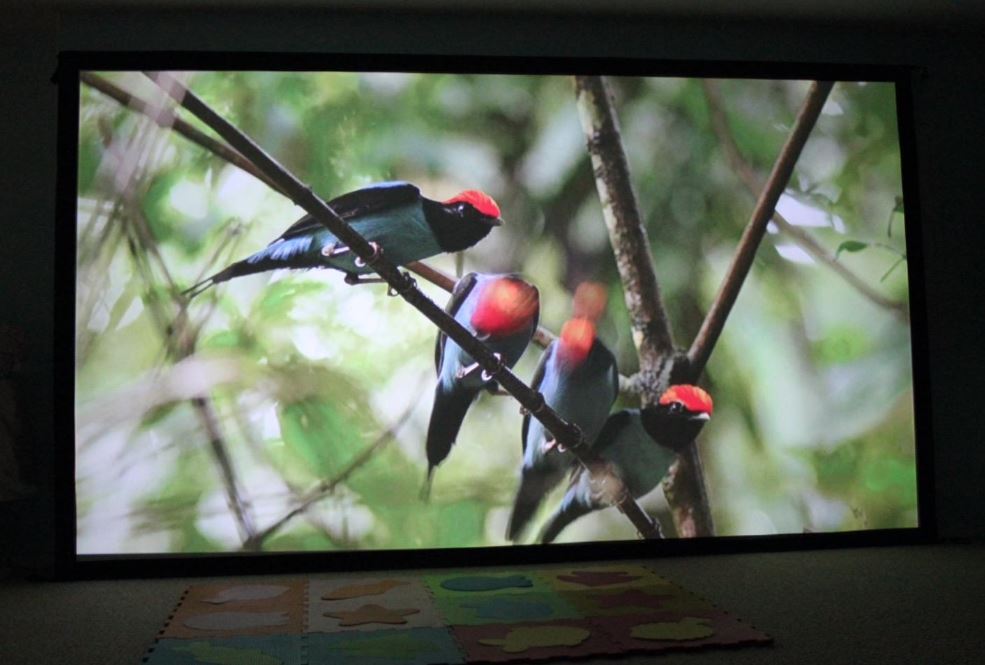 Video Quality & Extras
The L4200's bulb shines at a bright 3,800 lumens. This is bright enough for most normal uses, with the exception of bright fluorescent lighting. If you're in an office environment, you're going to need a brighter projector. The contrast ratio is solid, at 2000:1. This is sufficient for quality blacks and plenty of difference between different shades of color. Like the L21, the L4200's lamp is rated for 50,000 hours, enough to last for a lifetime.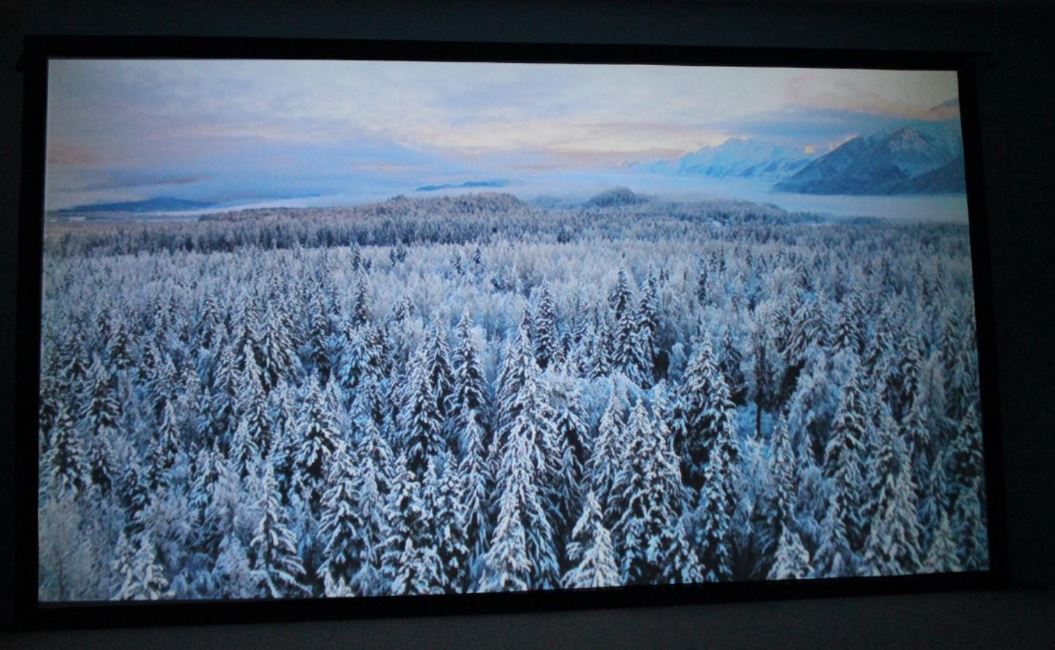 Also like the L21, the RD-822 has a native resolution of 720p. It will still support 1080p inputs, however. This allows you to watch Blu-Ray discs and HD streaming services without any issues. The resolution will just be downscaled to 720p. Built into the case, there are a pair of 5-watt stereo speakers. They're not absurdly powerful, but they're good enough for a small room. And, power aside, the sound quality is reasonably good. That said, like most affordable projector speakers, they don't support Dolby. Adjust your input settings accordingly. If you happen to have any problems, Vamvo offers a 2-year warranty that covers defects in parts or workmanship.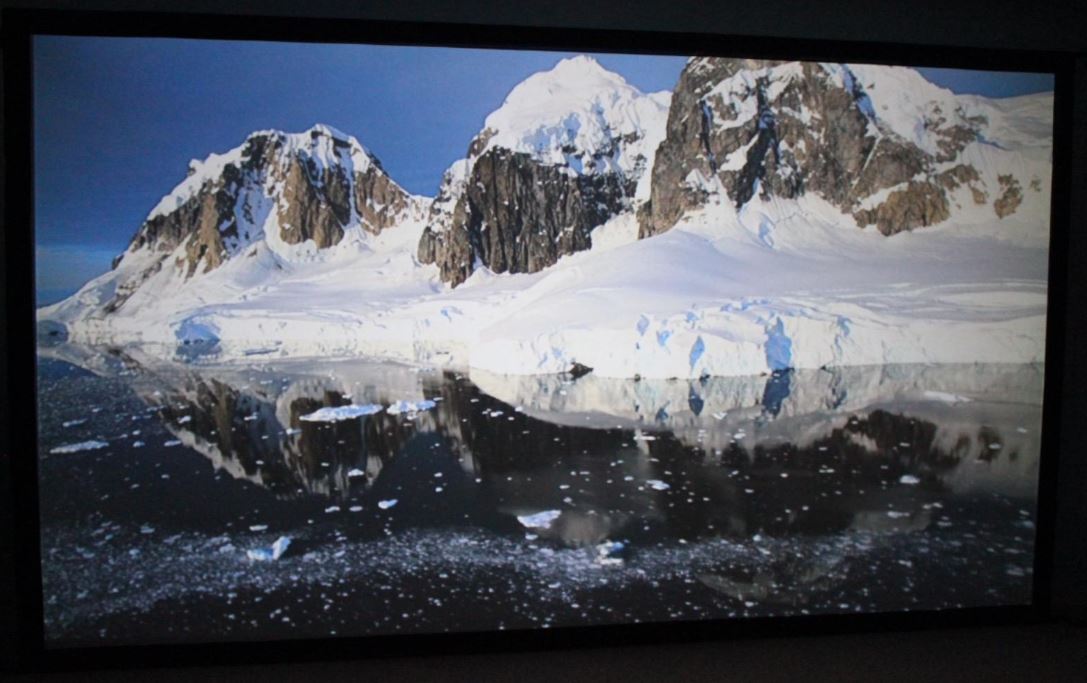 If price is your biggest concern, there are even more affordable home projectors available. For example, we've reviewed the DBPOWER RD-810. It's as budget-friendly as they come, but the 1,000-lumen bulb requires you to turn the lights off for viewing.
Final Verdict
As you can see, the DBPOWER L21 is superior in most regards. Primarily, the build quality is just plain better. You can position it just about anywhere, thanks to the adjustable foot. This is a significant improvement over the Vamvo L4200, which disappointingly requires a flat surface. The L21 also has better video quality. Yes, both of these projectors only offer 720p resolution, which is merely ho-hum as resolutions go. But that said, the L21's 3000:1 contrast ratio is far superior, the best you'll find in this price range. The L21 also offers a 4:3 aspect ratio when you need it. Depending on your viewing habits, you may or may not use this feature, but it's nice to have the option. Finally, the L21 offers an SD card slot, a great choice for taking your favorite videos on the road.
However, the RD-822 has multiple HDMI and USB inputs. This makes it a better choice if you want to simultaneously connect multiple devices. That said, in most regards, these projectors are fairly similar.