Anyone who's had to think about installing security cameras will be familiar with some of their limitations. More often than not, it's a struggle to find a power outlet, a Wi-Fi connection, or a hard-wired Ethernet cable. Requirements like that greatly constrain where and when you can use a security camera, especially when it comes to needing Internet access in remote areas. If the space you're looking to survey is even slightly outside of an accessible Wi-Fi network, then as far as most security cameras are concerned, the area you want to survey may as well be on the opposite side of the moon.
Fortunately, there's an alternative to Wi-Fi access, and it's the same technology that powers our smartphones. For devices that need Internet access where Wi-Fi isn't available, it's often possible to take advantage of 3G or 4G cellular networks. Connecting through cell towers that are present nearly everywhere, it's a solution so simple that it's hard to imagine why it hasn't been tried until now.
Reolink Go 4G Wire-Free 4G Rechargeable Security Cam
In more ways than not, the Reolink Go is a fairly standard security camera. But while it continues to support essential features like Wi-Fi, its primary mode of operation takes advantage of 4G-LTE mobile networks. That allows the Reolink Go to circumvent Wi-Fi related problems while keeping the device completely wireless. And lacking the need for an outlet, it's easy to attach and install the Reolink Go in an extremely wide variety of circumstances.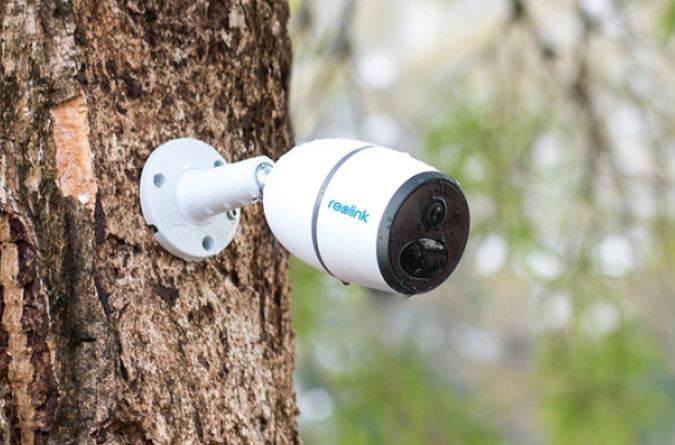 Build & Design
As the name "Go" implies, this camera is built with a highly portable design. It's completely wireless, unless you choose to set up a solar panel. Its simple design makes it generally easy to work with, and easier to move the Reolink Go from one site to another. Whether you're traveling or you're trying to survey a number of locations, the Go's lightweight design is good for helping it record from almost anywhere.
The external white casing of the Reolink Go has an incredibly unassuming and generic appearance. But with close examination, you'll find a working status indicator the Go's front side, and a speaker positioned on its mounting base. Adjacent to the speaker is the USB charging port. The rest of the important parts are tucked away inside, most notably the SIM/SD card slots, which can only be accessed by removing the battery from the base.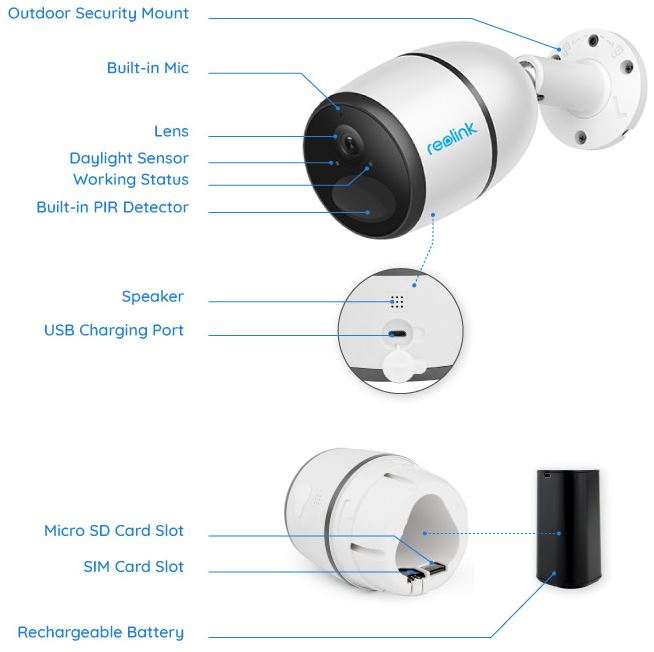 Relative to average security cameras, the Reolink Go is somewhat compact, standing roughly 4.4-inches across and 2.4-inches tall. Its small enclosure helps the device to be IP65 weatherproof, which means rain is no obstacle. An IP65 rating means even a being sprayed with a hose isn't going to be a problem for this camera, though it's not rated for submersion, so don't try sticking it in a pool. Short of underwater excursions, the Go is equipped to record from almost anywhere, thanks to its wide operating temperature between -10° to 55° Celsius.
Connectivity
When there's no Wi-Fi network available or you're dealing with an unstable connection, then you're going to want an alternative. And The Reolink Go's use of a 4G mobile network helps support a powerful camera over a rapid connection. Supporting every American cell carrier, the Reolink Go makes it exceptionally easy to use the popularity and availability of mobile networks to your advantage.
But the Go isn't restricted to using 4G networks. It's also capable of hopping on Wi-Fi networks, which helps maintain the versatility of its design. If wireless networks aren't how you want to connect, you can always take advantage of the SIM/SD card slots. While those slots are limited to 64GB, that's more than enough recording for several days of HD footage.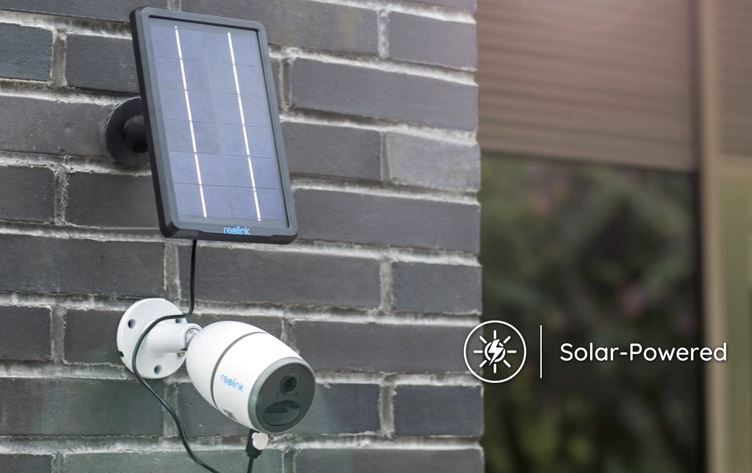 Camera Quality
The camera itself is somewhat average compared to similar security cameras. It shoots in full 1080p HD resolution, for both videos and images. One of the better design decisions they made was to create a wide 130° viewing angle within the lens. That wide angle is important for helping the camera capture a large space with fewer blind spots. It prevents you from ending up with captures that contain a bunch of unnecessary capture in the highest and lowest margins your shots. In other words, it lets you see more relevant footage.
Another feature that's equal parts essential for security cameras is night vision. It would be largely pointless to have a camera that's only effective at seeing during the day, especially when it comes to a security cam. Fortunately, the Reolink Go features what's called Starlight Night Vision. That infrared based technology helps the Go capture small details in poor lighting conditions as far away as 33 feet. It's a feature made possible through the help of an impressive 2.0 megapixel CMOS sensor, which provides a higher degree of clarity without the need for external lighting.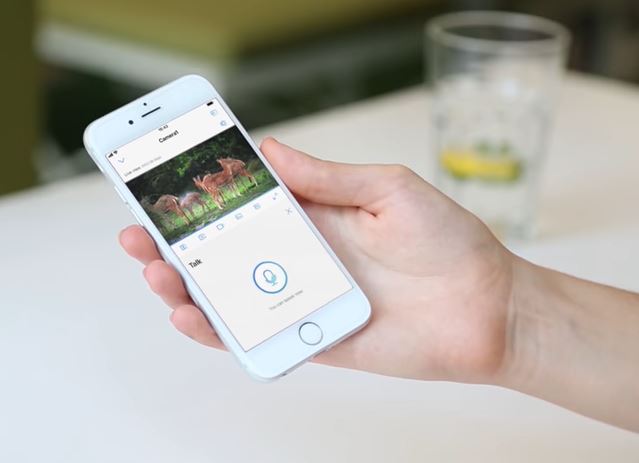 Power & Battery
Another thing that makes this camera distinct is its freedom from power outlets. Inside the Reolink Go is a lithium ion battery that's fully rechargeable, and offers up to 500 minutes of live view or motion detection recording. After you've gone through those eight hours of consecutive recording, you'll need to settle in for a two or three-hour recharge. Those impressive times are possible thanks to a large 7800 mAH battery, which also helps equip the Reolink Go for two months of standby time.
Noteworthy Features
The central feature set of any camera like this are security based. And the Reolink doesn't disappoint, designing the Go with a Smart PIR motion sensor that can help provide you with actionable alerts. Those alerts can be pushed to your attention through emails or app notifications. Furthermore, you can alert others that they're being recorded with the use of a siren on the camera. As far as false alarms go, the PIR motion sensor is finely tuned to detect human motion with striking accuracy. You can also save motion-detection recordings to the Cloud through Reolink's own cloud software.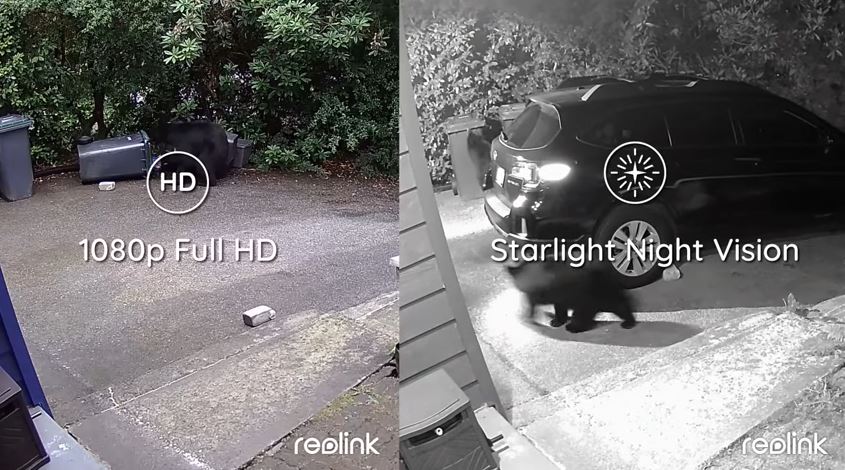 Another security feature that's common on these types of cameras is two-way audio, and the Reolink Go again delivers. Its built-in speaker and microphone allows you to interact with someone through the camera over your smartphone. You can also use that speaker to create customized voice recordings which can be played in place of the siren.
If you insert a micro SD card, you can unlock the Reolink Go's motion record feature. From there, you can access those saved recordings through the Reolink smartphone app. Unfortunately, SD card support is limited at 64GB, at which point you'll need to switch cards, or take advantage of the Reolink Cloud service. The good news is that 64GB is more than enough storage space, especially if you intend to use it for motion capture. While it's not as limitless as 128GB, it still means you'll have to do almost no micromanagement of your data.
Finally, there's the solar option. While the Reolink Go has a fairly powerful battery, sooner or later it will need to be recharged. That will mean getting physical access to the Go, pulling its battery, and involving some cords in your life. But in the interests of being truly independent and wireless, the Reolink Go can be connected to Reolink's own solar paneling for an endless supply of power. Because the Go isn't exactly a power hungry device to begin with, the solar panel option is a good choice even for someone who lives in a somewhat cloudy area.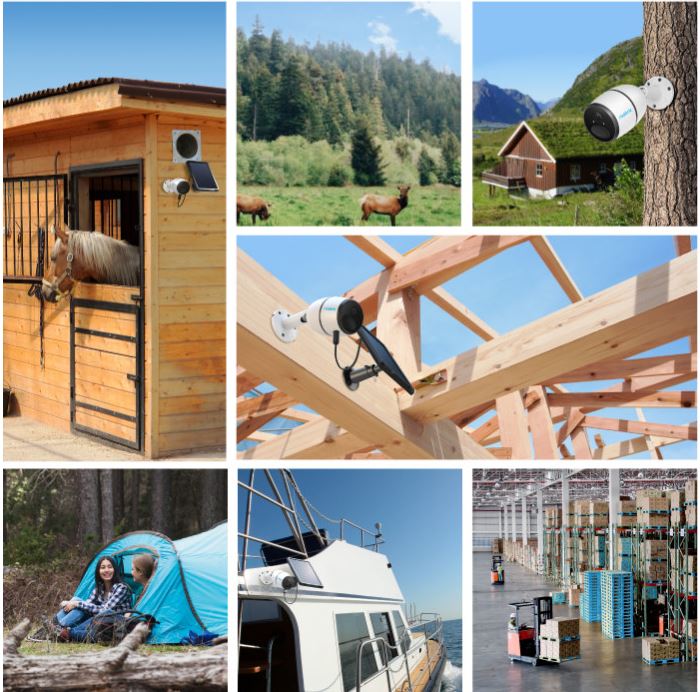 Ease of Use
The Reolink app is supported by both Android and iOS, and is equally robust on both platforms. While the app is easy to use and professionally designed, it does lack a depth of customization that you'll see in security cameras without 4G connectivity. For example, you're notable to manually adjust the sensitivity of the motion detection feature. Those are the kind of small features you'll see piling up among security cameras that are bound to Wi-Fi connections, but are ultimately lacking from the Go. On the other hand, the lack of advanced features only makes the Go all that much easier to use.
Price Point
Depending on the features you expect from a security camera, the Reolink Go can offer a strong value. It's hard to compare the Go to other similar devices, since its unique 4G and solar-based design means that it has no real competitors. But if you were to compare the Go to Wi-Fi cameras, you'd find the Reolink Go is about average in price.
If you're looking for something more economical, you might want to consider the addition of their solar panel. Adding the panel only adds on a couple of bucks, and apart from all the time and effort you'll save micromanaging the battery, the panel will gradually pay for itself in the form of free electricity.
Other Considerations
The fact it this camera doesn't shoot 4K might be an issue for some people, but shouldn't be considered a detriment because UHD shots aren't within the spirit of this device. For a security camera, 1080p is as high resolution as you need to go. While there is no SD card included, that would've only added on to its price tag, so it's hard to complain about that as well.
One legitimate compliant you can level against the Reolink Go is that its support software doesn't work with desktop computers. You'll need to use the smartphone app if you want to interact with the Go.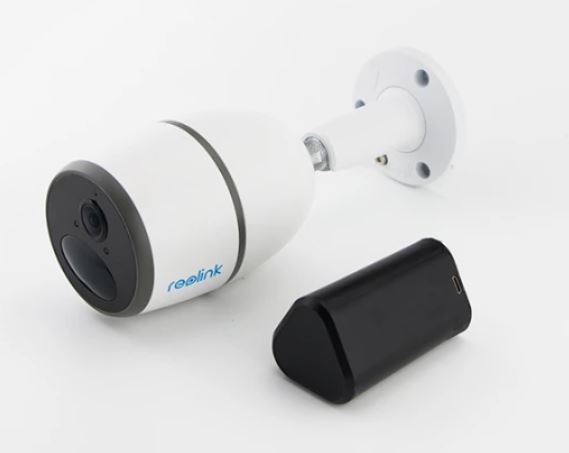 Who Should Get the Reolink Go?
If you're trying to record where there's always a stable Wi-Fi network, then you don't need the Reolink Go. When you can deal with traditional connections and wires, you'll find plenty of advantages for doing so. But for mobile video monitoring where Wi-Fi connections or power outlets aren't available, ordinary security cameras aren't going to work. The Reolink Go is an excellent choice for anyone who finds themselves on those circumstances.
For providing security footage around a dock or construction site, it has a wide range of security features which make the Go an easy choice to make. Unlike similar security cameras, you won't often find yourself micromanaging the battery. And if you can make use of Reolink's solar paneling, you'll end up with functionality that goes far beyond any other security camera on the market. For taking recordings off the grid, there are plenty of circumstances where you literally can't do better than the Reolink Go.
Meet Derek, "TechGuru," a 34-year-old technology enthusiast with a deep passion for tech innovations. With extensive experience, he specializes in gaming hardware and software, and has expertise in gadgets, custom PCs, and audio.
Besides writing about tech and reviewing new products, Derek enjoys traveling, hiking, and photography. Committed to keeping up with the latest industry trends, he aims to guide readers in making informed tech decisions.