Quick Analysis
Pros
Excellent comfort, easy to wear for consistent listening.
ANC feature works well and makes for a richer listening experience.
Small size yet very durable.
Earbuds are completely waterproof.
Transparency mode is a nice bonus.
Cons
Bass and sound become distorted at maximum volume level.
Charging case is not waterproof.
Only available in black.
Wireless earbuds are all the rage these days. If you don't own your own pair, you might be looking far and wide for the right set for yourself. Like others, Amazon is likely the first place you'll search. However, doing so may bring on a sense of overwhelming indecisiveness. What we mean by that is that there are literally thousands of different ones to choose from. If this sounds like you, you may have even discovered the latest release from Coumi.
The ANC-860 True Wireless Earbuds are the latest in the lineup of ANC earbuds offered by the Coumi brand. Coumi is a relatively unheard of Chinese-based manufacturer that specializes in affordable yet feature-rich audio products. While they're definitely uncommon, when it comes to Bluetooth earbuds, most offerings on Amazon are just that. But don't let that persuade you in the wrong direction. Here at NerdTechy we've reviewed thousands of small-branded audio products, with only a small percentage of them being total trash.
Note: At no extra cost to you, we may earn a commission for purchases using our links. Learn more.
Today we're going to take a deep dive into these new-release earbuds and give them a run for their money. We'll look into the features and see exactly what they have to offer. At the end, you'll have a much better understanding of what they're like and the kind of audio they're capable of. Let's get right into it.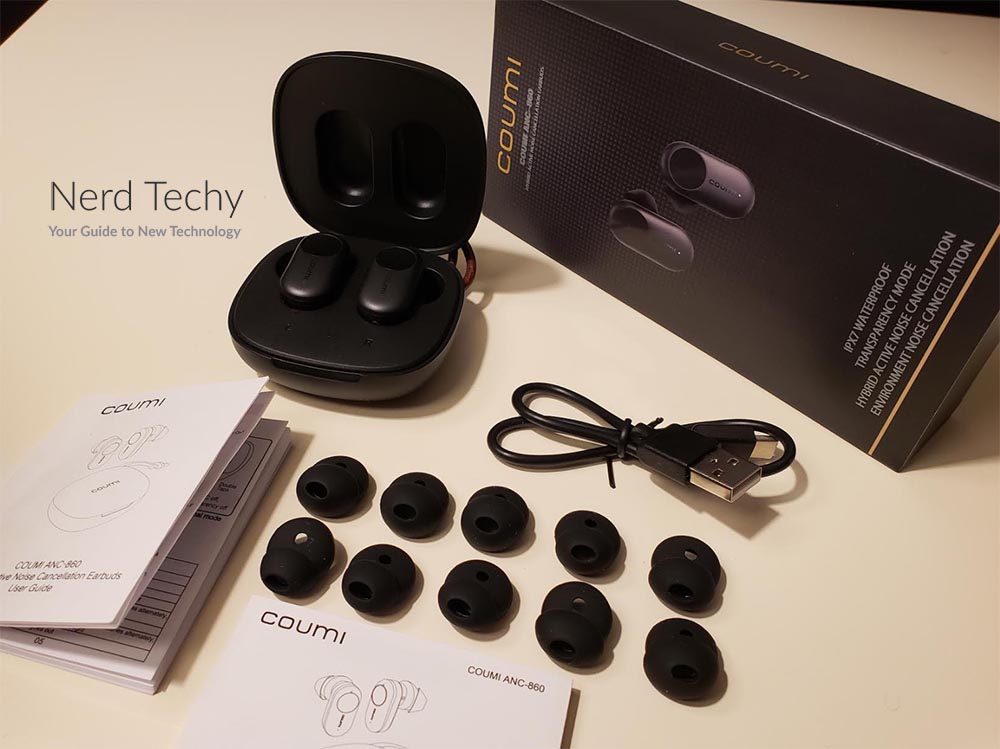 First Look
Taking the Coumi ANC-860 wireless earbuds out of the box for the first time, you'll immediately notice their small form-factor. The matte-black carrying case, measuring about 2.5″ x 2.5″ x 1.3″ tall, comes with a clamshell design and a small leather lanyard attached. Opening it up, the earbuds lay rested in-place with a small piece of plastic film around the charging pins to keep them turned-off during shipment. Grasping on each earbud, you'll notice each of them is magnetically nested into position.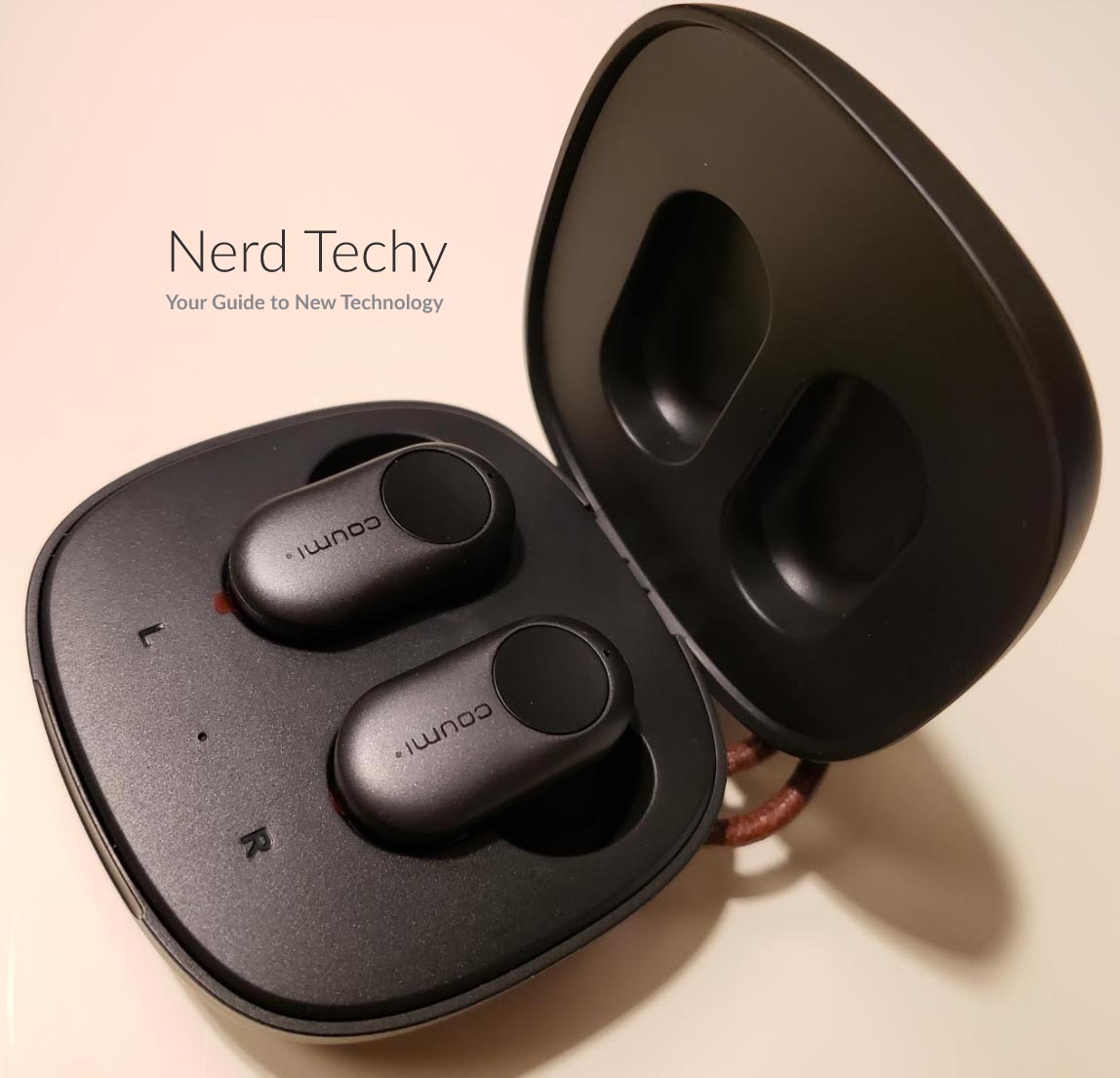 In addition, you'll notice a small compartment of accessories in the box. Here, you'll find the USB-C charging cable, user guide, warranty card, quick start guide and five (yes, five) extra pairs of silicone ear tips of various sizes.
Moving on, the first thing you'll want to do is remove the bit of plastic film from each earbud. This will create contact between each earbud and the charging case, effectively charging the individual earbuds internal battery once you place them back in the case. Although they come with a partial charge, we highly recommend letting the earbuds rest in the case while plugging in the USB-C charging cable to a nearby power source. This will assure that they work well for first-time use. If you're too anxious, you can skip this step, but be aware that you probably won't be able to listen to them initially for that long.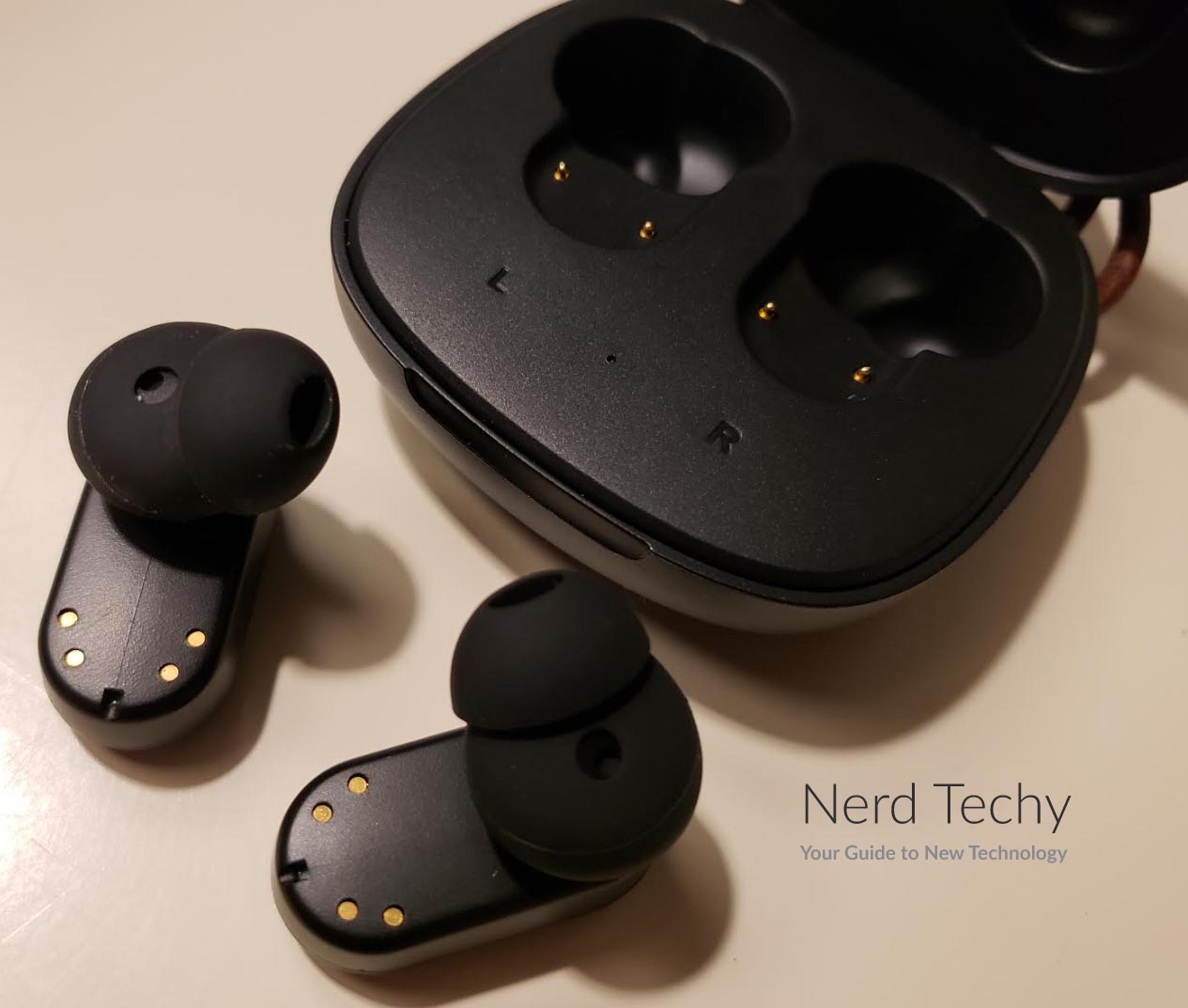 Comfort
Picking up the earbuds for the first time, you'll likely notice how lightweight and compact each bud is. Each one is around 1.25″ in length with a width of around 0.7″. Flip it over and you'll see the "earplug" shaped tip with the silicone cushion nestled around it. At this time, you'll want to make sure you achieve a proper fit. It's crucial to acquire a fit that's snug yet free of pain or pressure points. Take a couple minutes to swap out the tips for the ones that feel the best. Not only will this assure a long-lasting, comfortable listening experience, it'll help isolate noise and work in conjunction with the ANC to keep out unwanted background noises.
Save 50% with code "3Y4TK863" when you buy the Coumi ANC-860 earbuds on Amazon
Placing them in your ears for the first time, take note on how they're oriented. Make sure you place the left earbud in your left ear and the right earbud in your right with the "black circle" on the exterior of each bud facing upward, and the end with the metal charging contacts facing downward, towards the front of you. This will orient the "Coumi" logo right-side up on your right ear, but upside down on your left ear. Kind-of weird how they end up like this, but there you have it.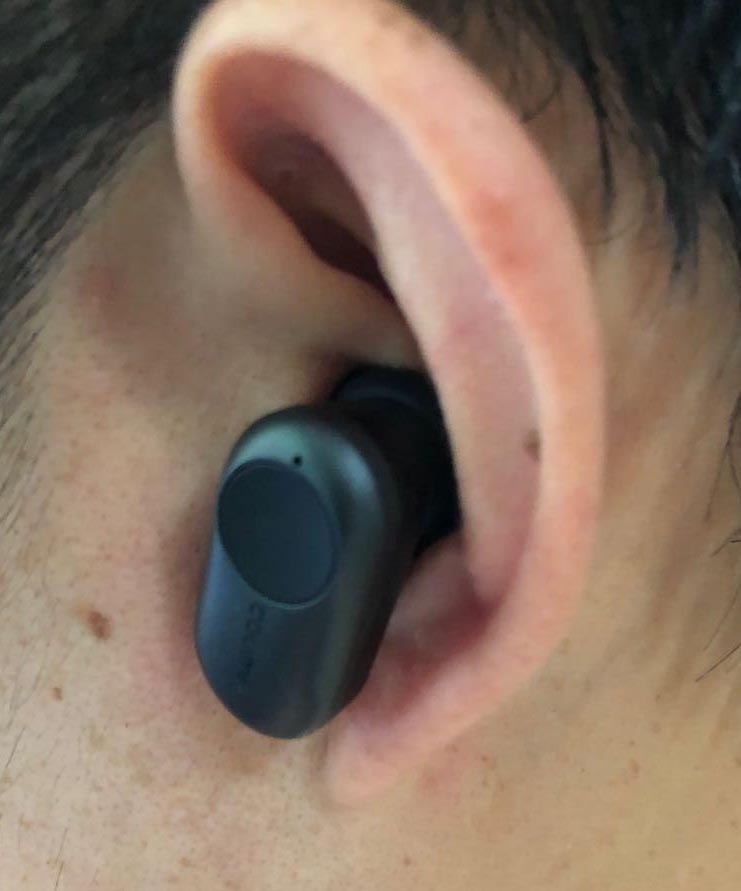 We felt like the comfort was excellent. Throughout several 2-3 hour listening sessions, we can confidently say that they felt great in our ears. No nuisance of inner-ear pain or problematic pressure points for us. Additionally, they felt snug and wiggle-free without any movement, even when moving our head back and forth in a rigorous motion. In fact, we even tried them while running, mountain biking and even rock climbing in the gym. Each time, no issues with excess movement or discomfort. Their compact form-factor and lightweight design seems to bode well with comfort in the long-run. It's clearly evident that these were crafted for working out and for wearing while participating in sports or physical activities.
Audio Quality
The quality of the sound is arguably the most important factor when it comes to choosing wireless earbuds. With the Coumi ANC-860's, we started off by listening to some classical rock music. We were immediately impressed with the amount of clarity the audio had, with the right level of bass and treble to make the acoustics sound bright and vivid. This held true with the folk rock we enjoyed next.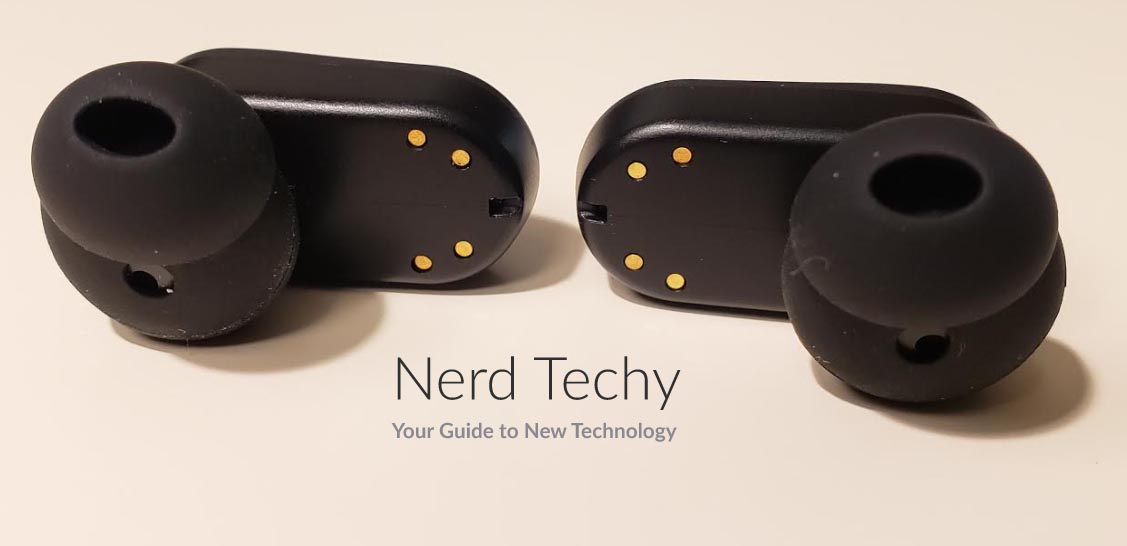 For the other end of the spectrum, rap and hip hop sounded pretty nice. The earbuds produced deep bass without any distortion or otherwise ugly effects, unless we turned up the volume too much. If cranked up to the maximum, it's easy to notice a bit of fuzziness and tearing, with poor separation between sounds. We found that if you keep the volume turned down a bit, to a more-normal level (under 80% volume), you're going to experience the best sound quality possible. Moving past this level isn't realistic for most people anyways as these buds can get pretty loud.
Music that's rich in vocals and harmonic melodies is likely where the ANC-860's will accel. The bass is decent, but not worthwhile for those "bass-head" kind of people who really want to hear the music bump. If that's what you're looking for, you might want to try an over-ear headphone like the Tranya H10. Yes, they're not compact earbuds like the ANC-860's, but they have a much richer soundstage.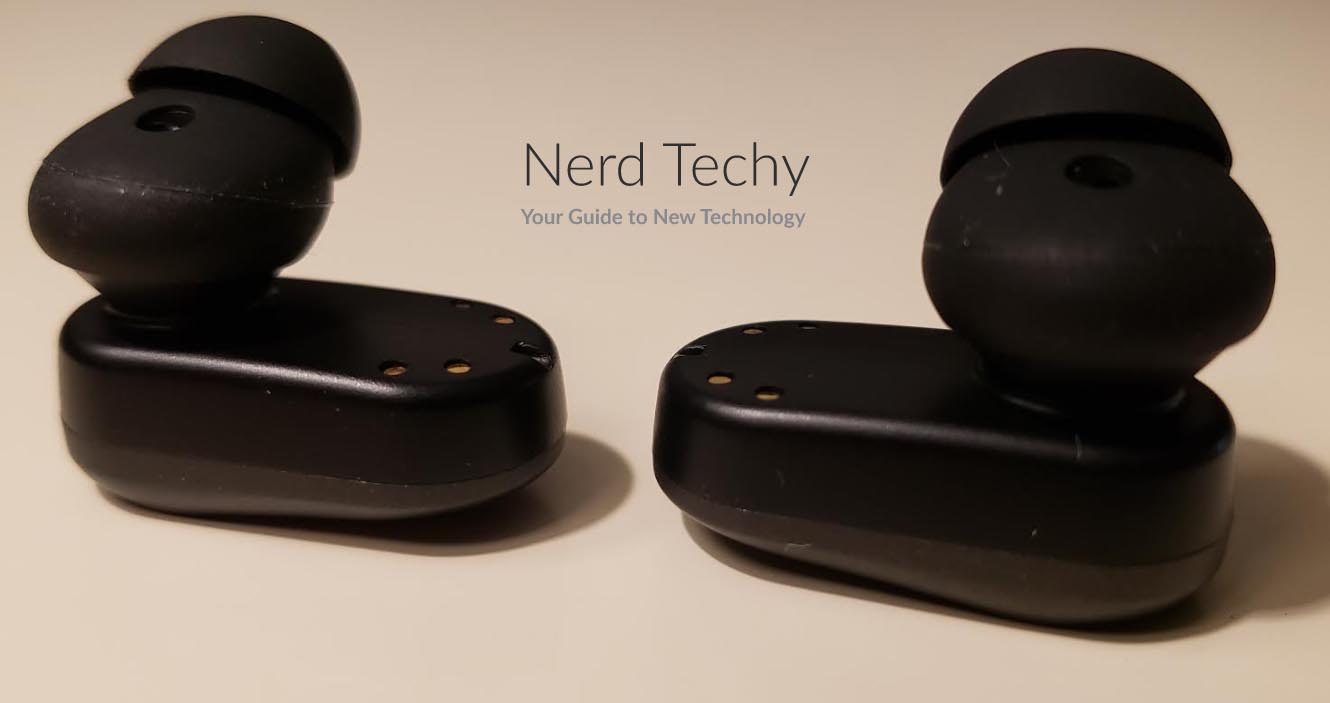 Inside, is a nice-sized 12.5mm speaker driver that seems to perform quite well. This, in conjunction with the latest version of Bluetooth 5.0 assure nice-sounding effects that are actually very desirable to listen to.
Noise Cancellation
The Coumi 860 earbuds are equipped with active noise cancellation, a much desired feature in this day and age. ANC blocks out unwanted background noise for much more immersive sound and overall better listening experience. We highly recommend utilizing the ANC feature as much as possible. It gave the music a much crisper and deeper effect. We found ourselves turning it on each and every time we used the buds. However, keep in mind that ANC must be manually turned on. To do this, simply tap the left earbud twice to toggle between ANC mode, transparency mode and normal mode.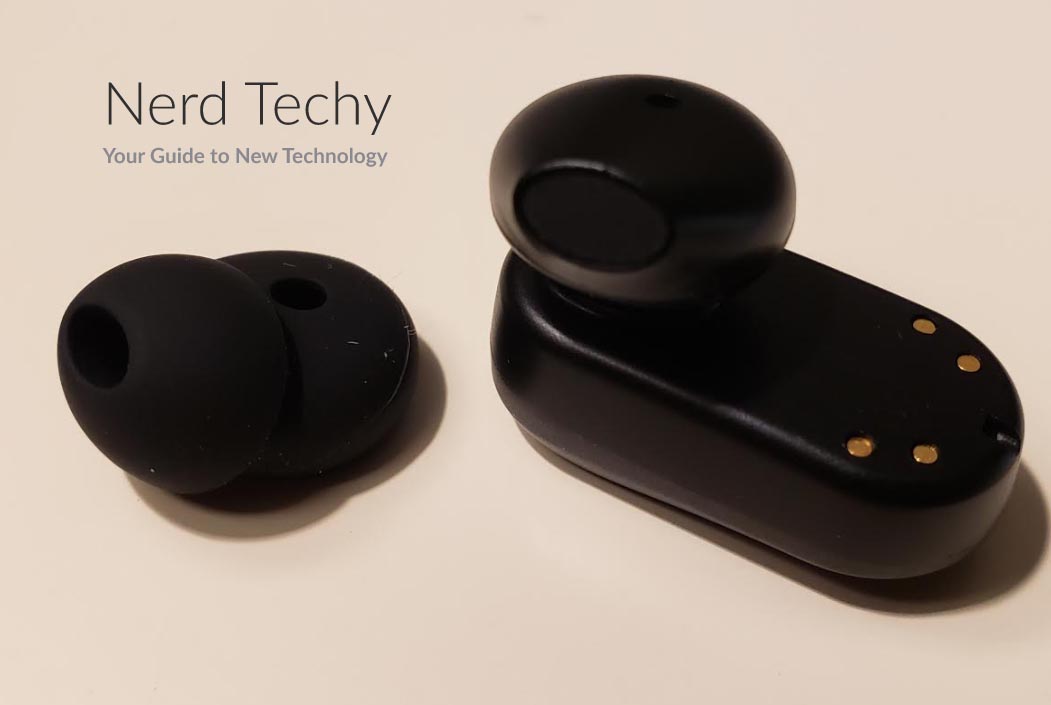 There's only one small downside to using ANC; it depletes the earbud batteries about 25% quicker. Not a big deal for most people, but something to keep in mind if you're trying to maximize your listening time.
Transparency Mode
One feature that we found surprisingly nice to have is the transparency mode. With this activated, it disables ANC and lets in more ambient sound from whatever environment you're in. Think of it as the complete opposite of noise cancellation. Theoretically, it lets you hear as if you're not wearing the earbuds. How well does this work? Pretty well, in fact. We haven't found ourselves using it often, but we tested it out on several occasions.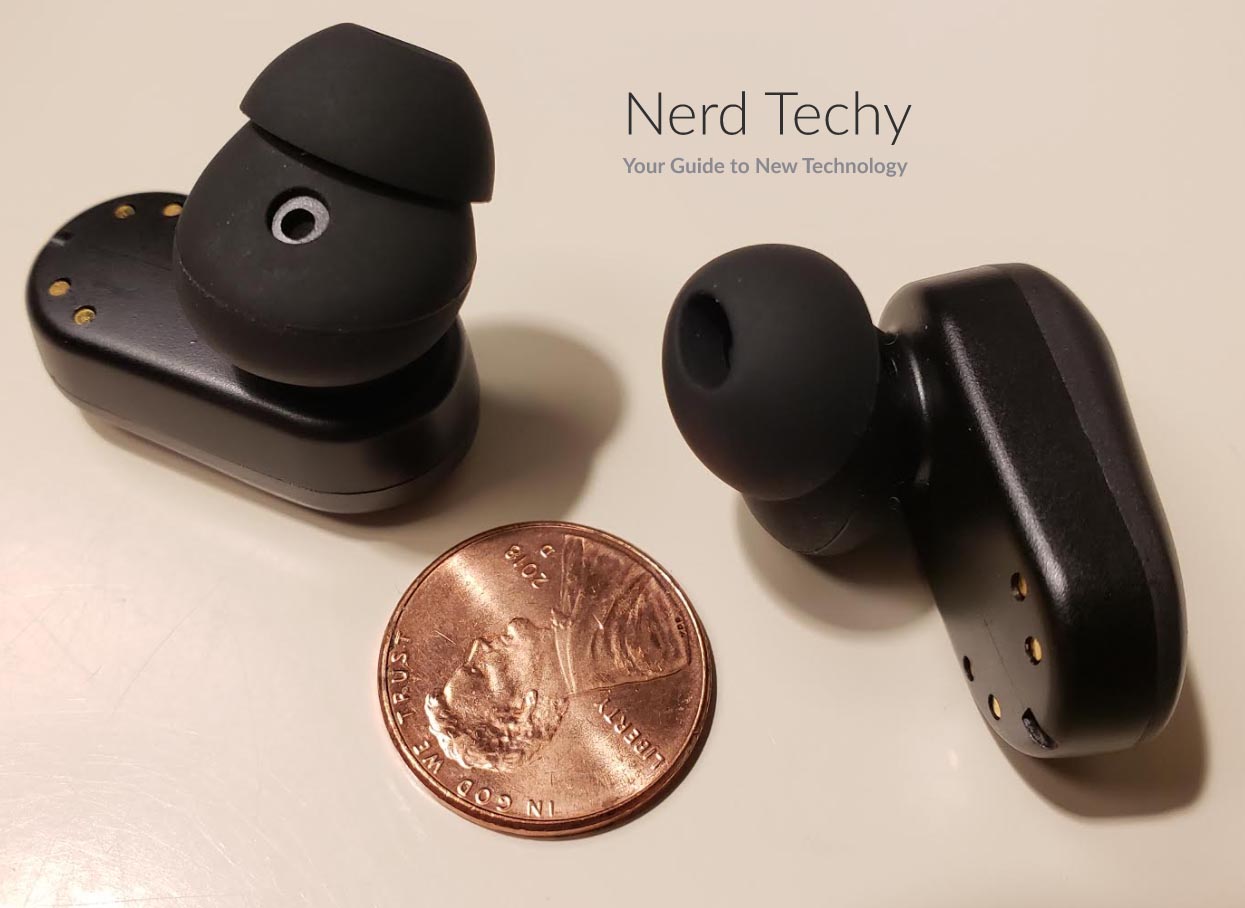 One instance where you might use transparency mode is if you're ordering a hot coffee at Starbucks. You can leave the buds placed in your ears and still communicate with the barista without completely shutting off your tunes. Personally, we won't be using the feature all that often, but it's definitely a nice bonus to have.
Call Quality
Admittedly, we typically never use earbuds to make phone calls. However, we often test this feature out for a wide range of other makes/models we have reviewed in the past. The Coumi earbuds are equipped with three external microphones that pick up your voice with nice quality. No muffling or distortion occurred in the two instances that we tried answering phone calls. Additionally, the operation is easy to learn, once you study the user manual a bit. A few taps on specific (left or right) earbuds will answer/hang up, adjust volume, put on hold, etc.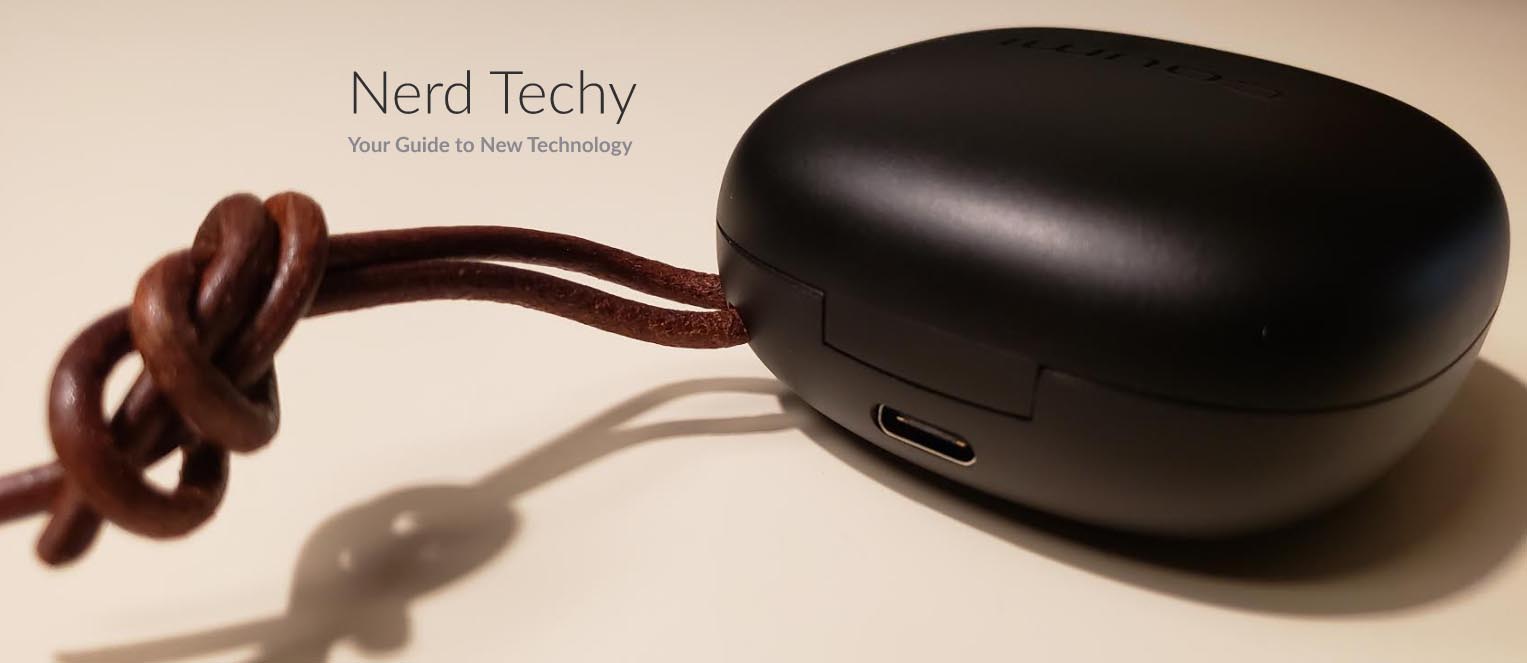 Charging & Battery Life
Inside each earbud is a 3.7v 60mAh lithium-ion battery that's capable of playing music for around 7 hours straight. With ANC turned on, you can expect around 5 hours. While this may not really seem like a lot, we found it to be adequate in most regards. Best of all, the case is what's really nice to have.
When the earbuds are placed in the case, they'll automatically charge them up. This way, next time you want to pull out your earbuds and listen to music, they're always topped off at 100% battery life. Inside the case is a 720mAh lithium-ion battery that's able to recharge the earbuds around 6 to 7 times before you need to plug in the USB-C cable. Once the case's battery is depleted, it takes roughly 1.5 hours to charge it up again.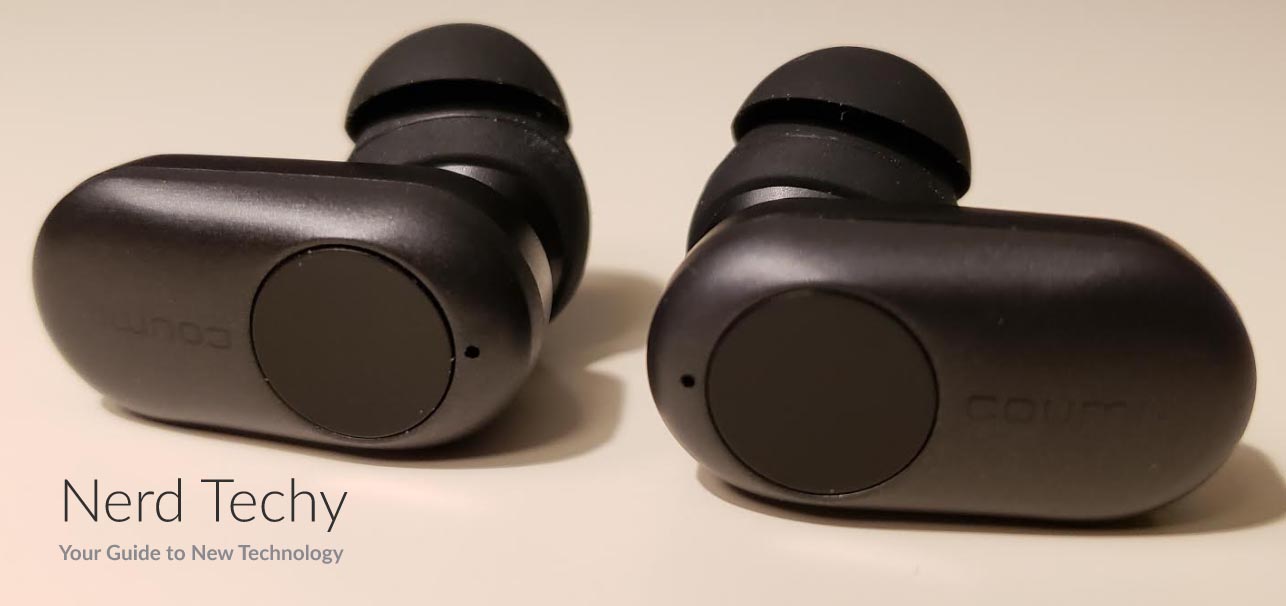 Durability
Holding the Coumi ANC-860 earbuds in your hand, they have a nice feeling to them. They're solid yet lightweight and slim. Much less bulkier than others we've tested, and built from high quality ABS plastic. They're IPX7 rated on the waterproofing scale, meaning that they can withstand full submersion in water at depths of up 1 meter, or around 3 feet.
While we wouldn't recommend swimming in them, they'll be just fine if you happen to drop them in a puddle or encounter a rainstorm on your evening jog. They're also sealed from dirt and debris ingress, so you should be fine "roughing" them up a bit and using them in any environment.
However, do keep in mind that the waterproof capabilities of these earbuds are only for the earbuds. The charging case should never be exposed to water or any sort of moisture, as it's definitely not sealed up tightly.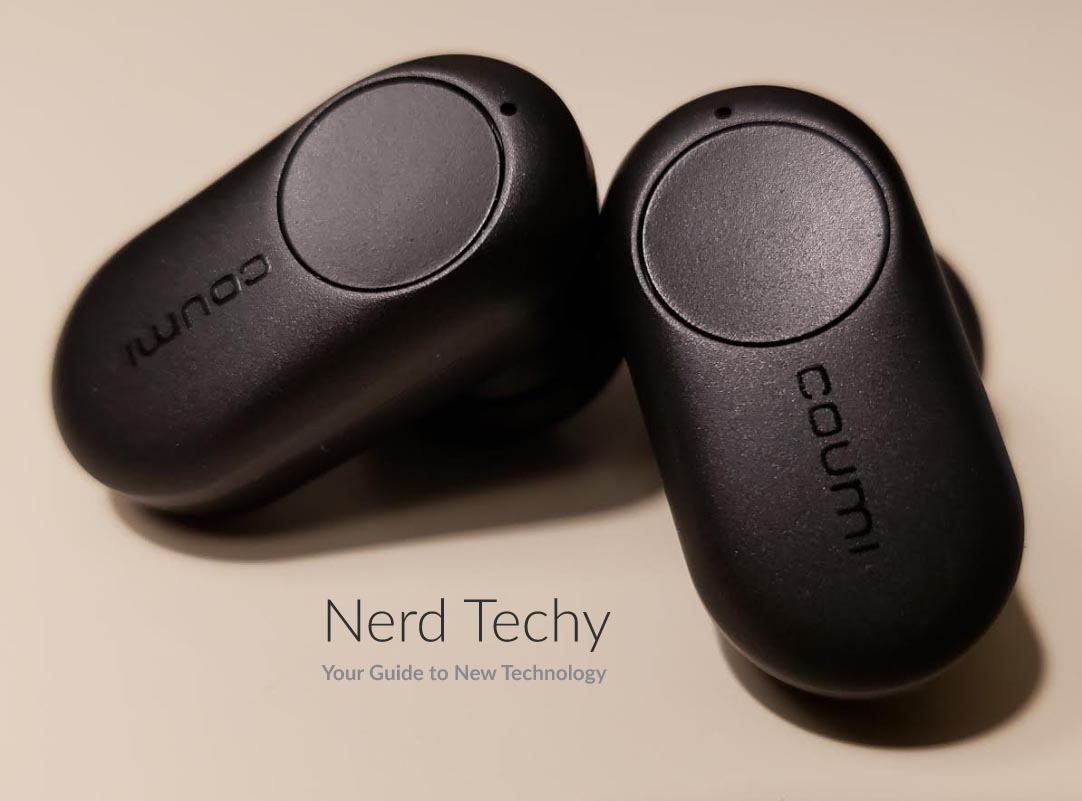 Final Thoughts
Overall, we're a pretty big fan of the Coumi ANC-860 wireless earbuds. They're packed with some pretty nice features, and equipped with several useful modes. ANC definitely "boosted" the sound of our music and seemed to make a big difference in the overall soundstage that these things are capable of producing.
Save 50% with code "3Y4TK863" when you buy the Coumi ANC-860 earbuds on Amazon
They're comfortable, well-fitting and seemed to be designed in a solid and high-quality manner. It's definitely nice to see a budget-minded set of bluetooth earbuds that actually work as well as they should. Yes, the bass and clarity can definitely downgrade at high volumes, but who actually wants to blow out their eardrums and go deaf when they're 40?
All jokes aside, pick them up if you're in the market for a nice set of earbuds that don't under-deliver. You'll be glad you did.
Note: At no extra cost to you, we may earn a commission for purchases using our links. Learn more.