For the creative professional, having the right tools is essential. For instance, there's nothing stopping you from creating beautiful images on out-of-date hardware. The dinosaurs in Jurassic Park were animated before Windows 95 even came out, but they still look great today. But if you tried to do the same job today on the same hardware, you wouldn't get the contract. Someone with better hardware could do the job faster and more affordably.
The same thing is true for your input device. Yes, you can create and edit images in Photoshop with just a mouse and keyboard. But the interface is clunky, and it's nothing like the way you would draw or paint on physical media. Not only that, but you constantly have to stop working to navigate menus and change your brush options. This means that when you're using a mouse and keyboard, you're wasting a lot of time. And time, as they say, is money.
One way to speed things up is to use a dedicated drawing tablet with a stylus. This way, you can draw or paint naturally, as if you were working on paper or a canvas. A while back, we reviewed the XP-PEN Artist 15.6 Pro. There was a lot to like, particularly the high-quality touchscreen and stylus.
Today, we're going to review the XP-PEN Artist 13.3 Pro Drawing Tablet. It's a slightly smaller version of the 15.6 Pro, designed to be lighter and more portable. But does it perform as well as its bigger brother? Or does the small size cause it to suffer? To find out, we put the Artist 13.3 Pro to the test. Now, we'll tell you everything we've learned. We'll start with the basics: the physical design and construction. From there, we'll talk about how to connect it and set it up. We'll finish by looking at the screen technology before rendering our final verdict. Let's get started!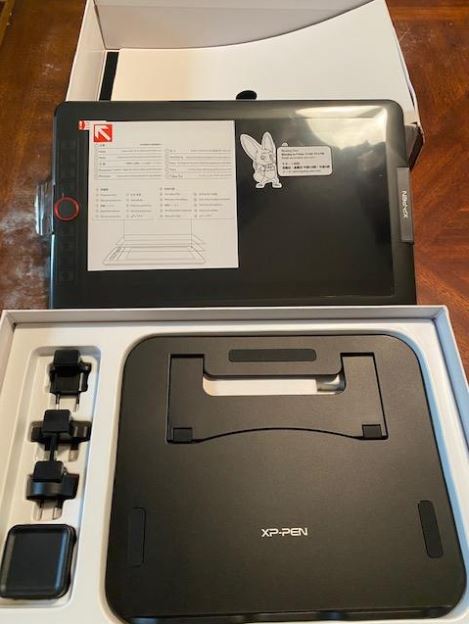 Overall Design
The XP-PEN Artist 13.3 Pro is a compact unit that's designed to be easily portable. The profile is just large enough to house the 13.3-inch display and the shortcut buttons. It measures 15.37 inches wide, 9.84 inches tall, and just over half an inch thick. This makes it exceedingly slim, easy to slip into a sleeve in a backpack or a laptop bag. It's also fairly lightweight, tipping the scales at only 4.4 pounds. The housing is black plastic, with a curved bezel that's comfortable to carry. The corners are also rounded, so there are no sharp edges or points to worry about during transport.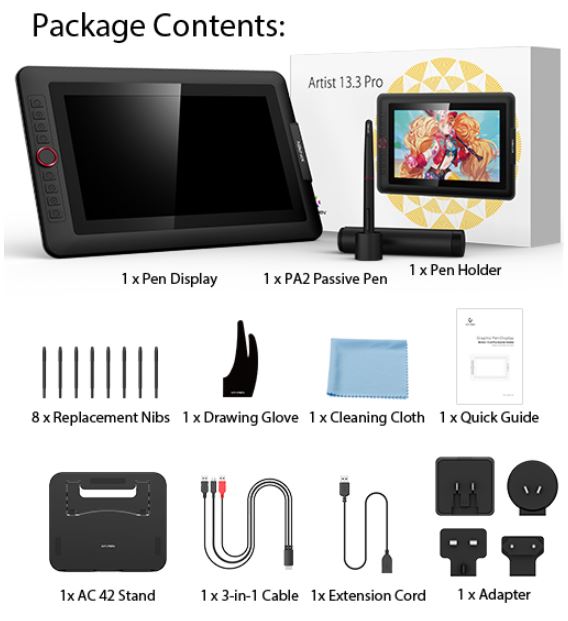 To the left of the screen, there's a vertical row of eight black buttons. These buttons are mid-sized and clicky, and are designed to be operated with your left thumb. They can all be programmed, so you can map them to commonly-used keyboard shortcuts. For instance, instead of switching to your keyboard to hit "Ctrl+Z," you can map a button for the same effect. That way, you won't need to switch to your keyboard every time you want to undo an action. In the middle of the buttons, there's a single dial that can also be programmed. Most people use it for brush size, but it can be used for zooming or other functions as well. The dial is raised, with a fat red bezel, so it's easy to see and operate.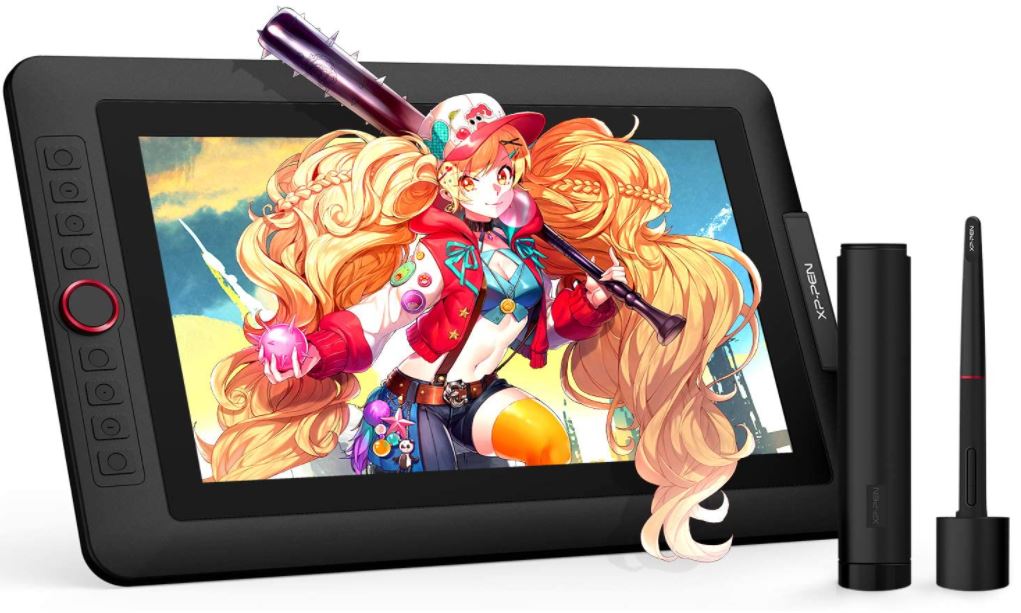 On the right side of the housing, you'll find the display controls. These are a few buttons, analogous to the controls on an ordinary monitor. You can adjust the contrast, brightness, and other basic settings from here. Alongside these controls, there's also a port for the proprietary connection cable. This is used to connect the display to your computer. A cable is included in the kit, so you're ready to plug in from the get go.
Along with the drawing tablet itself, you also get a collapsible stand. When the stand is folded up, it's exceedingly thin, and can be carried right along with the tablet. When it's opened, it can be adjusted in four positions, between 20 and 90 degrees. At 20 degrees, you're ideally situated for working while standing, or while seated at a low desk. At 90 degrees, you can use the Artist 13.3 Pro vertically, like an ordinary monitor. Alternatively, you can just lay the tablet flat and use it in that fashion.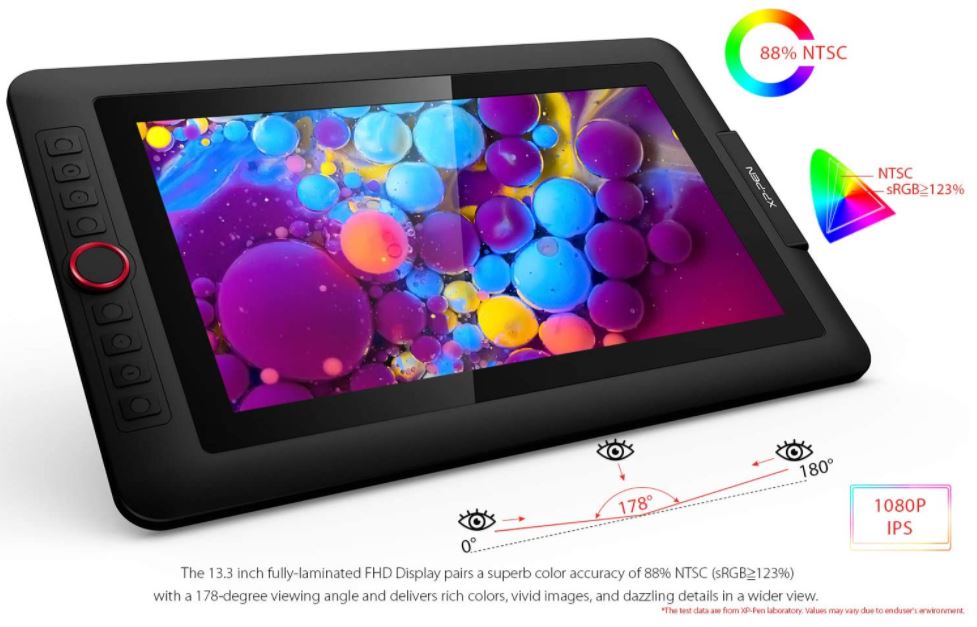 There are a few extra goodies included in the box, as well. As you probably expected, there's an easy-to-use, battery-free stylus. The stylus is stored in a cylindrical holder that protects it from damage. The holder is also large enough that it's difficult to lose, when compared to the tiny stylus. Along with the stylus, you get eight replacement nibs. That's enough for hundreds to thousands of hours of work, depending on how rough you are. There's also a USB extension cord for the connecting cable, a cleaning cloth, and a drawing glove. The glove only has two fingers and is designed to keep you from leaving smudges on the screen.
Connectivity and Ease of Use
Of all aspects of the Artist 13.3 Pro, the connecting cable is the one we liked least. Like most other XP-PEN tablets, it requires a proprietary cable for connecting to your computer. Admittedly, there's one in the kit, but if you lose it or it gets damaged, you need to buy a replacement. If the replacement cable is temporarily out of stock, you're temporarily out of a tablet.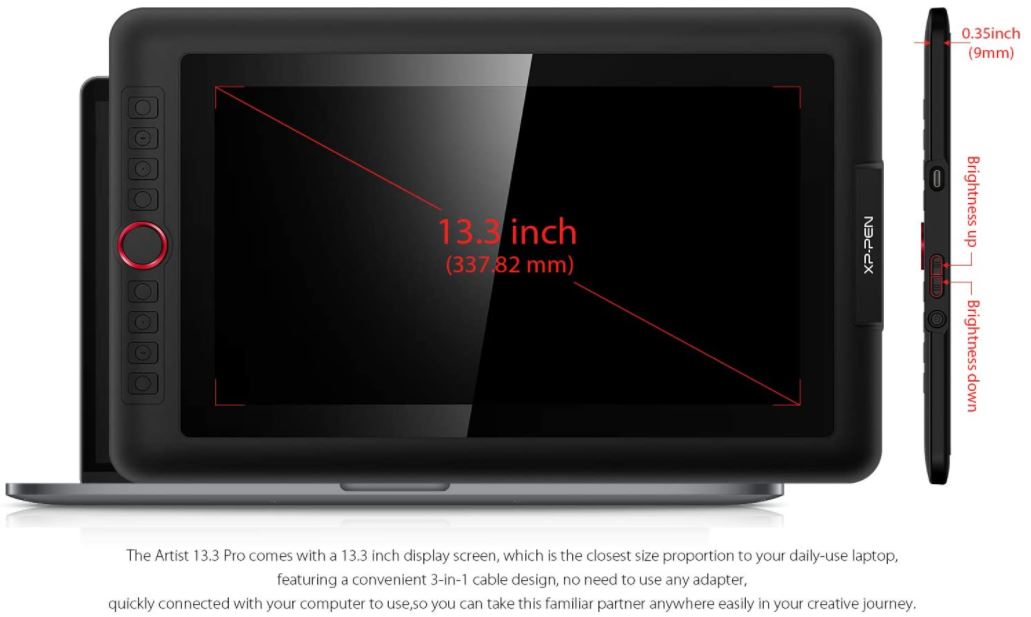 The three cable tips work as follows. The HDMI tip is used to transfer the video signal, and needs to be plugged in to your computer. If your computer doesn't have an HDMI port, you can use the HDMI to USB Type-C adapter from the package. The USB Type-C tip also gets connected to your computer, and is used to connect all the control and inputs. The USB Type-A tip is the power supply for the tablet. Because it doesn't transfer any data, this tip doesn't need to plug into your computer. It can just as easily be connected to any USB power supply.
The Artist 13.3 Pro is compatible with virtually any modern computer. It works with all versions of Windows starting with Windows 7. This includes both the 64 and 32-bit versions, as well as the home and pro versions. Mac OS support is similarly solid, with support for all builds from Mac OS X 10.11 forward. That said, this is an unusual piece of hardware, and it's not plug-and-play. You'll need to uninstall any external display drivers that are already on your computer. Then, you'll need to install the latest drivers, which can be found on XP-PEN's website. With the proper drivers installed, you'll get perfect compatibility with any system.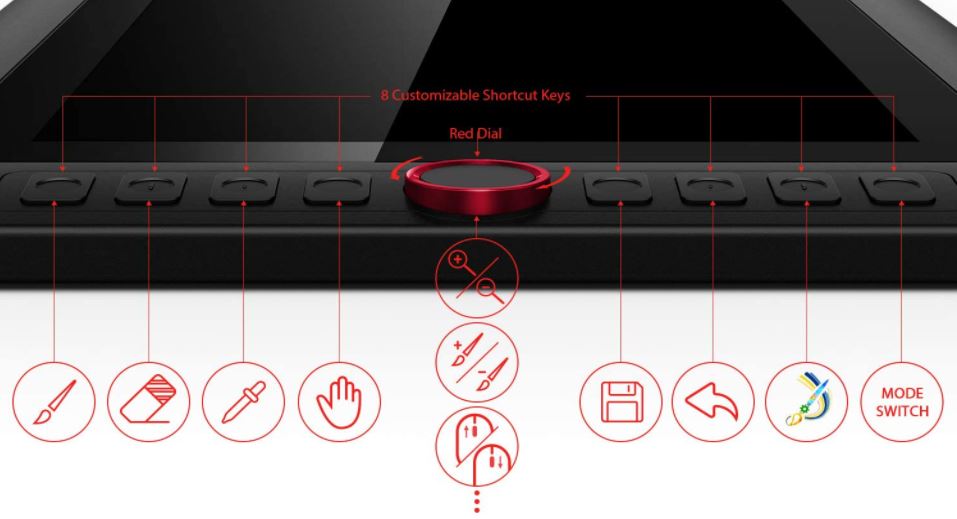 Along the same lines, compatibility is excellent with most software. It works with just about every major art and painting program. These include Photoshop, GIMP, Illustrator, Fire Alpaca, Medibang, Blender 3D, SAI, and CDR, just to name a few. That said, you'll have to plan ahead if you use more than one program. The programmable buttons aren't mapped to functions like "Undo." They're mapped to keystrokes, like "Ctrl+Z." In other words, shortcuts that are valid in one program may be invalid in another. They might even perform an entirely different function! Since most people use only one editing suite, this should rarely be a problem. But it's something you should be aware of if you use different software for different projects.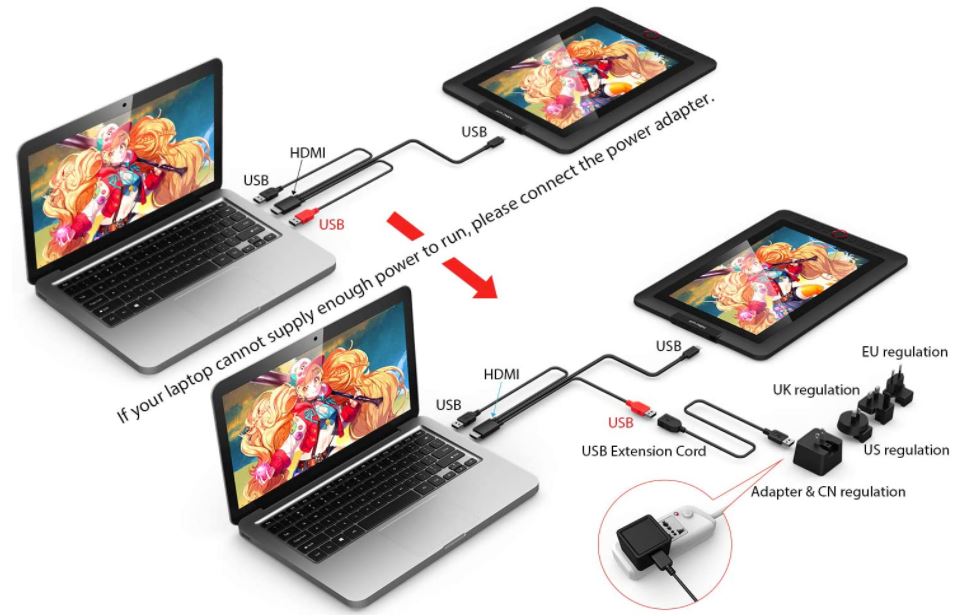 Screen Technology
The display is rated for 88 percent of the NTSC color space. This equates to 91 percent of the Adobe RGB space, or 123 percent of the sRGB space. This means you'll get far better clarity and truer colors than with most monitors. That said, we were a bit disappointed with the reds. They seem a bit faded, as if that part of the color spectrum isn't as rich as the others. It's still better than almost any other monitor, but considering the price point, we expected more.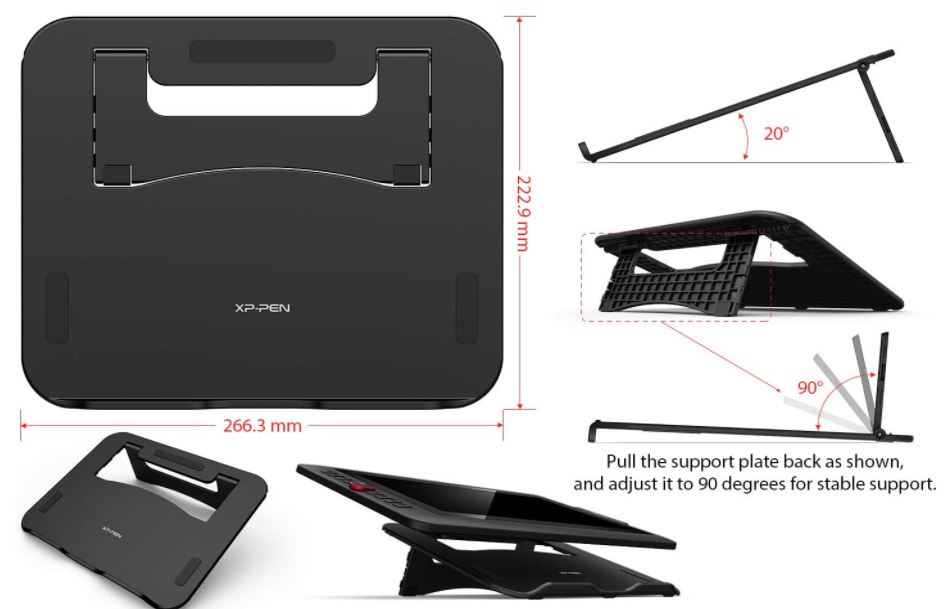 With a contrast ratio of 1,000:1, the Artist 13.3 Pro is right in line with other monitors for creative professionals. The contrast ratio refers to the difference between the brightest and darkest colors, and higher is better. 1,000:1 will be very effective for almost any purpose. The only time you might want more is if you're working with a ton of blacks. The anti-glare protection is fully laminated, with no air gap between the lamination and the screen. This makes the stylus far more accurate than it would be on a common laminated surface. It also makes the anti-glare protection more effective.
The stylus has a built-in right-click mouse button, as well as a toggle for activating the eraser. These buttons are right by your thumb for easy use. The stylus can also be tilted by as much as 60 degrees. This allows you to create long, flowing lines that change thickness as they go. Achieving the same result with a mouse and keyboard can be a painful experience. Not only that, but the screen has 8,192 levels of pressure sensitivity, and takes 200 readings per second. You can move the stylus fast or slow, and adjust pressure to change the brush power. The display will keep up with whatever you're doing.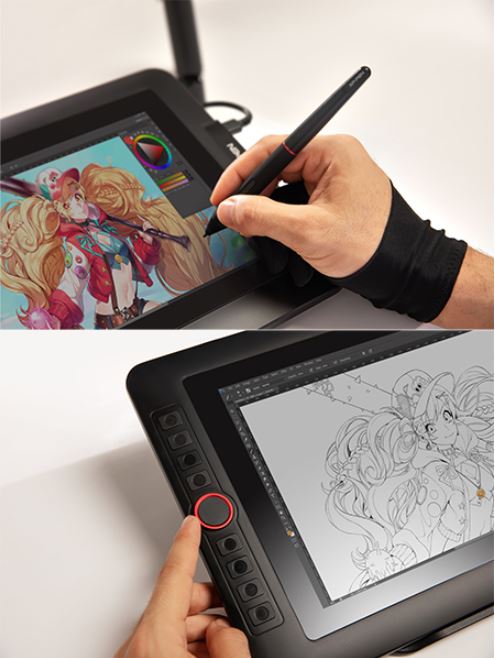 Final Verdict
The XP-PEN Artist 13.3 Pro is a full-featured drawing tablet that's ideal for creative professionals. To be fair, it's not perfect. The proprietary cable is a bizarre design choice in the era of universal cables. However, the screen performance more than makes up for any shortcomings. With the programmable buttons, you can perform any function in any program. And with the high-quality stylus and sensitive screen, you can draw or paint effortlessly. If you want digital art to be as easy as its physical counterpart, you'll love this tablet.