If you're looking for a quality pair of earbuds, wireless is the way to go. But this wasn't always the case. In fact, just a few years ago, nobody with any sense wanted wireless buds. To begin with, the sound quality was downright awful. Older Bluetooth protocols could only supply low-bitrate sound, with resulting hollow, tinny quality. Even worse, you couldn't listen in stereo. For that, you needed a proper set of wires.
All of that changed in 2015, with the advent of True Wireless Stereo (TWS) earbuds. TWS allowed for higher-bitrate sound, as well as for stereo. Audiophiles throughout the world rejoiced, and wireless quickly became an industry standard. Less than a year later, Apple's iPhone 7 was released as wireless-only, and wireless buds exploded in popularity. At first, you were limited to Apple's expensive AirPods and cheap knockoffs. But now, there are plenty of quality wireless earbud options available on the market.
Mpow is one company that's benefited from the growing popularity of wireless earbuds. In the past, we've reviewed many of Mpow's offerings, most of which are well worth owning. Today, we're going to review the Mpow X3 True Wireless Earbuds, one of their newer offerings. These buds are on the pricier side, but they offer active noise canceling (ANC). This feature is rarely seen on earbuds, as opposed to over-the-ear headphones. But what else are these buds capable of? And are they worth spending your hard-earned cash? We'll take a close look at all the benefits and features, and see what there is to learn. Only then will we be able to render a final verdict. Let's get started!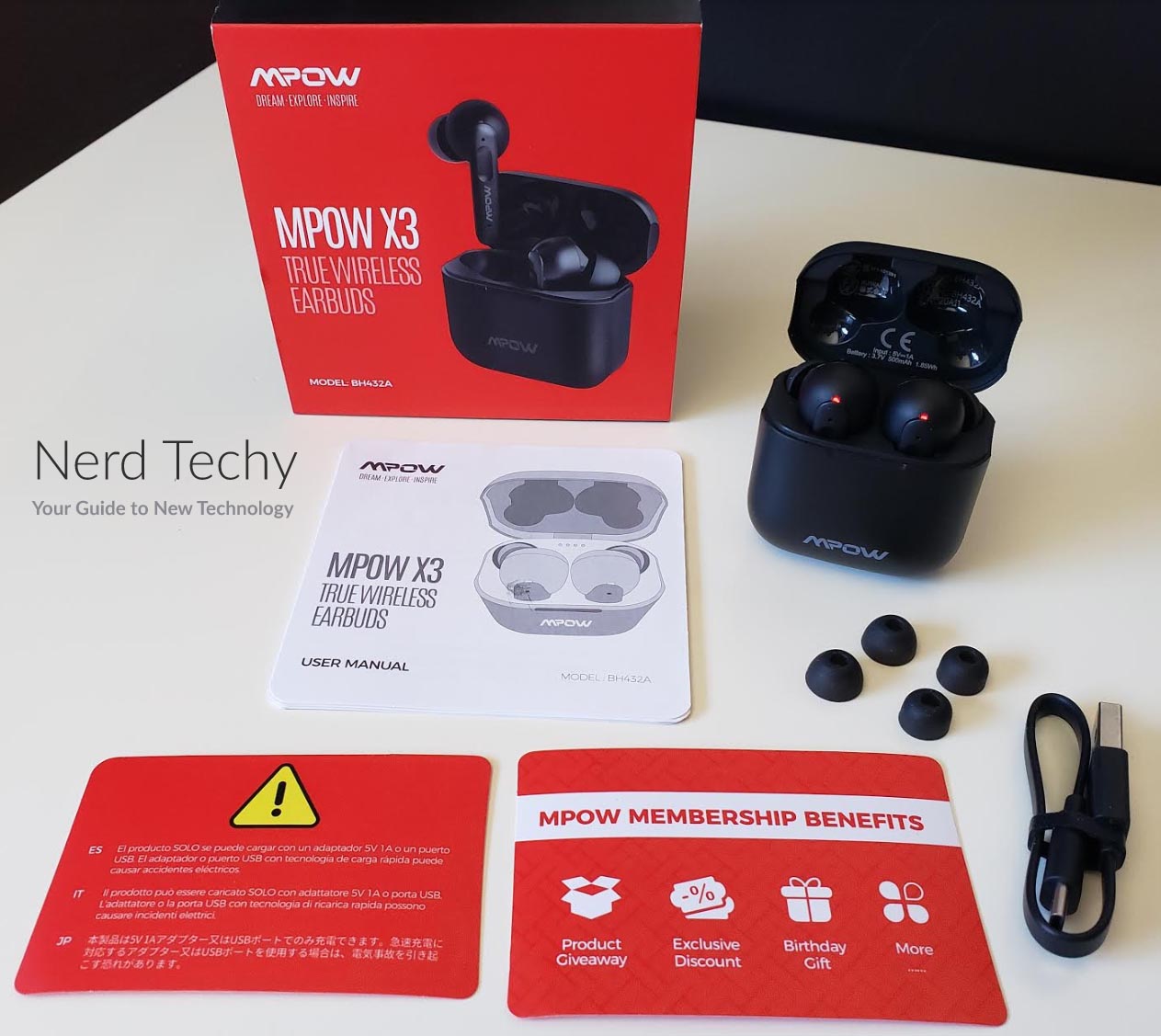 Overall Design
The Mpow X3 True Wireless Earbuds are designed similarly to the Apple AirPods Pro. These are the enhanced versions of Apple's AirPods, with silicone tips rather than basic plastic tips. The silicone tips allow for a better fit than the plastic, since they're designed to fit in your ear canal. Of course, the fit is only as secure the type of tips you choose. The kit includes three extra sets in different sizes. Getting the right fit won't just make your earbuds more secure. It will also help with noise isolation, by blocking out extraneous noise. You'll also get better bass performance by ensuring a good seal.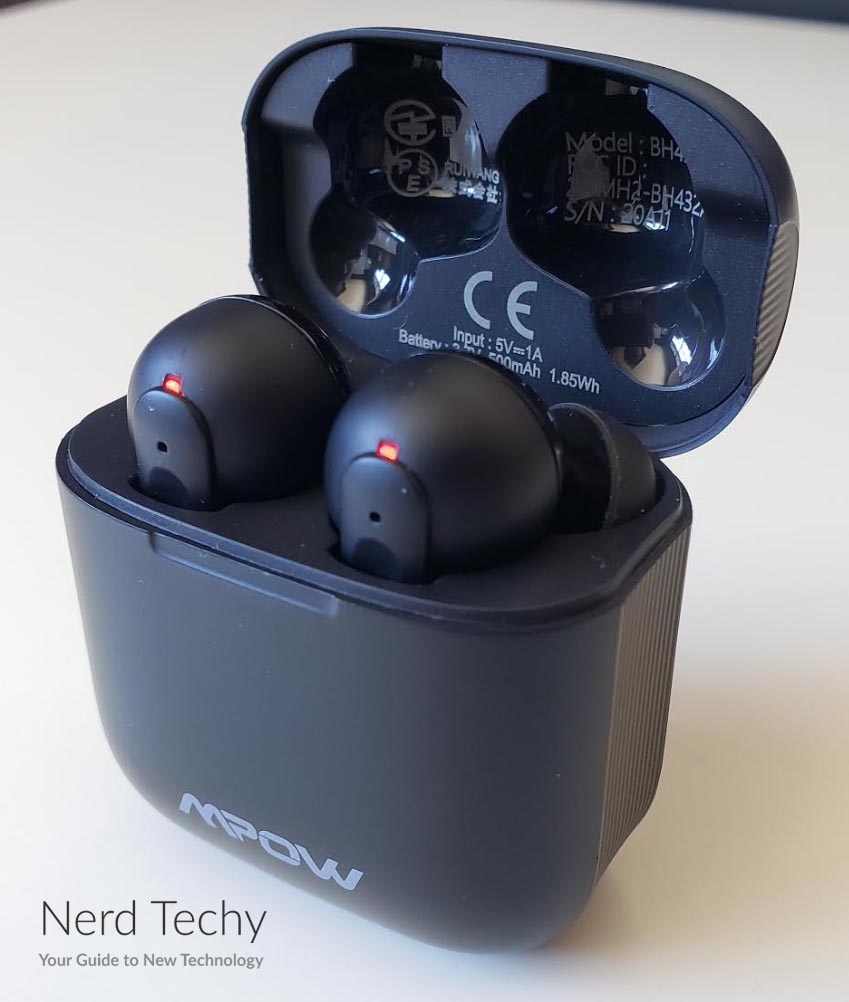 Of course, security is all relative. For every earbud with a good fit, there's another option that's able to one-up it. Take, for example, the Mpow Flame S and D9. These earbuds sport an over-the-ear design, with neck bands that provide an added measure of retention.
The X3 earbuds are constructed from black ABS plastic, and sport an understated design. There's no fancy chrome or steel in the construction. Just a white Mpow logo emblazoned on the studs. Other than that, you get a very sleek look with rounded buds and small mic holes on the outside. The backs of the earbuds are smooth, and don't have any noticeable buttons. However, the backs nonetheless function as a pair of soft touch buttons. These buttons allow you to skip tracks, play or pause music, answer and end calls, or activate your voice assistant. Moreover, the soft touch design means you don't have to press hard. This means that if you have sensitive ear canals, you don't have to worry about discomfort.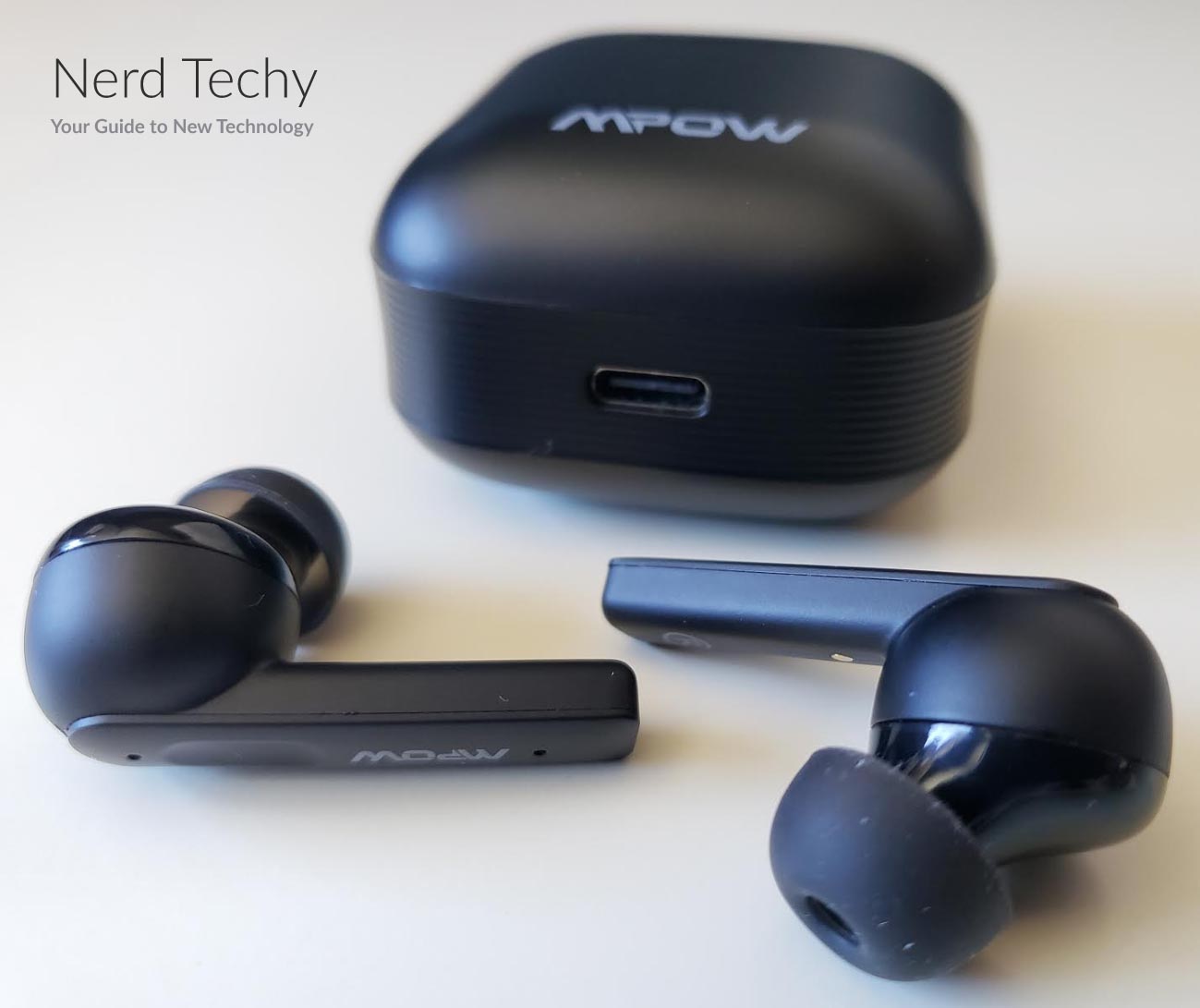 The X3 buds are designed to be suitable for even the most intense workout session. They boast a water-resistance rating of IPX7, one of the highest ratings available. This means it's capable of withstanding not just sweat and rain, but full submersion. To begin with, you can enjoy a long, sweaty run without worrying about your buds getting damaged. But you can also keep your buds on when you're showering off afterwards. If you want, you can even take them swimming, although that's probably not advisable.
The charging case is compact and easy to carry, measuring 2.14 inches high, 1.91 inches wide, and 1.28 inches thick. This makes it very well suited for travel, since you can carry it easily in your pocket. And at only 5.64 ounces in weight, you'll barely know you're carrying it. It looks like a box of dental floss or Tic-Tacs, with a vertical design and rounded edges. So while it's sitting in your pocket, it's not going to jab into your leg. And at this compact size, you can easily throw the case in your backpack, purse, or laptop bag.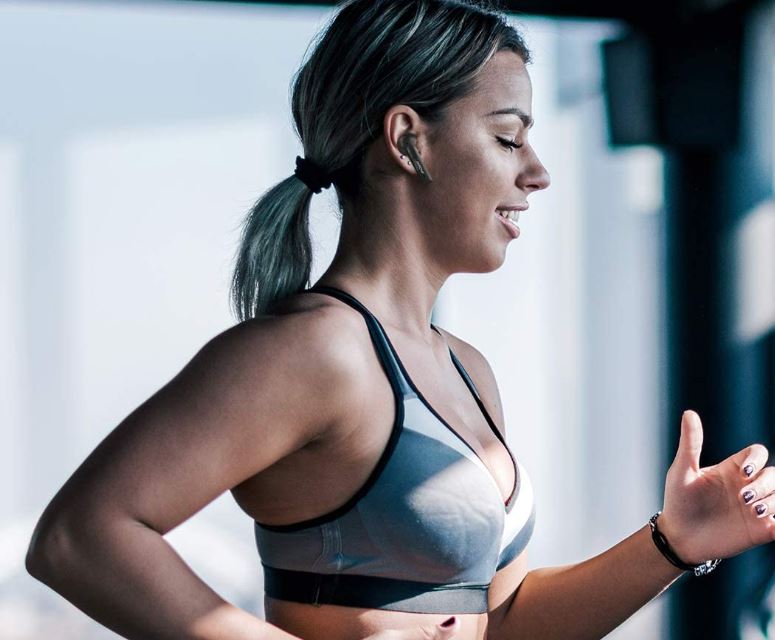 The case functions similarly to the Apple AirPods' case, where the earbuds drop in from the top. The main "bud" part of the unit sits near the top, while the studs extend down inside the charger. And because of the molded design, you don't need to worry about your buds failing to make contact. The left and right buds each have their own slot. And as long as they fit, the charging contacts will work just fine. The lid pops open like a clamshell, with a cutout underneath that makes it easy to snap open with one finger. It's also spring-loaded, which ensures that it stays securely shut when you want it to. Towards the bottom of the case, there's a row of four green LED lights that indicate the current battery status. The USB Type-C charging port is located on the back, discreetly out of sight.
Battery & Connectivity
The Mpow X3's will last for up to seven hours on a single charge. This is longer than most wireless earbuds, and allows for plenty of playtime. You can listen during your morning workout and during both commutes, then do it again the next day. As usual, these are manufacturer ratings based on playback at medium volumes. If you prefer to blast your music, your battery life will be correspondingly lower. But regardless, you're looking at some excellent performance.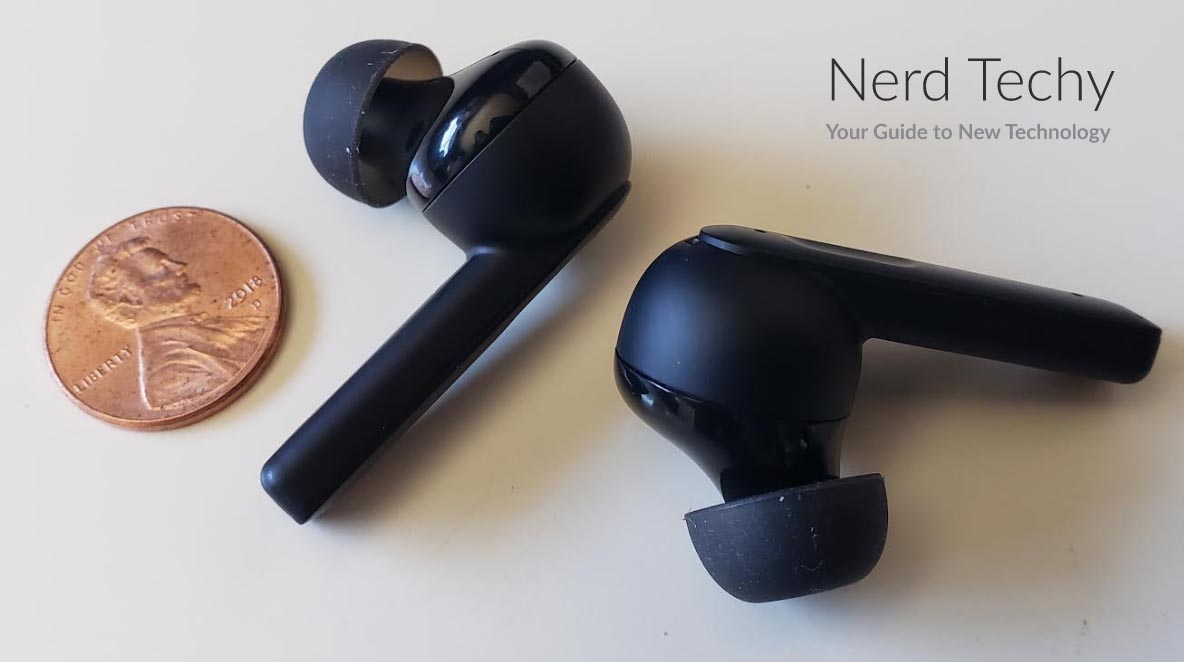 Unfortunately, the charging case doesn't provide the same measure of excellence. It only provides 20 hours of additional charge. This is disappointing, since most modern charging cases provide at least 25 hours of playtime. Still, all things considered, it's not bad. And with 180 hours of standby time, you don't have to babysit your charging case all the time. Recharging the case itself will only take about 2 hours, which makes it quick and painless. If you want even longer battery performance, check out the Mpow M20 and M30. They don't boast all of the X3's robust features, but they do offer up to 100 total hours of playtime.
The Mpow X3 earbuds use the latest Bluetooth protocol, version 5.0. This is a significant upgrade from the older version 4.2, and comes with a few bonus features. For one thing, it offers an exceptionally stable connection. Dropped calls and janky music simply aren't going to be an issue with the X3. Moreover, you get a latency-free connection. This is perfect for movies and videos, since the audio will be in perfect sync with the video. Finally, Bluetooth 5.0 allows for high-bitrate audio, so you can even enjoy FLAC files with no issue. All of this works up to a range of 10 meters, or about 33 feet. That's enough to wander around your house without having to carry your phone with you.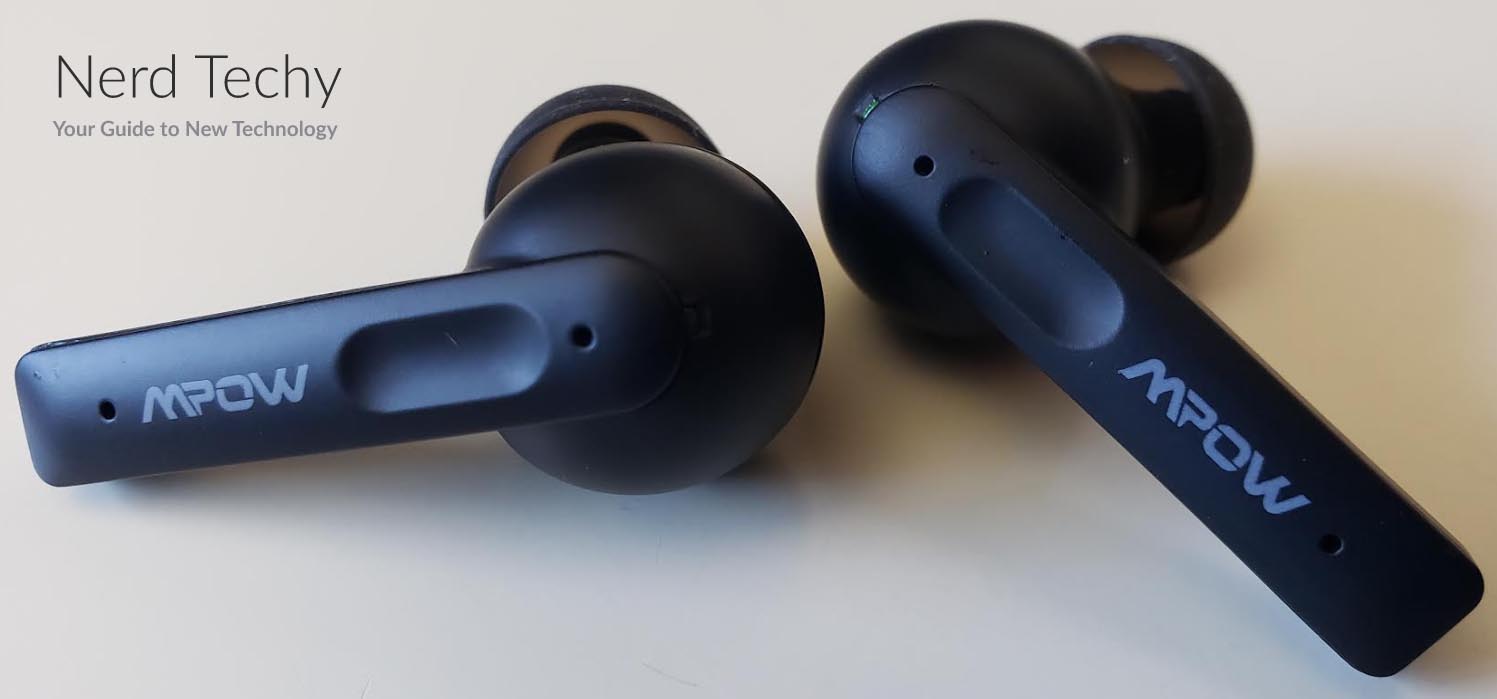 Sound Quality
The Mpow X3 earbuds boast a 10mm carbon fiber driver, along with an elastic diaphragm. This design allows for excellent sound quality across the entire spectrum. With a 10mm driver, you expect a wide soundstage, which you get. You also expect shimmery highs and clear mids. Again, there are no issues there. High instruments like cymbals and strings sound more than good enough. There's plenty of shine there. The clear mids perform very well for vocals, whether for spoken word media or vocal-heavy genres.
The bass, however, is where the X3 buds really shine. This is mostly because it was so unexpected. With such small drivers, we didn't expect to hear any significant punch. Instead, we heard plenty of thump and power, both in dance music and in metal. If you're a drum or bass enthusiast, you'll have no complaints with these earbuds.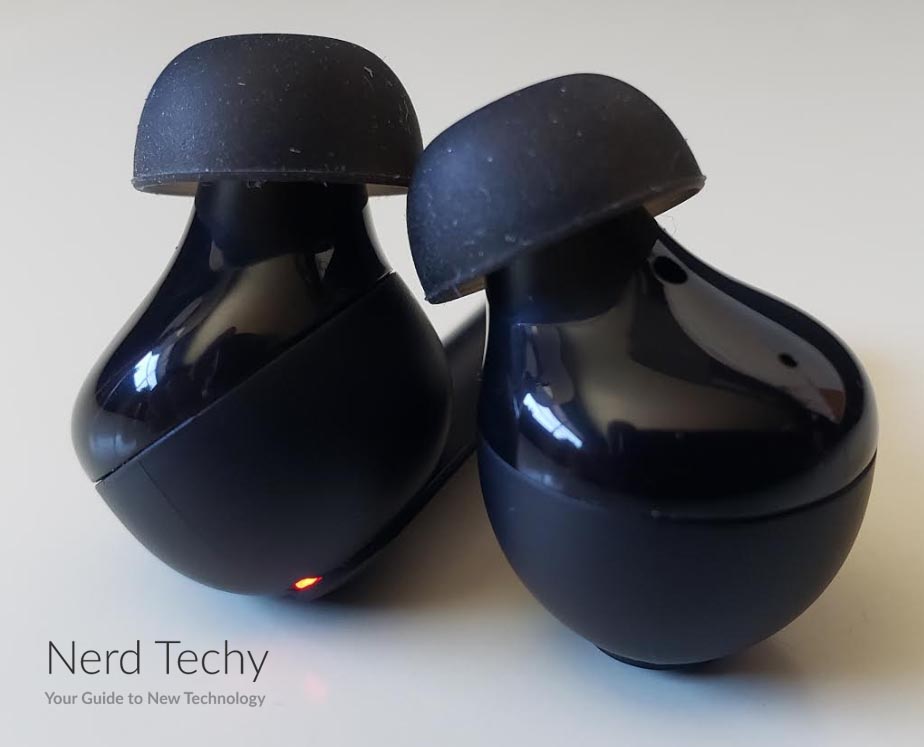 In addition, the Mpow X3 earbuds integrate ANC technology. This technology is designed to cancel out outside noise, and it's surprisingly effective. All in all, the X3's native ANC will reduce outside noise by as much as 25 decibels. This is in addition to the passive noise reduction provided by the silicone ear tips. As a result, you're looking at a personalized, private listening experience under virtually any circumstances. This is unusual in a pair of earbuds, as opposed to over-the-ear headphones.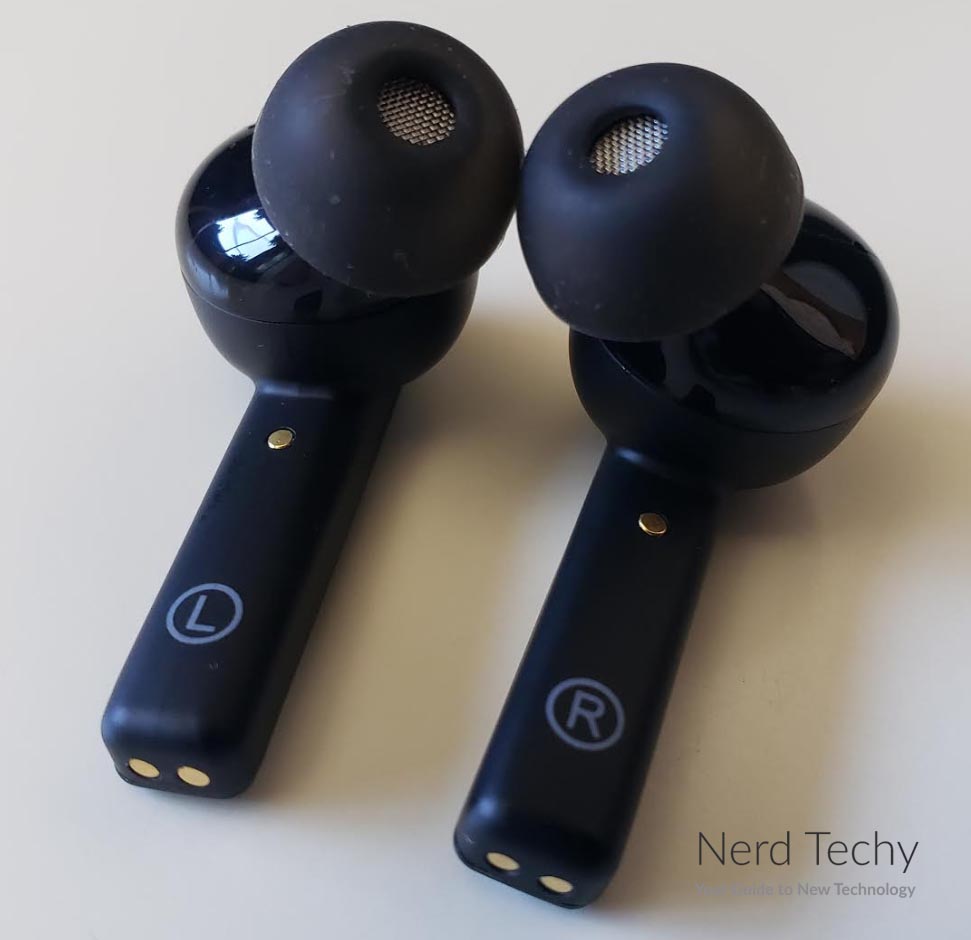 The Mpow Jaws Upgraded Gen5 and Focus earbuds also provide ANC, but at a more affordable price. The sound quality isn't as good as the X3, but the ergonomic design can be a boon for many listeners.
When it comes to call quality, the Mpow X3 performs very well. The earbuds boast two earbuds apiece, for a total of four. This allows for excellent noise isolation on your end, even without the use of CVC technology. As always, how well you hear the other person will depend on their own mic quality.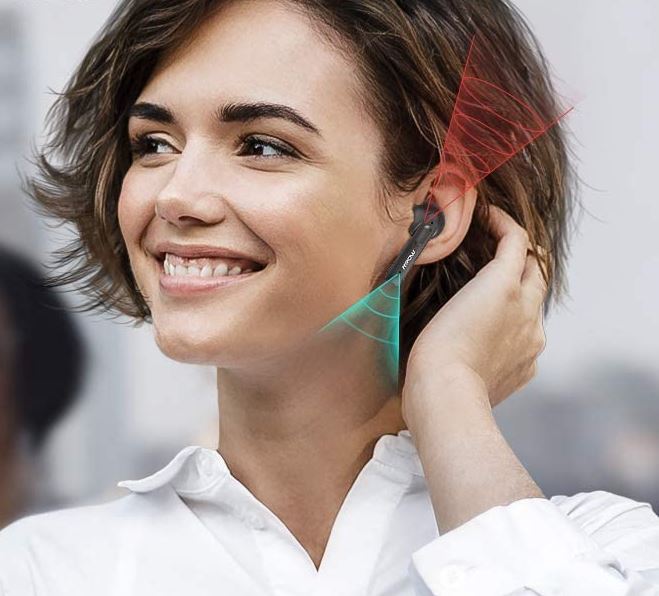 Final Verdict
So, are the Mpow X3 True Wireless Earbuds worth your money? Or should you give them a hard pass? It depends on what you need. But for the most part, they're an excellent choice. For one thing, most wireless earbuds don't offer ANC technology, and the X3 buds do. For another thing, the sound quality is excellent for the size. Regardless of what genre of music you prefer, you'll get excellent performance.
The one sticking point about the X3 is the battery power of the charging case. Simply put, you'll need to charge it frequently. But unless you need more than 27 hours between charges, that's not going to be a major issue. Instead, you can enjoy the comfortable, ergonomic fit and the IPX7 water-resistance rating. Not only that, but the pocket-sized case allows for easy carrying anytime, anywhere.
Meet Derek, "TechGuru," a 34-year-old technology enthusiast with a deep passion for tech innovations. With extensive experience, he specializes in gaming hardware and software, and has expertise in gadgets, custom PCs, and audio.
Besides writing about tech and reviewing new products, Derek enjoys traveling, hiking, and photography. Committed to keeping up with the latest industry trends, he aims to guide readers in making informed tech decisions.