GameSir VX AimBox
Pros
Allows you to use a mouse and keyboard with your game console.
Low-latency wired connection.
Easy setup and wide compatibility.
Can customize controls via the mobile app.
Cons
Does not support headphones or headsets.
Currently not fully compatible with PlayStation 5.
For as long as there have been video games, people have debated the benefits of consoles versus PCs. In the earliest days, consoles were clearly your best choice. An early Atari could do a lot more than a 1983 PC could! But by the 90s, PCs had gained a clear edge. Technology was advancing so quickly that consoles couldn't keep up. With a PC, you can upgrade a part or two every year. Add a new graphics card today, a new CPU next year, and you're never far from the cutting edge. Consoles need to be out for a few years at least in order to be profitable. It takes at least a couple of years just to build up a worthwhile library of games!
But nowadays, the pendulum is beginning to swing in the opposite direction. Advances in technology are coming more slowly. The difference between this year's top-of-the-line GPU and last year's are relatively minor. As a result, consoles are getting to be a better proposition. Moreover, you now get backwards compatibility on old Xbox and Nintendo games. This negates the PC's advantage of being able to play massive back catalogs. And even a brand new console is cheaper than an equivalent gaming PC.
That said, there's still one undeniable advantage to owning a PC: the control scheme. A console controller is inherently clunky compared to a mouse and keyboard. And while mobile users may love an alternative like the GameSir G4 Pro mobile controller, dedicated gamers want more. This is particularly true for genres like real-time strategy. If you've ever tried playing Age of Empires with a controller, you know it's nigh-impossible. If you're trying to play any kind of multiplayer, you can scratch the word "nigh" from that last sentence. Mice and keyboards also offer far superior accuracy in first-person shooters.
So, what if you want to get the best of both worlds? In that case, a mouse and keyboard adapter is a great solution. It will allow you to play your favorite console with the increased finesse of PC controls. But you don't want to use just any old adapter. You want one that's specialized for gamers, so you're getting the best performance. It's also nice if you're able to use your console controller at the same time. To that end, we're about to review the GameSir VX AimBox. We'll look at its physical design, as well as all of its features and benefits. Then, we'll know everything we need to render our final verdict. Let's get started!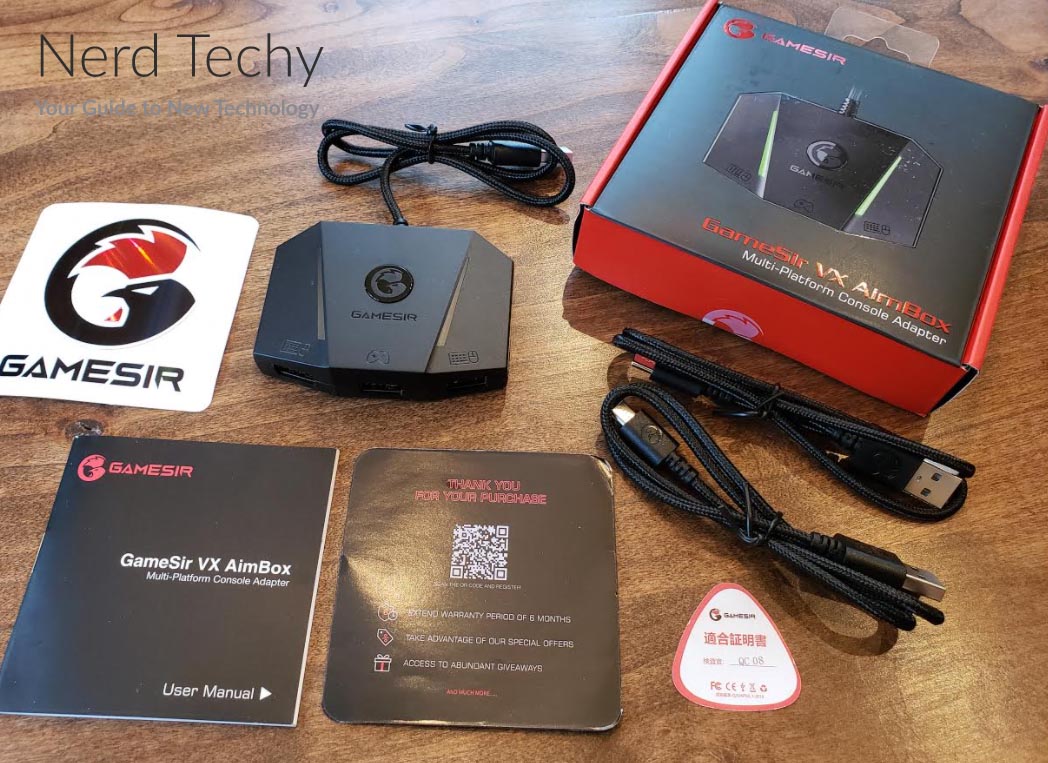 Overall Design
The GameSir VX AimBox is a compact, angular adapter that's about the size of a mouse. It has a black ABS housing, with a matte finish that's easy to clean and won't pick up unwanted highlights. That's not to say it's boring, though. There are two diagonal stripes on the top, angled towards the front center. These stripes are LED light bars, and can be switched freely between red, green, and blue. Tap the GameSir logo button on the top to change colors, or to turn the LEDs off altogether. This way, you can match the AimBox to the rest of your gaming rig.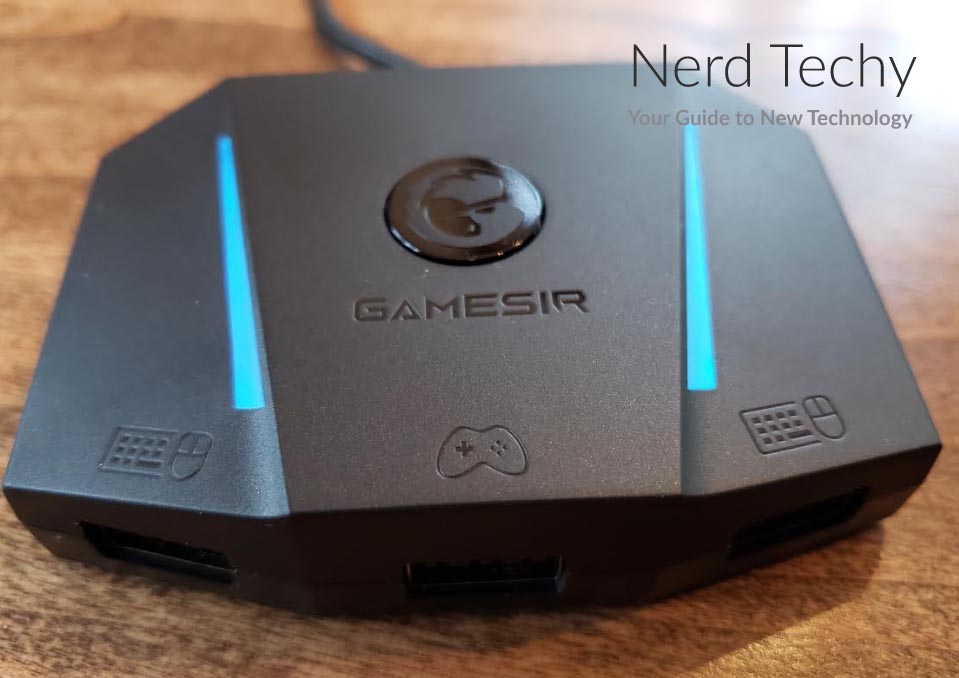 The front of the adapter has three USB ports, with the outer ports angled somewhat to the side. This makes them easy to access, without cluttering all the plugs together in the center. The ports also have a unique, reversible design, so plugs are easy to insert without a lot of hassle. You don't have to figure out which way is up and which way is down. Not only that, but the ports are marked with an embossed mouse, controller, and keyboard respectively. Plugging the right devices into the right ports isn't required, but it makes setup a bit easier. In addition, there's a USB Type-C port on the back of the adapter. This is used for supplying power to some RGB keyboards, which require a separate power supply.
From the back of the adapter, a 19 ½-inch cable extends to plug into your console. It's tipped with a USB Type-A plug, and has a braided design. This makes it very durable, and it can stand up to frequent travel and abuse. The downside is that braided cables have a nasty tendency to tangle. But considering the relatively short length, you shouldn't have to worry much about tangling. At the same time 19 ½ inches is sufficient for easy positioning on a desk or entertainment system. The AimBox and its cord are covered by a 12-month manufacturer's warranty from GameSir. If there are any defects, it can be returned for a full refund or a replacement.
Compatibility and Connectivity
Manufacturers have been producing universal controllers for some time now. For instance, we recently reviewed the GameSir T4 Pro, which we enjoyed. But it's taken time for manufacturers to develop hardware that reliably works in the other direction. With the VX AimBox, GameSir has largely succeeded. To begin with, they wisely chose to use a wired connection. This avoided any issues with wireless compatibility between multiple consoles. It also had the added effect of reducing latency to nearly zero. Casual gamers won't notice this, but dedicated online gamers will notice a marked improvement.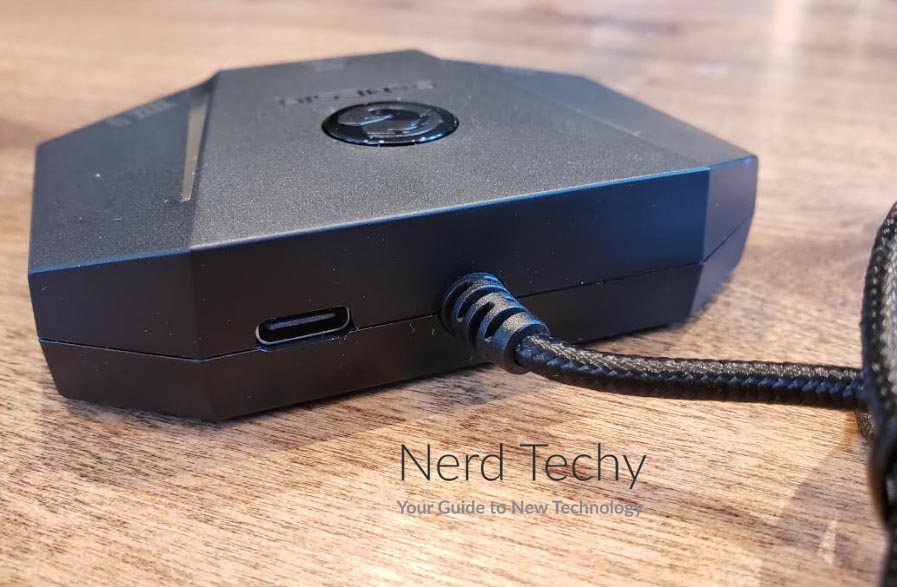 The AimBox has a built-in agility translator that sets your mouse acceleration to a comfortable speed for consoles. You can tweak this if you want, but it's easiest if your console settings are correct. Make sure your console's sensitivity is maxed out. If your game has a sensitivity setting, set that to maximum as well. This will ensure that you get the smoothest possible performance with the greatest possible accuracy.
The VX AimBox is compatible with most modern consoles. These include the Xbox One, Xbox Series X and S, the Nintendo Switch, and the PlayStation 4. However, compatibility with the PlayStation 5 is a bit of a mixed bag. You can connect to the PlayStation 5 console just fine. However, the controller pass-through won't support the PS5 controller. You'll need to use an old PS4 controller, and you'll only be able to play PS4 games. GameSir has an update in progress for PS5 compatibility, but there's no official release date yet.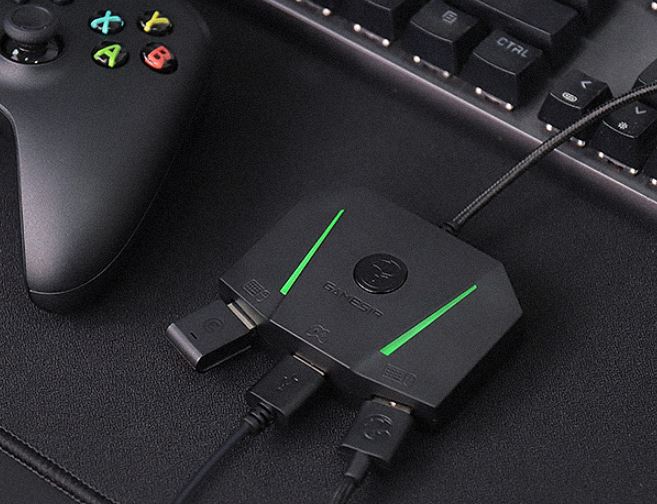 There are additional limitations that are worth noting. First, you can only use mice and keyboards that are plug and play. If they require drivers, you won't be able to use them. This is not unique to the AimBox. It's true for any mouse and keyboard-to-console connection. Without a way to install aftermarket drivers, there's simply no way to take advantage of more advanced inputs.
Finally, there's no support for headphones or headsets. If you want to chat with your teammates, you won't be able to. The only solution we could come up with would be to create a second account. Then, you could use an ordinary controller and headset to chat via that second account, while playing on the first. It's not a perfect solution by any means, but it might be workable under the right circumstances.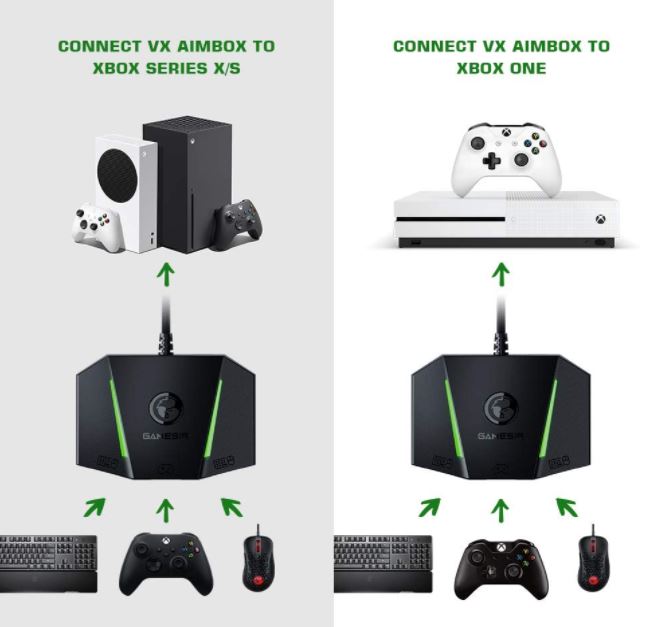 Performance
As we mentioned earlier, the VX AimBox uses an agility translator to convert your mouse signal to a thumbstick signal. This translator uses the latest technology, and ensures high degrees of accuracy. That said, it doesn't always calibrate exactly as you'd like. Depending on what you're playing — and how you're playing, you may want to use different settings.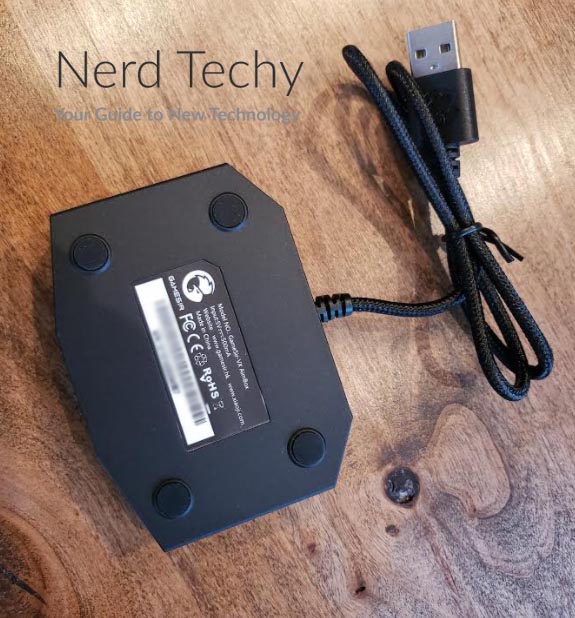 In that case, you can take advantage of the GameSir app. The app is free, but requires your console and AimBox to be online for configuration. From inside the app, you can adjust a variety of settings. The most commonly-used will be the mouse settings. However, you can also remap your keys as you desire. If you're used to playing certain games on PC, you can ensure that the controls are identical on console. Best of all, you can save individual settings for each game. So once you've mapped your controls for a game once, you won't have to remap them every time you play. As you can see, while the app isn't technically required, it's hugely helpful. Otherwise you'll be playing with the somewhat lackluster default controls.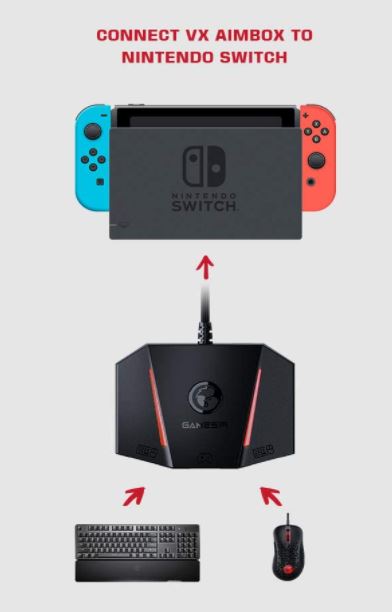 If that isn't enough to whet your appetite, the VX AimBox won't interfere with aim assist in your games. This makes a marked change from simply plugging a mouse and keyboard into your console. Most consoles will detect that a mouse and keyboard are connected, and turn off aim assist. The theory here is that it makes things more fair in cross-network play. But suppose you want to take advantage of aim assist as well as the added accuracy of a mouse and keyboard? In that case, the VX AimBox will meet all of your needs. Because your console will see a controller, not PC controls, it will leave aim assist active.
Final Verdict
So, is the GameSir VX AimBox the right choice for your needs? In most cases, the answer is going to be yes. Let's start with the physical design. It's compact and unobtrusive, so it won't take up half your desk. The angled ports keep your cords from getting tangled, and their reversible design is also a big plus. Finally, the 19 ½-inch braided cable is both the ideal length and the ideal material.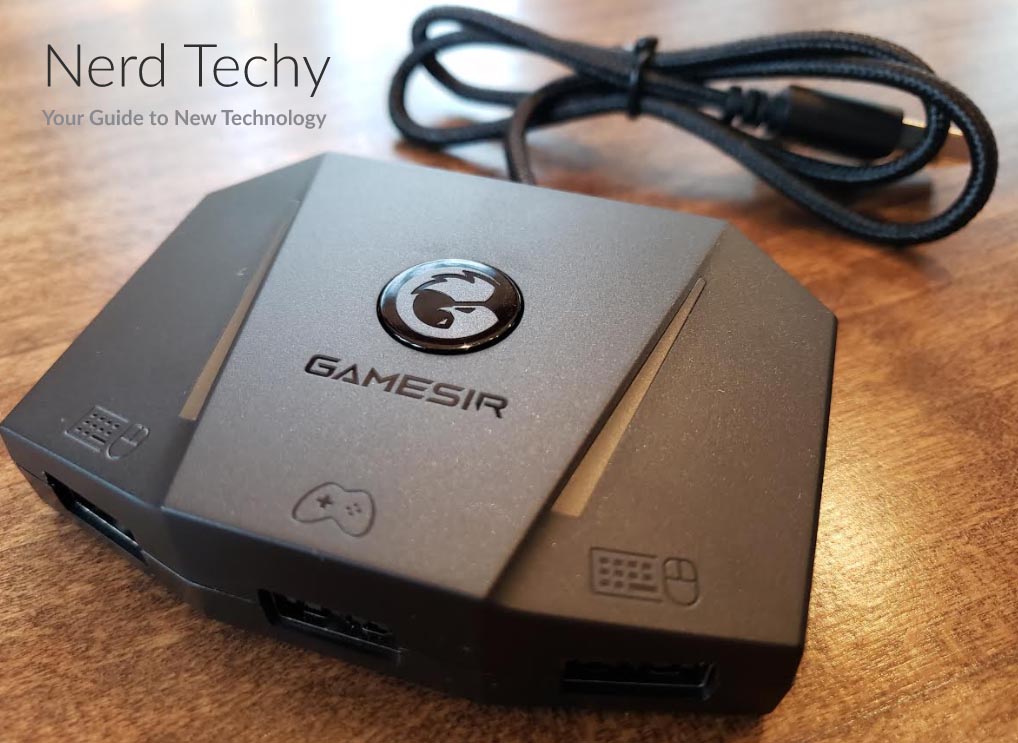 Compatibility is a bit of a mixed bag. In terms of console availability, it works with everything but the PS5, and PS5 support is coming soon. We're more concerned about the inability to use a headset. This is a major drawback for anyone who plays a lot of multiplayer games. On the other hand, the performance is top-notch. We can say this with confidence, since the app allows you to customize just about every aspect of your controls. With low-latency and a custom control scheme for each game, there's literally zero downside.
Meet Derek, "TechGuru," a 34-year-old technology enthusiast with a deep passion for tech innovations. With extensive experience, he specializes in gaming hardware and software, and has expertise in gadgets, custom PCs, and audio.
Besides writing about tech and reviewing new products, Derek enjoys traveling, hiking, and photography. Committed to keeping up with the latest industry trends, he aims to guide readers in making informed tech decisions.